Food + Drink
19 New cocktail bars to visit in KL and PJ for a fun night out in 2023
Pick your poison
FEATURED IMAGES: KOKOMO, BAR BOTANICA, OMNI | BAR TRIPTYK IMAGES: KEITH CHONG FOR BURO MALAYSIA | BAR MICRO IMAGES: LUNG KYE LIN FOR BURO MALAYSIA | OTHER IMAGES: RESPECTIVE ESTABLISHMENTS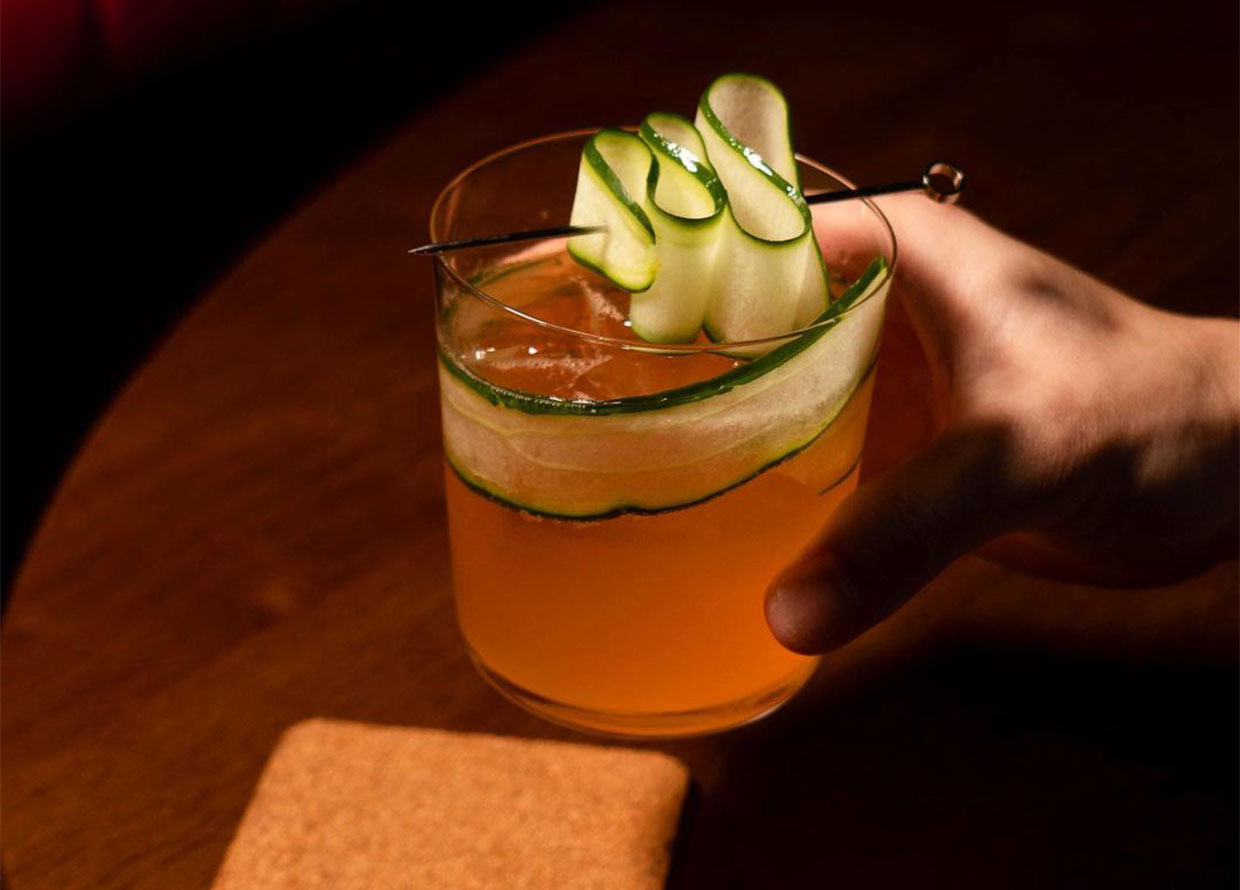 Kuala Lumpur's nightlife is bustling with a list of new haunts to discover around the city (and other areas in the Klang Valley too). While the morning larks and afternoon crowds are flocking to the latest cafes and restaurants in town, night owls are hunting down new stamping grounds for cocktails and a great time. If the latter sounds relatable, look no further than the establishments on our radar below.
---
NOVEMBER
BAR BOTANICA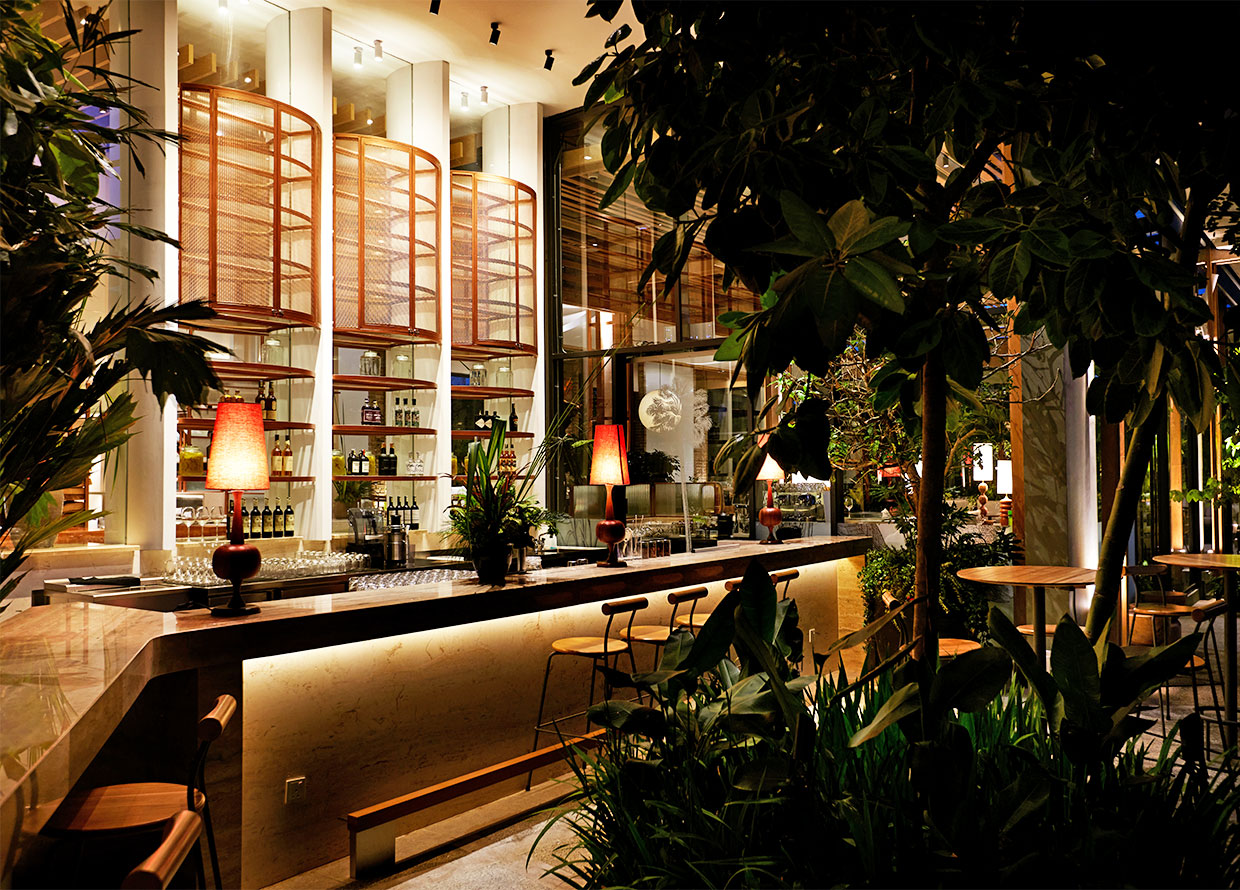 If you have visited the Botanica+Co outlet at Bamboo Hills in the past few months, you may have spotted its bar offshoot, or perhaps even ordered a tipple from it. Located just outside the restaurant's main dining area, Bar Botanica welcomes all for refreshing spritzers in a lush enclave. Each house-exclusive cocktail takes inspiration from local ingredients and tropical flavours, crafted to be savoured on its own or paired with bar bites from the shared kitchen. On top of spritzers and cocktails, there's also a curation of wines and liquors including gin, vodka, whisky, rum and tequila—offered by the glass and bottle.
Address: P-09, Taman Bukit Bambu, Off Lebuhraya Duta – Ulu Kelang, Taman Bamboo, 51200 Kuala Lumpur
Contact: +6017-659 1838
Website | Facebook | Instagram
CALL CAROL BACK
View this post on Instagram
Located next to the ever-popular speakeasy PS150, Call Carol Back is the latest joint in Chinatown for hops cocktails and craft beers. It offers a refreshing twist on the traditional bar experience—from the playful moniker (*cough* you can take a wild guess what CCB stands for *cough*) to its light-hearted, nostalgic decor comprising vinyl records and disco balls. The bar's concoctions infuse the essence of beers and kombuchas with creative ingredients, taking you on a retro-inspired flavour journey.
Address: Ground Floor, 152 Jalan Petaling, 50000, Kuala Lumpur
Opening hours: 4.30pm to 12am (weekdays, except Tuesday) | 4pm to 1am (weekends)
Contact: 011-2365 8464
Website | Facebook | Instagram
---
OCTOBER
GYUKYOKU 
View this post on Instagram
Fans of Japanese sake and cocktails, Gyukyoku is your new spot to check out for your next happy hour. Better yet, stay on for some delicious yakiniku and premium wagyu dishes while sipping on your tipple of choice and basking in the views of KL's skyline. The rooftop establishment is led by Japanese bartender Osamu San, who is also behind Gekko Dining, featuring a list of boozy beverages including classic cocktails, mojitos, gins, wines and champagnes. 
Address: (Rooftop @ STEG Hotel KL) 51, Jalan Tiong Nam, Off, Jln Raja Laut, 50350 Kuala Lumpur 
Opening hours: 6pm to 5am
Contact: 011-2365 8464
---
SEPTEMBER
COCK'S TAIL BAR
View this post on Instagram
Cock's Tail Bar is one of the latest haunts to grace Petaling Street, tucked inside The Crane (which houses another speakeasy upstairs). The corridor bar reflects Chinatown's heritage with its red and yellow umbrellas and oriental decor that takes inspiration from 1950s Malayan traditional Chinese medicine shops. Similarly, the drinks menu features innovative cocktails crafted with Chinese herbs and ingredients such as cordycep flowers and angelica roots.
Address: 78, Jalan Sultan, City Centre
Opening hours: 4pm to 12am (Sunday & Monday) | 4pm to 1am (Wednesday to Saturday)
Contact: +6012 209 7057
Website | Facebook | Instagram
---
AUGUST
OMNI BAR KL
View this post on Instagram
Nestled above Wholly Spirits in Desa Sri Hartamas, Omni Bar KL serves up fine spirits, cocktails and cigars in an understated, refined space. Primarily a whisky bar, the establishment showcases one of the most extensive whisky collections in the city, boasting over 400 distinct labels spanning from single malts to exquisite blends. The cocktails here are mostly whisky-based, with the signature being its whisky sours that are made using a house blend of American whiskies. There's also a selection of whisky flights available for varying budgets and expertise, whether you're completely new to the spirit or a connoisseur with a taste for finer expressions. 
Address: 41-1, Jalan 23/70a, Desa Sri Hartamas, 50480 Kuala Lumpur
Opening hours: 5pm to 12am (Monday to Saturday; closed on Sunday)
Contact: 012 289 6937
---
JULY
BĀ KAZU BY 61M
View this post on Instagram
Launched as an offshoot of 61 Monarchy, Ba by 61M is tucked inside Kazu Kuala Lumpur in Damansara Heights and forms part of its dining experience. As such, the bar's cocktail menu has Japanese inflections that pair well with Kazu's dishes, while also tasting great on their own. Whisky aficionados will not be left wanting either, thanks to its selection of rare labels and customisable whisky flights. 
Address: Inside Kazu KL, Jalan Gelenggang, Bukit Damansara, 50490 Kuala Lumpur
Opening hours: 5pm to 12am (Tuesday to Thursday) | 5pm to 2am (Friday to Saturday) | 5pm to 10pm (Sunday)
Contact: 018 213 9291
---
JUNE
VER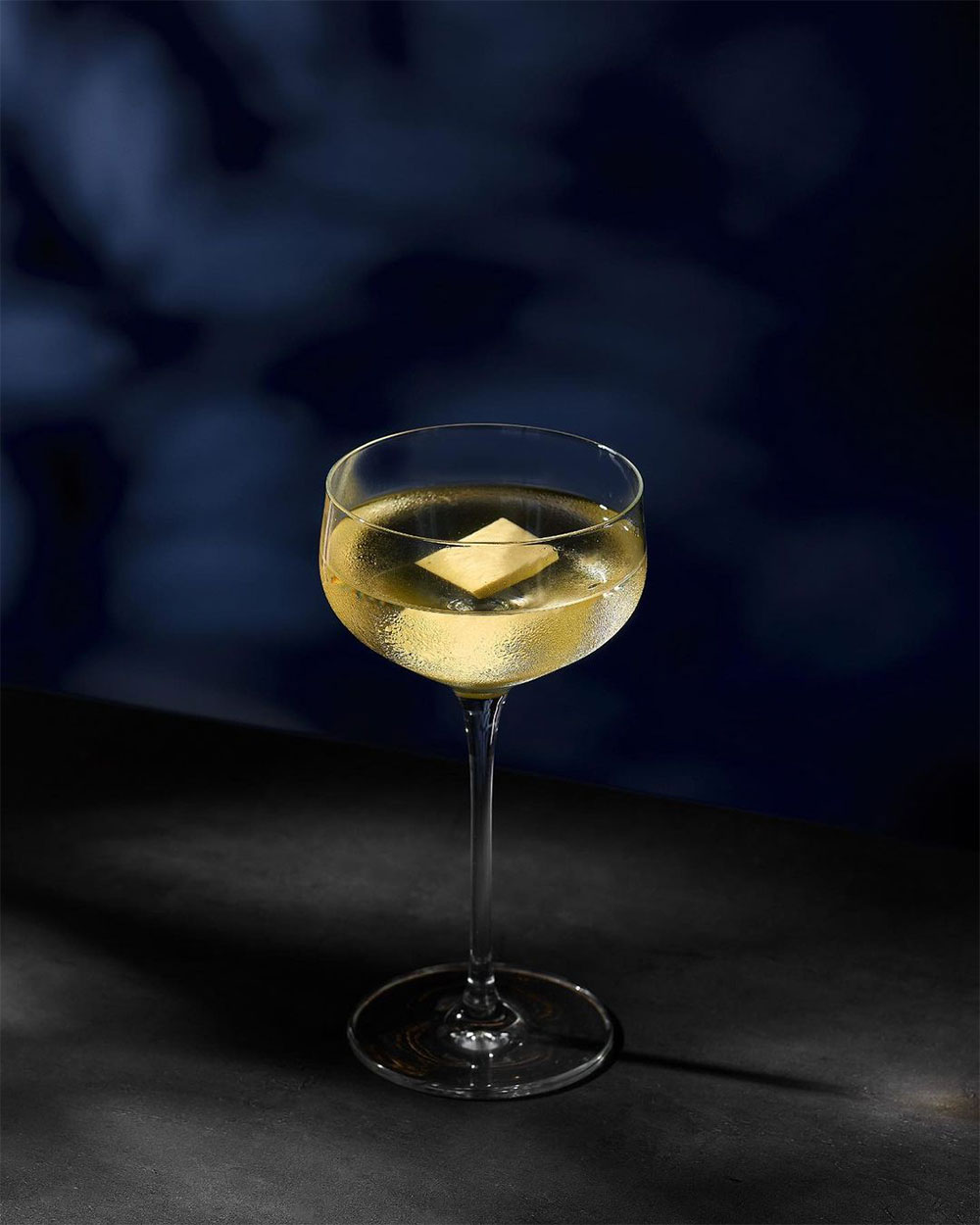 Opened in tandem with Nadodi's relocation to its swanky address in Four Seasons Hotel Kuala Lumpur, Ver is an all-new cocktail bar and lounge that complements the dining experience with finely crafted cocktails. Paying respect to the rich heritage of Sri Lanka and Southern India, the bar's cocktail list takes inspiration from whimsical stories and memories of the region—but with a fun, offbeat approach. Besides its innovative cocktails, Vér also promises an array of unique bar bites that don't compromise on flavours. 
Address: Level 7, Four Seasons Hotel, 145, Jalan Ampang, Kuala Lumpur, 50450 Kuala Lumpur
Opening hours: 4pm to 1am (Monday to Friday) | 4pm to 1am (Saturday)
Contact: 017 296 9520
HERE AND NOW
View this post on Instagram
This is the place to be Here and Now if you're looking for a spirited night powered by invigorating cocktails and energetic beats. Co-founded by experienced local bartender Affie Adut, the tiki cocktail bar offers a mix of original concoctions and reimagined classics divided into three segments on the menu: past nostalgia, present day and future unexplored. You'll also find a decent selection of draft beer and dishes ranging from small bites for sharing to bigger portions that could pass for a meal. 
Address: E-3-02, Aras 3, Block E, The Five @ KPD, Kompleks Pejabat Damansara, Bukit Damansara, 50490 Kuala Lumpur
Opening hours: 5pm – 12am (Tuesday to Sunday)
Contact: 012 417 1753
---
MAY
RAHSIA SPEAKEASY BAR
View this post on Instagram
Rahsia (which means "secret" in Malay) is not much of a hush-hush in SS2 anymore. Simply look for the purple neon sign that literally says "Shh…", walk up a flight of stairs and you'll arrive at its vibrant lounge. Aside from its colourful libations, the modern speakeasy serves craft beers and hearty dishes including meat, pizza and pasta. There are also occasional live music performances and stand up comedy shows to keep you entertained as you sip on your preferred pick-me-up. 
Address: 58A, Jalan SS 2/66, SS 2, 47300 Petaling Jaya, Selangor
Opening hours: 5pm to 1am (Sunday to Monday; closed on Tuesday) | 5pm to 2am (Friday and Saturday)
Contact: 017 300 4490
---
APRIL
720s BAR
View this post on Instagram
Fans of American-style craft cocktails, look no further than 720s Bar in TTDI for your next drinks night. With its sophisticated interiors and pulsating hip-hop playlist, this hidden bar (clue: search for a single yellow light bulb illuminating an obscure all-black door) is sure to deliver a good time. Expect an array of classic, contemporary, seasonal and 'atas' cocktails, as well as an assortment of snacks like tacos, churros and nachos. 
Address: 29A, Jalan Wan Kadir 2, Taman Tun Dr Ismail, Kuala Lumpur
Opening hours: 6pm to 2am (Tuesday to Sunday)
Contact: 010 383 7205
SANCTUARY 38
View this post on Instagram
Another new addition to Sri Hartamas' bar scene is Sanctuary 38, located above MyPizzaLab. The pet-friendly bar features a modern, understated space for cocktail enthusiasts and their furry companions to sit back and relax over a couple of drinks. On top of the classic and original libations, you'll also find boozy desserts like Alcoholic Aiyu Jelly and Petai Grasshopper Ice Cream.
Address: 38-1, Jalan 27/70a, Desa Sri Hartamas, 50480 Kuala Lumpur
Opening hours: 5pm to 12am (Saturday to Thursday) | 5pm to 1am (Friday)
Contact: 011 2973 1938
---
MARCH
CONTI' 
View this post on Instagram
Sharing its space with a warm neighbourhood cafe known as Superfluous during the day, Conti' sets the scene for conversations and celebrations over drinks in the evening. The contemporary bar offers a medley of curated cocktails that changes every quarter to keep customers coming back for more. Its latest Q3 menu turns up the heat with bold flavours like tabasco mixed with junmai daiginjo, among other inventive creations. 
Address: 35, Jalan Bukit Desa 5, Taman Bukit Desa, 58100 Kuala Lumpur
Opening hours: 6pm to 12am (Tuesday to Sunday; closed on Monday)
Contact: 012 656 8091
KOKOMO
View this post on Instagram
Kokomo is one of the crowd-favourites in Sri Hartamas right now for its delectable tropical cocktails and vibrant atmosphere. Distinguished by its vivid red sofas and lighting, the bar launched to near-instant fame in March, becoming a go-to for friendly hangouts and music-powered dance parties. If you're feeling peckish, Kokomo also has food offerings from its neighbour, Hawker Hall. 
Address: 27 & 29, 1st Floor, Jalan Sri Hartamas 7, Taman Sri Hartamas, 50480 Kuala Lumpur
Opening hours: 5pm to 1am (Monday to Thursday) | 6pm until late (Friday and Saturday)
Contact: 017 388 3258 
---
FEBRUARY
BAR MICRO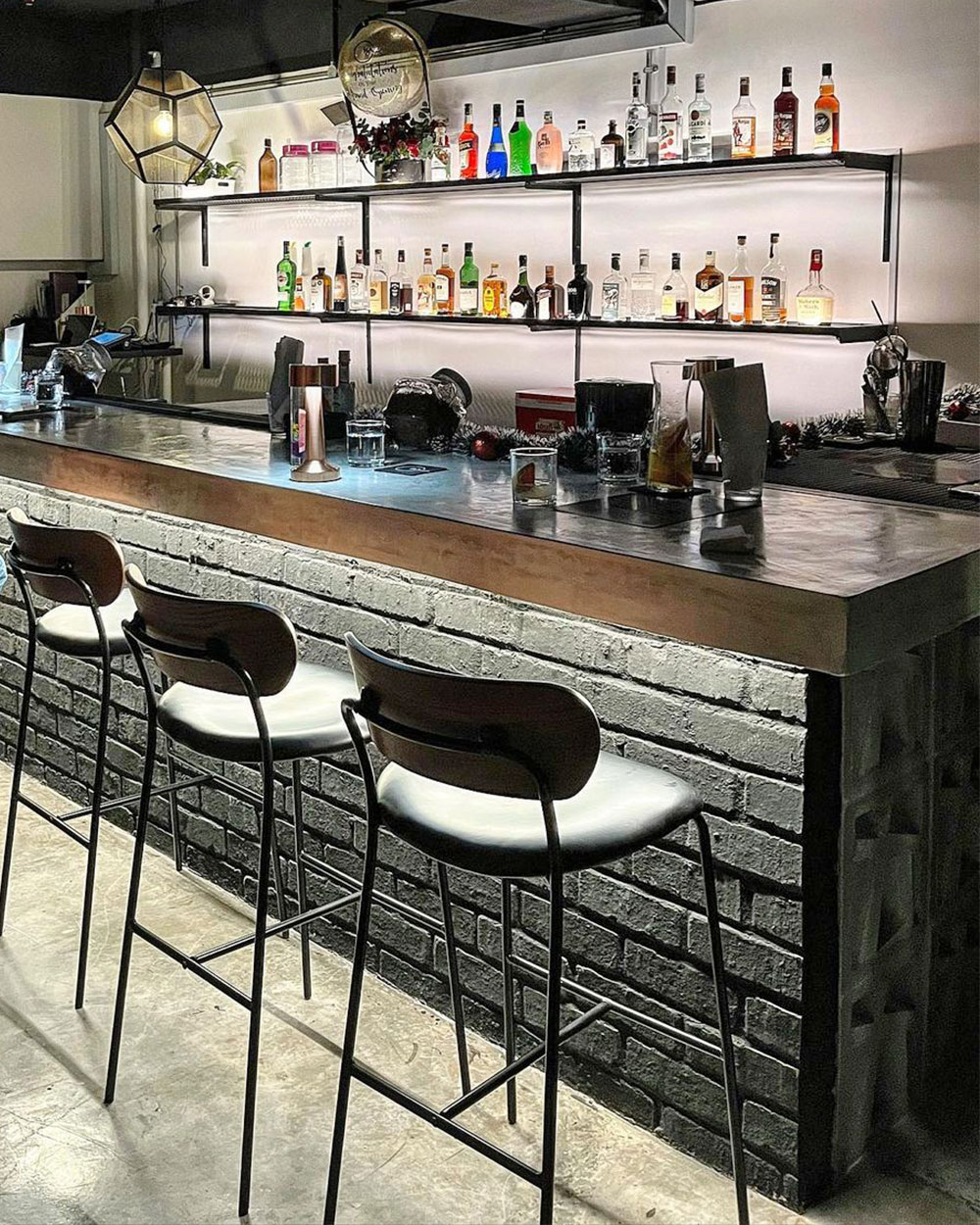 "Tucked away from the hubbub, Bar Micro makes its entry into the local bar scene at Ooak Suites and Residence, Mont Kiara. It's not an easy bar to find if one is not familiar with the area but when you do, it's just like its namesake—small and cosy. But don't be fooled; it's armed with some punchy cocktails and bites.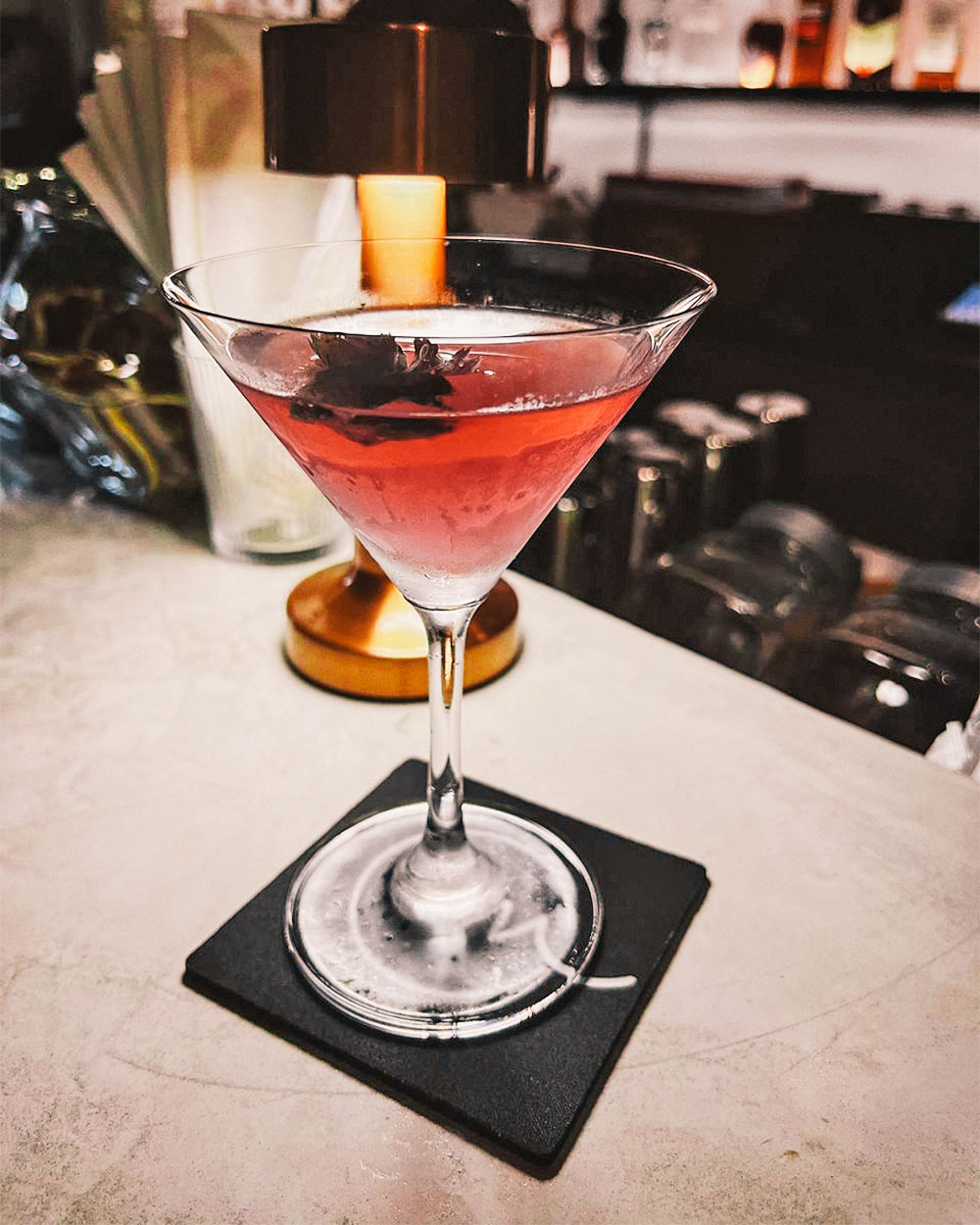 "Founded by two-time Masterchef UK winner Ping Coombes and her three good friends, Bar Micro was born out of their love of mixology and a fun night out. With up to 13 drinks and two zero-proof (alcohol-free) options on the cocktail menu, there's a good variety to suit different palates. My first cocktail of the night was the Triple L—lavender blue pea gin, Kwai Fee lychee, martini blanco, lemon cordial, and citric acid—a fruity concoction that wins in terms of presentation and its balance of sweet and sour notes.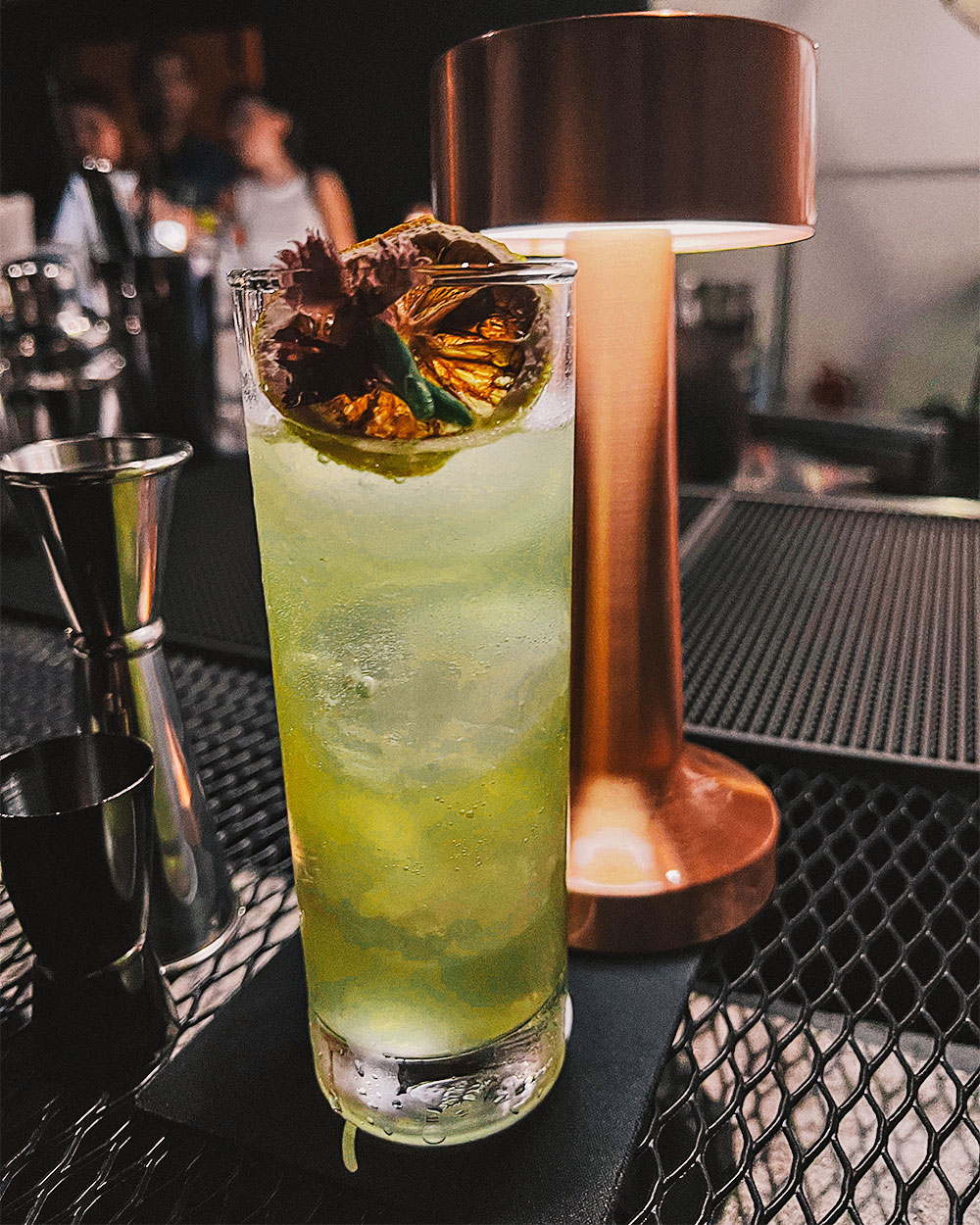 "To get the night going, the team at Bar Micro recommended I try the Olden Highball—a floral combination of Bulldog gin, elderflower syrup, lemon, and jasmine soda. I'm a fan of anything elderflower-flavoured; however, there are times when it can be overpowering, so I had my reservations. After a sip, my worries subsided because it was a lovely cocktail with a pleasant mouthfeel and the right amount of elderflower notes.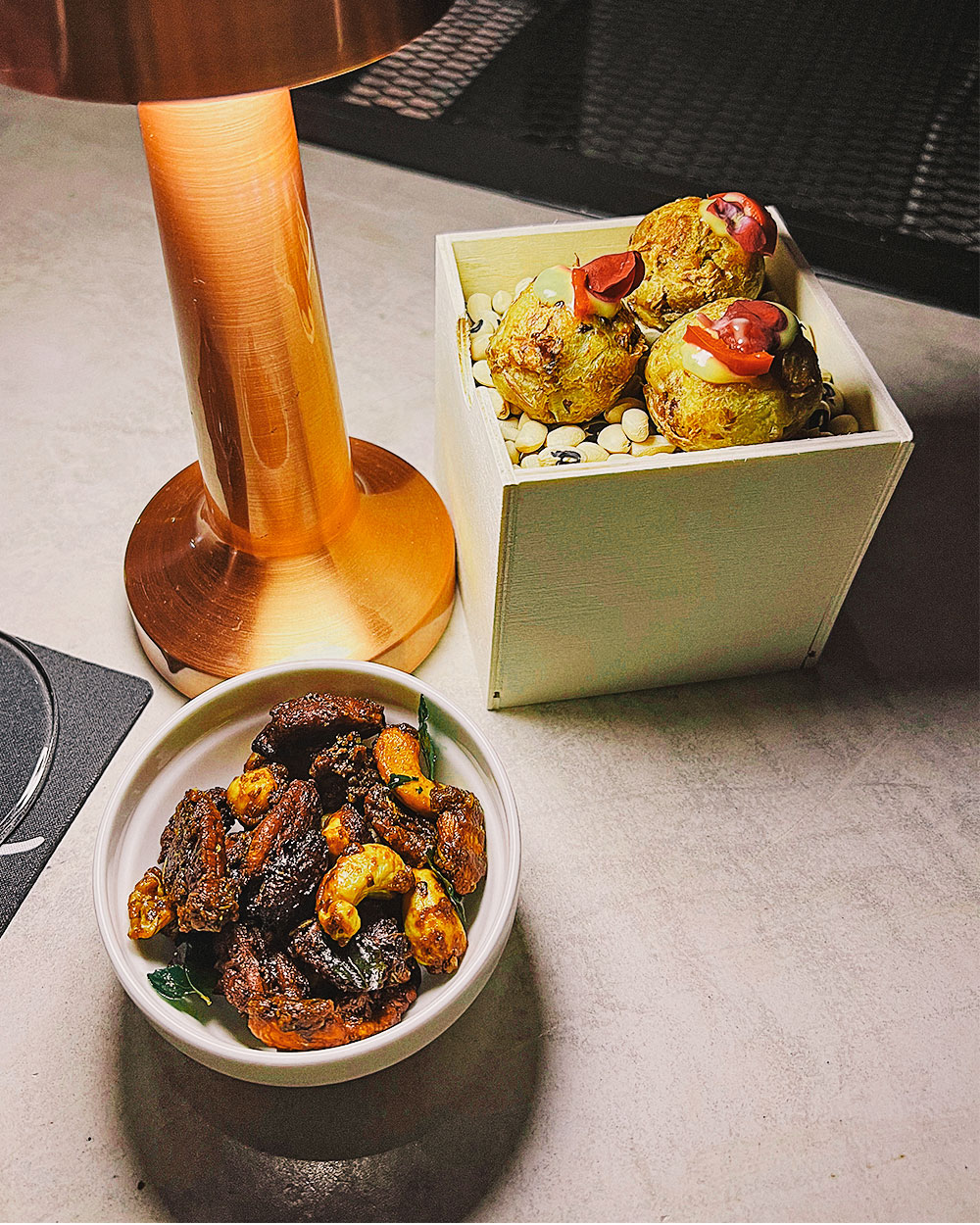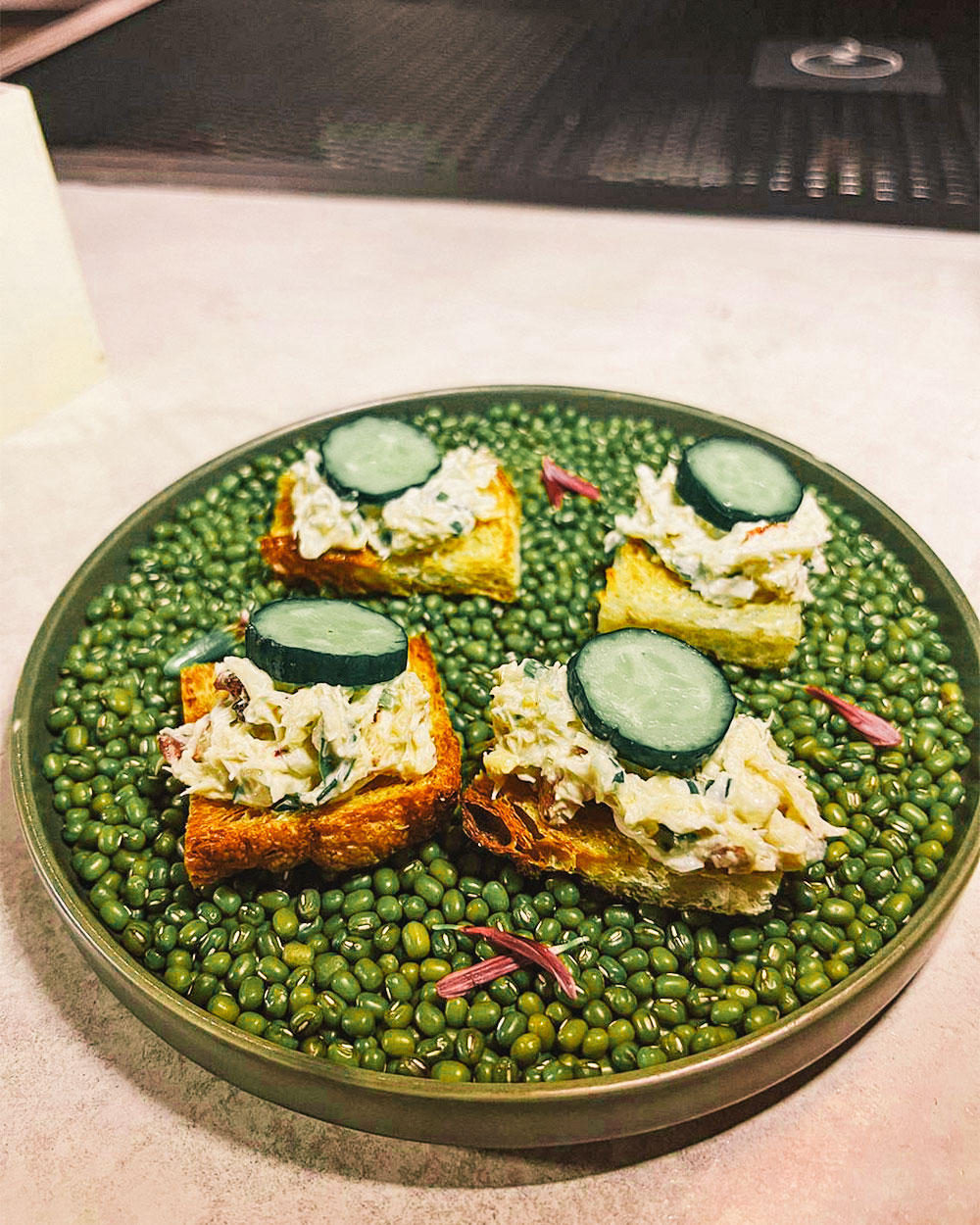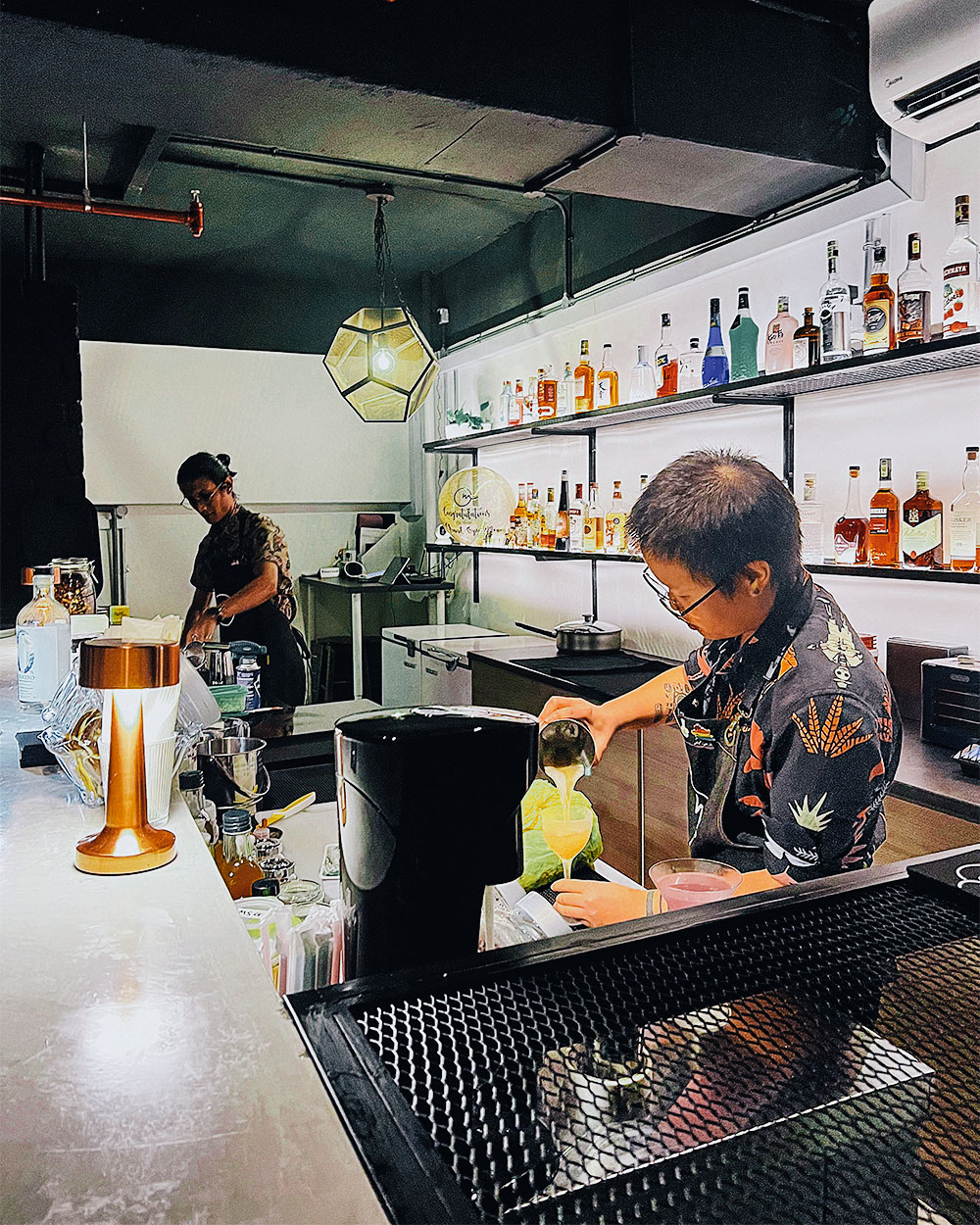 "Drinks aside, I was excited and curious to see what was on the food menu since Ping was given full creative freedom in the creation of the recipes. She shared that it was not an easy feat as the bites had to match well with the cocktails and there was no hot kitchen on-site to make freshly cooked dishes. Since there are only four items on the small bites menu, I didn't have high expectations. But after I had a bite of the Micro Signature Nuts, Roast Duck Bergedil, and Crab on Toast, I kept going back for more.
"All in all, I'm looking forward to coming back to try the other cocktails along with the delicious small bites with some close friends. The team at Bar Micro made me feel welcomed and it felt like a cosy nook to escape to after a busy day." —Lung Kye Lin, Senior Lifestyle Writer
Address: Unit LG2-09, The OOAK Suites and Residence @ Kiara 163, 5, Jalan Kiara 4, Mont Kiara, 50480 Kuala Lumpur
Contact: 011 1218 5950
Opening hours: 5PM to 11.30PM daily
TE AMO KL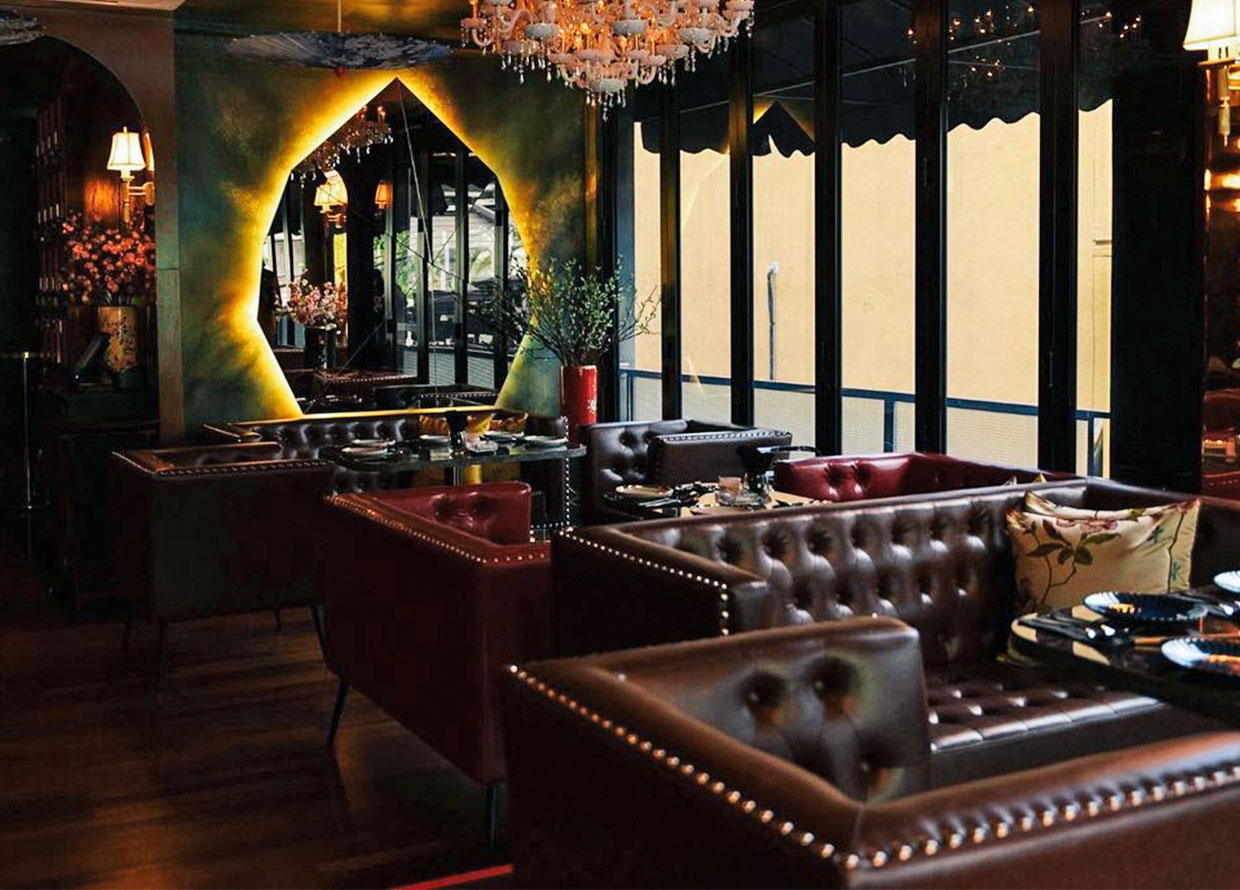 Introducing Changkat's latest speakeasy, hidden away behind a locked door (you'll need a code to enter) at the top of a decorated flight of stairs. Operated by The Olive Tree Group, Te Amo boasts extravagant Shanghai-themed interiors complete with magnificent chandeliers, velvet chairs and colourful murals. The drinks here are just as vibrant and presentable, ranging from classic to house signature options. In addition, there's a plethora of Asian-inspired and East-meets-West dishes, on top of a selection of cigars to pair with the drinks. 
Address: Changkat Bukit Bintang, Kuala Lumpur (good luck searching!)
Opening hours: 6PM to 3AM, Tuesdays to Sundays
Contact: +6012 521 1396
RAKH
View this post on Instagram
Rākh makes its debut as the bar counterpart to the contemporary Indian restaurant, Jwala, serving cocktails with primarily Indian inspirations and ingredients. Its name is inspired by the Urdu word for ashes, reflecting its fiery sister establishment. Calling itself "Asia's first culinary cocktail bar", Rākh offers an array of innovative tipples infused with spices and syrups in laboratory-esque vacuum distillers and glassware. Decked with a long terrazzo bar counter and ample seating space, this new joint promises a novel drinking experience for the curious.  
Address: E-1-01, Level 1, Block E, The Five, Kompleks Pejabat Damansara, E-1-01, Level 1 The Block E, Bukit Damansara, 50490 Kuala Lumpur
Opening hours: 5PM to 1AM, Sunday to Thursday | 6PM to 2AM, Friday & Saturday
Contact: 017 617 3930
---
JANUARY
BAR TRIPTYK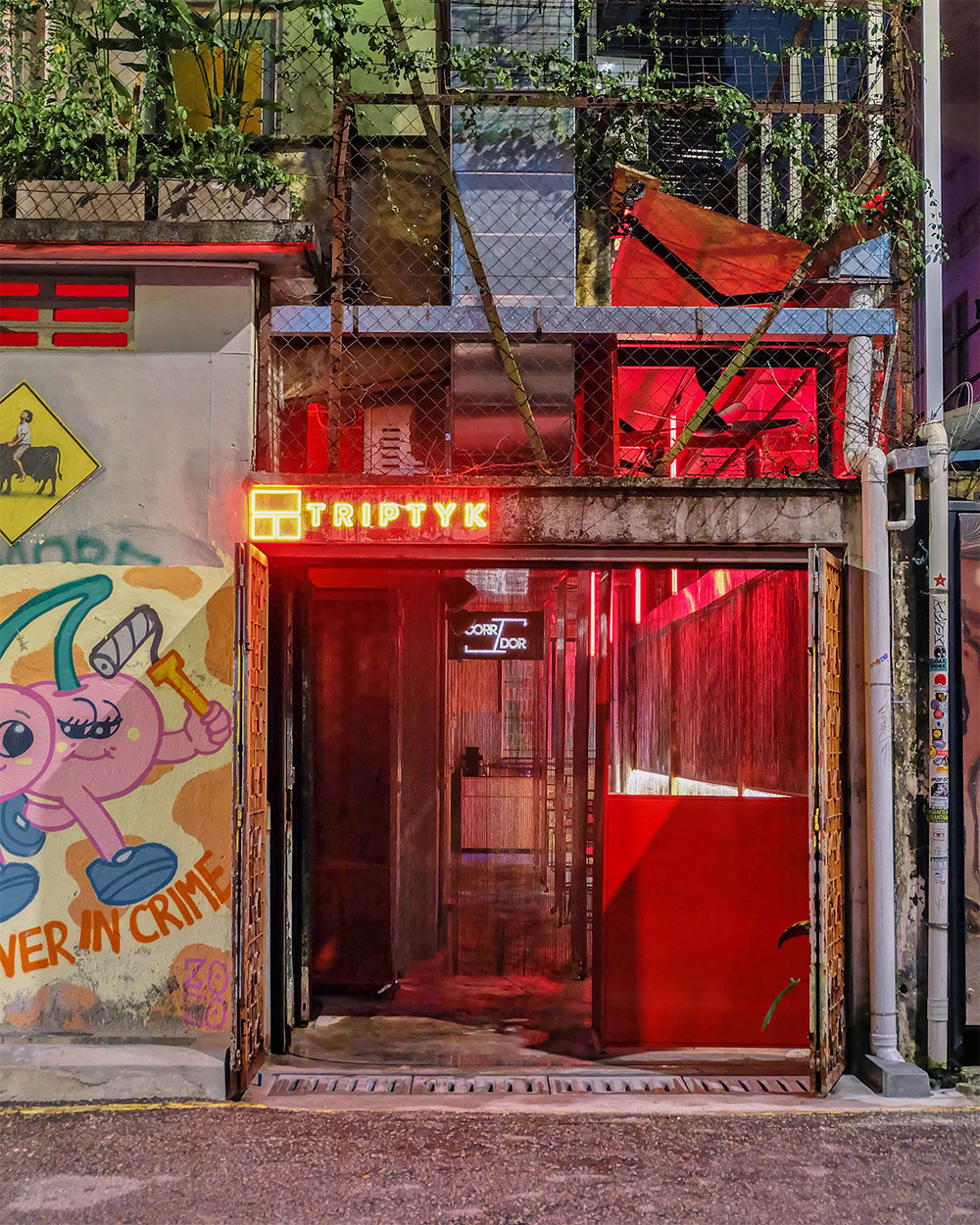 Bar Triptyk launched in December 2022 as the anchor tenant of its namesake F&B collective, established by legendary bartender Angel Ng and her business partner, Ahmed Zareh. Located on the upper floor of a pre-war shophouse in Kampung Attap, the bar prides itself on a sustainable approach that includes reducing waste and reusing scraps to make in-house concoctions or compost. The menu consists of low-ABV and zero-proof cocktails inspired by anecdotes from friends, customers, and Angel's personal experiences. It also serves a handful of bar snacks prepared by the kitchen team downstairs, as well as coffee, tea and wine.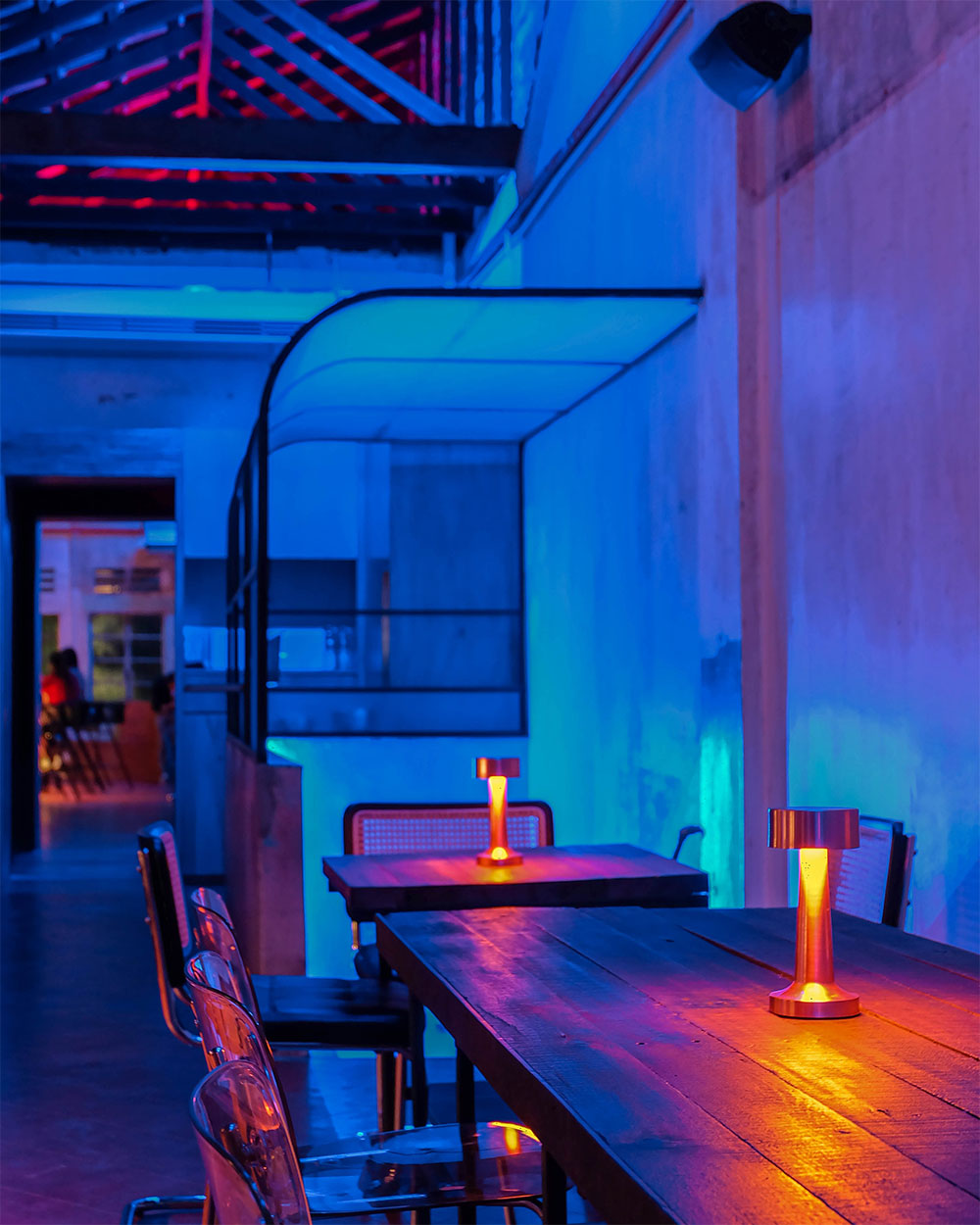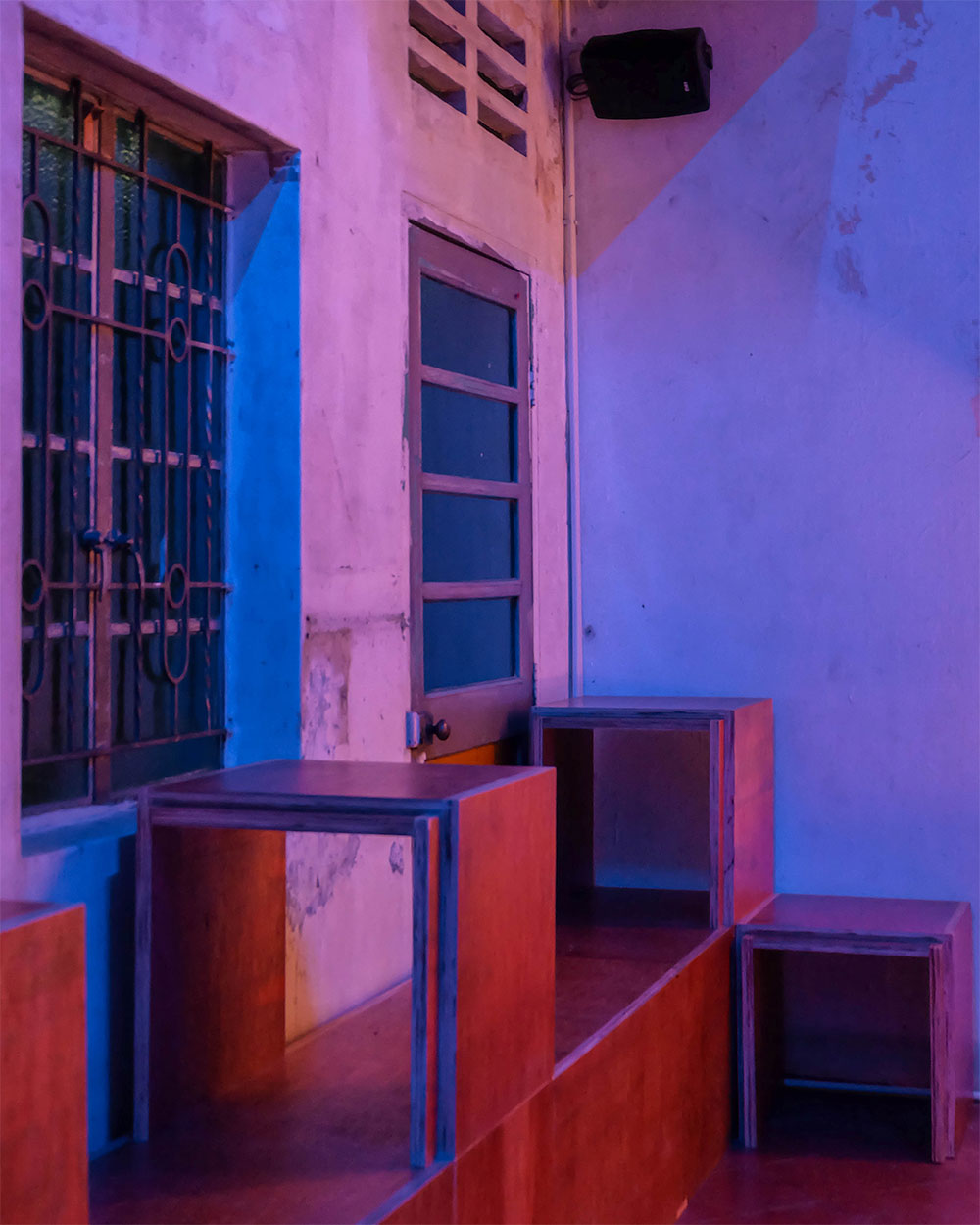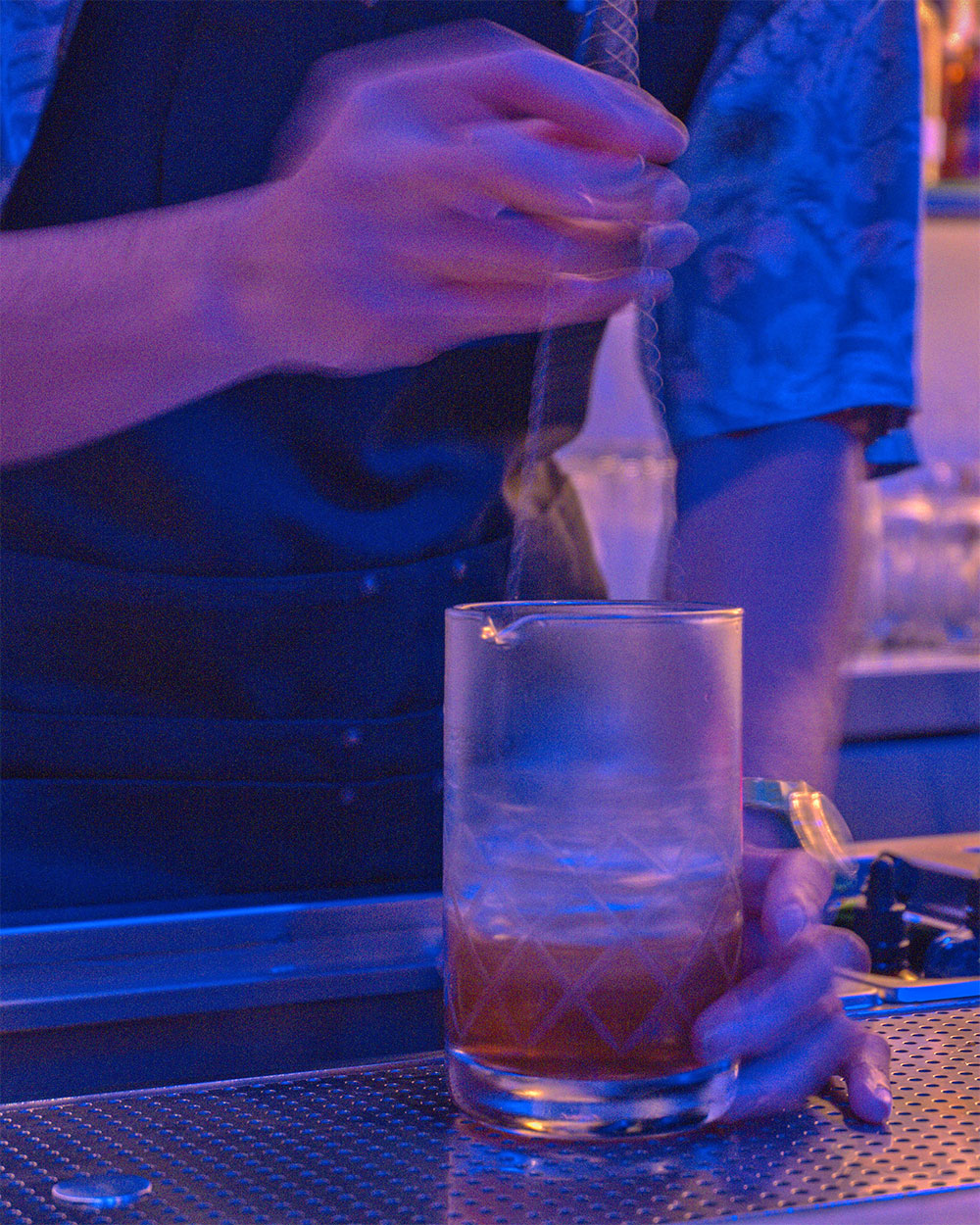 "True to the co-founders' passion for preserving heritage structures, Bar Triptyk instantly strikes me as a laid-back destination for casual drinking with its pared-down interiors and reused furniture. Aside from the relaxed ambience, the selection of cocktails has been thoughtfully curated to cater to regular bar hoppers and newcomers alike, especially with low- and non-alcoholic options that keep inclusivity in mind. The house cocktails are also categorised into appetisers, mains and dessert to help guests enjoy the drinks progressively at their own pace.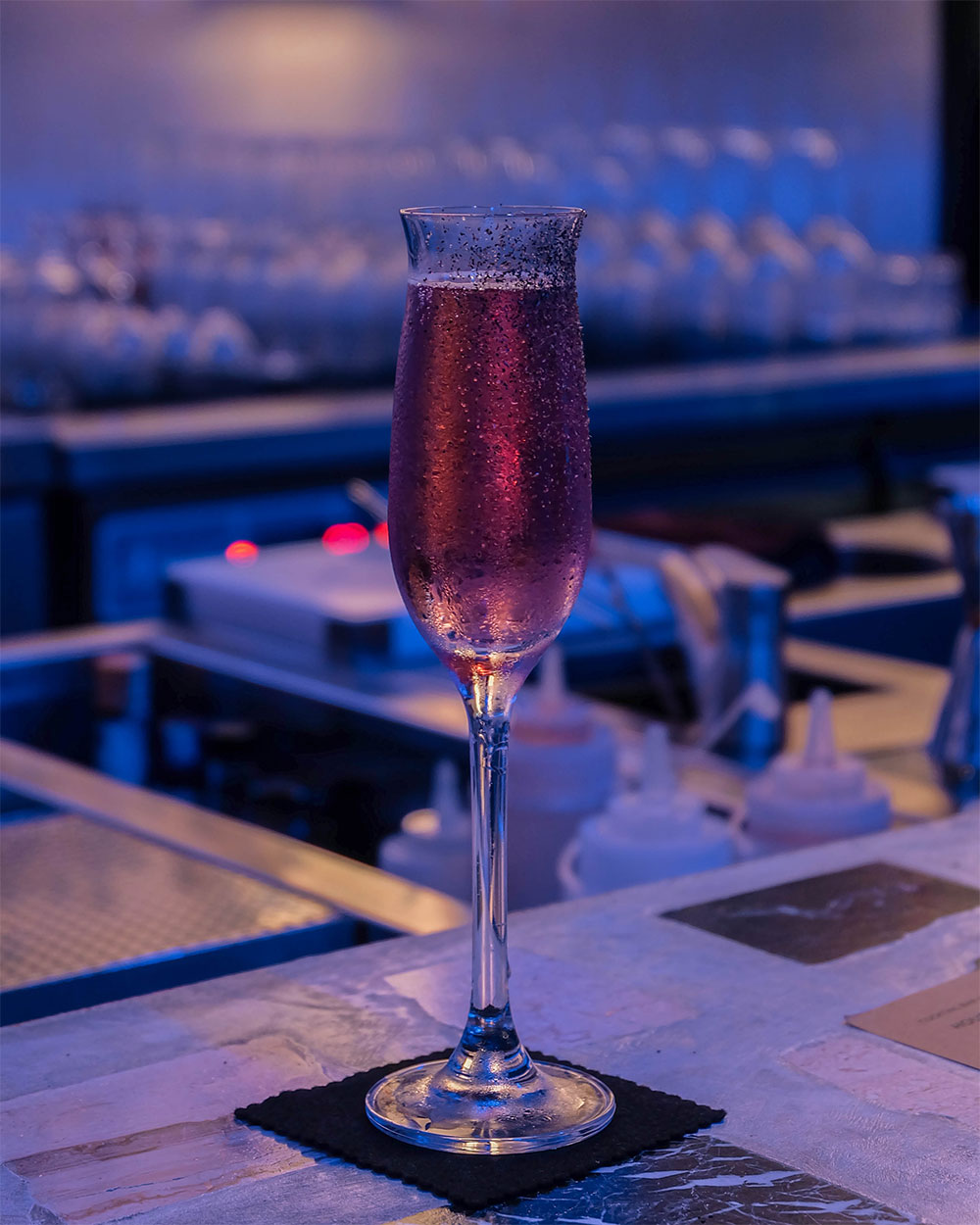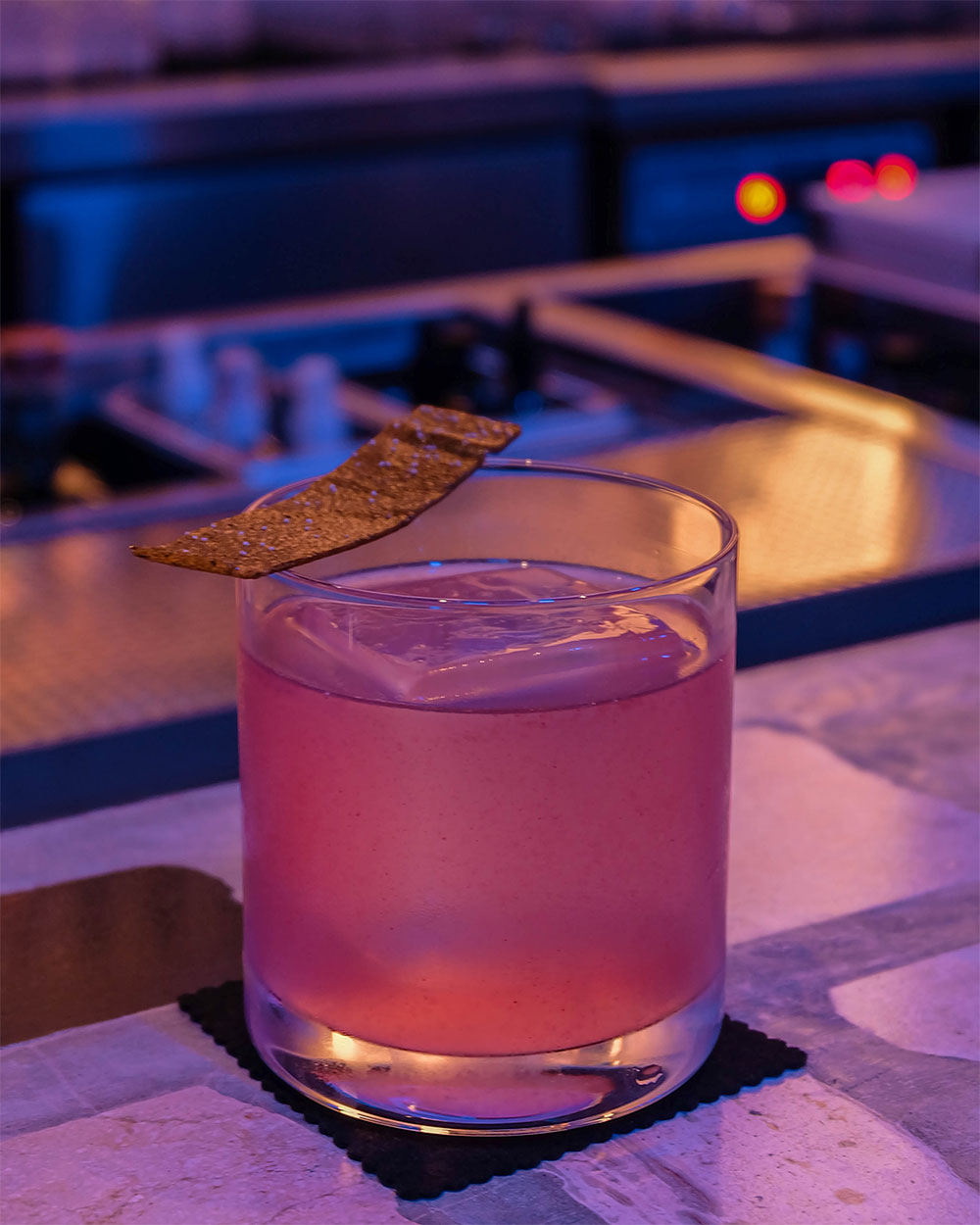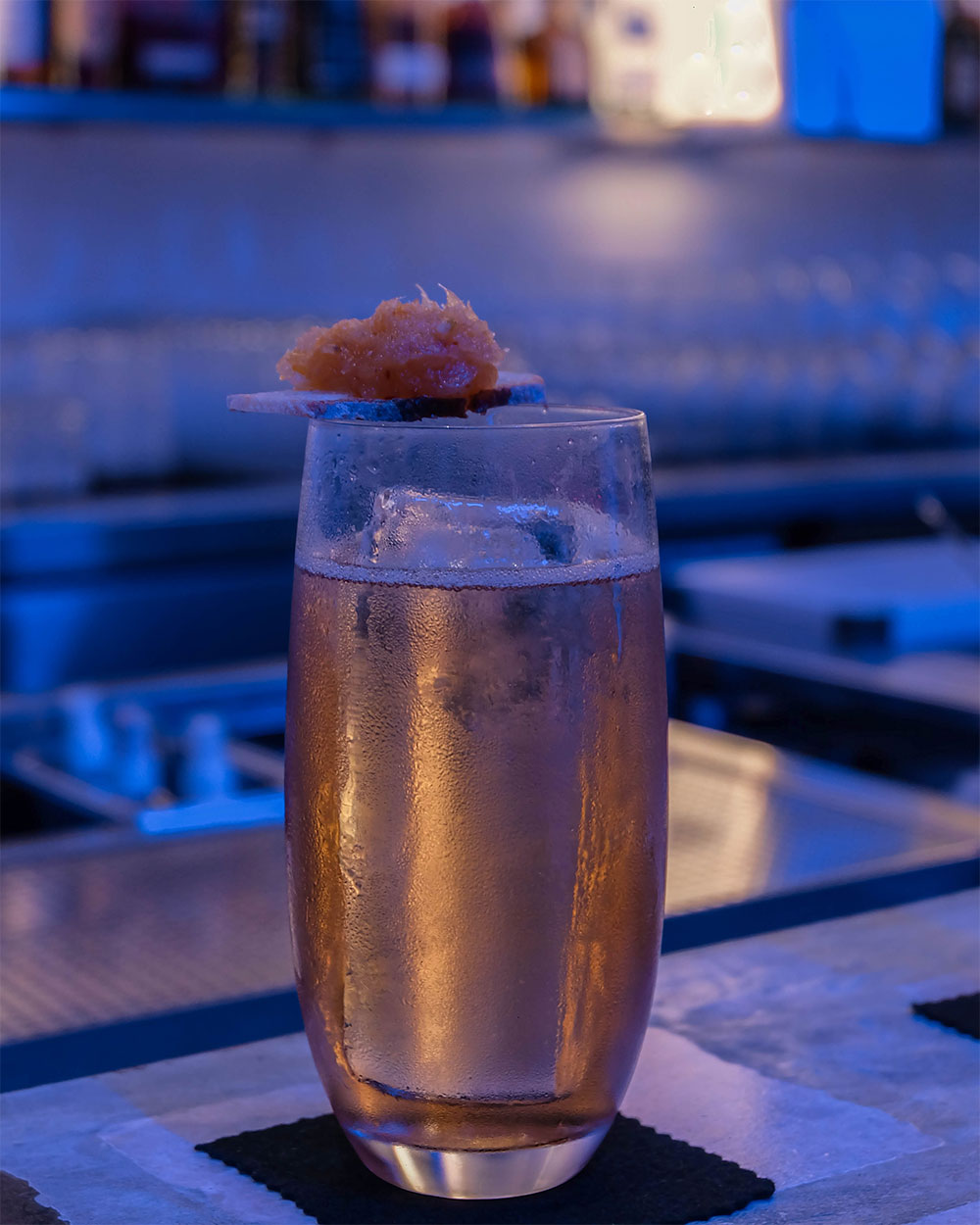 "I initiated my maiden visit with the Absinthia Rai—a blend of absinthe, chardonnay, elderflower tonic, tea and ginger powder which offered a light, refreshing start with a subtle kick. Next, I tried the Rattan Highball and Jacky Joseph from the appetiser section. The former is an invigorating concoction of Honjozo sake, watermelon and coconut soda garnished with jackfruit and lotus tea leather; whereas the latter is a mix of whiskey, jackfruit tea, and club soda served with spiced pineapple and orange jam atop a bread crisp, which evoked nostalgic memories of A&W root beer. (Fun fact: Absinthia is the name picked out for Angel's then-unborn daughter, whilst the recipe for Jacky Joseph was meant as a gift to her firstborn!)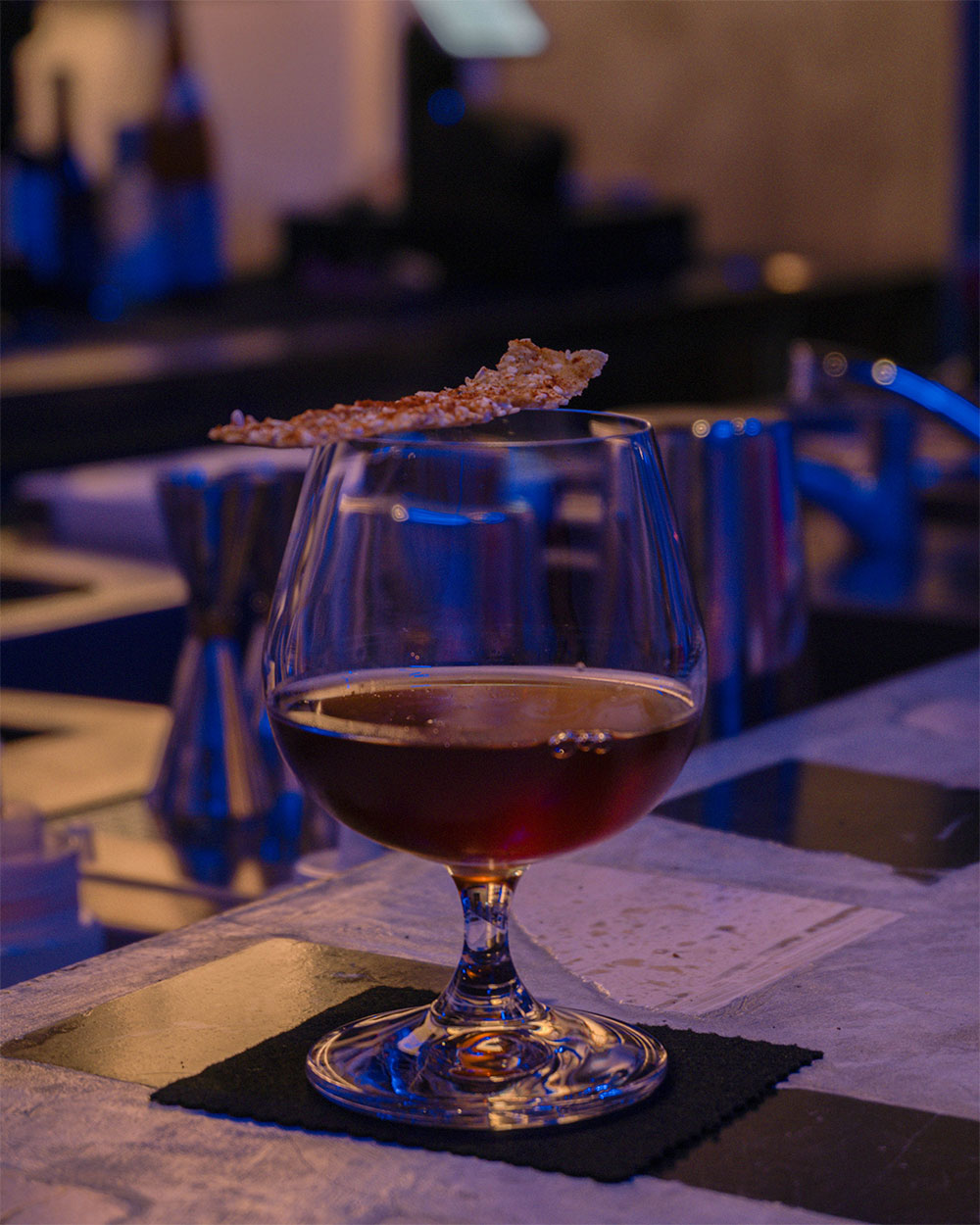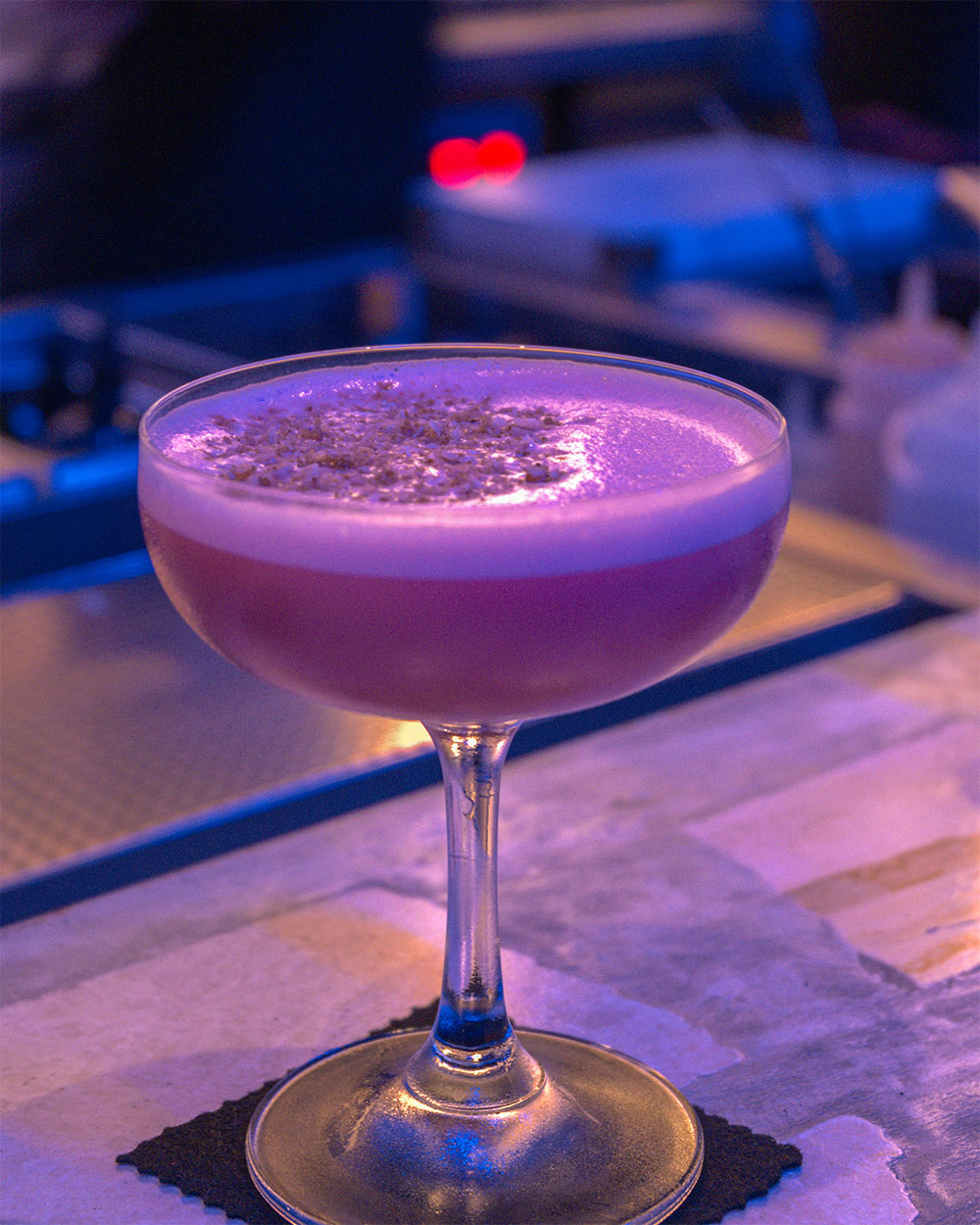 "Moving on to the mains, I opted for Hafu, which is made with shiitake mushroom vermouth, miso tequila, and Jameson seaweed bitters paired with a smoked paprika cucumber cracker. This is definitely one for adventurous palates or those who can appreciate savoury, umami flavours in their cocktail. In the spirit of mindful drinking (pun unintended), I signed off with the only dessert house cocktail, Cafe Rose. It's a sweet blend of lychee liqueur, black pepper, cold brew coffee, and oat milk topped with toasted nutmeg and coconut flakes—a delicious nightcap.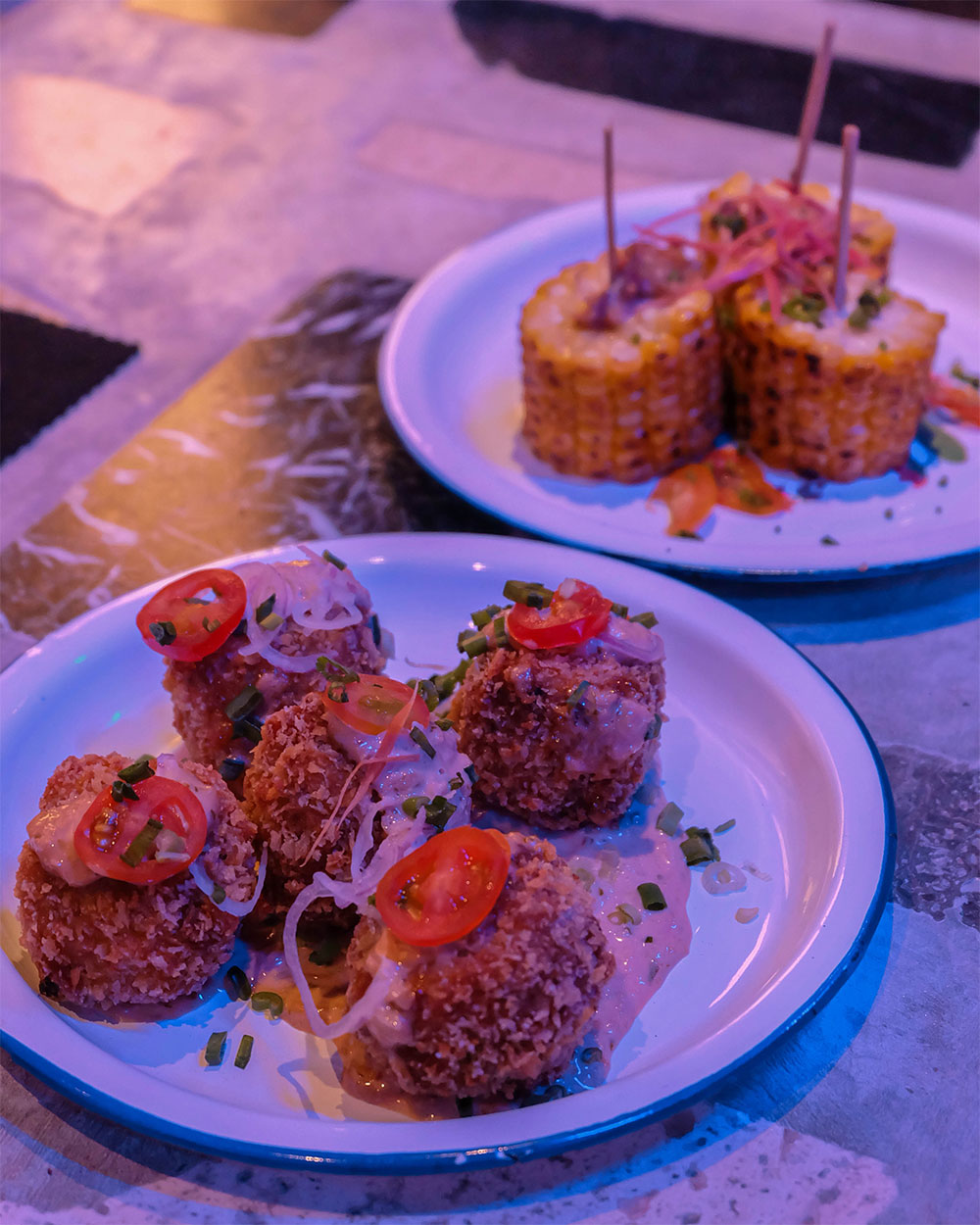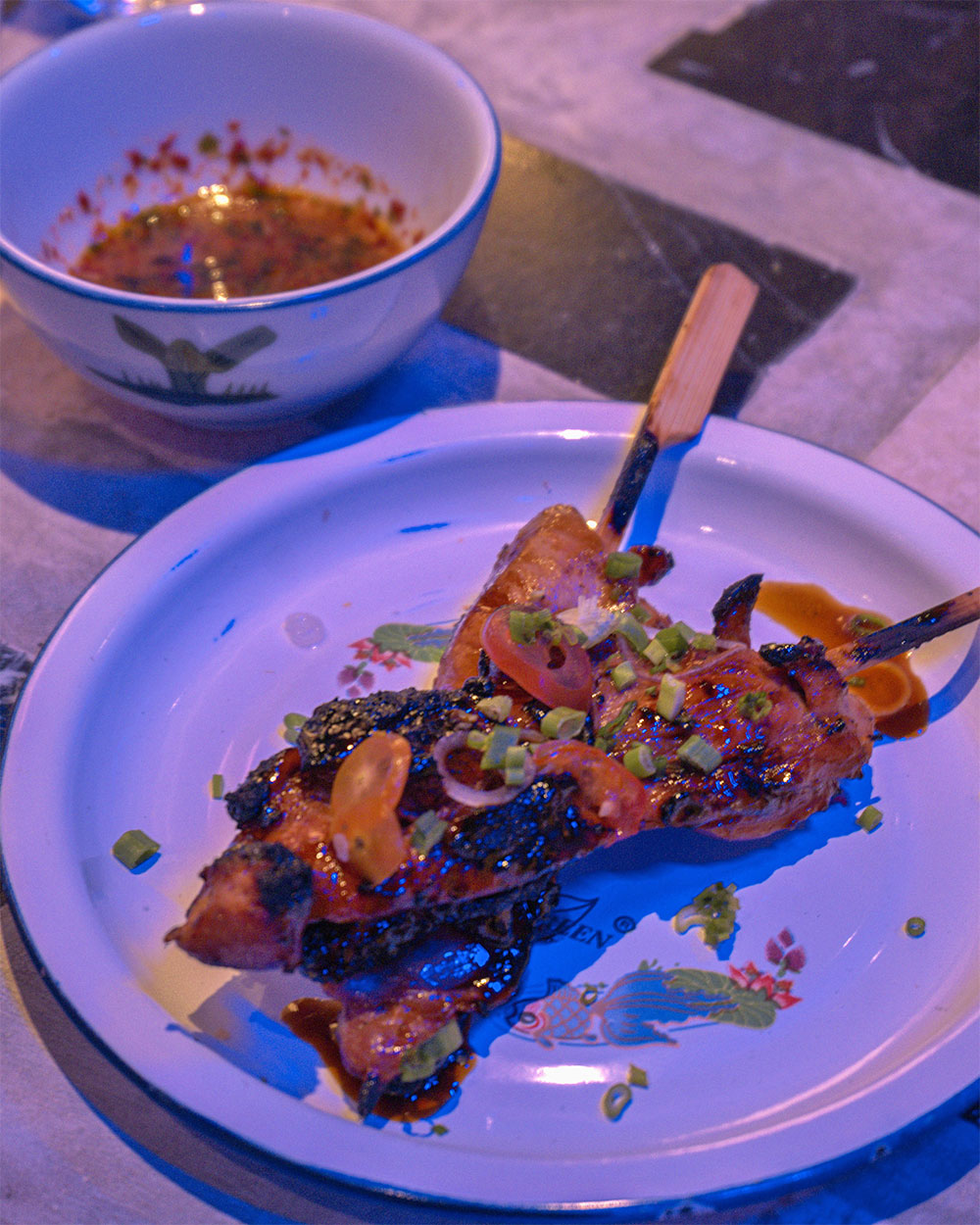 "In between librations, I also sampled all three bar snacks on the menu. The Grilled Corn is coated with laksa butter (I need this in my pantry!) and pecorino romano cheese, whilst the Deep Fried Pumpkin Croquettes are mixed with spices including cumin, fennel seeds and smoked paprika with a side of Vietnamese BBQ mayo. Both dishes are appetising and worth ordering to complement your drinks. Alternatively, the Grilled Chicken Thigh Skewers are a classic option, prepared with a slightly spicy Thai street-style marinade and served alongside Nam Jaew chilli sauce. Overall, Bar Triptyk definitely served up a fun night with brilliant cocktails that left me looking forward to my return." —Natalie Khoo, Deputy Editor
Address: 8, Jalan Tuba, Kampung Attap, 50460 Kuala Lumpur
Opening hours: 12PM – 3PM, 5PM – 12AM | Wednesdays to Sundays
Contact: 014 320 8050
REMEDY COCKTAIL BAR
View this post on Instagram
Opening its doors in December 2022, this modern watering hole in Taman Paramount wants to offer a remedy to dull nights with its classick cocktails, vibrant hospitality and jazzy music. Crafted by Head Bartender Joshen Chew, the specials menu comprises unique libations such as Asian Tai Tai and Mayfield Bergamot. There's also a decent selection of wines and spirits including brandy, gin, whisky, vodka, and more. 
View this post on Instagram
Address: 11A, Jalan 20/7, Taman Paramount, 46300 Petaling Jaya, Selangor
Opening hours: 6PM to 12AM, Mondays to Thursdays (except Tuesday) | 6PM to 2AM (Fridays & Saturdays) 
Contact: 017 781 7110
BAR HANAREYA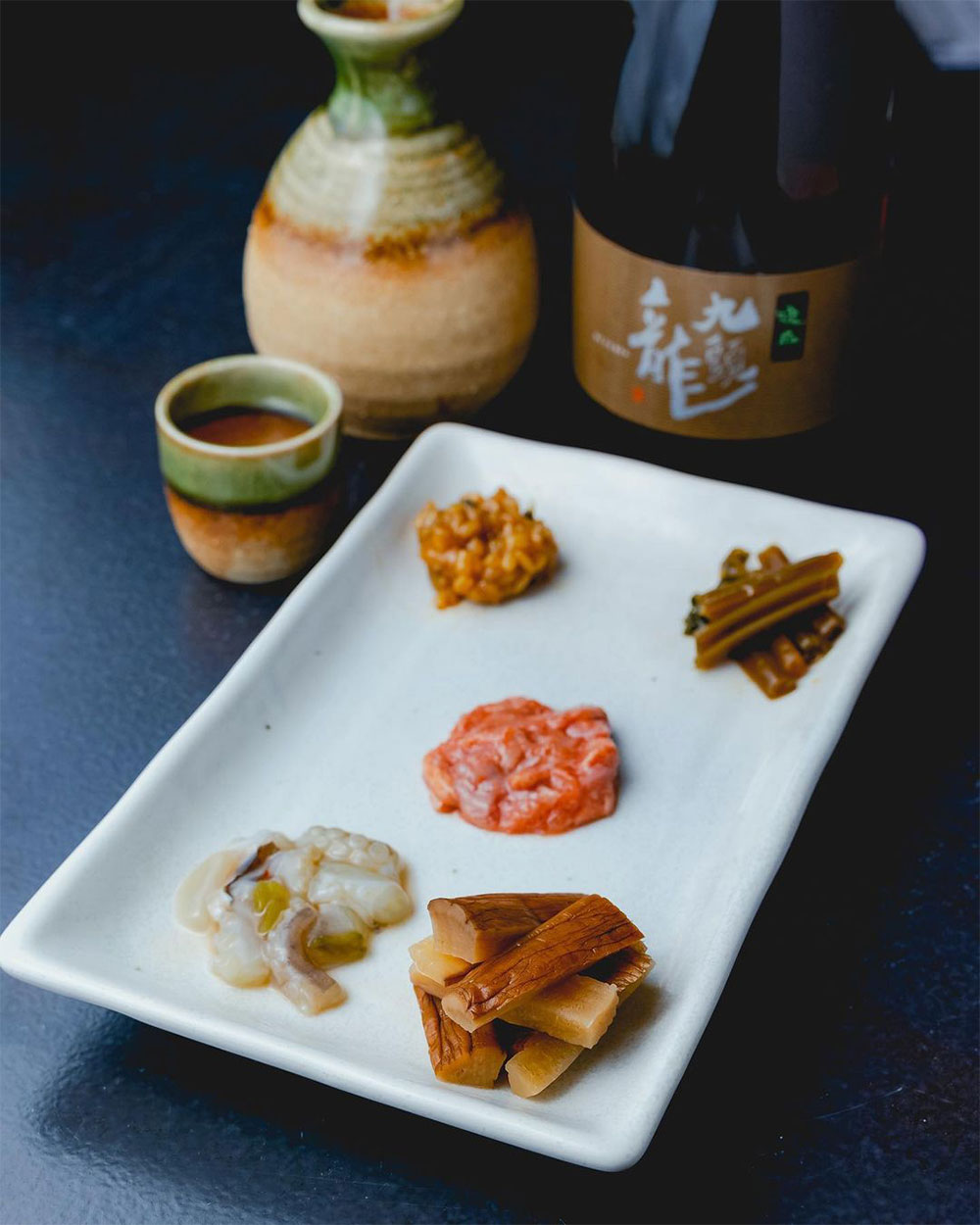 If you're a fan of sake cocktails, then the trip to Setia Alam may be worthwhile for a taste of Bar Hanareya's potions. The neighbourhood's first sake cocktail bar specialises in otsumami (Japanese snacks and dishes eaten alongside alcohol) and sake from across Japan, offering clean blends for a pleasant evening. Heartier dishes such as udon and okonomiyaki are also available on the menu to fill up bigger appetites. 
Address: 21-1, Jln Setia Dagang AJ U13/AJ, Setia Alam, 40170 Shah Alam, Selangor
Opening hours: 5.30PM to 12AM, Tuesdays to Sundays
Contact: 017 607 9587
[Note: This article was originally published on 8 March 2023 and will be updated with more bars throughout the year.]
ICYMI: Here are 7 cocktail bars in 2022 that are worth a (re)visit
Find more bars to visit here. 
| | |
| --- | --- |
| SHARE THE STORY | |
| Explore More | |