It's always the start of the year where most people get super pumped up with resolutions that particularly revolve around fitness and wellbeing. During the course of the pandemic, when most of us couldn't go to our favourite local gyms, many turned to Youtube, live streams and apps for guided workouts. Some of us have found the perfect momentum and medium; others, not so much. And then, there's the matter of paying multiple subscriptions to cater to different needs.
Apple Fitness+ aimed to solve it all in one simple subscription fitness service, covering a wide variety of workouts for all levels by some of the most charismatic trainers. Some workouts are even paired with playlists sorted according to artists like Billie Eilish and Calvin Harris. Alternatively, Time to Walk features celebrity guests as they share anecdotes, mimicking the experience of them walking with you by even cueing the Apple Watch to display a photo or play a song. Of course, mindfulness and meditation aren't forgotten either, as both are integrated into the service too.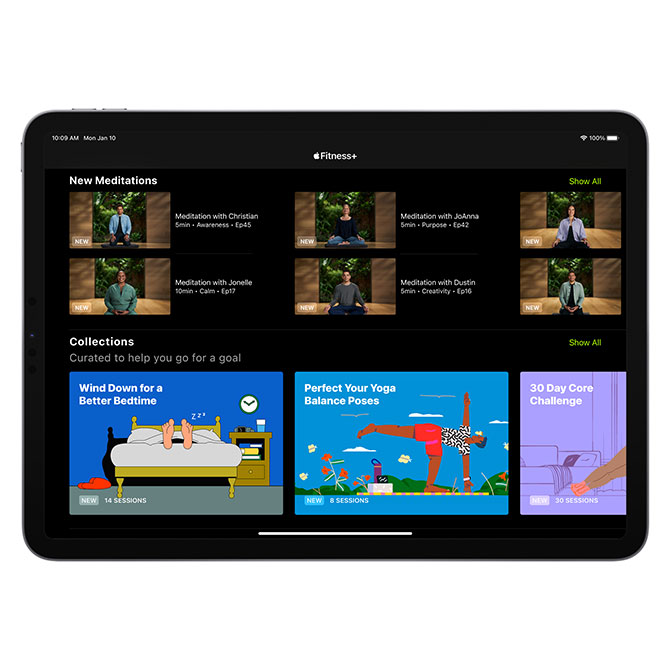 One of the joys of working out at a gym is the community or going with friends. A similar experience is found with Apple Fitness+ via Group Workouts, powered by SharePlay, offering support for up to 32 people at a time. How it works: The users would need to be subscribed to the service and will then be able to see each other onscreen through FaceTime on iPhone, iPad or Apple TV. You'll also be able to see each other's progress towards closing their Activity Rings—talk about competition!
New programmes are added regularly, and already, there's so much to explore. However, more exciting features are coming to Apple Fitness+ this January 10. "At the beginning of a new year, we know many people are looking for new ways to go after their goals. With these new additions, Fitness+ makes it easy to get motivated and stay active anywhere, with the most complete library of high-quality and diverse content to train your mind and body, no matter where you are on your fitness journey," said Jay Blahnik, Apple's vice president of Fitness Technologies.
Read on to find out what's coming to Apple Fitness+.
1. Collections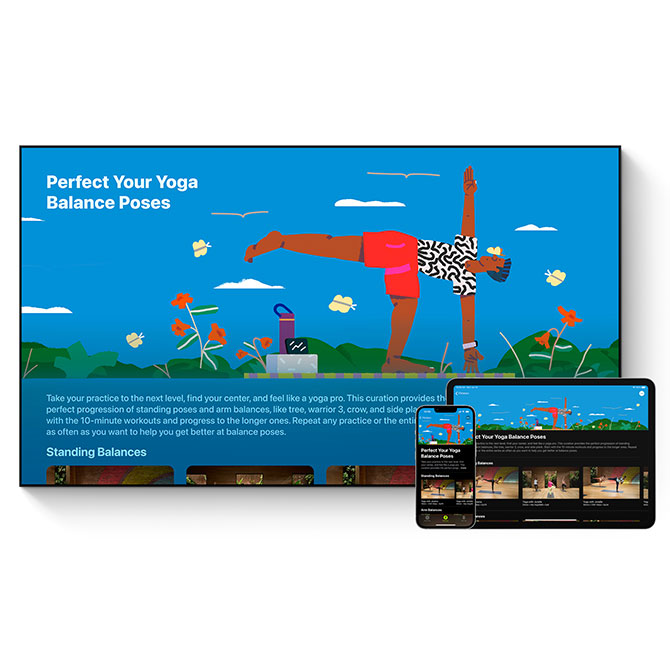 Considering the vast amount of content (almost 2,000!) on Apple Fitness+, it can get overwhelming trying to find the workouts to suit your goal(s). In comes Collections, a personalised curation of workouts and meditations from the said library to match your needs. The feature will even include a suggested plan so you can make intentional training choices for the days or weeks to come. The feature will launch first with six Collections:
30-Day Core Challenge
Improve Your Posture with Pilates
Perfect Your Yoga Balance Poses
Run Your First 5K
Strengthen Your Back, Stretch Your Hips
Wind Down for a Better Bedtime
2. Time to Run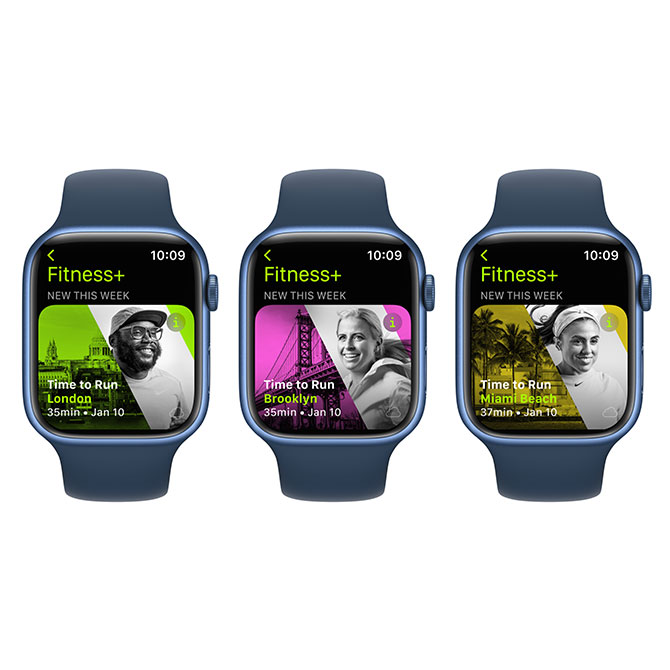 Admittedly what we (the writer of this article) are most excited for, Time to Run aims to help users become the runners they've always wanted to be (beginner or not) with a unique audio running experience. Each episode is led by one of the lively Fitness+ trainers who will share coaching tips as they follow a popular running route in some of the most popular destinations such as London and Miami Beach.
You'll also hear motivational and energising music throughout the run through a playlist curated to match the run's intensity, location, coaching, and the city's character. To liken the experience of running alongside the trainers, you'll receive photos of notable sights taken by them during their run along the route. There'll only be three episodes at launch, but a new episode will be released every Monday thereafter.
For users who use a wheelchair and has an Apple Watch, Time to Run becomes Time to Run or Push, which will give the option between starting a run or an Outdoor Push Running Pace workout.
3. Time to Walk
Two seasons featuring 41 influential guests have been released since the launch of Time to Walk, with Prince William concluding season two as he shared the importance of caring for one's mental health. Other past notable guests include Naomi Campbell, Camila Cabello, Nick Jonas and Jane Fonda. Season three will be no different, with new episodes added each week. Expect interesting stories from guests ranging from Rebel Wilson to Hasan Minhaj to human rights advocate Black Lives Matter co-founder Ayọ Tomet.
4. Artist Spotlight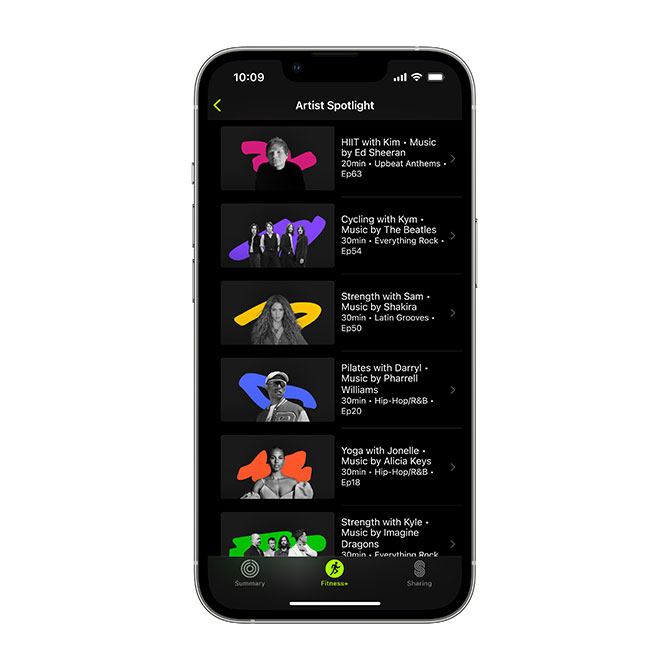 This particular writer once tried combing through Youtube for workouts with just songs by Taylor Swift. No luck so far with the 'All Too Well' singer, but if you're a fan of musicians such as Ed Sheeran, Pharrell Williams, Shakira, and the Beatles, here's some exciting news. They're the latest artists to be added to the roster under the popular Artist Spotlight series. This feature curates workout playlists with the songs from a single artist, and the workout types could range from Cycling to Dance to HIIT, and even to Treadmill and Yoga. "For me, a great playlist can make or break a workout," said Shakira. "Music has that power to energise you and make it more fun, so I hope these playlists can be inspiring for the Apple Fitness+ users who choose them too!"
Apple Fitness+ is available in Malaysia for RM19.90 per month or RM119.90 per year. The first month is free for Apple Watch users and you can share the subscription with up to five family members. You can access the service through the Fitness app on iPhone, iPad and Apple TV. For more info, head over to Apple's website.
| | |
| --- | --- |
| SHARE THE STORY | |
| Explore More | |