Since my first Apple Watch, which was the Series 2, I've been building a closer relationship with the smartwatch. In the beginning, it was a life coach, ensuring I close my rings each day for the sake of a healthier lifestyle. That meant having enough movement in a day, not sitting for too long and doing my workouts. This even extended to having a healthy competition with friends who were also using an Apple Watch, as you can see their progress with their rings too.
It later taught me to take a moment to Breathe and monitor my heart rate and warn me when my surroundings were too loud for my hearing's 'future'. And let's not forget about Fall Detection too, which, with watchOS 8, is no longer just for old folks but protects the users in the event of a life-threatening hard fall if you're out cycling or working out alone.
The list can go on, which made me realise that many of us could be under-utilising the Apple Watch and Series 7 is the best version to date. Sometimes, it's the little things that matter the most. While it's important that you're motivated to close those Activity Rings, that you're able to take an ECG reading and check your Blood Oxygen levels, and so many more—the Apple Watch is also meant to be akin to a personal assistant. Here's how else I have been using the Apple Watch Series 7.
1. Going hands-free with Siri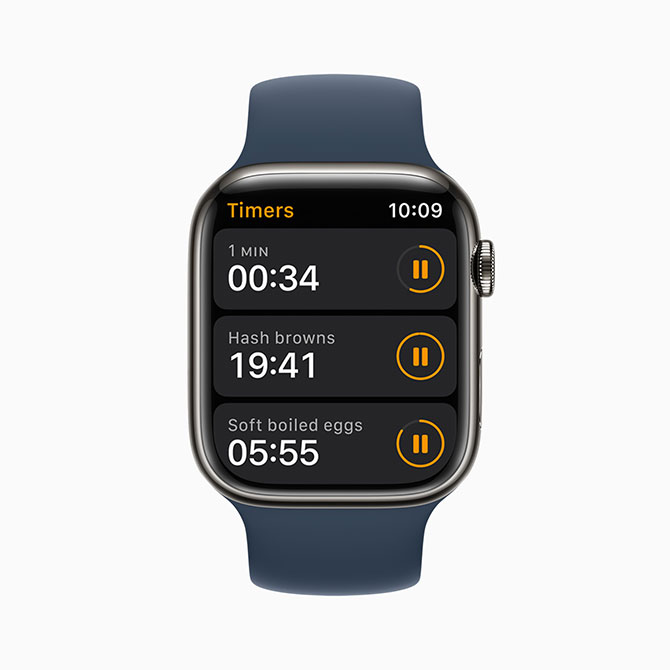 I remember all those jokes people had about Siri's replies at times, but at present, Siri's abilities have been unlocked further. When I'm rushing out the door and immediately driving off, but there's an important message that I need to send to my partner, I just dictate it to Siri and get it to send it out. A hundred per cent of the time, Siri gets the message exactly as I told it. When my hands are oily from cooking, I get Siri to play music or set a timer. Now, if only Siri could just do my claims for me.
2. Taking the 'Time to Walk'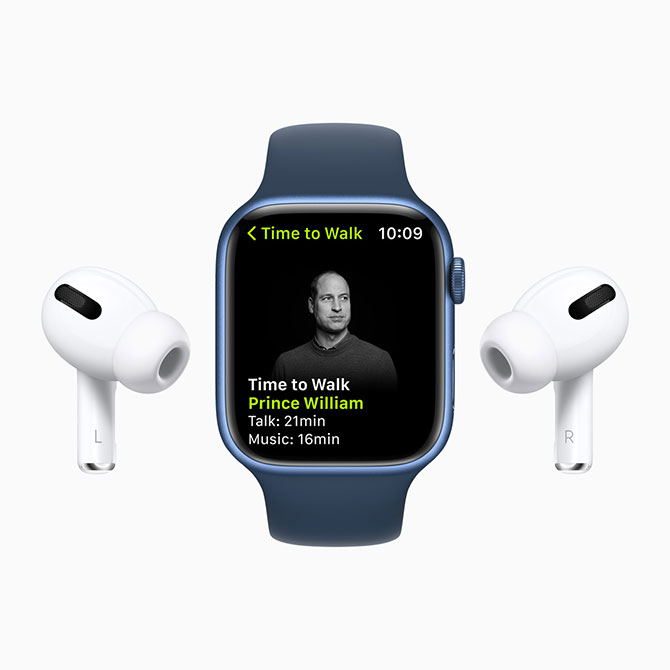 Fitness+ is finally in Malaysia, and I couldn't be more excited. While there are a ton of workouts available on the app—and more to come—with the most charismatic trainers in the world, what I've been enjoying the most with the Apple Watch Series 7 is 'Time to Walk'. With an ever-growing library of special guest stars ranging from Prince William to Camila Cabello to Naomi Campbell, tuning in to the episodes feels like I'm literally taking a walk with them. Plus, as they share anecdotes, an image will be pinged to your Apple Watch, which works best with the bigger screen on Series 7.
3. Sleep-tracking
If you like personality quizzes as I do, perhaps you'll enjoy learning more about your habits as I do. After all, learning about your sleep patterns might reveal more about your health, especially whether you're getting quality sleep each night. You can do that easily with the Apple Watch, and where I used to worry if wearing it all night would mean I'd be unable to use it for the rest of the new day; that's no longer a concern. The new Apple Watch Series 7, with its all-day 18-hour battery life, now offer 33 per cent faster charging compared with the Apple Watch Series 6. In the time I would typically take to shower and get ready (hey, makeup takes time), which is less than an hour, the watch is instantly back to a full charge.
4. Read emails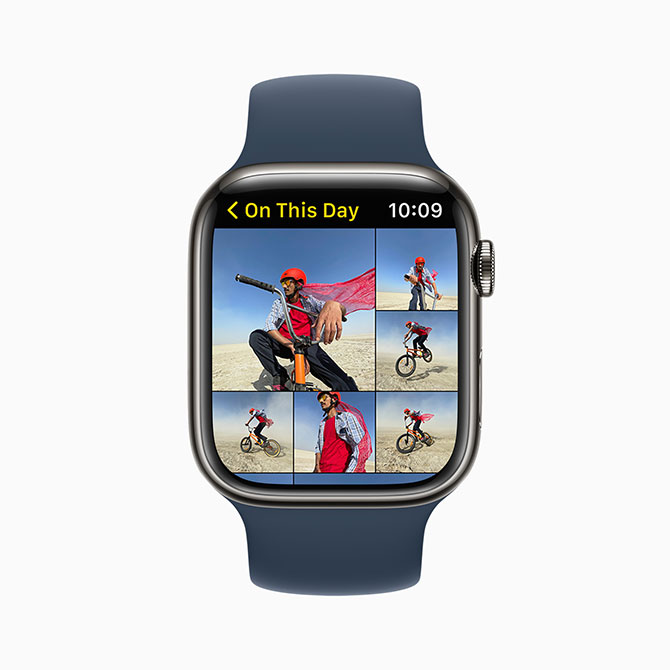 I've previously used my Apple Watch for messages but checking and reading emails is new. Thanks to the redesign—which means Series 7 is offered in 41mm and 45mm versus the previous options of 40mm and 44mm—the display offers almost 20 per cent more screen area, complemented by thinner borders. That means it's easy to read lengthy emails, reply to them with the new QWERTY keyboard, and photos look even better on the watch. In addition, the buttons are bigger now, making them easier to tap on and if you're wondering, the QWERTY keyboard works accurately for me almost 99 per cent of the time. If not, swiping with QuickPath does the job beautifully as well. Despite the redesign, all your previous straps are still compatible with Series 7.
5. Find my iPhone
Have you ever left your iPhone on a table, got distracted by a delivery at the door or with something you were doing, and then forgot where you last placed your phone? Just me? Well, if that applies to you too, just swipe up on the Home screen of your Apple Watch and tap on the icon that displays a vibrating phone. It would then cause your iPhone to ping itself so you can find it based on sound.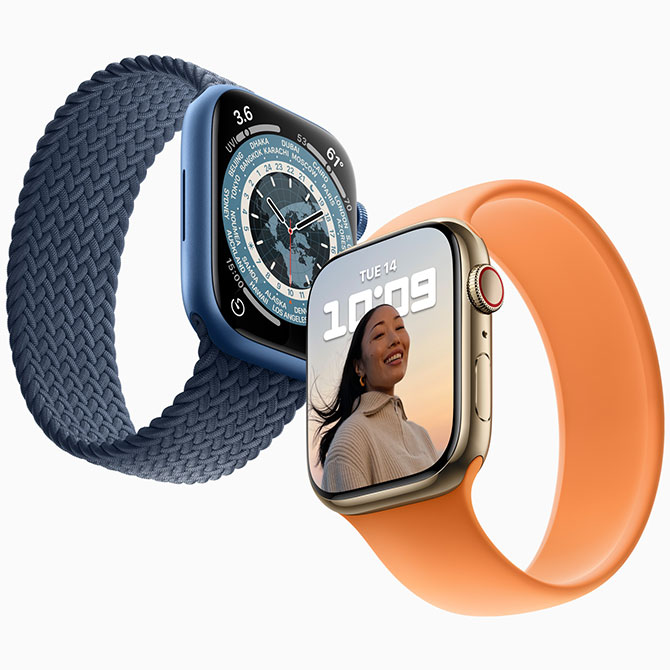 6. Unlock my iPhone while wearing a mask
This is an oldie, but did you know that you can unlock your iPhone with your Apple Watch, which comes in handy when you're wearing a mask? Available since iOS 14.5, you just need to activate it on your iPhone: go to Settings > Face ID & Passcode > Unlock with Apple Watch.
7. Take a photo
When there's no one around to take a photo for you, just count on your handy Apple Watch. After all, the main camera on the iPhone works much better than a selfie, especially if you're looking to capture more background or a bigger party. Place your phone at your desired angle, and open the Camera Remote app on your watch. From your Apple Watch alone, you can even select between the front or rear camera, timer, flash, Live Photo and HDR.
What else do you need to know about the Apple Watch Series 7?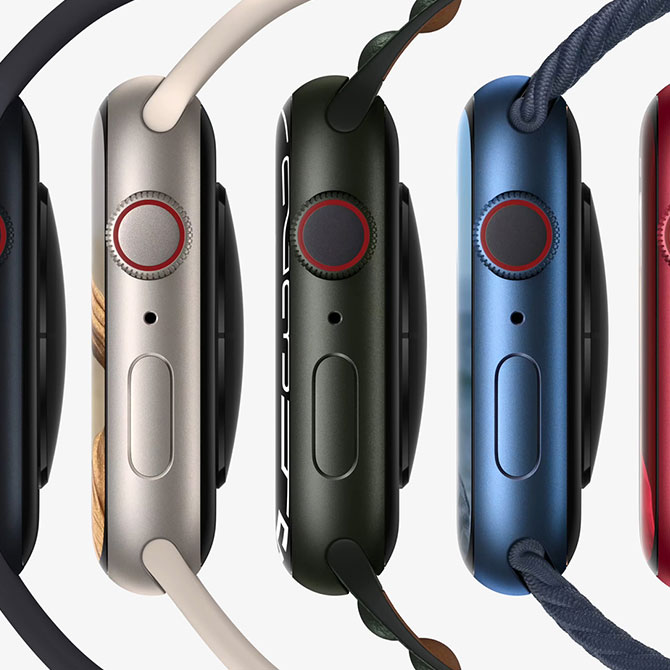 Granted, the Apple Watch Series 6 was already a powerful smartwatch but the bigger display does make a huge difference, allowing for more uses out of the Apple Watch Series 7. In addition, the Always-On Retina display when the wrist is down is 70 per cent brighter indoors without compromising on battery life. That just means it's even faster to take a peek at the watch face without needing to lift the wrist or wake the display.
Not to mention, with Fall Detection now enabled for all workouts (especially useful for cyclists), Apple has made Series 7 to be even more durable. It's IP6X dust-resistant, WR50 water-resistant, and coated in a stronger, more crack-resistant front crystal cover. Fun fact: The Apple Watch Series 7 utilised more recycled content than any other Apple Watch with 100 per cent recycled rare earth elements in all magnets, 100 per cent recycled case on aluminium models and more. All in all, the Apple Watch Series 7 is truly the best one yet.
The Apple Watch Series 7 retails from RM1,749 and is available online and at authorised Apple resellers in Malaysia.
| | |
| --- | --- |
| SHARE THE STORY | |
| Explore More | |