Your need-to-know guide to the Paris Fashion Week SS22 ready-to-wear shows, as they happen
Are you still with us? The end of fashion month may be nigh, but we all know that the unstoppable cycle of fashion never really ends.
Rounding off the busiest IRL schedule since the pandemic hit, Paris returns after July's physical haute couture shows with plenty of in-person and digital events taking over the week. Among industry stalwarts showing physically are Chanel, Dior, Hermès, Givenchy and Louis Vuitton, alongside the return of Balenciaga and Valentino to the official timetable in the French capital. Additionally, Rita Ora is set to be hosting a mix of live music with a performance on the top of the Eiffel Tower on September 30, wearing a range of bespoke looks from Miu Miu, Lanvin and Fendi to celebrate the week-long comeback of fashion. Stick with us as the latest collections hit the runway for everything you need to know in-between:
Christian Dior 
When: Tuesday, September 28 at 9pm Malaysia time
For Spring/Summer 2022, Dior will be returning with their first physical ready-to-wear show since the pandemic hit. Below, Roman artist Anna Paparatti, whose work is linked to Hindu and Buddhist esoteric traditions, and also drew inspiration from various creations themed around games––such as 'Il Gioco del Nonsense' (The Game of Nonsense)––stars in the show's pre-show teaser.
Discover Dior's Spring/Summer 2022 show here and check back for a post-show review.
Highlights: 
For Paris' first big IRL extravaganza, Maria Grazia Chiuri presented Dior's Spring/Summer 2022 collection via a life-sized board game (with an atmosphere not unlike that of recent Netflix hit Squid Game) inside the show tent at Jardins des Tuileries. Designed by artist Anna Paparatti, the scenography reflected her works in the '60s, when she created conceptual board game-inspired pop art that questioned the nonsense and absurdities of life. Bold primary colours competed for attention across different steps and signboards as models moved around like pawns under swirling disco lights, evoking the idea of fashion as performance in the ultimate game of life.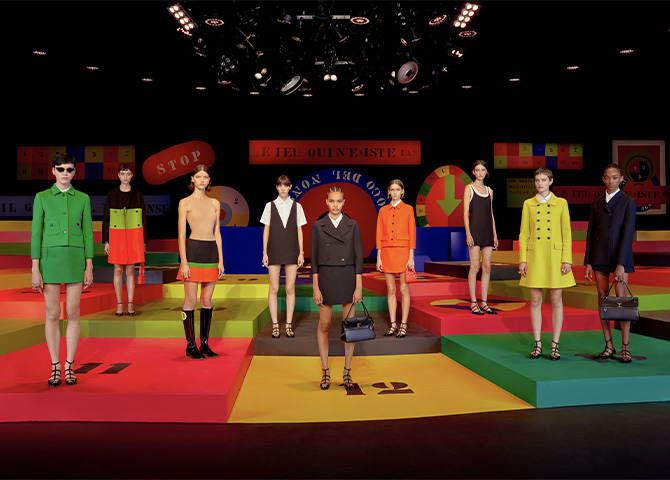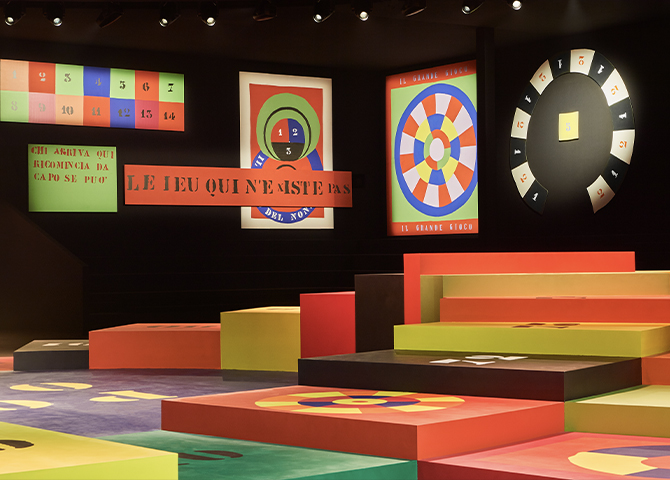 Taking a step in a different direction to move the brand forward, Chiuri had also revisited the '60s to explore the archives of a different Dior designer––specifically former Dior creative director Marc Bohan, whose Slim Look collection in 1961 left an impact on fashion like how New Look did in 1947. Tapping into next summer's new sexy, Chiuri debuted a fun collection rooted in the sportswear and mod-pop lines that Bohan introduced, but with a graphic, colour-blocked twist.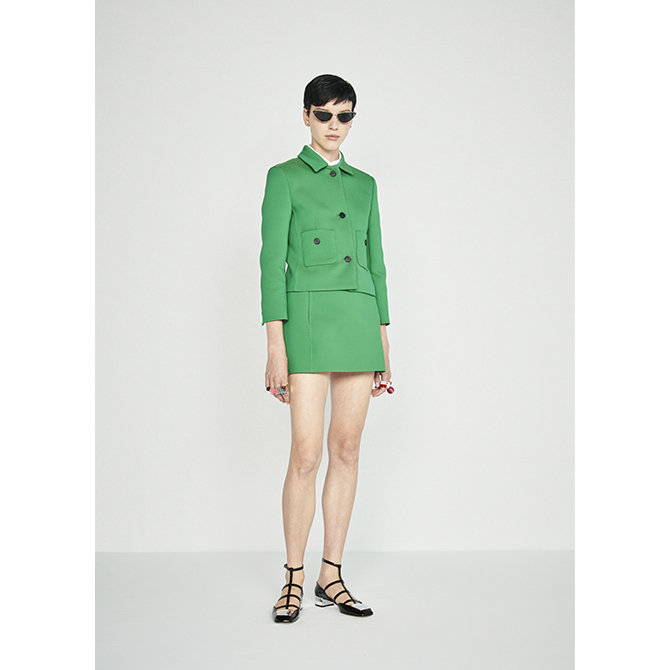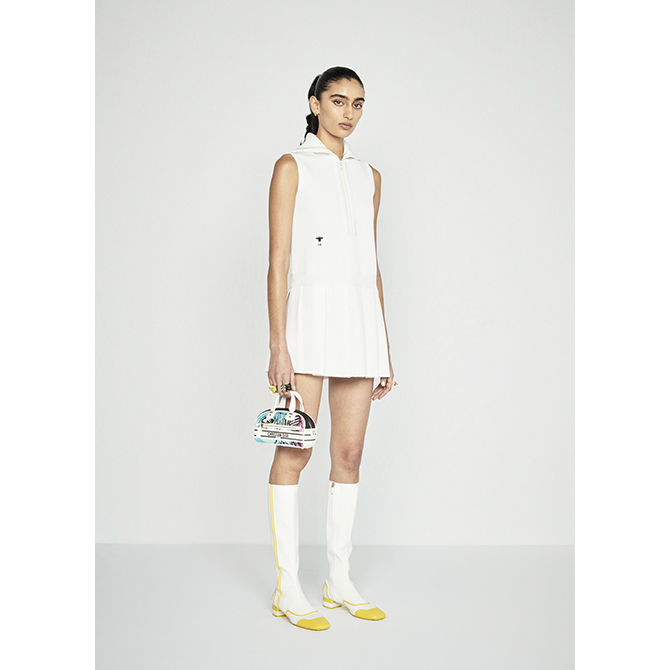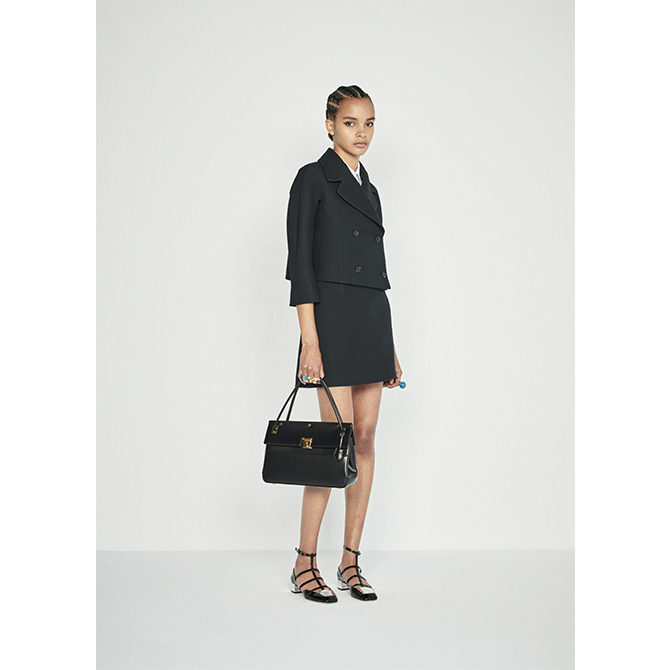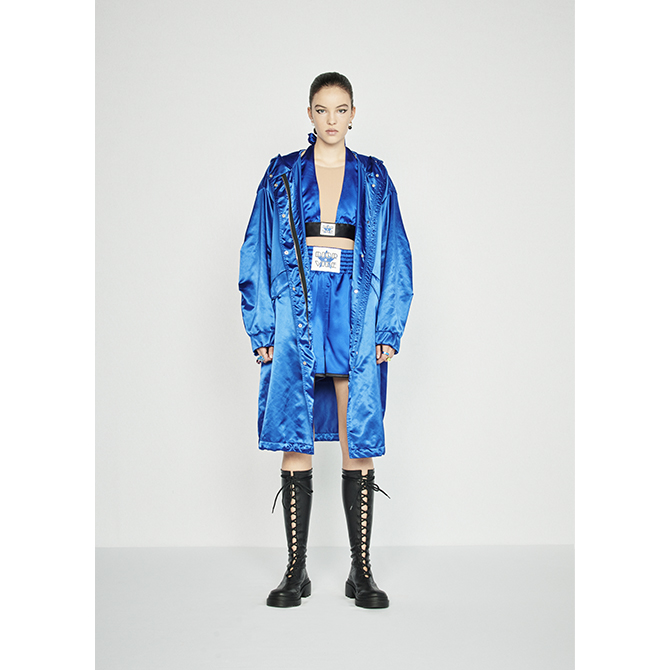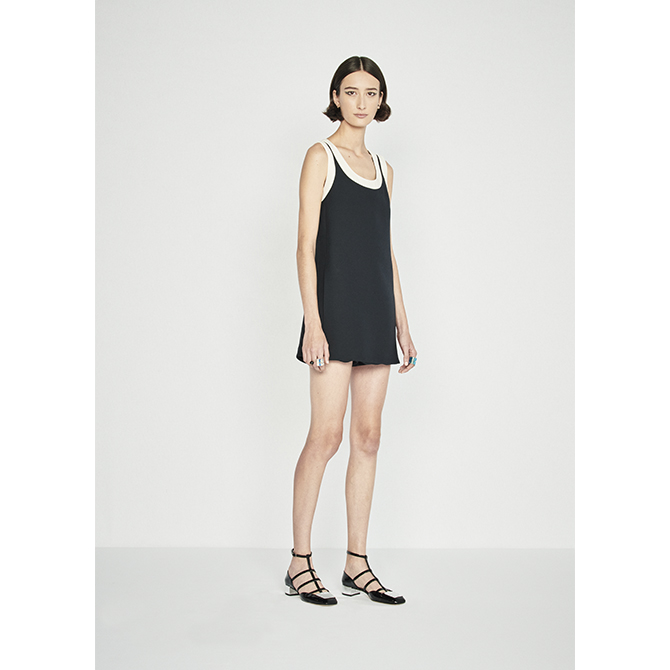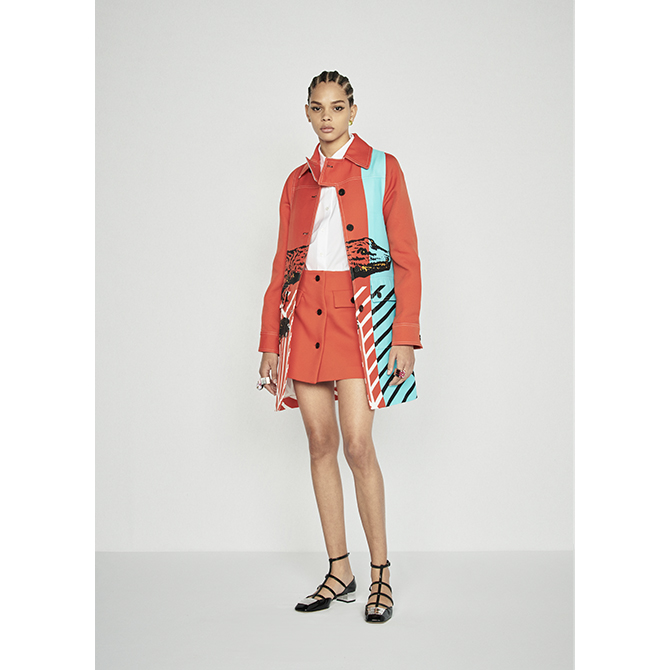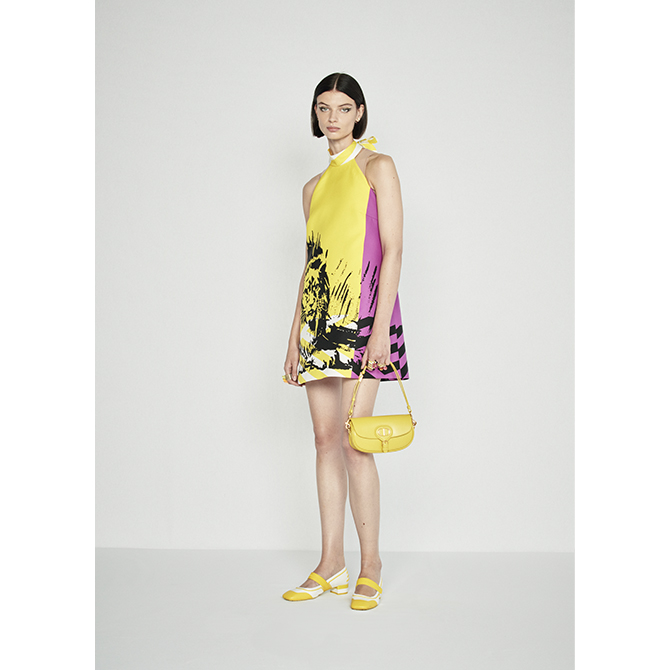 Baby-doll dresses and miniature suits appeared in punches of eye-popping shades of yellow, green, orange and red to show off plenty of leg, while pristine-white ensembles appeared in variations of space-age, go-go styles that include a quilted cropped tee-coat and a fringed top embellished in tiny white flowers. Silhouettes were slim-fitted but freeing––outfits you'd wear on spontaneous summer nights out on the dancefloor––best exemplified by the section of glittering sequinned looks that sparkled with every step. Across a selection of designs, there was also textural 3D embroidery and pop-art prints to add a final striking statement. A revival of the '60s youth revolution for 21st-century girls? There's never been a better moment than now as we gradually step back out into the world.
MORE: Every look from Dior's Spring/Summer 2022 collection
Saint Laurent
When: Wednesday, September 29 at 2am Malaysia time
Anthony Vaccarello will be presenting an IRL show for Saint Laurent's Spring/Summer 2022 collection. Watch the livestream below and check back for a post-show review.
Highlights: 
With the click-clacking sounds of heels hitting the pavement to signal the start of the show, models exuding an air of glamorous toughness trudged alongside a towering structure of spotlit beams towards the twinkling Eiffel Tower––what could've been a better set-up than this for a IRL Saint Laurent homecoming? This season, Anthony Vaccarello looked towards the independent spirit of Paloma Picasso (Pablo Picasso's daughter) for inspiration. The Spanish-French designer was a creative force of nature––show notes wrote that "she scandalises as much as she attracts"––and her entrance into Yves Saint Laurent's life not only influenced him to take a step out of the haute couture world but also opened up new artistic paths for him.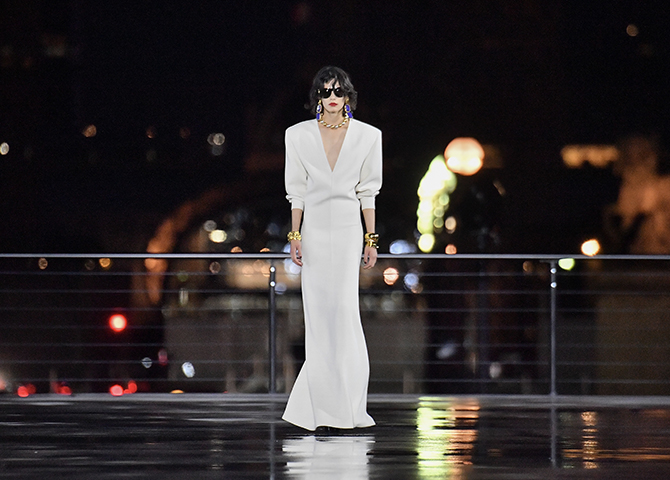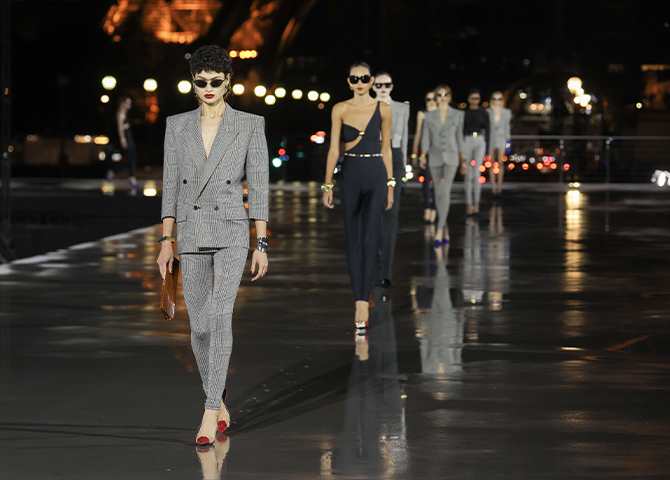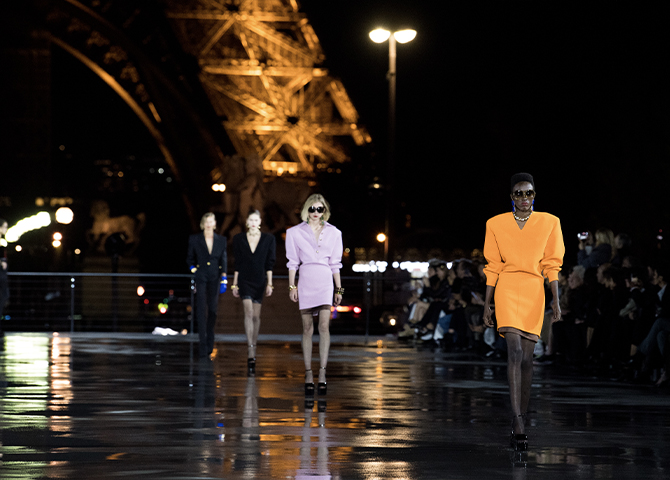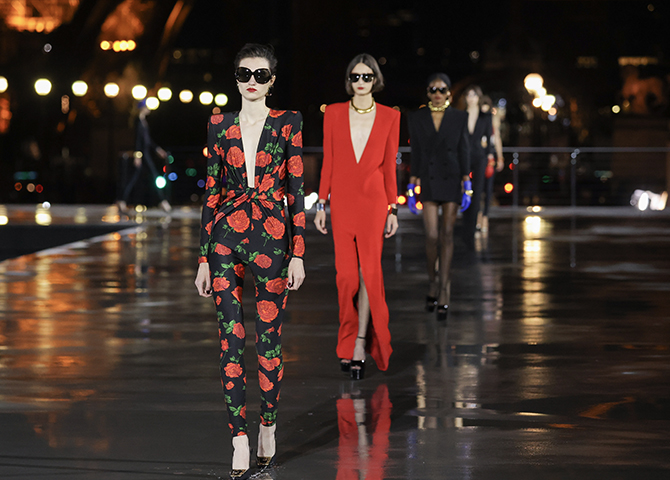 "For a long time, I wanted to transpose this meeting between Paloma Picasso and Yves Saint Laurent, whose importance few realise in the designer's creative journey," Anthony Vaccarello said. "It is a moment to which I am sensitive as a designer, because for me it is the defining moment when Saint Laurent's fashion creativity became a style."
As such, the creative director brought Picasso's trademark look to the 21st century––dark hair, scarlet lips and a contrast of the masculine and feminine via a '90s sensibility of sexy sophistication and sleek tailoring. Classic jackets and blazers revealed signature razor-sharp structures, with broad shoulders and three-quarter length sleeves cut to perfect proportion. Some even appeared in archival florals and flashes of Pop Art bright colours to add a touch of clashing playfulness. While necklines plunged and the slits of dresses grew higher, a series of meticulous cuts across body-hugging jumpsuits created a body-flaunting statement. On the accessories end, blood-red purses were tucked into the waistlines of belted high-waisted jeans for hands-free convenience, while ritzy gold jewellery completed each outfit as more than just ornaments.
To close off the show, a waterfall cascaded from the beams to elevate the sense of magic in the moment as a succession of eveningwear came down the runway. Amidst the crystal-embedded mesh dresses and jewel-toned bodysuits that wrapped beautifully around the body, it was clear that these after-dark outfits were created to liberate us for the post-pandemic decade.
MORE: See every look from the Saint Laurent SS22 collection here
Louboutins 
When: Thursday, September 30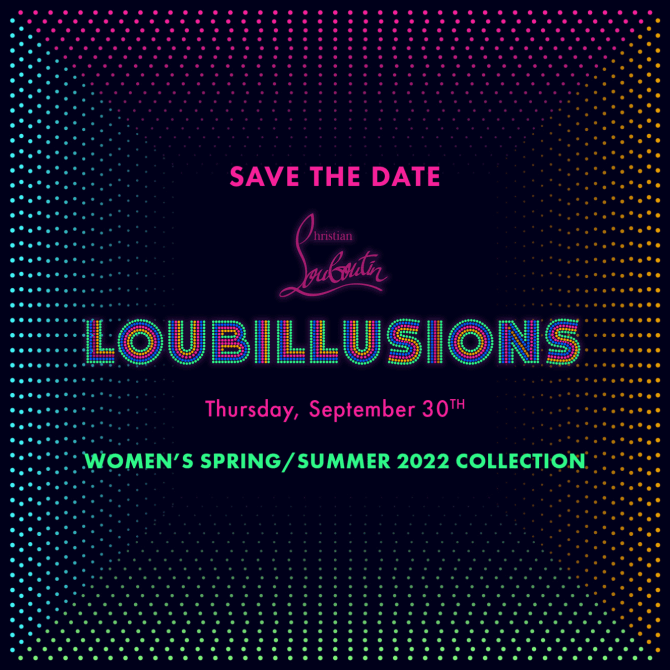 Chloé
When: Thursday, September 30 at 8pm Malaysia time
Highlights:
Since the start fashion month for Spring/Summer 2022, we've seen designers in the mood for love (and sex) with seductive cuts; designers who give a new meaning to 'sexiness'; designers who empathise with comfort dressing with fluid silhouettes; designers who are looking a bit farther through futuristic scopes. However, at last night's Chloé show, creative director Gabriela Hearst was all about the story of romance in Paris.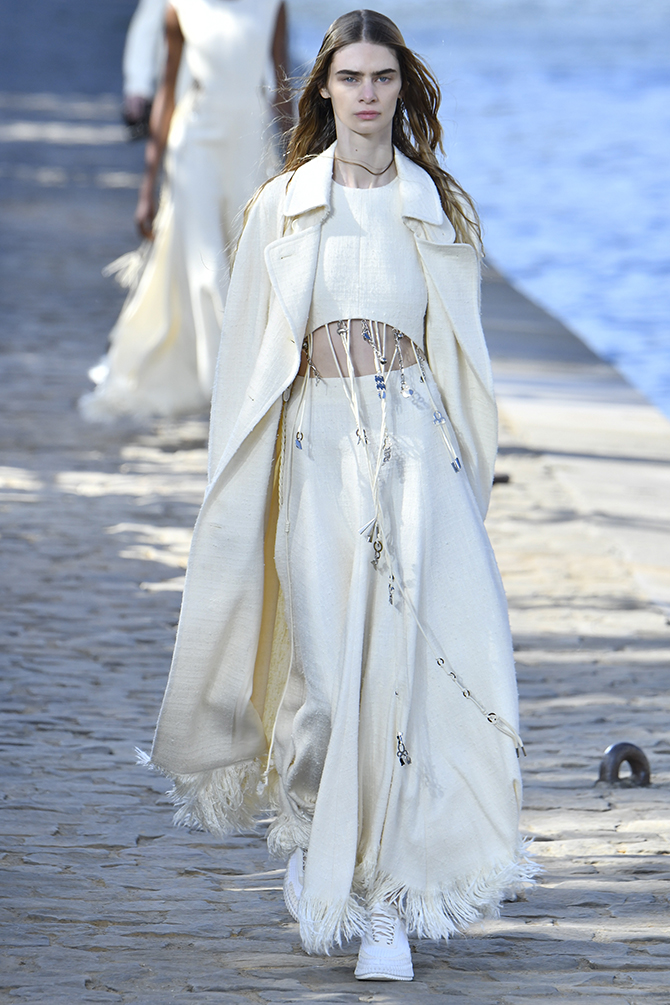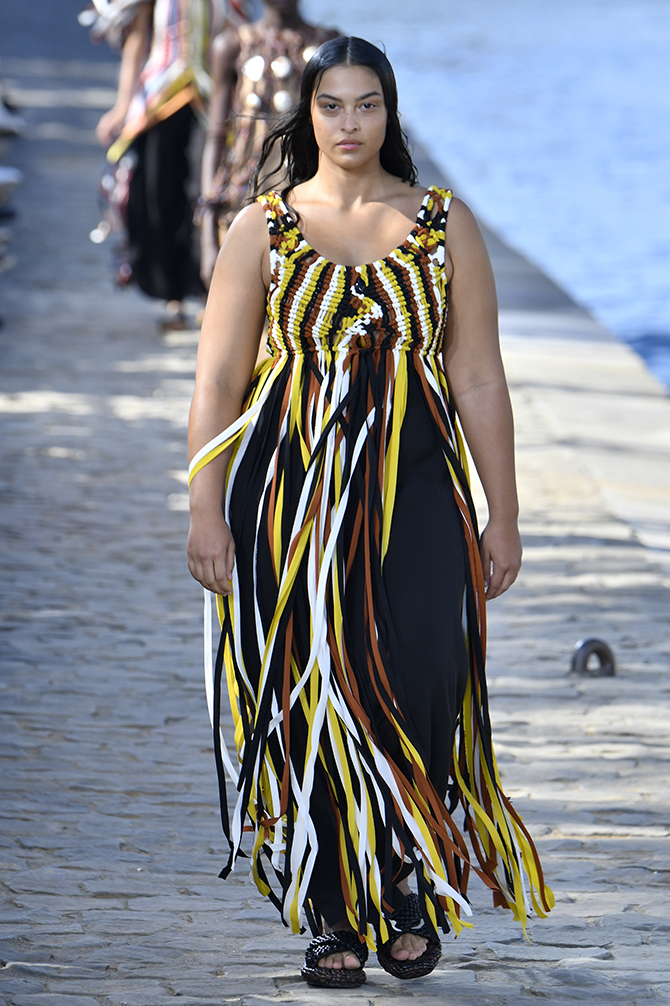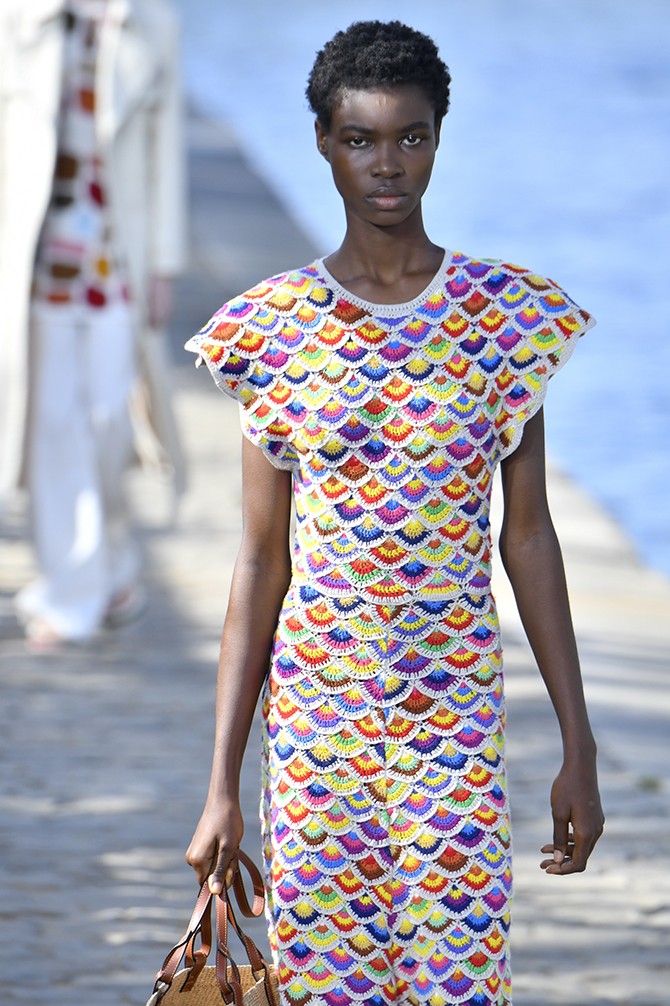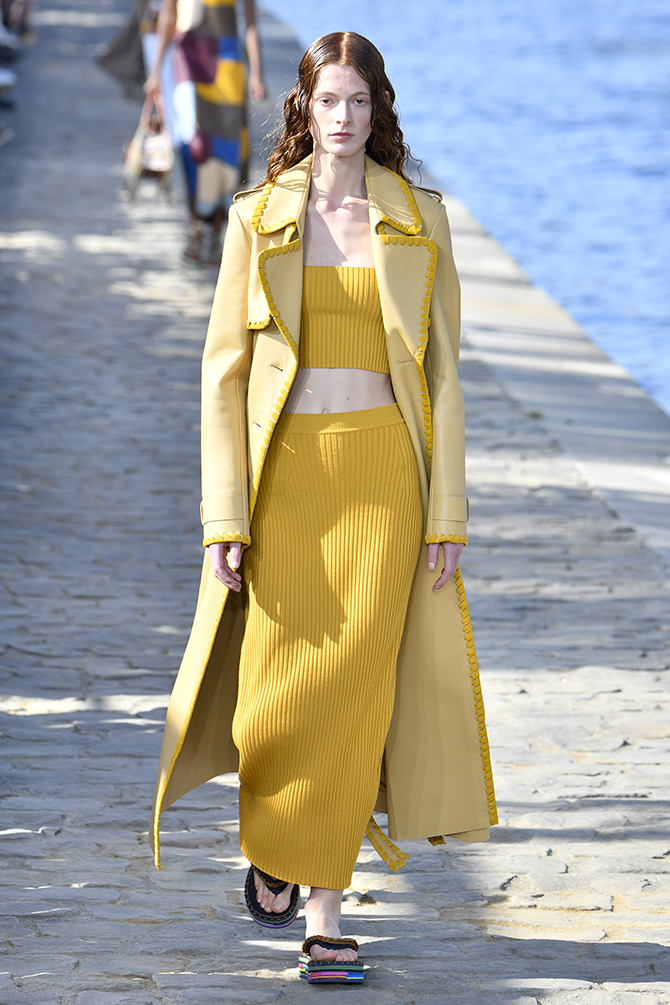 Set by the Seine riverside, models strutted down in a flow of whites and cream, warm butterscotch palettes and peachy shades. Peppered in between the coloured looks were pieces that paid tribute to true craftsmanship by hand, by artisans. Some had crocheted scallop patterns in multiple colours. Others sported macramé techniques where some were interwoven with seashells. The more colourful looks came either as dresses knotted together with many (oh, so many) strips of silk jersey or as patchwork made from vegetable-dyed leather. We could only imagine how many hours it would have taken to put them all together.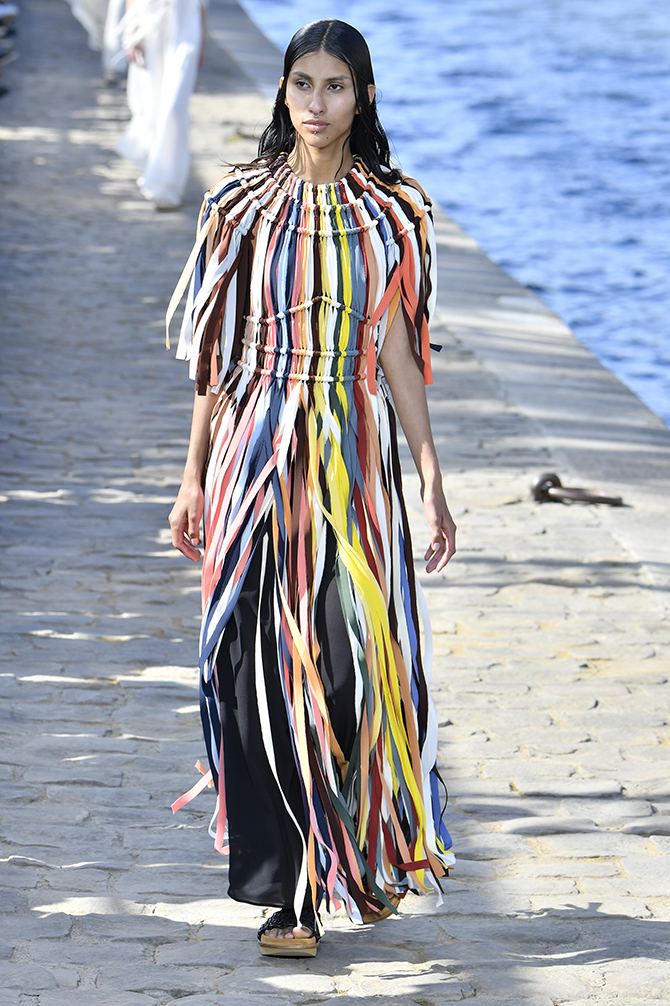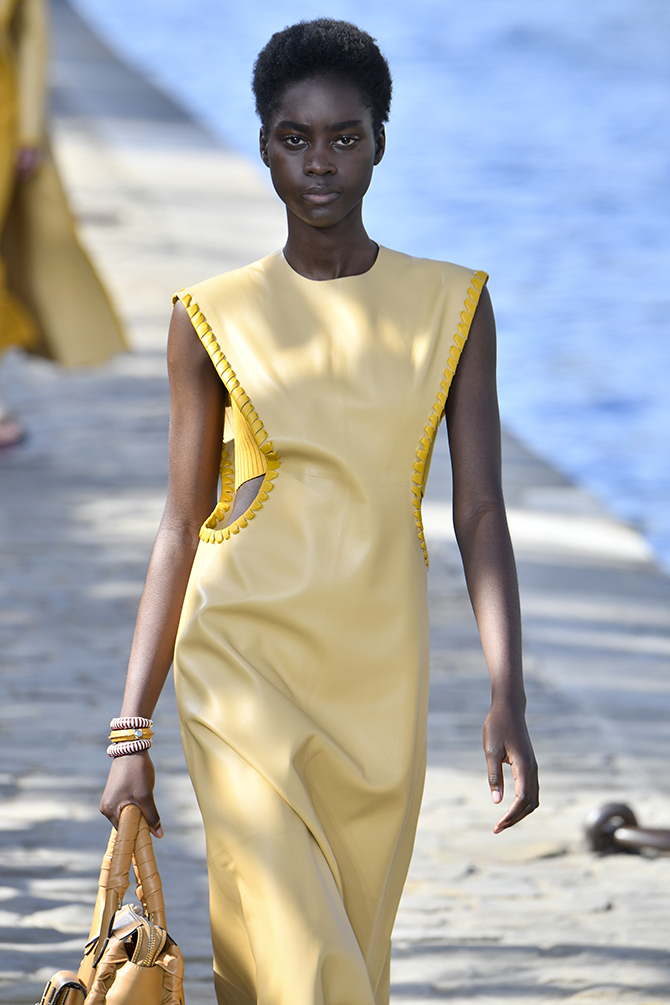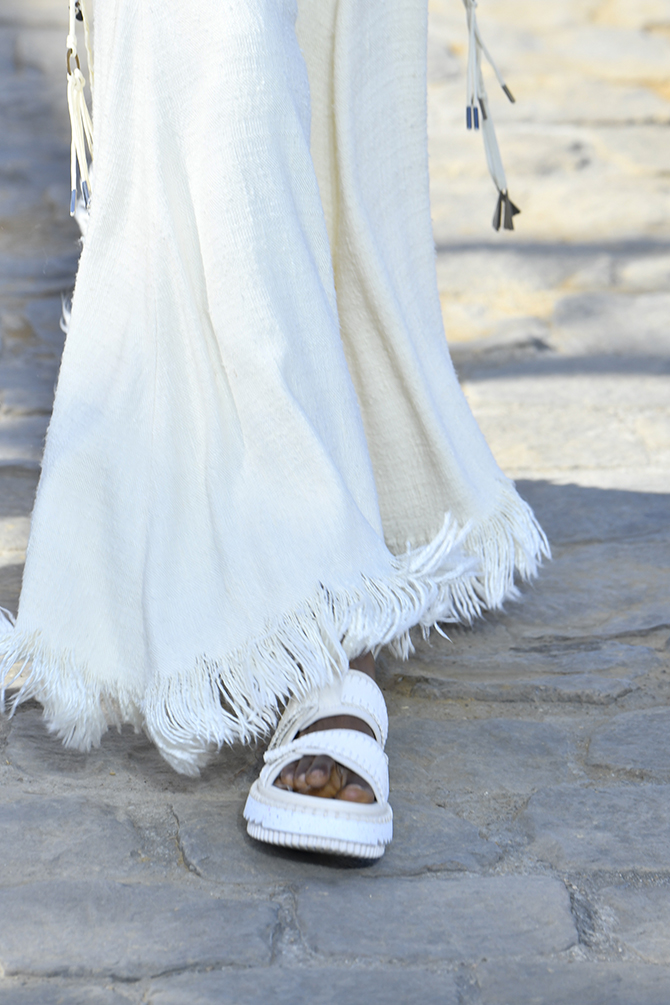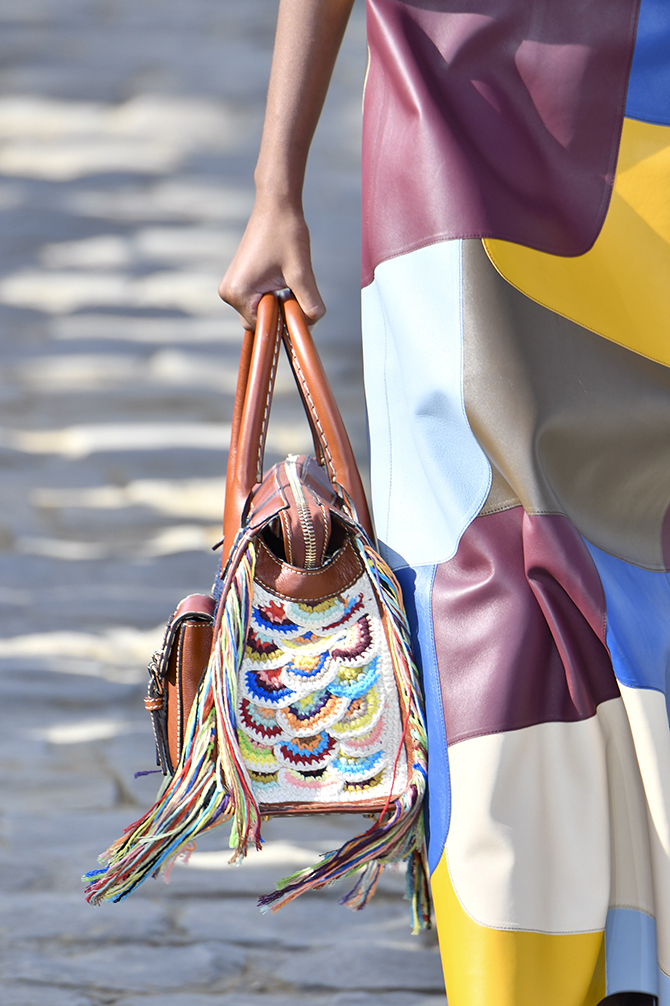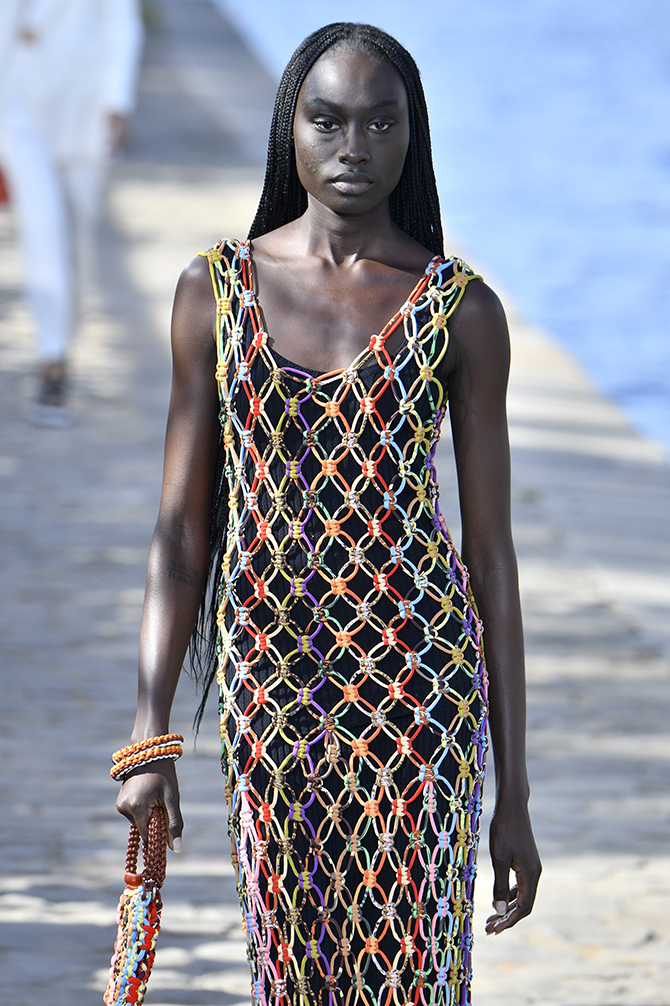 Zooming in on the details, the trend of showing midriffs continue at Chloé too, as we spotted peekaboos on dresses—in the form of mini cut-outs along the hip line or at the sides. Not to mention, cropped tops that are curved, sitting just below the breast line, with crêpe de chine silk tassels that includes metallic elements, which were taken from a traditional Parisian jewellery supplier's deadstock. Then, there are the sandals, which were made from upcycled flip flops from the sea. Luxury fashion like this—with a sustainable element—is what gets us excited, after all.
Loewe 
When: Friday, October 1 at 5pm Malaysia time
Highlights:
Jonathan Anderson has always delivered an element of surprise with every new collection for Loewe. For Spring Summer 2022 collection, the show notes sum it up as "neurotic, psychedelic, completely hysterical." When the show opened, we thought it "abstract, sculptural, otherworldly". Close enough? The first few looks that appeared, as models ascended from the staircase in the middle of the room, were single-coloured pieces but with edges protruded in random places. Forgive this editor, but she almost thought perhaps the element of surprise was a bag beneath the fabric that would be unveiled during the show's closing. But realisation dawned, as more models with even more sculptural pieces (cue a blue-and-white top with a partial cape that curved at the back with a stiff frame like medium-sized wings tucked in; or dresses with a shiny metal breast plate or see-through resin) make their way around the room.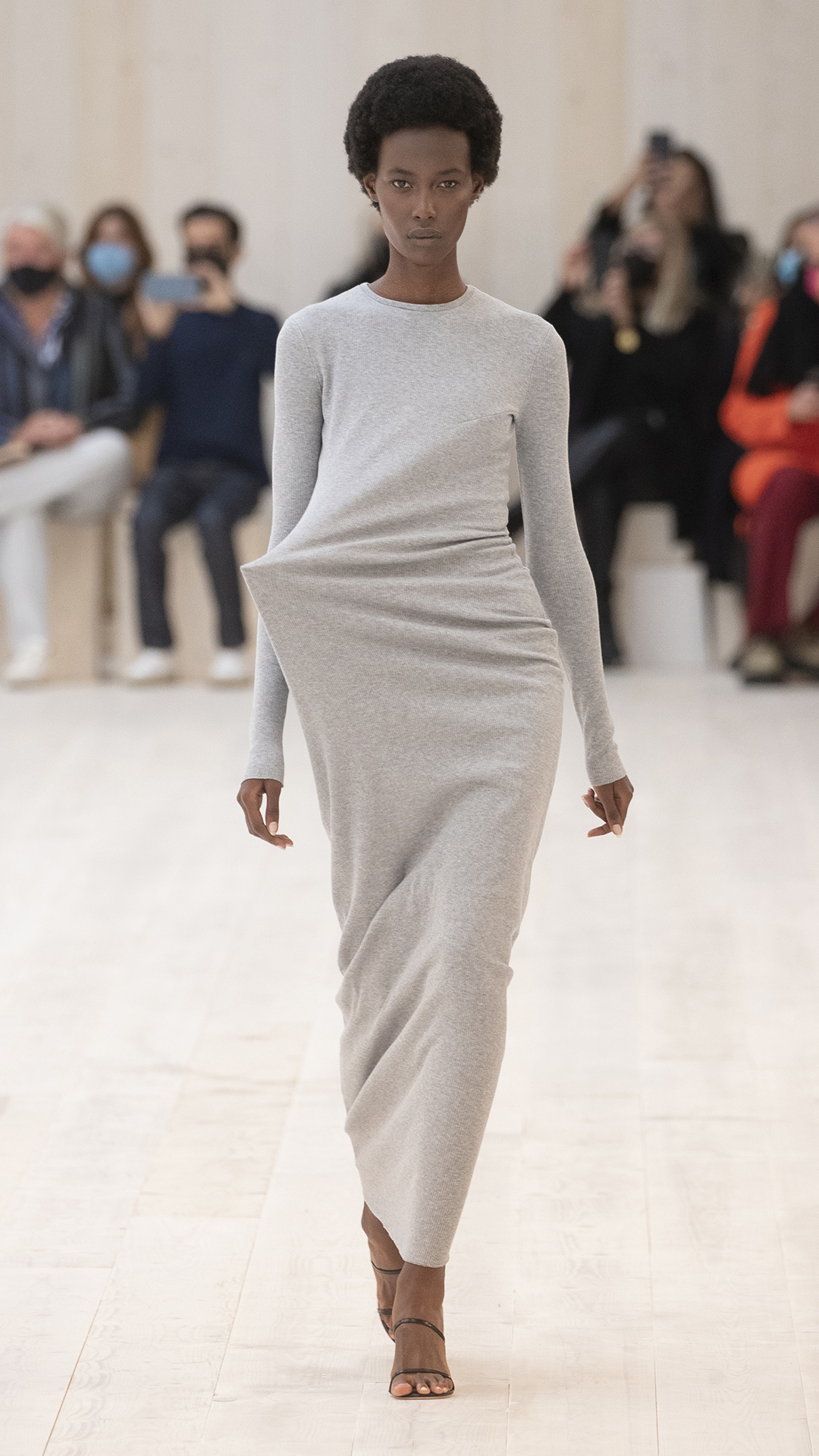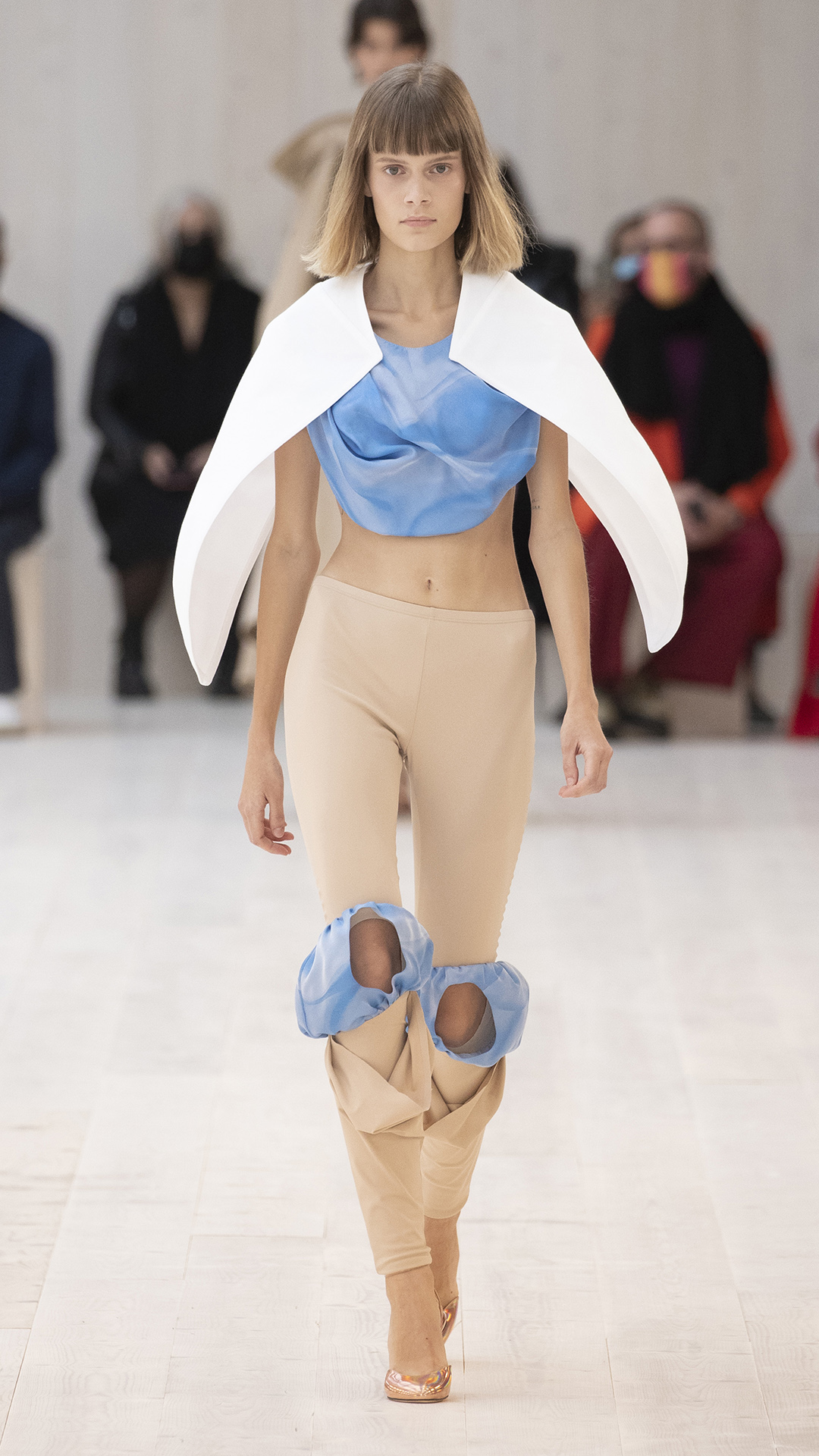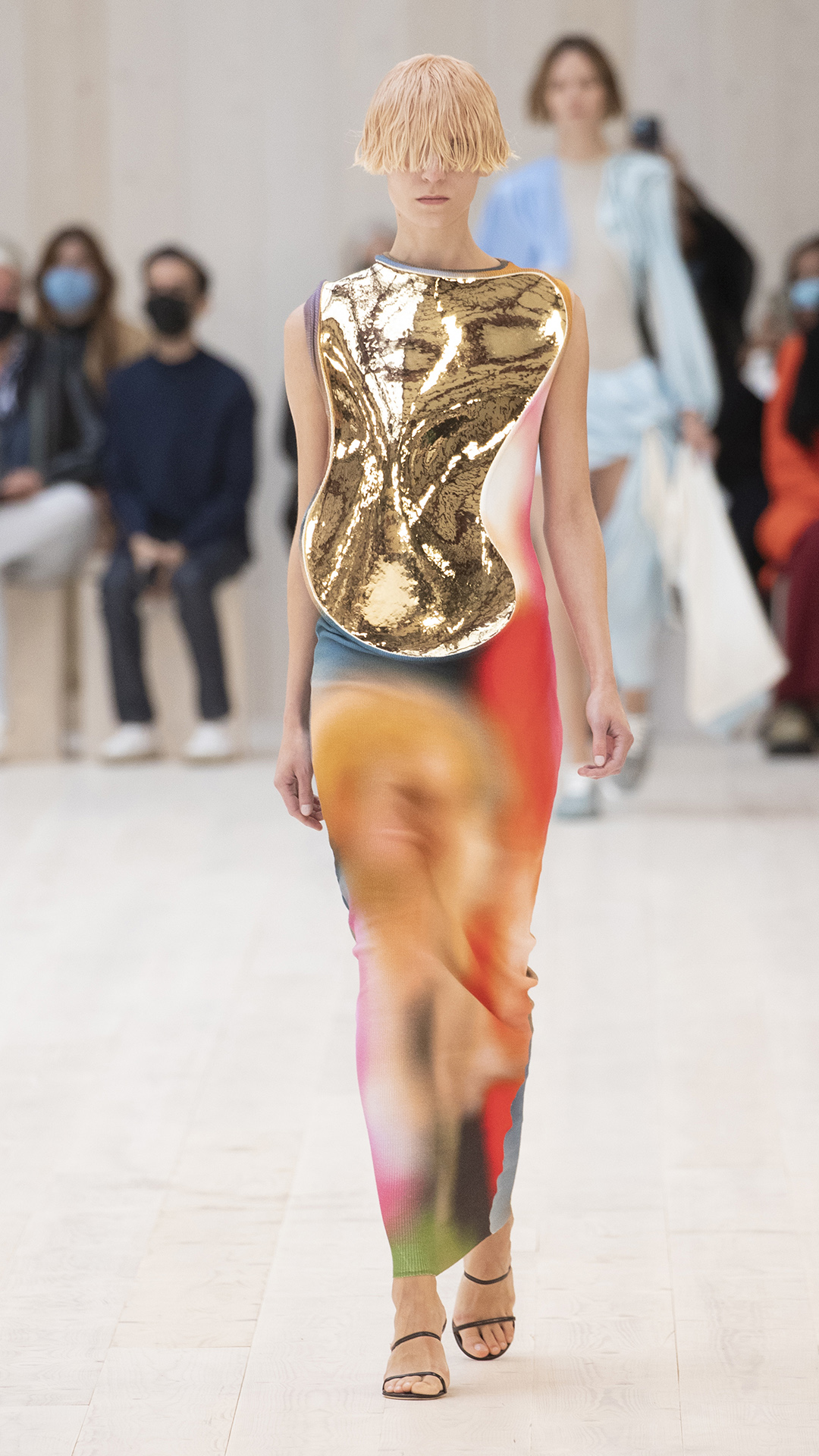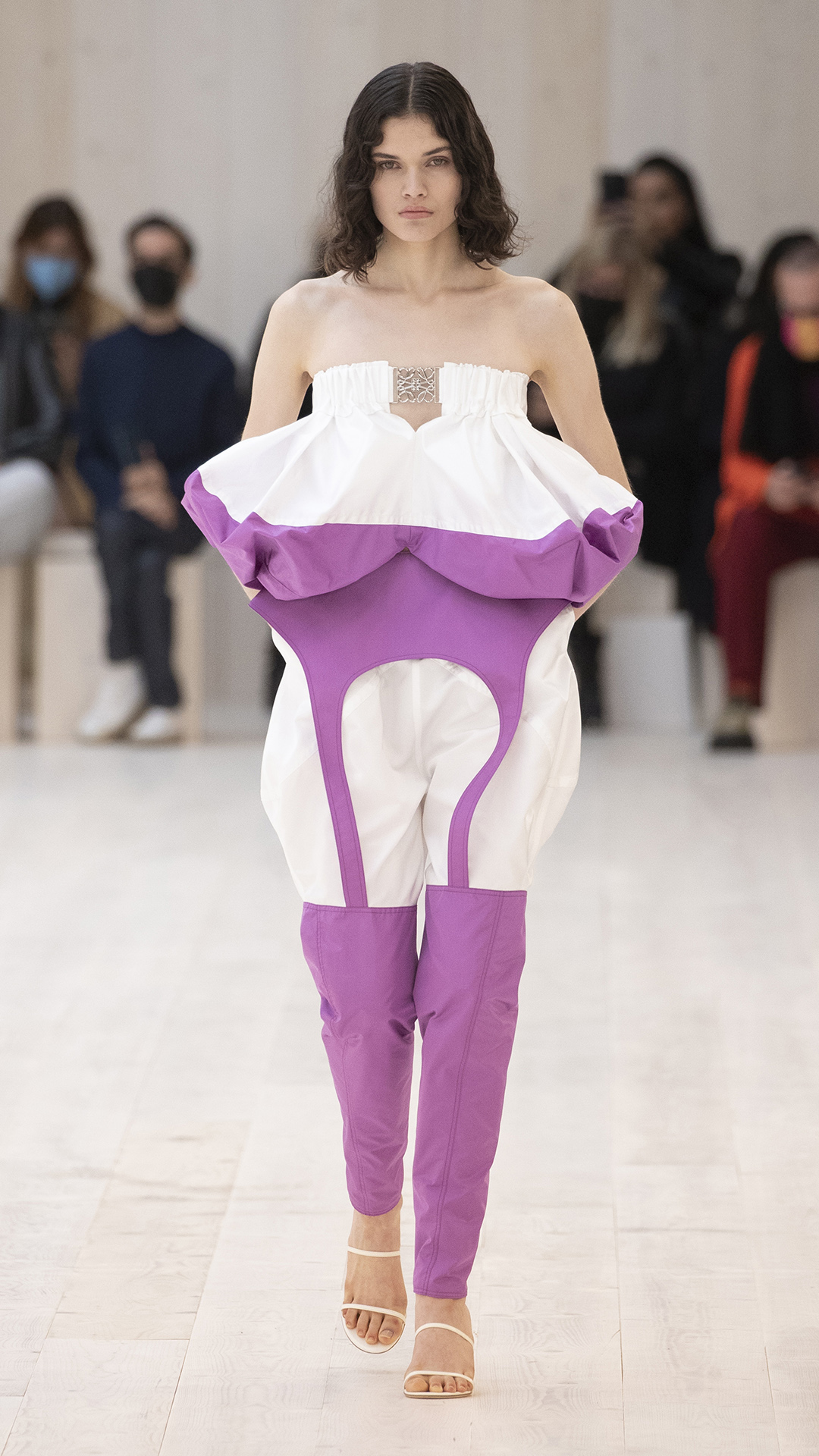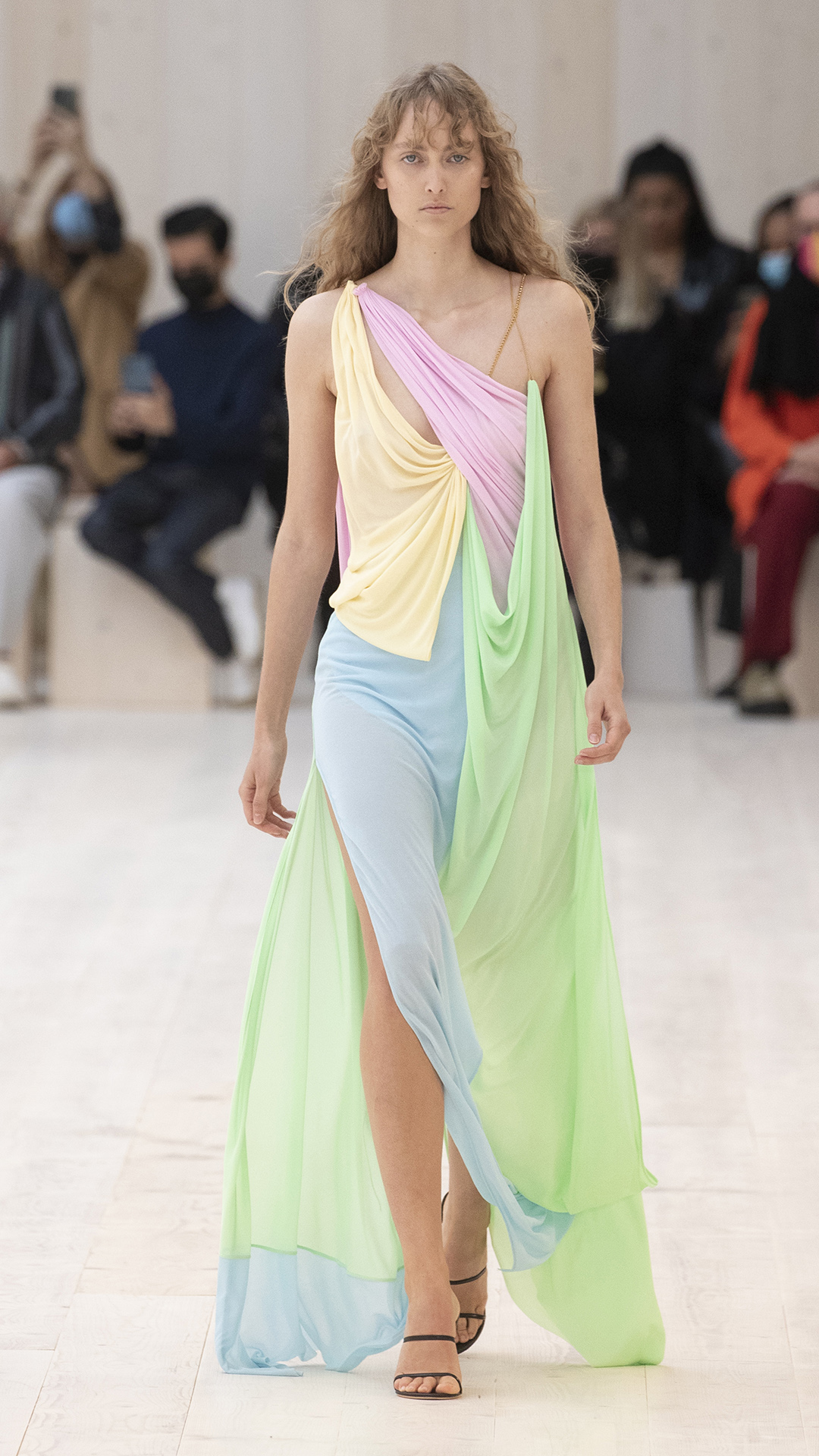 When we received the show notes, it clicked. Anderson's vision was indeed inspired by the world of art and sculptures—specifically, the mannerist, hysterical world of Renaissance painter Pontormo. It was apparent too in the flowy dresses that were draped from shoulder to shoulder, across the waist and/or allowing the drapes to fall and swish with every step. If distortion is among the key elements, then we saw it too in the form of puffy blousons and giant trousers—again, in unexpected places.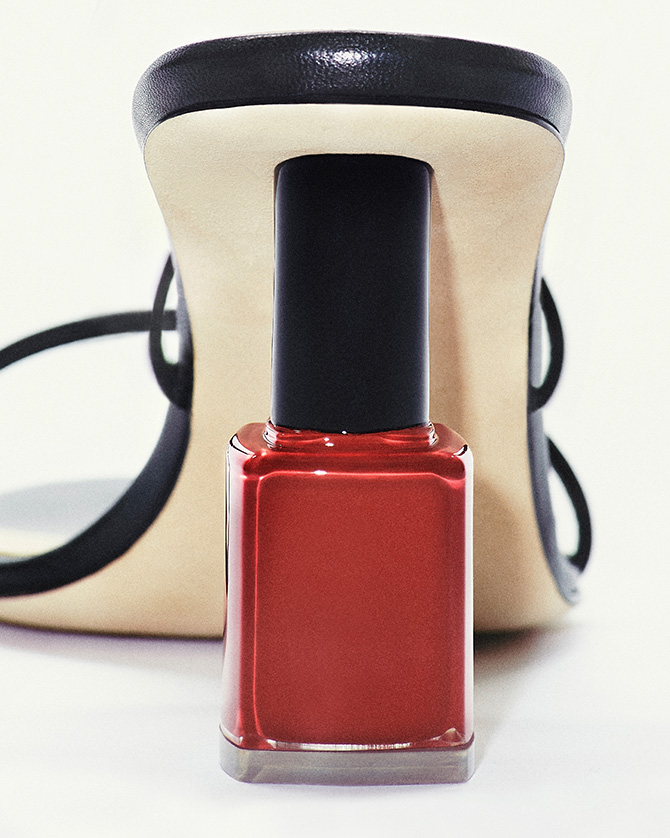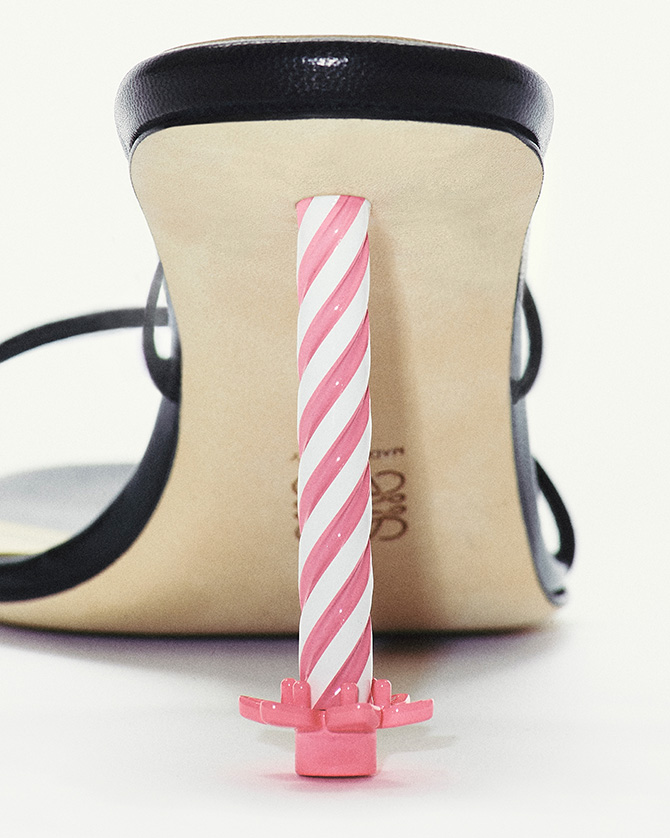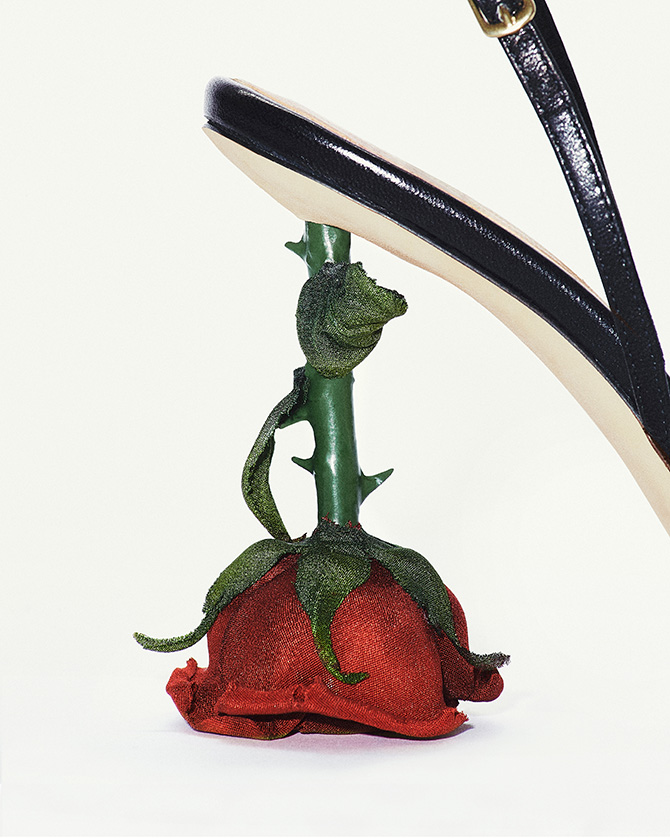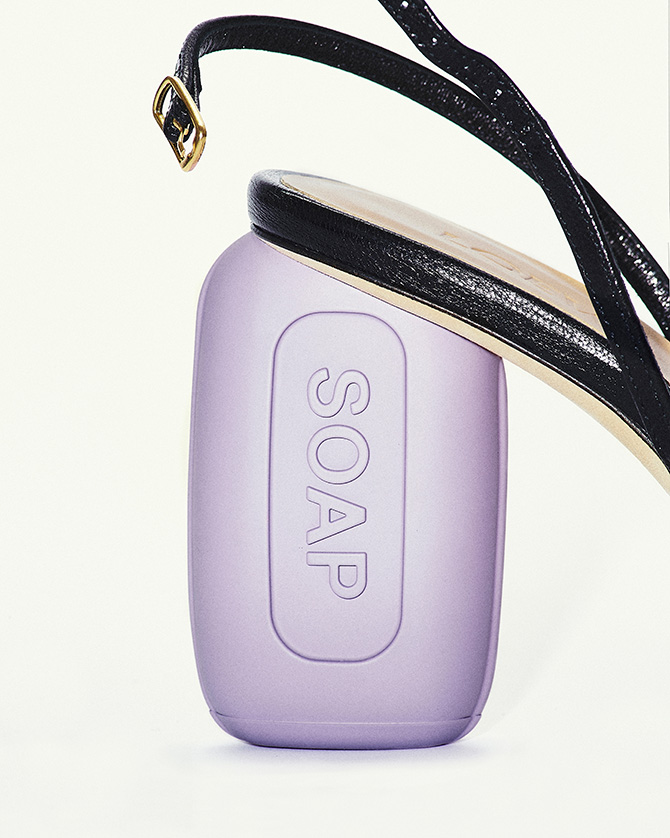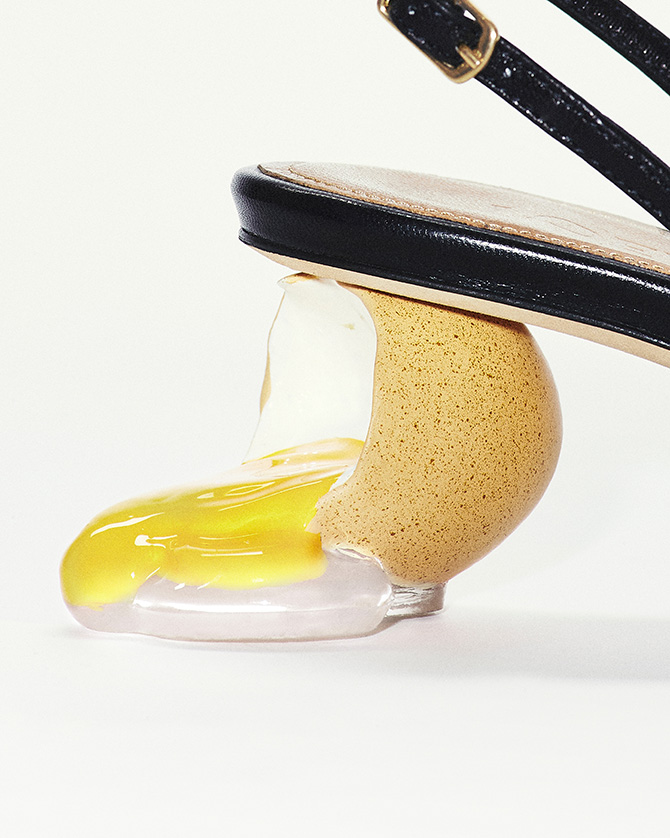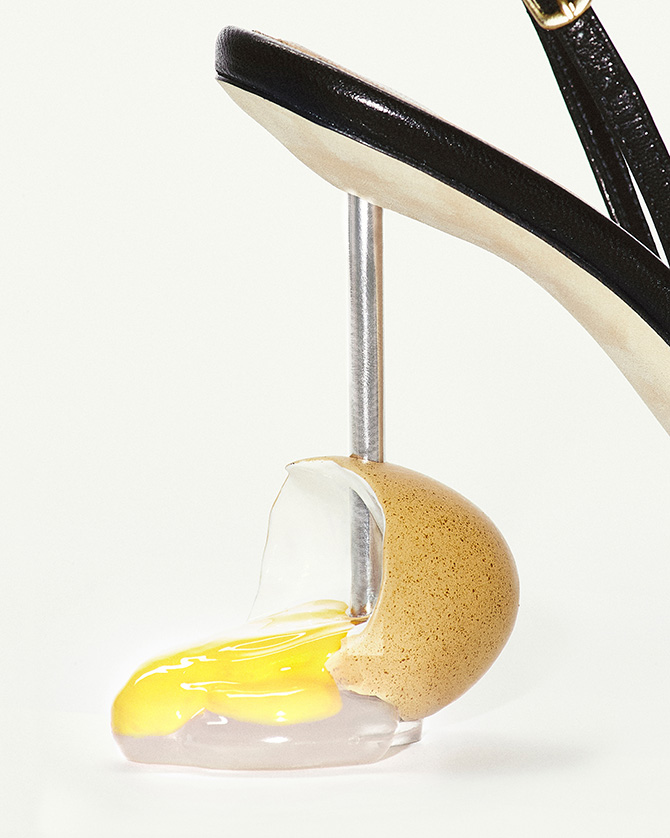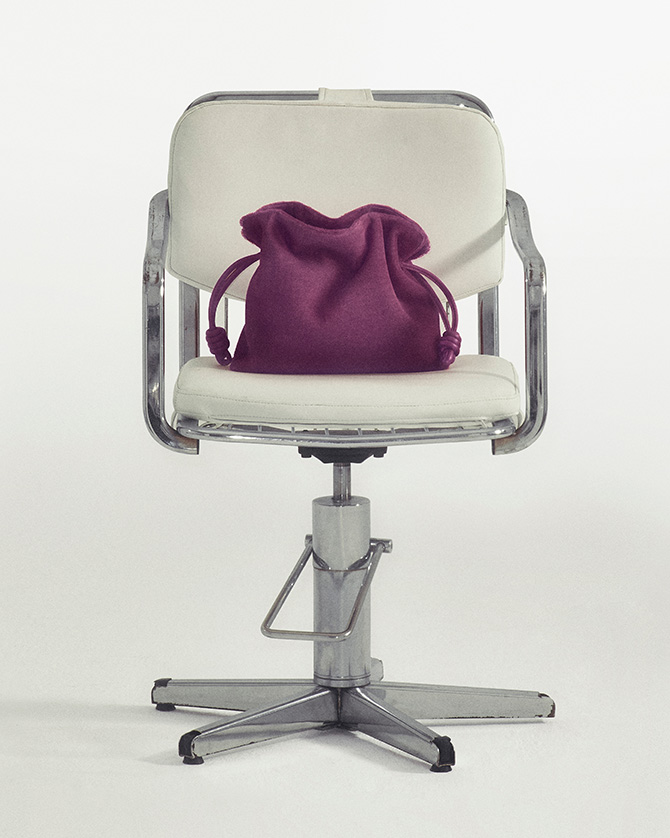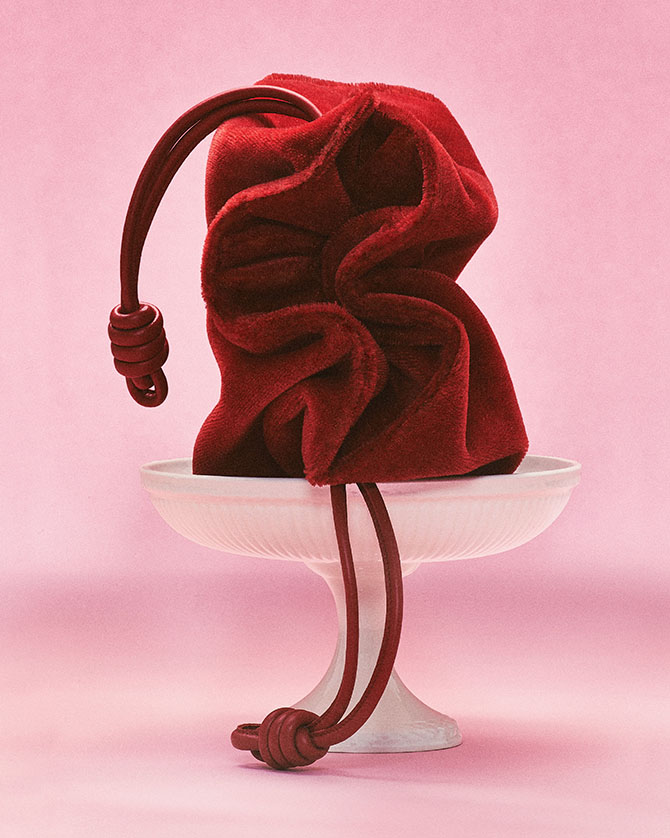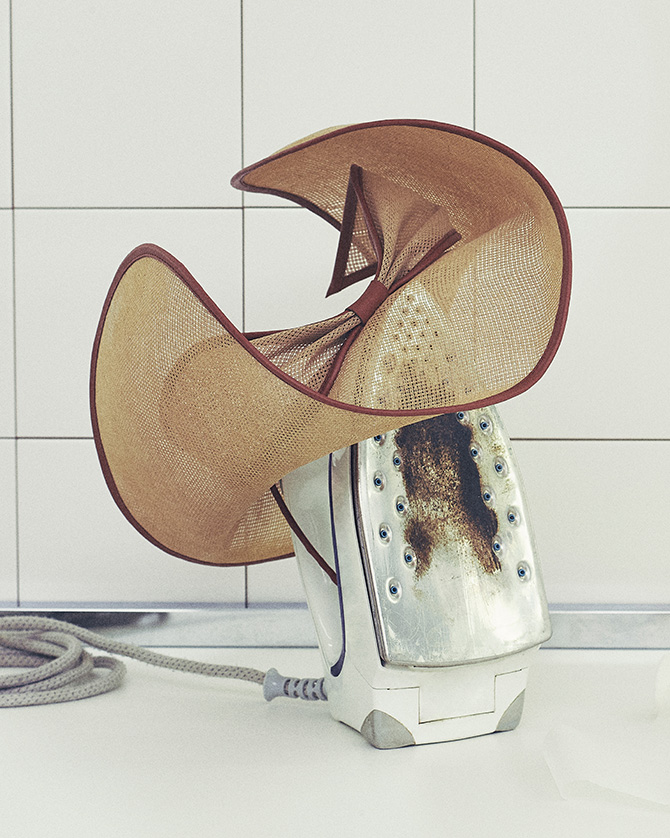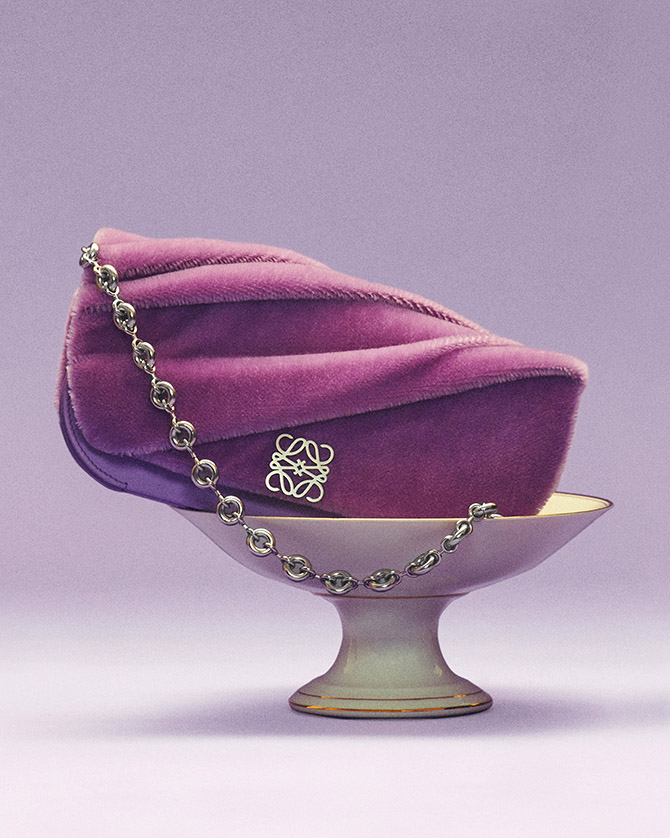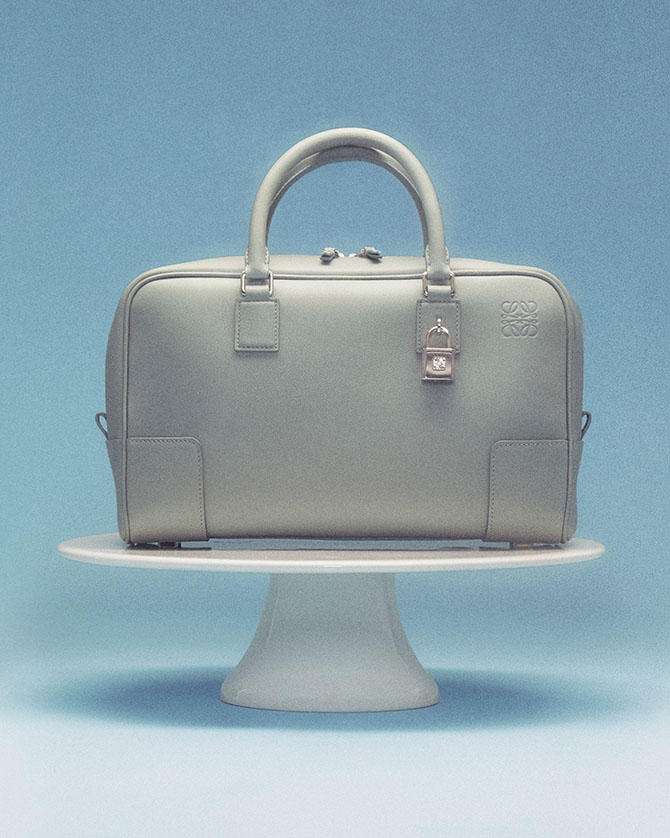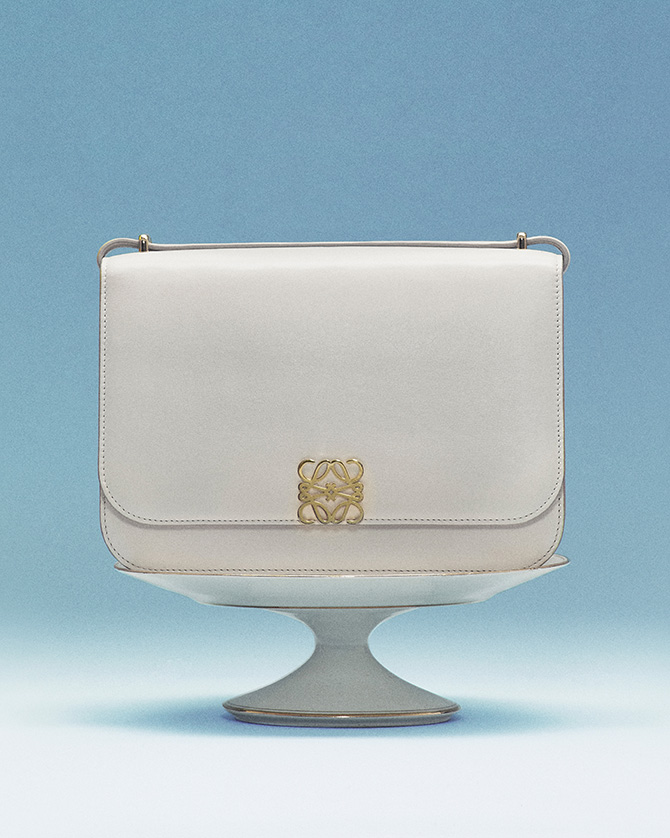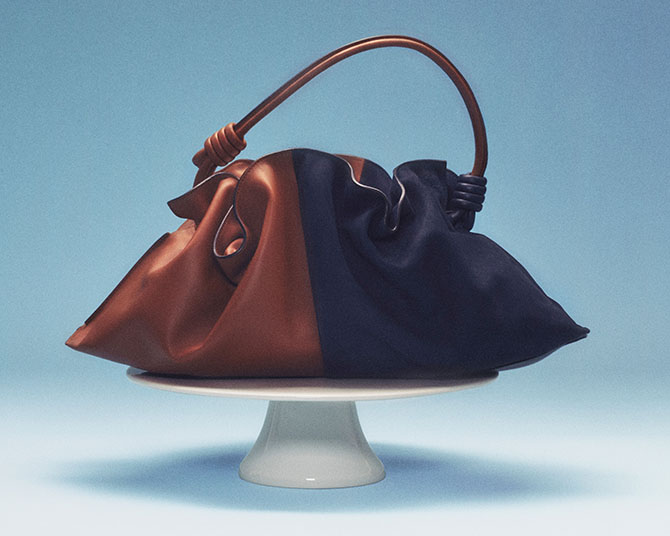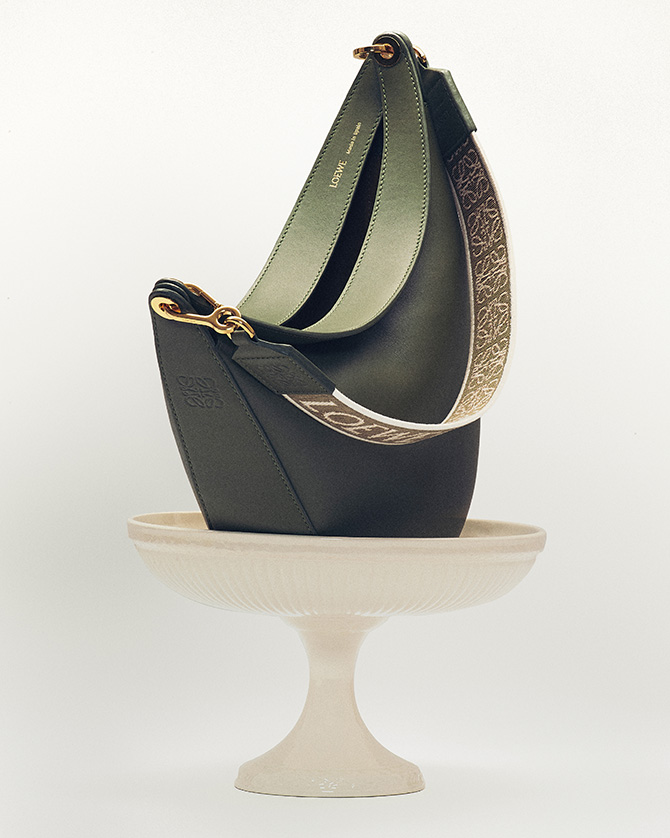 We could go on forever, describing the rich detail in every look but the bags and shoes too were another story. Pumps and sandals had heels ranging from soap bars to candles to eggs and even a nail polish. The Flamenco and Goya long clutch were covered with teddy bear fabric (there's a pair of boots in this same material). As for the Loewe Luna bag, you'll find it in smooth leather and in Anagram jacquard, while the Hammock Nugget in Nappa calf continues the collection's theme of new proportions. This was inherently Anderson's Loewe. Playful, whimsical and leaves plenty of room for your imagination.
MORE: See all the looks from the Loewe Women's SS22 show
Issey Miyake 
When: Friday, October 1 at 6.30pm Malaysia time
Following their otherworldly AW21 collection, Issey Miyake will be premiering their Spring/Summer 2022 show online at isseymiyake.com. Assuming from their show invite below, the new collection looks to be one immersed in movement.

Highlights:
For Spring/Summer 2022, creative director Satoshi Kondo took us on a voyage into the deep sea via a fashion film directed by award-winning Japanese video director Yuichi Kodama. Models moved, swayed, and danced in a collection full of undulating organic shapes and dynamic fluidity translated through slinky dresses, soft tailoring and flowing jumpsuits to reflect its sub-aquatic inspirations, from the silence and tranquility first felt in the water to the uplifting sensations of new discoveries in the depths of the sea.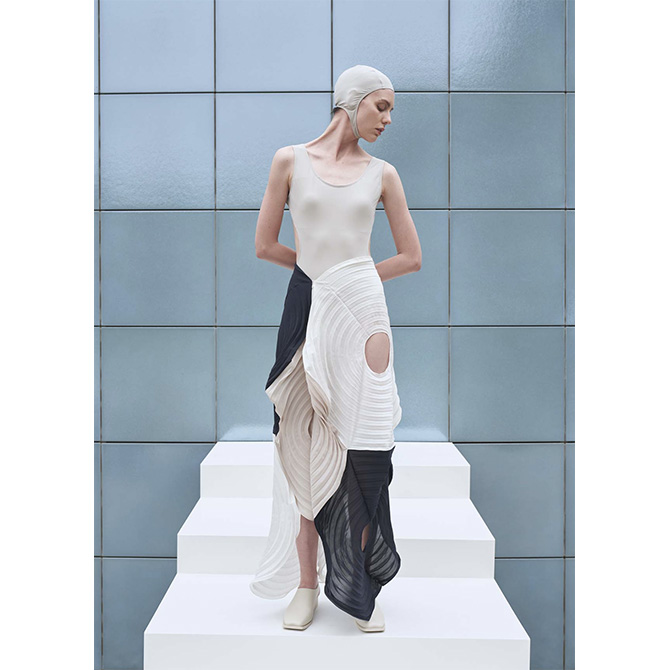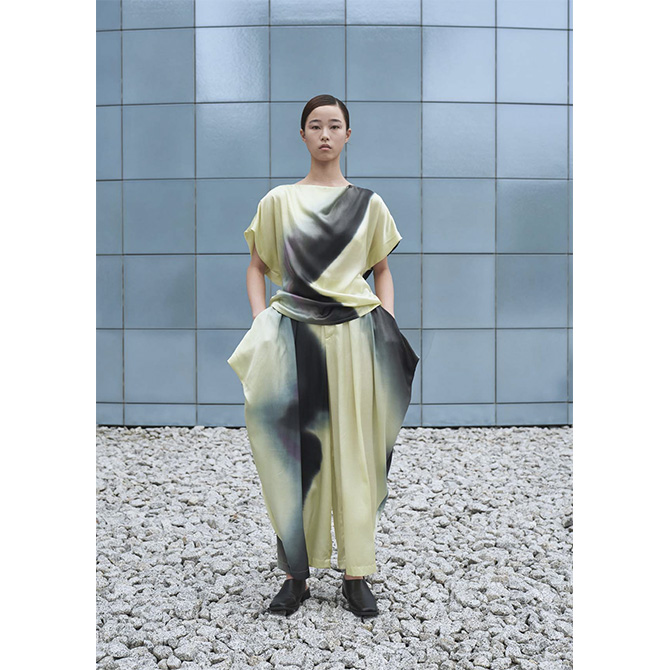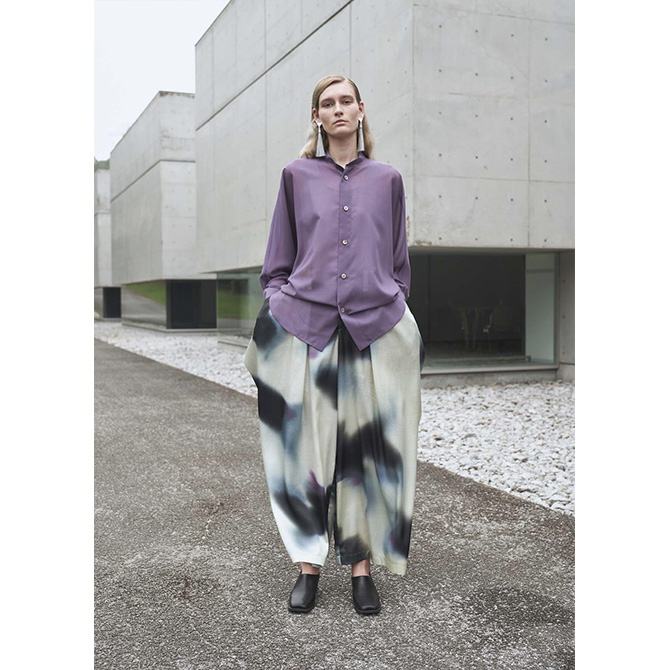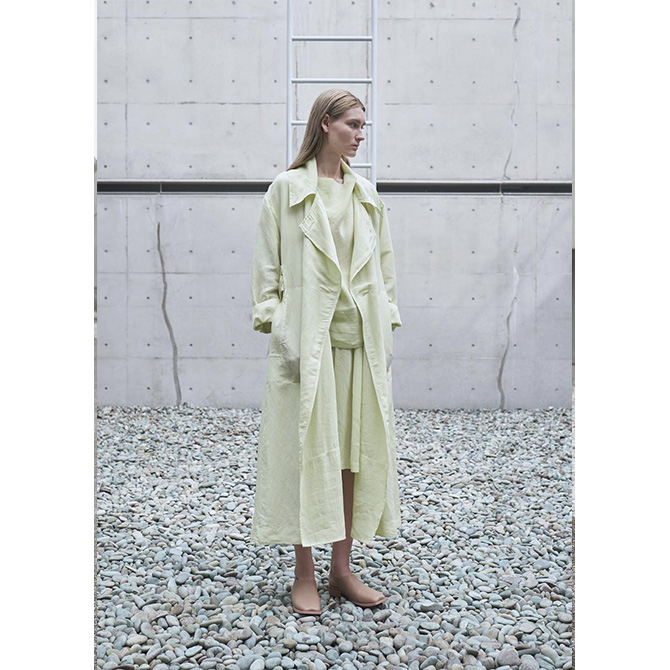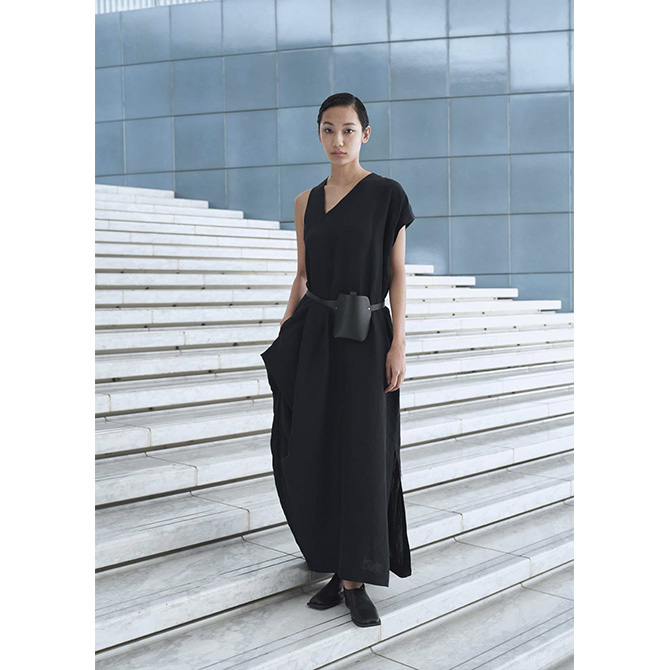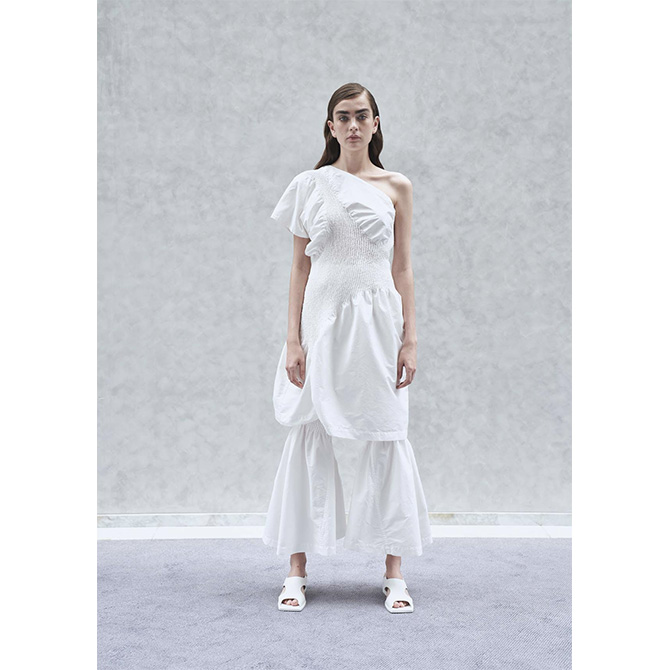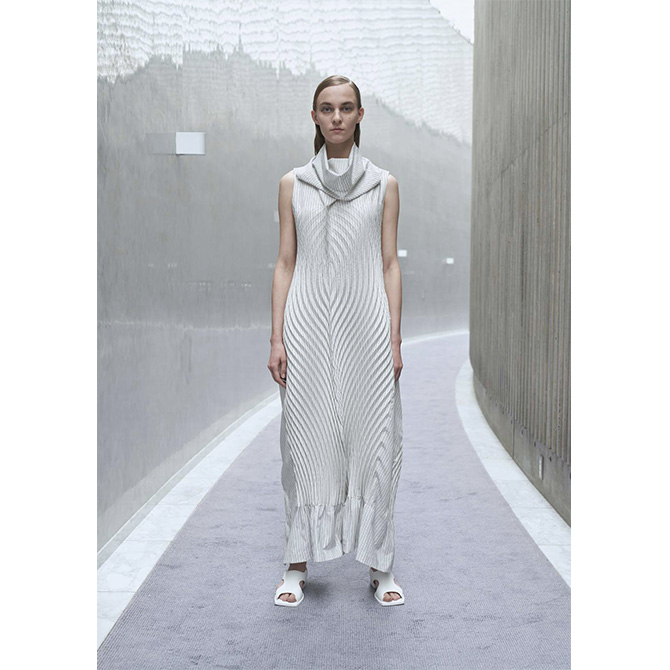 Divided into six sections, 'A Voyage in Descent' presented various traditional craft techniques to explore the relationship between the body and the garment in plenty of imagination. One of the most memorable moments was the 'Link Rings' series, which presented hand-crafted dresses and skirts made up of eight circular sections of pleated fabric that ingeniously fold into compact, packable sizes once flat on the floor. In the film, models crossed a darkly-lit room to stacked puddles of fabric that popped out and rippled into voluminous garments of juxtaposed colours once lifted.
There was also the introduction of the 'Fluidity Loop', a new design featuring spiralling rib-knit ensembles that enveloped the body in a multitude of wearing styles. Knit out of two colours of recycled polyester yarn, the textured surface of the clothes moved with its wearer to show off the colour underneath and included a top that can also be worn backwards.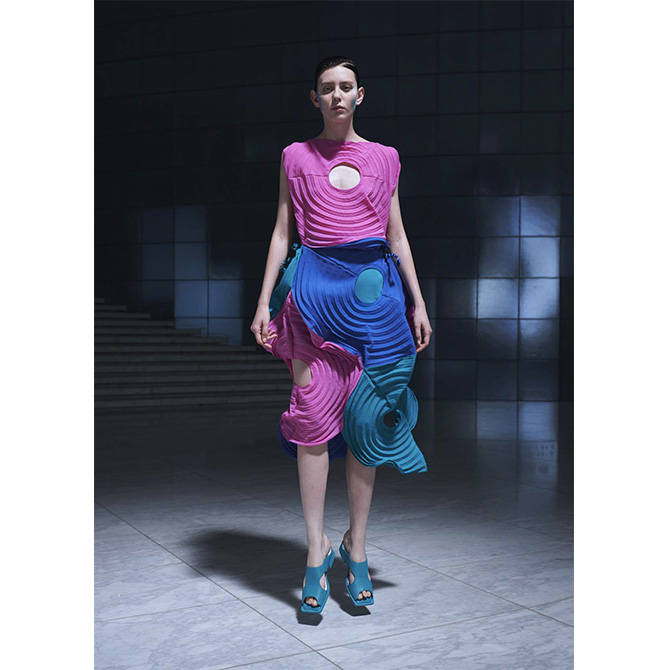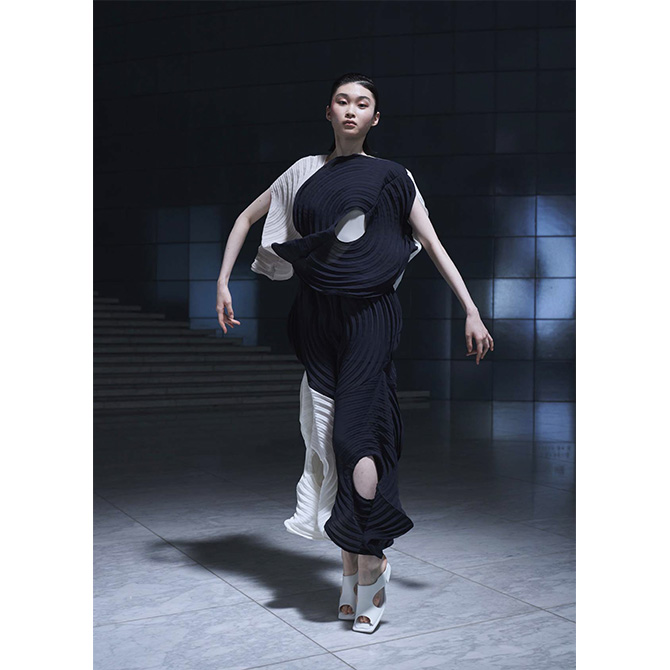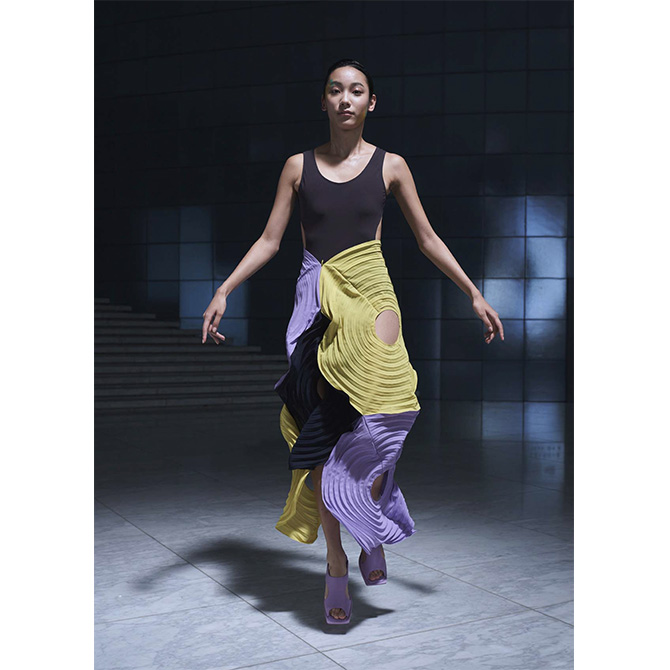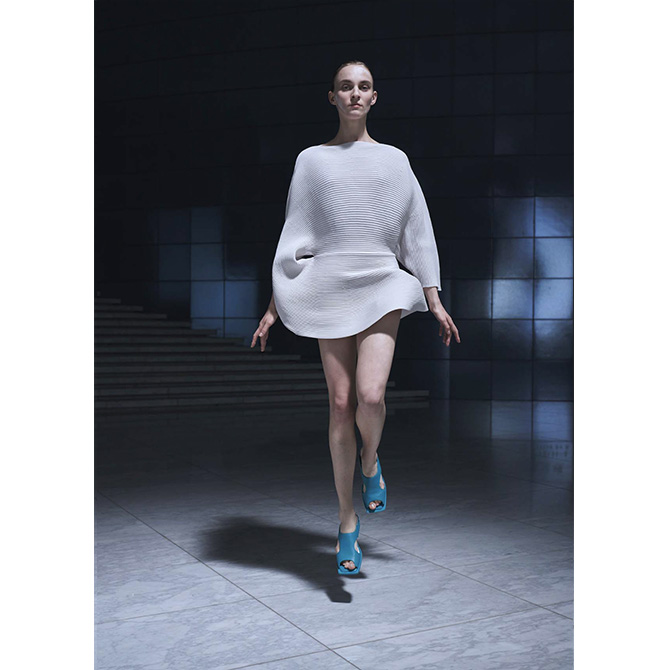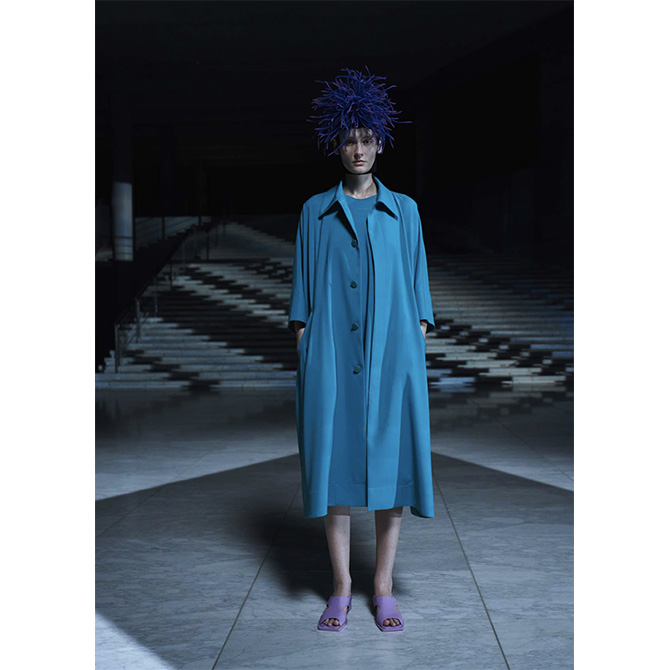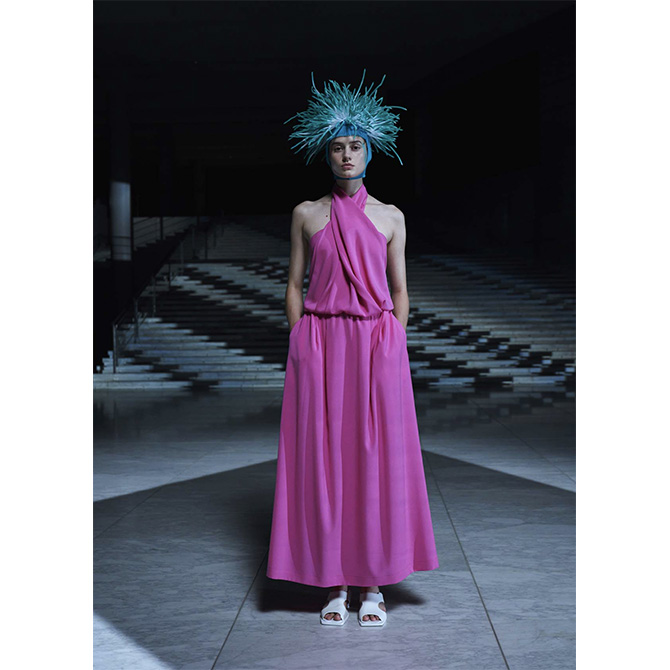 Kondo also worked with craftspeople in Kyoto to create the early-run group of the film, which saw models descend from a ladder connected to the sky in a shiny, printed series of wide, oversized trousers paired with button-ups; skirts of various lengths; and a one-shouldered dress. Here, the technique of hikizome (hand-drawn dyeing) was employed, whereby patterns were drawn using brushes and paint sprayers onto damp fabrics that were then left to dry on its own. At the end, spiky, anemone-looking hats appeared in an Adriatic shade to match the finale of vivid solid colours. Manifesting through draped, airy looks that shift with every motion, colours from teal blue to rouge pink were used to express the world full of life and movement in the deep blue sea.
Valentino
When: Saturday, October 2 at 2am Malaysia time
Valentino returns to the official Paris schedule this season with a live show in the iconic industrial building of the Carreau du Temple. Catch the livestream below and check back here for a post-show review.
Highlights: 
Winding into the mid-19th century Carreau du Temple and out onto the lampshade-lit streets of Paris, the Valentino Rendez-vous show presented a story of exchanges and interactions, told through an encounter between the old and the new, the past and the present, haute couture and ready-to-wear.
For Spring/Summer 2022, creative director Pierpaolo Piccioli resurfaced house archives and re-signified house codes to move forward with a new generation, alongside a newly-unveiled campaign to prove it. Featuring Zendaya, recreations of historic Valentino images and looks (one of which included American actress Marisa Berenson in a white floral encrusted dress from the brand's Spring/Summer 1968 Couture collection) were posted to Instagram a day before the show; those very archival photos were also sent out as miniature cards of slide films as part of the invitation. Fast forward to the runway and that same white ruffled dress emerged again—this time with combat boots and a chain-link single-studded bag—as the show's opening look.
As part of a project called Valentino Archive, four other iconic looks were taken out of the house's vaults and contemporised for the current context. This included a floor-grazing tiger-striped coat, Valentino denims and long, poppy gowns that informed the rest of the collection and subsequently re-emerged on the streets of Le Marais. Keeping to values, tailoring was shaped to the forms of both men and women, and in a proposal of gender-neutrality via a series of trailing capes. Daywear was interspersed between notions of eveningwear to present crisply layered suiting, floral-inspired mesh and lace ensembles and a series of voluminous taffeta garments cut around the body in off-the-shoulder pieces, enveloping flute-sleeved frocks and oversized shirting.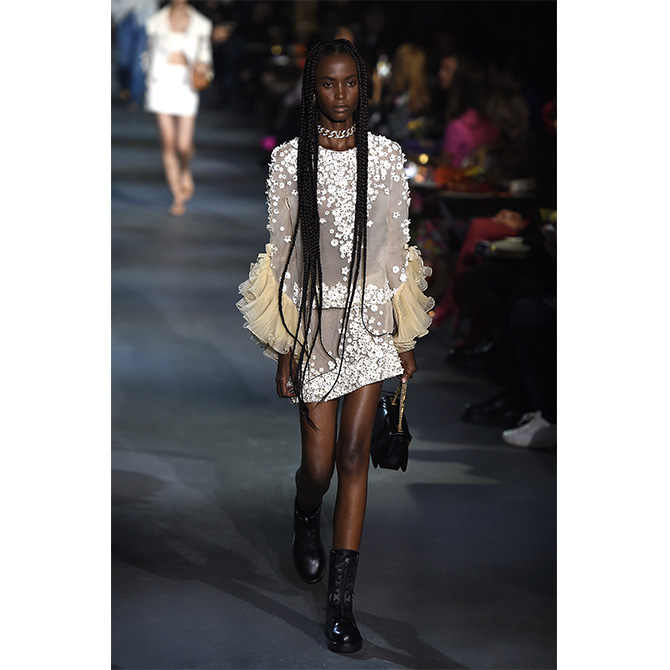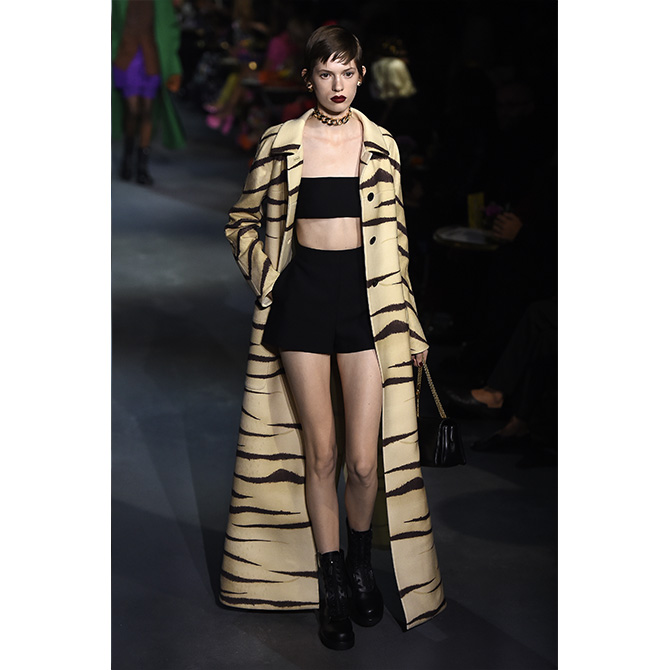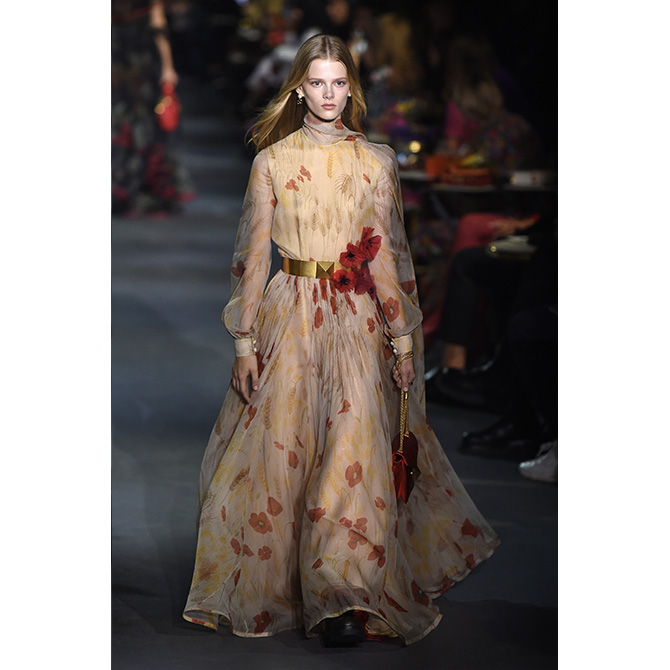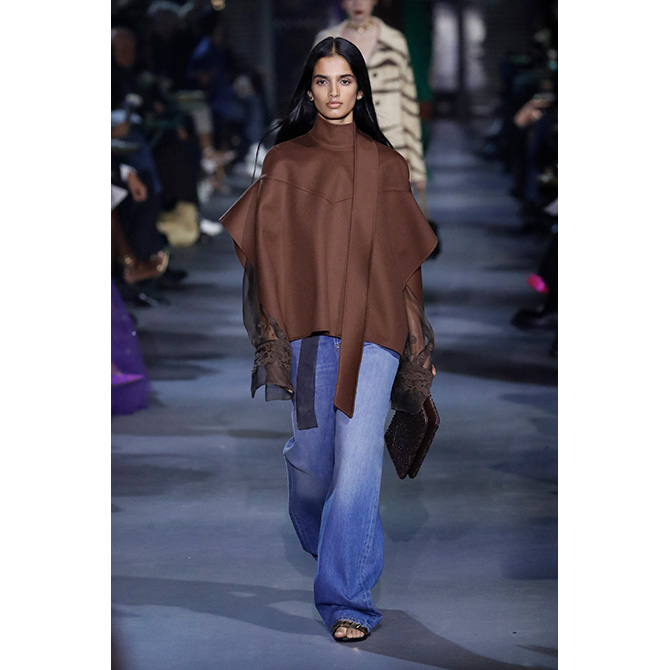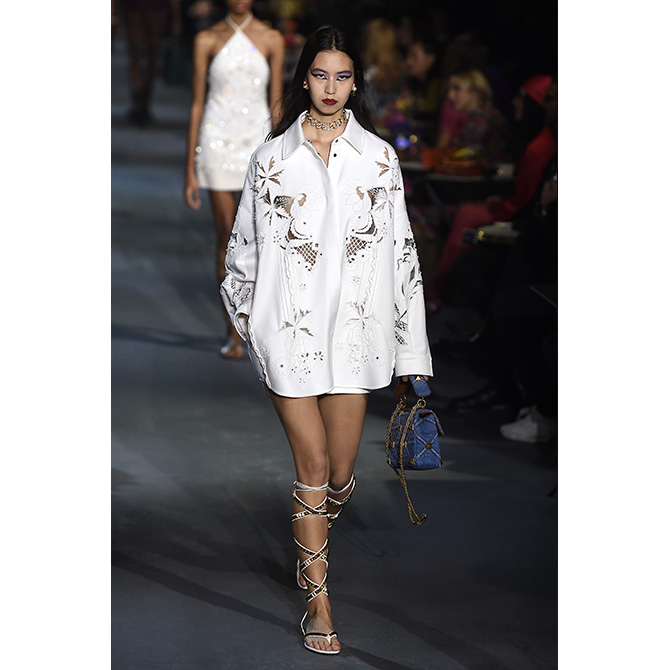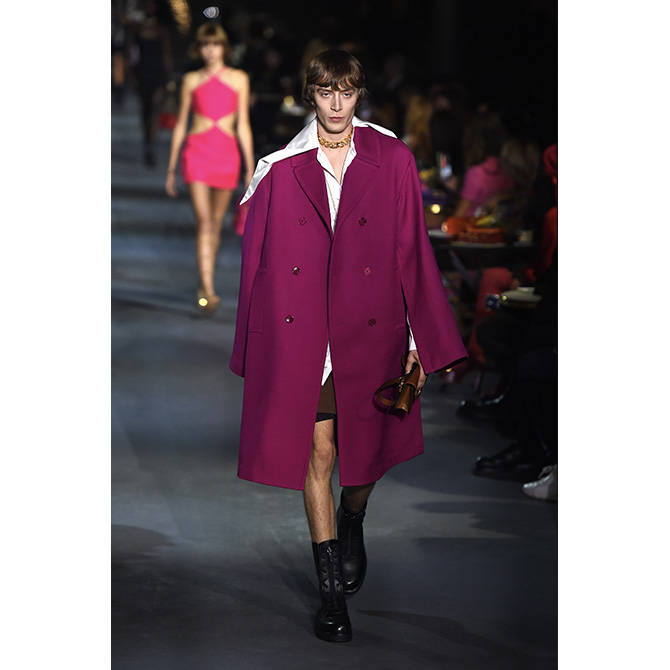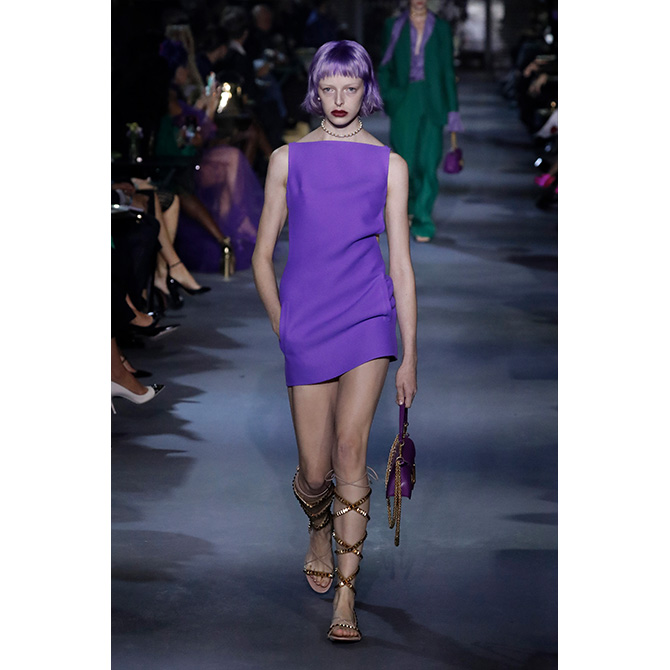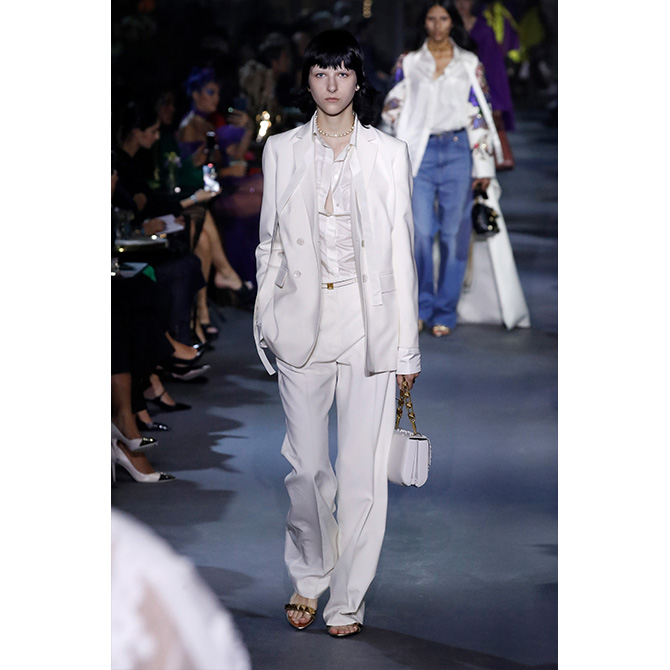 Like many other designers during the season, Piccioli also tapped into the post-pandemic sensibility of the new sexy—delivering scanty minidresses in a palette of eye-catching jewel tones to shiny black with plenty of skin-flashing cut-outs that ground the archives-inspired collection firmly in the zeitgeist.
MORE: See every look from the Valentino Rendezvous show now
Hermès
When: Saturday, October 2 at 8:30pm Malaysia time
Though not much details have been revealed yet, Hermès will debut its Spring/Summer 2022 collection via a physical show in Paris. Watch the livestream below, and check back here for a post-show review.
Highlights: 
After a year of lockdowns and closed borders, Artistic Director Nadège Vanhee-Cybulski brought us to an airport hanger for a Hermès journey of craftsmanship and cool. The circular runway structure was decked out in orange-hued paintings by artist Flora Moscovici and featured massive gates that slid open and close as models walked through.
This season, Vanhee-Cybulski framed the collection under symbols of liberation, introducing easy, stripped-down silhouettes that were injected with just a touch of ornamentation to add a bit of vibrancy. Crafted leather and matching knitwear was a key focus of the collection. There were bias-cut leather dresses that were both loose and short; a black leather pantsuit; leather crop tops paired with silk printed shorts; a pair of leather overalls worn sans bottom layer; a collarless coat. Whether in sunny shades of yellow and orange or dark and sexy, the leather always looked light and comfy and never heavy.
Meanwhile, the collection was also crafted in details that belonged to the house, from eyelets and tiny metallic studs on leather panels to the new cylindrical bags that featured horse bit handles. Under the most sophisticated notion of post-pandemic dressing ever, brassiere tops brought sensuality to house codes, while strappy platform sandals were worn with matching leather socks for a take of luxe minimalism. Altogether, the colours and atmosphere projected a feeling of optimism, intensified by a chic collection full of movement and the moment that stayed true to brand heritage. The grand finale was a sight to behold: models lined up in front of the hangar gate as it opened to reveal a panoramic flight runway and Vanhee-Cybulski came out to take a bow just as a jet landed behind her––what's more symbolic than that?
Balenciaga 
When: Sunday, October 3 at 2am Malaysia time
The Balenciaga SS22 'Red Carpet' runway show will be taking place live from Paris' Theatre du Chatelet. Scan below to stream the show or watch it live on balenciaga.com.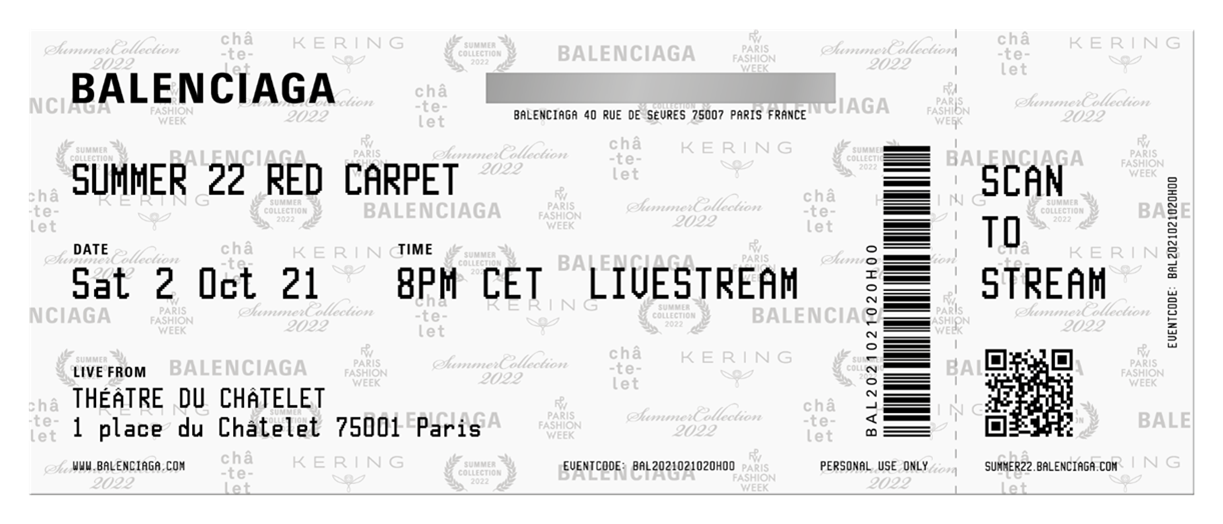 Highlights: 
Demna Gvasalia continues to disrupt and subvert the traditional format of a fashion show. For Spring/Summer 2022, the creative director sent models down the red carpet for Balenciaga's latest collection, as they posed in front of awaiting paparazzi before entering Paris' Theatre du Chatelet for a special screening.
The entire experience was a meta-commentary on celebrity culture, as guests––including Cardi B, Naomi Campbell, Isabelle Huppert, Elliott Page, Juergen Teller and more––all got their own moment on the red carpet. Unbeknownst to them and not unlike the recent Met Gala extravaganza, it was all being live-streamed to those in the venue, and on social media. Once everyone took their seats inside the theatre, the lights dimmed and a familiar tune was in earshot. It was the theme song of cult cartoon The Simpsons, as the screening revealed a special one-off episode that was created in collaboration with Balenciaga. The ten-minute clip started off with Homer Simpson trying to convince Gvasalia to loan gown to Marge for her birthday. What resulted was the Georgian designer himself taking a private jet to Springfield to invite them to Paris and popular characters including Chief Wiggum, Smithers (in a full red off-the-shouldered look) taking the catwalk in full Balenciaga garms in front of a crowd that included an animated Anna Wintour.
The collection itself introduced plenty of classic Balenciaga silhouettes and shapes, including oversized puffers, bold-shouldered gowns and coats, 90s baggy jeans, alongside layered floral frocks and plenty of tailoring. While all-black looks reigned (and most with dark shades), there were a few pops of solid colour here and there––including a couple of dresses in cerulean and pink, as well as in the form of neon accessories that range from studded pointy-toed boots to top-handle bags. And to top it all off, the finale look presented a moment of deja vu, as a model dressed in complete anonymity in a black hoodie and face covering stepped out to remind us all too well of the break-the-internet looks worn by Kim Kardashian and Gvasalia himself on the recent beige carpet of the 2021 Met Gala.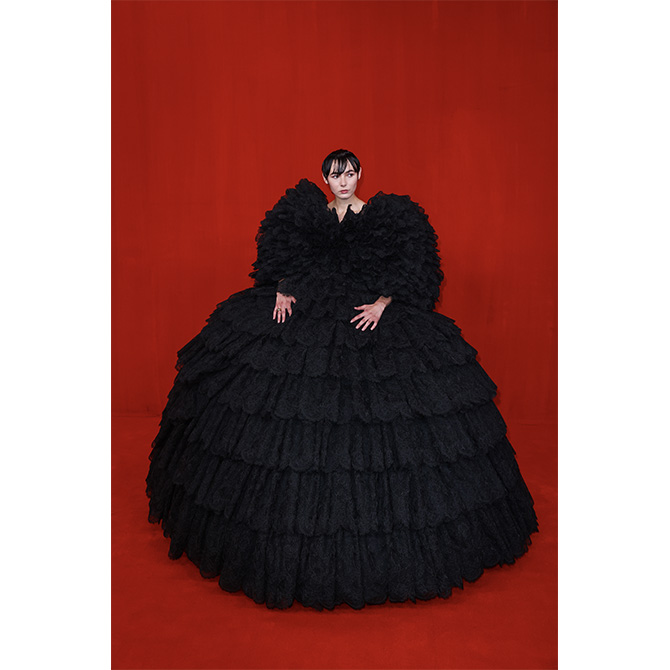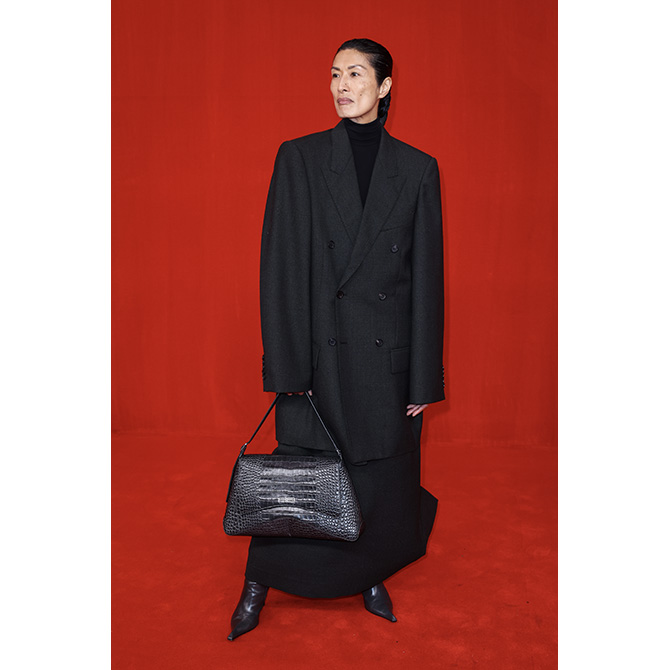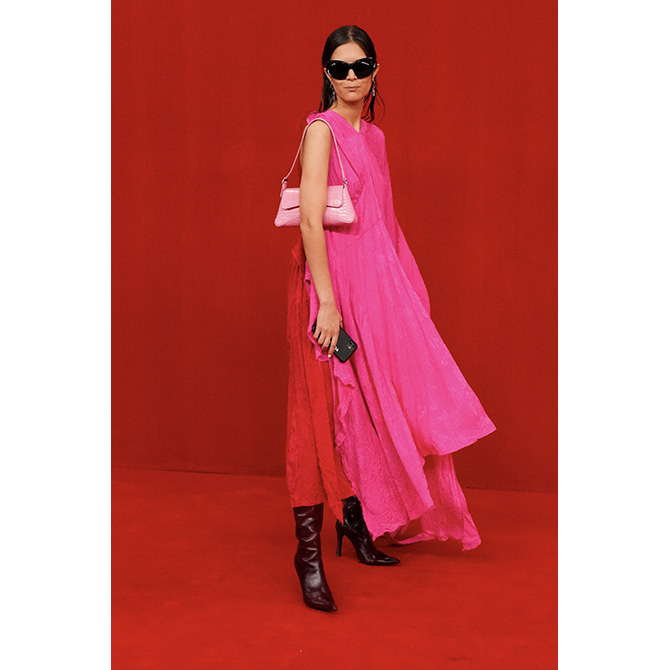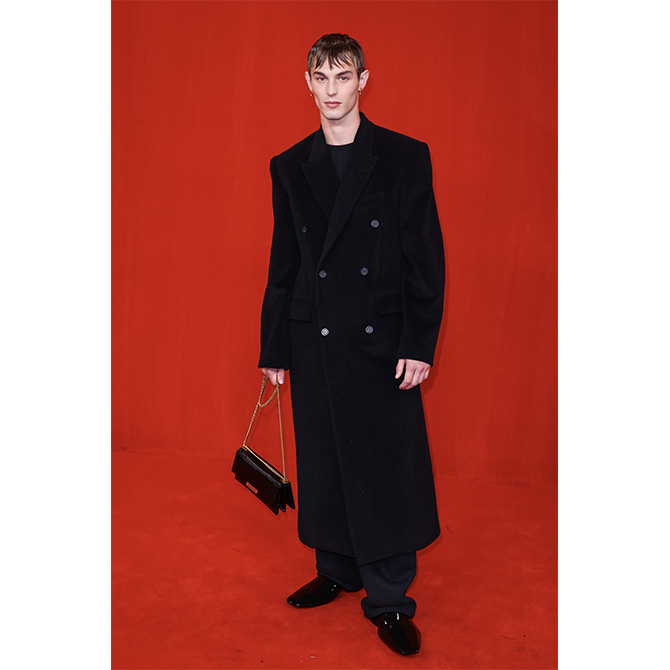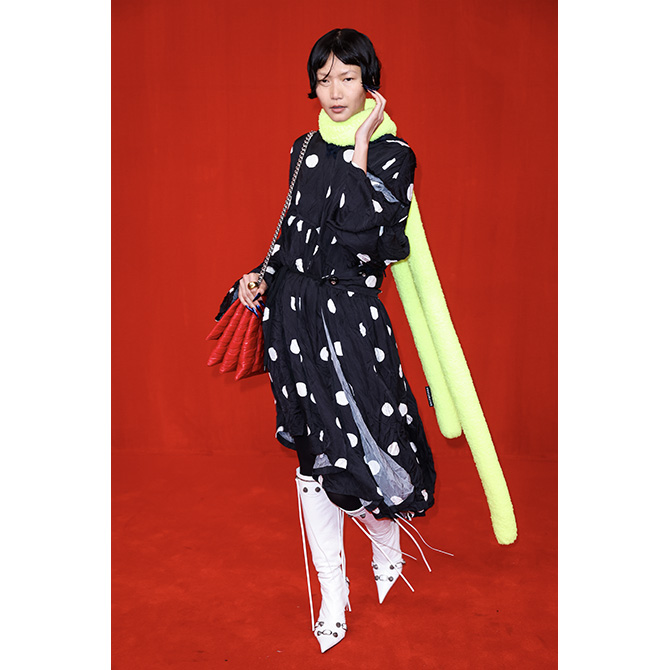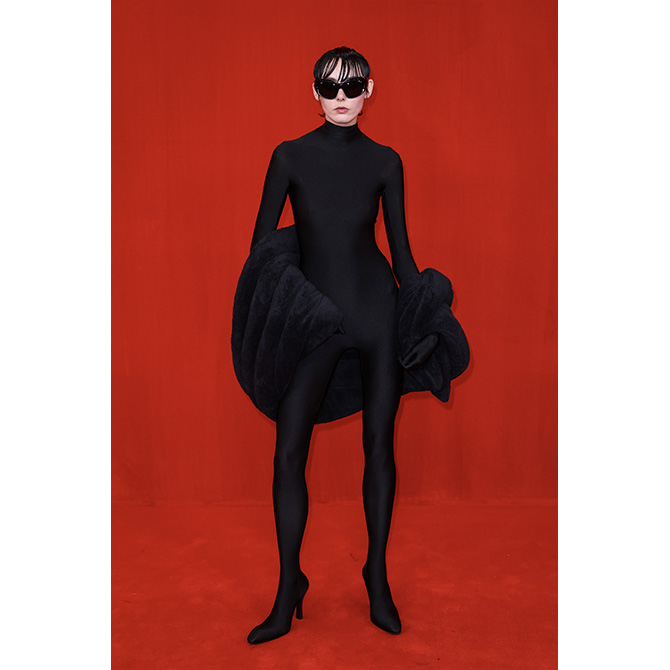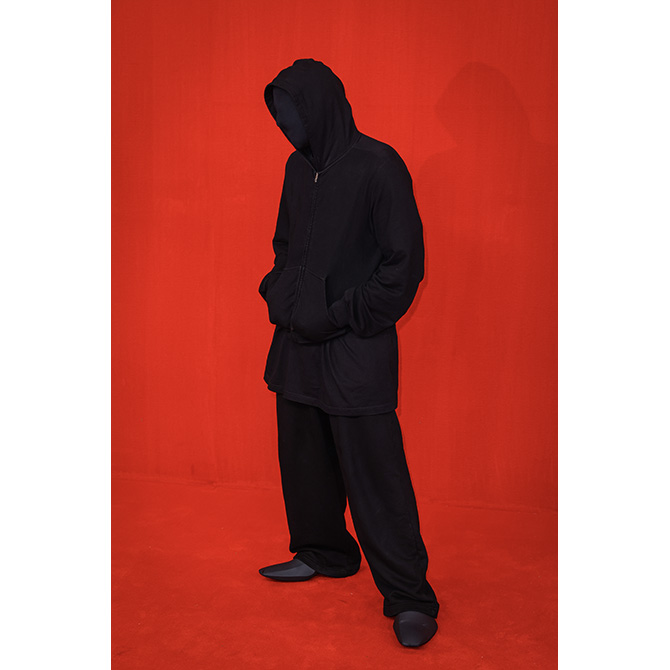 MORE: See every look from the Balenciaga 'Red Carpet' collection now.
Givenchy
When: Monday, October 4 at 2am Malaysia time
Highlights:
Where do we begin with the Givenchy Spring Summer 2022 Women's & Men's Ready-to-Wear collection? For starters, creative director Matthew M. Williams wanted to "build on the tradition of Givenchy's history while also really looking towards the future." To achieve this, he looked to young talents with unique perspectives, such as artist Josh Smith—whose artwork is embedded throughout the collection along with his choice of colours—and musician Young Thug, who contributed the soundtrack for the show.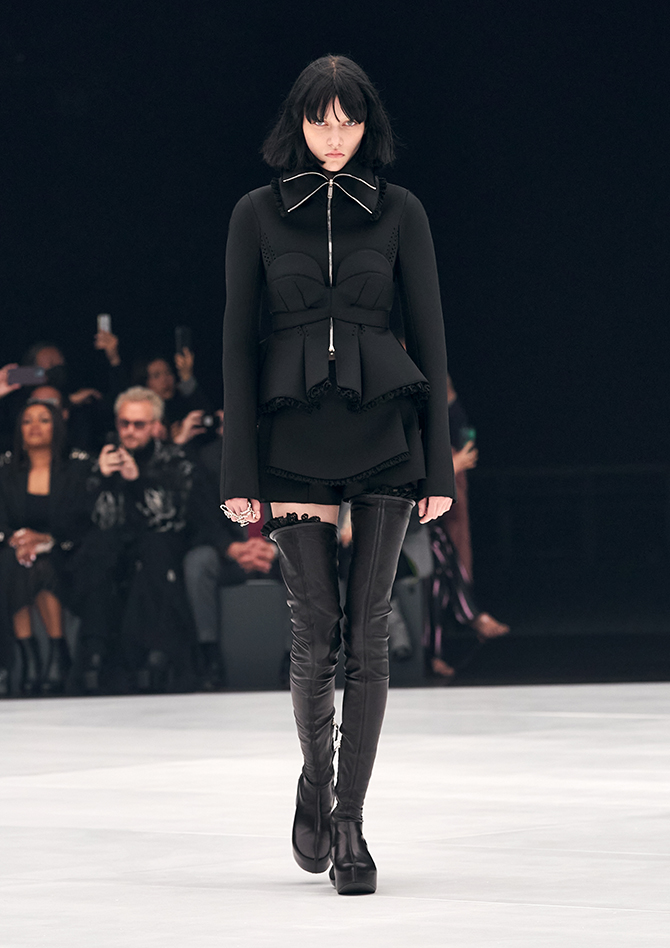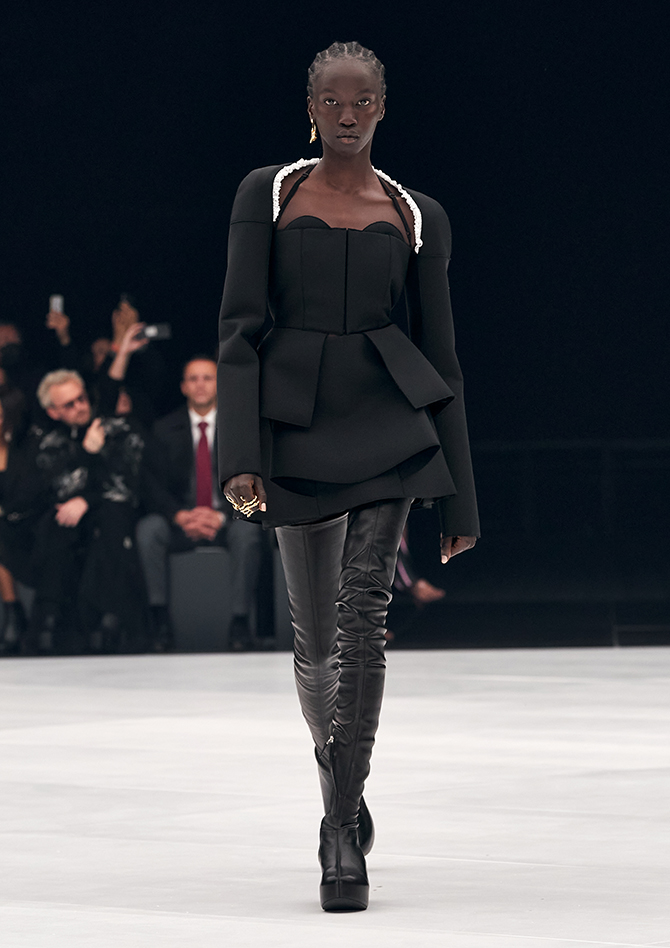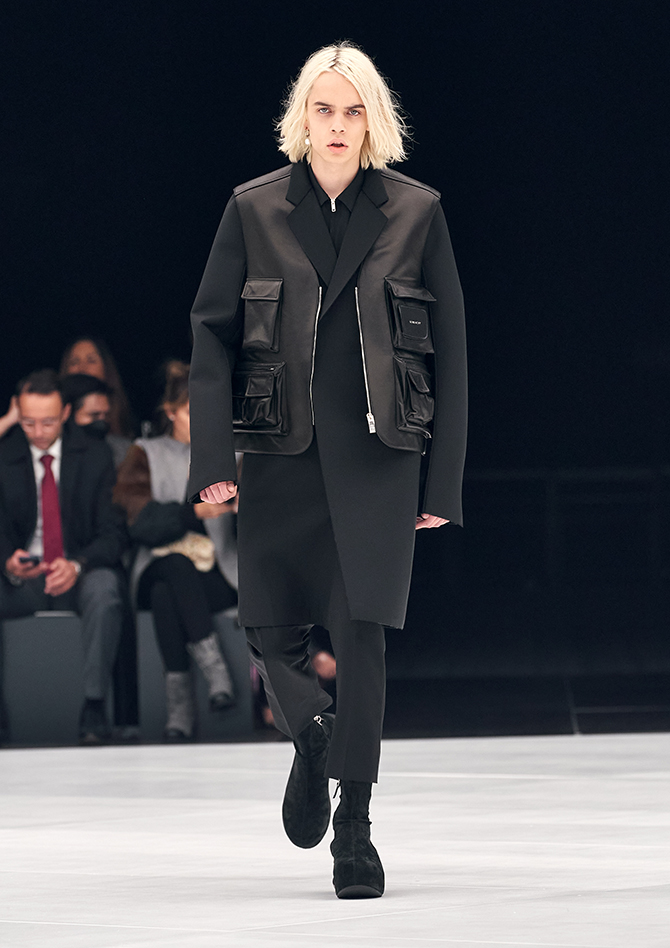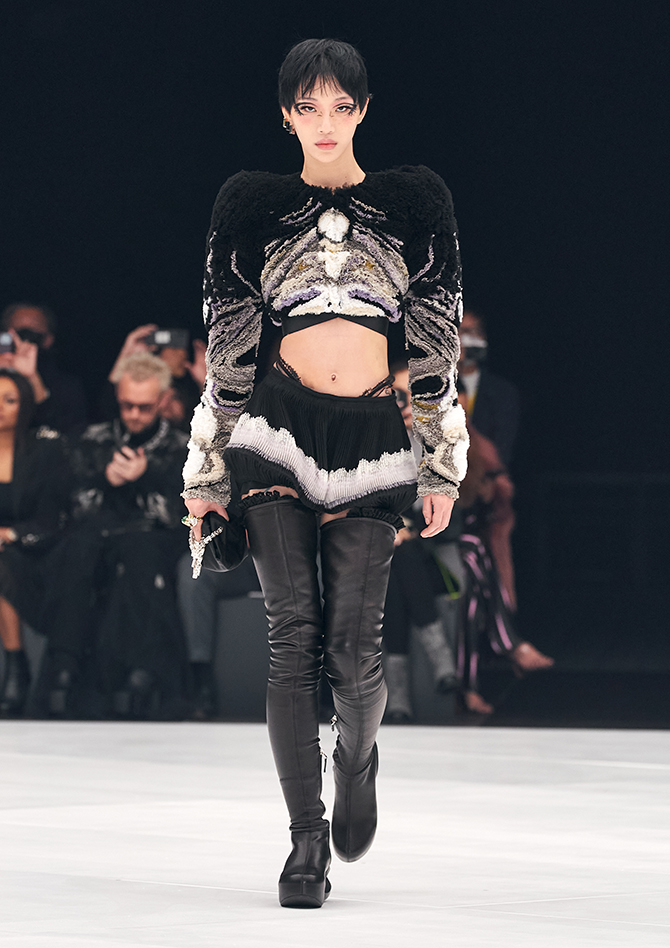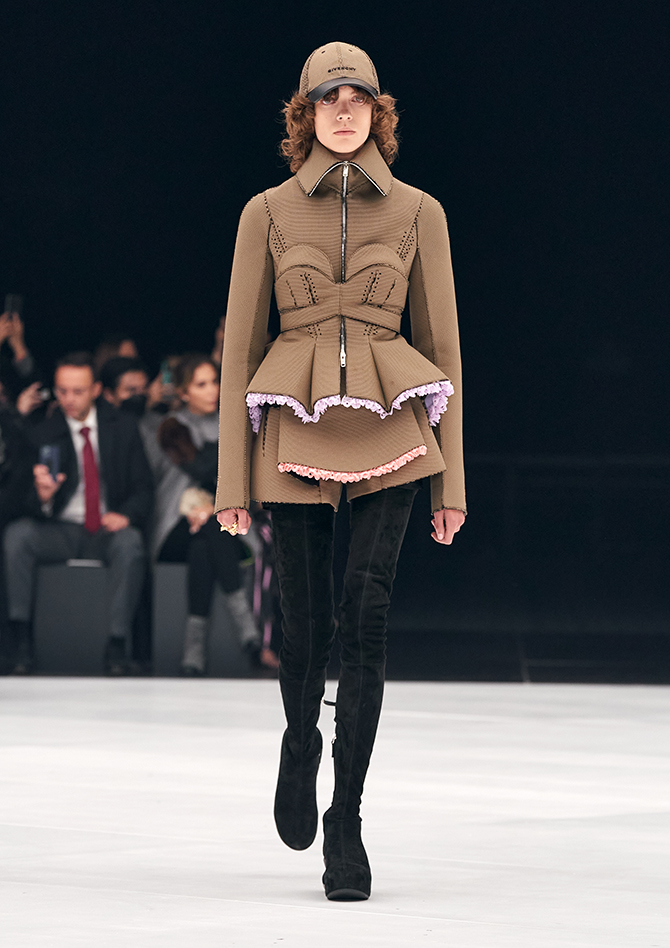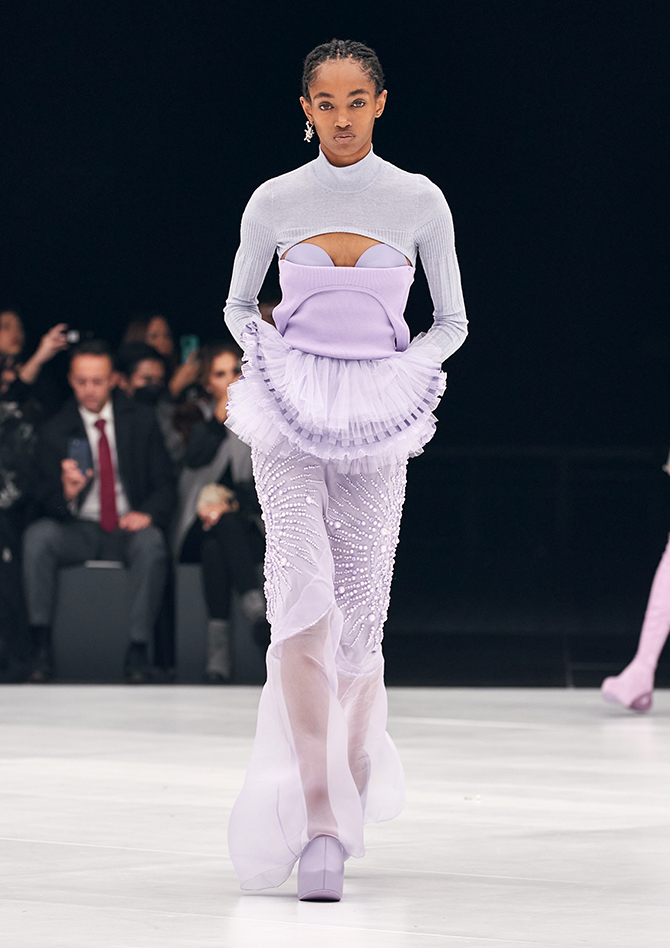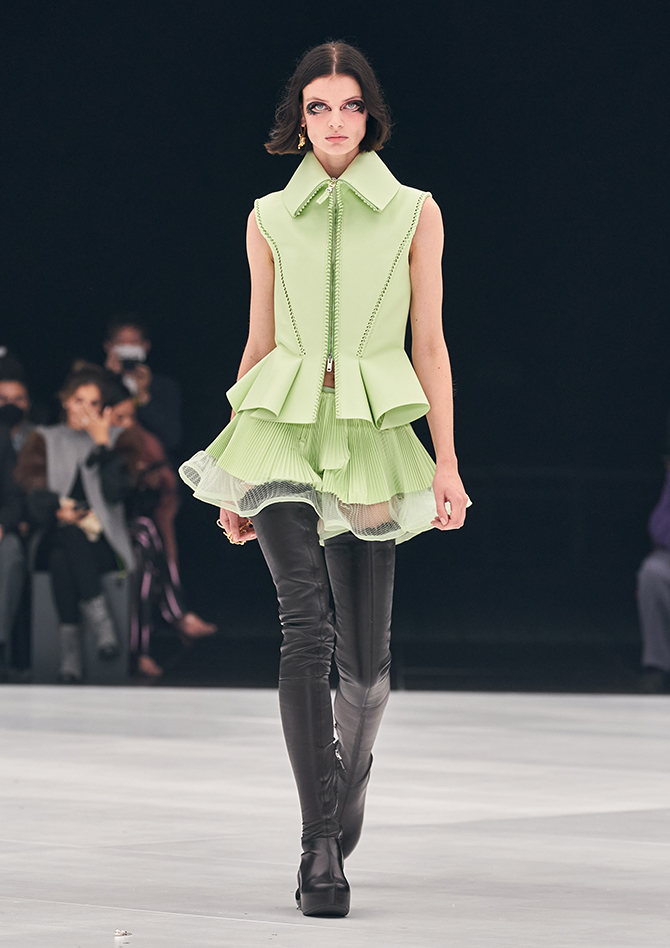 But what of the collection? It was a lot. It was experimental with the fabrics, silhouettes, and the combination of both. It was extravagant, imperfect, luxe, radical and practical—while maintaining Givenchy's code of letting classicism and subversion play together. Women's and menswear featured traditional masculine tailoring fabrics, no matter if it's mohair wools, Nappa leather, or cotton herringbones. Corsets and peplums became sculpted and toyed with the use of neoprene. The new 'Kenny' bag is gathered and ornamented with Williams' characteristic hardware handles and Love Loves, while '4G' detailing can be spotted on a backpack and women's sandals.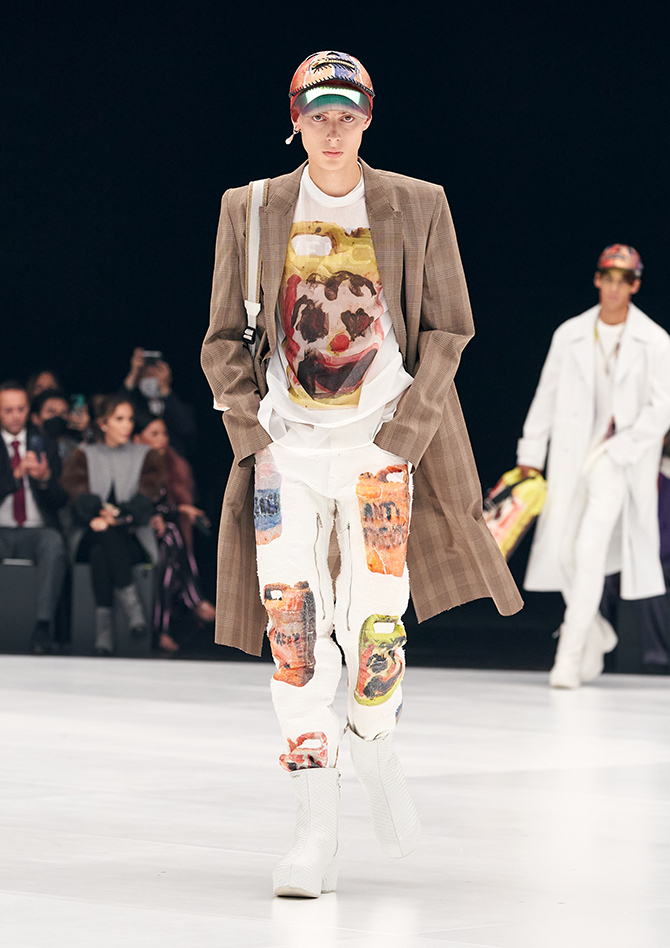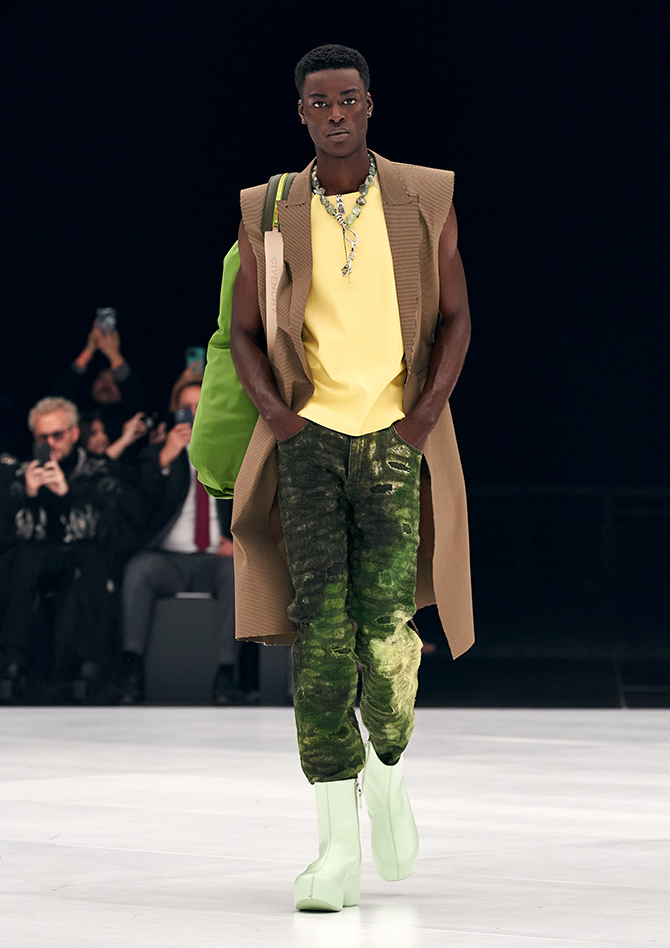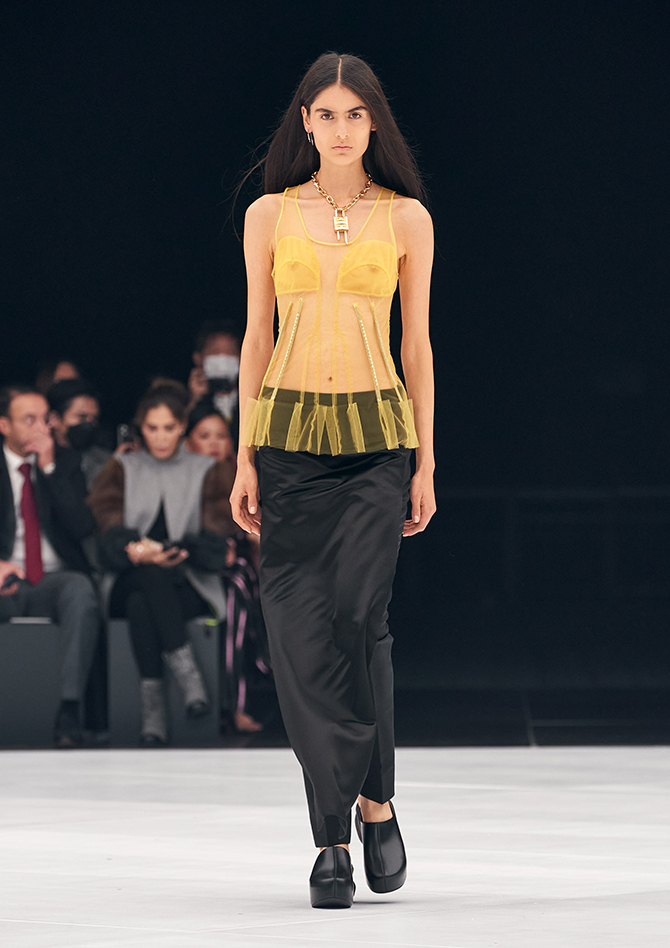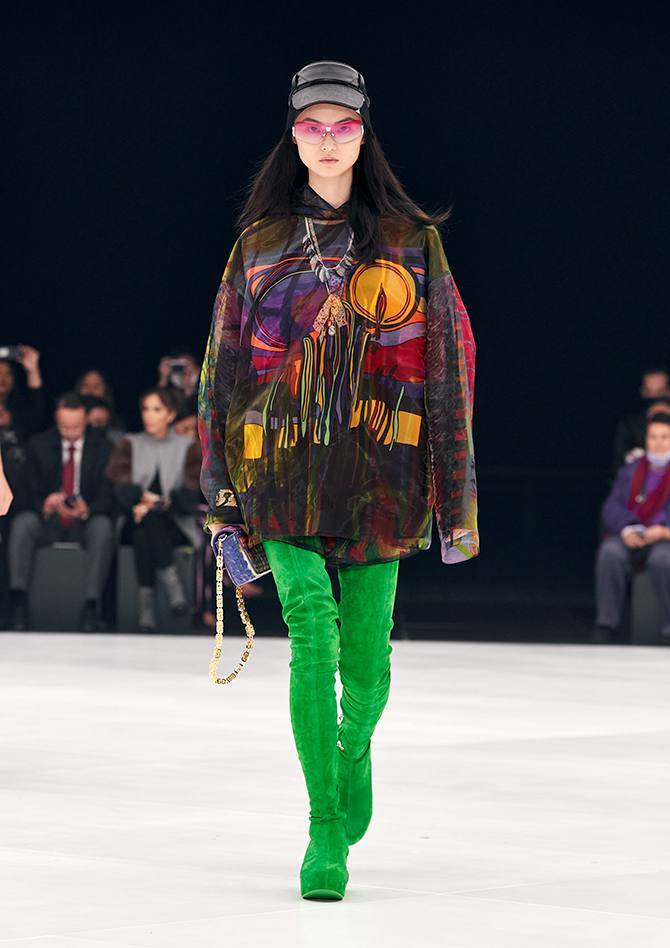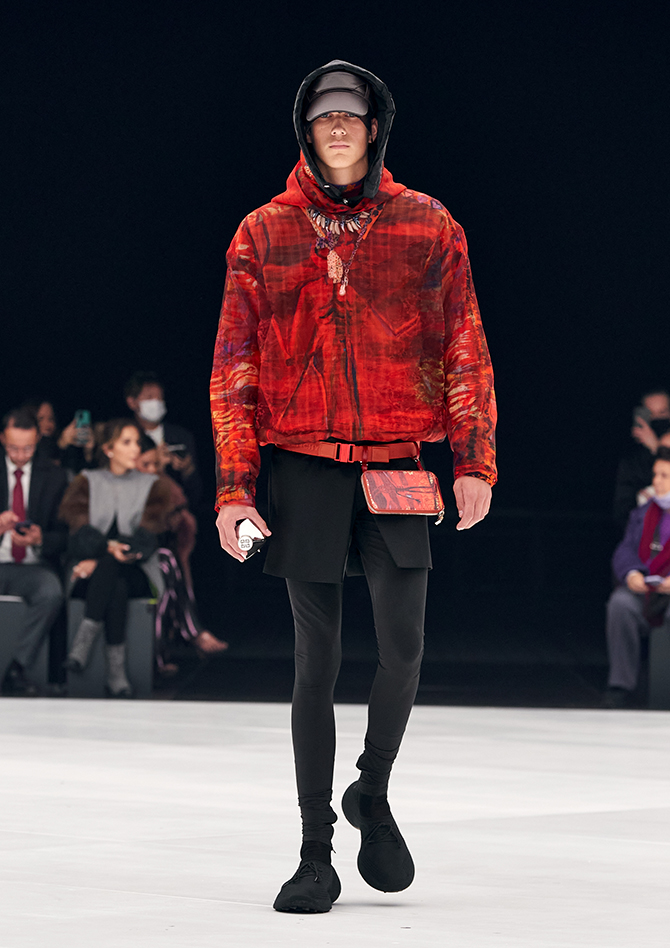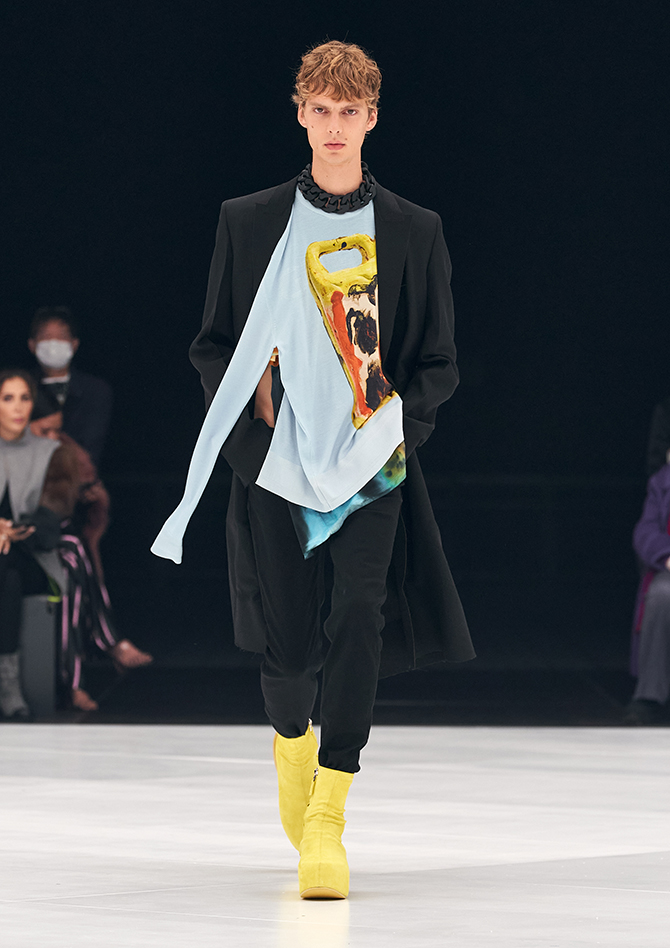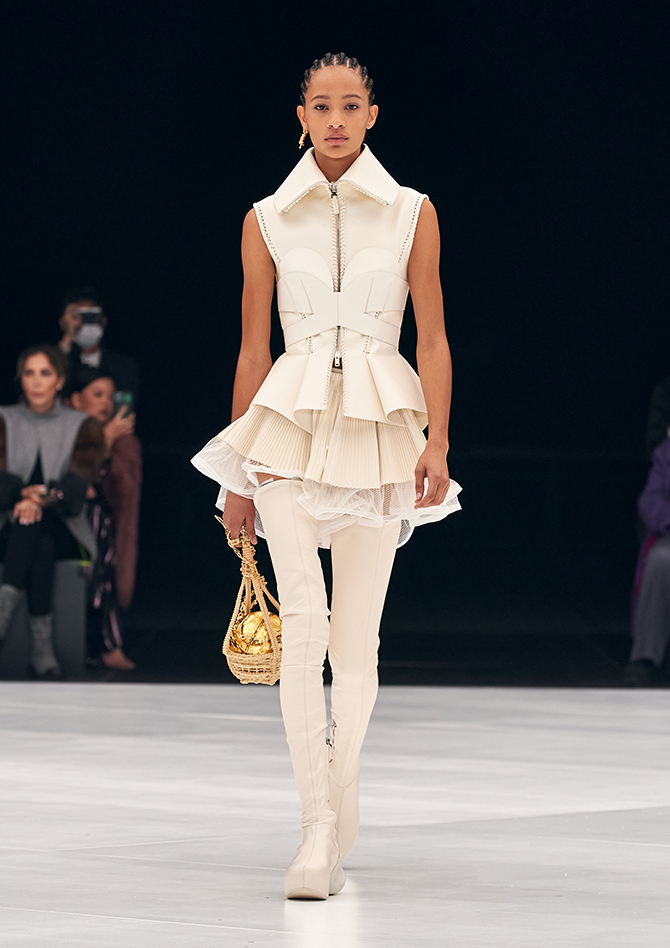 "Matt showed up in my studio and we started cooking together… we made some delicious things. We burnt some stuff, and that tasted good too. Matt took a to-go bag back to Paris and shared all of this with his sharp creative team. This collection is a miracle. The sky is the limit. Thanks for taking a look," says Smith in the show notes. It was a lot, but it was all about contrast. And it's the kind of fashion statement that people are looking—and are bold enough—to make today.
Chanel
When: Tuesday, October 5 at 9pm Malaysia time
The Chanel Spring/Summer 2022 Ready-to-Wear show will be held at the Grand Palais Éphémère. In anticipation of the new collection imagined by Virginie Viard, photographers Inez & Vinoodh have produced a series of video teasers and photographs with model Vivienne Rohner at its centre and in gorgeous cinematic black and white. This is just a hint of the inspirations Viard had for the collection.
Highlights:
At the centre of the Chanel Spring Summer 2022 Ready-to-Wear collection is the pose of having a camera in hand. The invitation featured model Vivienne Rohner taking a photo. Starring Lily-Rose Depp, Alma Jodorowsky, Blackpink's Jennie, Rebecca Dayan and Quannah Chasinghorse-Pott, the series of short films and photographs—by photographer duo Inez & Vinoodh—that were revealed as a prelude had the same gesture. And that photo of Rohner with the camera acted as the backdrop for the runway show while a sea of photographers surrounded the stage, flashing their cameras away. It's no coincidence.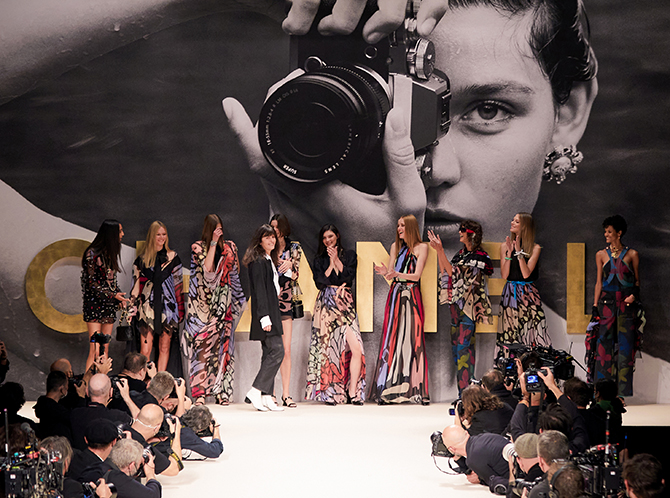 "Because fashion is about clothes, models and photographers. Karl Lagerfeld used to photograph the Chanel campaigns himself. Today, I call upon photographers. I love the way that they see Chanel. It supports and inspires me," shares Virginie Viard in the show notes. "It's a magical object and a sexy gesture, which evokes so many memories. I used to love the sound of flashbulbs going off at the shows in the eighties, when the models were on a raised runway. I wanted to recapture that emotion."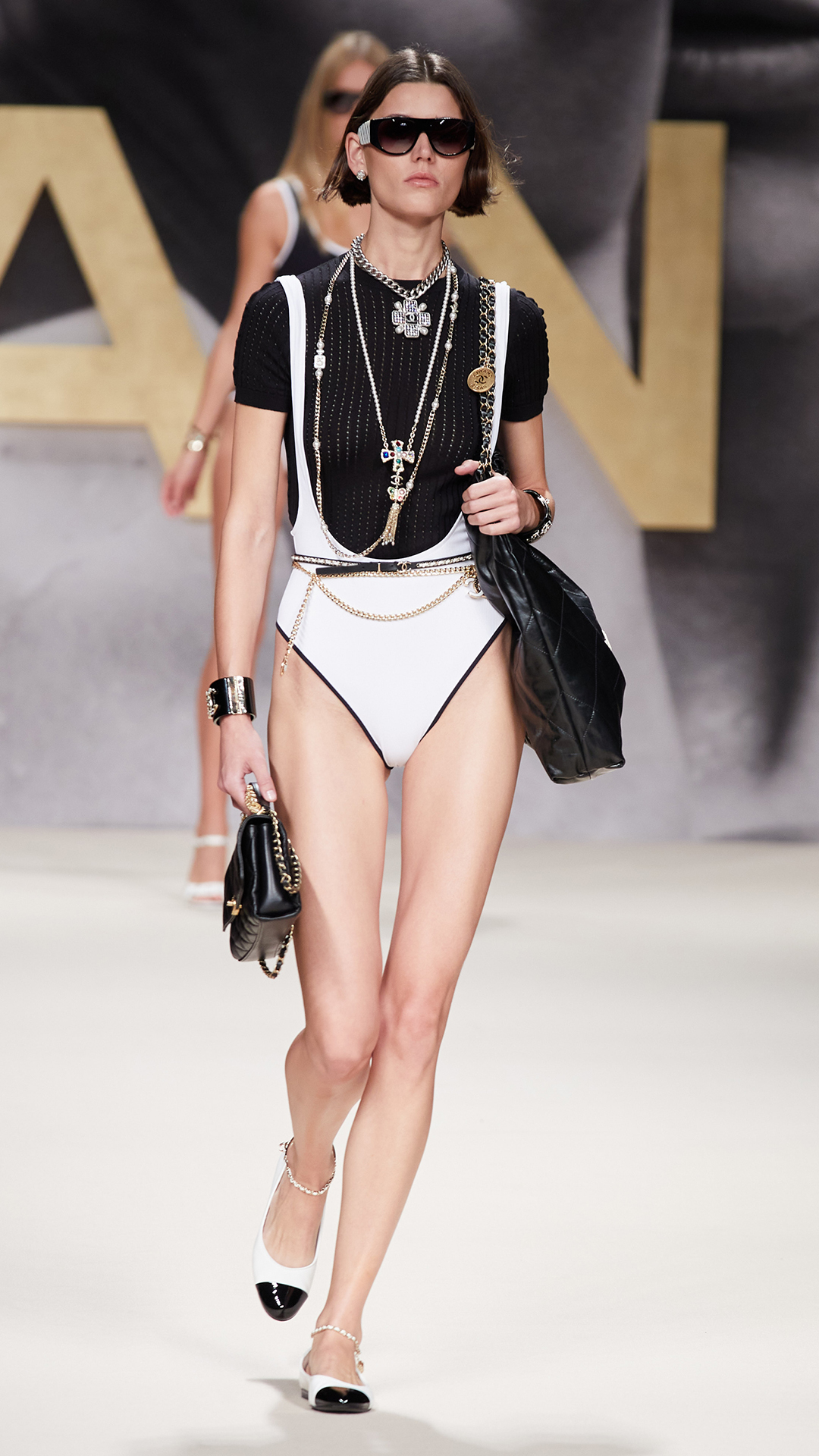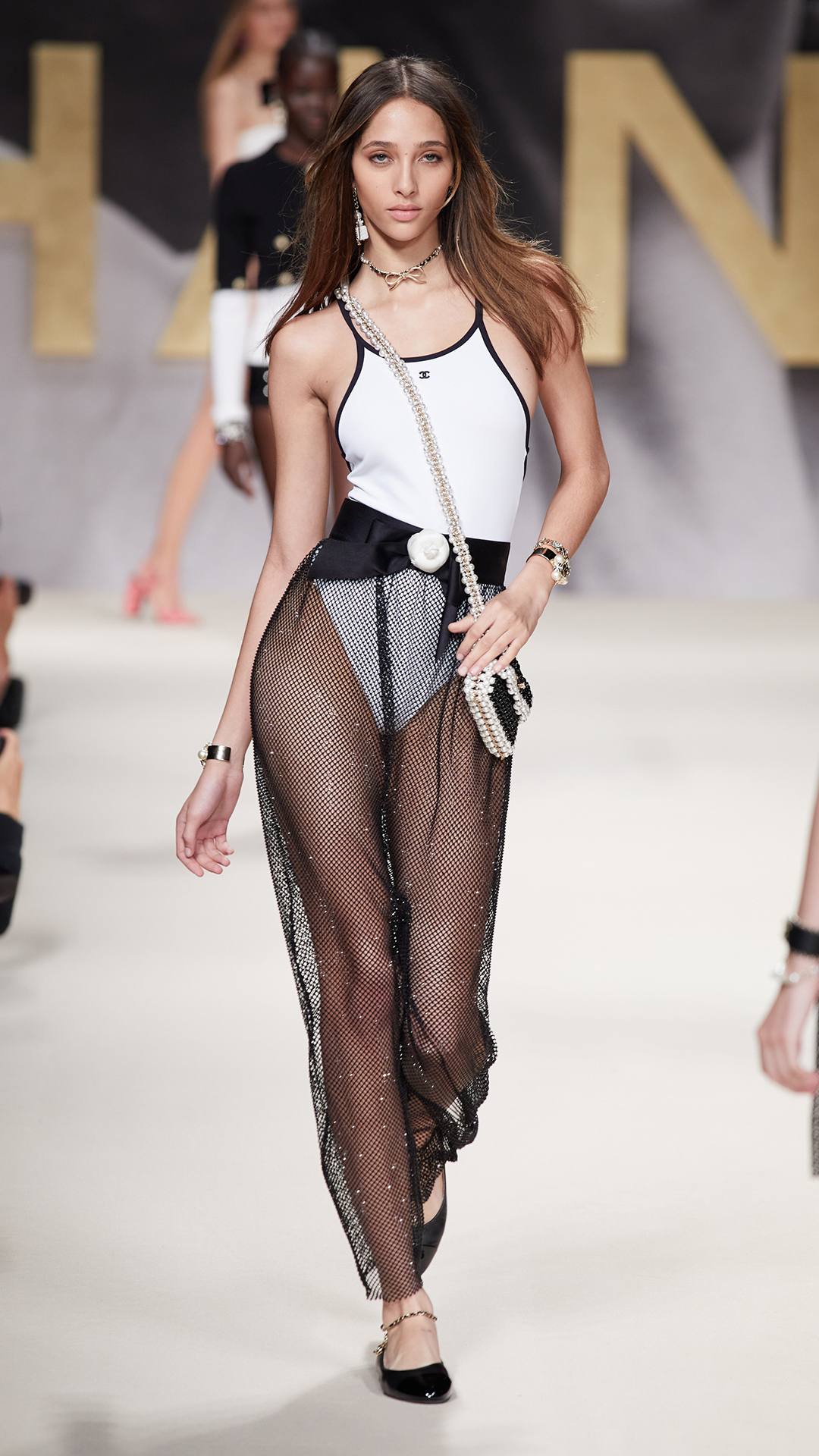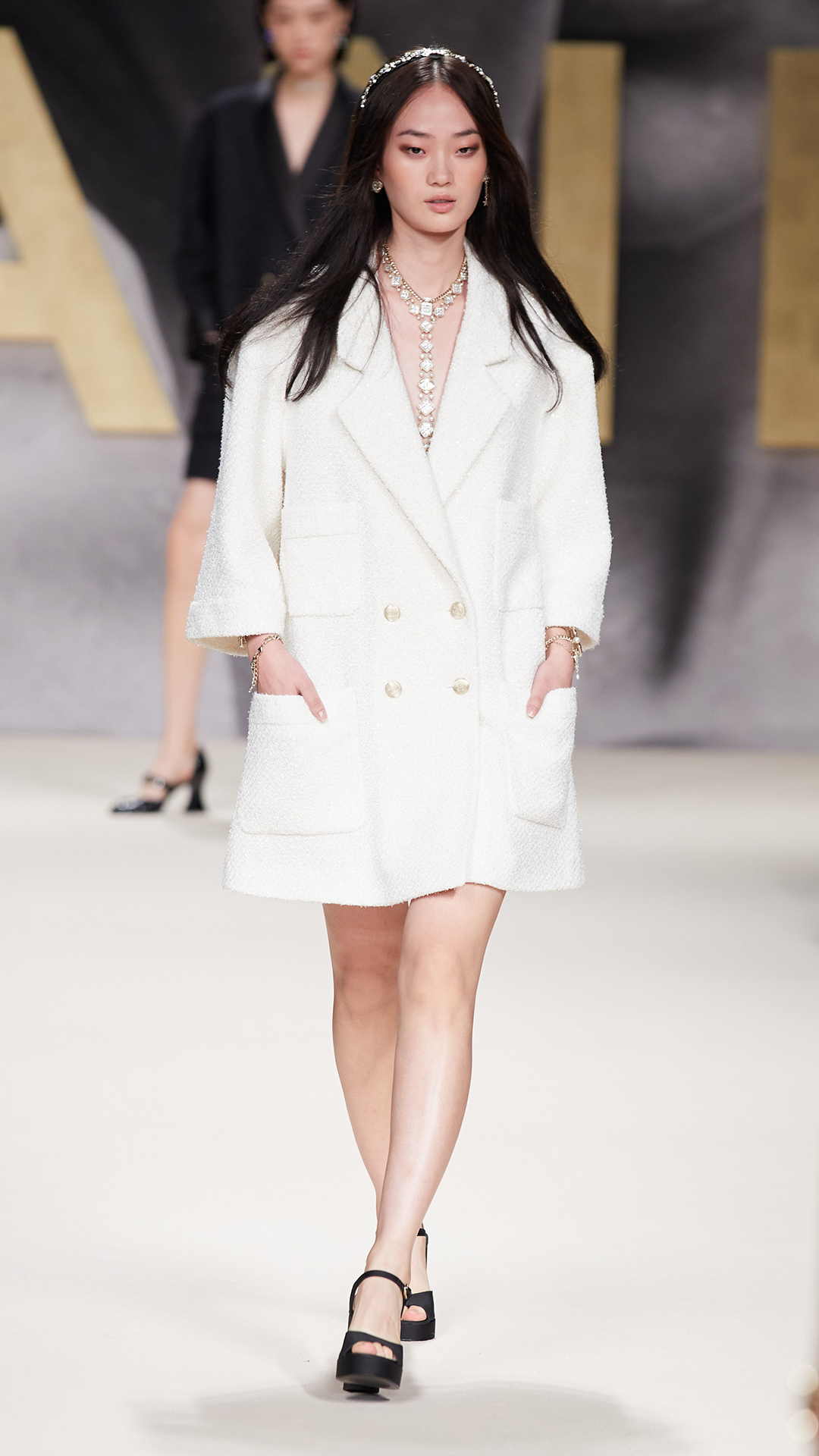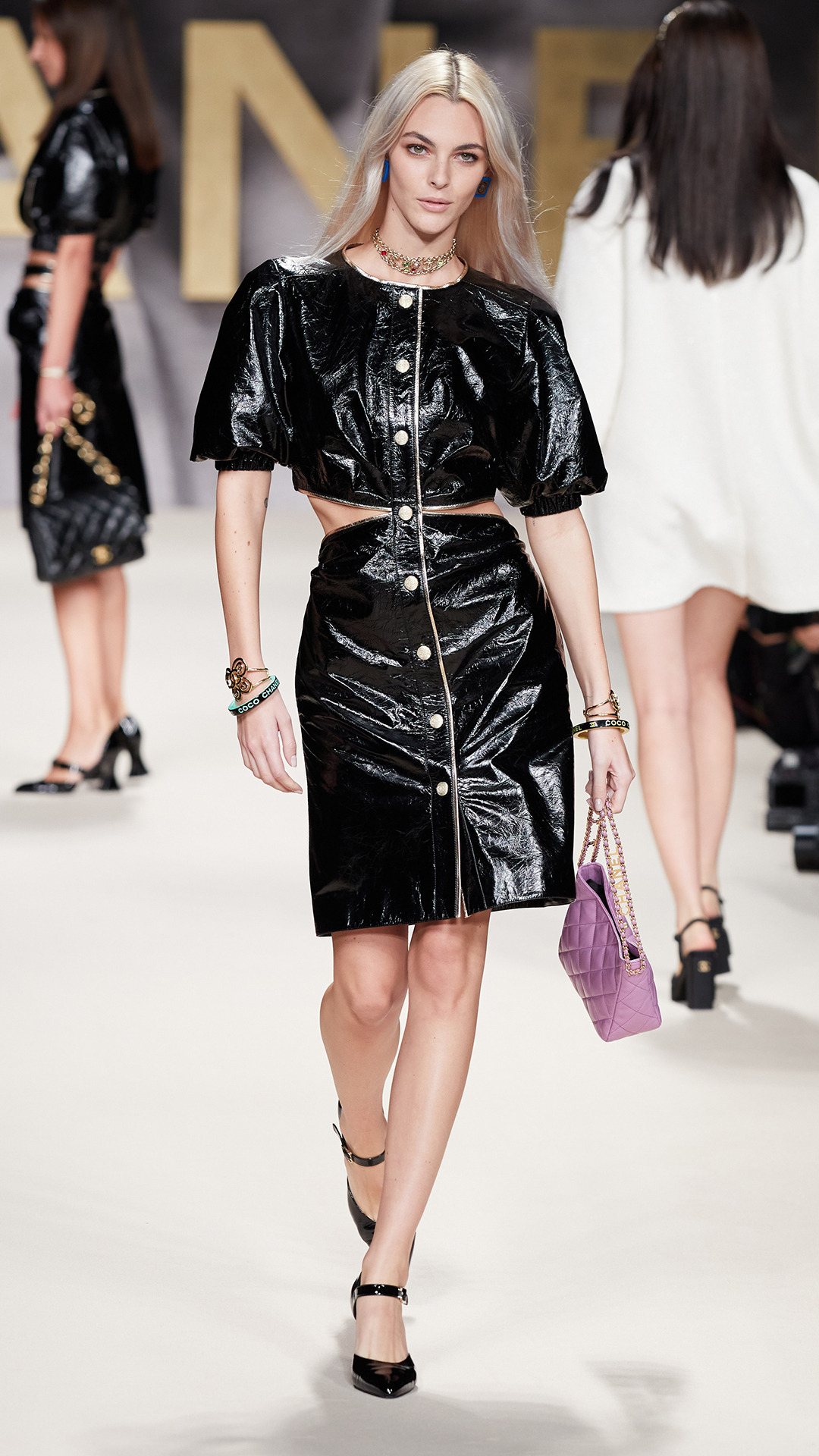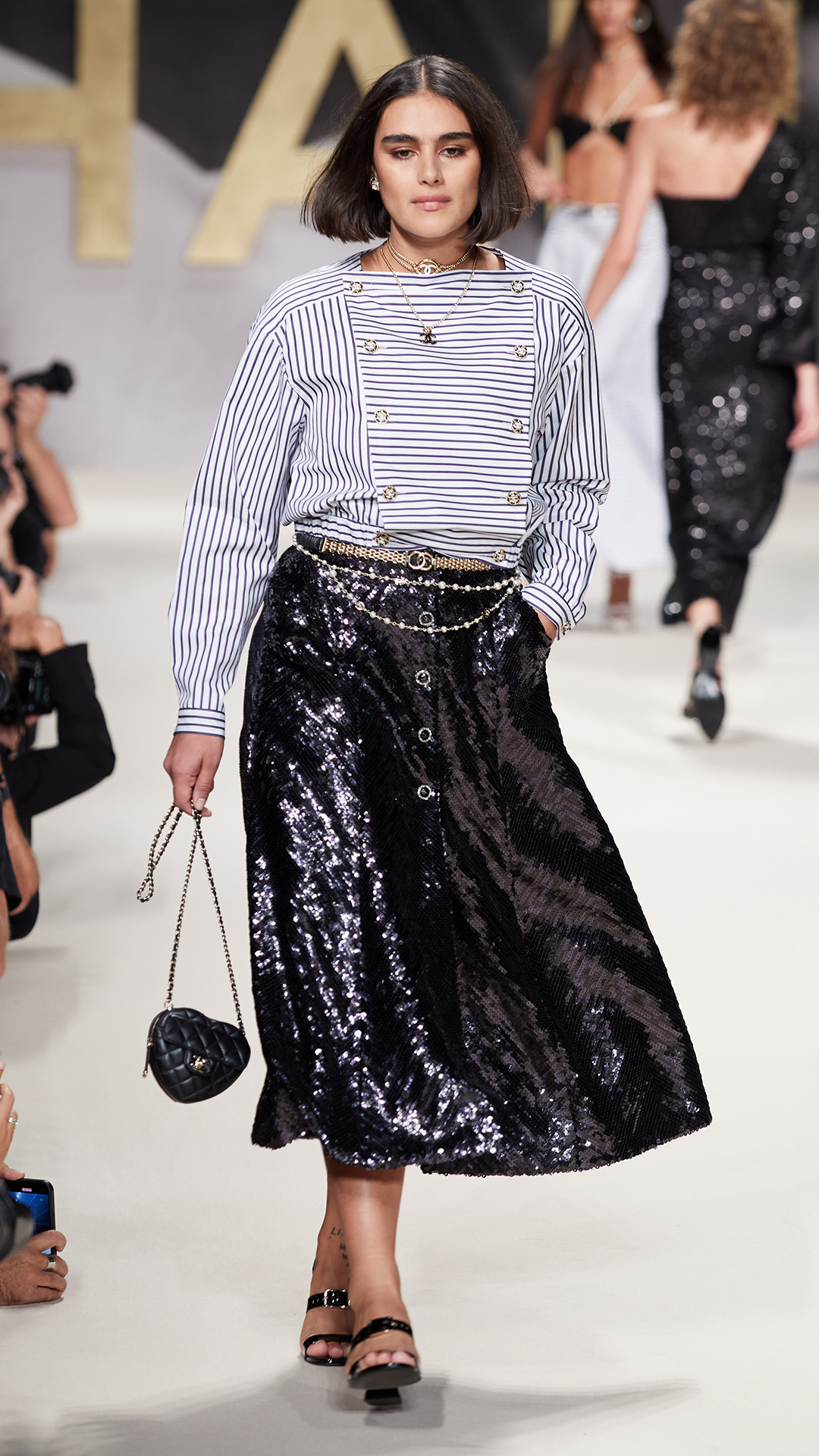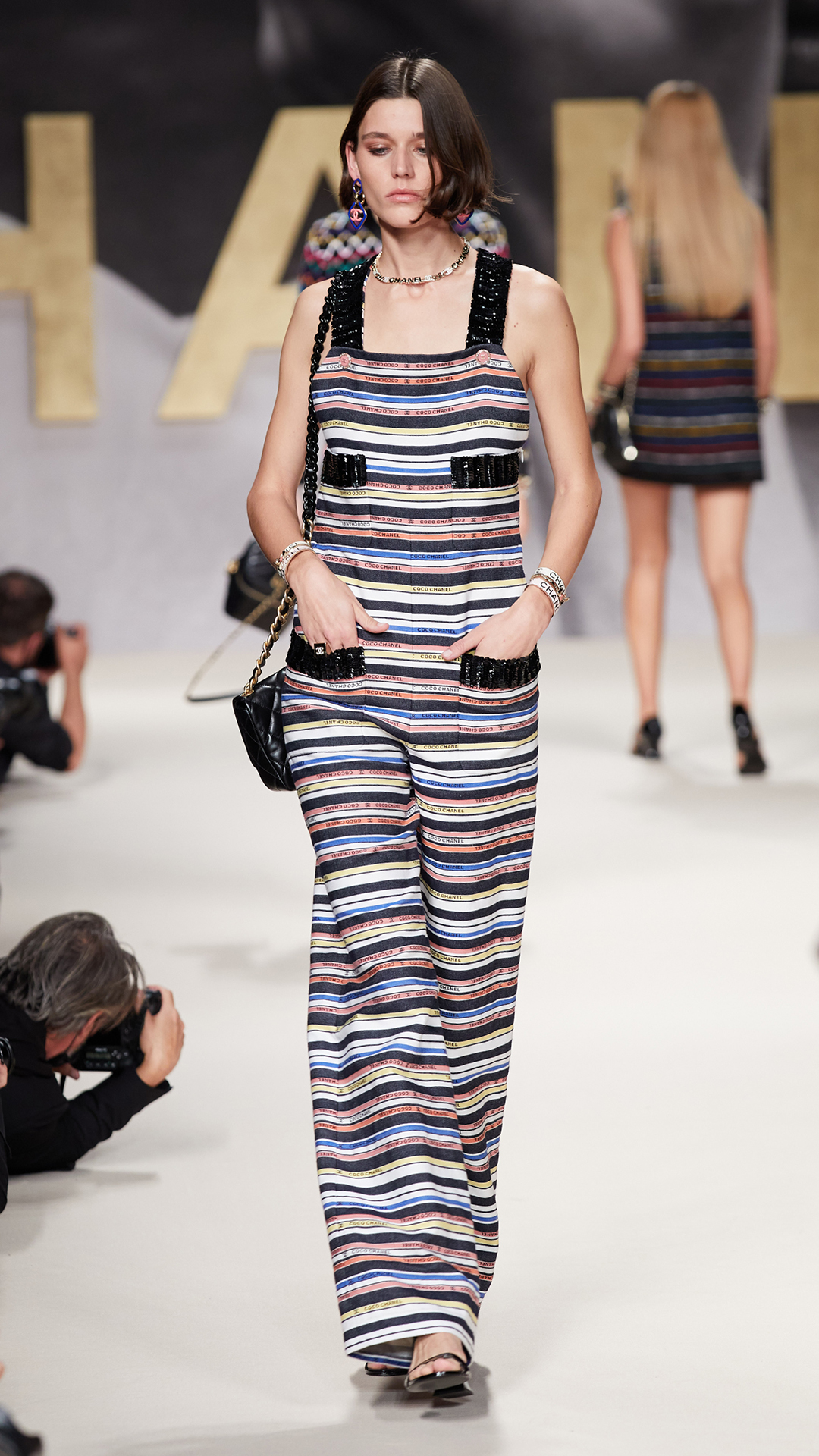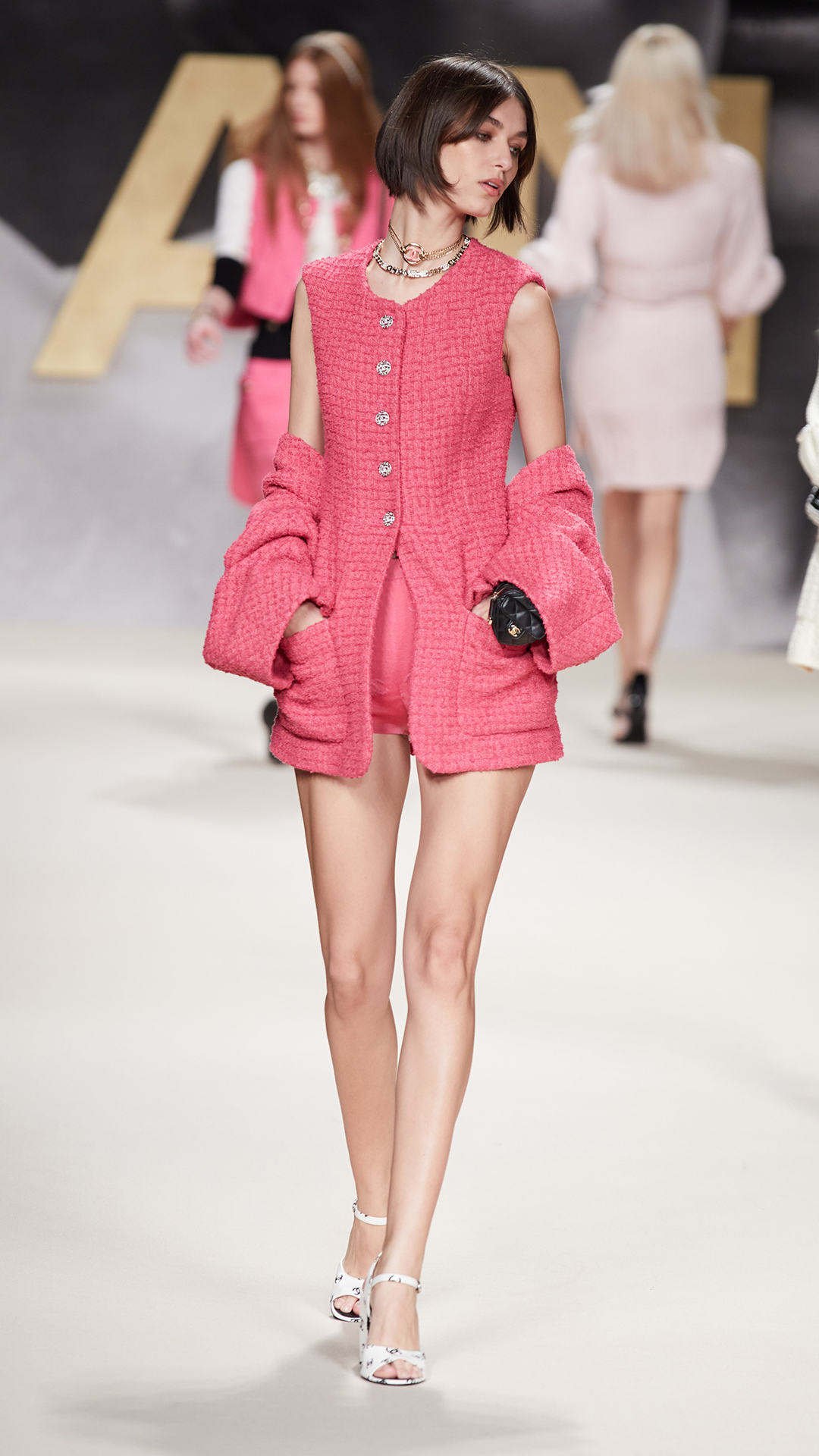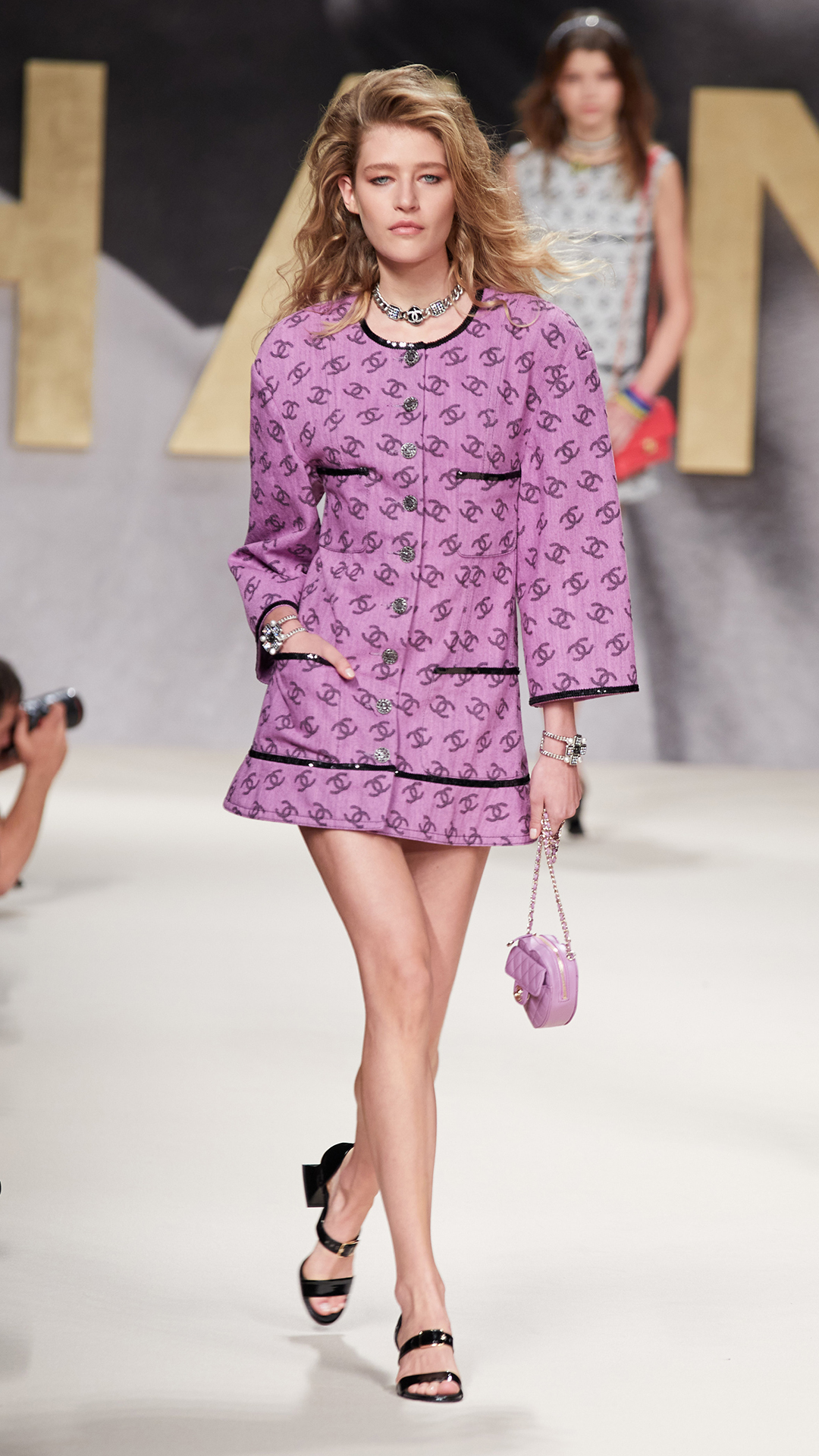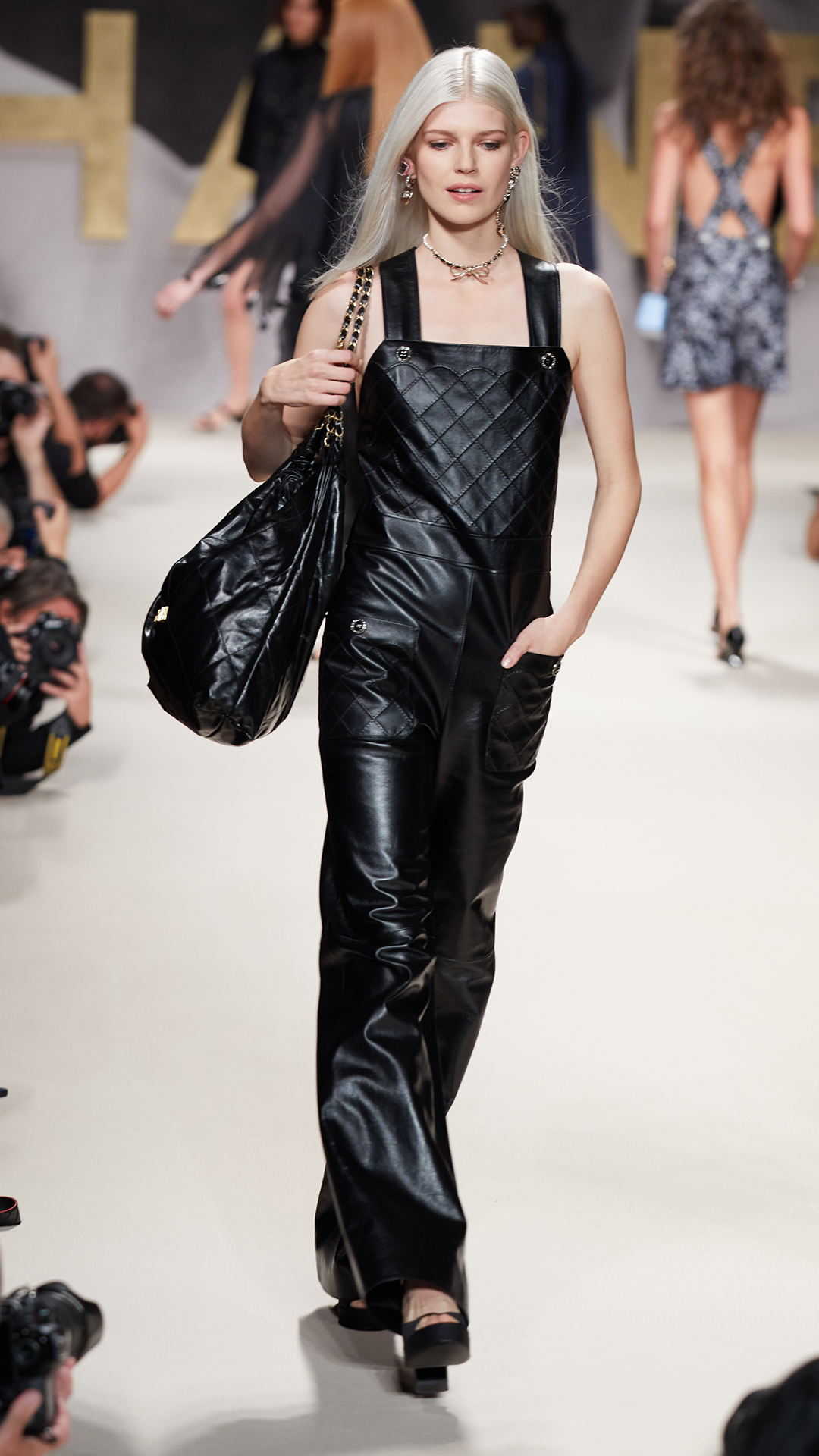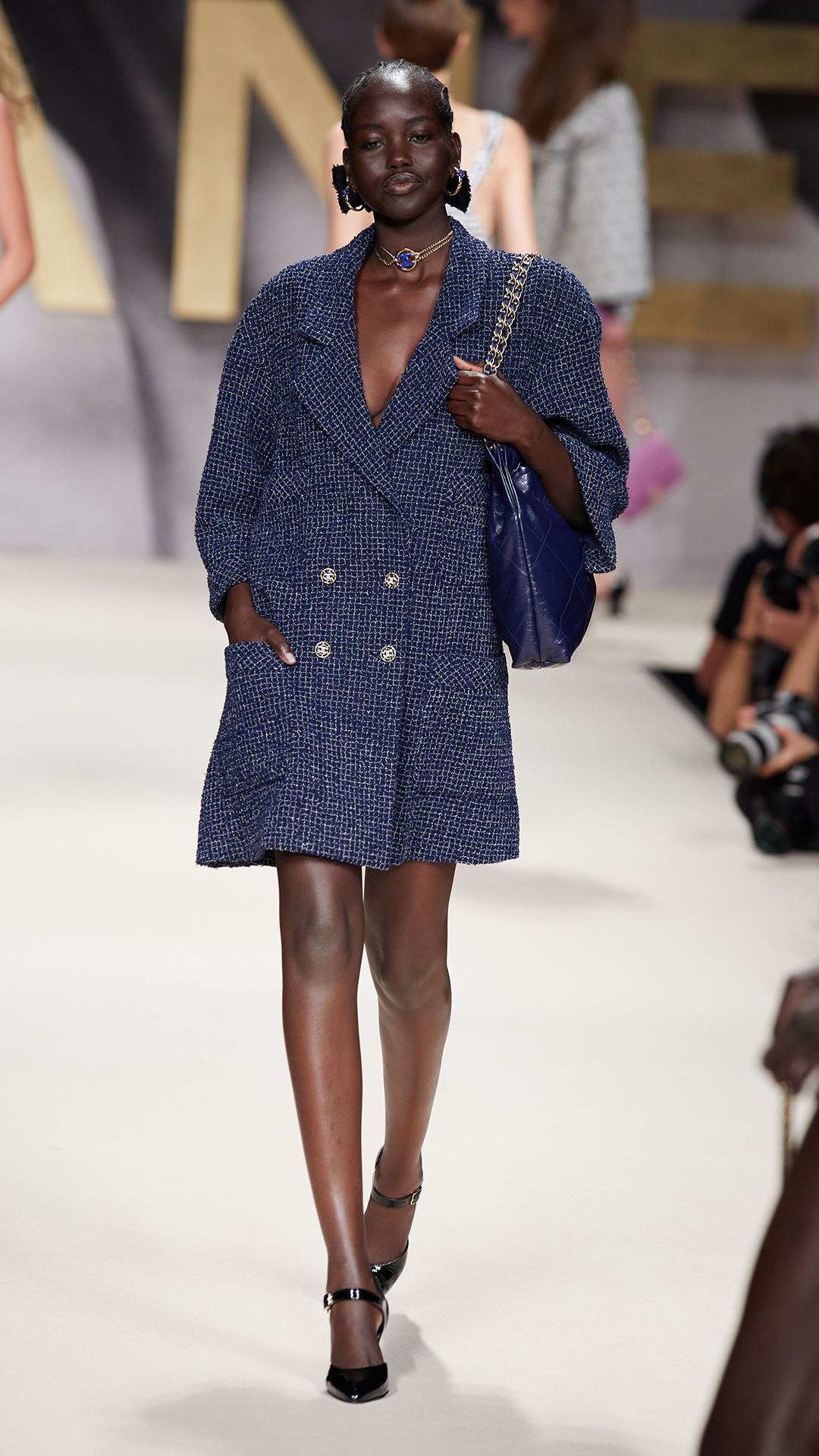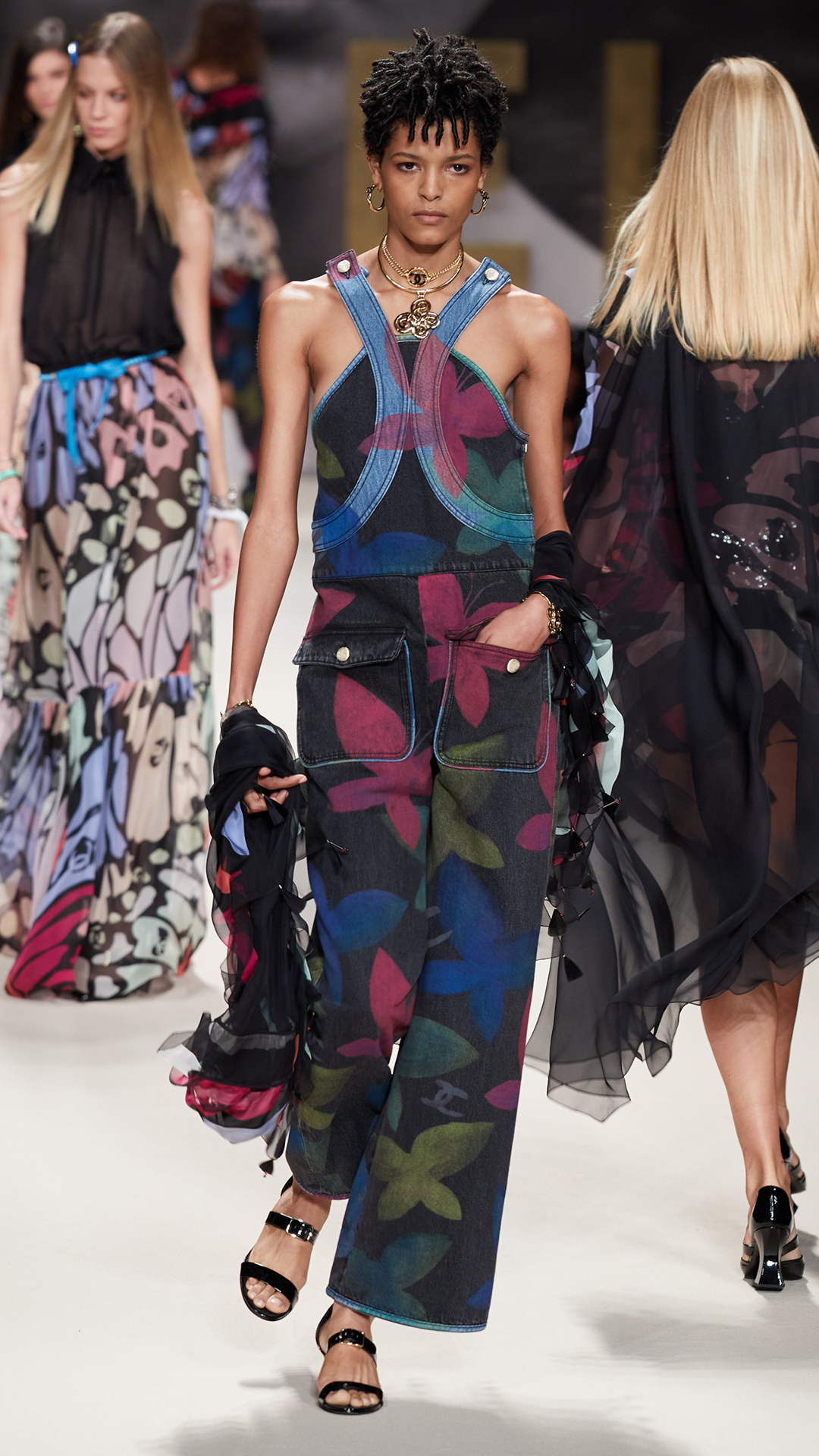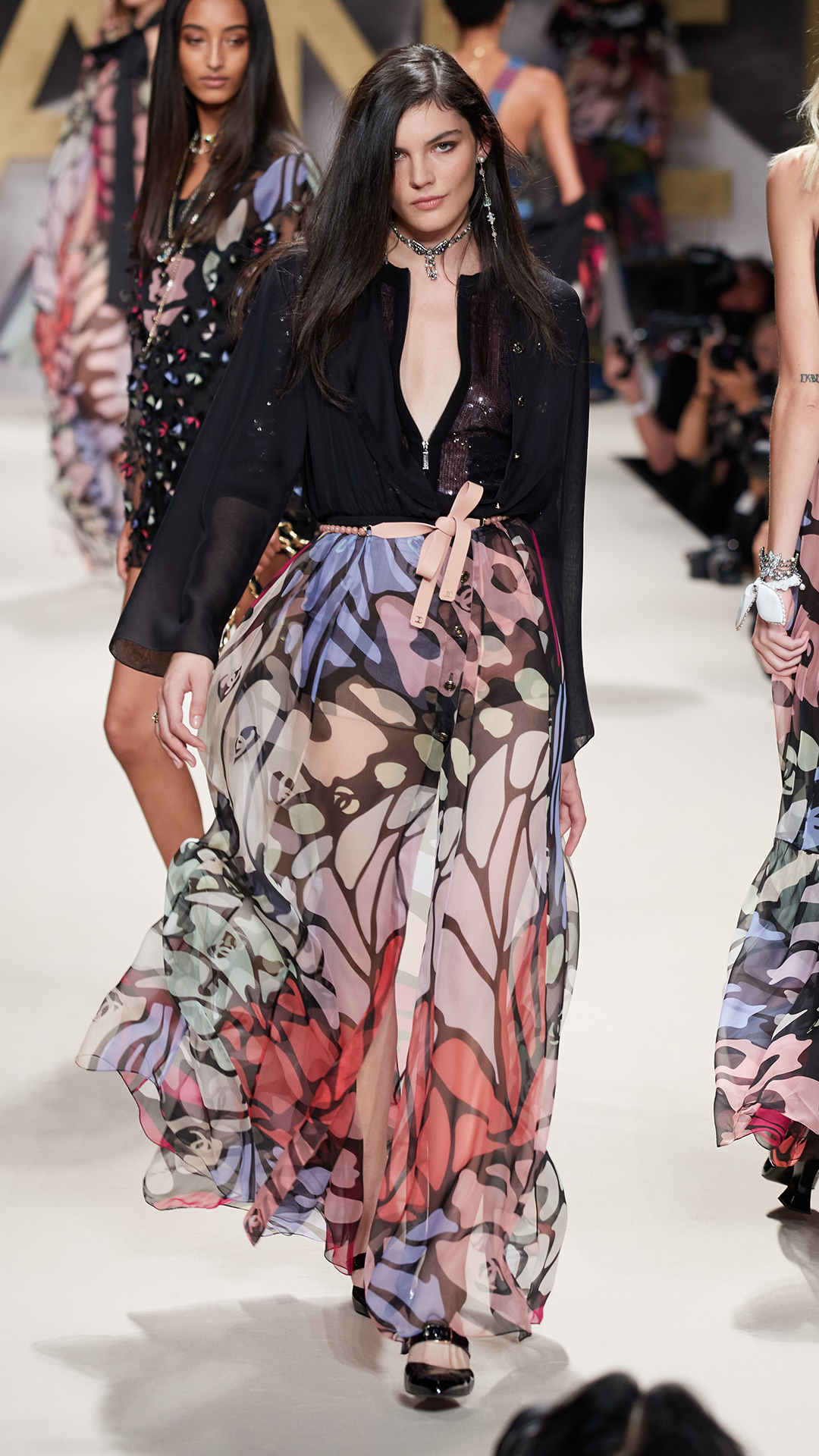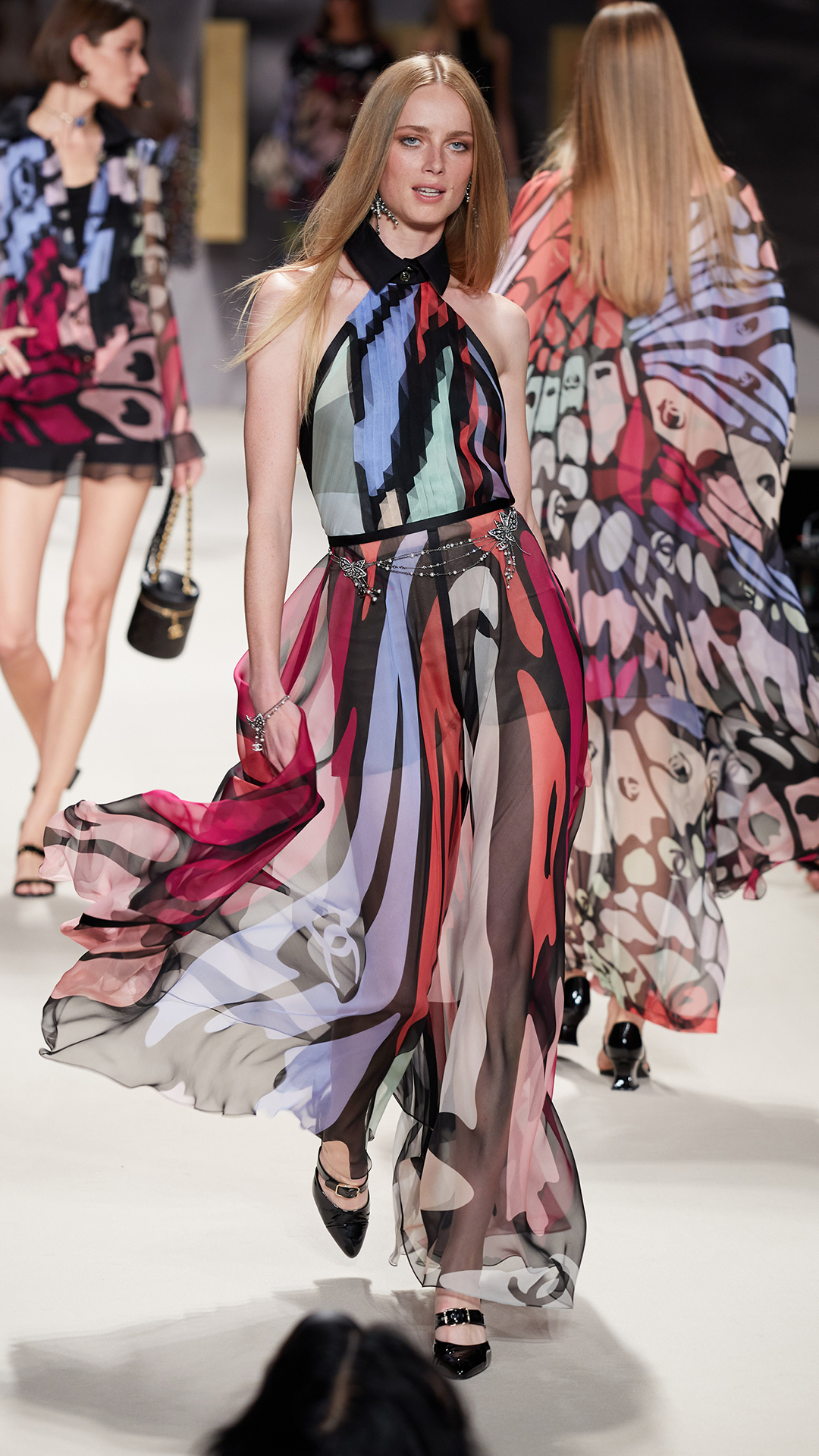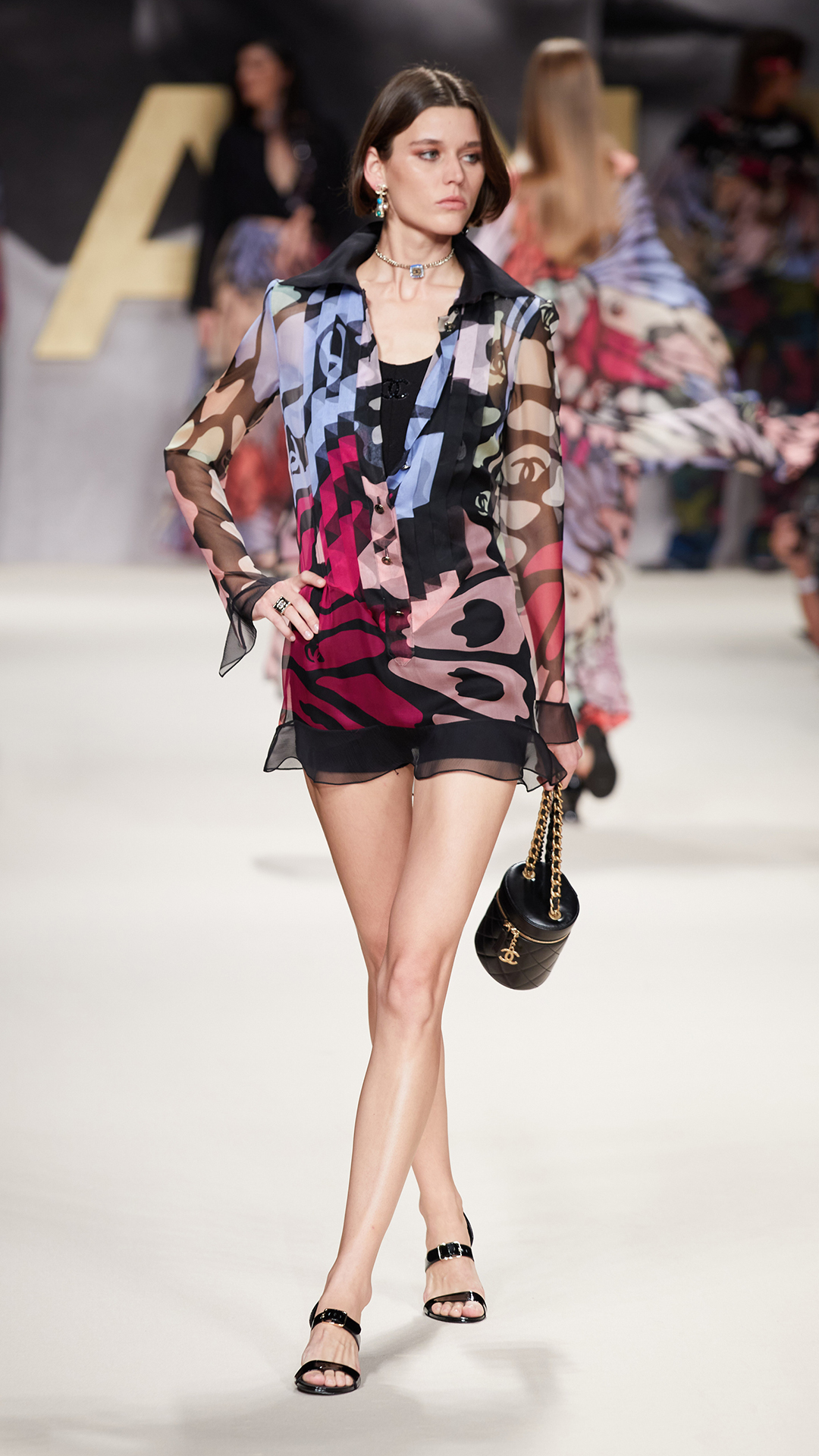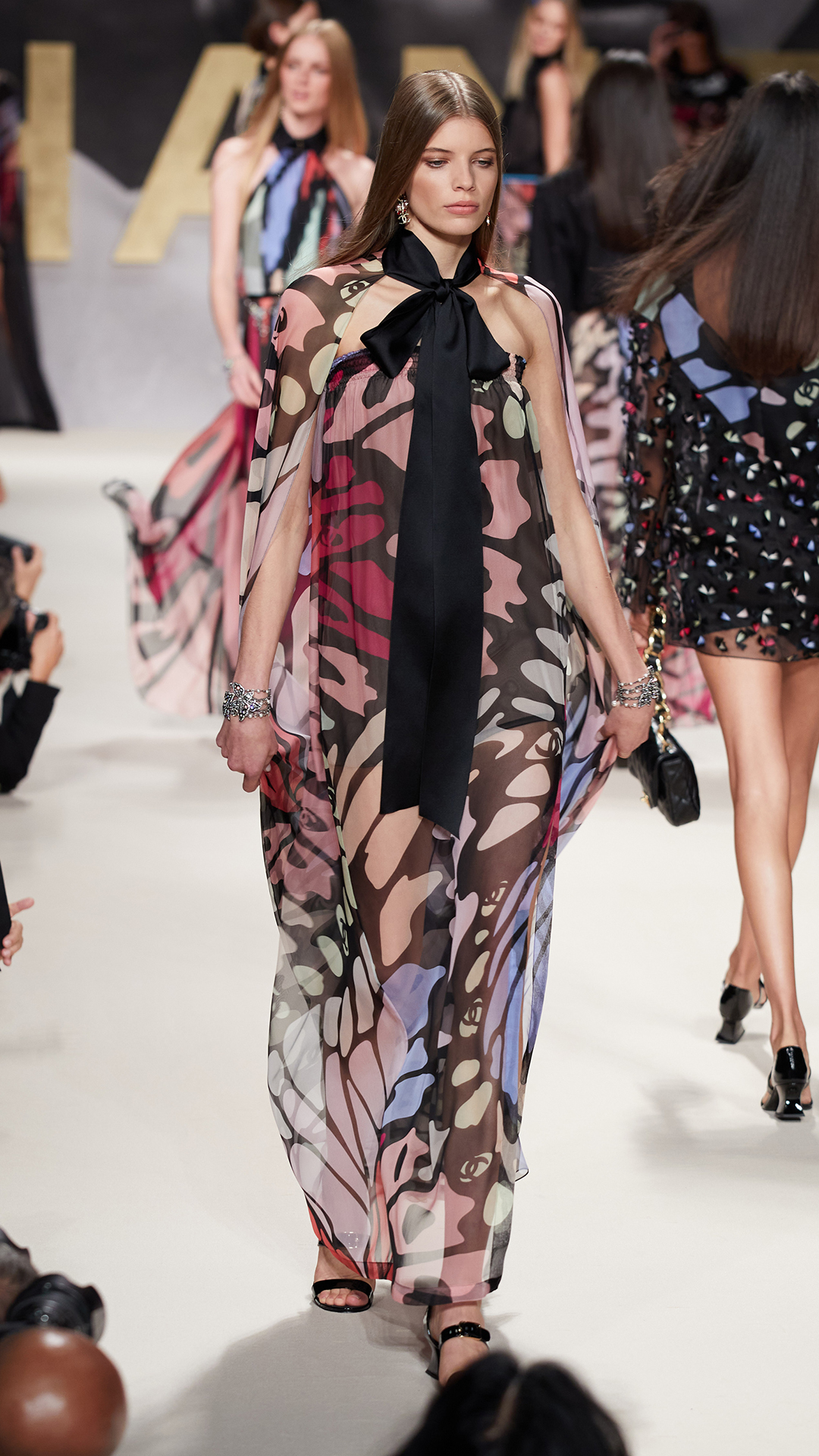 And so, the show started off with simple bathing suits and biking shorts in black or white, glamorised by the layering of necklaces and belts, and a quilted bag in tow—the Chanel way—or fishnet skirts as a mere cover-up, cinched at the waist with a satin belt and camellia flower. We had our eyes on the mini beaded bag in white and black. Then, we moved on to boxy double-breasted tweed jackets—some were all-white, and some were lined with gold thread and satin trimmings. But one thing's for sure: Viard likes the shoulders to pop as we saw sculpted silhouettes on most jackets. The classic tweed came in all forms and colours, while the Chanel monogram saw its way on short dresses and jackets. The show peaked as it closed with a series of butterfly prints on thin, sheer dresses that floated along as the models twirled and strutted. The collection was no doubt glamourous, cheeky and a little familiar with its retro touches. For Viard, "I always like to have something romantic. A touch of mystery." For us, it's Chanel.
MORE: See all the runway looks from Chanel SS22
Miu Miu 
When: Tuesday, October 5 at 8pm Malaysia time
Following Miu Miu's snowy AW21 show, Miuccia Prada will unveil the brand's latest offering via a physical presentation for the Spring/Summer 2022 season. Catch it live on MiuMiu.com and check back here for a post-show review.
Highlights:
Did you know Prada's little sister line also had a little brother? That's right, way back in the '90s, there used to be a menswear line under the Miu Miu label, which sadly closed in 2008. For Spring/Summer 2022, however, Miuccia Prada brought back some of that forgotten menswear line––think beige slacks and white-collar button-ups––and reworked stuffy definitions of mens attire under the 'undressed' dressing movement that's currently taking over the season. Lost? Imagine drab back-to-office wear and preppy Upper East Side school uniforms sliced and spliced in an act of rebellion with plenty of scuffed up shirting, barely-there cuts and low, tomboyish waistlines.
Co-directed by Moroccan filmmaker Meriem Bennani, the Miu Miu SS22 collection was showcased via a show within a show, where surrealist footage of magical realism (featuring catwalk stethoscopes and runaway fliers) and audience reactions were interspersed with the IRL runway looks at Paris' Palais d'lena. The invitation noted that the video project was composed to "question our contemporary society and its fractured identities", with visuals of a binocular-shaped view appearing continuously on-screen and in the scenography of the set to remind us of the other dimension. Out came the first look, worn by a male model in low-slung biscuit-coloured slacks and a loose-fitting, midriff-baring sweater over a bank-teller shirt. The waistband of his Miu Miu logoed briefs were on display and it soon became clear, as the event went on, that this skater-boy style would reign over every other look of the collection, from pleated librarian skirts to baggy belted chinos and frayed miniskirts with pocket-baring hemlines.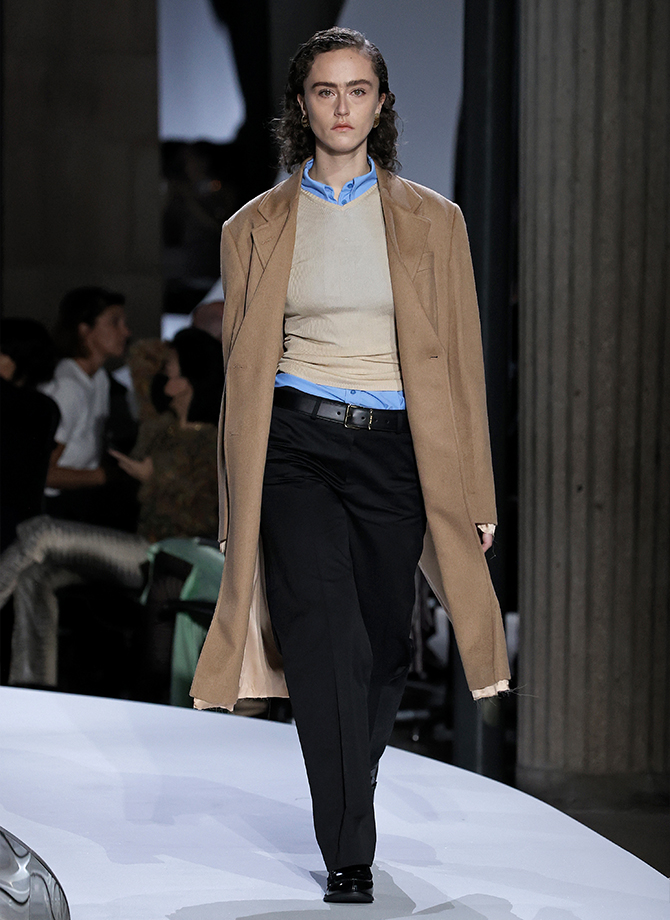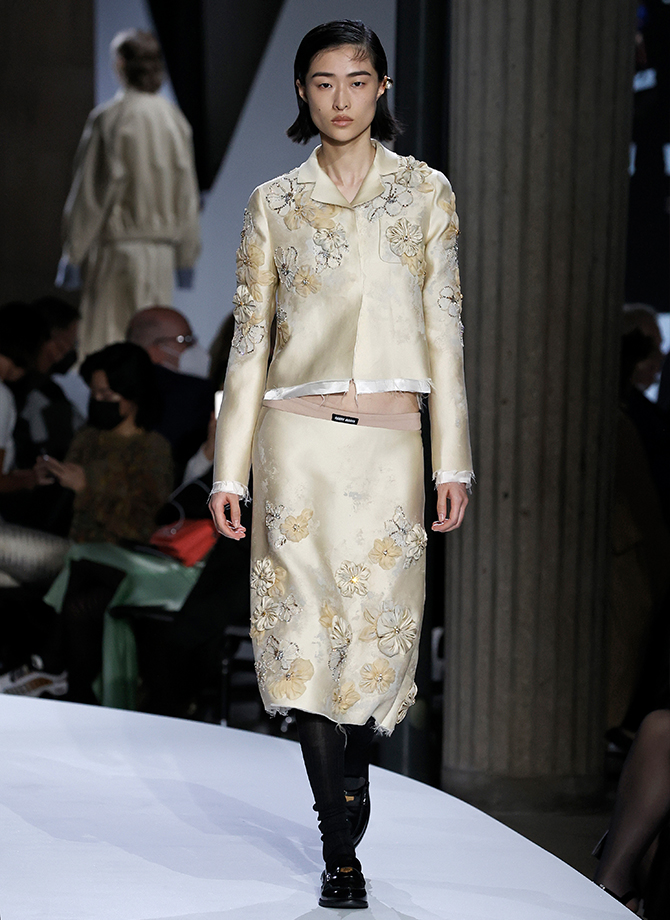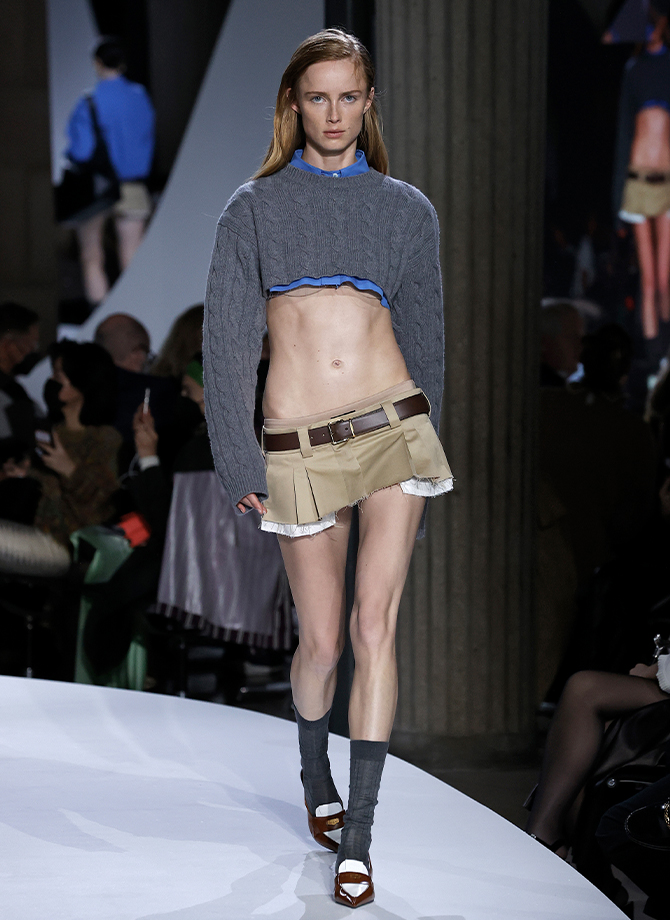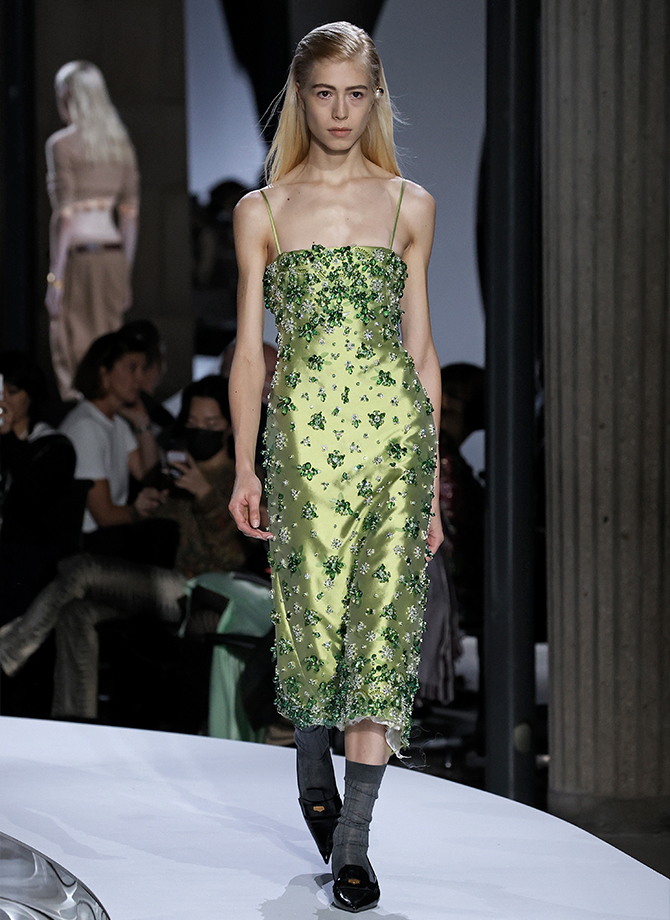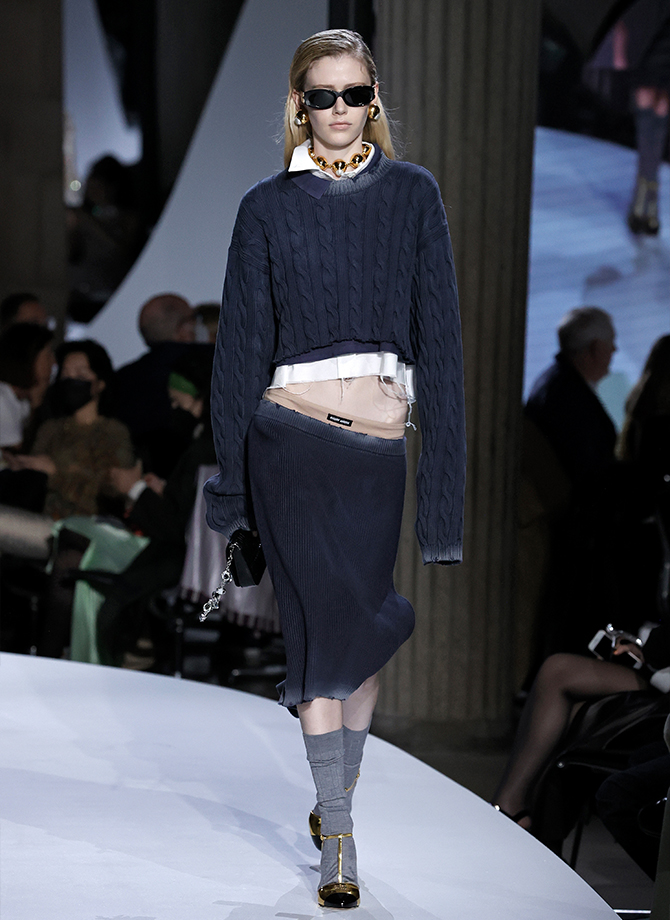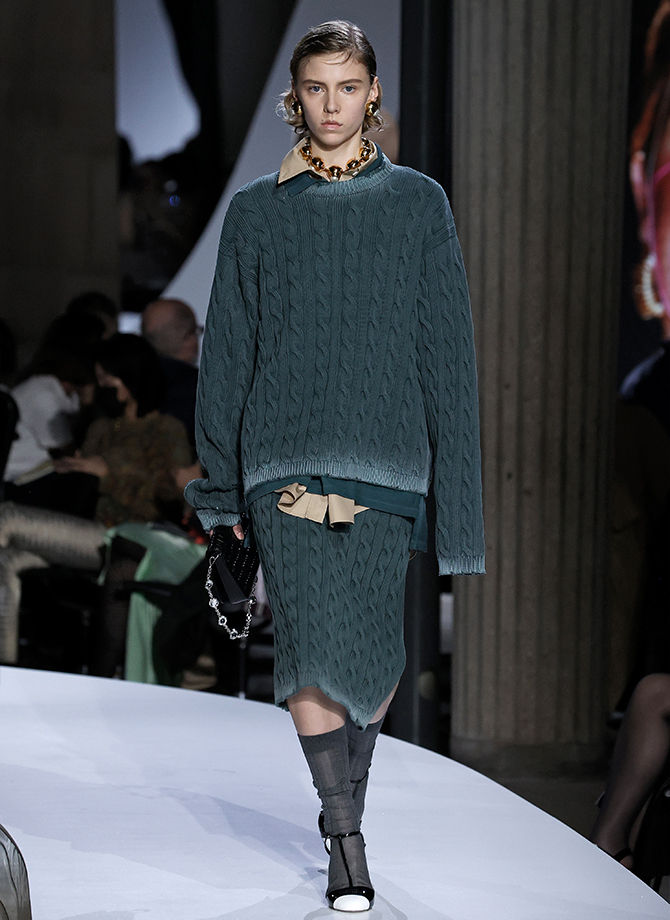 Making her Miu Miu runway debut alongside a new New Balance sneaker collaboration, Ella Emhoff sauntered through the space halfway throughout in a layered workwear look comprised of a camel coat, baggy black trousers and a cyan blue shirt peeking out from under sand-coloured knits. While hers was a more masculine iteration of office attire, there were also more feminine notions of dressing on display, via bra tops, pointy kitten heels that were always worn with woolly grey socks, and a glorious series of shiny crystal-embedded slip dresses that shone in lime green, baby pink and shades of cream. As the closing look––black satin co-ords embellished in beaded flowers––left the runway, a skit about bottom enhancements took over the screen before we returned to a shot of the models taking their finale walk on the twisting stage.
Louis Vuitton 
When: Wednesday, October 6 at 1am Malaysia time
Highlights:
Was the Louvre's Passage Richelieu playing host to a Paris Fashion Week runway show or a masquerade ball? Well, it was both as Nicolas Ghesquière presented the Louis Vuitton Spring Summer 2022 Women's collection, which he called an invitation to le grand bal of Time. With plenty of glistening antique chandeliers overhead setting the mood, models walked out—with such fierceness and attitude too—with glimmering headgear filled with beaded embellishments and art nouveau sunglasses. We were time travelling, as Ghesquière would have it. First, we had skirts that looked like they had cage crinolines beneath them à la the Victorian era—except instead of being floor-length, they were raised enough to reveal utilitarian-like boots (some open-toed even).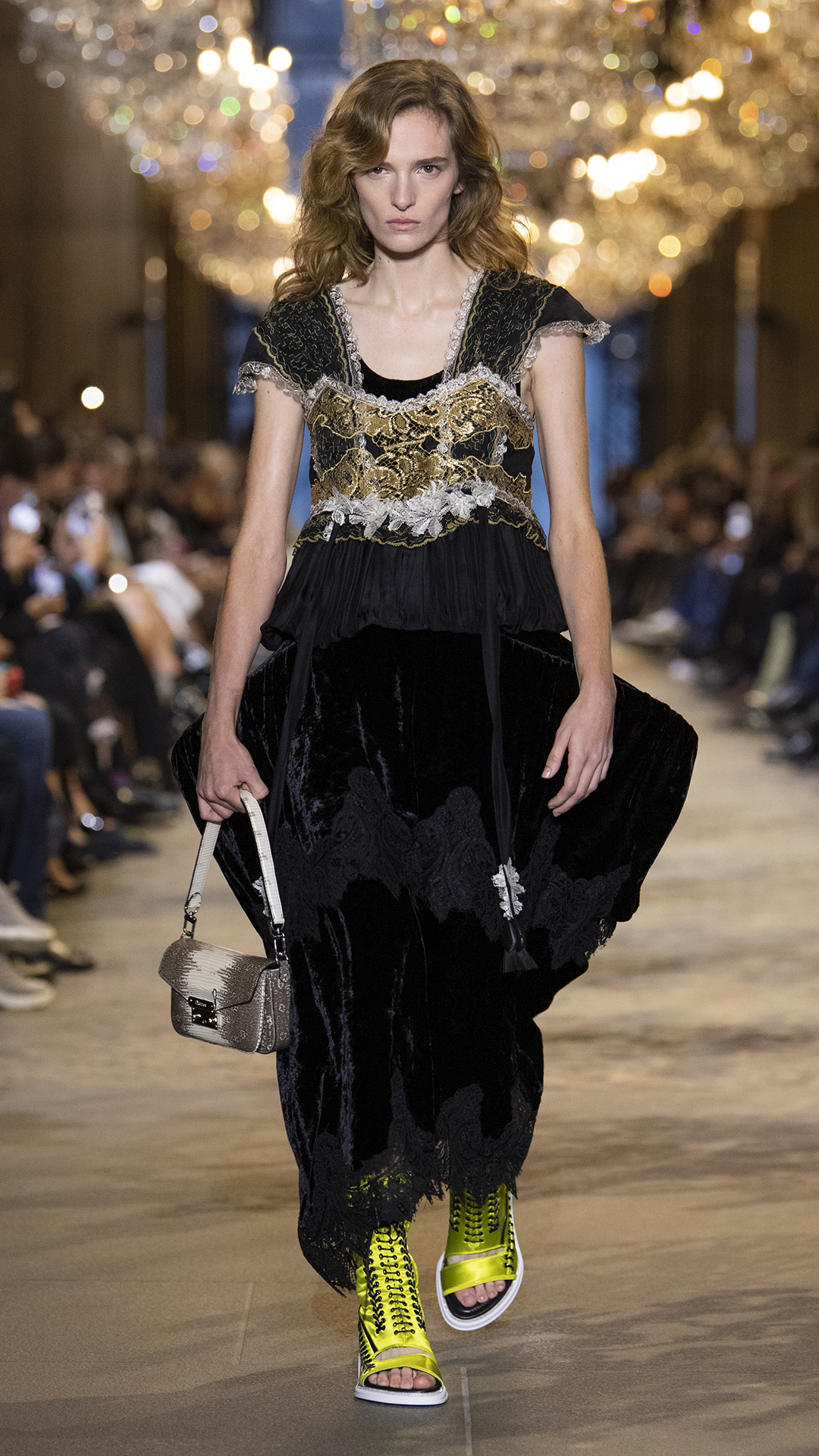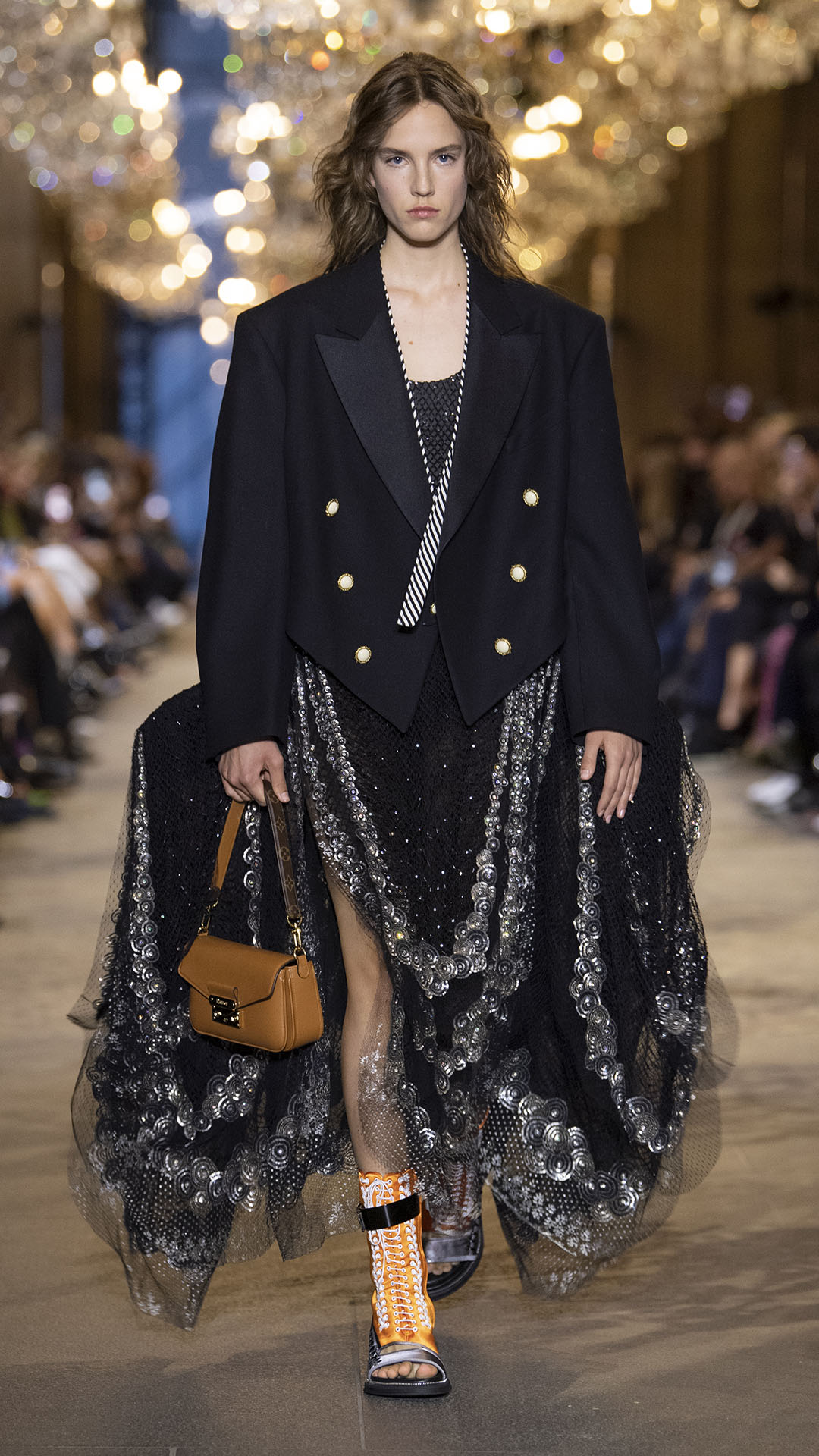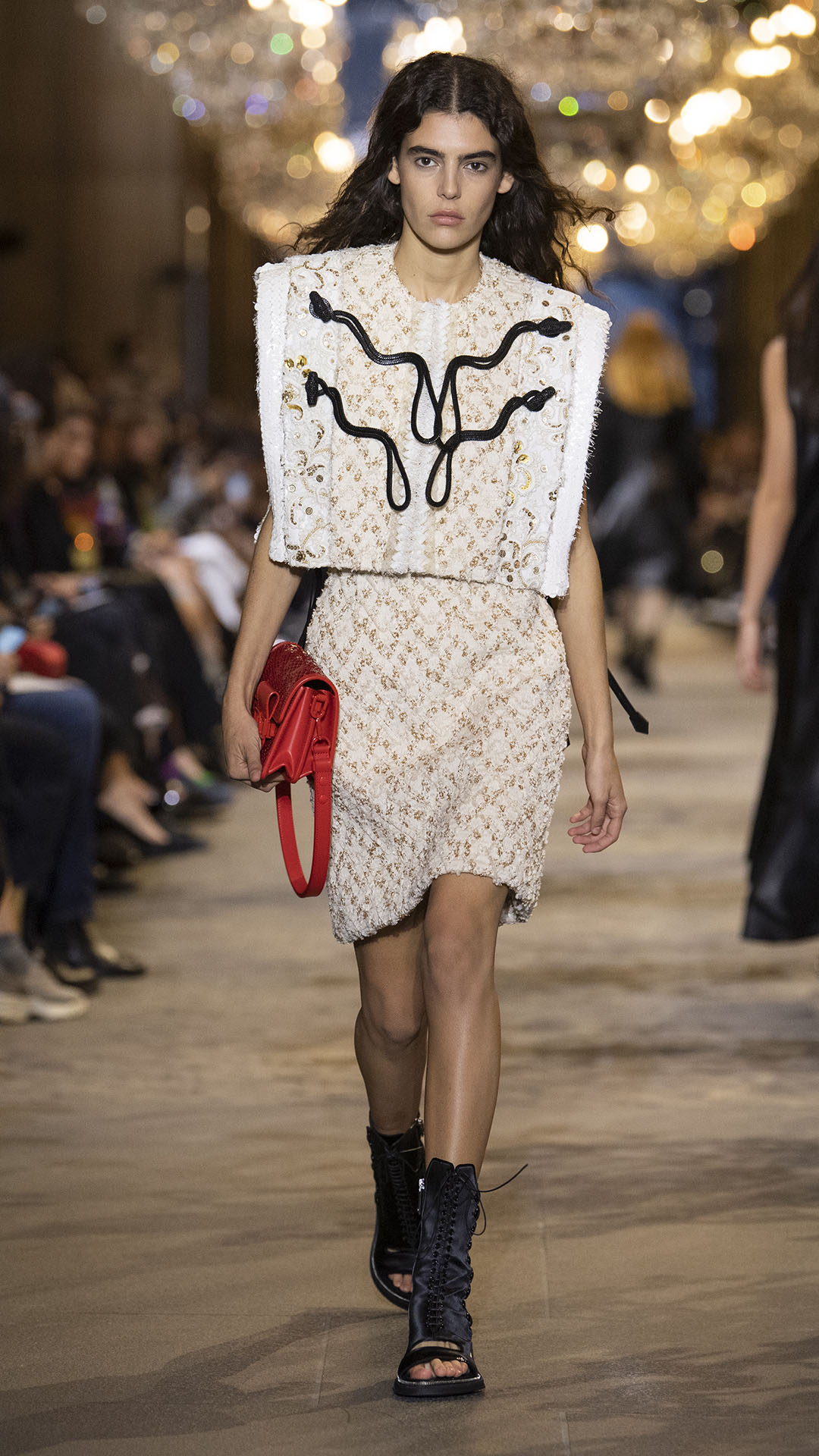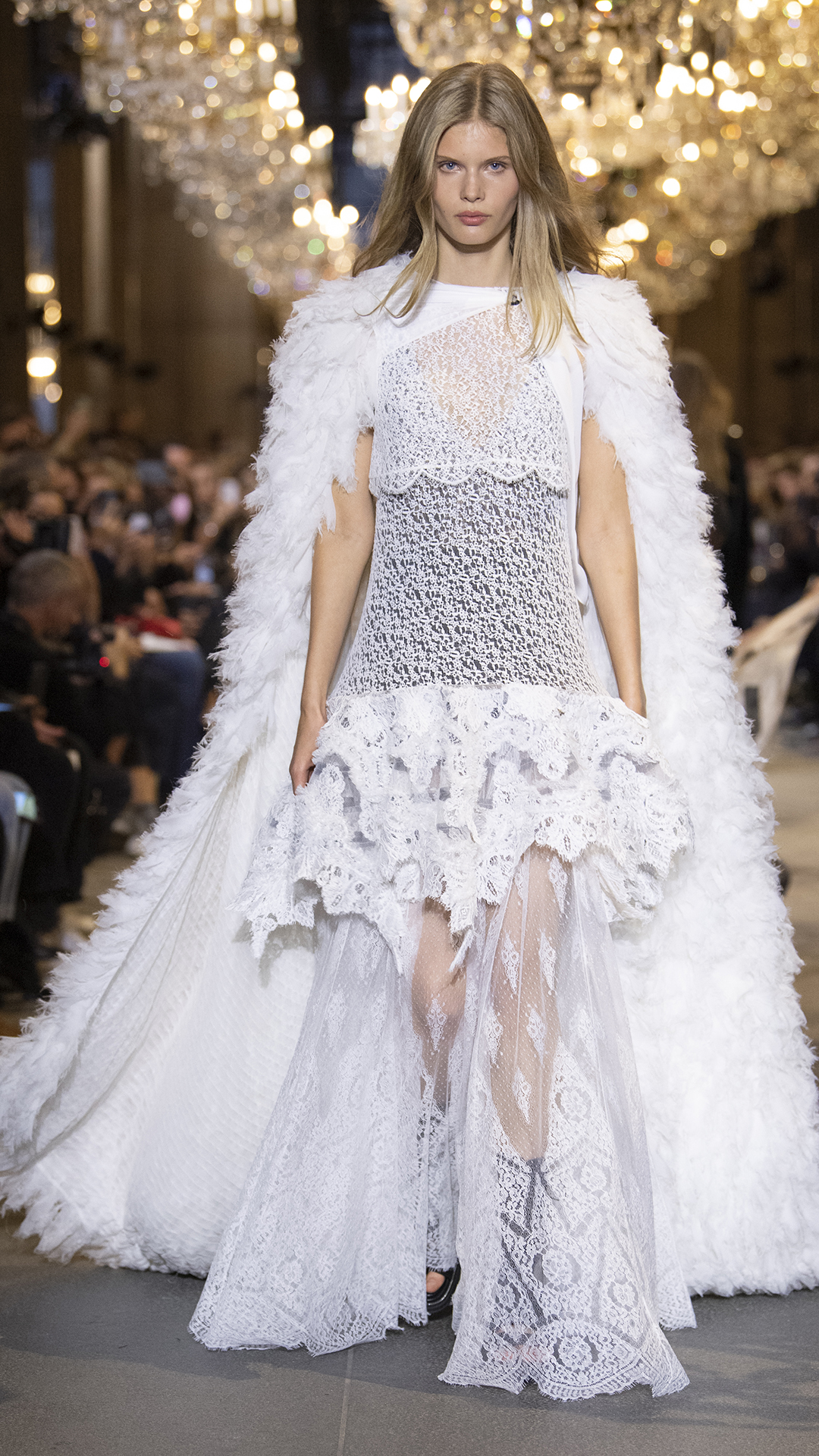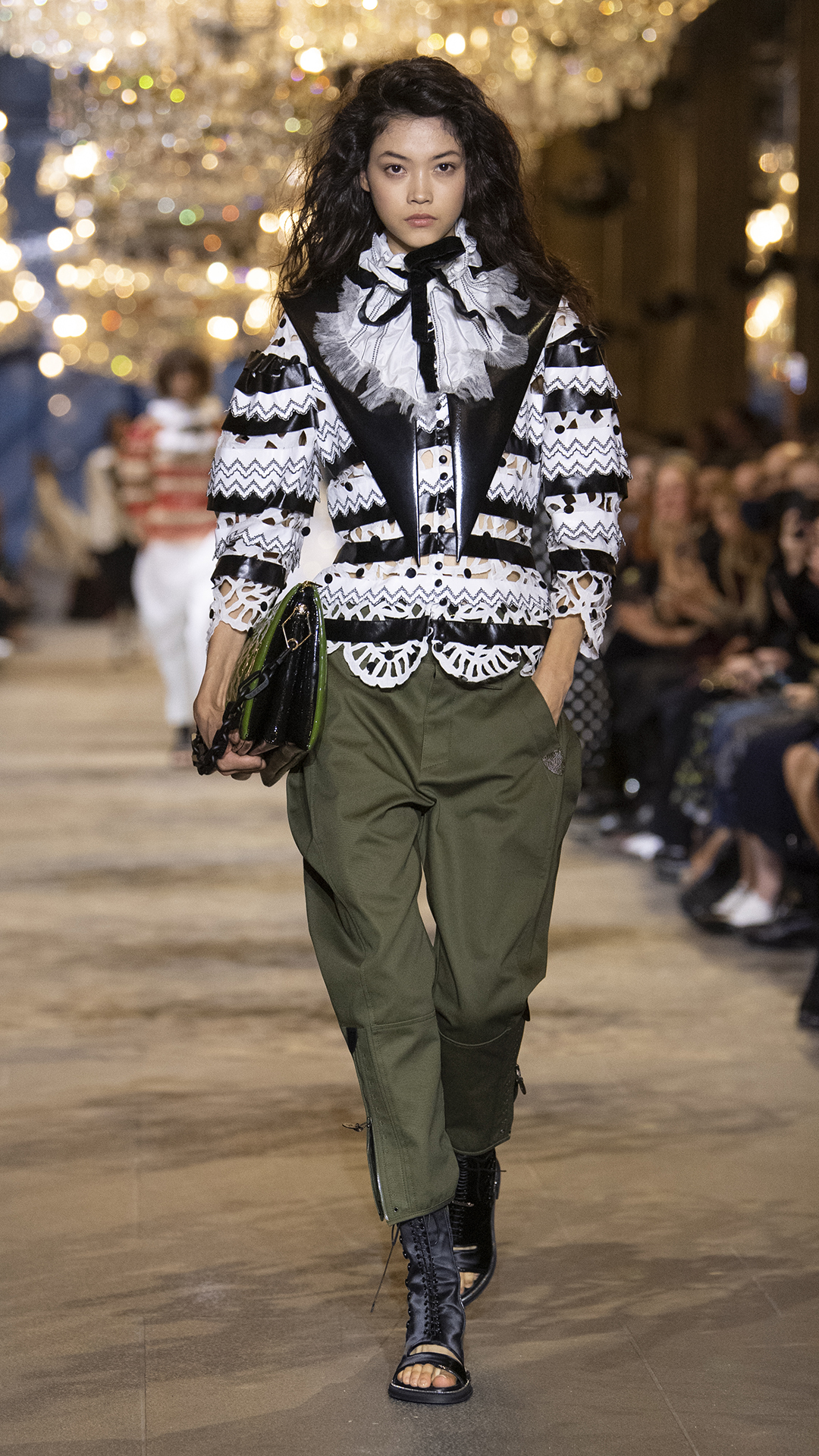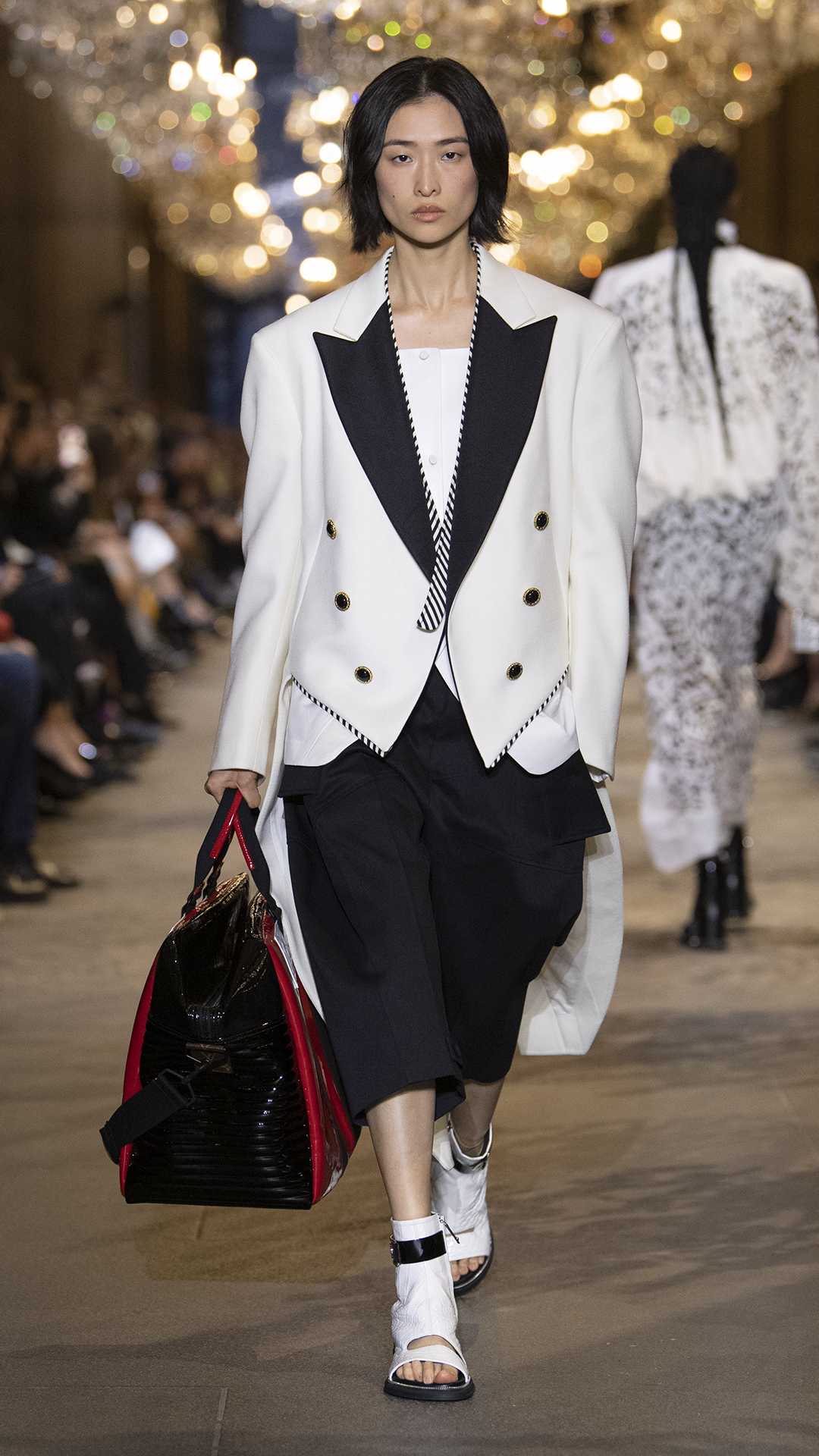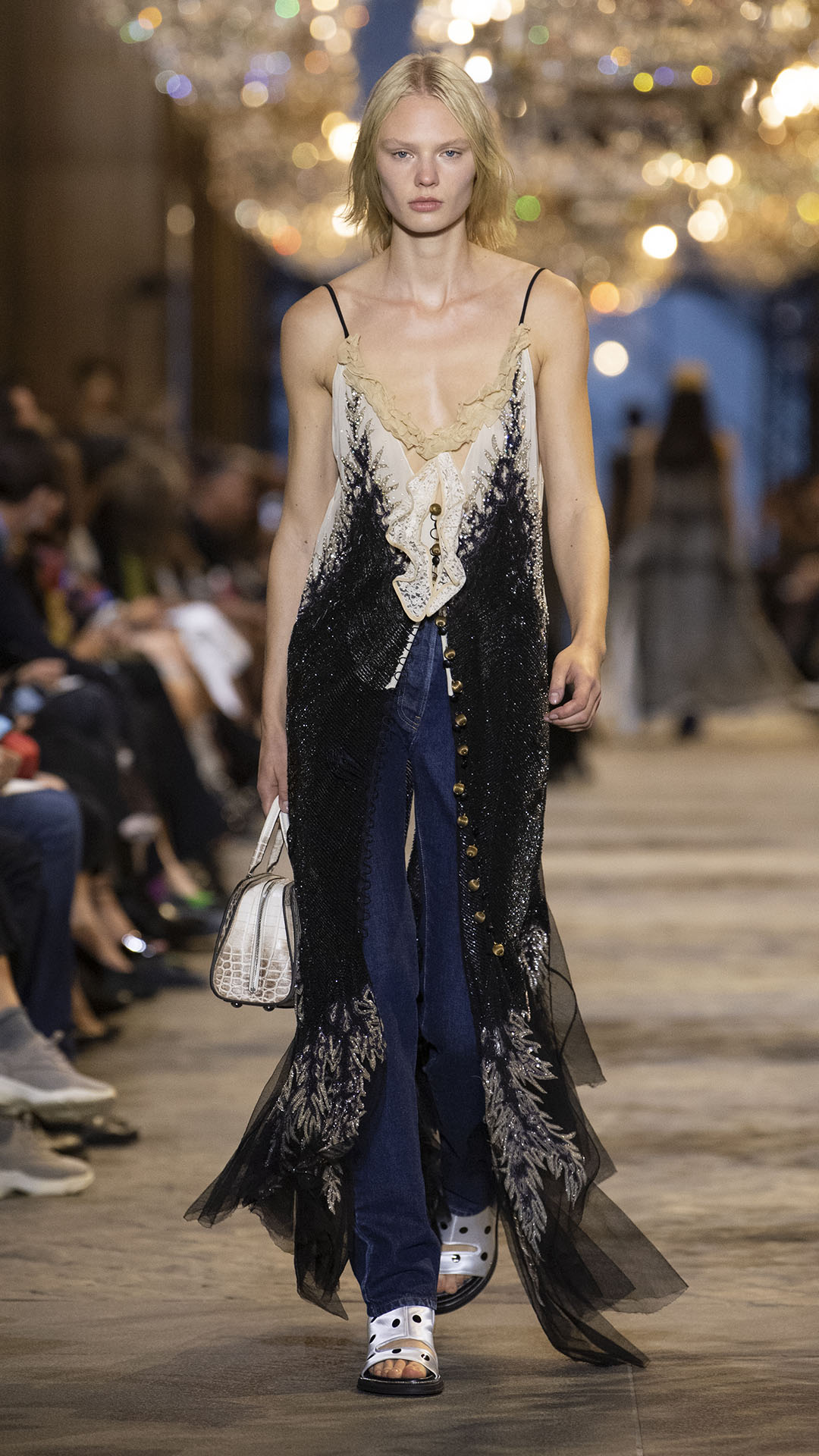 Then we had lacy ankle-length slip dresses with more shiny embellishments sewn in; boxy jackets that drew attention to the shoulders; capes in all lengths and silhouettes, including ones with asymmetrical cuts; tailcoats that peeked out of cropped jackets in shimmering and lace detail. Later on, we would see the descent into the Gothic era with tops punctuated by frills and ruffles around the collar. Together with the cape, it would explain one of Ghesquière's comments in the press release: "I like the figure of a vampire who travels through the ages, adapting to dress codes of the era." What remained modern was styling some of these pieces with the classic denim.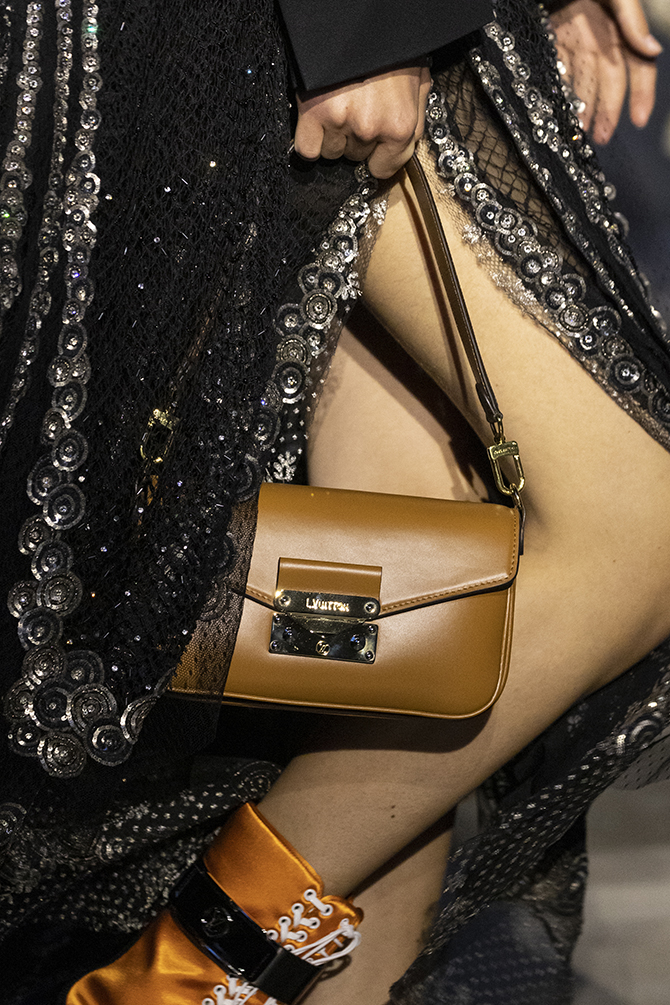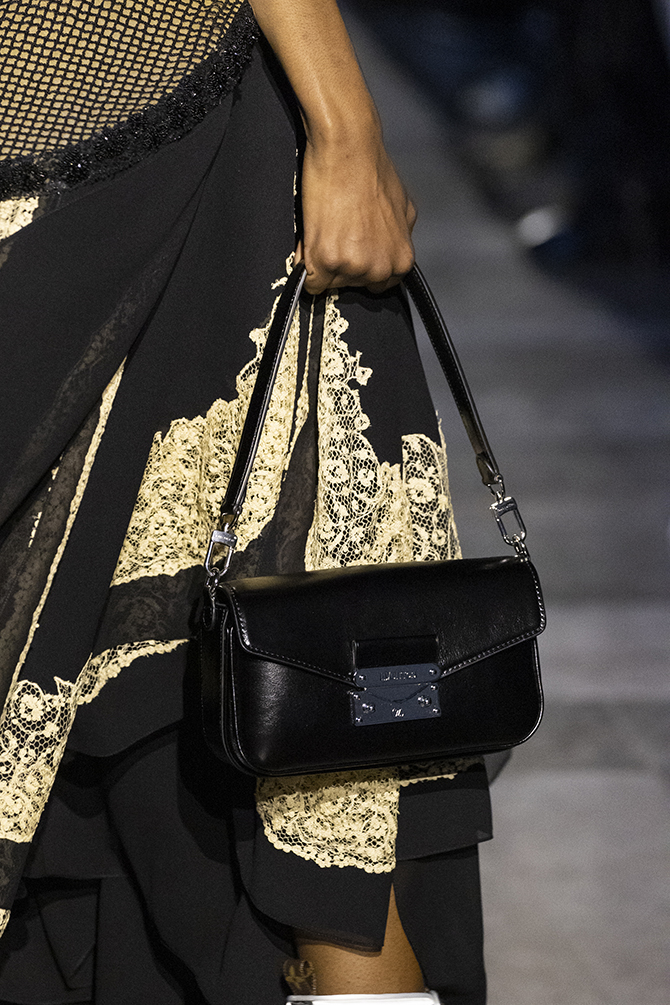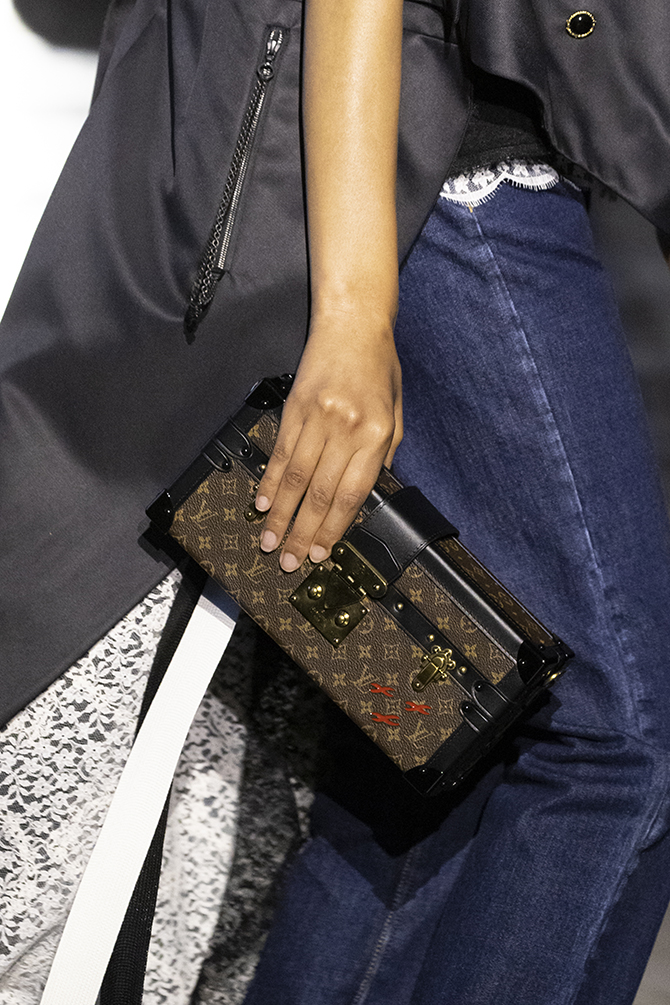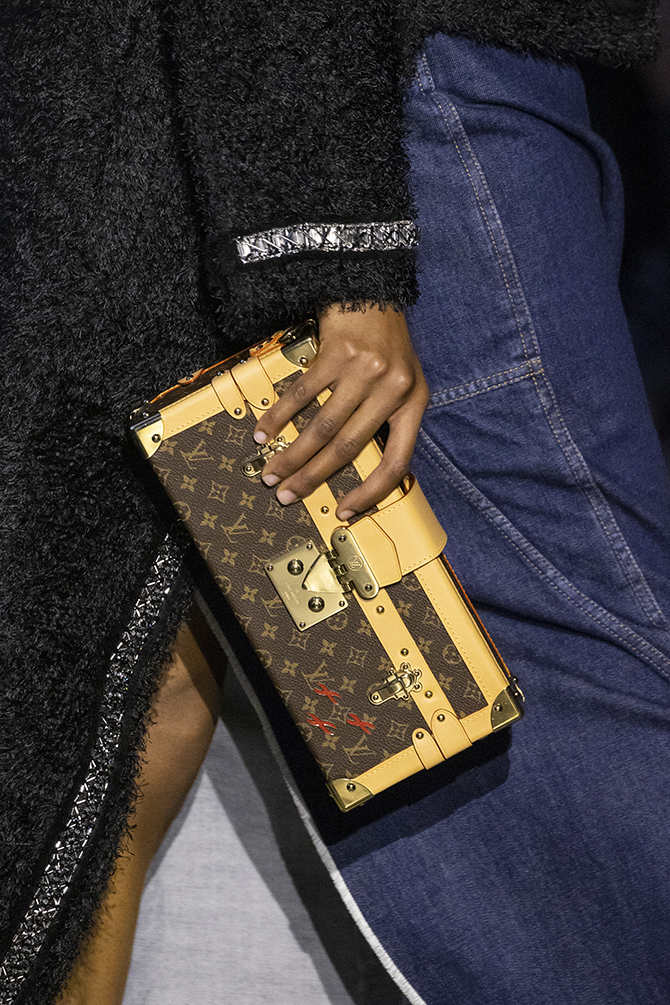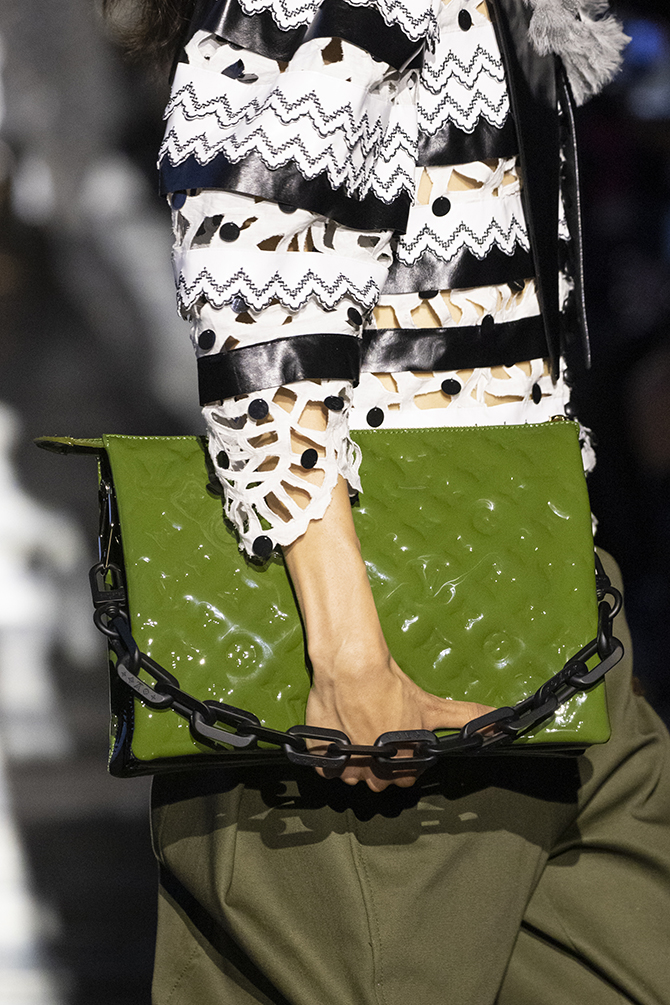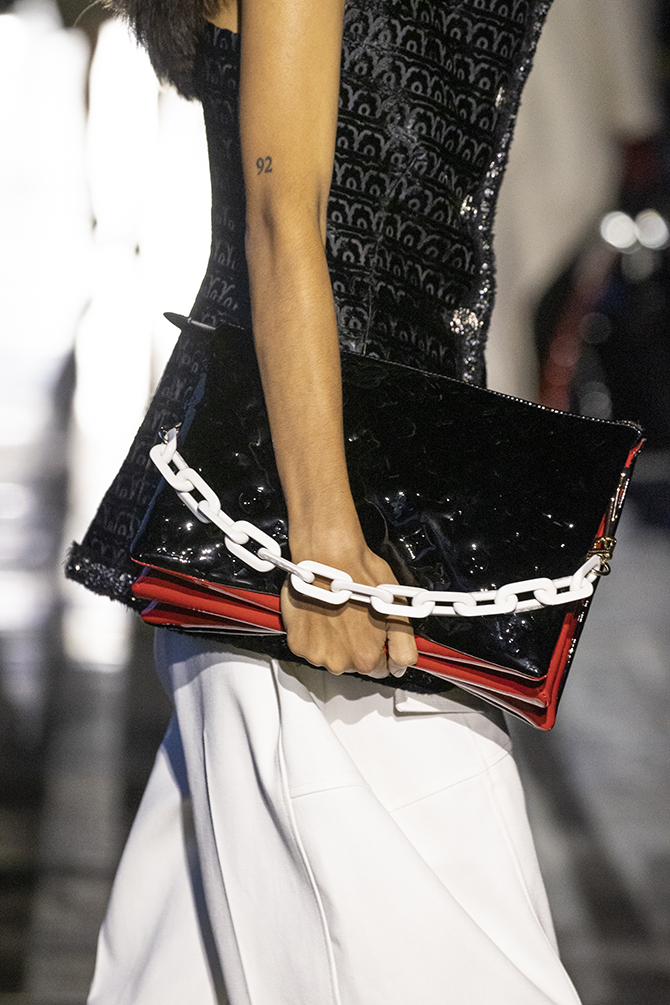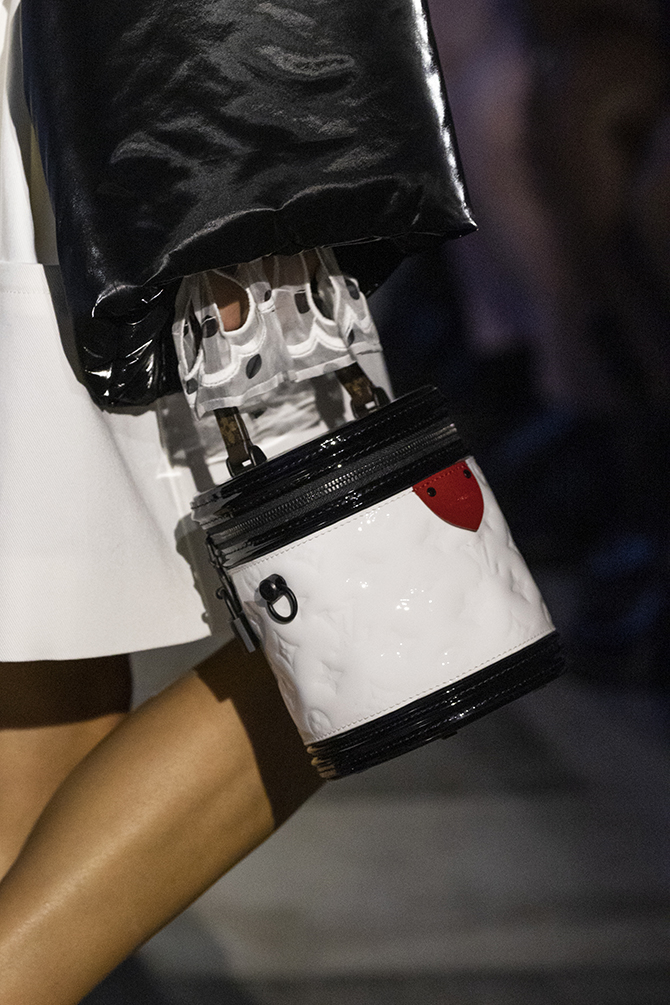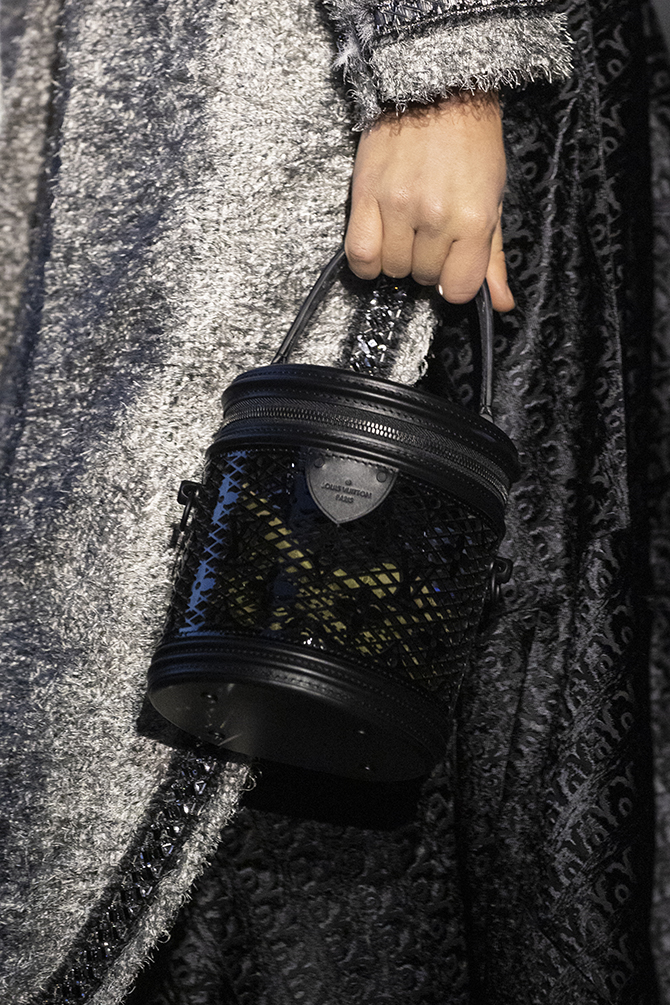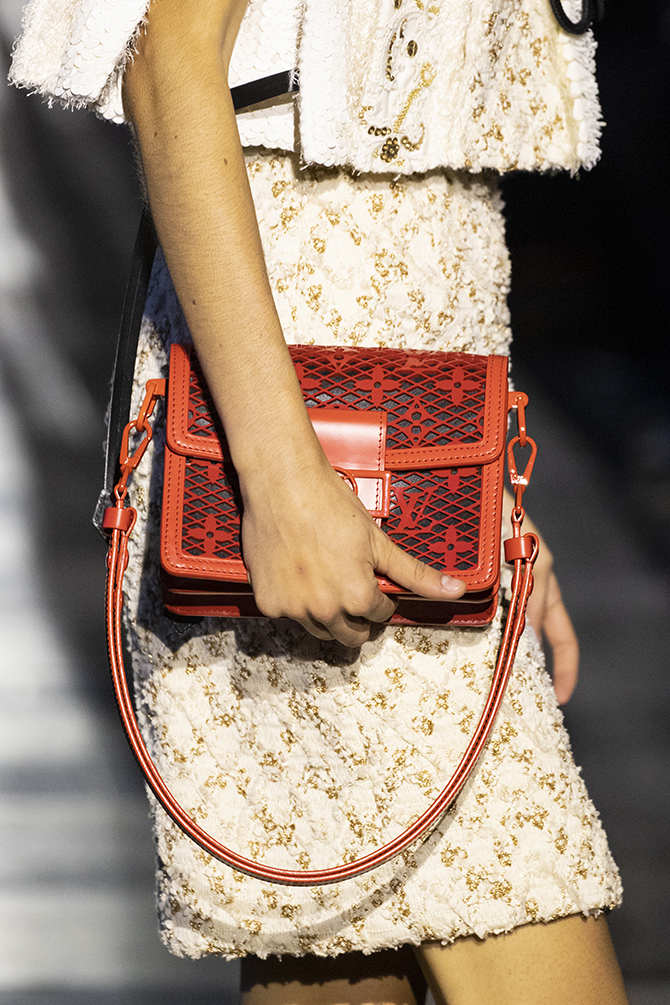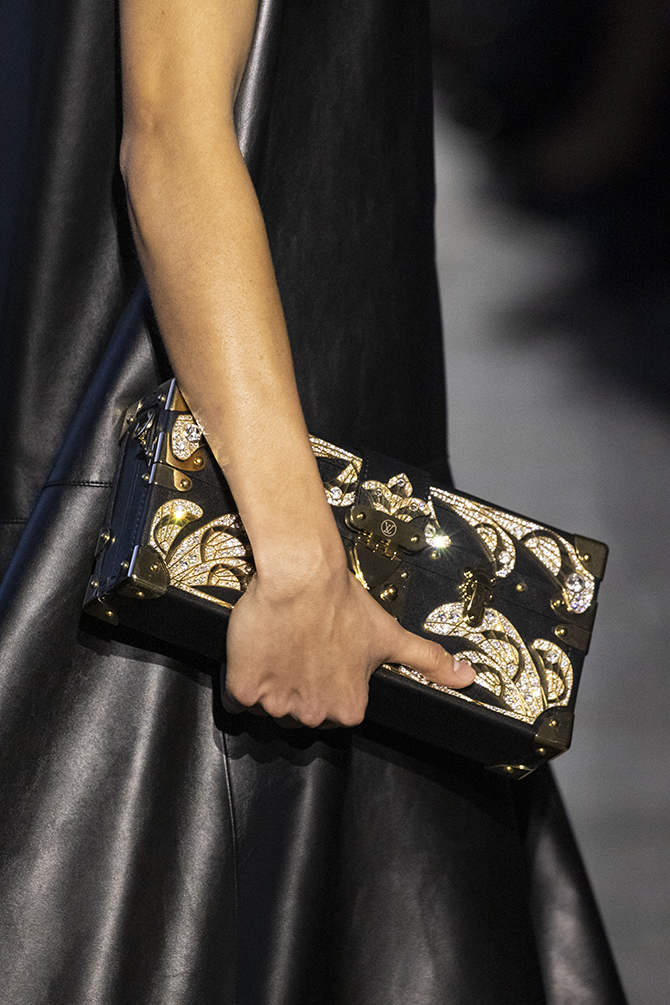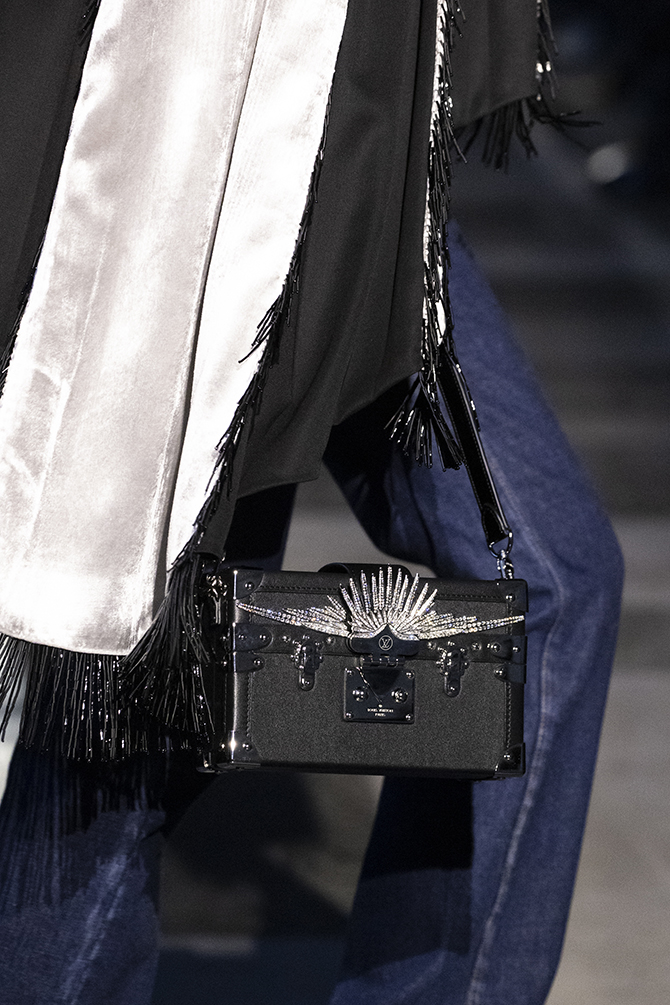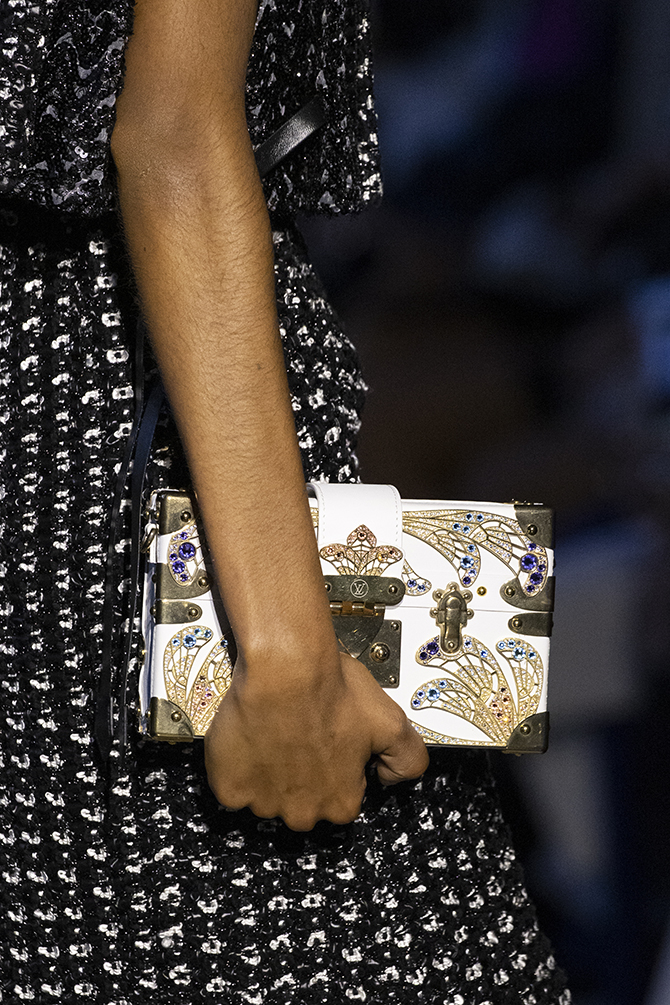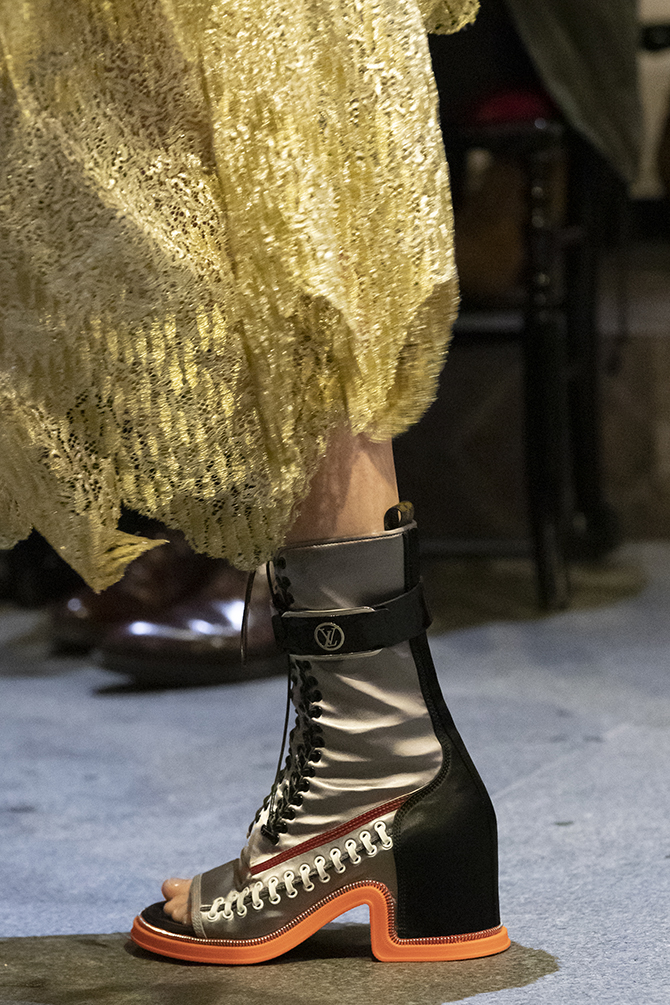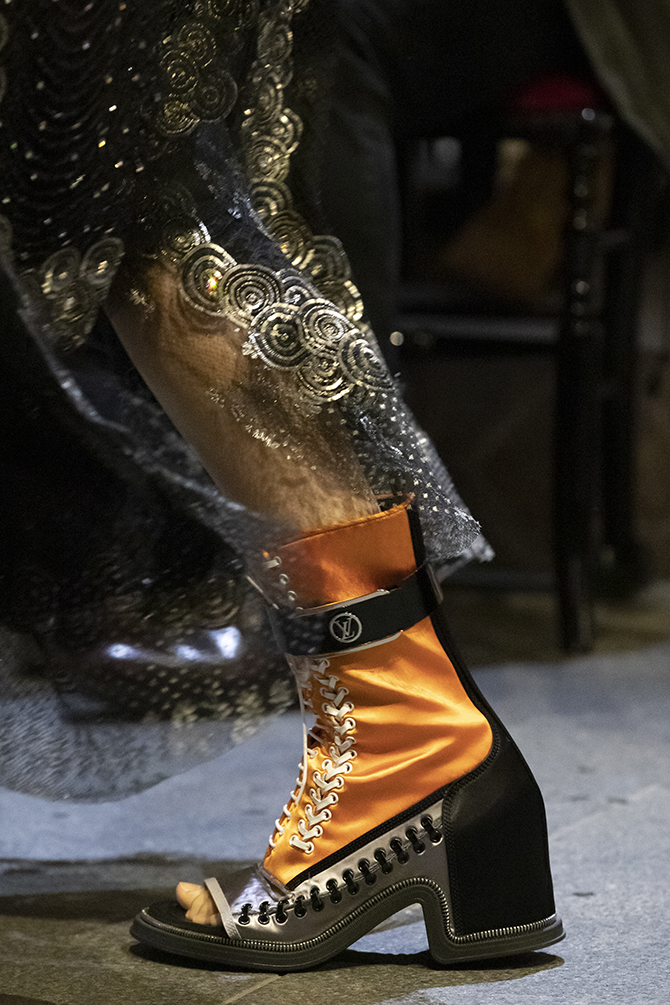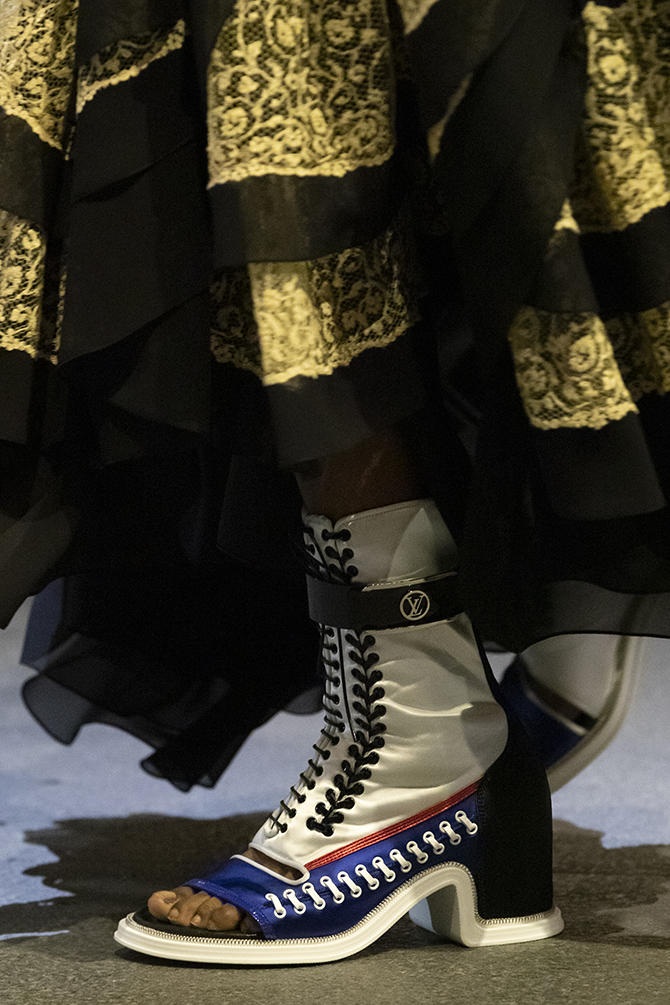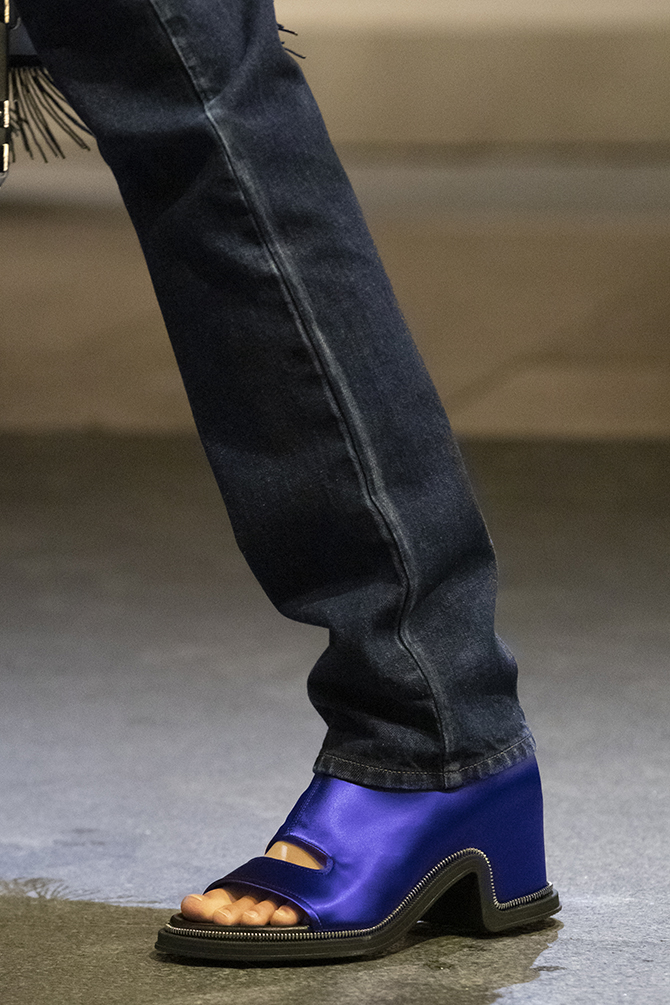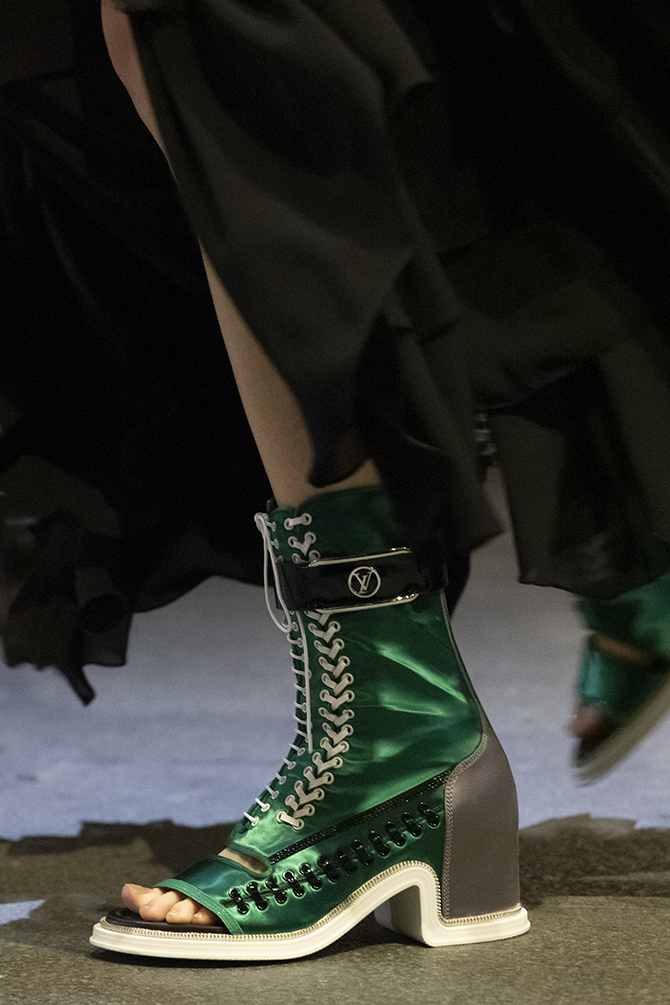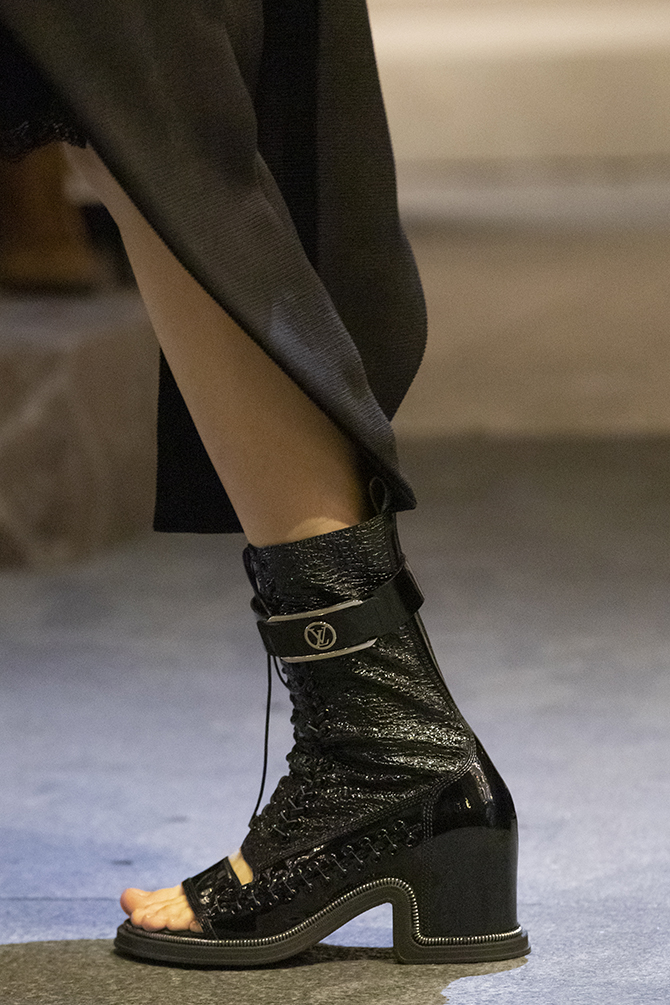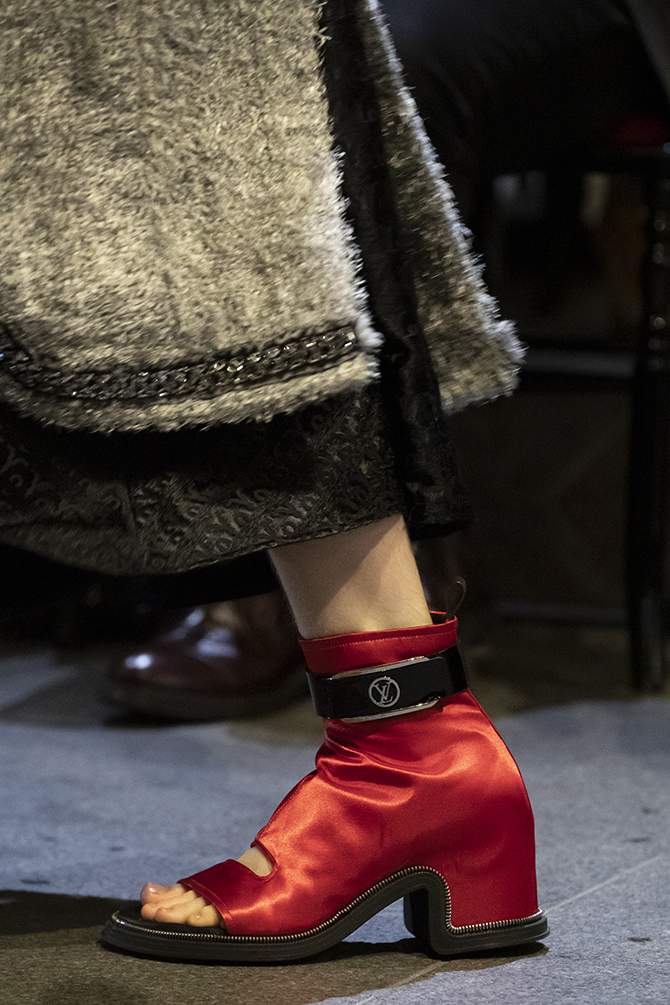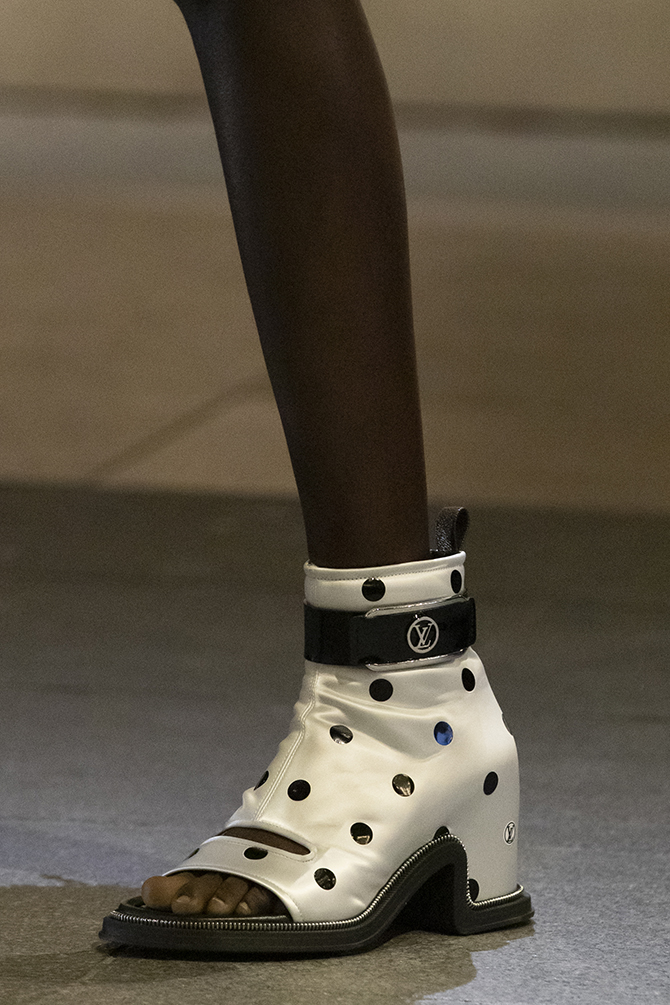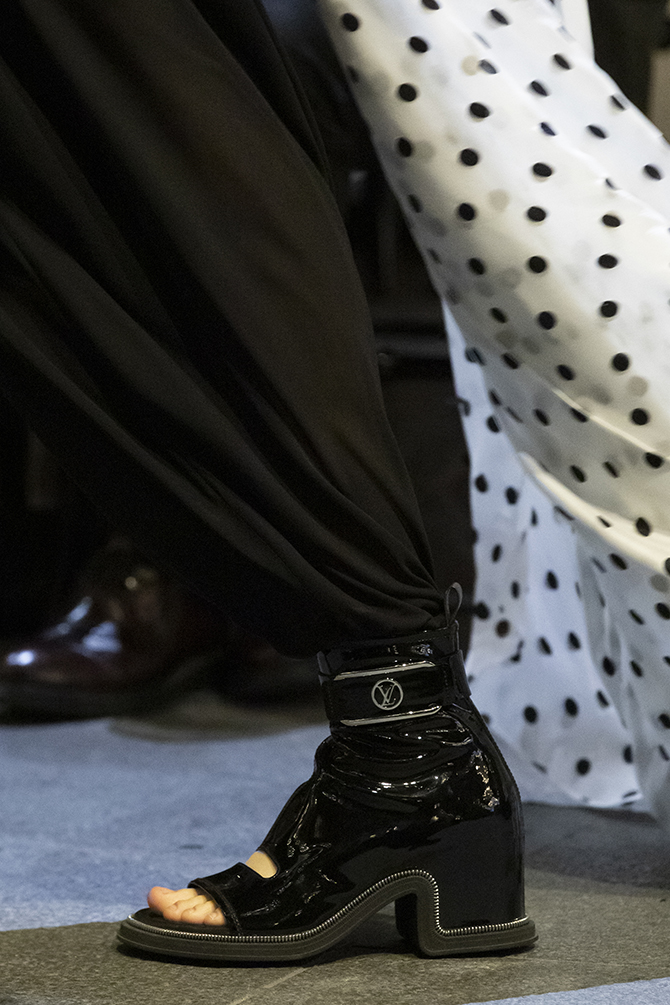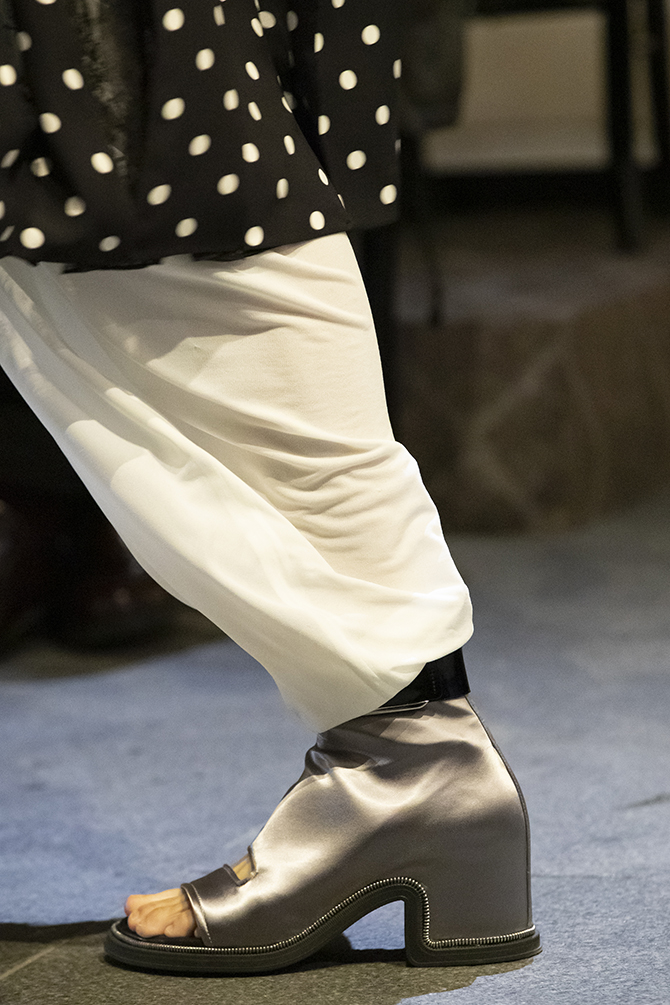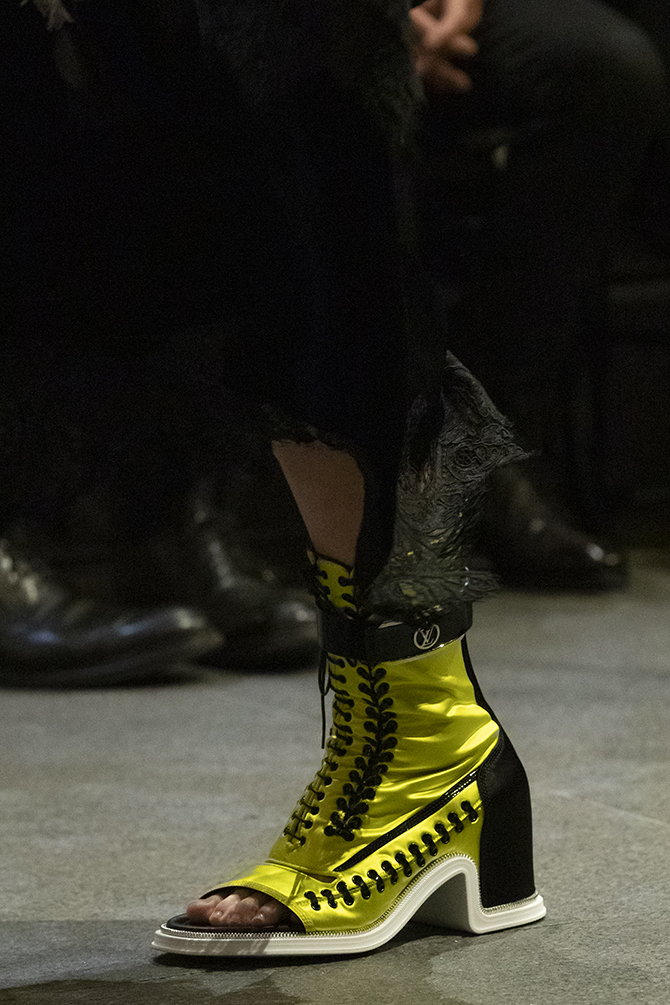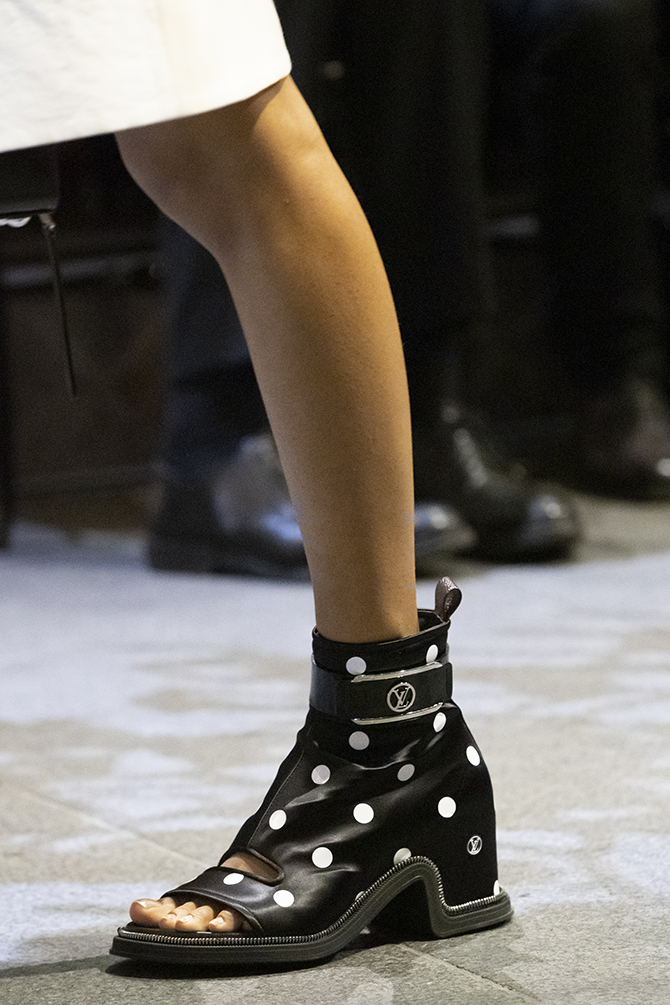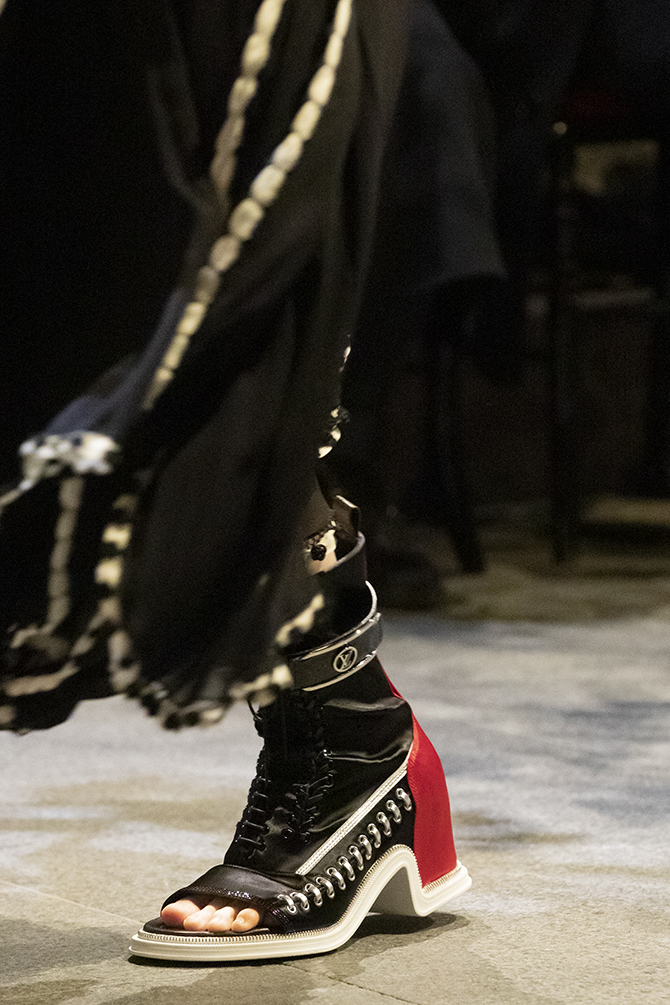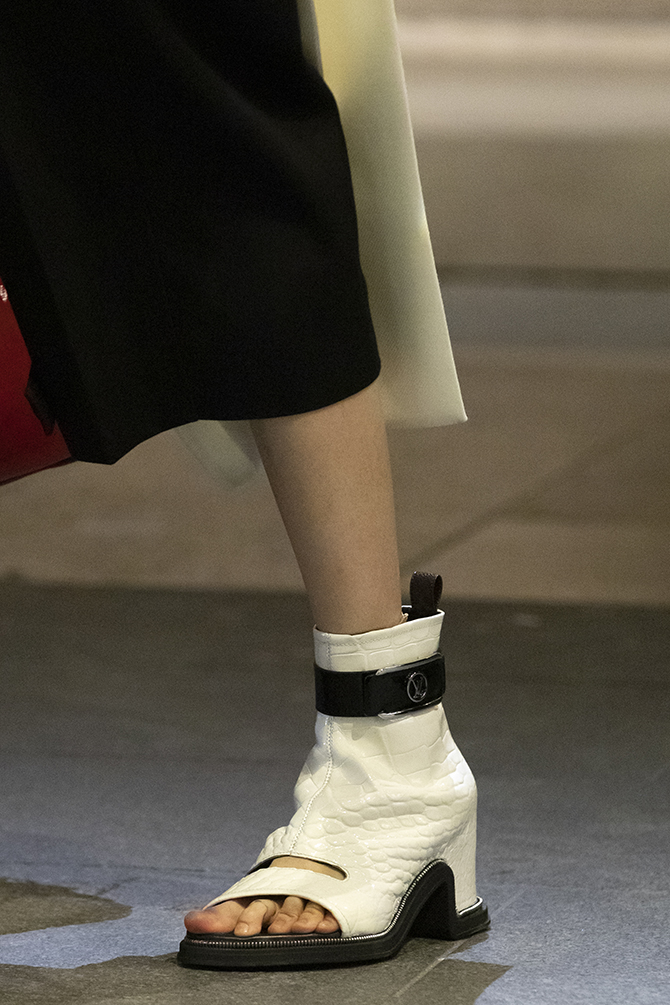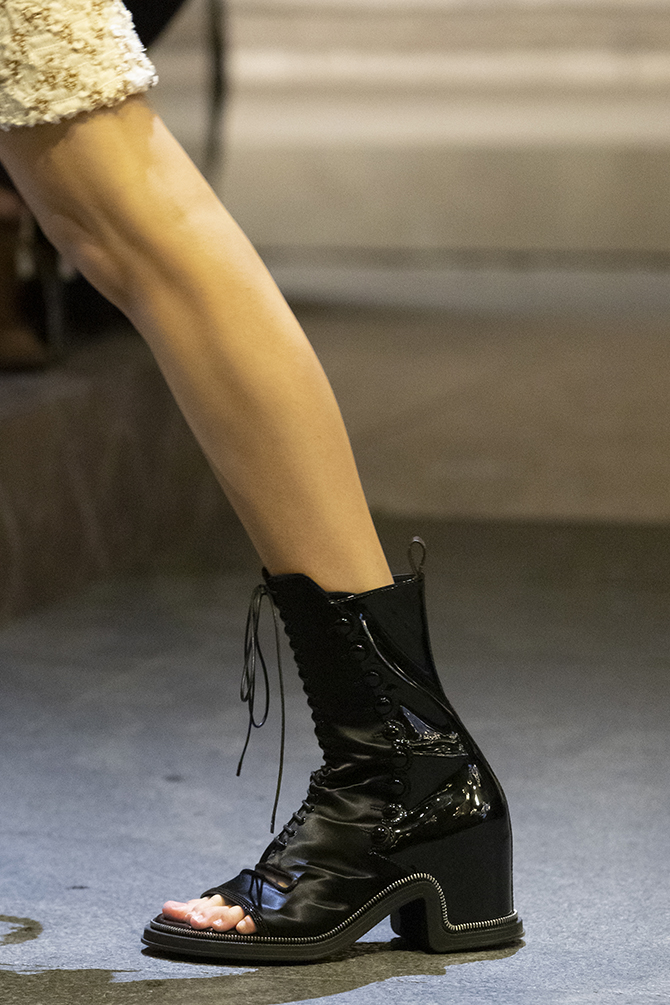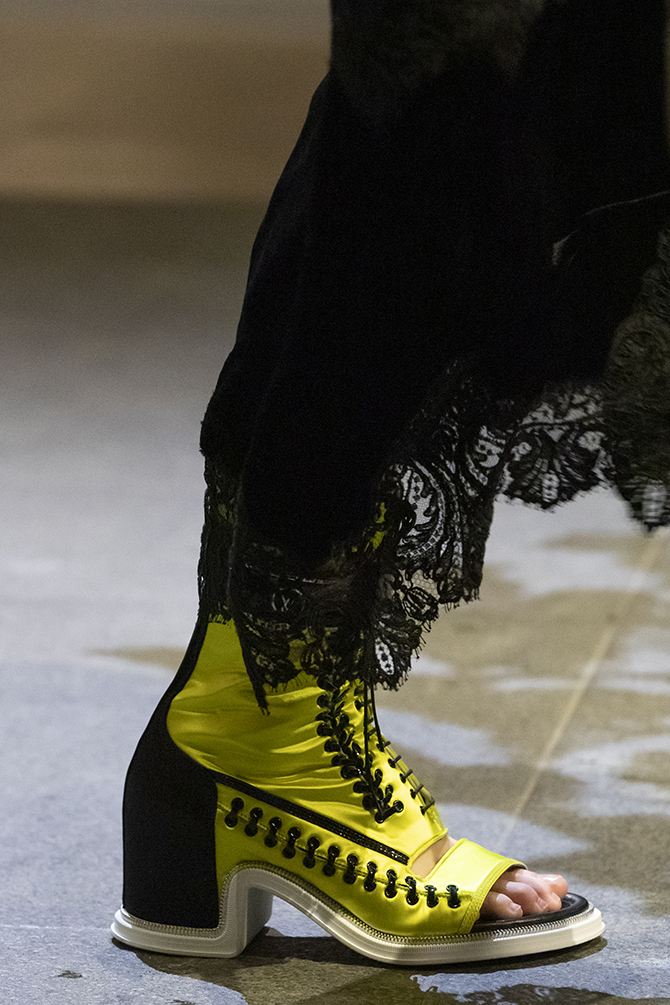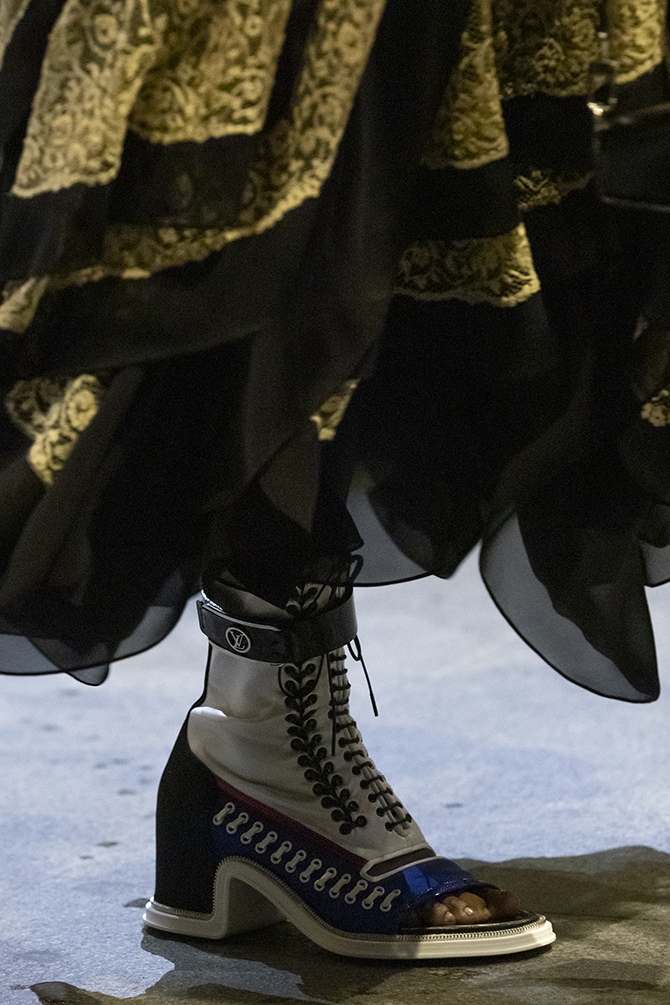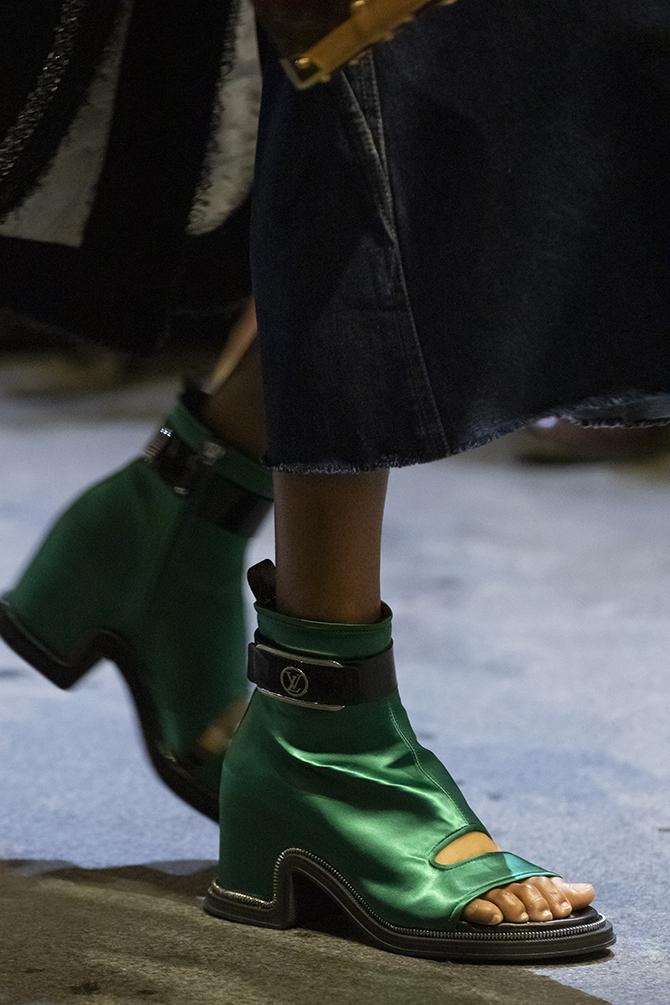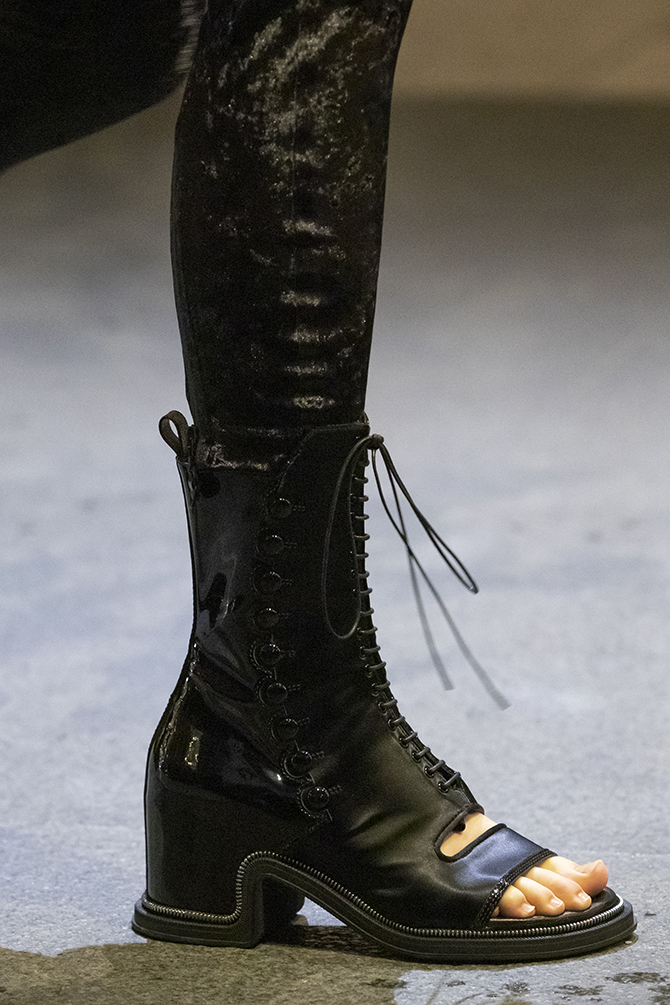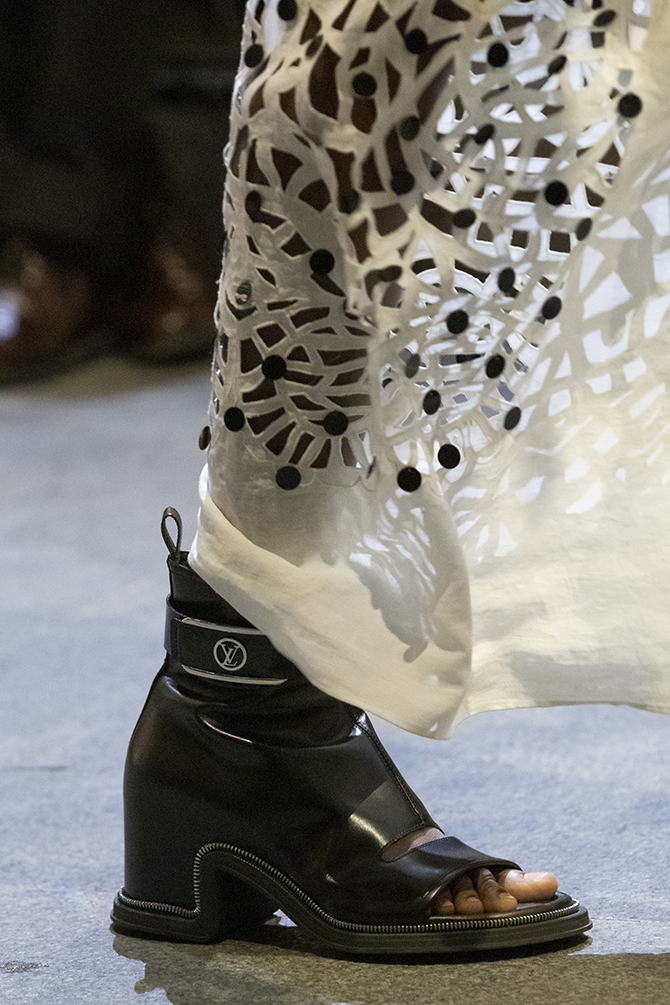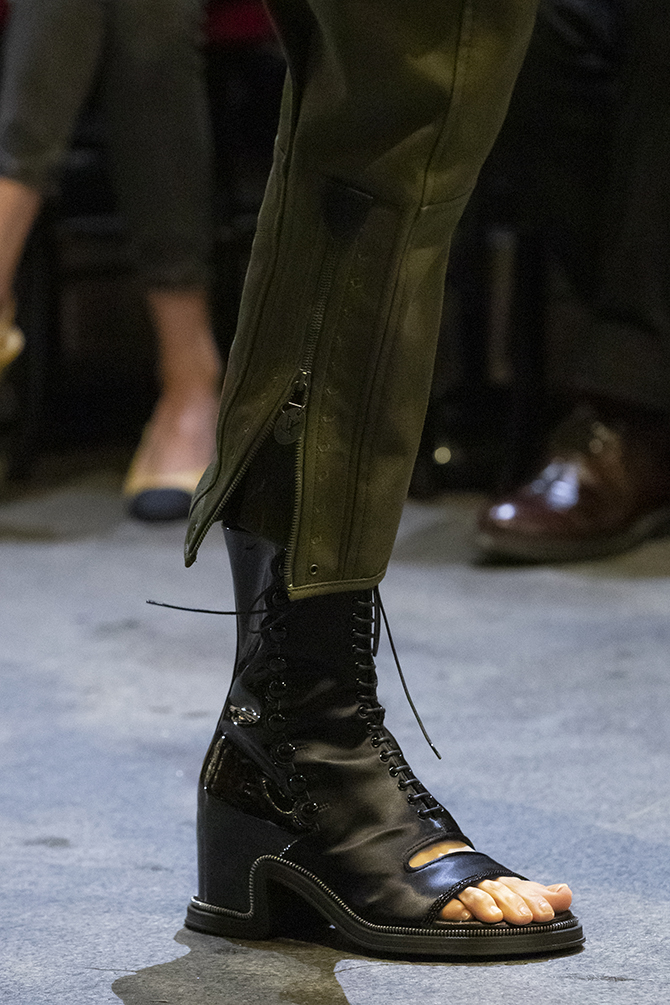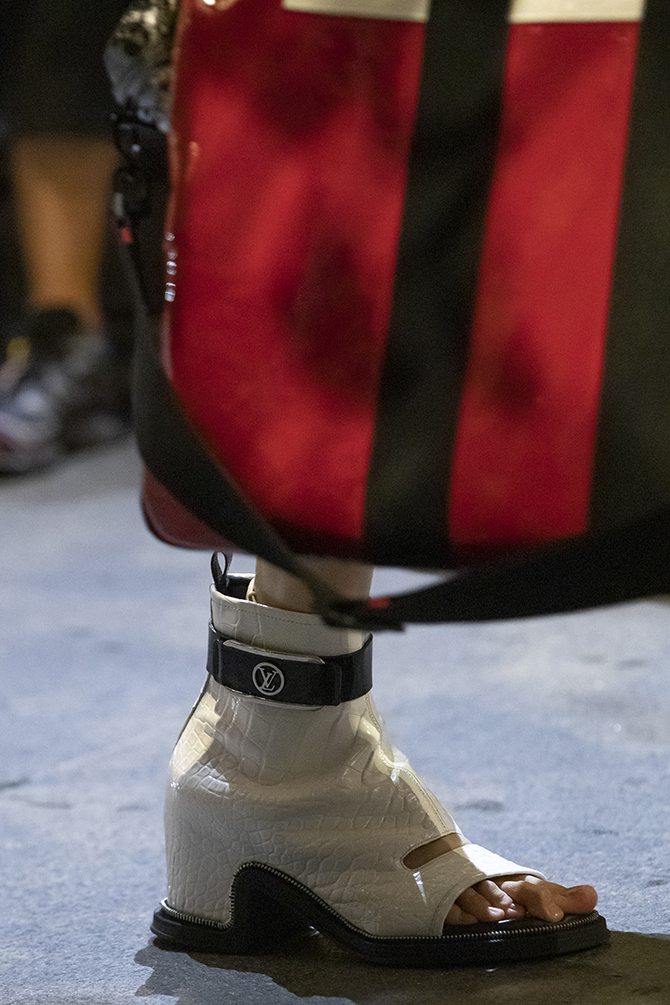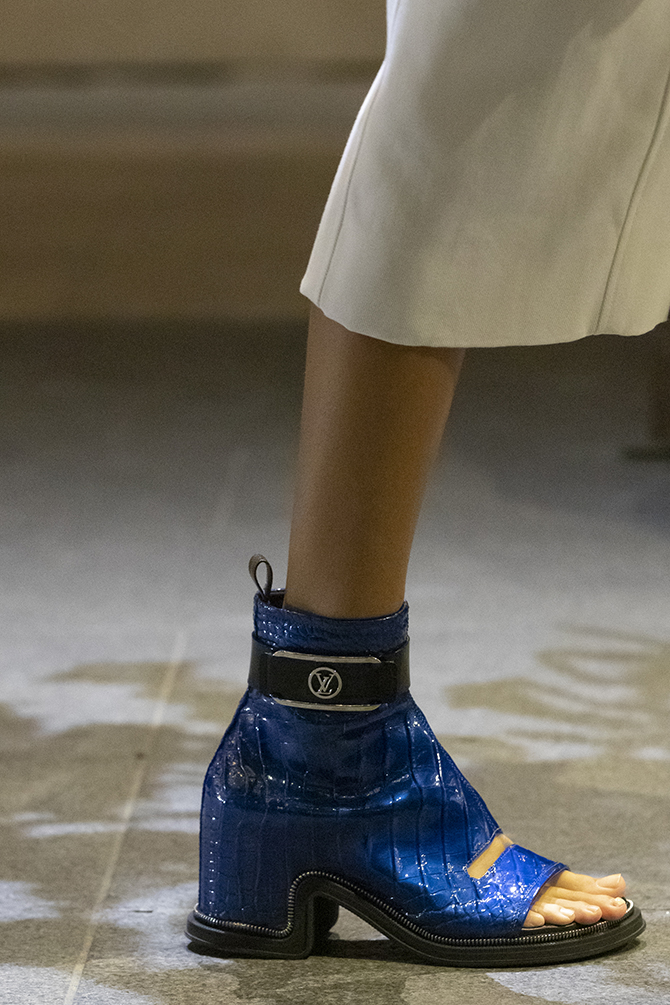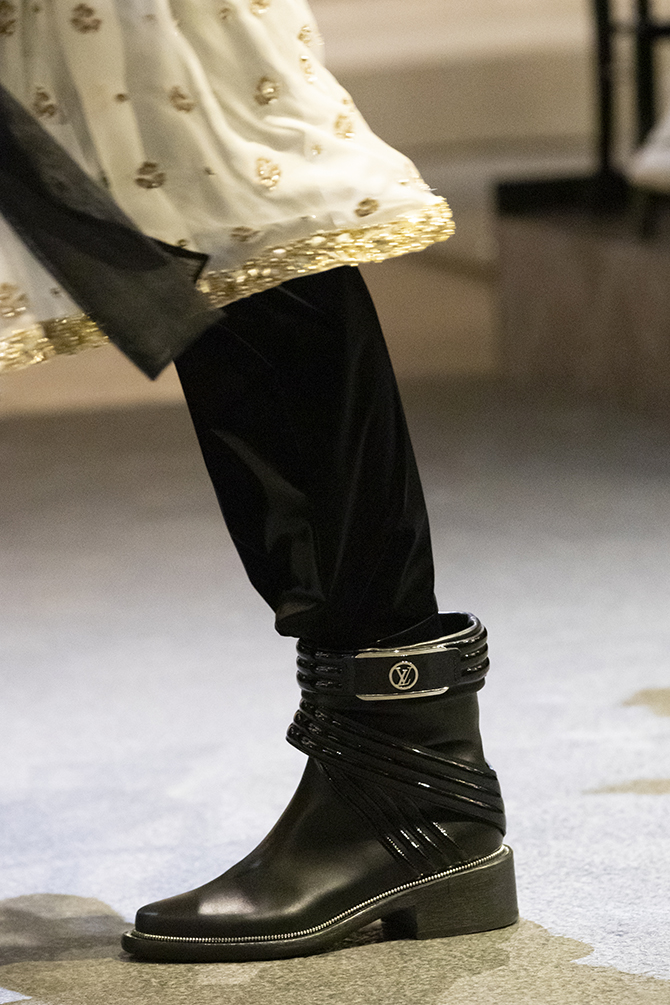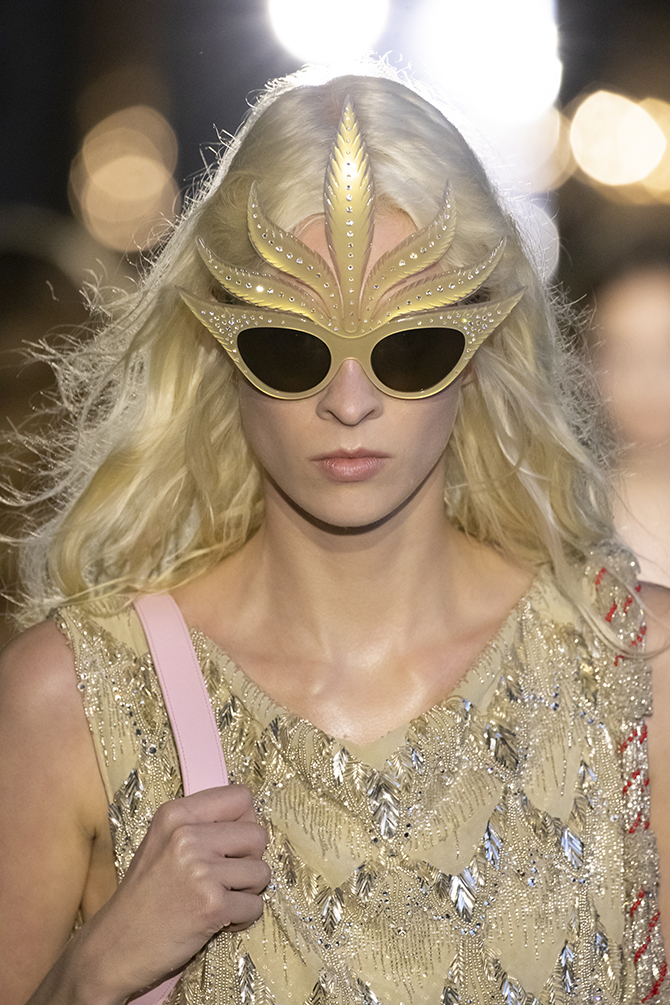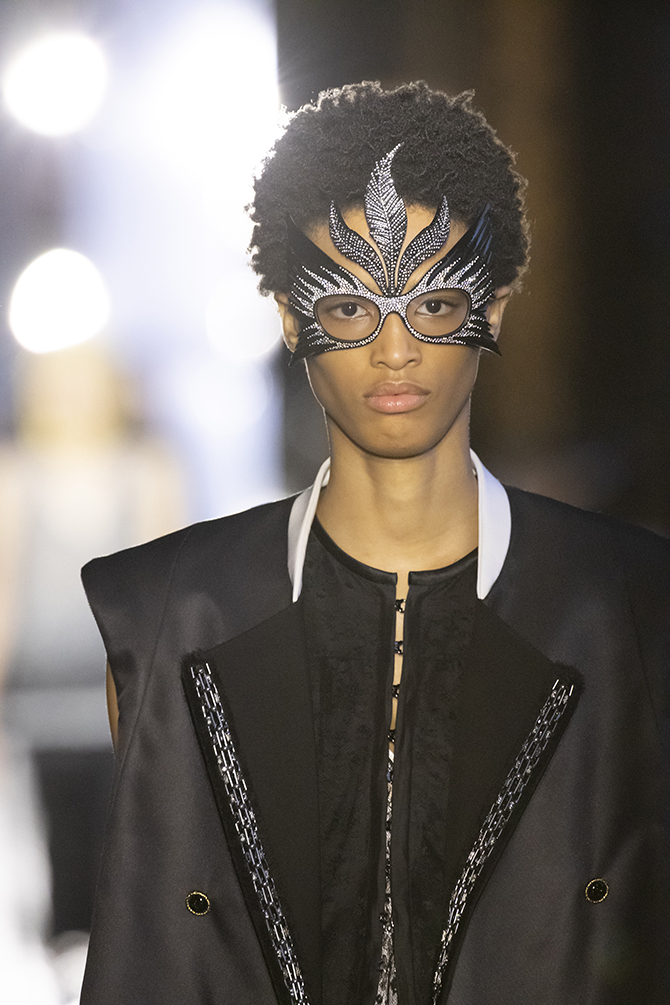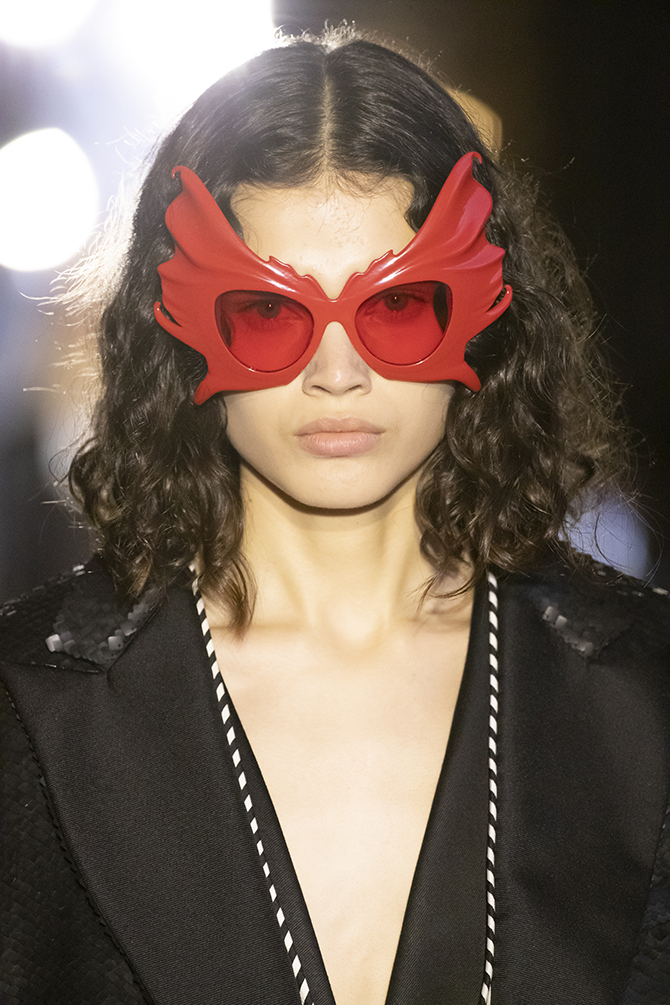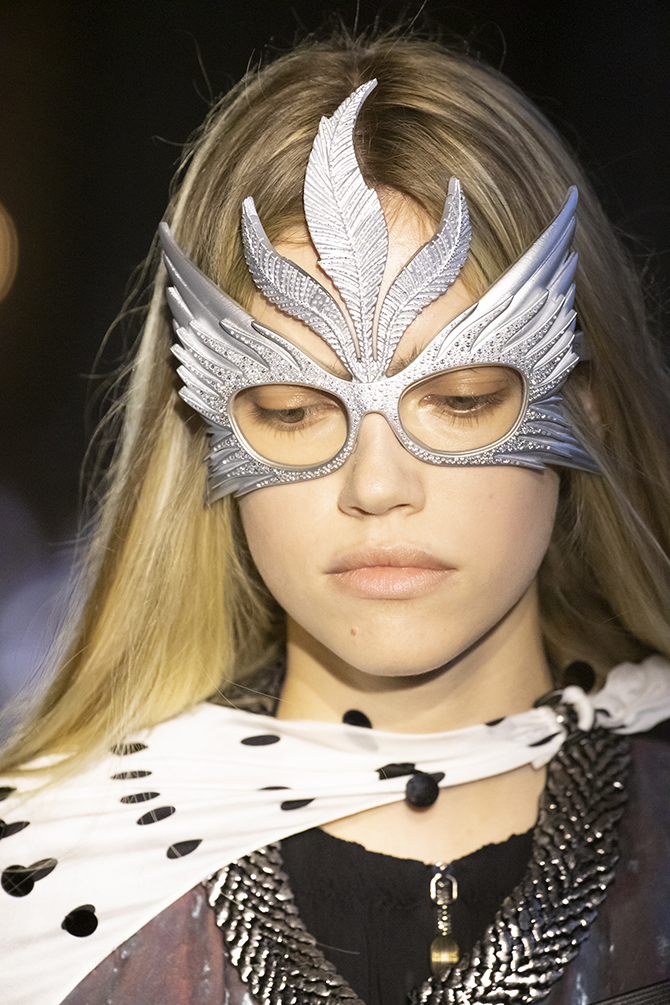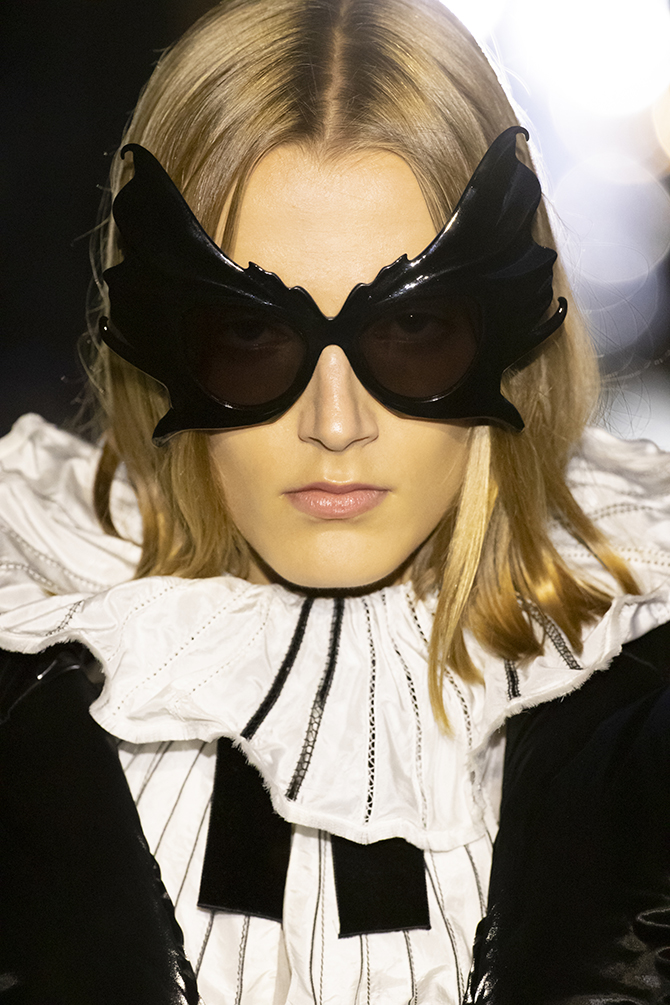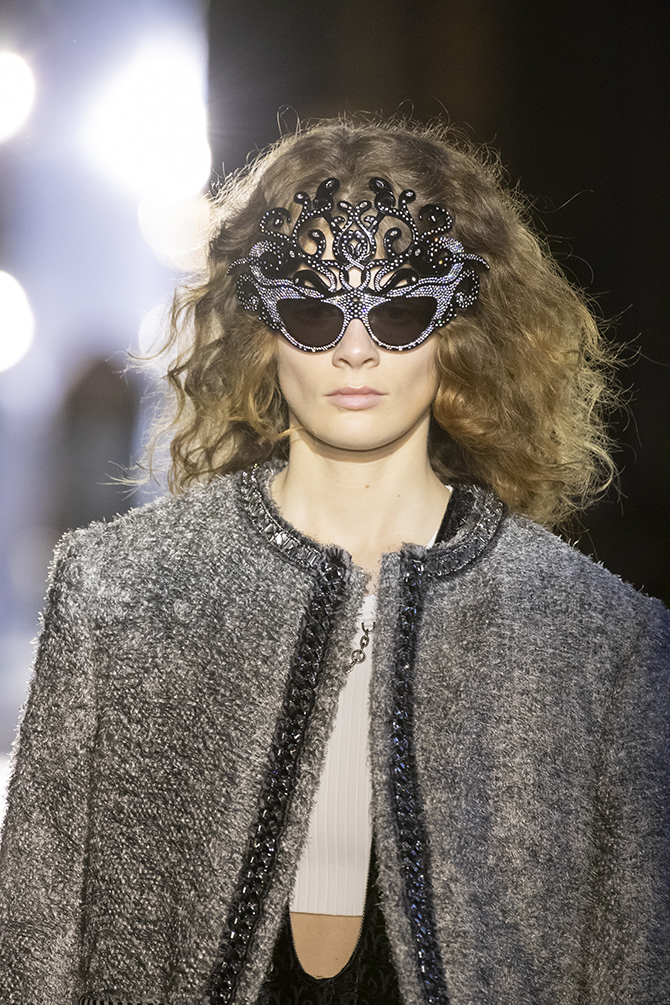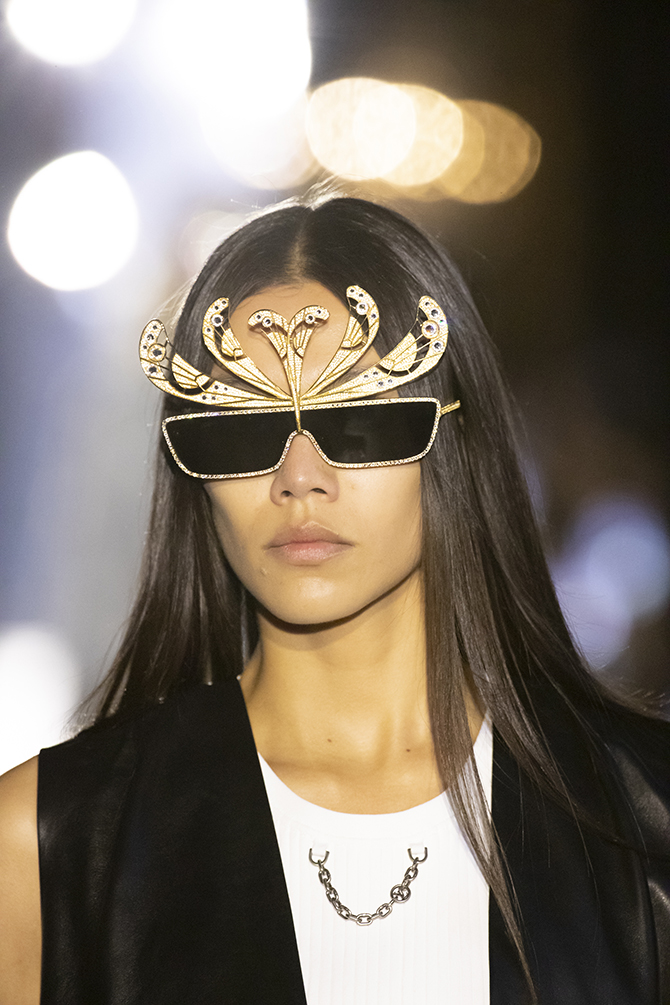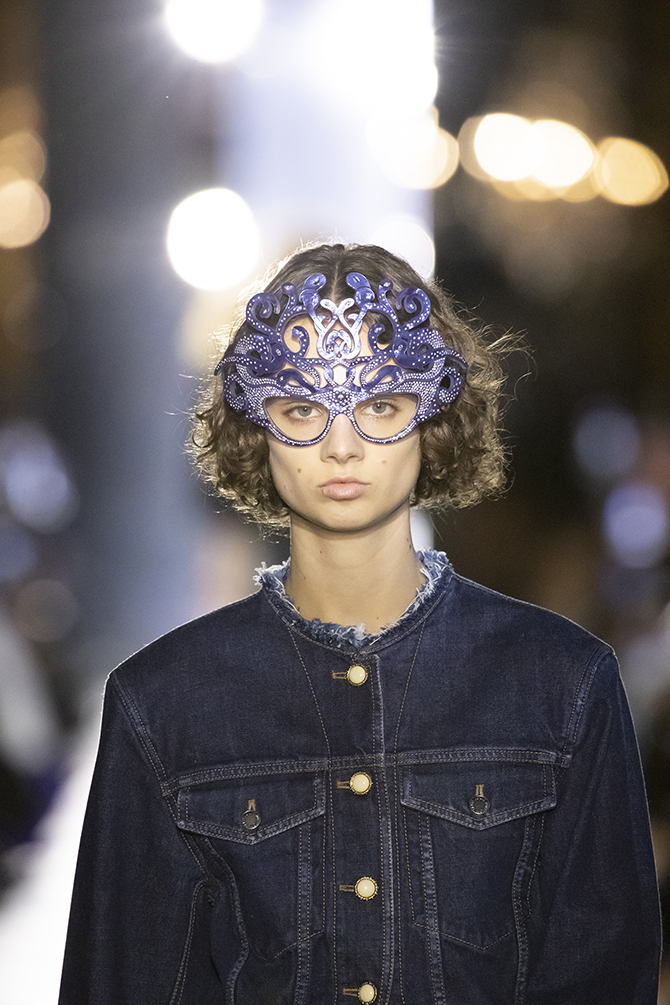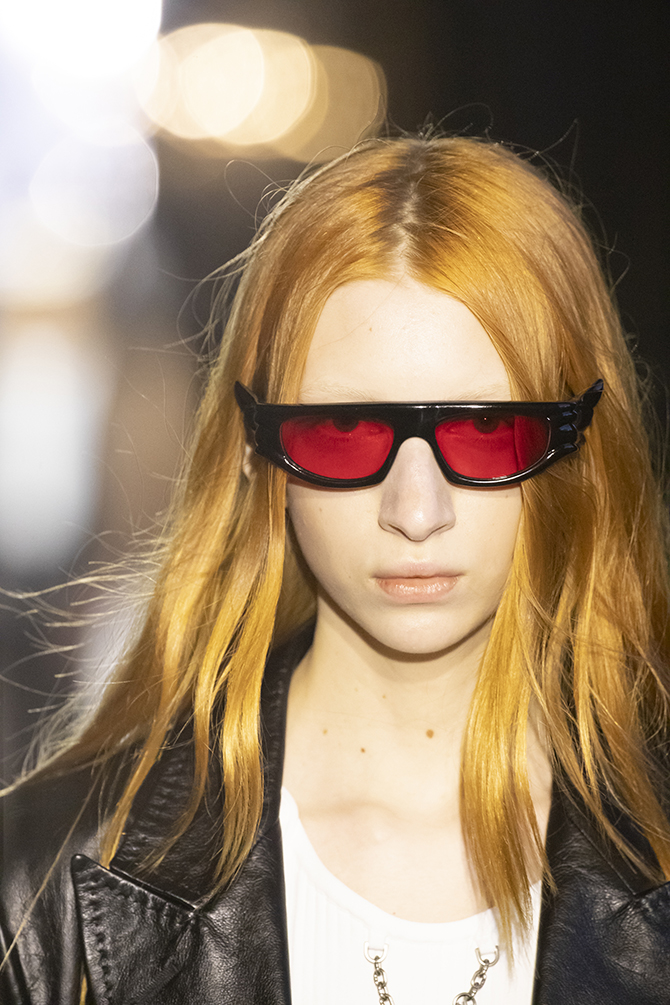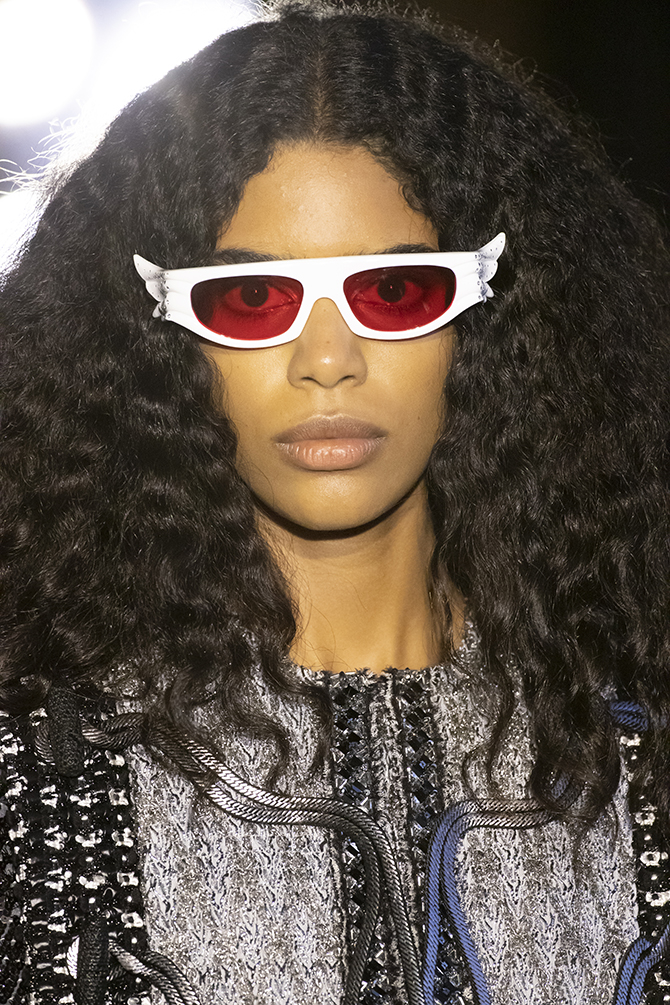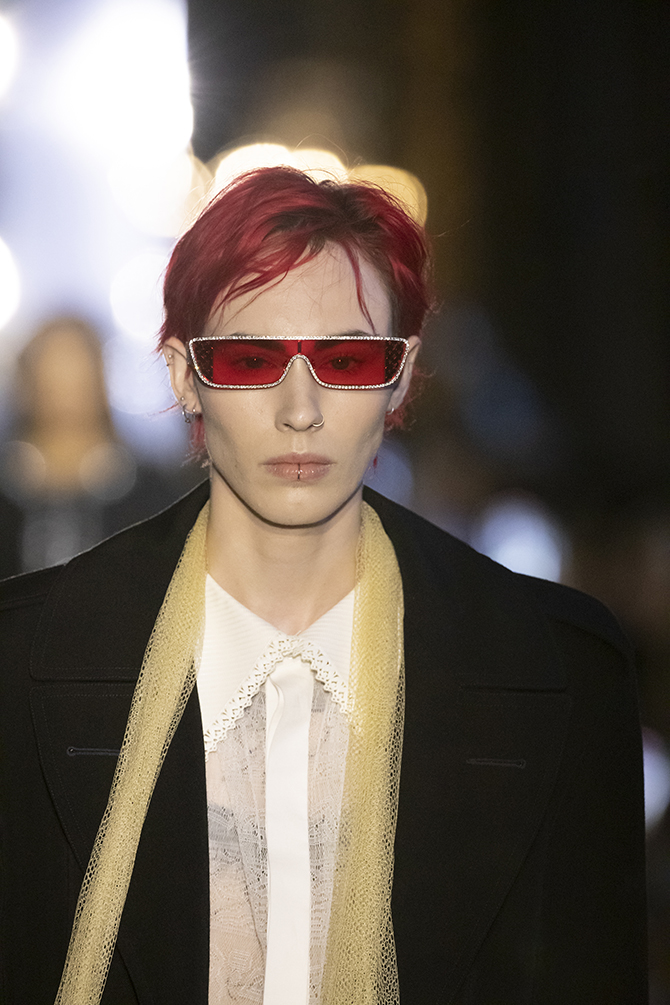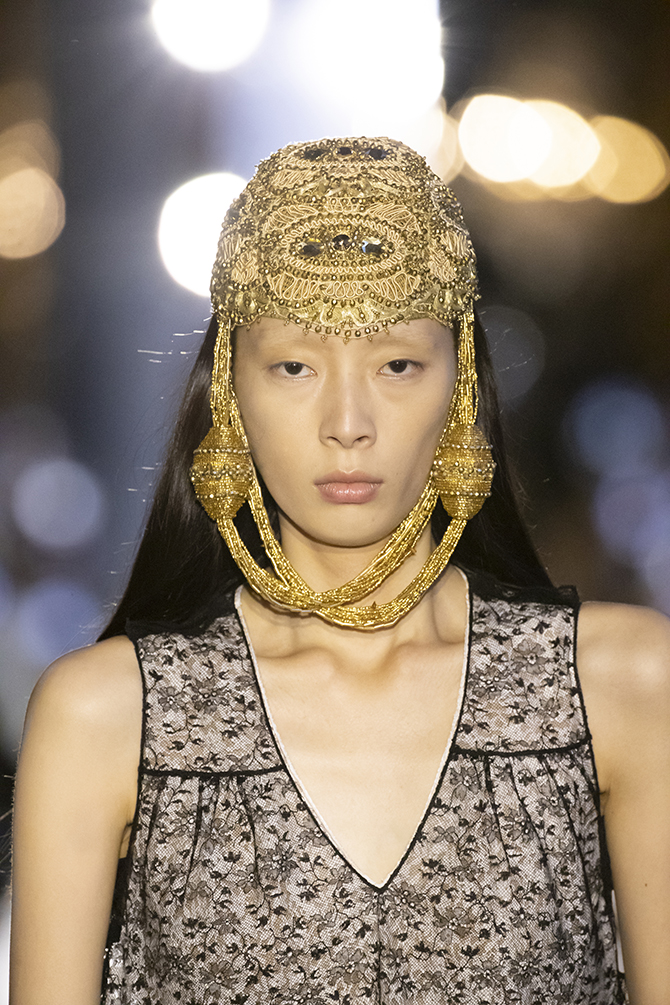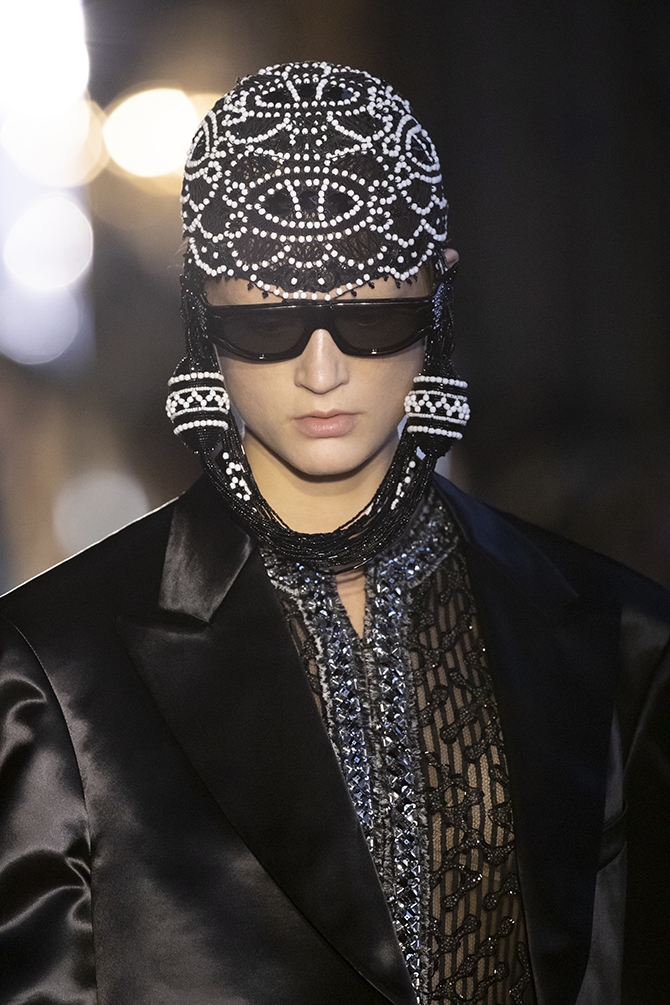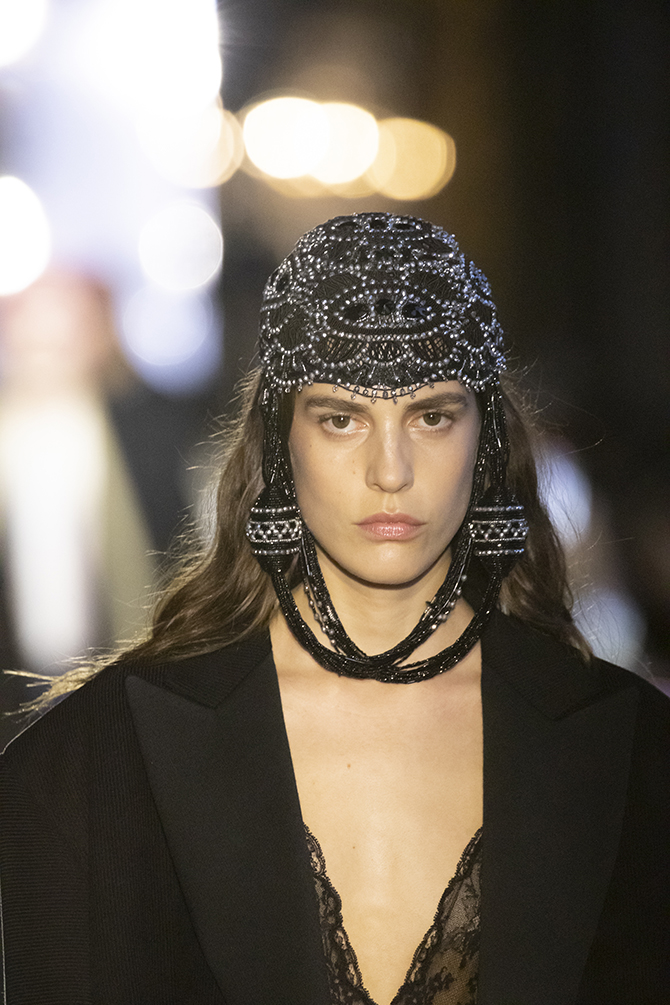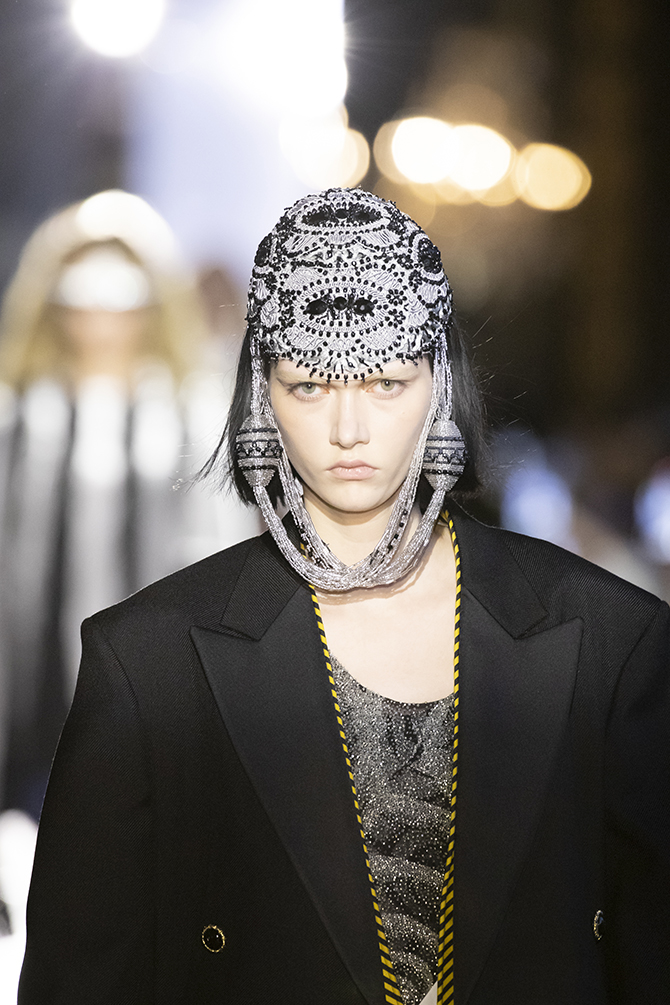 Plenty of eye-catching bags were spotted too: we were looking at a lot of trunk cases that fit in the palm of the models' hands, vanity bags as hand-held companions, and slightly larger, sleek monogram clutches accented by chains with a matte finish. The trunk cases, in particular, carried an array of artistic nods that the art nouveau sunglasses shared. Matchy-matchy, anyone? Closer to the ground, laced-up open-toed wrestling boots were offered in colourful renditions and a variety of interesting materials such as satin, glazed leather and what looked like exotic python skin. Altogether, it was a ball to remember.
MORE: See all the runway looks from the Louis Vuitton SS22 Women's show
For more on the Spring/Summer 2022 fashion month, go here. 
| | |
| --- | --- |
| SHARE THE STORY | |
| Explore More | |