It's time to show off the bodies we spent loving and protecting in the past year
Call it hole-y Swiss cheese style or lockdown liberation, the cut-out trend has taken over fashion. First popularised during the optical art boom of the '60s, peekaboo fashion re-emerged for the pandemic era with subtle skin-baring slits on the AW20 runways of Versace, Bradon Maxwell, Dion Lee and Rokh. Then, it went a step further the following season to showcase the sensuous allure of skin––this time spotted artfully placed cut-outs at ruched hips, on the neckline and across the stomach.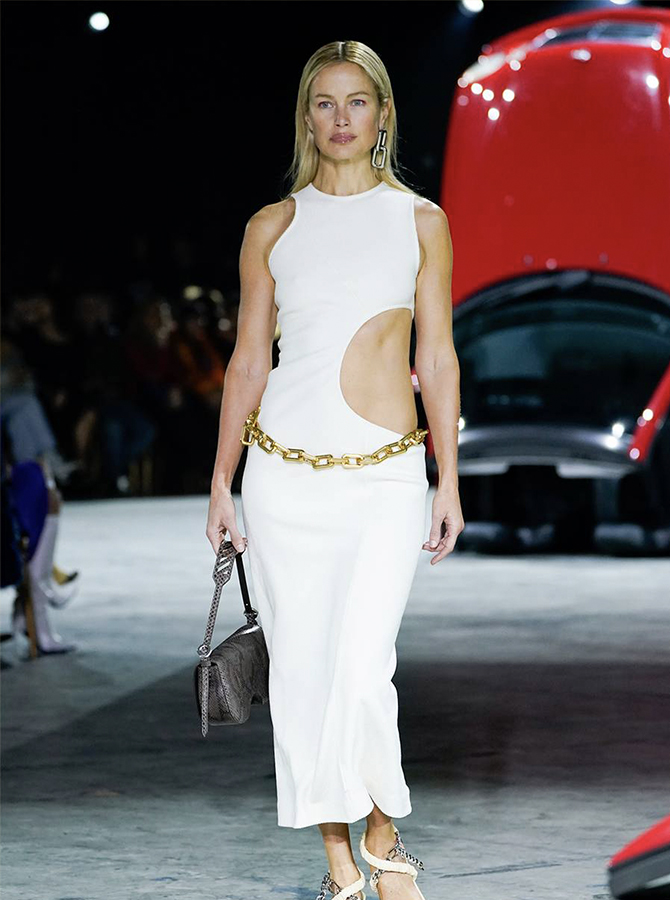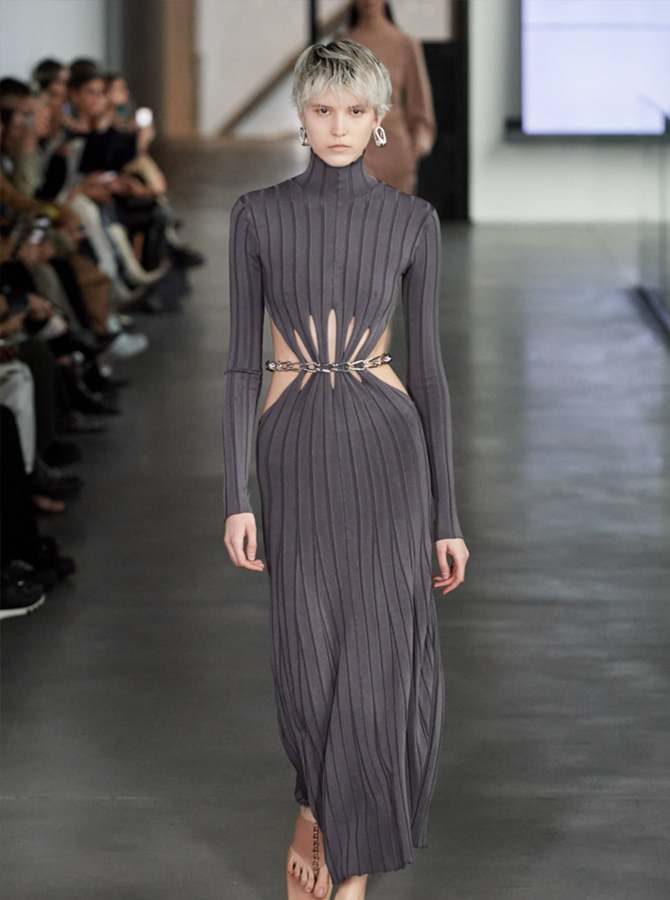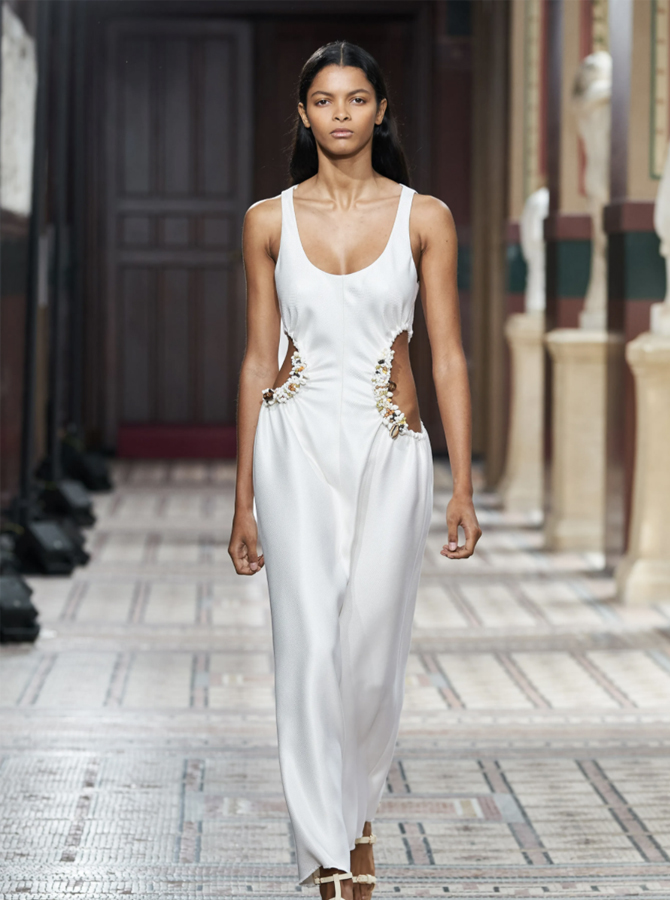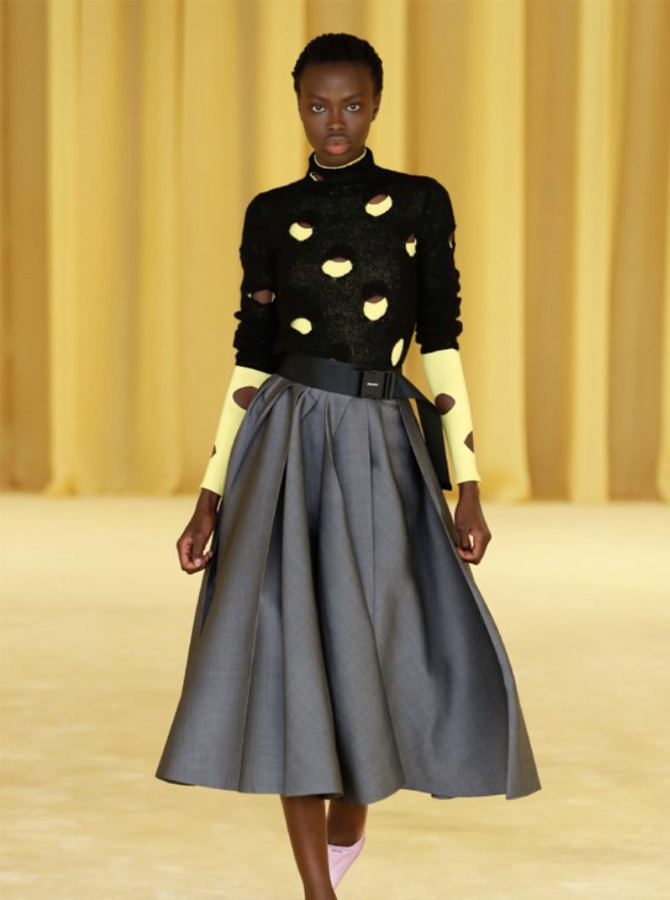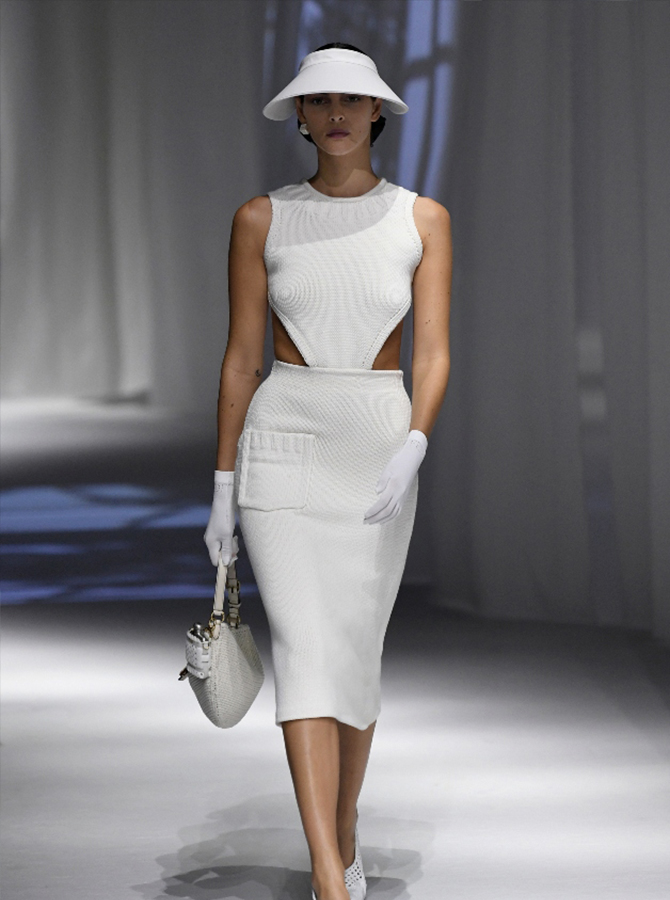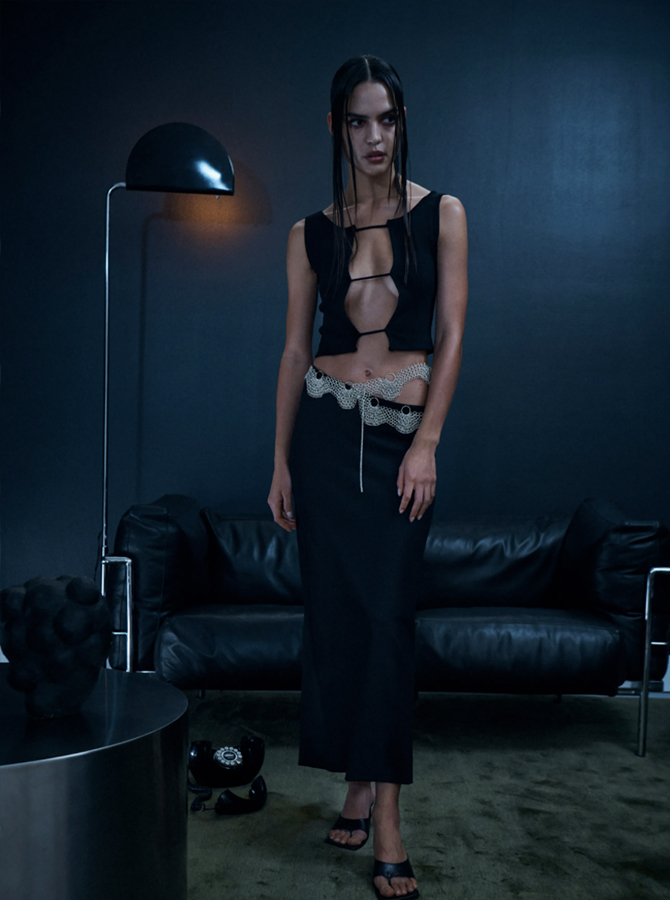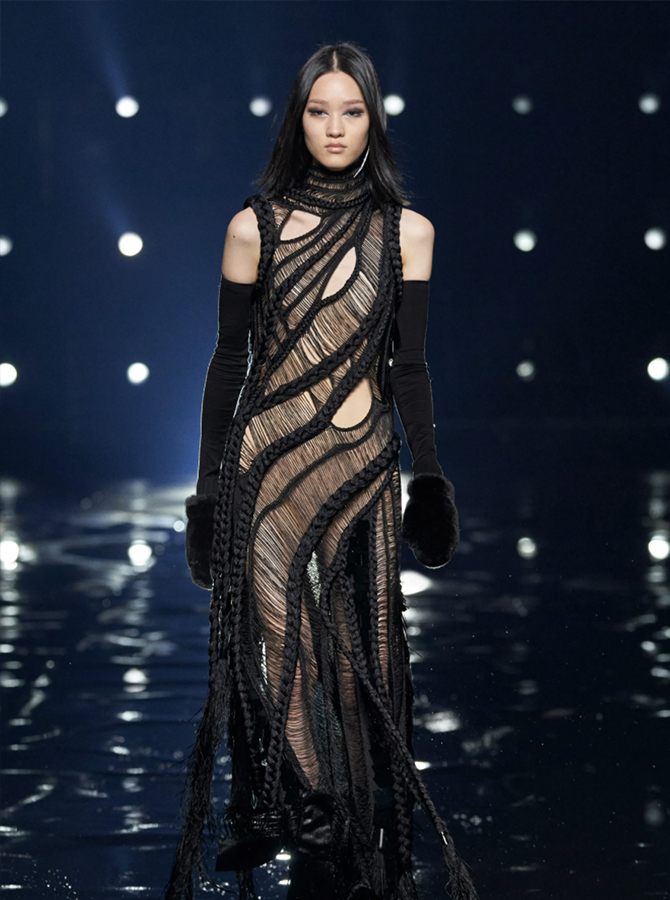 But AW21 was when the repeating trend really took things for a turn. Designers brought deconstruction to a whole new level to cut up fall cover-ups with an unabashed boldness, bringing intricate gaps and unexpected necklines to all-baring keyholes––anywhere and everywhere––to highlight the parts of our bodies that were often hidden away. Adding a little something unexpected to everyday garments, these interpretations delivered a dose of body positivity in sexy, desirable ways that were versatile enough to appeal to even the most demure dresser. 
Since then, the trend has exploded across social media and become a mainstay for celebrities like Dua Lipa, Bella Hadid and Kylie Jenner––most frequently spotted in knitted, second-skin apparel by cult cool-girl brands like Rui Zhou, Poster Girl and Noush who put their own spin on the slasher style.
Tthe '90s whale tail re-emerged via back cut-outs on pants and dresses, then visible under-boobs like Zendaya's ab-flashing canary gown showed up on the Oscars red carpet. When vaccinations started happening, people embraced the cold shoulder to get their shots in stylish convenience. According to fashion search engine Lyst, interest in cut-outs are still growing. Pelvic variations (or ovary cut-outs as some have so precisely put) gained traction last month after Bella Hadid and Kim Kardashian were spotted out and about in hip-baring ensembles.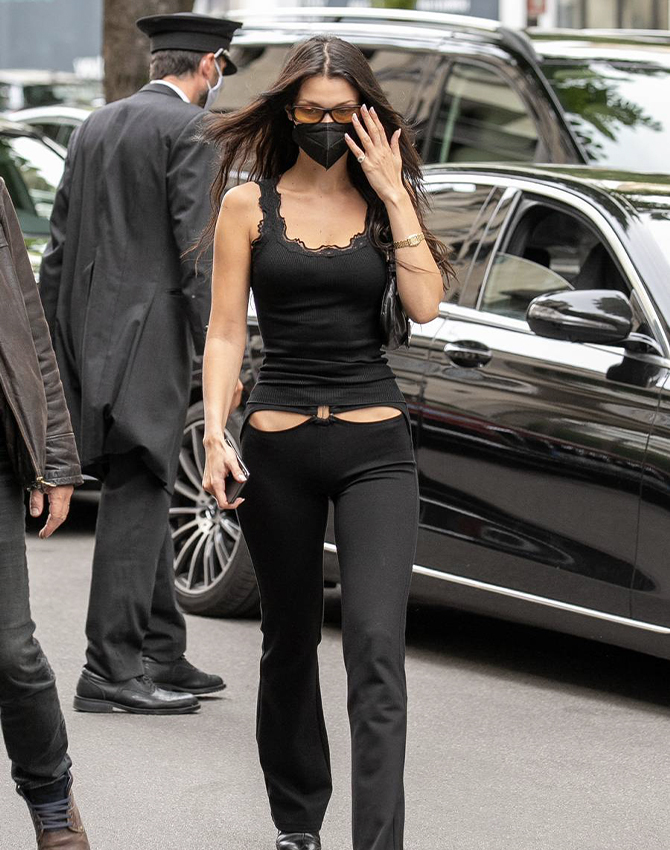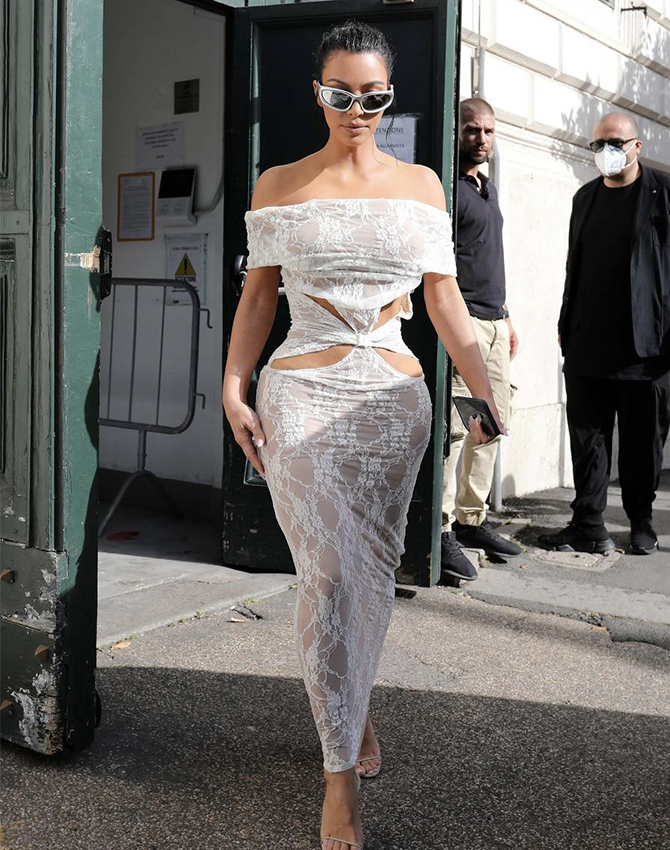 Why now? We spent the last year or so cocooned at home in oversized clothes and comfortable loungewear to protect our bodies after the pandemic first hit. And with countries gradually opening up, people are trying out the trend to break out of their lockdown skin and find their way back to the outside world. It's a way to bare all without actually baring it all by tastefully flashing a bit of the bod via a low-effort, high-impact statement––a celebration of the body. And the best part about it for us here in hotter climates is that it's the perfect way to let your body take a breather, especially with bulkier fabrics. 
Below, we've selected eight stylish ways to help you get started by focusing on wardrobe staples you can invest in. Wear them with the same nonchalant confidence that Regina George paired with her (unintended) cut-out tank in Mean Girls. Iconic.
The comfort piece 
German influencer Xenia Adonts-founded Attire elevates this super-soft cardigan with armholes at the sleeves and a '90s leaning cut. The slim-fitting piece comes in calming pastels and with elegant pearls for buttons, which makes it undeniably useful for our current WFH situation. Adding a stylish flair to the everyday, it'll keep us happily cosy in air-conditioned rooms and looks fab with basics, whether it's denim, tracksuits or knitted trousers. And keeping true to the brand's ethos of transparency and eco-consciousness, this particular piece is crafted in 100 per cent GOTS-certified organic cotton alongside buttons made out of mother of pearl (a shell by-product that's usually wasted). Layer it over a summer ensemble or go sans base layer for an ultra-feminine look.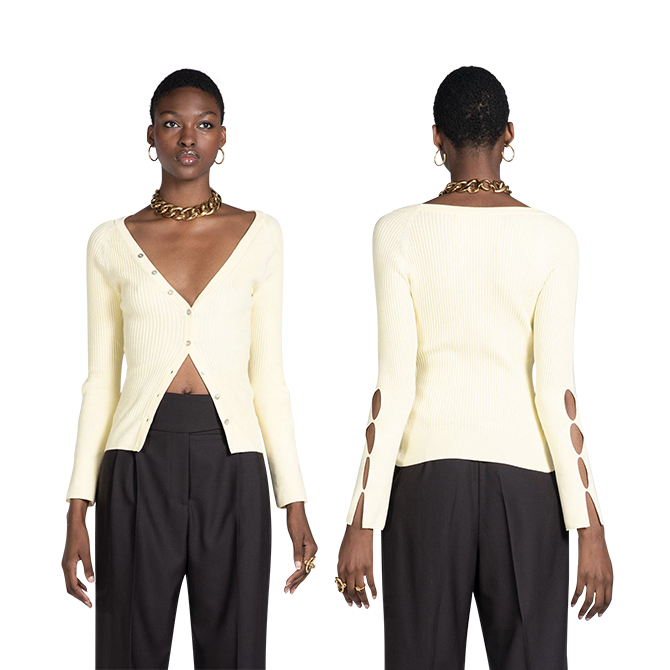 The puffed blouse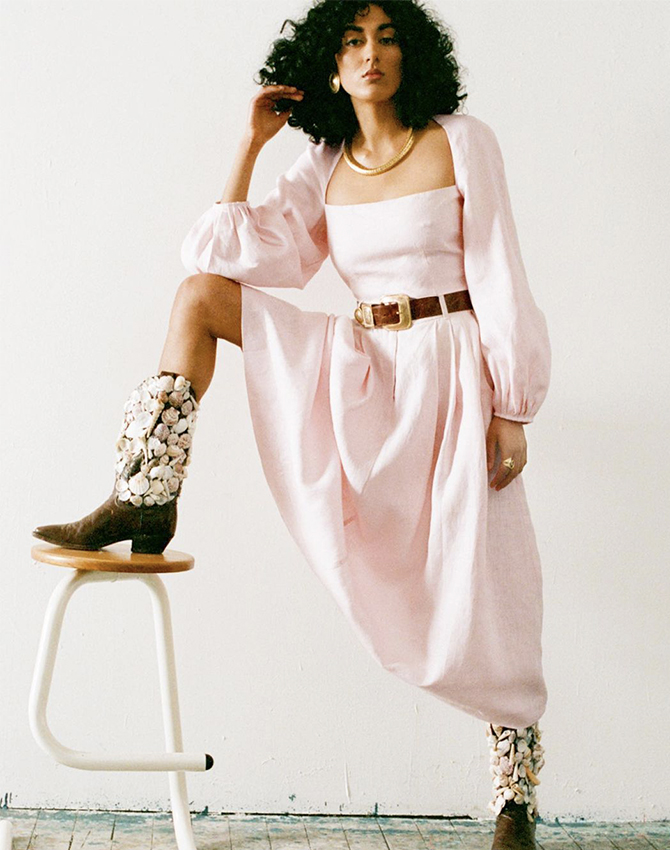 Whether you've been romanticising the simple life of #Cottagecore or dreaming about the Regencycore's regal debutantes, this balloon-sleeved top by New York designer Mara Hoffman will inject some of that much-needed escapism into your wardrobes. Though its dramatic sleeves are reason enough, the hemp-crafted powder pink top features an elegant upper back reveal by way of a cut-out to hit the ball out of the park. Opt for the full look with a matching high-waisted midi or dress it down with denim and pair with gold accessories.
The statement blazer
The latest iteration of power dressing comes in the form of a chic cropped blazer that adds a street style sensibility to modern tailoring. At Danielle Guizo––whose designs have been worn by famous faces including Blackpink, Ariana Grande and Celine Dion––the shortened suit is disrupted with ruched cut-outs at the hips to add a sense of edginess to cool-girl minimalism. Coming in soft hues of allure blue, pale yellow, honeydew, and celeste, it is the epitome of sexy sophistication (with a literal twist) that will accentuate your figure in all the right places. Take cues from model Ajani above and play with contrasting prints for some fun, or go with baggy bottoms and kicks if you want to channel a more laidback, effortless vibe.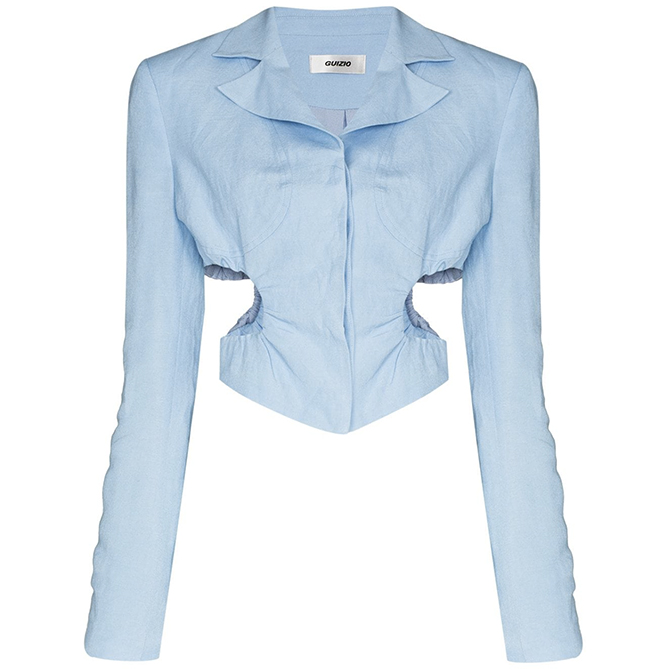 The grocery-run dress
Los Angeles label Stuad's 'Giorgiana' dress is the best way to stay easy-breezy stylish on your next errand run. Reminiscent of the pretty silhouettes of the '50s, the collared, short-sleeved midi takes on a more relaxed shape of the original fit-and-flare in a breathable blood orange linen to inject a bit of old-school summer style into contemporary wear. The ingenious detail lies in the triangular cut-out created by a tie-front knot that embellishes the midriff with a DIY bow. Team it with a pair of masculine sandals or slides and a decorative neckpiece before grabbing your totes because we're going (household) shopping!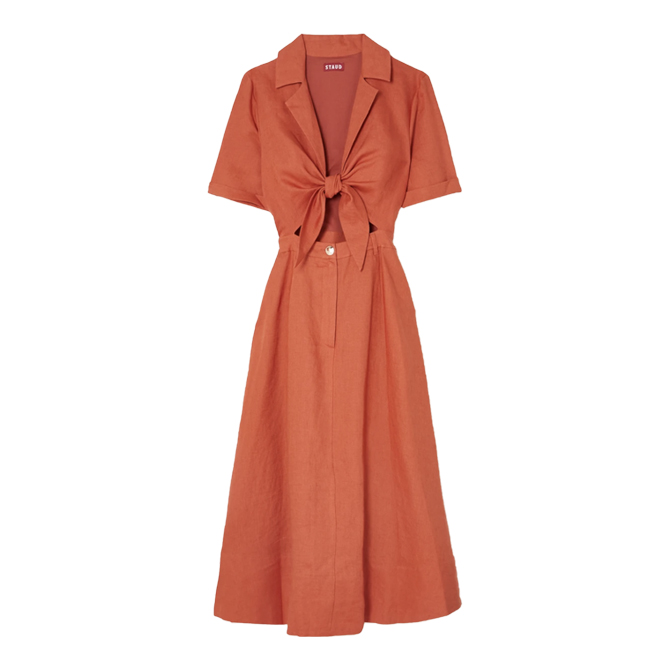 The athleisure essential
Biker shorts are a warm-weather staple for a reason––the veritable versatile bottoms look good on just about anyone. So it comes as no surprise that Ghostboy's black slashed bikers were spotted on all our local It-girls, ranging from Jane Chuck and Nana Law to Juwei Teoh. The Malaysian youth-inspired design label updates the everyday pair with a high-rise waist and pelvic cut-outs that are detailed with blue, high-cut seams. Show off those slits by pairing with a cropped cardi or top (and under a longline blazer for the cold-blooded), whereas an oversized tee will make for an easy ensemble if you're on a time crunch. If you thought sneakers were the only appropriate footwear for a biker shorts outfit, think again––take the chic route by pairing it with slingback kitten heels or channel Julien Calloway and go for a statement knee-high number.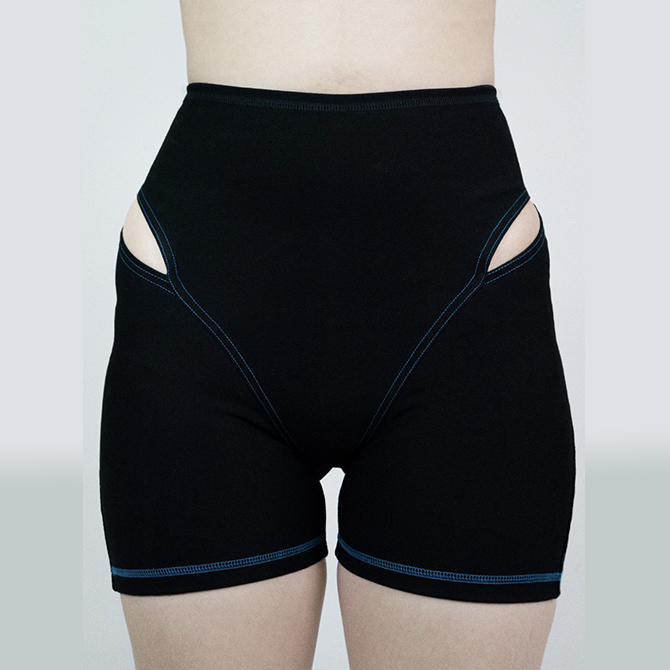 The trusty tank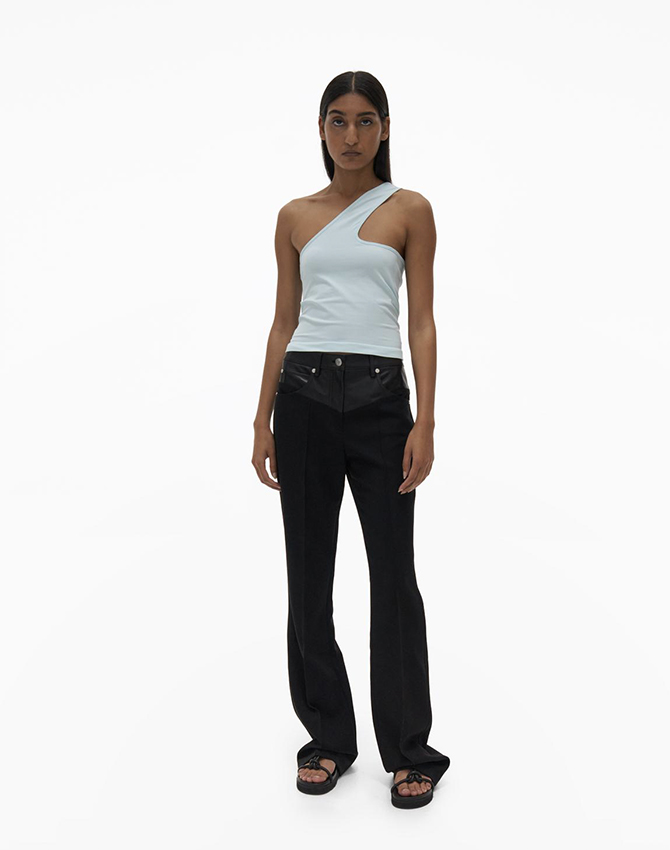 As exemplified by Helmut Lang's one-shouldered re-imagination, cut-outs are one of the best things to happen to the basic. Nodding to '90s minimalism, the asymmetrical tank arrives in what the brand calls "cyber blue" (and black), and makes for a great building block that will spice up any ensemble. It'll look great solo when it's too hard to wear anything else, paired with low-rise boyfriend jeans, and creates an interesting peekaboo illusion when worn under outerwear.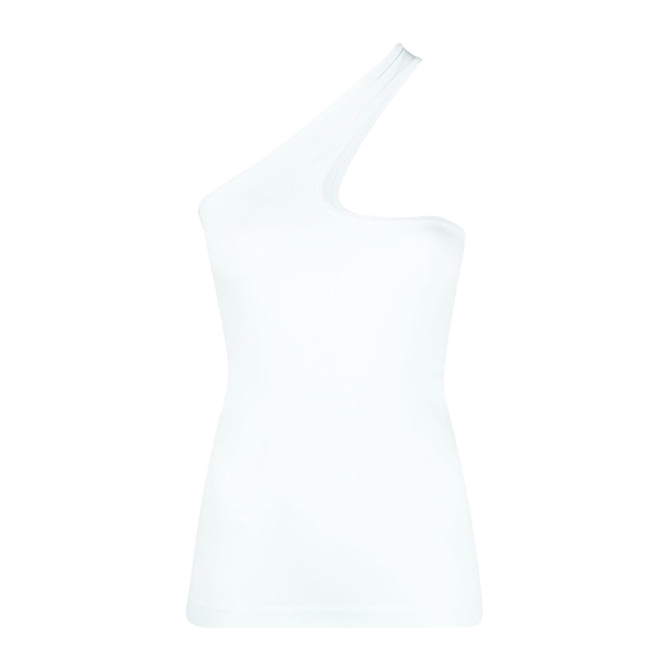 The cult companion 
No outfit is complete without a cult classic and Givenchy's latest calf leather companion makes the *cut* for this particular occasion. With an angular cut-out shape that echoes the vision of creative director Matthew Williams, the unisex bag comes embellished with lacquered edges, a silver 4G chain, alongside a detachable shoulder strap. Despite its sleek minimalism and flexible ease in wear, the fashion-forward accessory isn't fooling anyone––it's out to turn heads.
The timeless denim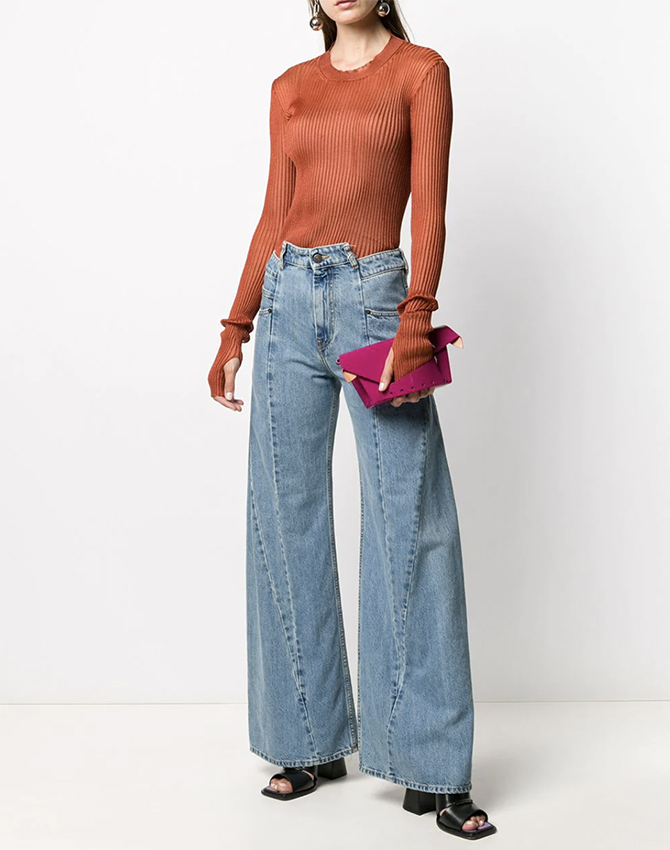 There's no better time than now to update your denim collection with these unique stone-washed pair by fashion's master of deconstructivism Margiela. Instead of going for distressed jeans to introduce a cut-out, the brand uses its signature Décortiqué design to play with staggered panels and add their classic five pockets detail into an asymmetric wide-leg silhouette. The verb is French for shelling a lobster, but in fashion manifests through the act of reducing a garment to its core. Go the classic route and team up with a fitted white tee and strappy heeled sandals to offset the width and create the appearance of longer legs.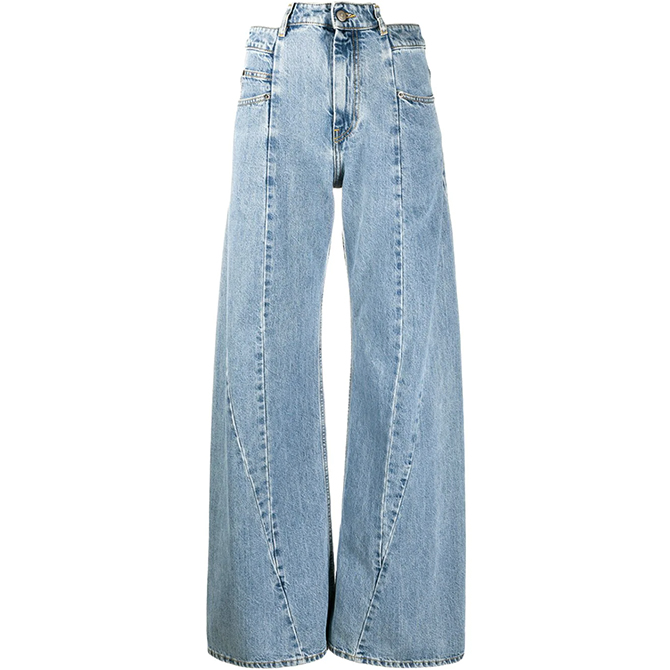 Looking for more trend stories? We got you covered, here.