How to emulate the unique styles of the new generation at Constance Billard and St. Jude's
As much as Gossip Girl was about the scandalous lives of Manhattan's elite, it was also all about the fashion. From Blair's headbands to little Jenny's home-sewn dresses and Chuck Bass' patchwork silk scarf, the signature styles of every leading character were iconic, unforgettable, and in part why the OG series hit such a level of pop culture phenomenon.
Like Sex And The City in the late '90s, Gossip Girl had a profound influence on the trends of 2010s and real-life retail. Having your designs worn by either of the female leads were like having them featured in a major fashion publication––items spotted on Serena (Blake Lively) or Blair (Leighton Meester) would often sell out after each episode aired. Even after it ended, the show's fashion legacy continued to live on through magazine copy, Pinterest boards and archival IG accounts. 
Nearly ten years later, the reboot has arrived. Its impact on fashion is looking to be just as noteworthy (we had initial doubts) as outfits on the show are already selling out online. And we're not even mid-season yet. 
Returning as costume designer and stylist, Eric Daman toned down on the sartorialism and turned towards Instagram it-girls for reboot inspiration. As a result, the new class of Constance Billard and St. Jude's prioritises comfort and prefers gender-fluid silhouettes for their designer wardrobes. From baggy sweaters to statement sneakers and bike shorts, the current generation of Gossip Girl leans towards sports- and streetwear through high-low dressing to create outfits that feel attuned with contemporary times. And on their arms? A wealth of cult it-bags, both old and new, to seal the deal of dress.
Additionally, the range of designers featured on the show is more diverse and youthful than its predecessor, with emerging brands like Bode and Christopher John Rogers seen alongside massive luxury names. 
The Gen-Z cohort includes newcomer Zoya Lott (Whitney Peak), queen bee influencer Julien Calloway (Jordan Alexander) and her posse of friends: Monet de Haan (Savannah Lee Smith), Luna La (Zion Moreno), Audrey Hope (Emily Alyn Lind), Akeno "Aki" Menzies (Evan Mock), Obie (Eli Brown) and Max Wolfe (Thomas Doherty). There's also a newfound spotlight on private school teachers whereby Kate Keller (Tavi Gevinson) takes up most of the space. She began the season on a train with parallels to Serena's opening scene in the OG pilot, even matching outfits to include Serena's go-to neck scarf. 
Curious to know which brands are considered 'in' for Manhattan's current elite? With the help of Gossip Girl Closet, we ID some of the most memorable outfits on the show so far, alongside suggestions of worthy alternatives if you were thinking of bagging some of the sold-out pieces too! XOXO...
Episode 1
It's not that hard to spot who the influencer is in the bunch. Julien elevates her casual Maje Cimpo striped shirt ensemble with a pair of statement knee-high Schutz Maryana boots to serve private school chic with a twist of edgy nonchalance. And who can forget the (gifted) sneakers that gave the half-sisters a reason to come together in public? We say yes to Adidas x Beyoncé superstar platforms any day. 
Bag bonus! Also spotted on the steps of the Met, a Salvatore Ferragamo studio bag sitting side-by-side with a red vintage Fendi Corduroy Baguette. Earlier in the episode, a spanking-new Louis Vuitton Capucines was unboxed to star in an early morning Calloway 'fit pic. 
To introduce her preppy layered style, Audrey wears Cartier's signature Guirlande bag with a Michael Kors taftan sweater and Chloe suede loafer pumps on the first day back at school.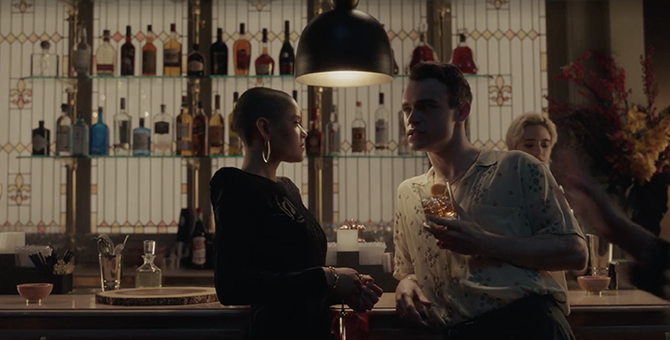 Julien steals the show (yet again) in a black body-hugging Alex Perry Zebra-Print Jumpsuit that's accessorised with pops of colour through a tiger-orange Staud purse and hot pink Kirkwood slingbacks. We also see pan-sexual playboy Max embrace a more laidback interpretation of his modern preppy style through a Bode stitch shirt covered in embroidered star motifs. 
Max was also the architect behind two of the best tops seen in the episode. The first being Aki's stunning ombre Sies Marjan button-down and trousers ensemble. The second was the delicate Paco Rabanne lace shirt of his own, which he pulled off with a hint of dark romanticism that reminded us of Saint Laurent's recent SS22 show. 
Monet and Luna donned triumphantly striking ensembles to help them see them through the series' first showdown. While Luna harnessed the vivid combination of an azalea Cinq a Sept top and bright orange bottoms to help her stand out, the broad-shouldered silhouette of Monet's Christopher John Rogers' iridescent blazer suit gave her extra assertion to firmly stand her ground.  
Episode 2
Even teachers need a little fashion pick-me-up every once in a while. Kate Keller, the disgruntled voice behind GG's revival, brings out her Roger Vivier suede pumps to spruce up her polka-dotted Haney shirt dress for the dreaded parent-teacher conference.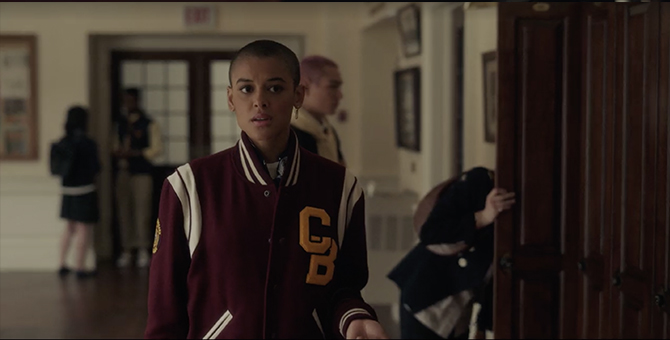 Another day, another episode of Julien in biker shorts but this time with an oversized Saint Laurent varsity jacket, chunky Balenciaga sneakers and a vintage Louis Vuitton barrel bag. 
It's gowns and glitter galore for the school fundraiser: Julien is seen in a Christoper John Rogers SS21 dress (that's not even on the market) and Bvlgari diamonds; Monet glams up in a strapless Rasario's velvet lamé gown, a vintage Chanel choker and Jimmy Choo mesh pumps; and Luna dreams up florals in an off-shoulder Giambattista Valli silk dress teamed with a Bvlgari Serpenti forever bag.
On the flip side, Audrey goes for a more grown up route in a refined Rasario satin midi which she couples with a Saint Laurent envelop clutch that's frequently seen folded under her arms.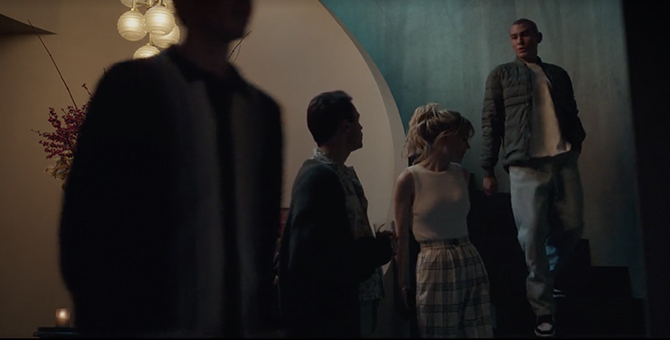 You'll only be able to spot them if you look extra hard but Aki's Nike Air Jordans had to be mentioned. The yellow and green-hued kicks were worn on various occasions throughout the episode––above with baggy boyfriend jeans and a Kenzo puffer jacket––as the ultimate companion completing his skaterboi style
Episode 3
Perhaps the best representation of Audrey's classic style as of yet was when she wore this Balmain striped sweater vest over a crisp white Simone Rocha shirt dress boasting flares and puffs in all the right places. Bags wise, we've got appearances of a Stella McCartney top-handle bag featuring the brand's iconic diamond-cut chain trim, alongside the green Loewe number carried by Julien. Other accessories to note off-screen include Monet's heart-shaped Louis Vuitton bag and Chanel calfskin belt that cinches together her Clueless-inspired attire. 
Audrey adorns the statement Jacquemus corset midi that was first seen on Bella Hadid during the brand's AW20 runway show to turn up the dramatics (with class) for the theatre. Julien on the other hand, opted for a strappy '90s-leaning leather mini by Zeynep Arcay and Cult Gaia heeled sandals with a single Maison Irem gold snake earring for added sparkle. In the case of Zoya, Reformation's LBD worn with a Ratio et Motus shoulder bag created the perfect middle ground for her to blend in among New York's upper class without throwing her style identity completely out the door. 
*Lest we forget this epic, over-the-top McQueen moment at the dinner table as seen on Max's parent Gideon: 
Episode 4
If there's anything we've learned by the fourth episode, it's that oversized silhouettes and a statement bag make for a fool-proof equation in everyday dressing. Audrey carries a structured Armani hobo bag to match her comfy Tommy Hilfiger Cardigan, while Julien's tomboy outfit is complemented by sleek Balenciaga sneaks and a fun JW Anderson cap bag.
The cult-favourite Jacquemus Le Chiquito clutch adds a dose of playfulness to Monet's polished pinstripe look (topped off with Valentino Garavani sandals), while Luna La's mega monogram LV tote and Burberry cape is the embodiment of luxe designer attire.  
Again, and as she always does, Julien (literally) shines in this David Koma crystal mesh gown. Meanwhile, Zoya ditches the shimmering bodycon dresses of the previous episodes to channel a self-assured '90s aesthetic in a Stella McCartney tie-dye jumpsuit. 
Episode 5 
The order of the day at Constance? Knee-high boots, neck accessories and everyday bags––the best way to show off your personal style while adhering to the private school's preppy uniform. While Julien and Zoya matched in similar-looking royal blue twilly scarves, the influencer completed her look with Fendi FF boots and a white Louis Vuitton New Wave bumbag, while her sister wore a pair of timeless Docs with her canvas tote.
Luna and Monet twinned decorative bow ties with plush textured accessories: while the former paired a dotted blue bow and suede via tan Sigerson Morrison boots and a Rebecca Minkoff 'Darren' shoulder bag in black, the latter's crystal-embellished Gucci bow was worn strategically over the cut-out chest of her Fleur du Mal shirt, alongside a pair of Gianvito Rossi velvet stompers and Jimmy Choo's suede Varenne Bowling Bag, both in shades of emerald green.
With Joan Didion's The White Album in hand, Audrey banks on a simple, classy vibe with cream Wandler thigh-highs and coordinated blues: an elegant Armani la Prima in azure, a long sapphire silk necktie knotted in a relaxed ribbon and Maison Valentino's navy lace coat.
Shoes, bags and tops:
Neck accessories: 
The half-sisters co-ordinate once again in evening faux leather ensembles, with Julien in a body-skimming Gauge81 snake-effect mini and Zoya wearing a black Rowen Rose jumpsuit. In the case of Monet, her double-breasted Versace rose blazer doubled as a dress which she accessorised with plenty of gold, while Audrey kept it cosy with cut-outs in a ribbed Fleur Du Mal bodysuit featuring a flattering sweetheart neckline.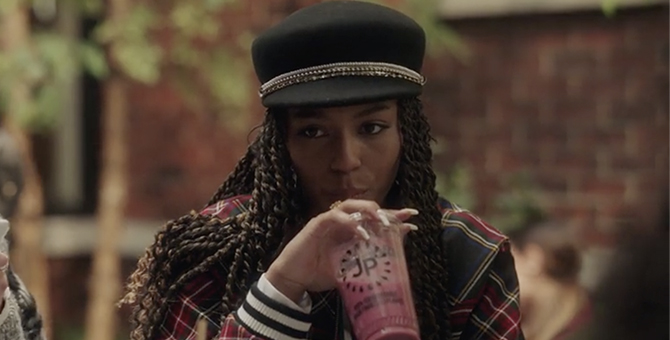 In good 'ol Y2K nostalgia, Monet brings back the baker boy cap, wearing a pearl-trimmed one by Eugenia Kim, which she pairs with a plaid skirt and bomber ensemble by Maje and Schutz's shiny studded loafers.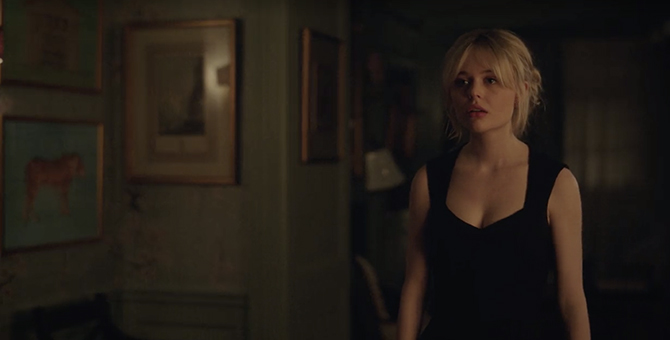 Audrey puts on a LBD from Dolce & Gabanna to put together a home dinner party in an effort to remind her mother everything she loves about New York. The classy dress exuded vintage glamour, even under an apron.
For the big Halloween bash, Julien and Zoya team up as famous sisters (they went with post-elevator Beyoncé and Solange) and their earrings stole the show: a pair of Amrita Singh Nello chandelier earrings were seen on Julien, while Zoya wore Deepa Gurnani's Tyra drop earrings. The ladies-in-waiting took on bustiers as catwalk queens Claudia Schiffer and Naomi, with Luna in Alexander McQueen lace and Monet opting for a studded denim dress by Moschino respectively. 
Bonus! A member of the OG cast made an appearance in the form of a dolled up Nelly Yuki in a pastel Sandy Liang fur coat.
Episode 6
Another day at Constance Billard, another pre-class photo op. Julien layers an AW20 Tommy Hilfiger menswear jacket with her chunky turtleneck knit and a striped python Fendi baguette. Today's photographer goes for a more regal look: Luna brings out the faux fur in a camel jacket by Theory, styled over a 525 rib-knit dress and knee-high Schutz snakeskin boots.
Plaid has been a mainstay for Zoya since episode one, but this particular Madewell flannel shirt jacket hit just right to give her a slight uptown-girl-grunge (teenaged little J anyone?) that she styles with a navy necktie and mini space buns.
Given that Audrey's been on hospital watch since the last episode, it's no surprise that fashion is hardly at the top of her mind. Even so, a girl never goes without her tote––she's seen carrying a canary Ferragamo studio bag that matches her phone. 
Julien gets serious in an all-black ensemble from Cinq A Sept and a Gucci Dionysus shoulder bag. After all, she's meeting with brand reps to discuss collaborations (and millions of dollars). Her comrade-in-arms-slash-manager dons a more relaxed dress that screams bohemian chic, featuring a folkloric print and fringed hems from Paco Rabanne's AW20 collection. 
It's dinnertime with the 'rents, and Zoya dresses to impress in a plush olive number from R13. Her confidence, or rather her desire to stand her ground at the table, is at an all-time high––even after Audrey makes a snide comment about Z looking more opera appropriate than meet-the-parents-friendly. She's one to speak: Ms. Hope came straight from the hospital and only had time to throw on a Victoria Beckham tuxedo coat to pull her (lack of) outfit together. 
On the other side of town, Julien takes to the streets in a Balenciaga upside down jacket over a white cropped tank and army pants. Accessories-wise, she keeps it casual with a single gold coin necklace from Maria Black and Stella McCartney's chain link cross-body bag in blue artificial leather. 
Stay tuned for more updates as new episodes are released.