Film, TV + Theatre
15 Addictive new TV shows and films to stream in June 2023
Eye candy
FEATURED IMAGES: SARAH TAI FOR BURO MALAYSIA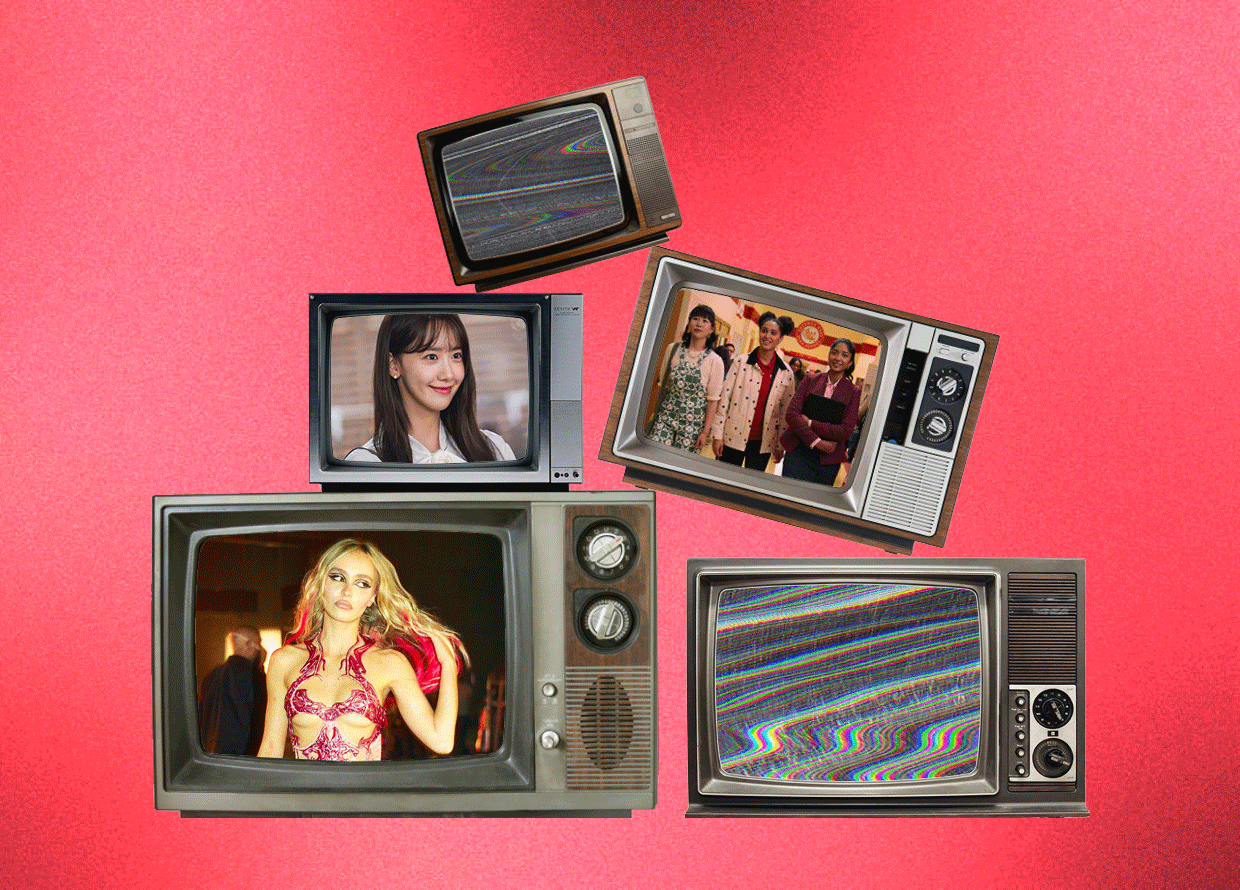 Looking for a new TV series or film to obsess over? This month's small-screen offerings have got you covered! From HBO's racy new series The Idol starring BlackPink's Jennie and a new season of Black Mirror on Netflix to the highly anticipated Secret Invasion on Disney+, there's plenty to get sucked into this month. Ahead, here are 15 new TV shows and films to stream in June 2023.
100 Years of Warner Bros. 
When and where: 1 June 2023 on HBO Go
Watch if: Warner Bros. is your favourite production studio 
If you love shows such as Friends and Big Bang Theory and films such as Lord of the Rings and The Dark Knight, you're in for a treat! In celebration of the studio's 100th anniversary, a four-part Max (previously HBO Max) Original documentary special narrated by Morgan Freeman has been released on its streaming platform. The documentary will dive deep into the fabled entertainment studio's origin and rise as the forerunner of Hollywood blockbusters. From exploring the dream of four brothers and a family betrayal to exclusive BTS clips and interviews from figures who brought the Wizarding World and the DC Universe to life, no stone will be left unturned. 
Watch it here.
The Idol 
When and where: 5 June 2023 on HBO Go and HBO (Astro Channel 411)
Watch if: You want to see BlackPink Jennie's acting debut
Starring: Abel "The Weeknd" Tesfaye, Lily-Rose Depp, Troye Sivan, Dan Levy, Da'Vine Joy Randolph, Eli Roth, Hari Nef, Jane Adams, Jennie Ruby Jane, Mike Dean, Moses Sumney, Rachel Sennott, Ramsey, Suzanna Son, Hank Azaria
From its popular lineup of singers-turned-actors who fans are eager to see debut on the small screen to controversy over its sexually charged script, The Idol remains one of the buzziest shows of the year. Following an aspiring singer's dream to be America's sexiest pop star, Jocelyn begins a dangerous relationship with a self-help guru and head of a contemporary cult.
Watch it here.
Never Have I Ever Season 4 
When and where: 8 June 2023 on Netflix 
Watch if: You're rooting for Devi no matter how many bad decisions she makes
Starring: Maitreyi Ramakrishnan, Poorna Jagannathan, Richa Moorjani, Darren Barnet, Jaren Lewison, John McEnroe, Ramona Young, Lee Rodriguez
The fourth season of the coming-of-age comedy series Never Have I Ever returns for its final run. The groundbreaking show on Tamil and South Indian representation sees Devi as the protagonist who has to navigate the throes of high school whilst coping with the loss of her father. Will Devi be able to sail through her senior year without any big mishaps and get the guy of her dreams?
Watch it here.
Bloodhounds 
When and where: 9 June 2023 on Netflix
Watch if: You love a good fistfight
Starring: Woo Do‑hwan, Lee Sang-yi, Huh Joon-ho
It's Robin Hood but imagine he's got Ong Bak-level fighting skills. If you're a fan of action scenes, Bloodhounds is chock-full of it. Blessed with iron fists, the series depicts two young boxers who band together with a benevolent moneylender to take down a ruthless loan shark who preys on the financially desperate.
Watch it here.
The Crowded Room 
When and where: 9 June 2023 on Apple TV+
Watch if: You're curious to see Tom Holland in a serious role 
Starring: Tom Holland, Amanda Seyfried, Emmy Rossum, Sasha Lane, Will Chase, Lior Raz 
If you're a fan of Spider-Man's acting chops, this is Tom Holland like you've never seen him before. Playing Danny Sullivan, the upcoming series follows the man as he is arrested after his suspected involvement in a shooting in New York City in 1979. A cat-and-mouse game ensues with curious interrogator Rya Goodwin (Seyfried) and soon, Danny's life story unfolds, revealing elements of the mysterious past that shaped him, and the twists and turns that will lead him to a life-changing revelation.
Watch it here.
The Zone: Survival Mission 2
When and where: 14 June 2023 on Disney+
Watch if: You picture yourself in these disaster simulations sometimes
Starring: Yu Jaeseok, Lee Kwangsoo, Kwon Yuri
Featuring an upgraded AI 2.0 that sets a series of increasingly difficult (and hilarious) challenges, the popular gameshow is back as the trio travels to some of Korea's most unique destinations to fight for survival. Whether it's desperately playing golf on a sinking island in the middle of the ocean or trying to escape a waterpark full of zombies, the stakes are higher than ever before!
Watch it here.
Black Mirror Season 6
When and where: 15 June 2023 on Netflix
Watch if: You question your reliance on technology way too much
Starring: Aaron Paul, Anjana Vasan, Annie Murphy, Auden Thornton, Ben Barnes, Clara Rugaard, Daniel Portman, Danny Ramirez, Himesh Patel, John Hannah, Josh Hartnett, Kate Mara, Michael Cera, Monica Dolan, Myha'la Herrold, Paapa Essiedu, Rob Delaney, Rory Culkin, Salma Hayek Pinault
After four years, the critically acclaimed anthology series is back for its sixth season, delving into a dystopian future run by technological advances. The dark and satirical series created by Charlie Brooker features five genre-bending episodes that promise to be the most unpredictable one yet.
Watch it here.
Extraction 2 
When and where: 16 June 2023 on Netflix 
Watch if: You want to see Chris Hemsworth blow up stuff
Starring: Chris Hemsworth, Golshifteh Farahani, Tornike Gogrichiani, Adam Bessa, Daniel Bernhardt, Tinatin Dalakishvili, Olga Kurylenko
Hemsworth reunites with the Russo brothers and returns as Tyler Rake in this high-octane action blockbuster film. After barely surviving the events of the first movie, Rake is tasked with another deadly mission: rescuing the family of a cruel Georgian gangster from the prison they are being held in.
Watch it here.
King the Land 
When and where: 17 June 2023
Watch if: You're a 2nd-Gen K-pop fan
Starring: Lee Jun-ho, Im Yoon-a, Go Won-hee
That's right, K-pop stars Jun-ho from 2PM and Yoon-a from Girls' Generation are playing lovers in this upcoming romance series! As if that's not reason enough to catch King the Land, there are a bunch of K-drama tropes we love: enemies-to-lovers, a tense inheritance fight, and an unsolved years-long mystery…
Watch it here.
Lies Hidden In My Garden 
When and where: 19 June on Prime Video 
Watch if: You're looking for another melodrama after The Glory
Starring: Kim Tae-hee, Lim Ji-yeon, Kim Sung-oh, Choi Jae-rim
Marking her return to the small screen after three years, South Korean superstar Kim Tae-hee returns as the protagonist of this upcoming tense drama. Based on the novel of the same name by Kim Jin-young, Lies Hidden In My Garden tells the tale of two women who live completely different lives. Chu Sang-eun (Lim Ji-yeon) is the victim of domestic violence and dreams of escaping her tragic reality whilst Moon Joo-ran (Kim Tae-hee) is a housewife with the perfect life…until a strange smell emanates from her backyard.
Watch it here.
Spy In The Ocean
When and where: 20 June 2023 on UnifiTV channel 501, Astro channel 554 and BBC Player
Watch if: The ocean instils wonder in you 
If you don't suffer from thalassophobia, this upcoming BBC Earth documentary is up your alley. Featuring cutting-edge spy cameras—called Spy Creatures—these devices take viewers deep into the ocean and reveal the surprising and hidden lives of its extraordinary creatures. These Spy Creatures are designed to look like the animals they're spying on, so expect a Spy Whale, Spy Lobster and more to show up in this ocean adventure. 
Watch it here. 
Secret Invasion 
When and where: 21 June 2023 on Disney+
Watch if: You've been patiently waiting for the Skrull arc 
Starring: Samuel L. Jackson, Ben Mendelsohn, Cobie Smulders, Martin Freeman, Kingsley Ben-Adir, Charlayne Woodard, Killian Scott, Samuel Adewunmi, Dermot Mulroney, Christopher McDonald, Katie Finneran, Emilia Clarke, Olivia Colman, Don Cheadle.
Missing Nick Fury? You won't have to wait long to see him again as he returns in Marvel Studio's upcoming espionage thriller. Set in the present-day MCU, Fury learns of a full-scale invasion of Earth by a faction of shapeshifting Skrulls. Together with his allies, they must race against time to stop an imminent Skrull invasion and save humanity. The only problem is, are these people who they really appear to be? 
Watch it here. 
Revenant
When and where: 23 June 2023 on Disney+
Watch if: You lean towards the supernatural side of things 
Starring: Kim Tae-ri, Oh Jung-se
From the mind of one of Korea's most acclaimed writers, Kim Eun-hee (Kingdom, Signal, Sign), comes a breathtaking new supernatural series of demons and death. In Revenant, the South-Korean occult mystery thriller tells the story of a girl whose life is met with tragedy at every turn. The answer to her cursed existence is revealed when she meets a man who can see demons. Together, the pair uncover a demonic doorway and aim to break the curse that has destroyed both their families. 
Watch it here. 
Heartbeat 
When and where: 26 June 2023 on Prime Video
Watch if: Vampires are your thing 
Starring: Ok Taec-yeon, Won Ji-an, Park Kang-hyun, Yoon So-hui
And here's yet another K-drama on our list—this time we're doing a 360 and recommending a fluffy romance! This fantasy rom-com follows the budding relationship between a vampire who desires to experience a heart-throbbing love and a cold-blooded woman who has been hardened by life. Can the fanged man break down her walls and get the love story he's looking for? 
Watch it here. 
Hijack 
When and where: 28 June 2023 on Apple TV+
Watch if: You think about the possibility of this happening 
Starring: Idris Elba, Archie Panjabi, Max Beesley, Neil Maskell, Christine Adams, Eve Myles, Jasper Britton, Harry Michell, Aimee Kelly, Mohamed Elsandel, Ben Miles
If your irrational fear is the possibility of your plane being hijacked mid-air, perhaps Idris Elba as the skilled negotiator Sam Nelson can help soothe your worries. Hijack is a seven-part thriller that depicts the journey of a hijacked plane on its way to London over a seven-hour flight. Using his guile and quick wit, Nelson must find a way to save the lives of all the passengers before things get out of hand. 
Watch it here.
For more TV shows and film recommendations, head here.
| | |
| --- | --- |
| SHARE THE STORY | |
| Explore More | |