Film, TV + Theatre
17 Most anticipated movies of 2023 that we want to watch now
Top-tier features
PHOTO: Courtesy of Lionsgate Productions / PHOTO: Courtesy of Warner Bros. Studios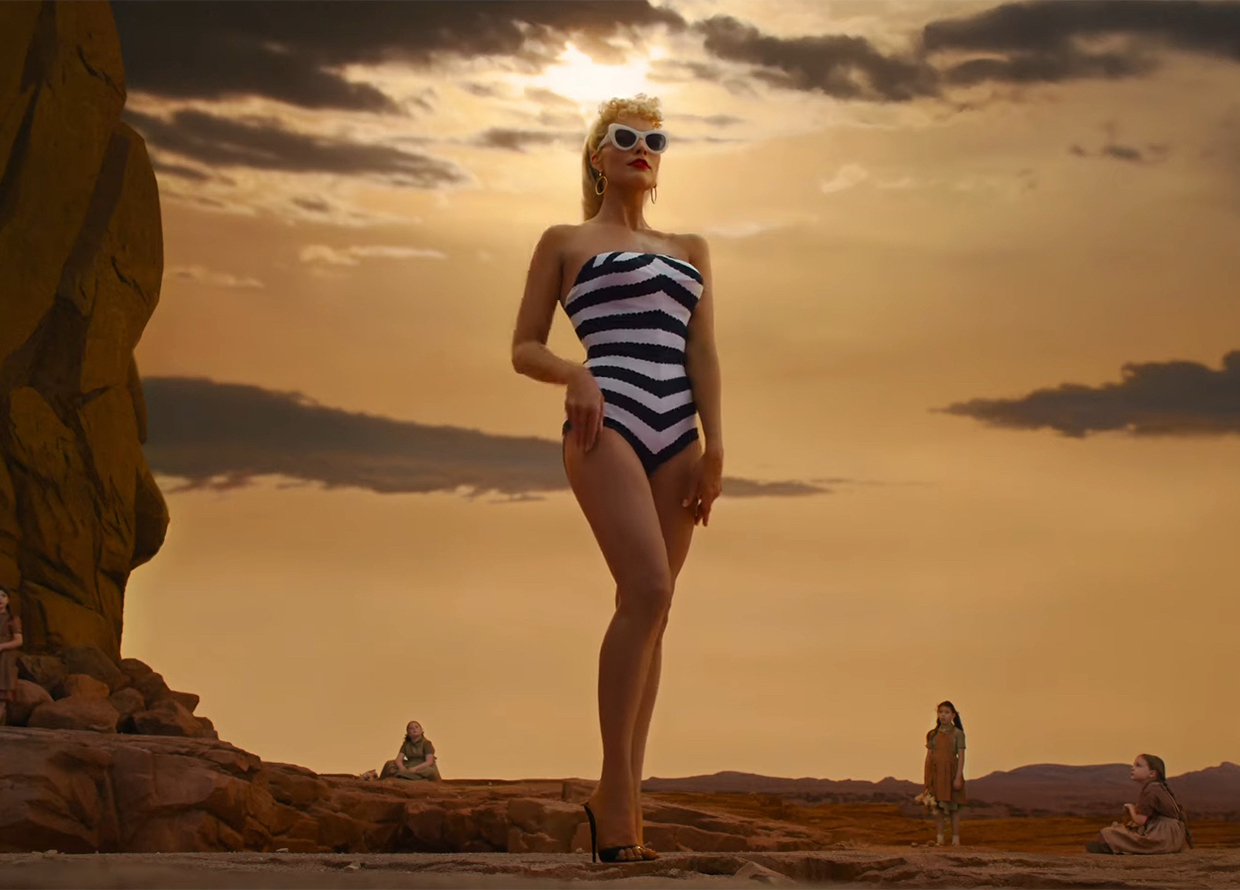 2023's cinematic world is already looking good as teasers and trailers for upcoming releases have gotten movie lovers pumped for what's to come. From nail-biting action blockbusters, heart-thumping horrors to exciting franchise revivals, it's safe to say that next year's roster of releases will satisfy every movie buff's needs in plot, genre, and visuals. If you're more of a home cinema type of viewer, there are also plenty of upcoming small-screen releases next year.
Ahead, we've gleaned 17 trailers of the most anticipated movies of 2023 to mark on your calendars. 
M3gan
When: 5 January 2023
Starring: Amie Donald, Allison Williams, Violet McGraw, Ronny Chieng
As if a haunted doll wasn't enough to scare audiences, the James Wan-produced film M3gan ups the ante with an AI doll with killer instincts. The film follows a brilliant roboticist named Gemma who develops a life-like doll prototype called M3gan (short for Model 3 Generative Android) to become a child's best friend and a parent's greatest ally. When she gains custody of her recently-orphaned niece, Cady, she enlists the help of M3gan in her newfound parenting role. However, things take a murderous turn when M3gan takes the job of protecting Cady a little too seriously. The trailer for the horror sci-fi film has gone viral since it came out, largely thanks to the snippet of M3gan busting out some creepy TikTok-inspired dance moves—you have been warned. 
Knock at the Cabin 
When: 3 February 2023
Starring: Jonathan Groff, Dave Bautista, Ben Aldridge, Rupert Grint, Abby Quinn, Nikki Amuka-Bird, Kristen Cui
Based on the popular novel The Cabin at the End of the World by Paul Tremblay, this psychological horror film tells the story of two husbands and their adopted daughter who take a vacation in a remote cabin. Their quiet holiday ends when they are taken hostage by four strangers who force them to make an unspeakable decision to avoid the apocalypse. 
Magic Mike's Last Dance 
When: 10 February 2023
Starring: Channing Tatum, Salma Hayek, Matthew McConaughey, Alex Pettyfer, Caitlin Gerald
Channing Tatum is back to get you hot and bothered again in 2023 with the sequel to Magic Mike XXL. The upcoming comedy-drama will see Mike Lane taking to the stage again after a wealthy socialite lures him with a proposition he can't refuse. After his previous business deal went bust, Lane will have to put all he has on the line and whip up a roster of hot new dancers into shape.
Ant-Man and The Wasp: Quantumania 
When: 17 February 2023
Starring: Paul Rudd, Michelle Pfeiffer, Michael Douglas, Evangeline Lilly, Bill Murray, Jonathan Majors, Kathryn Newton
The atom-sized heroes are back for some epic action—this time, by exploring the Quantum Realm. Teased in previous Marvel movies, Quantumania will finally delve into this universe of strange creatures, objects, and of course, the new big bad of the franchise.
Cocaine Bear 
When: 23 February 2023
Starring: Ray Liotta, O'Shea Jackson Junior, Kristofer Hivju, Keri Russell, Jessie Tyler Ferguson, Brooklynn Prince
What happens when a black bear ingests a large amount of cocaine? This dark comedy thriller directed by Elizabeth Banks (who played Effie in The Hunger Games) tells the true story—yes, you read that right—of a drug smuggling case gone wrong. While the real-life story ended with the bear overdosing from its cocaine high without any attempted murders, Cocaine Bear has no qualms about taking creative liberties and sees the apex predator on a drug-fuelled rampage. 
Shazam! Fury of the Gods 
When: 17 March 2023
Starring: Zachary Levi, Asher Angel, Grace Fulton, Rachel Zegler, Ross Butler, Helen Mirren, Lucy Liu, Djimon Hounsou
In the second installment of the DC Comics franchise, teen Billy Batson AKA Shazam and his group of foster-siblings-turned-superheroes return to the battlefield to take on the villainous Hespera and Kalypso, daughters of the Greek titan Atlas. As if growing up wasn't hard enough…
John Wick: Chapter 4 
When: 24 March 2023
Starring: Keanu Reeves, Bill Skasgård, Ian McShane, Lance Reddick, Donnie Yen, Rina Sawayama, Scott Adkins, Hiroyuki Sanada
With the bounty on his head ever increasing, the fourth chapter will see legendary hitman John Wick take his fight to the powerful players of the secretive High Table, from New York to Japan. Since the first John Wick film, the character has spawned plenty of memes and catchphrases, and quickly assimilated into mainstream pop culture. While this highly awaited action film guarantees top-tier gun-fu, the big question remains: we had a pencil and book in previous films, so which object will John Wick use to take down his victims next? 
The Super Mario Bros. Movie 
When: 7 April 2023
Starring: Chris Pratt, Anya Taylor-Joy, Jack Black, Charlie Day, Seth Rogan, Keegan-Michael Key
In the animation world, get ready for an adaptation of an iconic video game! We all know the story in Super Mario but that doesn't mean we're any less excited about the upcoming movie. Voiced by Chris Pratt, Mario is a plumber who travels through an underground labyrinth with his brother, Luigi, to save a captured princess.
Guardians of the Galaxy Vol. 3 
When: 5 May 2023
Starring: Chris Pratt, Zoe Saldaña, Dave Bautista, Karen Gillan, Bradley Cooper, Vin Diesel, Will Poulter, Sean Gunn
Marvel's team of misfit superheroes return to show off their uncoordinated teamwork and cheeky shenanigans. Directed by James Gunn, the latest instalment also looks to be their most emotional one yet with explorations of Rocket's past, adjusting to the loss of present-Gamora, and the emergence of a comic-favourite character turning the tides.
The Little Mermaid 
When: 26 May 2023
Starring: Halle Bailey, Jonah Hauer-King, Melissa McCarthy, Simone Ashley, Daveed Diggs, Jacob Tremblay
While the casting of Ariel has divided Twitter, it's without a doubt that many are eagerly awaiting the live adaptation of the Disney classic. It is a fan favourite after all, and even a short snippet of Bailey's singing was enough to get audiences excited to watch the beloved mermaid's love story unfold.
Transformers: Rise of the Beasts 
When: 8 June 2023
Starring: Anthony Ramos, Peter Cullen, Dominique Fishback, Tobe Nwigwe, Peter Dinklage, Michelle Yeoh, Pete Davidson
Say what you want about the Transformers franchise but we can all agree that it delivers good ol' action that's enjoyable and fun. If you've been missing the shapeshifting automobiles, Transformers: Rise of the Beasts will take you back to the 1990s and introduce new breeds of Transformers—the Maximals, Predacons, and Terrorcons—to join the ancient battle between Autobots and Decepticons.
Elemental 
When: 15 June 2023
Starring: Leah Lewis, Mamoudou Athie
They say opposites attract, but do they really? The Pixar animation takes place in Element City, where fire, water, land, and air residents live together. While seemingly contrasting in nature, Elemental explores the friendship between Ember, a quick-witted and fiery young woman and Wade, a go-with-the-flow guy, and how much they actually have in common.  
Indiana Jones and the Dial of Destiny 
When: 29 June 2023
Starring: Harrison Ford, Phoebe Waller-Bridge, Antonio Banderas, John Rhys-Davies, Shaunette Renee Wilson, Toby Jones, Mads Mikkelsen
The legendary hero archaeologist puts his hat and whip back on for the highly awaited fifth instalment of the iconic Indiana Jones franchise. The initial release date was set for 2019 but was unfortunately pushed back for several years. Luckily for fans of the action adventure films, Dial of Destiny finally has a set release date for next year. John Williams, who has scored each Indy adventure since the original Raiders of the Lost Ark in 1981, also returns to compose the score.
Mission: Impossible – Dead Reckoning Part One 
When: 14 July 2023
Starring: Tom Cruise, Rebecca Ferguson, Simon Pegg, Hayley Atwell, Vanessa Kirby, Angela Bassett, Pom Klementieff
Another Mission: Impossible film means even more palm-sweating action and bigger, daring stunts—as in, riding-a-motorcycle-off-a-literal-mountain big. With Cruise filming the biggest stunt in cinema history for the final instalment, we're convinced the 60-year-old is an actual secret agent at this point, but we're not complaining. Just give us more Cruise jumping off of precarious objects, please!
Barbie 
When: 21 July 2023
Starring: Margot Robbie, Ryan Gosling, Will Ferrell, Ariana Greenblatt
Jaw: dropped. Hands: shaking. We're still not over the teaser trailer for one of the most awaited films of the decade (not an exaggeration). Fans have been dreaming of a live action adaptation of Barbie and director Greta Gerwig has finally made it happen! Margot Robbie stars as the beloved doll who, after being expelled from Barbieland for being a less than perfect-looking doll, sets off for the human world in search of true happiness. Not disappointingly, the trailer promises all the pink and glam in typical Barbie fashion.
Oppenheimer 
When: 21 July 2021
Starring: Cillian Murphy, Robert Downey Jr., Florence Pugh, Matt Damon, Emily Blunt, Jack Quaid
Another exciting film releasing on the same day is Christopher Nolan's latest endeavour that explores the true story of physicist J Robert Oppenheimer, who together with a team of scientists, develops the atomic bomb. With currently 22 million views in just three days, fans are eagerly awaiting this release as Murphy, who has been a regular in Nolan's features, is finally playing a leading role in the director's film.
The Hunger Games: The Ballad of Songbirds and Snakes 
When: 17 November 2021
Starring: Viola Davis, Rachel Zegler, Hunter Schafer, Tom Blyth, Ashley Liao, Peter Dinklage, Josh Andrés Rivera
Another beloved series that's getting a Hollywood revival is the worldwide phenomenon, The Hunger Games. We all know him as the tyrannical president of Panem, but The Ballad of Songbirds and Snakes will introduce the 18-year-old Coriolanus Snow who sees a chance to change his fate when he mentors Lucy Gray Baird, the female tribute from District 12. Even though only a teaser trailer has been released, book readers can't wait for the movie adaptation that will also deep dive into the Hunger Games lore and its creation.
For more movie reads, head here.
| | |
| --- | --- |
| SHARE THE STORY | |
| Explore More | |