Now that K-drama series It's Okay To Not Be Okay has finally wrapped up, who is feeling as misty-eyed as we are? While some of us have caved and rewatched the entire series, let's just openly declare that we'd miss both leads Kim Soo-Hyun and Seo Ye-Ji and their visually-engaging presence (their chemistry can just about melt our screens, if we have to be honest).
On that note, while you may have noticed Seo Ye-Ji's impeccable style throughout the series, let's take a moment to deep dive into her beauty looks. Her character has never faltered on the beauty front, consistently delivering talked-about beauty moments to complement her ensembles. Described to be egoistical and arrogant (due to her antisocial personality disorder), her character Ko Mun Yeong wields a polished appearance as a form of self-defence, from her coiffed updos to her perfectly-manicured nails.
Ahead, we break down the best beauty moments that Seo Ye-Ji pulled off as Ko Mun Yeong in It's Okay to Not Be Okay. Warning: major spoilers ahead!
Episode 1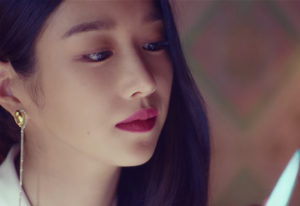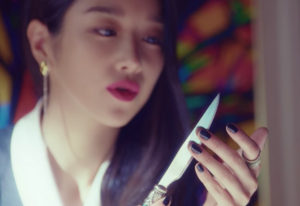 The series introduces Ko Mun Yeong on a startling note in the pilot episode, highlighting her obsession with shiny sharp objects in her Addams-family-inspired (in the words of her publicist) getup. Her morbid-chic lewk comprised a matte pink-red lip, side-swept natural waves, and a noir manicure.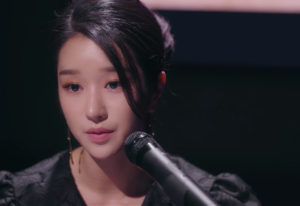 Later on, we glimpsed her signature eye makeup that we'll be seeing more throughout the series: straight brows, a hint of gold glitter on her lower lash line and full faux lashes. An updo with bangs completed her look.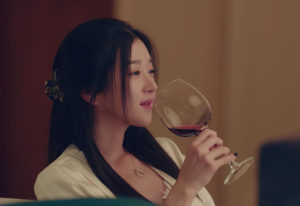 Noteworthy mention: her white tortoiseshell jawclip that pulled her hair back as she lounges with a glass of wine.
Episode 2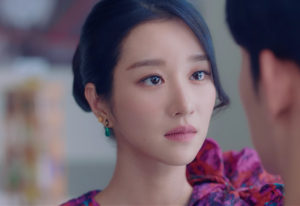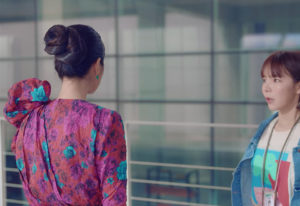 The second episode opened with a strong beauty look that complemented her bold Magda Butrym minidress. Ko Mun Yeong's signature eye makeup was spotted yet again, this time offset with a rose-tinged nude lip. Here, we see her hair up in an intricate rose chignon bun—discern the parallels between her dress's giant floral knot on her shoulder—with a loose tendril by the side.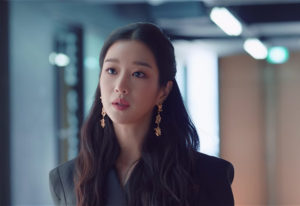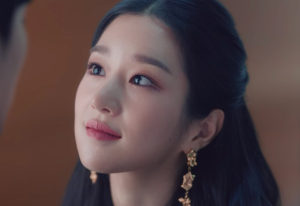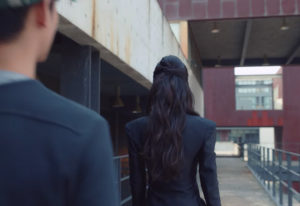 For her book signing event, Seo Ye-Ji's character brought her best foot forward with yet another gothic-glam getup: Voluminous loose waves in a half-up, half-down style, a peach lip, and a subtle double winged liner in brown. She ain't playin' with this look.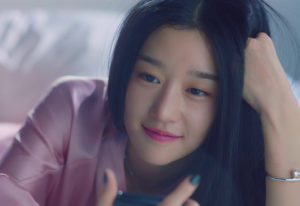 A swipe of pink lipstick for a youthful countenance, minimal eye makeup and her hair down (albeit lightly mussed) as she ponders the best way to stalk the apple of her eye.
Episode 3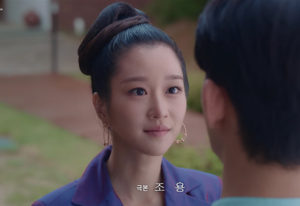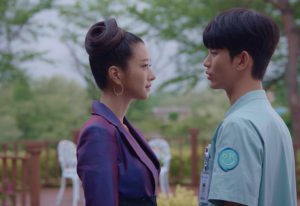 Ko Mun Yeong flaunts another flamboyant updo as greets Moon Gang Tae excitedly—this time a spiral bun atop her head with no strands out of place.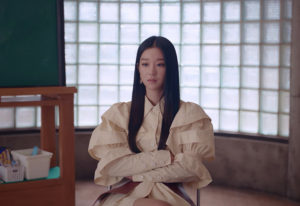 Later in the episode, she lets her hair down as she hosts her first literature class—middle-parted sleek, straight locks were juxtaposed with her voluminous sleeves for a novel contrast.
Episode 4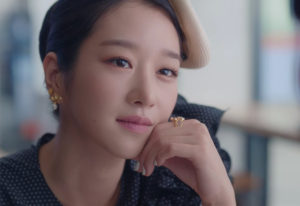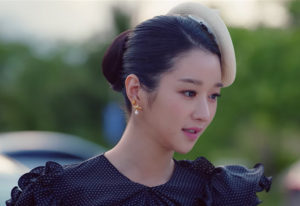 A fascinator was the final finishing touch to her retro-inspired look as she and Moon Gang Tae share a heartfelt moment in a convenience store. That, and a pale pink lip colour and mod white manicure to seal the deal.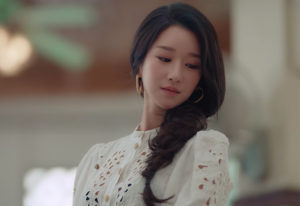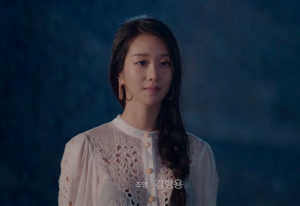 Our favourite look of this episode: a side-swept messy fishtail braid that looked good both dry and damp that paired beautifully with her Zimmerman frock. No volume? No problem—check out how you can revive your tresses here.
Episode 5
Ko Mun Yeong repping her ice queen enigma as she pensively gazes out of her balcony. Stunning waves? Check. (We'd like to speak to her hairstylist please).
Episode 6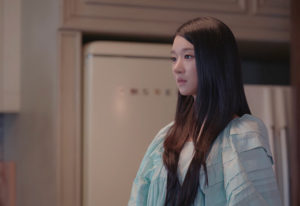 We could only wish to look this put-together first thing in the morning—her I-woke-up-like-this look is goals here i.e. layered locks that looked blown out for a smidgen of volume.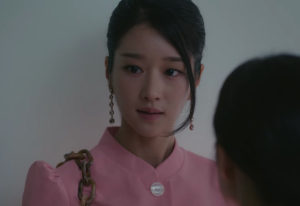 Her preppy-in-pink look is most definitely goals here—but we're enamoured with her classic chignon and stray loose strand that framed her face.
Episode 7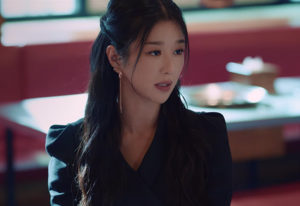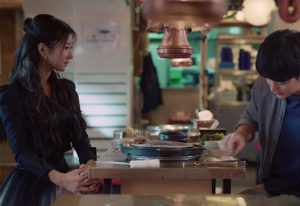 Her glamorous getup may not be something we'd don for a BBQ, but Ko Mun Yeong makes us want to look this good while picking meat right off the grill. We like this variation of a half-up hairdo with a twist, coupled with loose waves and a teensy bit of bangs to soften her look.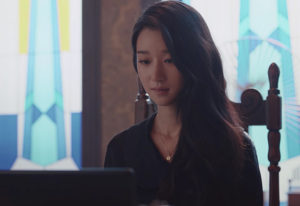 The 'messiest' we've seen her hair so far (until Episode 8, that is): mussed tresses on one side for her work-from-home look—we're definitely taking notes.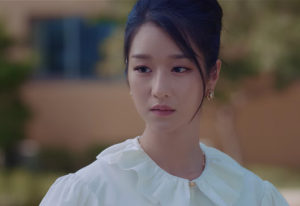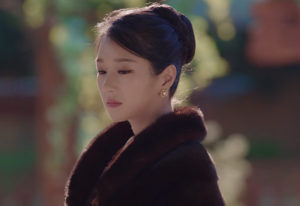 We spotted a high updo once again, this time to complement her regal look—and signature icy gaze. A pale pink matte lip topped off her beauty look with aplomb.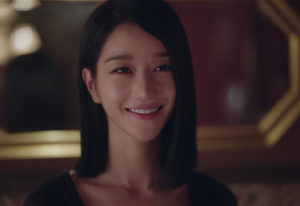 We glimpsed a satisfying bit of character growth at the end of this episode. Ko Mun Yeong gets a hair cut by Moon Gang Tae—a symbolic gesture that doubled up as a much-welcomed beauty transformation.
Episode 8
I mean, how chic does her ultra-straight lob look here? BRB—checking out hair straighteners online right now. Tip: tuck it behind the ear on one side for an edge.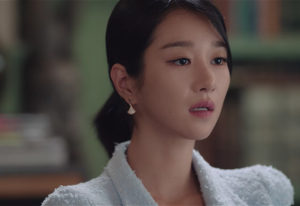 Seo Ye-ji's character sports an extended flick here, but it's not your average winged look. Her eyeliner is drawn downwards to give her eyes a rounded, more youthful appearance—also termed the "puppy liner" that was trending in K-beauty a few years ago.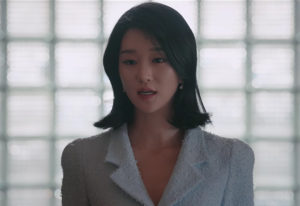 If you're running out of ideas on how to style your lob, take a leaf out of Ko Mun Yeong's beauty book—don't be too annoyed when your shoulder-length hair flips outwards. Swap your flat iron for a hair dryer or a curling iron to give your ends a stylish flick.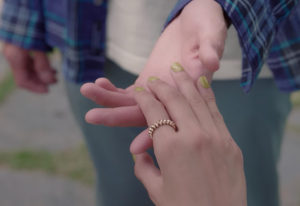 It wasn't just the poignant end of this episode that had us starry-eyed—Ko Mun Yeong sports this season's It-colour for nails: a pale chartreuse shade that complemented her powder blue tweed outfit.
Episode 9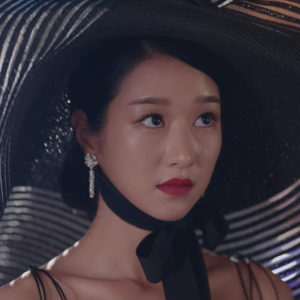 No one does OTT quite like Ko Mun Yeong. Her 'day trip' look is worthy of a red carpet outing in Cannes in the heat of summer. We're obsessed with her '50s-inspired look i.e. a crimson lip and sun-kissed dewy glow.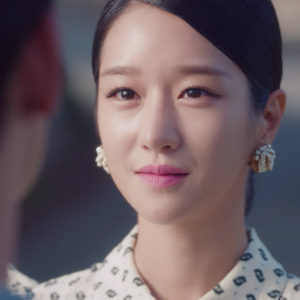 Right before Kim Soo Hyun set our hearts aflutter, we glimpsed Ko Mun Yeong's pink lip and perfectly-in-place lashes—how stunning does she look here?
Episode 10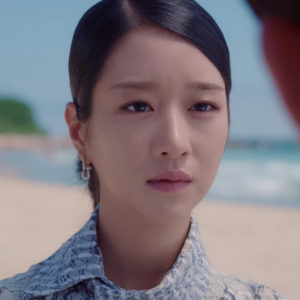 Dialling it down with a matte nude-pink lip and fine, straight brows in a subtle brown. If this scene didn't leave you teary-eyed—aside from the brothers' meltdown earlier on—we're not quite sure what will.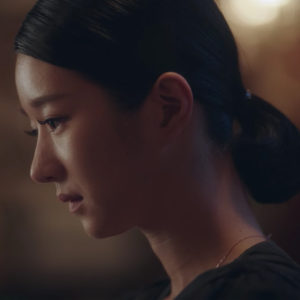 Her birthday beauty look comprises a low sleek ponytail and full, curled lashes.
Episode 11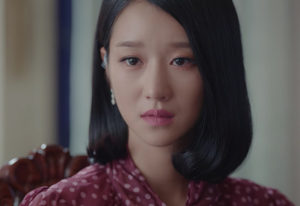 Ko Mun Yeong lets her hair down in more ways than one in this episode. Her lob takes on an polished edge with ends curled in for an elegant look here. A matte rose lip elevates her daytime look altogether.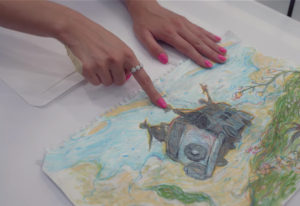 The first time we're seeing her wear a vivid nail colour (scroll up for evidence)—a bold pink to match her purposeful stance this episode.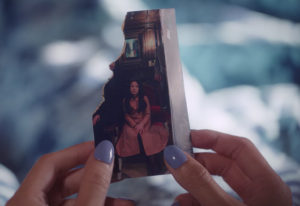 Seo Ye-ji's characters gets a nail colour change as she reminisces about her childhood—this time a periwinkle blue that's very much on trend (more pastel nail inspo here).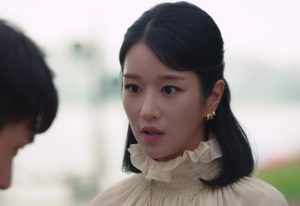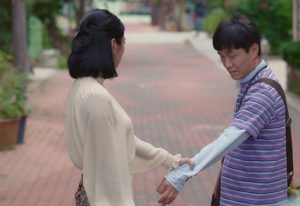 Once again, she proves that lobs don't always have to be boring if you know how to style it right. Her hair is seen in a half-up, vintage-inspired 'do here—we love her faux bangs and gently-curled ends.
Episode 12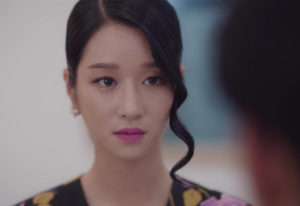 Seo Ye-ji's character ups her beauty game this episode with a few note-worthy looks we're obsessed with. In this scene, a loose curl frames her face while her hair is pulled back in a low ponytail, while her light fuchsia lipstick complements her floral frock beautifully.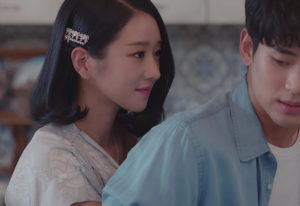 A foolproof way to look put-together in a few minutes? Clip hair back with statement-making hair slides. She wears two Miu Miu crystal-embellished hair slides here—score them off Farfetch now.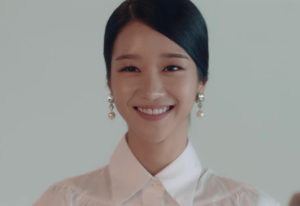 She brings her best face forward for a family portrait with a generous dusting of gold glitter around her eyes, nude lip and sleek ponytail.
Episode 13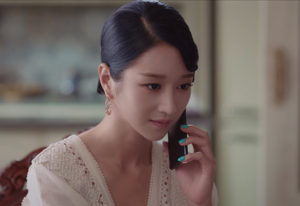 Green nails, retro-inspired, finger waves (as bangs) and an understated makeup look here make a winning combo.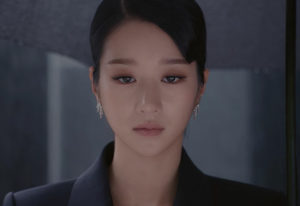 To match the sombre ambient of this scene, her smokey eye takes on a darker, nuanced tone; while a nude lip and a clean hairdo complement her ensemble.
Episode 14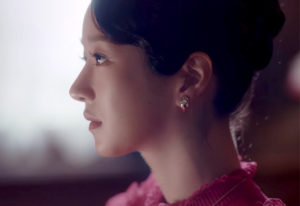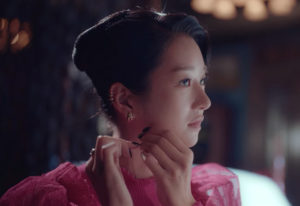 The most dramatic of looks so far, Ko Mun Yeong wears her nails black and hair up in an elaborate updo to brace herself for a confrontation with her mother. Extra points go to her stunning jewellery and head-turning crimson dress that pretty much made this look.
Episode 15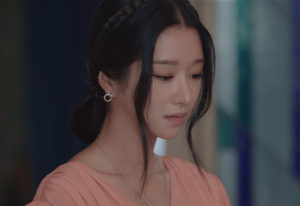 Her hair game definitely killed it in this episode—here, a Grecian-inspired braided ponytail with two loose strands to frame her face. How chic is that braided "hairband" that also served as a hair tie around her ponytail?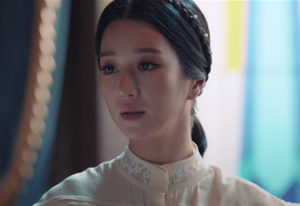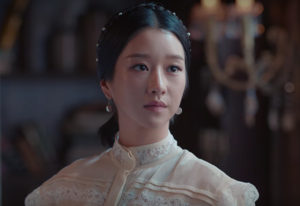 For this fairytail-worthy look, pearls dotted her braided hairband to match her pearl earrings and ivory top.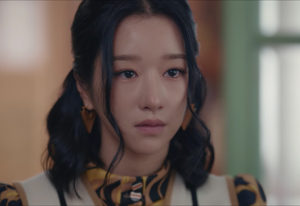 Now here's how you can make summer-ready waves work for a lob. A half-up 'do complemented her arresting Louis Vuitton look to a tee.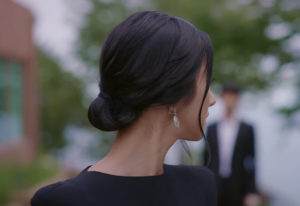 | | |
| --- | --- |
| SHARE THE STORY | |
| Explore More | |