Thursday, 9 April 2020
8:30am
After my three alarms ring in a span of 10 minutes, I finally peeled my eyelids open and start on rolling around in bed—it's as essential as brushing my teeth in the mornings. I then check my phone for Whatsapp messages, emails, and then Instagram—in that order.
8:45am
I permit myself 15 minutes of rolling, tops. Otherwise I'd never get out of bed and may possibly fall back into sleep. Washed up, looped my hair into a bun and downed 1L of water.
9:15am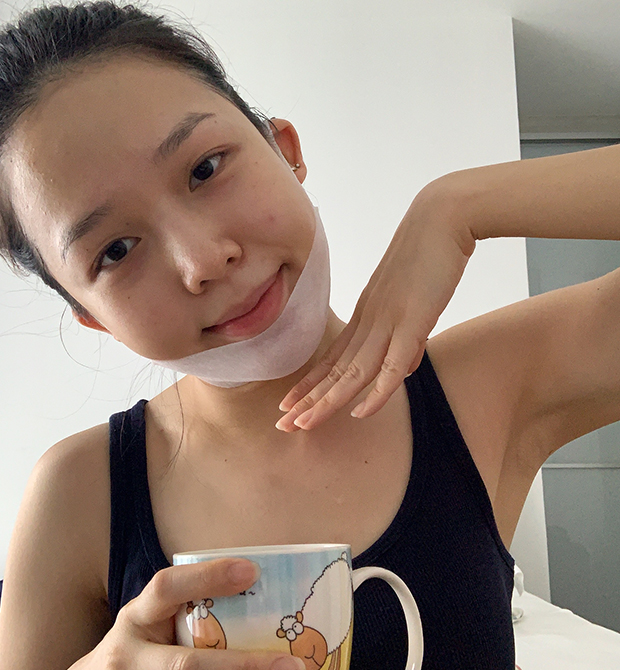 I discovered a stubborn zit rearing its ugly head (right before tonight's BURO Hangouts: Live!) and I'm a little irked by it—especially since it's right smack in the middle of my cheek.
So, I decided on a quick daytime multi-masking session with Sothys' new Perfect Shape Stretch Mask and Origins' GinZing Refreshing Mask to Wake Up Tired Skin (that, I most definitely have).
The former has botanical extracts to give the facial contours an instant lifting effect, while the latter is my go-to for a skin pick-me-up (although, sadly, it's been out-of-stock for a while now and I'm down to the final squeeze of my last tube).
Rooted myself to my desk and started on work.
9:30am
15 minutes later, I remove said masks and slap on my current AM beauty routine: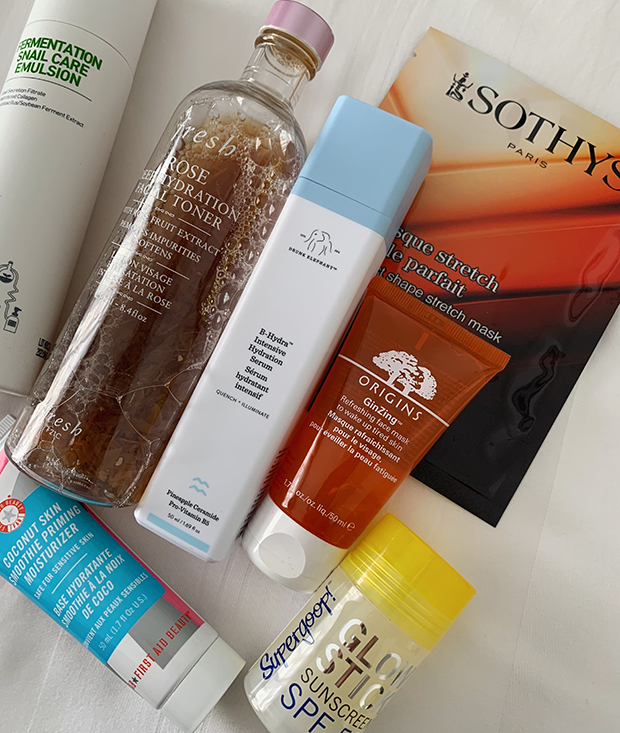 Fresh Rose Deep Hydration Facial Toner – one of my favourite alcohol-free toners
Swanicoco Fermentation Snail Care Emulsion – leaves my skin feeling ultra soft (I use it as a pre-serum); also, it doesn't smell anything like snail, if you're wondering
Drunk Elephant B-Hydra™Intensive Hydration Serum – only a few weeks since I've started on this, but it doesn't break me out and I like that it's fragrance-free
First Aid Beauty's Hello FAB Coconut Skin Smoothie Priming Moisturiser – great for dry skin, but I'm not a huge fan of the scent
Supergoop! Glow Stick Sunscreen SPF 50 – great for that glowy effect but skip if you've got oily/combo skin
9:45am
Headed downstairs for a quick bite (banana, and whatever I find in the fridge; today it's a slice of Swiss roll) and to refill my water bottle. Then, back to my work station.
11am
I encountered some tech issues with the site, no thanks to my ISP. It seems like Red isn't the only one that technology has a grudge against. After liaising with the tech team, we managed to work through some kinks.
12pm
I decided to make pre-lunch dessert (it's not a thing, but it should be one) because I felt like it—and also because my family's lunch hours have been decidedly pushed during this MCO period. I attribute it to late breakfasts on a daily basis.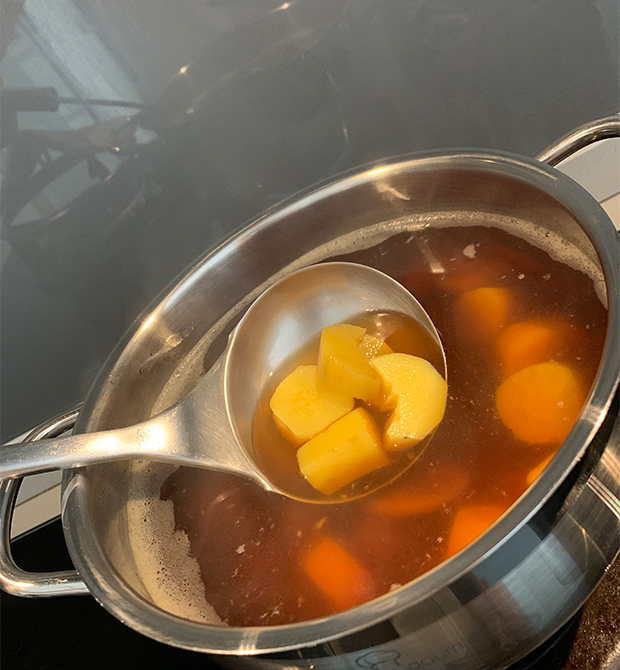 I found a bag of sweet potatoes in the fridge so sweet potato ginger soup it is! After peeling the skins off and chopping them into chunks, I tossed the potatoes into a pot of boiling water, ginger slices and screwpine (pandan) leaves.
I let it simmer until the potatoes get soft (about seven to 15 minutes, depending on how large the chunks are), then I removed the leaves and added brown sugar to taste.
A bowl of this later and I'm back to work.
2pm
It's finally lunch time! The matriarch came through with the best fried Hokkien noodles and I wolfed it down in 20 minutes.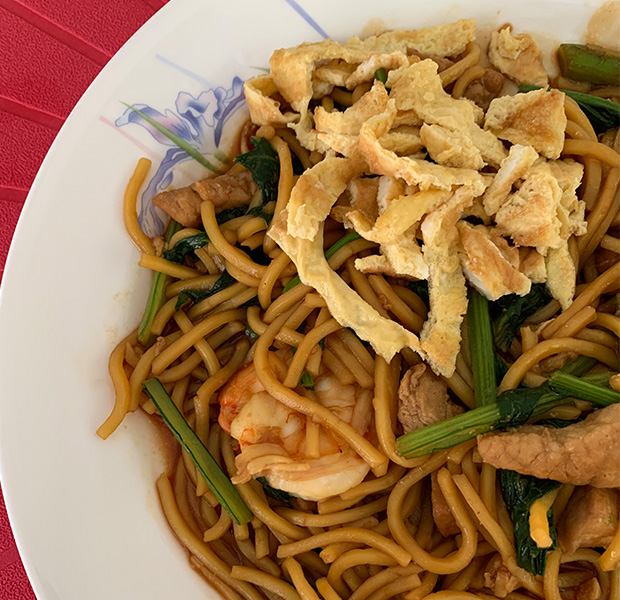 Gotta say that this #WFH sitch has made me realise how much I missed my mum's cooking. With 4/5 of the household working long hours on a daily basis, it isn't often that we get a chance to sit down for a meal together—let alone for my mum to whip up a spread.
Three weeks down and I'm fortunate to be spending family time bonding over meals, from the making of to dining together.
3:30pm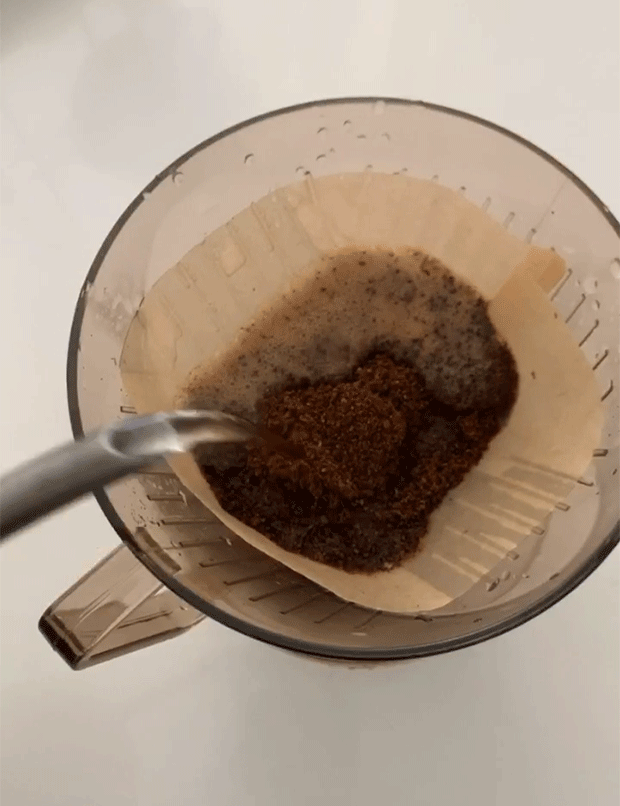 After looking for some nature-scented essentials for this story, my eyes started to feel the sheer weight of a food coma.
Coffee calls!
I got my trusty coffee dripper out for a quick pour over. Can you tell that I ran out of filters from the ill-fitted one above? (I bought these in the wrong size months back but good thing my family kept 'em till now.) Beggars can't be choosers and I'm honestly happy to be enjoying a cup of black coffee every afternoon. *laugh/cry emoji
4:15pm
Work, work and work.
Occasional stretches because a good posture isn't one of my better traits.
5pm
Headed to my siblings' rooms to bug check in with them.
Others may have the cutest pets to interrupt their mundane #MCO days, but seeing how I don't have one, I'm glad I have company in the form of a sister and brother (:D)—they may or may not be locking their doors after my umpteenth time barging into their rooms.
Constant reapplication of hand cream (two tubes currently sitting on my work station).
6pm
Got into a mini headspace with my playlist as background music.
6:30pm
I had an early dinner today since BURO Hangouts: Live is happening tonight at 8:30pm, hosted by yours truly and Red. Catch a recap of the first episode that aired this past Tuesday here, featuring our Fashion Editor Joan Kong and fashion designer Melinda Looi.
Cleaned up after dinner; proceeded to get ready for a quick Instagram Live rehearsal sesh—crossing fingers we don't get peaky WiFi halfway through.
8pm
After preparing all the makeup I'll be using for the BuroBeautyBattle, Red and I started on the rehearsal (yes, it was our second rehearsal, and yes we're competitive).
We may just be the only few members (including intern Kelly) in the team with spotty WiFi connections, evident from our frozen faces and often-dropped calls during team video meetings.
8:30pm
The second episode of BURO Hangouts: Live is now, well, live!
Red's obviously acing at hosting—we chat for some and then she kickstarted the No-Mirror Makeup Challenge. Her reference: Blondie's Debbie Harry at an Andy Warhol shoot i.e. bold eyes and equally bold lips—but with one product.
8:40pm
Red is making red lipstick work for her eyes, lips and cheeks. Beauty hack 101, girls.
Her unparalleled confidence in drawing a winged liner without a mirror is making me gulp in anxiety, and caution her against poking her eyeballs.
Her final look is fire and we stan.
8:45pm
Now it's my turn to attempt making up sans mirror. The look I had for the day is basically everything pink; I hope it translates to a pretty-in-pink look instead of a pink eye (and a bad sunburn). But we'll see.
8:50pm
And it's done-zo with the help of Red's verbal cues and a lot of questions from my end i.e. "How do I look?"; "Is it enough pink?"; "Should I tightline my eyes?"; "Can you tell that there's enough glitter?".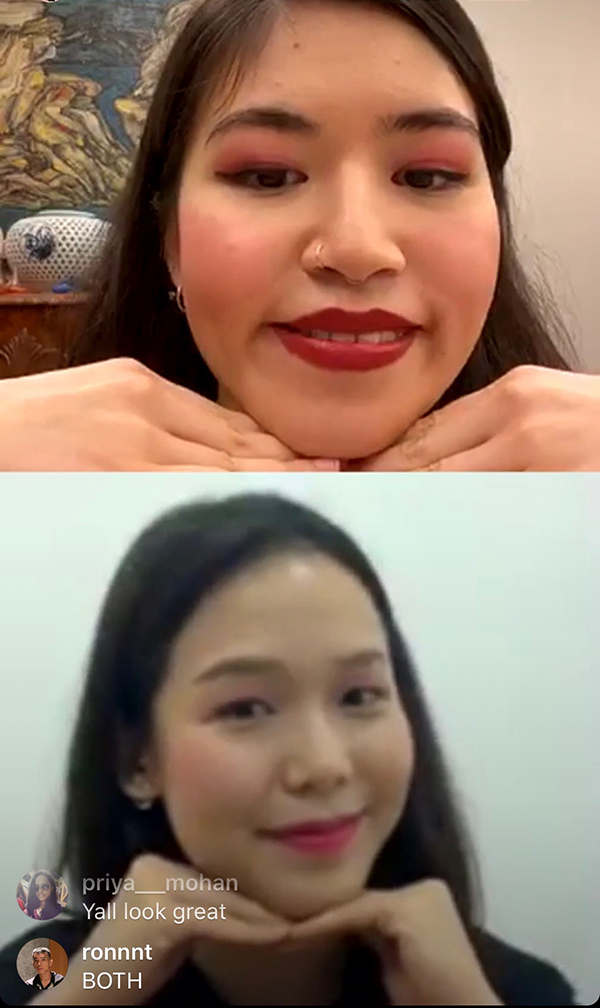 A little sneak peek of our final looks.
Good news: we don't look like clowns. Not-so-bad news: I probably won't wear this out (but Red will).
I'd say we fared well for a mirrorless challenge, especially since we didn't hold back with colour. Fun fact: it's been eons since I've had fuchsia lipstick on and I don't quite mind how this colour looks on me.
Stay tuned for the recap of this episode tomorrow!
9:05pm
After answering a couple of beauty Q&As from our viewers, we bid adieu and thanked them for tuning in.
A double cleanse is necessary to get rid of this visage. My sink side essentials: Shu Uemura's Anti/Oxi+ Cleansing Oil and Aesop's Fabulous Face Cleanser.
10pm
Like clockwork, my sister already pulled two glasses out with a bottle of makgeolli on the side, so a night cap it is!
11:30pm
I decided to catch Spirited Away on Netflix before tucking in.
This feel-good film also brought award-winning composer Joe Hisaishi's tunes to mind—his work has never failed to induce a tear or two from my leaky peepers (you should watch me at live orchestras and concerts; to say that I get emotional is an understatement).
And so I binged on a few of his performances on YouTube because what else but a stunning work of art to keep our minds clear and our hearts light during disheartening times like these?
But I digress—ahead is my all-time favourite composition from the musical director, also his most recognisable work that was featured in Takeshi Kitano's film Kikujiro.
As a self-confessed homebody, staying home during the first few weeks wasn't worth batting an eyelid over at the beginning. But weeks have stretched to a month (possibly more, but crossing fingers we don't get there) and stir crazy is a term that's somewhat apt to describe the current dynamics of this household.
That said, I'm grateful for a hundred and one things—for good health, accessibility to groceries and even food deliveries (from fresh soy milk to crispy fried chicken), loved ones who are safe at home, frontliners who are the real unsung heroes in this pandemic, the occasional spot of sunshine amidst these turbulent times, and more.
Here's to another few weeks of #MCO and a successful curve-flattening endeavour.
| | |
| --- | --- |
| SHARE THE STORY | |
| Explore More | |