Wednesday, 8th April 2020
8:00am
I woke up especially early this morning (specifically, an hour and a half earlier than usual) with the sole purpose of getting more done today because I was fully aware that it was my turn to take over our #MCODiaries series. Unfortunately, as soon as my alarm went off I realised my mistake; getting up early is the literal worst. Naturally, I went back to sleep.
8:30am
Let's try that again—my alarm rang for the second time this morning and this time I forced myself to clamber out of bed and head upstairs for some yoga.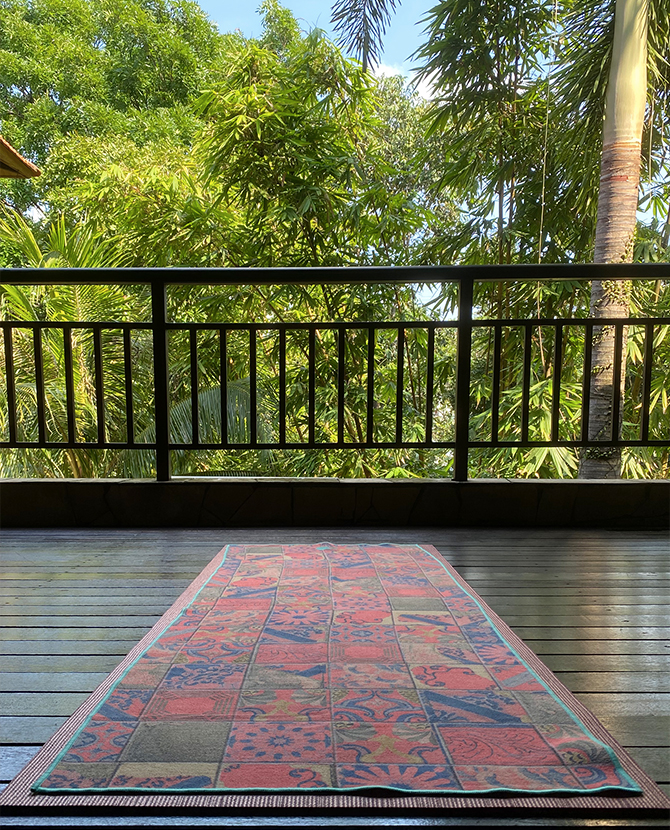 I exercise every other day for the sake of staying limber and getting a little activity into my routine, especially now that I can't head to the climbing gym. It's a great way to wake up every morning and to get a little fresh air on the patio (note: far, far away from everyone else).
9:30am
Just before I hopped in the shower, I did five of the 10 daily assisted pull-ups I've challenged myself to do this MCO period: the aim is to build some upper arm strength as at the ripe old age of 21, I still have the arms of a 5-year-old.
Anyway, 15 minutes and a good scrub later I emerged squeaky clean and promptly put on my *daytime loungewear* (it's just a glorified nightie). Here's me taking my #WFHoutfit to new heights on this trendy step ladder.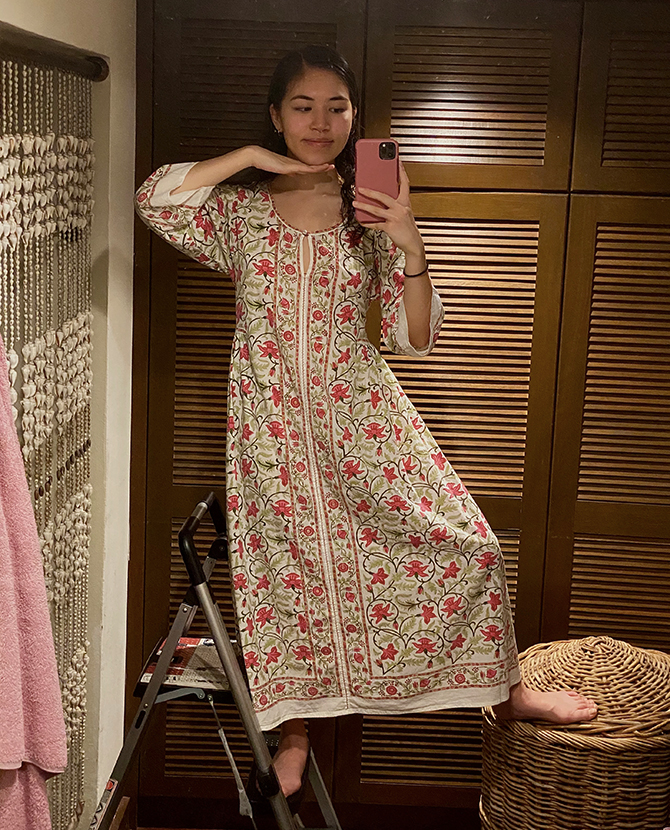 I then took the opportunity to do my morning beauty routine—spoiler: it's literally got three steps and that's why I've kept to it so well (life hacks).
First, I combed some of Bleach London's Hair Elixir through my ends, then I toned my face with a mattifying toner, following it up with a layer of Dermalogica's Dynamic Skin Recovery SPF50 moisturiser (our Deputy Editor Wei Yeen tirelessly reminds us of the perils of sun damage, even when indoors).
10am
At this point I realised I should probably… do my job. So, I sat down (in bed—breaking one of the big WFH tips… that I wrote, whoops) and got to work.
1:30pm
I somehow managed to get an article done and dusted just in time for lunch, but that's not saying much considering that we settled down for grub at half one (my family is not in the habit of eating at reasonable hours).
2:30pm
Belly full, socially satiated—back to work! This time though, I ditched the bed and sat back out on the patio for a little change in scenery.
4:30pm
I decided to take a short water break, but then I found one of my cats (of which I have six) in his regular spot, so I forced him (along with my parents) to spend some quality time with me in the lounge.
For your reference, here is my terrible son and his awful siblings. I would die for them.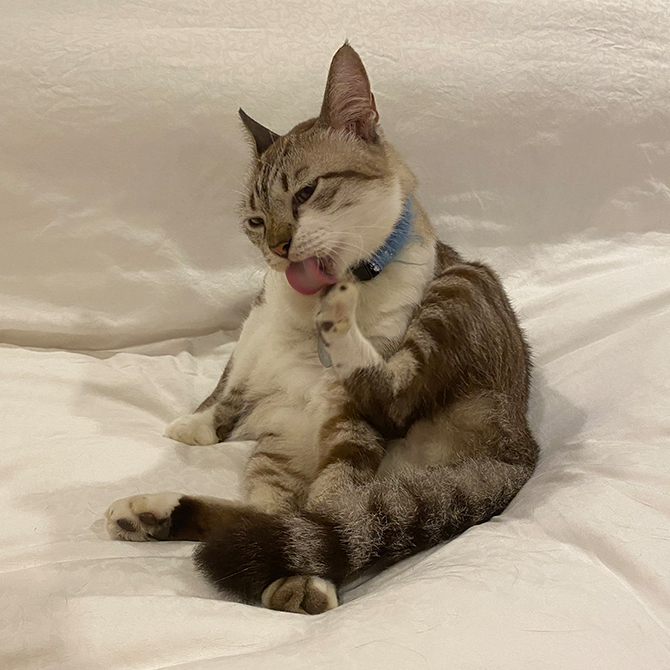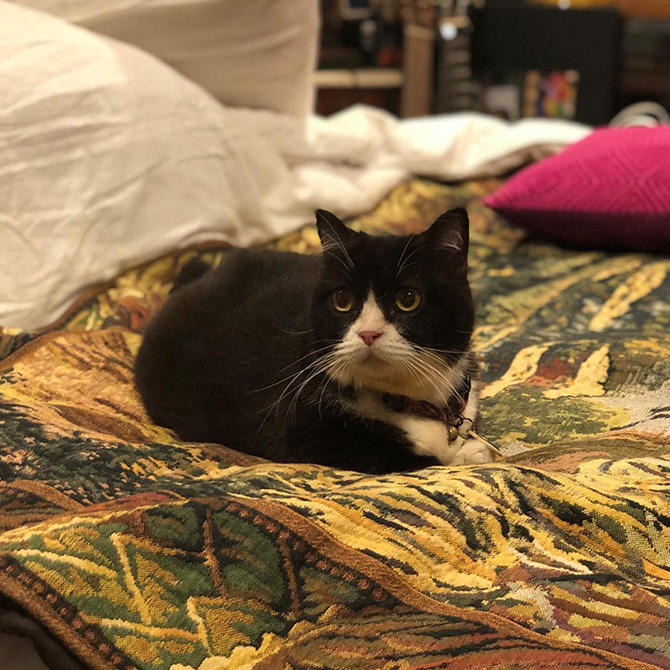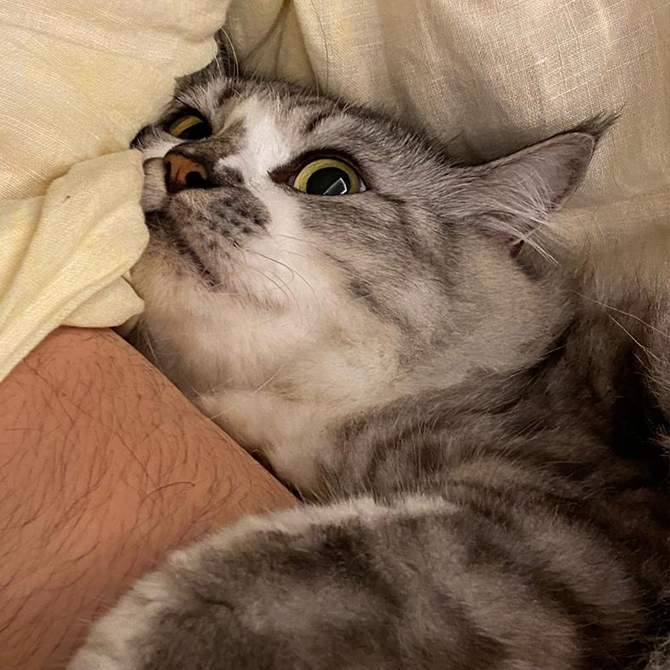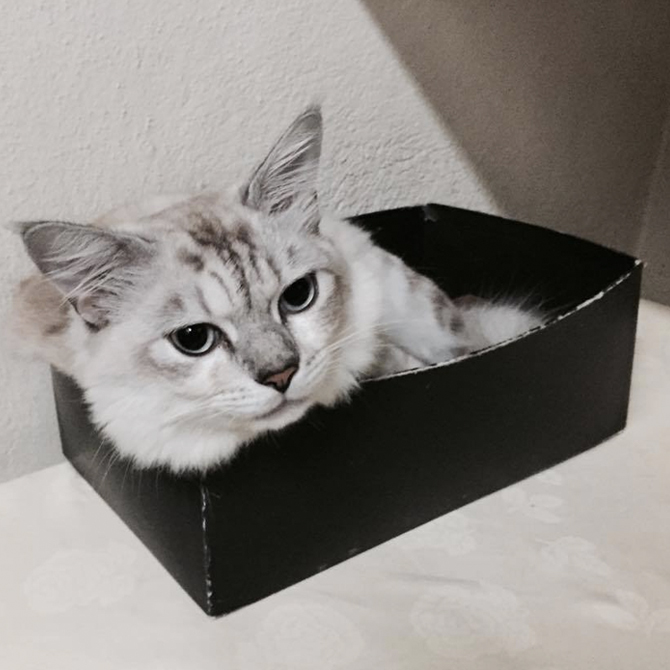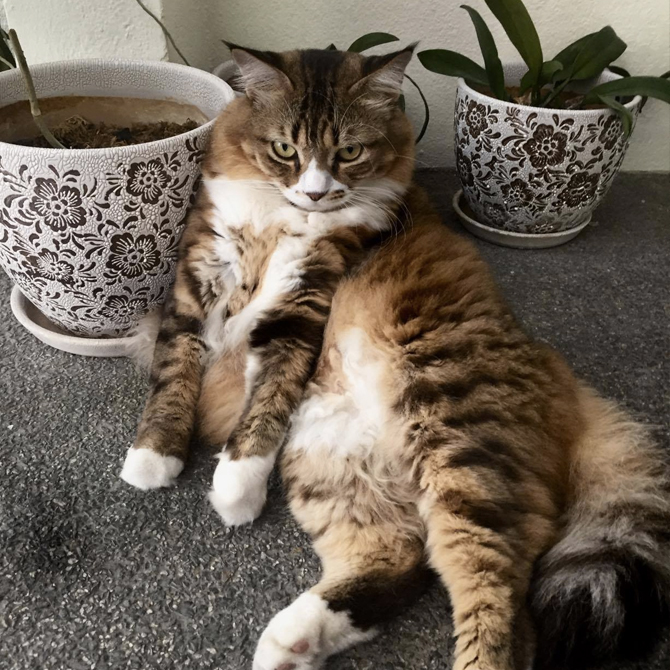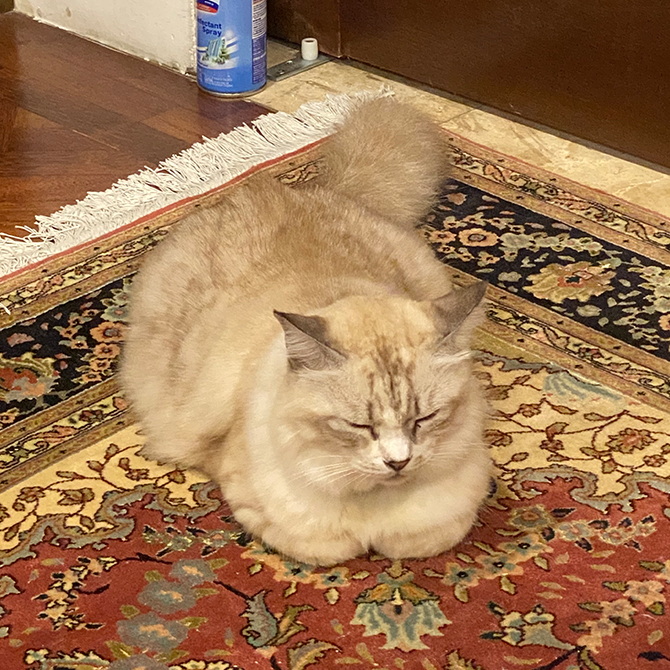 4:40pm
I received a cold drop of one fresh sourdough Hokkaido loaf, courtesy of my good pal @liyenbakes who has been baking delicious treats with all her new-found free time to compensate for the bare bread aisles in the supermarket. You already know what happened next—I fixed myself some tasty toast and returned to the lounge.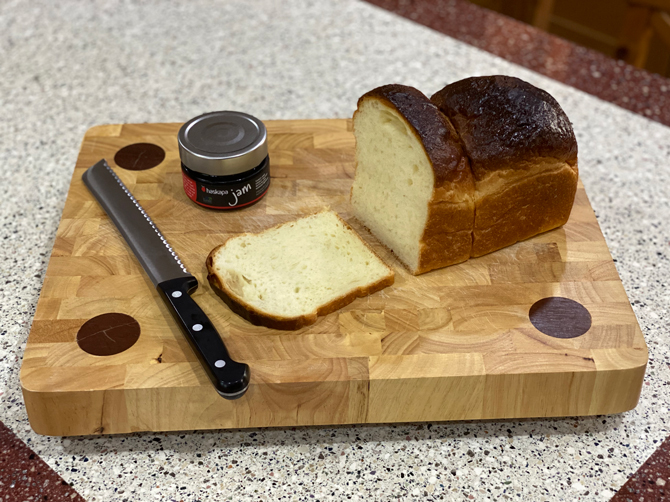 5:00pm
I get back onto my laptop to pop some of my new stories onto our website only to find, once again, technology hates me (the one constant in my life is that something will always go wrong for me when it comes to anything tech-related). More specifically, I can't load the site because there's an issue with my wifi. Defeated, I resort to painstakingly inputting everything onto the system via my phone. Before you say it—yes, I did try using my phone's hotspot but to no avail. Eventually it's all up there… but at what cost?
Anyhoo, back to work (on Google Docs this time).
8:30pm
Following a very rushed dinner with the family, I had a mini IG-live meeting with Wei Yeen to prep for our Buro Hangouts Live session tomorrow where "Buro's resident beauty experts" (apparently referring to Wei Yeen and I) will be doing a no-mirror makeup challenge—hint: tune in to see me attempt a winged liner, blind! For the first time since the MCO, I had my full face beat, and it was not hot. Turns out—mirrors? Not optional when doing your makeup.
9:45pm
After a lot of faff and giggles, we're done with our little run-through. I head downstairs, wash all the slap off my face and promptly follow it up with my night time skincare routine. First, I toned my face with Caudalie's Vinopure Clear Skin Purifying Toner, patted in some of the Skin Perfecting Serum and finished up with some Aesop's Camellia Nut Facial Hydrating Cream.
I then retreated back to the lounge to spend some time with my family again, especially since I'd deserted them for the evening, but mainly for another movie to answer the age old question: Nicolas Cage—good or bad?
11:30pm
I followed through on my pull-up challenge and finished the final five reps, and then I got ready for bed. I snuggled into my sheets, read a little bit more of Louisa May Alcott's Little Women and then…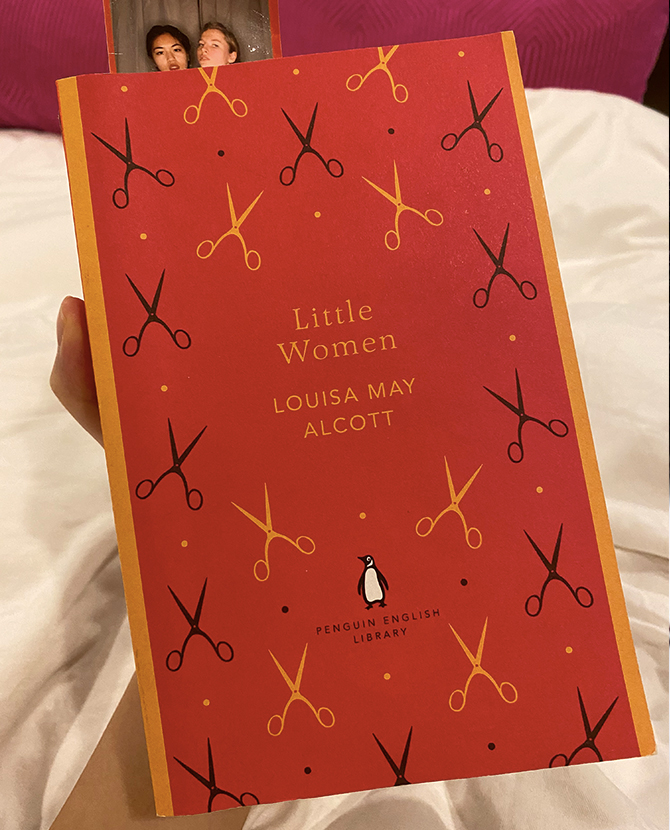 12am
…passed out.
It goes without saying; things are precarious at the moment with the ongoing pandemic. People are scared, we are suffering a period of great loss and are all, with no doubt, anxiously waiting for our lives to resume as normal. However, despite the fear, the pandemic has shown that in adversity people come together—thousands of initiatives have popped up to support our vulnerable communities, our frontline healthcare workers and each other—and it's an incredible reminder of how great humanity can be. For any of you who are quickly tiring of the ongoing MCO, remind yourself that your ability to self isolate is a privilege in itself—don't take it for granted.
That said, although the MCO has been tough in a lot of respects, I have genuinely really loved working from home. The MCO has been a great exercise to see how our current system is failing us; the fact of the matter is that not everyone is built for a strict routine work day. We now know which meetings could've been emails, what work can be done remotely (pretty much everything) and how arbitrary work hours are with respect to actual productivity. Although my office life is wonderful and I definitely have it very good, I've got to say that being confined in the office for eight hours a day has definitely left me burnt out on multiple occasions.
However, I've not felt this way at all while I've worked from home—I get up when I am ready to, eat as and when I like, exercise when I'm feeling restless and have infinitely more time to spend with the people that I love (both in person and virtually). Because of that, I'm way more productive than usual; you see, if I'm going nuts at home while I'm working, I can always go for a run, have lunch with my family, or call my mates and then I'm ready to go again. From the office? Not so much. The freedom in my day-to-day routine has done wonders for my mental health and—by extension—my work.
In conclusion—it's time to rethink our work culture.
| | |
| --- | --- |
| SHARE THE STORY | |
| Explore More | |