The Prime Minister has just announced that the Movement Restriction Order will be effective from 18 March to 31 March 2020
Hello, Malaysians! We are sure you've heard the news as told by our eighth Prime Minister. In a press conference regarding COVID-19 (on 16 March 2020), Tan Sri Muhyiddin Yassin said that-for two weeks-the public will have to adhere to the Restricted Movement Order. The measure affects the entire country; yes, nationwide.
Some other things to note include: (i) All religious and social activities to be cancelled; and all religious houses to close except for groceries stores, (ii) all Malaysians are prohibited from travelling overseas, (iii) Malaysians who are returning from overseas must observe self-quarantine for 14 days, (iv) no foreign tourists will be allowed entry into the country, (v) all schools, kindergartens, public, and international schools, as well as universities and colleges to close, (vi) all government and private offices to close, except for essential services such as water, post offices, power supplies, petrol stations, broadcasting companies, banks, ports, airports, groceries, and supermarkets. As of writing (17 March 2020), there are 566 confirmed coronavirus cases in Malaysia—a staggering amount.
While you're staying at home and waiting for things to get better over the next two weeks, we have compiled some easy recipes for you to try at home—for yourself and your loved ones. Oh, don't forget the fun part too. Even better, these delicious recipes only require five ingredients or less! Salt and pepper don't really count, by the way. If you don't have any of these ingredients, you still have today (17 March) to get them or maybe... adapt and improvise. You have time to experiment; but don't waste food.
Without further ado, check out the dishes (consisting of a mix of cuisines) and steps below:
1.

Cacio e Pepe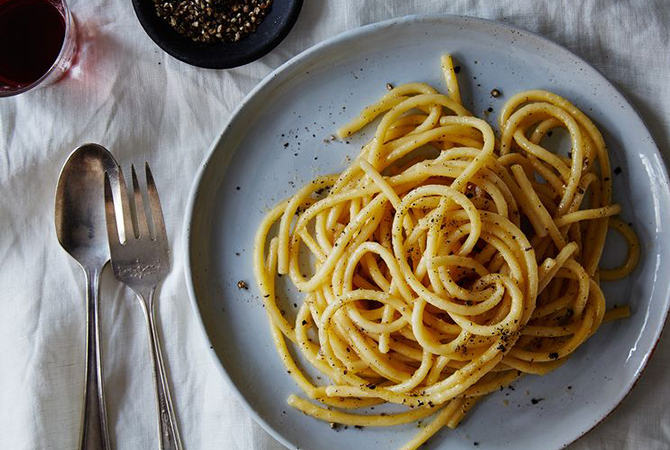 This is a really, really simple recipe. Really. It is the very definition of five-ingredient glory. The recipe has a prep time of five minutes and a cooking time of ten; it serves two to four people. Ingredients you require are:
340 grammes of pasta (spaghetti or bucatini)
6 tablespoons of unsalted butter
1.5 teaspoons of pepper
1 cup of freshly grated Parmesan or Asiago (as required)
1 egg yolk
Salt, to taste
Steps
1. Boil a pot of water and add some salt to the water. Make sure that you don't add to much as the water will be utilised for your sauce later. Cook the pasta in the pot based on package instructions. Reserve half a cup (1/2) of pasta water before draining.
2. Add 1/3 cup of the pasta water in the same pot the pasta was boiled in. Next, add butter (melt it in the pot) as well as pepper. When the cooked pasta is returned to the pot, toss to coat.
3. Add the cheese and egg yolk. Toss the ingredients together using tongs until combined. Add the remaining pasta water if the pasta seems a little sticky; add more cheese if it's too wet. Finally, taste for seasoning.
2. Sugar Steak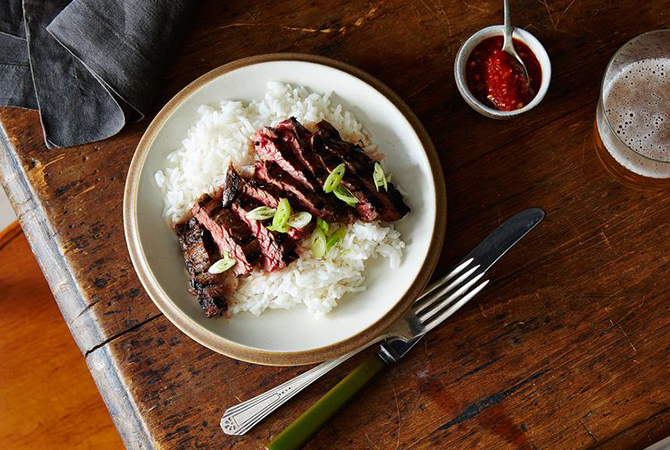 If you have never tried sugar steaks, there's no better time to start! You can have it with rice or vegetables or even on its own. This recipe requires a cooking time of only 25 minutes and serves up to four people. Ingredients you require are:
4 tablespoons of fish sauce
2 tablespoons of brown sugar
3 tablespoons of lime juice (divided)
1 tablespoon of minced garlic
450 grammes of skirt or flap steak
Steps
1. Firstly, mix the fish sauce, brown sugar, two tablespoons of lime juice, and garlic—all in a large bowl. Then, position the steak in the bowl to marinate before covering with plastic wrap. Place in the refrigerator for at least 30 minutes (as long as it doesn't exceed four hours).
2. Next, take the steak out from the refrigerator; allow it to get back to room temperature (about 30 minutes). Remove the steak from the bowl but make sure to reserve the marinade.
3. Grill the steak for 3 to 4 minutes per side, until medium-rare—over a grill or in a cast-iron skillet over high heat.
4. Rest the steak for 10 minutes before slicing thinly across the grain. Add the remaining tablespoon of lime juice to the marinade and pour into a saucepan.
5. Cook over medium heat—for four minutes—until slightly reduced. Swirl in the butter for extra deliciousness once its warm, if desired. Finally, serve the steak.
3. Tomato Soup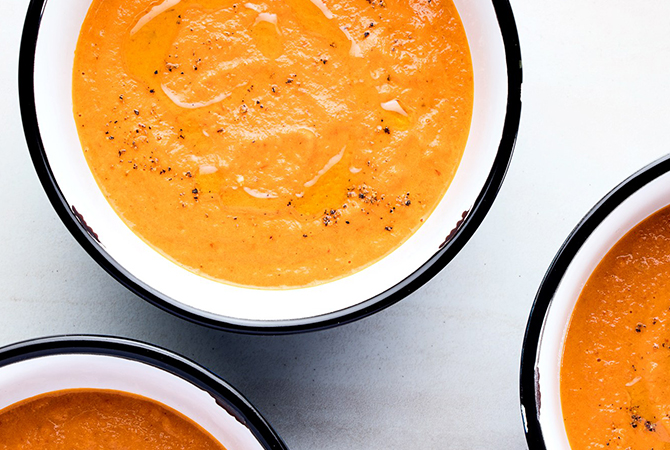 This recipe is all about making something simple yet delicious. Perfect for a quick pick-me-up or for those who want something light and healthy. The tomato soup recipe serves about six cups. Ingredients you require are:
2 kilogrammes of plum tomatoes (halved lengthwise)
2 teaspoons of kosher salt (divided)
1/2 teaspoon of black pepper
6 tablespoons of olive oil (divided)
1 medium onion (coarsely chopped)
1 cup of heavy cream
Steps
1. Preheat oven to 200º Celcius. Cut the tomatoes side up before placing them on a large baking sheet. Season with one and a half teaspoon of salt and half a teaspoon of pepper. After that, drizzle with 3 tablespoons of oil. Next, roast tomatoes for one hour and 15 minutes—until tender and caramelised.
2. Let it cool slightly. While waiting, heat 3 tablespoons of oil in a medium pot over medium. Cook onion and half a teaspoon of salt until soft and translucent. Stir occasionally for eight to 10 minutes.
3. Add roasted tomatoes, accumulated juices, cream, and one and a quarter cups of water to the pot. Right after, bring to a boil before reducing the heat. Make sure to simmer until the flavours have intertwined. This process will take approximately 20 to 25 minutes.
4. Move the tomato blend to a blender and mush until refined. You're done!
4. French Toast with Ice Cream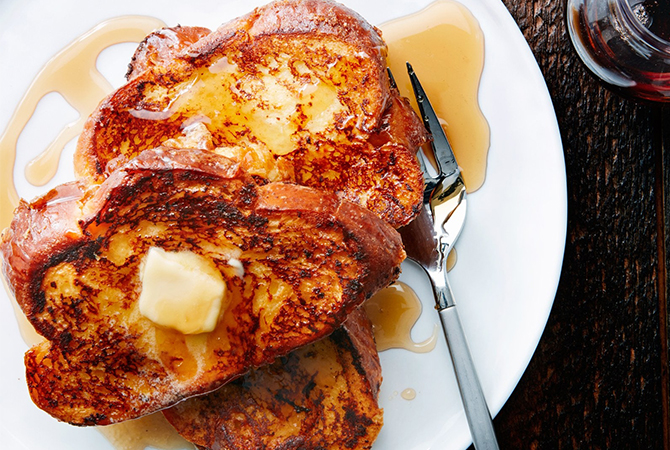 Nothing screams "easy" more than this recipe—that serves two and only requires 20 minutes! Ingredients you require are:
1 pint of melted vanilla ice cream (not gelato)
4 slices of challah or brioche
5 tablespoons of unsalted butter (divided)
Steps
1.  First, preheat oven to 120° Celcius. Prepare a large baking dish to pour ice cream into. Next, add bread and coat by turning. Let the coated bread sit for three minutes. After that, flip the bread and proceed to soak until saturated (make sure the bread is not soggy). Do this for another three minutes.
2. Heat two tablespoons of butter in a large skillet over medium. Then, lift two bread slices from custard using tongs. Move the bread slices to the skillet in a single layer before cooking until golden brown (four minutes per side). Make sure that the centre of the toast springs back when pressed.
3. Moving on, transfer to a wire rack set inside a rimmed baking sheet. You have to keep the bread slices warm in the oven until they are ready to be served.
4. Last but not least, repeat the third step with two tablespoons of butter and remaining bread and end by topping the toasts with a tablespoon of butter. Voila, your easy meal is ready!
5. Laksa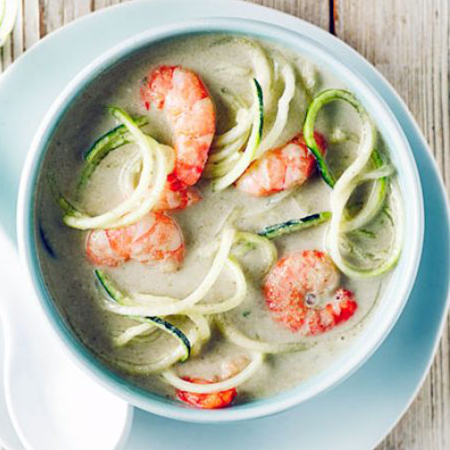 There are many ways to prepare your favourite laksa and this recipe is one. It serves two and is a super quick version of the popular dish. Ingredients you require are:
3 tablespoons of Thai green curry paste
400 millilitres of canned coconut milk
150 grammes of cooked prawns
250 grammes of packed courgetti
Steps
1. Heat one tablespoon of flavourless oil in a frying pan over a medium heat.
2. Cook for one minute after adding curry paste. Then, fill the pan with coconut milk and let it bubble away for a few minutes.
3. Add prawns and courgetti into the pan.
4. Finally, cook for one minute to warm through. It's really that easy.
Take good care of yourselves and remember to practise social distancing (click here for our guide on this). Adhere to the nationwide order from 18 March to 31 March; and indulge in delicious, toothsome meals. It's all for one and one for all—so let's do our parts to flatten the curve. We can do this!
For more information on COVID-19, click here.