Travel
Niseko Village: Why you should (also) visit the ski-famous resort in Hokkaido during the Green Season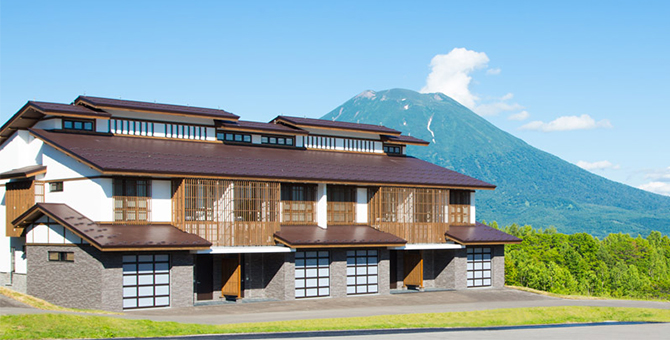 Japan is one of those places I heard about a lot when I was a young child—from my friends, films, and books among other sources. Oh, how I remember all the times I was so jealous whenever anyone told me about their experiences in the country! Who would have thought that I'd be in the Land of the Rising Sun twice in a period of three months this year? In July, I had the opportunity to go to Tokyo and hence, making Japan the 46th country I've visited so far. Yes, travelling is a passion of mine (which is surprising considering how no one else in my family loves going on trips).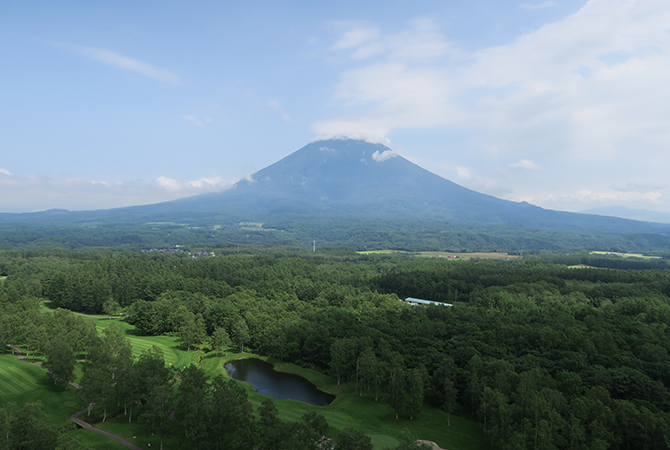 My fond memories of Tokyo were more than adequate. Call it encouragement, call it a push—but when given the chance to return to Japan again, I grabbed it. Hard and fast. This time, I went to Hokkaido; the northernmost and second largest island in the country with 83,423.84 kilometres square. That's approximately 37 times the size of Kuala Lumpur. Area size trivia aside, all I really knew about Hokkaido is that it's known for its milk, seafood, and skiing. Well, my week there showed that the island has even more to offer, especially during the warmer months, or Green Season as it's called. As a place that's popular for as a winter destination with powder snow and skiing opportunities, there sure were a massive amount of activities to do during summer. Come with me as I take you on an adventure throughout the area.
Day One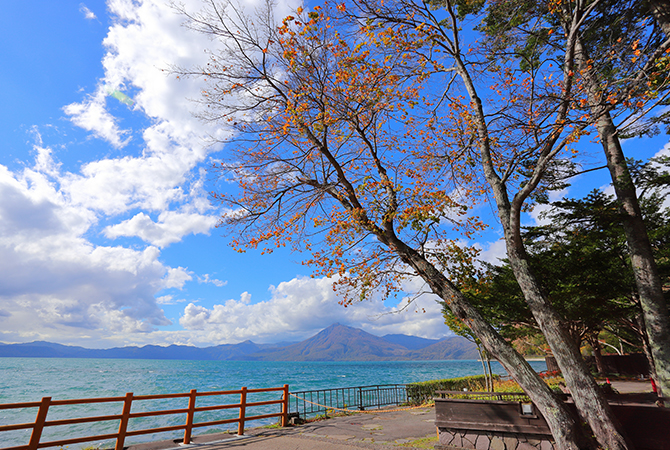 There weren't any direct flights from Kuala Lumpur to Hokkaido on the chosen dates. As a result of that, I had a layover in Suvarnabhumi Airport in Bangkok before heading to Chitose (the main airport near Sapporo). Upon landing at New Chitose Airport, what caught my eyes were how clean and tidy it was. Spotless, it sure was! In addition to that were the organised and efficient immigration counters. With that, I knew my trip was bound to be amazing. Getting to Niseko town from the airport will take you about two hours (with a shuttle). Along the way, make sure to look outside the window and be prepared to feast your eyes on glorious scenery, especially mountain landscapes.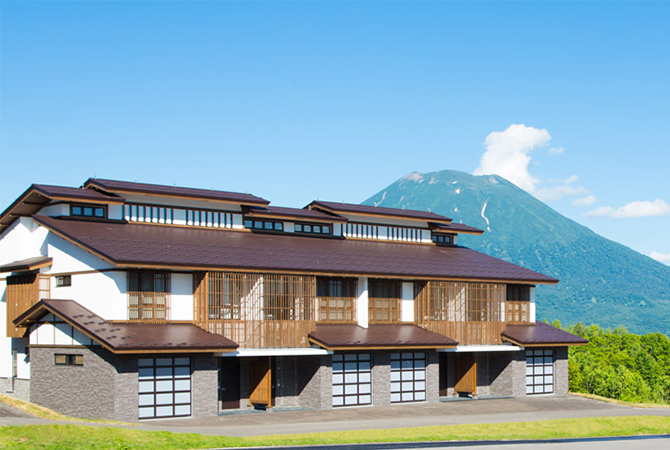 Where did I stay? Kasara Townhouse. Located in Niseko Village and situated at the base of Mount Niseko Annupuri, the double-storey townhouse looks like it came straight out of an anime. The ode to Japan's heritage townhouses was apparent with authentic Japanese charm and contemporary elegance. Anyone who knows me knows that I'm a sucker for minimalism and the design of the townhouse won me over. There are three luxurious bedrooms, a fully-equiped kitchen, and a beautiful tub in the master bedroom. Spacious and stylish yet cosy. In addition to Kasara, the resort also has Hilton Niseko and The Green Leaf at the moment. However, the opening of Hinode Hills on 1 December 2019 is one I'm definitely anticipating!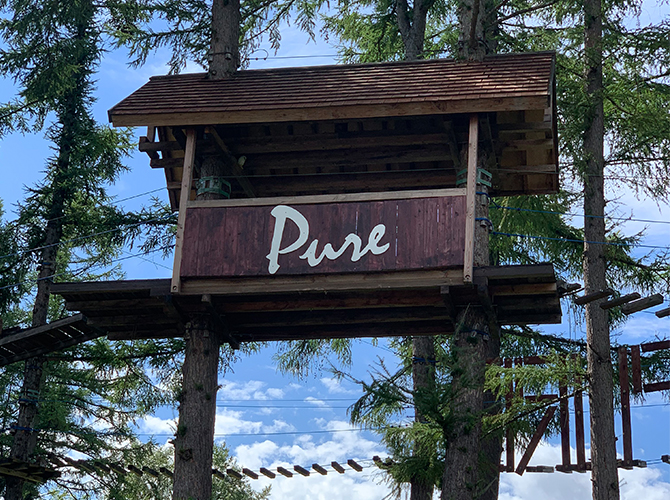 What did I do on the first day? It was really sunny with a temperature of around 25º Celcius but that did not stop the group and I from heading to Pure—a nature activity centre. The first thing I did was the Rail Slider. It is the only one of its kind in Japan. I'm a tad bit afraid of heights. Even when I found out that I'll be suspended by wires, I knew I needed to try the activity. Is it FOMO (Fear of Missing Out)? I don't know. All I had to was slide down the hanging rail. The entire round took about two minutes to complete and it's definitely something I would love to do again. Oh, it's also the least scary out of everything else I did that day.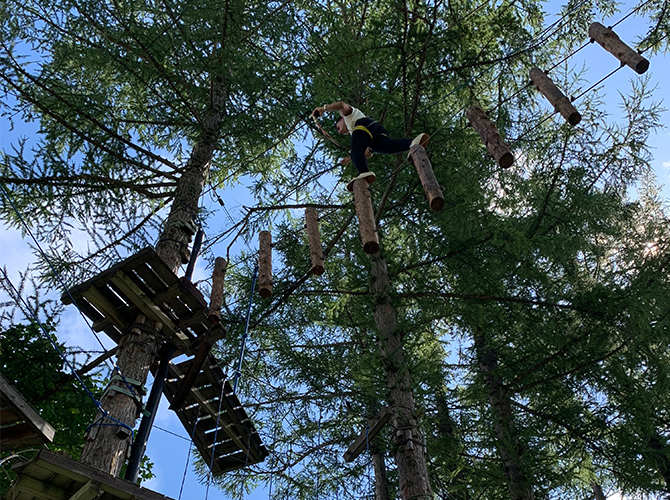 On to the next one! Tree trekking, oh, tree trekking. What did I get myself into? With a safety harness and using zip lines, ropes, hanging bridges, and nets, I traversed along the treetops. My mistake was choosing to go on the Advanced route instead of the Elementary course. Jumping off platforms and skateboarding from one end to the other were too much for me and I had to give up half way. Saying that it was scary and difficult is an understatement. Really. My legs either froze or shook too much; dizziness ensued; fear heightened.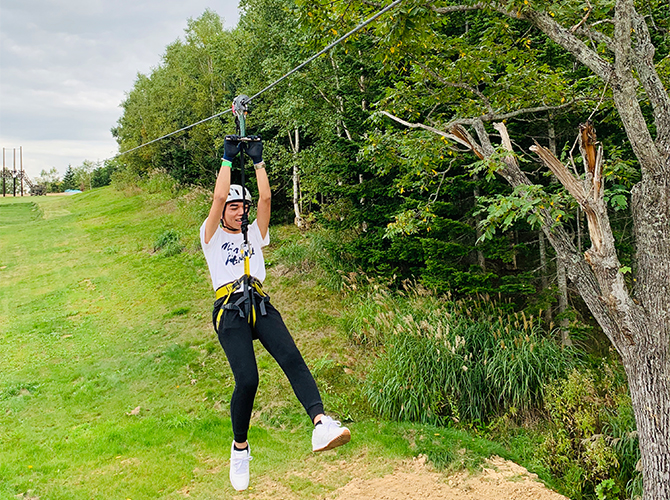 While the Rail Slider was a great introduction to the centre and Tree Trekking was challenging, the next activity was really fun—despite the height. It's none other than the Zip Line Guided Tour. The group and I went on six stages with the longest area being 250 metres. There was an undescribable adrenaline that can be felt when moving at high speed from one point to another. My favourite stage was the second line because I had to go in between trees and that was beautiful. If I have to recommend just one thing to do at Pure, it'd be this but remember to make a reservation first. You can also try many other activities here such as sliding down the biggest air cushion slider in Japan, horseback riding, and park golf. Note that Pure activity centre opens only during the Green Season.
After all the hardwork, what about food? Well, I rewarded myself with a delicious cone of Hokkaido milk ice cream from Village Patisserie. I'm salivating now just thinking about the creamy paradise I tasted. Even better, it wasn't too sweet! Post-dessert, I rested as much as I could before we headed to Two Sticks for dinner (see menu here). Yes, more food please! On the outside, the restaurant looks like a traditional Japanese house but you will be surprised by its interior. Painted in blood orange and ski-themed, I can't help but notice the twist on the Hokkaido rusticness. There is even a gondola inside—perfect for an Instagram shot. When it came to food, we had Pork Sukiyaki which comes with meat, vegetables, and noodles. I don't need to tell you how good that tasted because I won't be able to do the succulent dish any justice. After dinner, it was time for the onsen (which I went every night). Guests of Niseko Village have the option of going to either the one in Hilton or The Green Leaf. I tried both but more on that later!
Day Two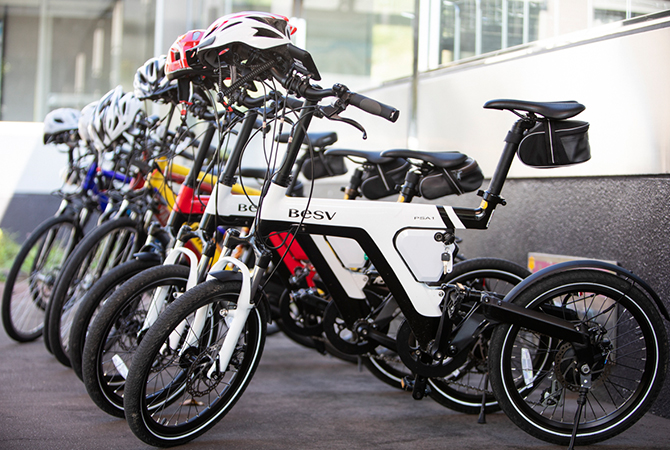 Waking up really early when you're on a trip can be a bummer but not when the agenda for the day is cycling on an e-bike. While I didn't get to cycle for shameful reasons (I just never knew how to), I saw the Besv e-bikes up close and personal. The PSA1 and JF1 electric bikes aren't just brilliant aesthetically, they are also very helpful. Chuck, our instructor for the 32 kilometre cycling session, spoke to us about the benefits of using an e-bike. They include climbing up hills easier with different assist levels, controlling the intensity of the ride, and the ability to go further. In my opinion, the multi-function display and ergonomic controller are very important components. The fact that I did not cycle didn't deter me from studying the bikes as much as possible. While the rest took off from The Green Leaf in the e-bikes, I travelled with them in a van. Lucky or not, you decide.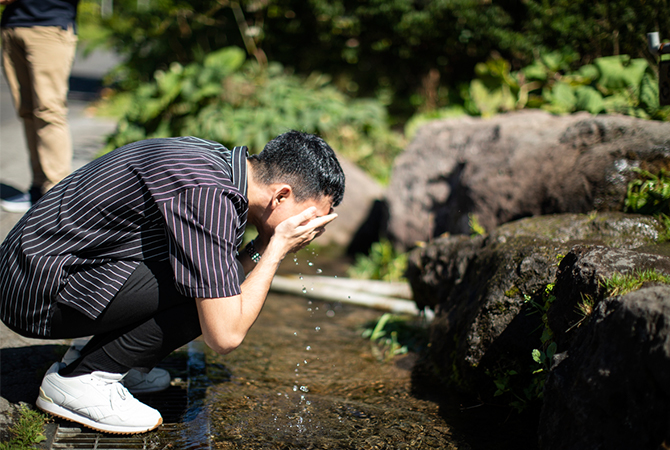 Cycling is a popular activity to do in Niseko during the warmer months and there are a variety of sites to visit. We went passed farms growing potatoes and corns among many other crops. One thing that never really left our sight and stood tall throughout is Mount Yotei. After what seemed like a long journey, we took a break at Niseko Spring to freshen ourselves. How? By washing our faces and drinking using natural spring water. Clear, cool, and free. Even locals fill up loads of bottles with spring water for daily usage.
What's next? Keiriu Sweet Shop—known for it's red bean pastries. We bought one each for every available dessert in the store. After the purchase, we went to a nearby rest area to munch on our beany delicacies. To pinpoint one that I love most would be a crime because they were actually really good. In fact, I finished most of them! They are sweet, salty, crispy, soft, and well-balanced. Let the glutton reveal itself. Fortunately for the rest, they get to burn off the calories by cycling to the next stop whereas I sat in the van. I'm not complaining, though. We were also at Milk Kobo for its well-known cream puffs and milk ice cream.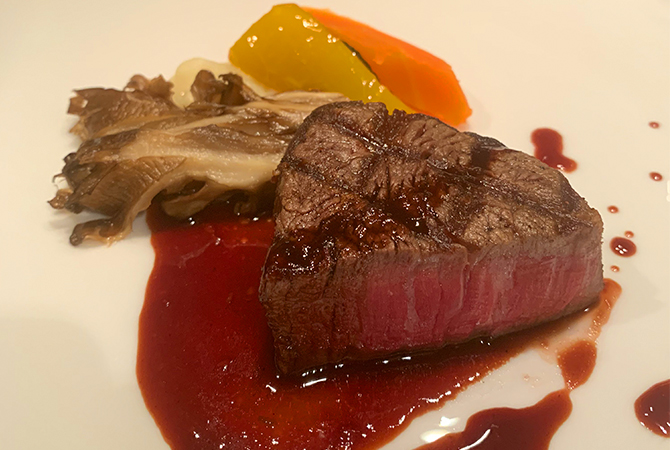 After an ample amount of pedalling and stopping for photographs throughout the adventure, we finally made it back to Kasara Townhouse. Dinner was at Melt Bar & Grill in Hilton Niseko. Fortunately for me and the group, we had the opportunity to try dishes created with fresh Hokkaido products. Our Hokkaido Dinner Set Menu for Green Season 2020 included Hokkaido scallop and seasonal vegetables "Gargouillou" style, Hokkaido potato vichyssoise, rock fish with herbs ravigote sauce, Saibi beef with horseradish sauce, and haskap berry mousse with Hokkaido milk ice cream. Reading them off the menu was palatable enough but actually indulging in these concoctions were heavenly. My favourite would definitely be the Saibi beef that's infused with red wine. It wasn't just tender but has the right amount of fat to meat ratio. The night ended with a bulgier stomach but no one's making a fuss for sure.
Day Three
Another day has arrived and I woke up to a rather cooler weather (compared to the first day). Day Three was supposed to be another day on the e-bike. However, Mother Nature had other plans because it began to rain right after we departed The Green Leaf. Everyone hopped onto the van (hooray to Team Van) and we proceeded to an Ostrich Farm. I tried to serenade the ostriches with a myriad of songs, including Carly Rae Jepsen's I Really Like You but was ignored. I wonder why. We fed them a little before continuing on our journey to the Makkari Tofu Factory, or Wakimizu no Sato. Make sure to try the tofu doughnuts because that will easily be one of the best things you'll have anywhere. The tofu here is made using the spring water from Yoteizan no Wakimizu, just outside the shop. I might have gone overboard with the sampling and I think I ate to-much.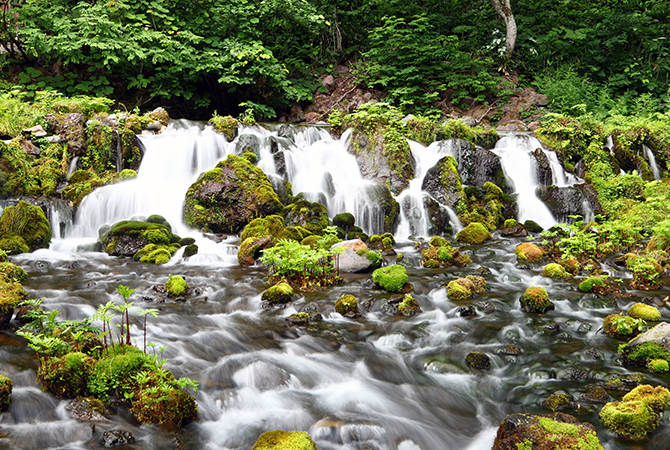 Our next stop is, without a doubt, one of my favourite sites of the trip—Fukidashi Park; the largest Yotei spring in the area with over 80,000 tonnes of water gushing up each day. Of course, I didn't know that and hence, my first impression was this green misty explosion. I was in love with the place and the rain did not matter to me. It's never easy to describe paradise but the park sure was one. It's serene, calm, but still full of life. There is also spring water here with some of the tastiest liquid ever. Yes, not all water tastes the same. Fukidashi Park is the place to go if you want to relax or even try out raindrop cake.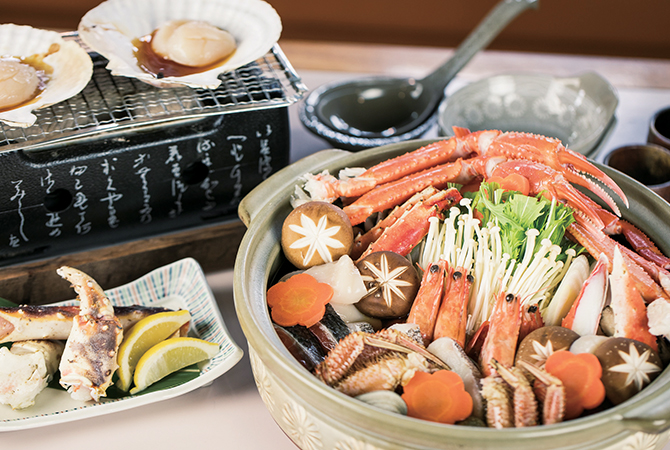 After a quick lunch at the park's rest area, we went back to Kasara Townhouse for a much-needed breather. However, all fatigue and uneasiness go away at the thought of dinner. The Crab Shack serves some of the freshest seafood on the island and I was very excited to indulge. Seafood has always been a firm favourite of mine and therefore, you can understand the excitement. We had the Kaizen Nabe (which is not on the menu and only available during the winter period). It is a hotpot that came with crabs, different variety of fishes, and scallops among others. The serving was so magnanimous that we could not finish the scrumptious meal gifted before us. All in all, it was a great day filled with food-ventures and fun.
Day Four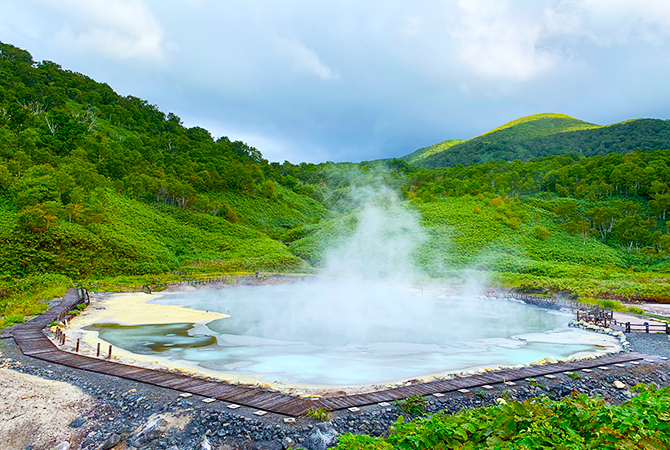 Another summer day has come and gone away. The weather was relatively cooler today—at about 12º Celcius. I had a jacket on but it was still chilly. After a buffet breakfast in Hilton Niseko, we went to Yukichichibu Onsen, a calderic marshland. As soon as the door of the van opened, all I got was a rush of rotten eggs. However, the terrible smell wasn't enough to push me away from the beauty of the area. Watching steam rise up from the spring was such a delight. The last time I had the opportunity to see something similar was in Reykjavik, Iceland. Along with Fukidashi Park, Yukichichibu Onsen is on top of my list of places to visit again in Hokkaido. Smells like teen spirit, or just the will and determination to experience the best of what the island has to offer.
I was not prepared for a 1.3 metre hike today but I did that in order to arrive at the Shinsen Marsh. Along the way, I walked past different plants from the area. The entire route to the marsh was on a narrow path and seemed like it took forever. To nobody's surprise, the entire energy to get to the final destination was worth it. The plateau wetland region was gorgeous, with reflection of trees on the surface of the blue lake. My experience here was sublime because of the serenity and view of the beauty that surrounded me. It is one of those places that gets you thinking—about life and its intricacies. When I return in the future, I'll be ready for the tiring walk. Another 1.3 metre walk back to the entrance should be continued with another 300 metre stroll to the observatory point. Reward yourself to views of the Sea of Japan and the port town of Iwanai. Honestly, pictures don't do any justice. After a quick lunch at Houzuki, between the towns of Kutchan and Niseko, we headed back to the townhouse.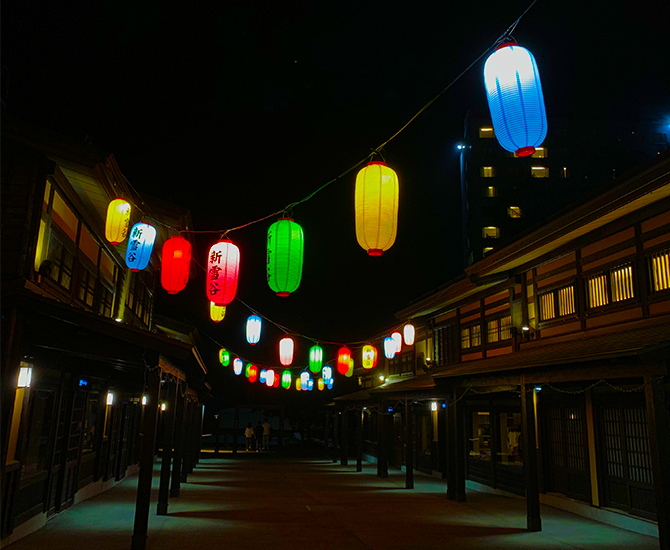 Dinner tonight was different from the other nights. It was the first day of the Niseko Autumn Food Festival (12 – 15 September 2019). The group and I were delighted to be able to try out food and drinks from 12 of Niseko's most famous restaurants, bars, and cafés—Niseko Pizza, An Dining, DNA, Klass Kitchen, and more. The temperature dropped so much in the evening that the presence of the fire place was much appreciated. While food and drinks such as the Hokkaido cheese pizza and mozzarella arancini as well as pumpkin milk tea were amazing, what I enjoyed most were the performances. You really get a thorough glimpse into Japanese culture from the way they take over the stage. I was immensely captivated throughout every showcase.
Unfortunately, it was too cold for me to bear (only because I did not bring proper clothing). We went back to our accomodation and rewarded ourselves with the necessary onsen experience. Yes, I promised to elaborate on that! As mentioned, there are two natural hot springs (onsen) in Niseko Village, both with indoor and outdoor areas. While they are rather similar, the one in The Green Leaf is quieter and less crowded whereas the onsen in Hilton is usually packed. It really depends on your personality and preference. I was an onsen virgin before my trip to Niseko and of course was really shy. However, once the clothes are off, it only took seconds for me to be completely relaxed. Talk about baring everything. After all, this is a tradition that has withstood time and there is no better way to understand culture than to participate. That concludes my itinerary in Niseko, Hokkaido, Japan. It's sad but true.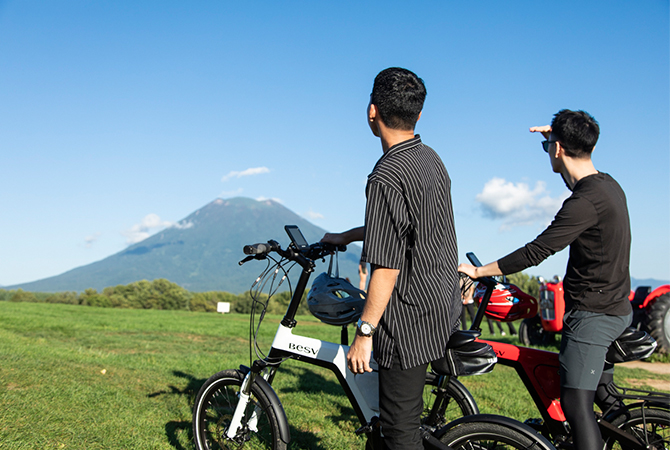 If your initial impression of Niseko is that it's the powder mecca of Japan, you're not wrong. Its winter season with its white season activities are known all around the world. Whether it's reindeer sledding or mere skiing on Mount Niseko Annupuri, many flock to this part of Japan for one-of-a-kind experiences. Truth is, Niseko Village is always in season. With a wide array of restaurants and shopping areas housed in traditional Japanese machiya architecture setting, the main village is the heart of the resort. Its close proximity to the other towns means that this is the right base to move from. While I will return for winter in the future, I shall relish in my memories of the Green Season for now. Sayonara.
{insert gallery tpl="slide-freesize.tpl" id="[Стандартная] Niseko Village" rid="7590″ order="a_tstamp"}
For more information on Niseko Village, visit this website. For more information on bike tours, email [email protected]
| | |
| --- | --- |
| SHARE THE STORY | |
| Explore More | |