Travelling across the nation by train can be rather difficult and troublesome. However, there is one country that Malaysians should visit to really enjoy and experience accessibility and ease of travel—Switzerland. It doesn't hurt that it will be a change of pace and environment from the culture and warm weather here. Any season is great to explore Switzerland but winter is probably the most magical time to see the country's natural beauty.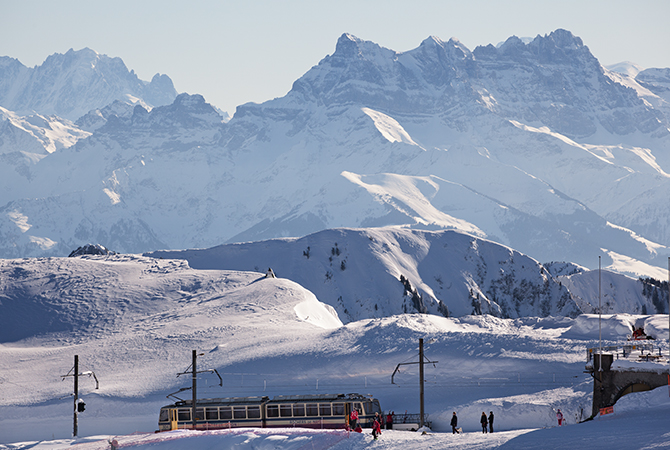 Why should you move around the county by train? The answer—The Grand Train Tour of Switzerland, touted as the best way to discover the country. From the comfort of the train, you will be able to discover the highlights of the Alpine nation as well as its diversity in addition to exploring all sights and landmarks on the way. In this tour, the most beautiful panoramic lines merge into one unique route of 1,280 kilometres. One of the best parts of the entire experience is that there is no prescribed direction or duration. In other words, you're free to hop on and off whenever and wherever you desire.
Who doesn't like trouble-free travel? With a single ticket-the Swiss Travel Pass—you can travel three, four, eight, or 15 days throughout the entire country by train, bus, and boat. If you think that's all, hold up! Swiss Travel Pass holders are entitled to free admission to more than 500 museums throughout Switzerland as well as 50 percent reduction off most mountain railways. The best part for families; with the Swiss Family Card, children under 16 years of age travel free of charge on the entire Swiss public transport network when accompanied by a parent holding a valid ticket.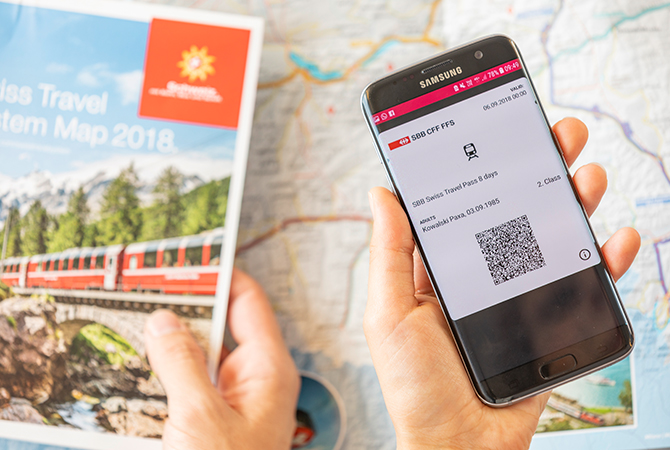 There are a multitude of places to visit in Switzerland and these are some of the best spots you should not miss while you're exploring on The Grand Train Tour.
1. Open-Air Museum Ballenberg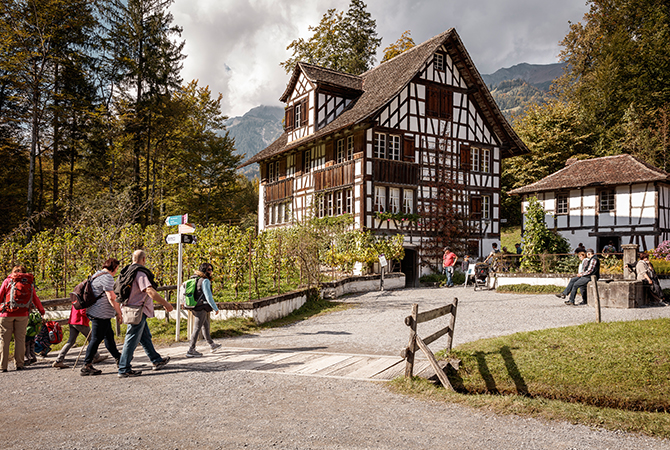 Switzerland's only open air museum that takes you to experience the rural farm life of the traditional Swiss people. More of a village than an actual museum, ancient Swiss farmhouses were taken apart carefully at their original location and rebuilt here. While you're there, why not try out horsehair braiding or clay oven construction?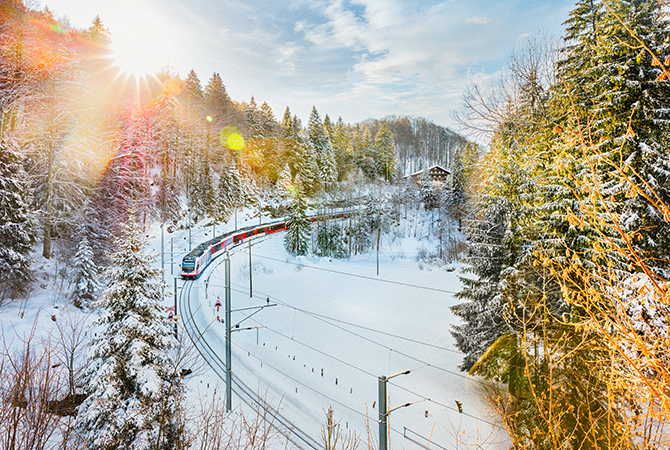 How to get there: Take the Zürich-Luzern-Interlaken route (Route One). On the Luzern-Interlaken Express, a premium panoramic train, time flies faster than one would wish—due to mountain scenery, turquoise lakes and numerous waterfalls that adorn the landscape along the way.
For more information on the museum, visit this website.
2. Lavaux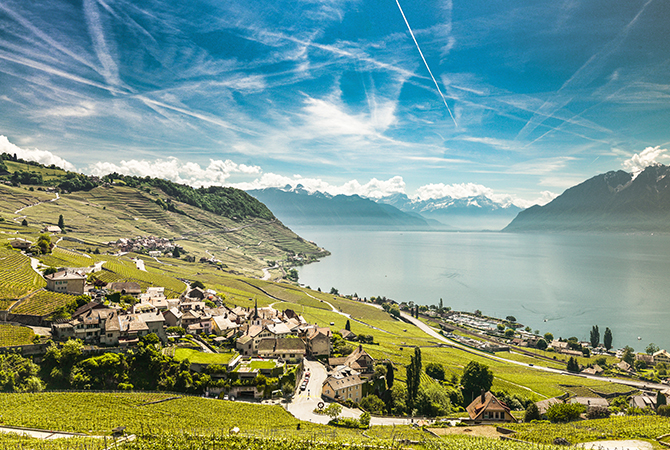 This is a UNESCO World Heritage Site and there is no reason not to pay a visit. The vineyards can also be seen far away, from the train. Come here during sunset and be treated to an experience of a lifetime. The combination of the lake waters and the south facing slopes covered in vines is a sight to behold. This year, the Festival of Winegrowers (Fête des Vignerons)—which only takes place once every 20 years—was held at this special site.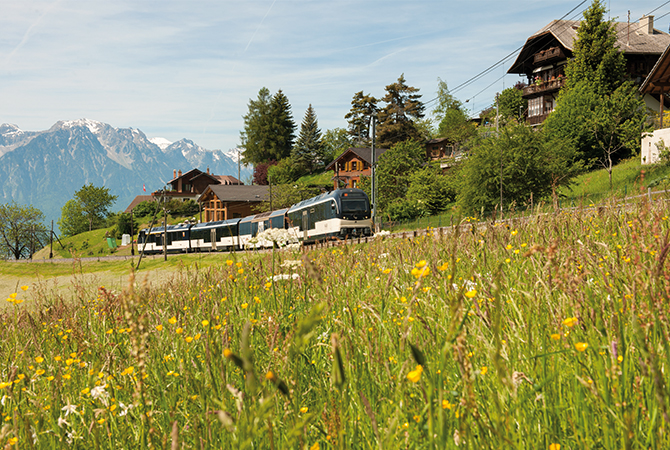 How to get there: Get on the Interlaken-Zweisimmen-Montreux route (Route Two) where you will travel on the GoldenPass MOB Panoramic and pass by Lake Thun before arriving at the shores of Lake Geneva. Feast your eyes on magnificent castles and peacefully grazing cattle.
For more information on the festival, visit this website.
3. Matterhorn Glacier Paradise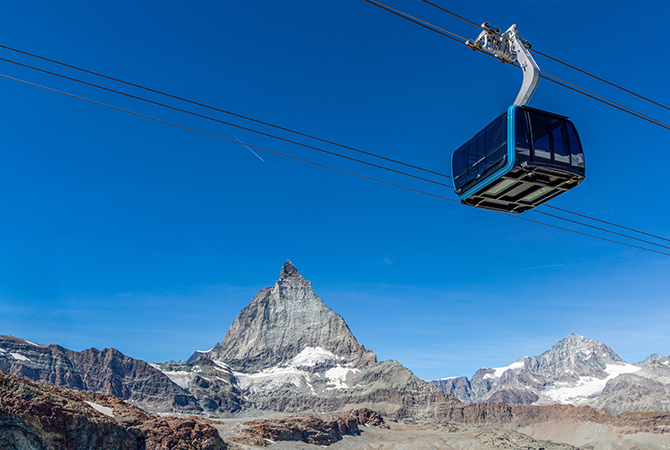 The largest glaciers of the Alps plus a total of 38 breathtaking Italian, French, and Swiss Alpine giants mean that what you will see is a panorama that's unique. You will be able to look at the rear of the globally-known Matterhorn, 3,883 metres above sea level. Are you into skiing? Europe's biggest summer area for the activity is just below and opens 365 days a year.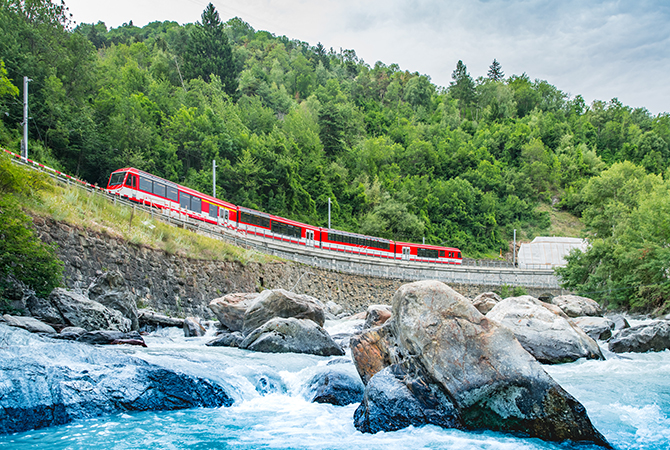 How to get there: Use the Montreux-Visp-Zermatt route (Route Three). This will take you from Rhone Valley to Nikolai Valley. With the help of cogwheel technology, the train has to overcome more than 900 metres in altitude before the Matterhorn comes into view.
For more information on skiing in Zermatt, visit this website.
4. St. Moritz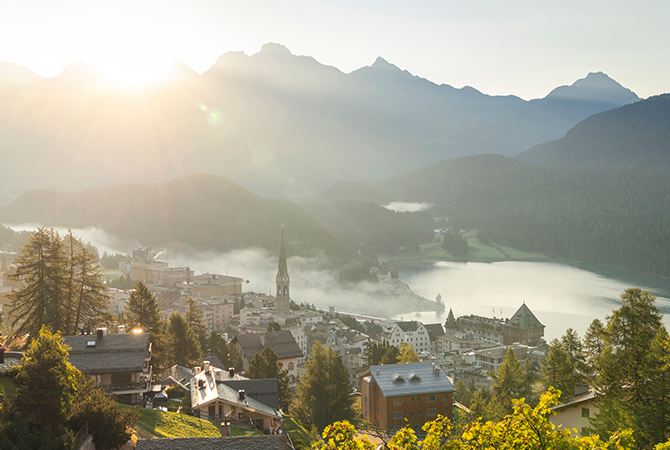 This is a place synonymous with class, style, and elegance. It is also one of the most popular holiday destinations, not just in Switzerland, but the world. Apart from being part of a UNESCO World Heritage site, this exquisite location was a two-time venue for the Winter Olympics.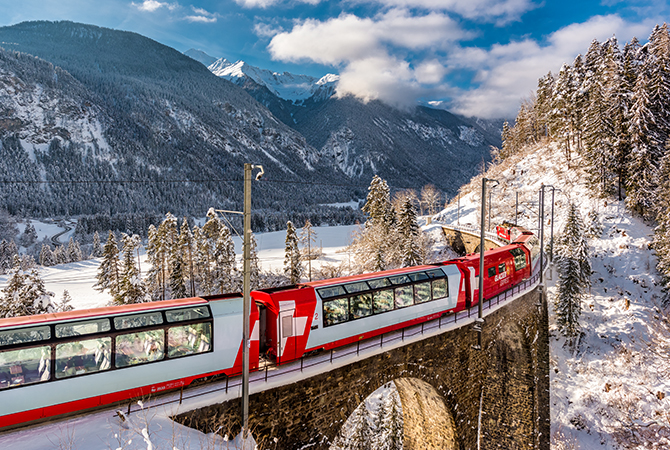 How to get there: Utilise the Zermatt-St. Moritz (Route Four) route. You will be travelling on the world-famous Glacier Express, the slowest express train in the world, but that isn't necessarily negative. In fact, you will be rewarded with all things amazing through the windows stretching high above you. The apex of the journey is the Oberalp Pass at 2,033 metres above sea level. Picture deep ravines, picturesque valleys, tradition rich health resorts, and imposing mountainscape. Spectacular, indeed.
For more information on St. Moritz, visit this website.
5. Stone Flower (Fiore di pietra)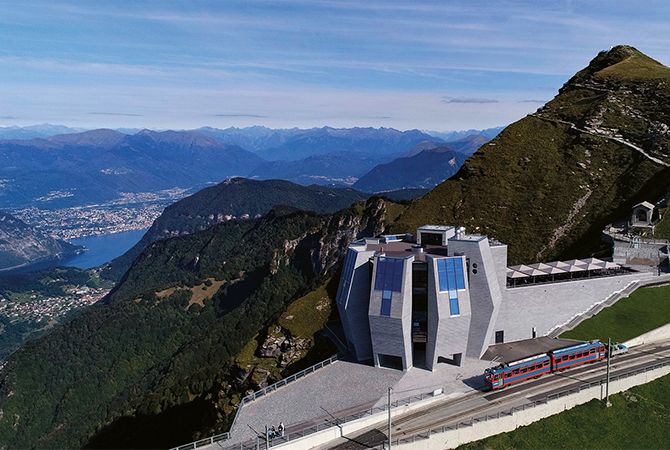 Head on over to Swiss star architect, Mario Botta's masterpiece at the panoramic mountain of Monte Generoso near the Italian border. As the highest mountain in the Canton of Ticino (at 1,704 metres above sea level), expect glorious views. The new landmark of the mountain is a definite must-see while you're there.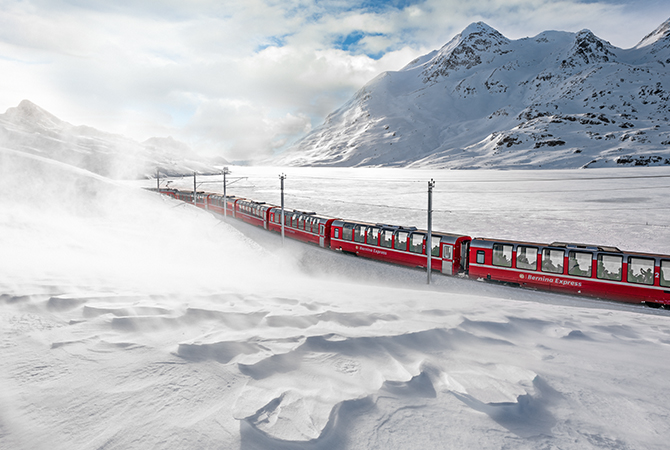 How to get there: Take the Bernina Express that brings you from St. Moritz-Tirano-Lugano (Route Five), where you'll go from glaciers to palm trees. You will pass by the vibrant turquoise of the Lago Bianco embedded in the Alpine landscape before going down through the scenic Val Poschiavo towards Italy. On your adventure to Lugano, you will also see the famous Lake Como, where George Clooney lives.
For more information on the landmark, visit this website.
6. Verkehrshaus (Swiss Museum of Transport)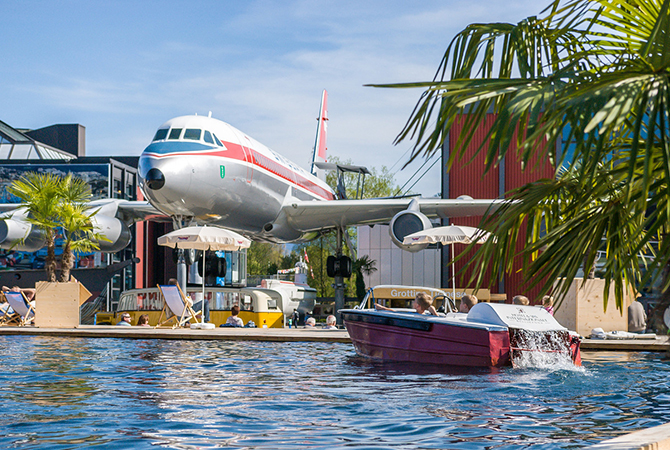 There is just so much to see here that you will probably need a full day. Explore everything from aviation and space travel to railway traffic and cableways to seafaring. If you're a sucker for top-notch cinema quality, you're in luck! Switzerland's biggest screen, the IMAX cinema (500 metres square) will be the perfect way to cap off your time there. Be immersed.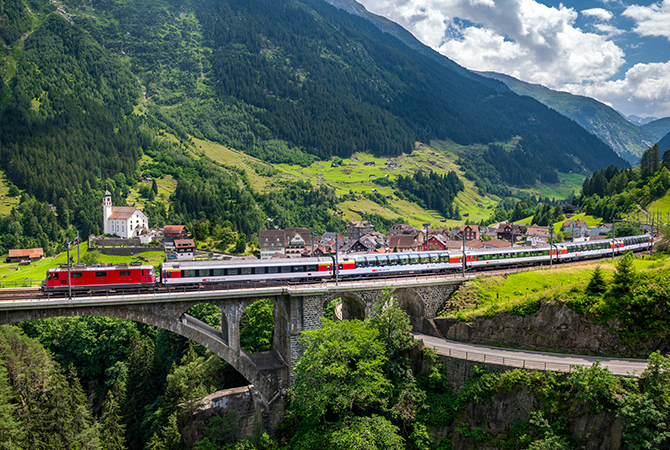 How to get there: Go onto the Lugano-Flüelen-Luzern (Route Six) route, travelling on board the Gotthard Panorama Express. From Mediterranean Ticino, you will swift bythe Gotthard panorama routebefore changing to a steam boat or a motor vessel at Flüelen. From there, glide along Lake Lucerne through traditional Swiss heartland.
For more information on the museum, visit this website.
7. Abbey Library (Stiftsbibliothek)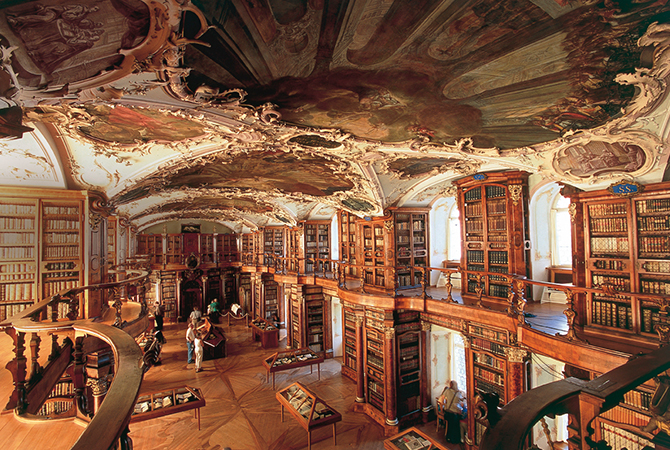 This is the oldest library of Switzerland. The book haven is located at the heart of the Abbey District and holds priceless books ranging from Irish manuscripts dating back from the seventh to the twelfth century to ivory tablets existing from the year 894. Open to visitors all year round, the baroque library hall can only be entered with slippers.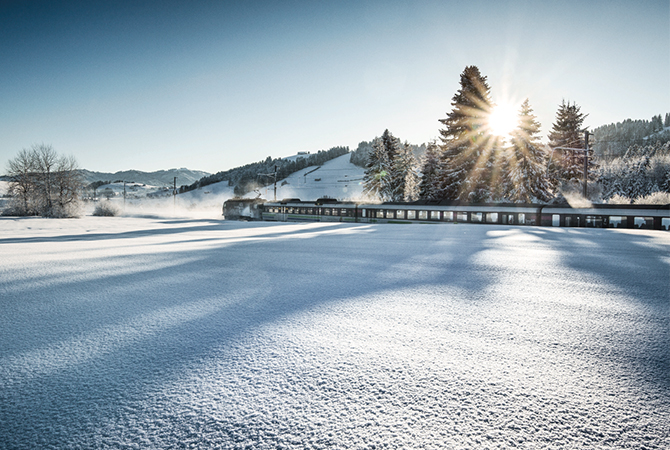 How to get there: Use the Voralpen-Express which runs between Lucerne and St. Gallen (Route Seven). The train leads past Rigi, the Queen of the mountains, on its way to Arth-Goldau before moving along the Rothenthurmer upland moor and crossing Lake Zurich into Rapperswil, the City of Roses. Don't miss out on Switzerland's highest railway bridge, the Sitter Viaduct at 99 metres, just before arriving in St. Gallen.
For more information on the library, visit this website.
8. Rhine Falls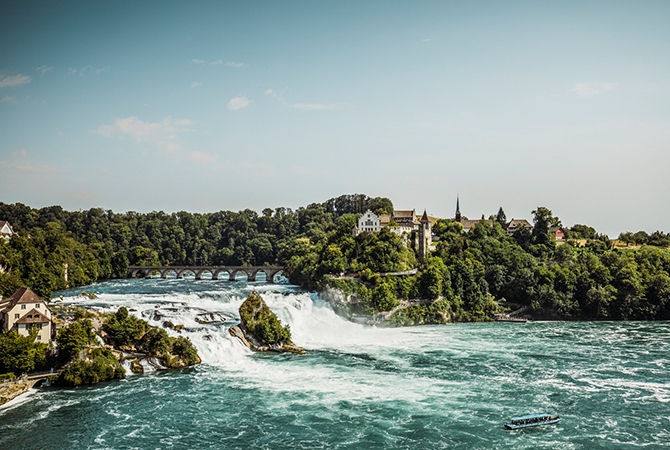 Europe's largest waterfalls, ©Switzerland Tourism
Located between Neuhausen and Laufen, these are the largest waterfalls in Europe. With a width that measures over 150 metres, you will get to experience this natural spectacle up close and personal with the assistance of platforms and boats.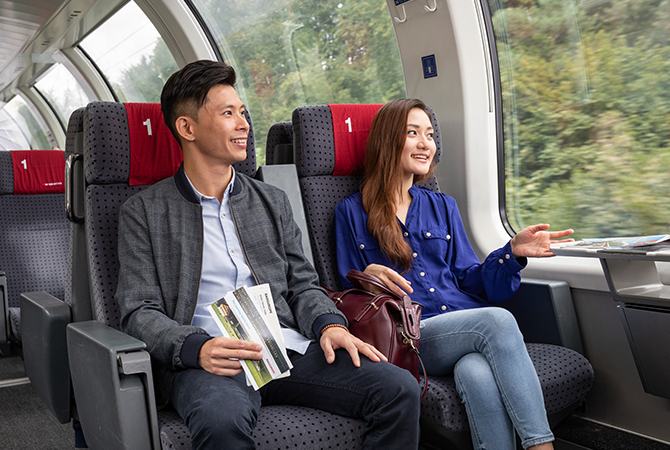 Swiss Travel Guide App, ©Daniel Ammann/Swiss Travel System
How to get there: Hop on the St. Gallen-Schaffhausen-Zürich route (Route Eight). The train travels through a pastoral hillscape towards Lake Constance and then rolls along its shoreline for 40 kilometres before arriving at Munot Fortress, landmark of Schaffhausen. After that, you will cross Eglisau's railway bridge before reaching Switzerland's financial metropolis, Zurich.
For more information on the waterfalls, visit this website.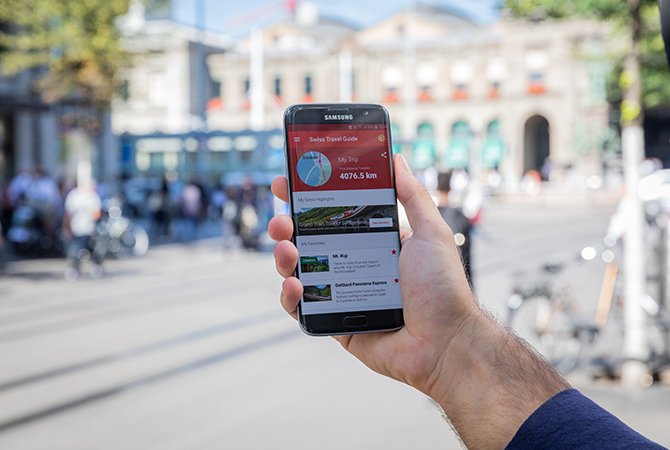 ©Daniel Ammann/Swiss Travel System
The Grand Train Tour of Switzerland is the perfect way to explore all four language regions of the country. Whether it's the GoldenPass MOB Panoramic, Bernina Express, Glacier Express, Gotthard Panorama Express, or Luzern-Interlaken Express, you're bound for a one-of-a-kind affair. The Swiss Travel Pass (iOS or Android) starts from $238 (approximately RM1,174) for second class and $378 (approximately RM1,586) for first class. Oh, you will also receive an attractive souvenir certificate confirming the routes you have travelled on the Grand Train Tour of Switzerland. Last but not least, don't forget to download the Swiss Travel Guide App (free in your Apple Store or Google Play Store) if you're unsure about planning your journey beforehand. It is also available offline so you never miss a beat.
For bookings and enquiries, please contact your Rail Specialist here or at:
1. Apple Vacations & Convention
Contact: 03 2143 8877
2. Boustead Travel Services
Contact: 03 2912 9788
For a virtual preview of the webroute, visit here.
| | |
| --- | --- |
| SHARE THE STORY | |
| Explore More | |