When we think of a White Christmas, it usually includes charming European towns, their fairytale-like castles and beautiful snowcapped mountains-kind of like these places. But in reality, Asia has just as much to offer, especially if you consider a ski holiday (the 2018 Winter Olympics might have  given you some inspiration). Not convinced? Here are six breathtaking ski resorts in Asia to help change your mind-and possibly your next holiday destination.
1. Niseko Village in Hokkaido, Japan
Over the years, Niseko has transformed into a familiar name when it comes to holidays in the name of skiing and winter because of its white, powdery snow. Niseko Village itself, though not a resort, encompasses everything you'll need: A variety of accommodation types (our pick: Kasara Niseko Village, a luxury private townhouse); onsen facilities featuring mineral-rich thermal waters; gourmet dining options ranging from traditional Japanese fare (featuring the freshest Hokkaido produce) to international favourites; and a myriad of winter activities including Reindeer Sledding, Snowmobile Tours, Snowmobile Rafting and more. Private ski lessons are also available at the Niseko Village Snow School.
ski holidays asia-niseko village
Niseko Village, Higashiyama-onsen, Niseko-cho, Abuta-gun, Hokkaido, Japan, +81 136 44 2211
When to go: 1 December 2018 – 7 April 2019
Getting there: Fly direct from KL – New Chitose Airport and then transfer via coach, car or train
2. One Happo at One Chalets in Hakuba, Japan
Located just outside the city of Nagano, Hakuba is yet another popular ski resort town in Japan, especially because it's close to Tokyo. There are several types of accommodation at Hakuba but none as luxurious and well-received as One Happo at One Chalets. Described as a "James Bond fantasy made real", the glass and wood chalet is perched on the ridge facing the Olympic mountain that is Happo One—clearly visible from the panorama windows. The two-storey home also boasts five bedrooms, a floor-to-ceiling glass wine room with a deluxe selection of wines and champagnes, transparent fireplace, and an eight-person onsen and sauna. Everything else—ski resort shuttle, private ski lessons, mountain lift passes, day trips and tours—can be arranged by the management.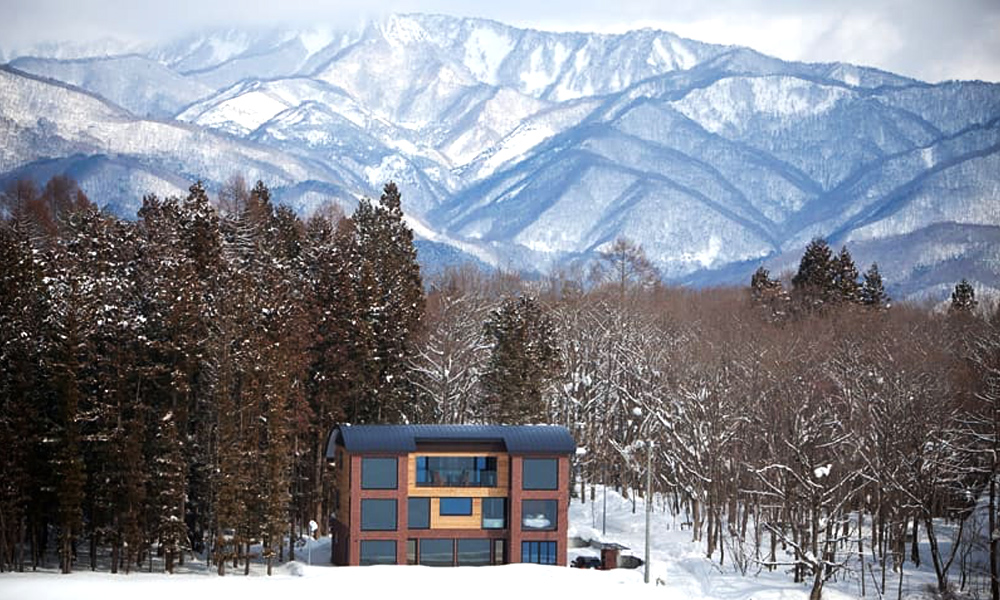 one happo hakuba
One Happo, 4620-1 Oaza Hokujo, Hakuba-Mura, Japan, +81 261 85 2466
When to go: December – early May
Getting there: Fly direct from KL – Nagano and a pickup can be arranged from Nagano station
3. Club Med Beidahu in Jilin, China 
The beauty of staying at a Club Med ski resort, as we had previously experienced, is that it's stress-free because it's an all-inclusive resort and the GOs (gentle organisers) are always happy to help. If you have kids, it's even better since Club Med has a very family-oriented culture. With the different Kids Club (catered to four-month-olds till17-year-old teenagers) available, you'll be free to explore and have fun without worrying about the young ones and vice versa. Just meet back for meals and it's still a family holiday, right?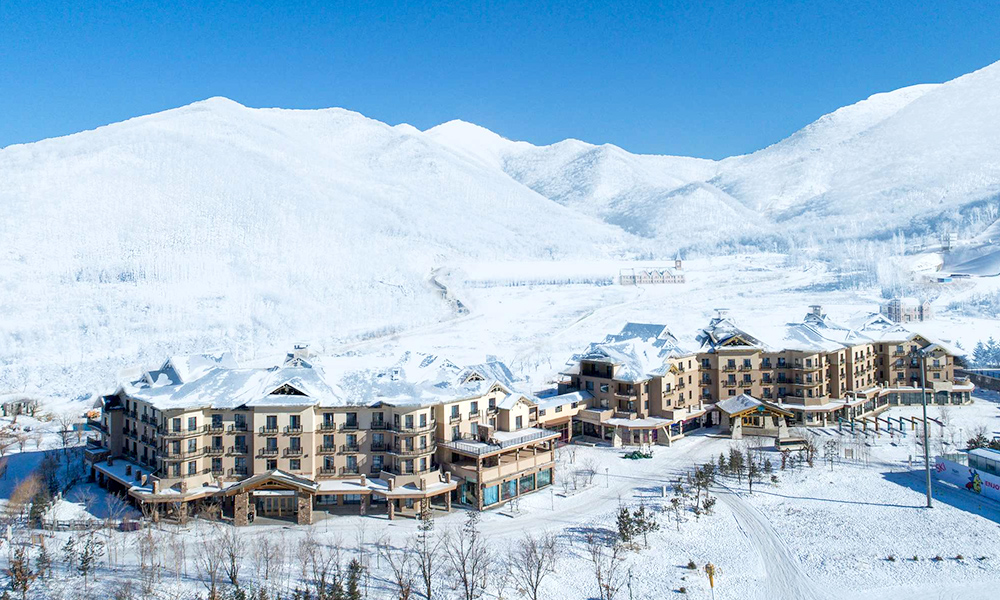 ski holidays asia-club med beidahu
Club Med Beidahu, Jilin Beidahu Sports Tourism Economic Development Zone, Jilin City, Jilin Province, 132224 China, +86 432 6420 1222
When to go: December – mid-March
Getting there: You'll have to take a connecting flight to get to Changchun Longjia Airport
4. Park Hyatt Changbaishan in Fusong, China
There is a saying that couples who visit Changbai will stay together for their whole life – till their hair grows white. After all, the name means "ever white" in Mandarin. But even if you don't believe in old wives' tales, the meaning is true to the mountain's beauty come winter. The slopes are popular with the locals but if you're looking for true luxury, look no further than Park Hyatt Changbaishan. Nestled within a forest, the 5-star resort promises absolute privacy without compromising convenience to the ski field. For those who are less keen on skiing, head out to enjoy local attractions such as the West Gate of Changbai Mountain and the Heavenly Lake, or stay in for some well-deserved pampering at The Spa.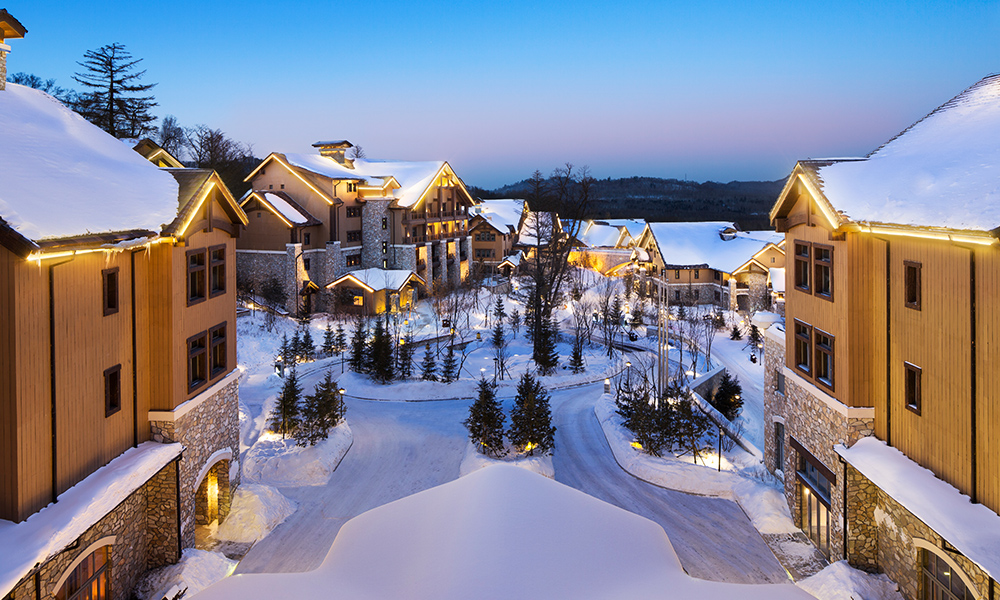 ski holidays asia-park hyatt changbaishan
Park Hyatt Changbaishan, Changbaishan International Resort Changbaishan, China, 134504, +86 439 698 1234
When to go: November – April
Getting there: You'll have to take a connecting flight to get to Changbaishan Airport
5. The Khyber Himalayan Resort & Spa in the Himalayas, India
With more people favouring India as a holiday destination, why not consider it also for a winter getaway? Located in Gulmarg, a small ski village in Kashmir, The Khyber Himalayan Resort & Spa will allow you easy access to the Gulmarg Gondola, one of the highest ski lifts in the world. Take it and you'll alight at Kongdoori Mountain, on the shoulder of Mount Affarwat. At 13,780 feet, it's the highest ski point in the Himalaya. One thing's for sure: The view will be incomparable.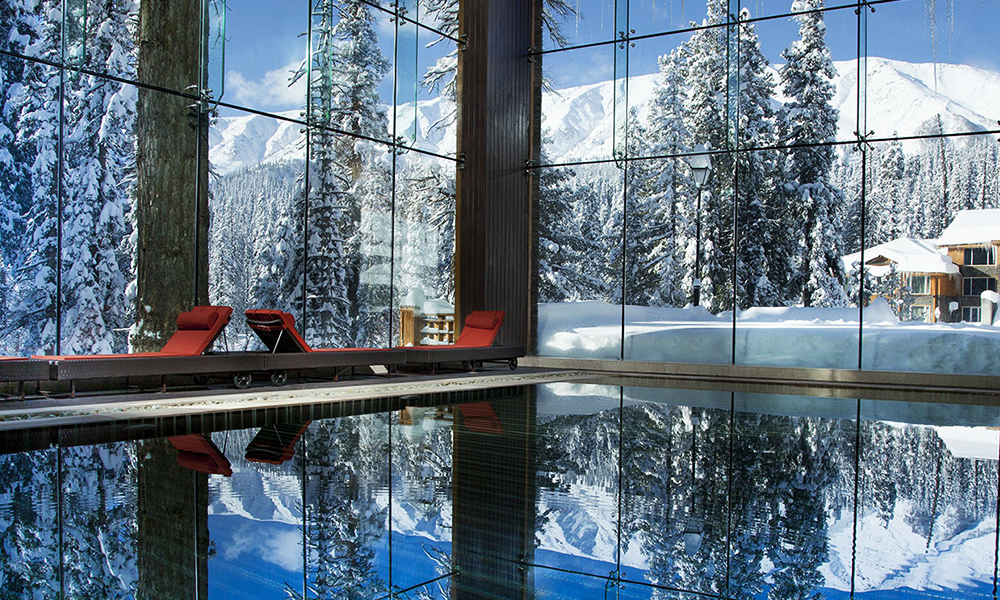 ski holidays asia-khyber himalayan resort and spa india
The Khyber Himalayan Resort & Spa, Hotel Khyber Rd, Forest Block, Jammu and Kashmir 193403, +91 9596780647
When to go: December – early February
Getting there: You'll have to take a connecting flight to get to Srinagar Airport
6.  InterContinental Alpensia Pyeongchang Resort in Pyeongchang, South Korea
You might recognise it from the 2018 Winter Olympics but that's not the only glory the 238-room hotel is proud of. Decked in a classical European-style design, InterContinental Alpensia was also awarded South Korea's Best Ski Hotel at the World Ski Awards in 2017. Facing the slopes with front-door access to the lifts, you can ski to your heart's content. Alternatively, the hotel also houses facilities such as a water park, a golf course, a movie theatre, and more.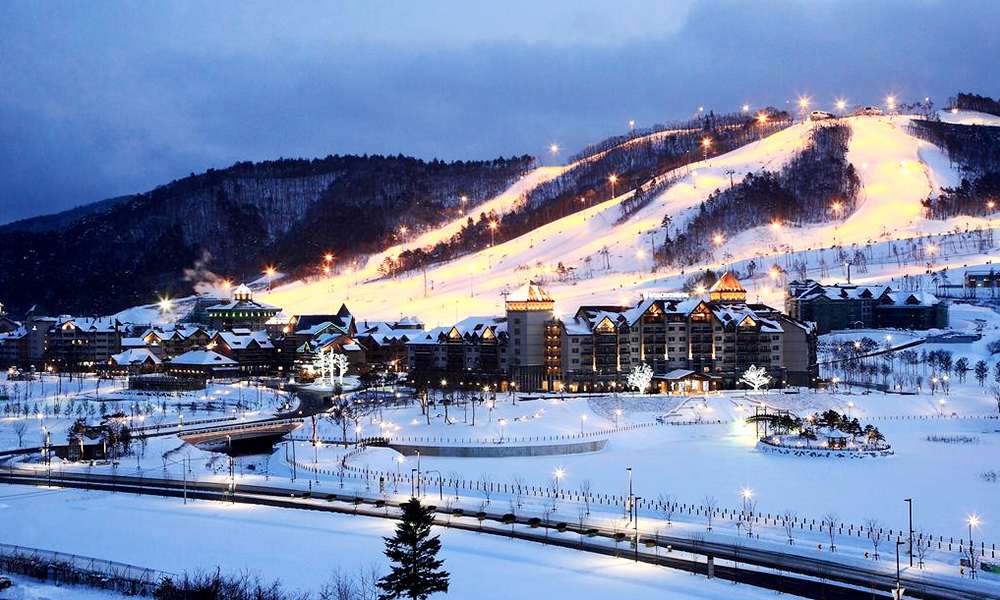 ski holidays asia-intercontinental alpensia pyeongchang
InterContinental Alpensia Pyeongchang Resort, 225-3 Yongsan-ri, Gangwon-do, 232-952, South Korea, +82 33-339-1225
When to go: December – February
Getting there: Fly direct from KL – Pyeongchang County
| | |
| --- | --- |
| SHARE THE STORY | |
| Explore More | |