Film, TV + Theatre
5 Iconic movie wedding scenes to inspire your big day
A marriage for the ages
FEATURED IMAGES: Sanja Bucko | Summit Entertainment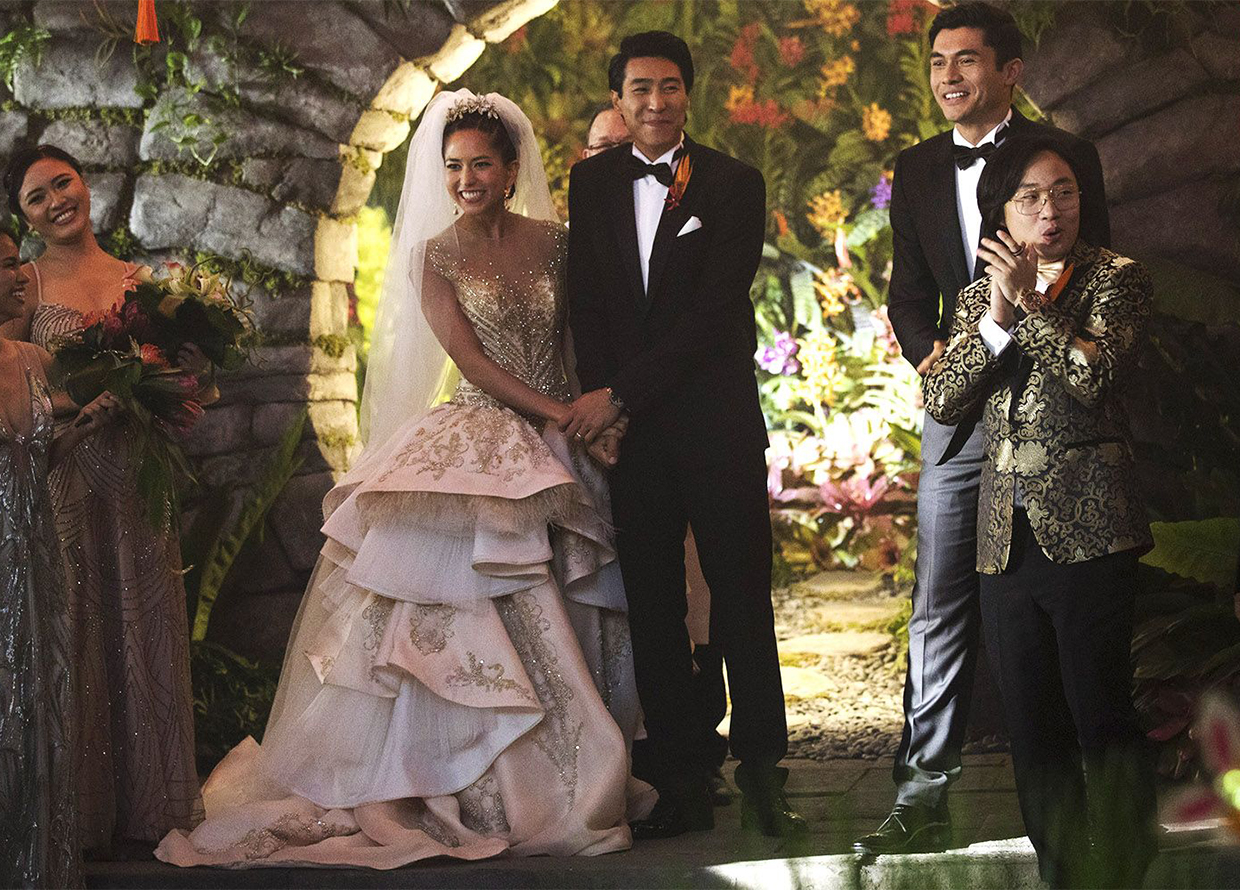 Everyone dreams of a great wedding. Whether you've already thought of it down to the small details or just have an overall vibe in mind, everyone wants a wedding that will be as timeless as the love they are committing to. Not to mention, there have been many memorable movie weddings which only raise the expectations for your own wedding IRL (thanks Hollywood). There are so many directions to go: classic, comedic, carefree—the list goes on. 
But instead of feeling overwhelmed, why not draw inspiration from these iconic movie wedding scenes to recreate for your own big day? Take some elements of each or imitate everything about your favourite one altogether!
Crazy Rich Asians
Starting out the list with the film everyone would be most likely thinking of, it's none other than Colin and Araminta's wedding scene in 2018's Crazy Rich Asians. There's a lot to like about the rom-com but this scene totally takes the five-tiered cake. From the lush greenery and the stunning floral arrangements to the slow arrangement of Can't Help Falling In Love, this nature-inspired ceremony is a real tear-jerker that had cinema audiences in awe. If you love flora, consider creating your own little fairytale meadow and deck the aisle with your favourite flowers. If you're feeling extra brave, you can even be like Araminta and walk across the water for a truly jaw-dropping moment.
Twilight: Breaking Dawn Part 1
Say what you want about the Cullens but they know how to throw a wedding. 12 years on, the grip that Bella and Edward's wedding scene has on society is still strong and continues to impact wedding trends to this day. It's hard not to see why. The entire ceremony has a beautiful and enchanting look and feel to it, from the dreamy wisteria that cascades down from overhanging trees (it looks extra whimsical with fairy lights in them too!) to the all-white floral arch and petals that litter the aisle. Paired with Flightless Bird, American Mouth by Iron & Wine in the background, you have yourself a wonderfully magical moment. And who can forget another of Twilight's greatest artefacts to pop culture—A Thousand Years by Christina Perri remains one of the most popular wedding songs to this date.
Love Actually 
You know a wedding has to be seriously good or embarrassingly bad when a rom-com opens with one. In this case, the matrimony between Peter and Juliet in Love Actually was *actually* seriously good. Whilst the nuptial takes place in a traditional setting of a church, the film shows you can still bring some excitement to it! We love how the musicians pop up while disguised in the pew and the choir's gospel rendition of All You Need is Love by The Beatles makes for a romantic yet fun twist. If it's not your wedding and you're planning a surprise for the bride and groom, this is one that will melt their hearts.
Bridesmaids 
For a film that's all about catty bridesmaids fighting and the horrors of wedding planning, Lillian and Dougie's nuptial is a big sigh of relief for everyone involved. With a giant water fountain as the backdrop and main setting, the bridesmaids and groomsmen are placed on stone pedestals whilst the couple take their vows on top of the water. Forgo the usual projector screen and opt for a laser projection and an over-the-top laser show for a wow moment. Further, why not surprise the married couple with an act from their favourite artist just like Helen did? Just one note, we don't think giving out puppies is a good idea for party favours. Instead, pick from our list here!
27 Dresses
For those who want an outdoor beach wedding, this film shows you just how magical it can be. It has a cohesive colour palette of white, yellow and green that looks gorgeous during the golden hours of the day. We also like how Jane keeps things simple with her dress and hair, going without a veil and instead opting for beautiful flower accessories—perfect for sun-loving beachgoers! With Katherine Heigl's monologue and James Marsden looking absolutely dashing at the end of the aisle, we can't help but feel emotional for Jane as she finally found her happily ever after!
For more wedding ideas, head here.
| | |
| --- | --- |
| SHARE THE STORY | |
| Explore More | |