Beauty
Beauty Chats: 7 Wedding planning tips Athisha Khan learned from her bridal beauty routine
Top tips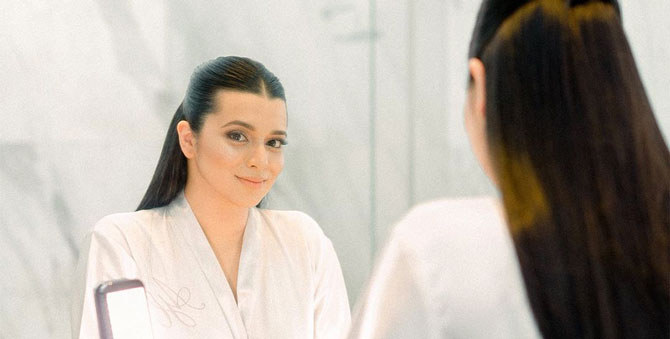 In the latest instalment of BURO Beauty Chats, we're delving into all things bridal beauty (and beyond). And, to glean some hot-off-the-press insider tips, we spoke to it-girl (and recently married!) Athisha Khan.
READ: #BuroBrides: The ultimate wedding beauty timeline—how to prep for the big day by the month
Ahead, the content creator gets candid about the ins and outs of her bridal beauty routine, as well as the biggest lessons she learned from her big day.
READ: 8 Wedding makeup mistakes to avoid on your big day
From what you should avoid while wedding planning to top tips for a stress-free big day, we've got the exclusive.
1. Don't change up your skincare routine before the wedding
"I didn't change up my skincare routine much from the usual as I was too worried that if I had tried something new last-minute and it didn't suit my skin, I wouldn't know how to fix it. I just kept to what I knew worked."
2. Moisturise, moisturise, moisturise!
"I'm the kind of person who needs to moisturise—if I don't, my skin will get too dry and my lips will crack. So, for my wedding, I upped the ante on my skincare and my haircare."
TIP: "You have to moisturise your hair and do scalp treatments. I've been going to CocoDry for my treatments since they opened their new outlet in Publika!"
READ: The best hydrating masks for parched skin
3. Don't forget to stay hydrated
"I had some spots on my chest, and while they weren't very visible to anyone else except for me, it bothered me. Luckily, every time I moisturised, it went away, so I think the problem was dehydration.
"I'm not the kind of person that drinks a lot of water, but I'm still trying to fix that about myself. I tried my best to carry water around with me so that I could meet my daily intake. It helped me to flavour my water in natural ways using lemon juice and using a straw to make drinking easier. [Staying hydrated] really makes you feel and look better."
4. Some things are just best left to the pros
"I went for facials more consistently—going for extractions and other treatments I knew I wouldn't be able to do at home—so I could get rid of some of my skin texture and get my skin at its healthiest."
5. Find a glam squad that you trust, and the look will fall right into place
"Choose someone that makes you feel good about yourself. Both Khir Khalid (my makeup artist) and Juno Ko (my hairstylist) made me feel so very comfortable—that's why I chose them for my big day. I still think it was one of the best decisions of the whole day! Khir really turned my whole look into something so special. And, I'm quite used to working with Juno, so I knew he knew what style would suit me best. If only I looked like that every day!
TIP: "Do your research and check their Instagrams to see if they've done looks that you think suit your face, your skin type, your hair type and stuff like that. There are so many amazing makeup artists and hairstylists, but they may not have worked with people who look like you. Look for a makeup artist and hairstylist with experience with you, specifically, or at least people like you."
6. Sometimes all it takes is sheer will to stop the waterworks from flowing
"I'm a crier! I cry at everything, so the fact that I didn't cry on my wedding day is still a surprise to me now. By the end, I had shed, like, one tear—just one small tear. Honestly, I just kept telling myself that I wouldn't cry because I didn't want the makeup to run (laughs)."