Fashion
Wedding dress fabrics and materials to know before making your own wedding dress
A classic piece to last a lifetime
Featured images: @lilyjcollins / Instagram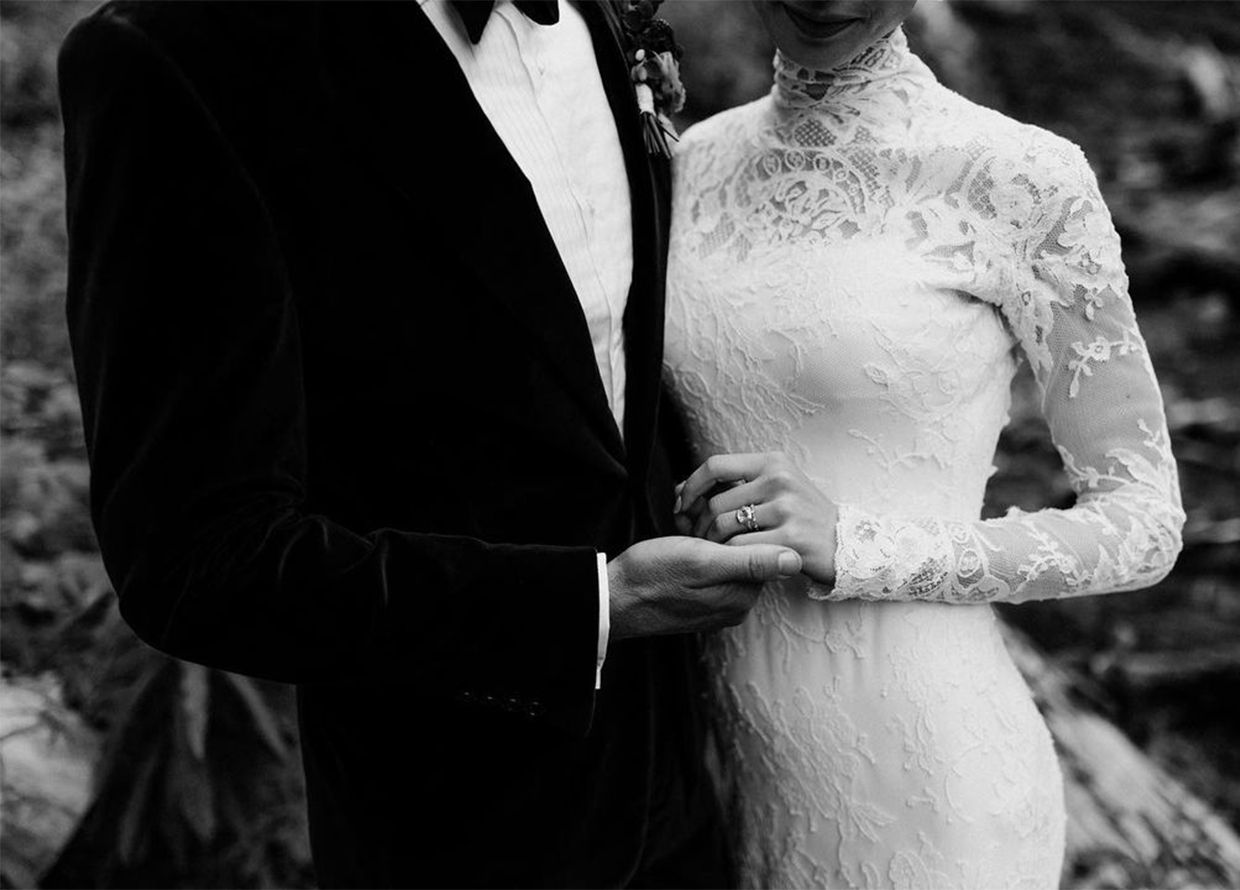 Planning on getting married? Congratulations! So, what's next? Finding the perfect wedding dress, of course! Whether you are buying in a boutique or having one tailored just for you, it's worth knowing about the many fabrics that will wrap around your body on your big day—considering not all materials are made the same for wedding dresses. While some are better suited for structured designs that hold their form, others are wonderful for flowing styles that sway effortlessly as you twirl.
Although silk and lace are very popular choices for bridal wear, crepe is also highly sought-after for its flowy yet striking appeal. Once you understand the fundamentals—knowing what types of fabrics you favour and how they ought to be worn—the process can become less intimidating, and you will be more confident and informed. Before you start your mission, here are six gorgeous fabrics you should know. 
Satin
First off, let it be known right away that satin is a fabric finish rather than a fabric in itself. You'll come across different terms like silk satin, charmeuse satin and duchess satin when shopping for fabrics, but essentially, it's a delicate, opulent fibre made of silk, polyester, or a blend of the two. Satin lends a smooth, lustrous sheen to the exterior of the fabric and is less likely to crease or wrinkle, which makes it perfect for structured gowns. Due to its versatility in flattering every body type, satin is also an excellent choice for ruched, romantic A-line, and ball gown styles. If you need some inspiration, check out Miranda Kerr's Dior satin dress and Ariana Grande's silk charmeuse satin strapless dress from Vera Wang.
Miranda Kerr
View this post on Instagram
Ariana Grande
View this post on Instagram
Chiffon
Thanks to its incredibly sheer and transparent nature, many brides opt for chiffon dresses for their special day—including supermodel Kate Moss, who wore a custom-made, 1930s-inspired chiffon gown made by John Galliano when tying the knot with Jamie Hince. Chiffon is a light woven fabric that lends a romantic and ethereal feel when worn as an accent detail, an overlay, or in layers. It is a versatile fabric that can be used to make everything, including bridal wings as well as A-line and empire-waist style gowns. Additionally, the flowy nature also makes it a great choice for beach weddings and outdoor ceremonies. Keep in mind, though, that chiffon does fray and snag more easily than other materials, so be sure to discuss ways to avoid this with your seamstress. 
Kate Moss
View this post on Instagram
Organza
There are plenty of sheer fabrics available, but none have the same shiny finish and crisp, understated drape of organza. Traditionally composed of silk, this airy fabric is frequently used to create trains, veils and layered gowns to add more body underneath, much like Angelababy did when she wed her ex-husband in a Dior bespoke ivory satin organza wedding gown. Alternatively, adding fewer layers of organza is also a solid choice since it will make slimmer skirts breezy. In contrast to chiffon, this material is significantly stiffer and more structured yet still light and dreamy, making it ideal for sunny days. However, keep an eye out for snags and pulls, as the fabric is quite delicate.
Angelababy
View this post on Instagram
Tulle
The next time you see a ballerina's tutu, know that it is made of tulle. Made from various fibres, including nylon and polyester, this wispy, lightweight material with an open weave is a favourite for wedding veils, gloves and skirts. Similar to how Son Ye-Jin donned a hand-draped French tulle gown by Vera Wang, tulle gives extreme volume to a ball gown or mermaid silhouette—creating a style that is reminiscent of a fairytale. For petite brides, tulle is an appealing choice because its hemlines are easy to adjust for length. Also, the best thing about it is that it can be worn all year round, so you can always fall back on it if everything else fails.
Son Ye-Jin
View this post on Instagram
Lace
From Lily Collins' stunning custom-made Ralph Lauren dress to Hailey Bieber's Off-White gown, lace is a classic fabric that brings grace to any gown. This gentle, romantic fabric is typically used as an overlay material and frequently paired with other textiles to create the overall look. Lace works well with all silhouettes, but mermaid and fit-and-flare are two of the most common styles. There are many different kinds of lace, including Chantilly and Venise, each of which gives your bridal dress a unique appeal. Chantilly, for one, is ideal for outdoor weddings, whilst heavier, more textured fabrics, like Venise, are better suited for cooler settings. Another thing about lace is that it travels well, so any wedding location would not alter its quality.
Lily Collins
View this post on Instagram
Hailey Bieber
View this post on Instagram
Crêpe 
If you wish to flaunt your curves on your wedding day as Ellie Goulding did when she walked down the aisle in a stunning silk double crepe Chloé gown, you will love a crêpe that hugs the body without being clingy. Made for sheath and draped silhouettes, this medium-weight silk blend fabric has a smooth and crisp finish that gives it an enchanting touch, making it ideal for minimalists. Sure, the fabric is gorgeous on its own, but embellishments like lace and beaded bodices can magically transform this simple material into a major piece. Additionally, classic silhouettes like the mermaid or A-line are always a wise choice. Similar to tulle, this sophisticated fabric is appreciated all year round and is perfect for warmer days.
Ellie Goulding
View this post on Instagram
For more bridal reads, click here.
| | |
| --- | --- |
| SHARE THE STORY | |
| Explore More | |