Beauty
Tata Harper on the cocktail of active ingredients in her products, the future of the beauty industry, and her brand's humble start
Queen of Green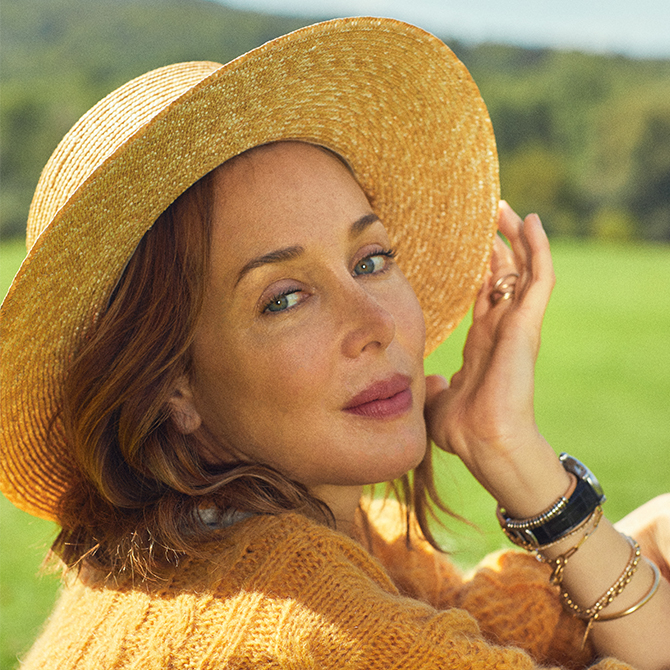 Colombian-born Tata Harper is the face behind the beauty industry's biggest strides in sustainable innovation. Her journey in beauty began in 2010 as a frustrated consumer with no prior experience in the beauty game. One successful luxury line and a decade later, the beauty entrepreneur currently runs her global business from her 1,200 acre organic farm in the Champlain Valley of Vermont, with the help of her husband and a humble team of two hundred employees.
Harper is also a rare female CEO in the industry, and a refreshing perspective to hear from. From speaking with her during our exclusive, it's clear that she is wildly passionate about what she does, and her enthusiasm is infectious.
Ahead, find out why Tata Harper is a firm favourite of celebrities like Hilary Duff, Kristen Bell, and Emma Watson.
READ: Briogeo's founder Nancy Twine prides herself on inclusivity both in and out of her products
Happy 10th anniversary to your brand! It's been a wild ride for you—what gave you the initial push to launch Tata Harper all those years ago?
"Thank you! Beauty was always really important to me, but I didn't think I would ever become a beauty entrepreneur. When I first started the brand, there was no such thing as 'clean beauty'. I call it 'first-generation beauty', or 'natural beauty 1.0'.
"The 'natural products' I could find in the department stores would have ingredients like rose or orchid extract, but then you also see industrial chemicals like propylene glycol used to preserve, emulsify, thicken, and stabilise formulas. These are ingredients that belong in my car—it's like putting antifreeze around my eyes! That really was the last frontier for me.
"I use my own products, and I wanted to make something for women like me. So, I started working with chemists. When I started the company, I poured so much of my personal values into the business. Not only did I want to create a company that had modern formulations and innovation, but I also wanted to have a company that does things naturally and sustainably."
View this post on Instagram
What challenges did you face when starting up Tata Harper? It must have been tough considering a sustainable, fully-natural brand was a fairly novel idea in the industry at the time.
"I was told that the formulation I wanted was not possible and that I was not going to have the clients for it because 'no one is interested in natural beauty'. However, the reality is that the wellness movement is happening worldwide, and it comes from the consumers, not the industry. Consumers want to make better decisions and elevate their quality of life."
READ: 11 Homegrown beauty brands that offer all-natural products your skin will love
What sets Tata Harper apart from the sea of beauty brands in the industry?
"When I launched the brand, I wanted to bring innovation to a space that typically revolves around pushing products with a 'catchy' active ingredient and a single purpose, like vitamin C for a glow or hyaluronic acid for hydration. While they work, having just one main active is a waste when you could get even better results by 'cocktail-ing' them.
"So, instead of that philosophy, we formulate our products from scratch with multiple active ingredients. We don't have 'main actives' in any of our formulas, and we use ingredients that are far more advanced than vitamin C and hyaluronic acid. Honestly, the science of skincare is well beyond all the things that are mainstream!
"Of course, formulas are not just the active ingredients. We also don't use any synthetic ingredients whatsoever, and we haven't since the beginning of the brand. We found a way to use natural waxes and gums to stabilise, emulsify, and preserve our products instead.
"We're all about slow beauty—just like how there's fast fashion, there's also fast beauty where it's just constant drops and relaunching products that have already been made with some new form of the same catchy ingredients. We don't do that. We spend years developing ingredients that are very advanced, and that work even better than your mainstream ingredients."
View this post on Instagram
With Tata Harper products having so many active ingredients, how is the potency and efficacy of each active ingredient maintained? Is each ingredient supposed to work individually or are they all supposed to work together?
"It's both. You maintain the potency by testing for the right preservatives and stabilisers, but each ingredient works individually, and their effects complement each other.
"For example, let's take collagen in our Rejuvenating Serum. In the serum, we have a lot of ingredients that make the collagen fibre stronger, we have ingredients that stimulate collagen growth, and we have ingredients that suppresses a natural enzyme in our ageing process that destroys collagen. By doing their work, all of them help to complement the effect of collagen. That's an example of a formulation strategy that incorporates the work of fifteen different ingredients."
READ: What's the difference between retinol and retinoid? Here's everything to know about skincare's favourite ingredient
How to ensure that your brand stays true to its sustainable values?
"It is really hard when you start a business. You'll realise that 'expert advice' might compromise your values, so you should stick to your gut.
"We produce at the farm and have our own research and development lab so we can control exactly what goes into the products, the quality of the products, and the quantity we make so that we are not wasteful. In the last 10 years we've obviously grown, but we still make everything from the farm. It's just our footprint and our manufacturing that grows every year. You buy more machines, you hire more people—you scale! Scaling doesn't necessarily mean that you need to outsource, you just need to invest more money in your business and hire more people.
"Of course, while pursuing sustainability, it's also important that you don't pollute and that you pay fair wages, among other things—what I call responsible business. So, we are transparent about our products, which are certified with several green seals. We're also completely vertical, which ensures that our products are super fresh and unique. We're as sustainable as we can be."
View this post on Instagram
How did you build a research and development lab from scratch? What went into forming the facility?
"A lot of the girls that ended up coming to the lab were chemists from universities around the Northeast. Also, one of the scientists that I ended up working really closely with came to lead the department and she helped me recruit our chemists. It is important that the people in our team are open and curious to explore new technology and new ways of doing things.
"These people had all the qualifications, but still needed to learn things from scratch because a lot of the cosmetic formulations that had been done in the past and a lot of the experience they'd had were all using synthetic chemicals. So, we needed to find new tools and ingredients that, a lot of the time, don't even exist. Honestly, not a lot of labs know how to do what we do."
View this post on Instagram
What is your process of formulating your products? Does it start with the benefits or with an ingredient?
"It always starts from the benefits. We typically come up with five benefit categories, and each category will have 20 ingredients. Then, as we validate our raw materials, ensuring they pass each green seal, that list of 20 ends up as 10 per category.
"After we're done with that we start formulating. Through the formulation process, there's elimination—maybe a raw material doesn't get along with another, or the ingredient needs to be at a certain pH, or another isn't working well. After all of that, we are left with probably around 20 to 30 active ingredients in the formula."
READ: Clean beauty buzzwords: What does it all mean?
With so many people under lockdown around the world unable to try your product, how has the COVID-19 pandemic impacted your brand?
"Stores around the world have been closed which has definitely changed the wholesale part of the business, but our digital side of the business and our digital retail partners have been strong.
"I think that it has changed how we do things, but overall I think that people—now more than ever—are focused on their health, their wellbeing and buying 'right'. Consumers are buying and investing in the right things, they are reevaluating what brands they want to support and the kind of consumers they want to be. I think because our brand is so transparent and sustainable, it has definitely brought interest from many parties that were more apathetic before."
View this post on Instagram
How do you see the pandemic changing the beauty industry as a whole?
"I think that firstly, skincare has become such an avenue for all of us to find soothing and comfort at home. Maybe at other times it was a chore, or an inconvenience, but now it has become a priority for a lot of people. We're stuck at home so it's entertainment and self-care all at once.
"I also think that the way that we buy beauty has changed—we're buying things more digitally and we can't usually try them before buying them. However, the beauty industry has responded by creating live events and classes so customers can try and get advice digitally. It has shown us a new way of doing business that we are all learning and experimenting with right now. Overall, we're just seeing the world move towards digital."
READ: The future of the post-pandemic beauty industry is digital
How can someone begin to make their beauty routine greener?
"I honestly believe that everything will be 'clean' in a few years, and that we're moving towards a more green industry. However, 'clean' is a very loose term. Individually, I think that you should start by actually understanding how clean is 'clean' for you? Our brand is at the clean extreme in the sense that every sustainable checkbox is ticked, but some people may not find that as important. Maybe they want a few ingredients removed but they don't care so much about packaging being sustainable."
"It depends, but it's important to understand what your own goals are for yourself. In terms of products to start with, it's better to start on things that are low commitments. Phase it in!
View this post on Instagram
As the 'Queen of Green', what is the next step for your brand?
"We're always launching new things! I can't spill the details right now, but there's something really exciting that we've been working on for two years that is going to be like a little sub-line within the brand, and it's launching in spring next year.
"We are working with a few brands, focusing on a lot of home beauty—maybe doing something for your vanity like a robe or a candle. Unfortunately, I can't give you names yet!"
This interview has been edited for length and clarity. Find more beauty insiders here.
| | |
| --- | --- |
| SHARE THE STORY | |
| Explore More | |