Tired of your standard cat-eye? Let us show you how to spice your eyeliner game up.
Imagine this: You're scrolling through Instagram, lying in bed, trying to muster the will to get up and get going for the day (and failing miserably). Your hair's a mess, your face is greasy from your beauty sleep and you are just not feeling today.
Suddenly—you see it. The Look™. It graces your phone screen and catches your eye. Rihanna's piercing gaze is rimmed with cobalt blue and paired with a vibrant red lip. Her hair is perfectly styled into a sleek, vintage-inspired updo. The rest of her? Draped in the very hue of cobalt blue that lines her eyes. It's more than that, though—her eyeliner is intense, but in the best way possible.
Her makeup artist, Priscilla Ono, has given the classic coloured cat-eye a much-appreciated twist, dragging the point right into the inner corner. You stare in awe for a moment more. Suddenly, you're overcome with emotion. You throw yourself out of bed and scream at the cosmos. Your concerned neighbours hear you exclaim "I CAN'T BELIEVE RIHANNA INVENTED COBALT BLUE!" at the top of your lungs.
Okay, maybe the scenario doesn't play out quite like that. However, there's no denying that this look is a surefire trend revival in the making; a great way to play with both graphic liner and colour all-in-one. In fact, this look is super flattering on those with wide-set eyes, and on those who are looking to elongate the shape of the eyes (a non-surgical fox-eye, if you will).
Here are a couple of ways you can recreate the look:
The classic accent in black
View this post on Instagram
Just like any regular cat-eye you might do, you can pair the look with an array of different eyeshadow looks. The only difference? The little tail in your inner corners. It's not a huge switch-up, but the small point is the perfect way to easily play up the intensity of your everyday liner look.
Try: Flypencil Longwear Pencil Eyeliner
A subtle take
View this post on Instagram
This look proves that a plum-bronze eyeliner is a great way to amp up the seduction factor on your eyes, but also shows that you don't need a super distinct point to get the lengthening effect.
This inner corner point here is just a whisper, but even in its modesty, it succeeds in elongating the eye and accentuating the 'cat-like' shape. Combined with the full, fluffy brows, this look is easy to dress up or down.
Tip: You don't always need to surprise with a contrast colour—this look keeps the blush and the lips matchy-matchy with the liner to achieve the monochrome trend.
Try: Ciate Wonderwand Gel-Kohl Eyeliner
The graphic eye continuation
View this post on Instagram
Why limit yourself to a regular ol' cat-eye? Play with two major avant-garde beauty trends to create something truly fresh. We love this architectural liner look—the muted orange-peach is subtle enough that the look is wearable for every day, but the expertly curved shape keeps things interesting.
Try: KVD Vegan Beauty Ink Well Long-Wear Matte Eyeliner
The full Cleopatra
View this post on Instagram
In the mood for something super intense? This look sure won't be for everyone, but it's a guaranteed way to make sure your eyes are the centre of attention. An added benefit of the uber-intense look? The extra-pronounced inner corner points help to narrow the bridge of the nose—who needs contour, anyway?
Try: Dior Diorshow 24H Stylo Waterproof Eyeliner
The reverse cat-eye
This particular look is for the edgier souls out there—perfect for any kind of eye shape, there's no need to fret over hooded or monolids here. Simply tight-line the lower lash line to your preferred thickness and finish with a point on either end. Voila! You're golden.
If you'd like to take a notch down on the drama factor, replicate this liner look with an iridescent or metallic liner to instantly soften the punk vibes while keeping it distinctly individual.
Try: Marc Jacobs Beauty Highliner Liquid-Gel Eyeliner
The pop of colour
You've definitely seen the huge trend of popping a bit of highlight or a bold, fun colour in your inner corner. This is basically that, except more structured. Instead of the 'glowy' blended accent in the inner corner, we have a very defined, pointy and vibrant contrast.
This look is a great way to get the inner cat-eye look without having to commit to a full outer corner wing, making it the perfect complement to any minimal makeup day.
Try: Chanel Le Liner de Chanel
Just the tip(s)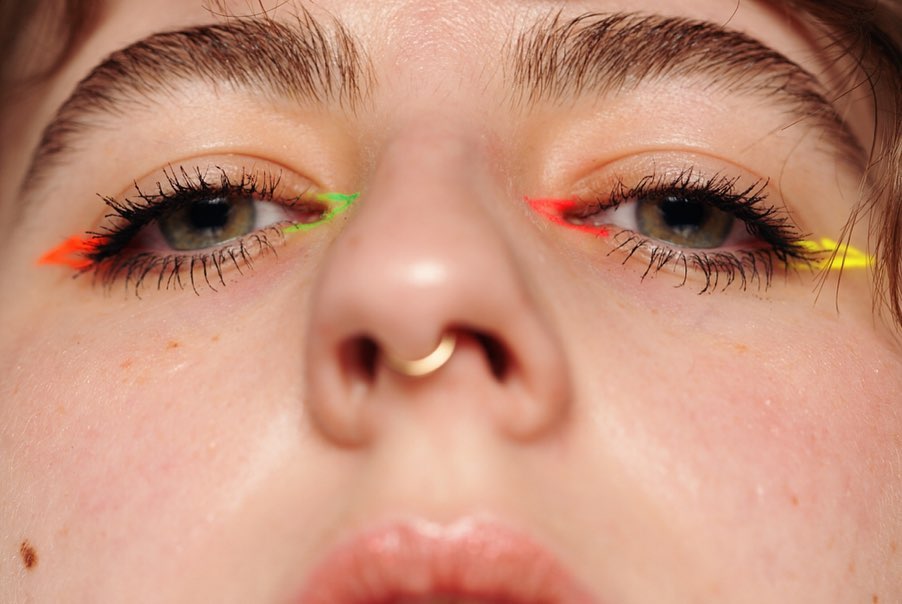 We love this take on the inner corner cat-eye trend—instead of a full line across the top lashes, this look plays with neon accent tips that are super reminiscent of the iconic looks on Euphoria. Use any colour combination you like; they're all bound to be a minimalist hit!
Try: Charlotte Tilbury Eye Colour Magic Liner Duo
The bedazzle
So, not exactly a liner trick per se, but Blackpink Jennie's bedazzled inner corner from the 'Kill This Love' music video captures the same striking factor of Rihanna's cobalt point. If you're not too confident with the liner pen (inner corners can be especially tricky to manoeuvre on some eye shapes) a gem in its place will do swimmingly.
Try: Urban Decay 24/7 Glide On Eye Pencil
For more inspiration on how to switch up your makeup, click here.
| | |
| --- | --- |
| SHARE THE STORY | |
| Explore More | |