Makeup
I recreated 6 looks from HBO's 'Euphoria' and this is how it went
There is still glitter in my eye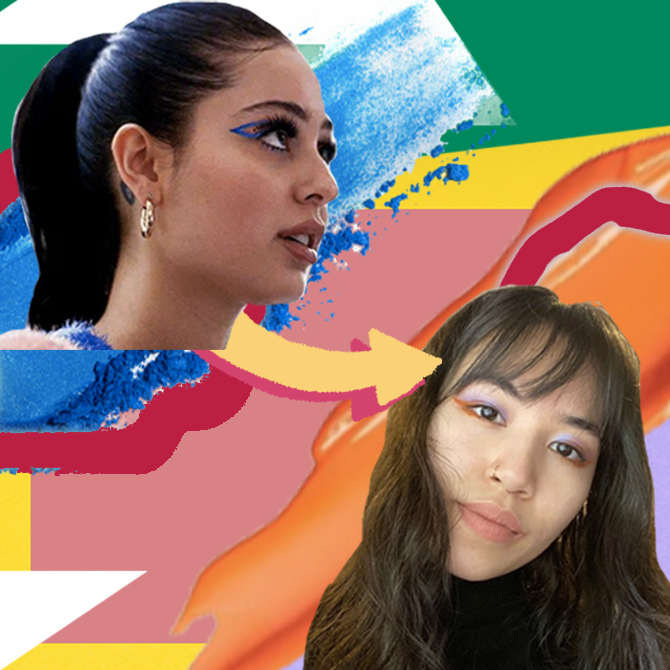 Firstly, I'd like to say that I am well aware that I am a little late to the party. Yes, Euphoria makeup was more of a 2019 thing—but guess what? I'm bringing it back for 2020. Plus, just because it was big last year, doesn't mean the beauty buzz has died down by any means—I, for one, still haven't recovered from how cool the makeup is, and I'm sure there are plenty of others who haven't either.
That said, although I'm a big fan of the makeup on this show, I feel like I have to admit that I'm yet to see an episode. I know: I should watch it, it's great, what kind of a Gen-Zer am I (question: does '98 count as Gen-Z? Asking for a friend). All I can say is that I'll get around to it. So, with that in mind, I took to Google and typed in 'best Euphoria looks' (as you do) and found a few that I thought I could recreate with what I already have in my beauty desk.
RECREATING ALEXA DEMIE'S MOST ACHIEVABLE LOOKS
Graphic blue-da-boo-dee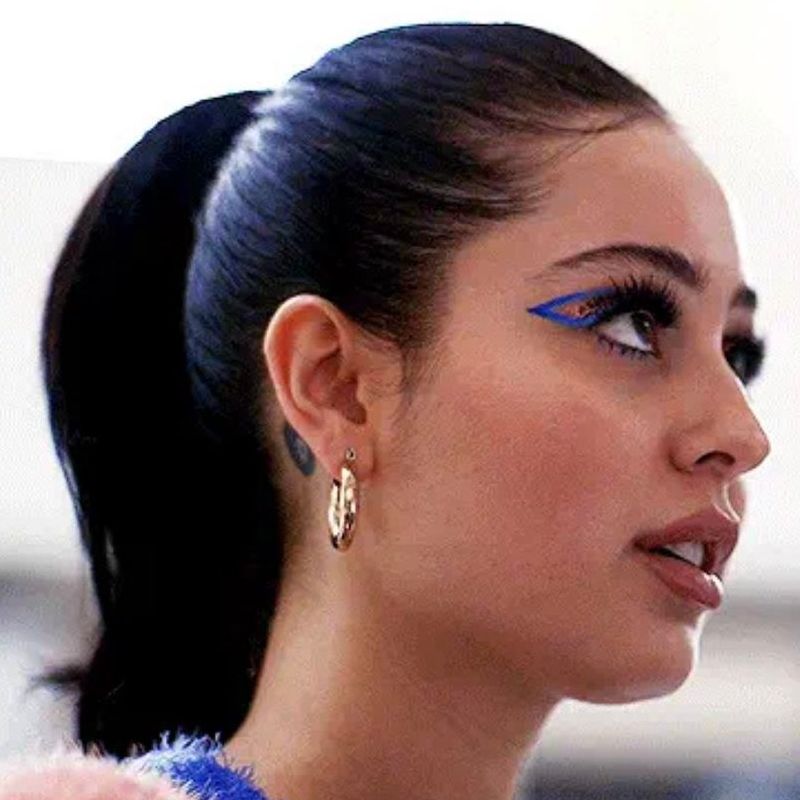 Why I chose this:
I adore this look. The clean and structured lines drawn in electric blue are a power move on their own, but the pinky-nude lip softens the look and completes it. Plus, I feel like this is going to be one of the easier looks to accomplish.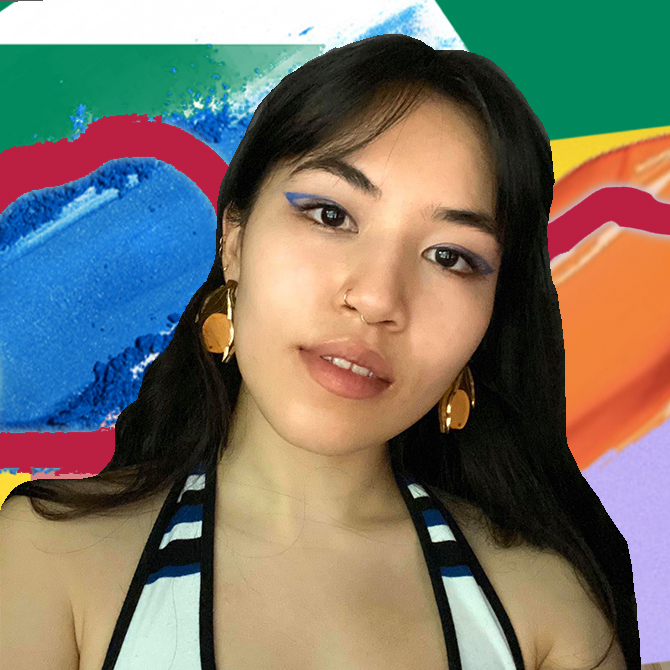 How did I do?
I actually really love how this turned out! Of all of the looks I did, this is the one look I'll definitely be wearing again. A lot of it is to do with the fact that I already had everything I needed to make this look work—an electric blue liner and a your-lips-but-better nude lippy. It seems intimidating because it's so bold, but you'll be golden as long as you've got a few q-tips on hand.
Full disclosure: I haven't touched the blue liner in well over six years (don't @ me—I refuse to get rid of it) and this has given me the perfect excuse to whip it out!
TIP: Swap out the blue for any coloured liner and reap the instant cool points.
Statement colour blocking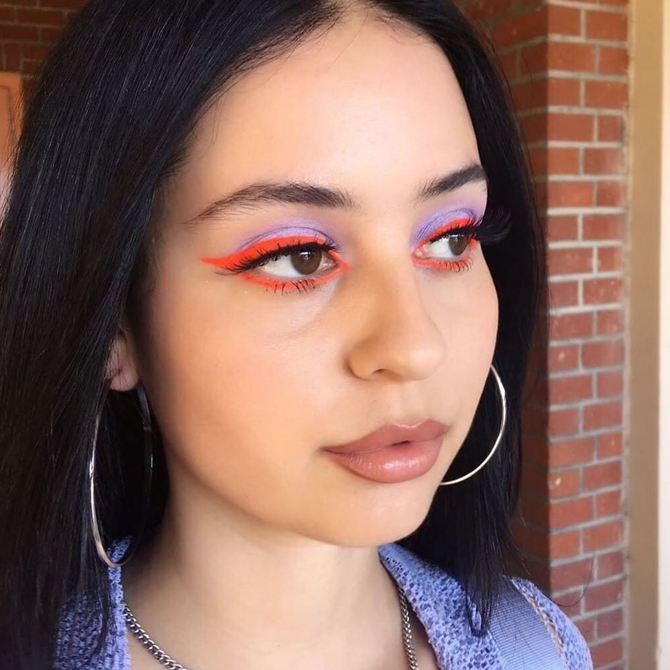 Why I chose this look:
The colour contrast of the silvery purple and the bright orange is a refreshing way to brighten up tired eyes, and the pinky-nude lip is a match made in heaven. Plus, you can't go wrong with a big wing (no matter the hue).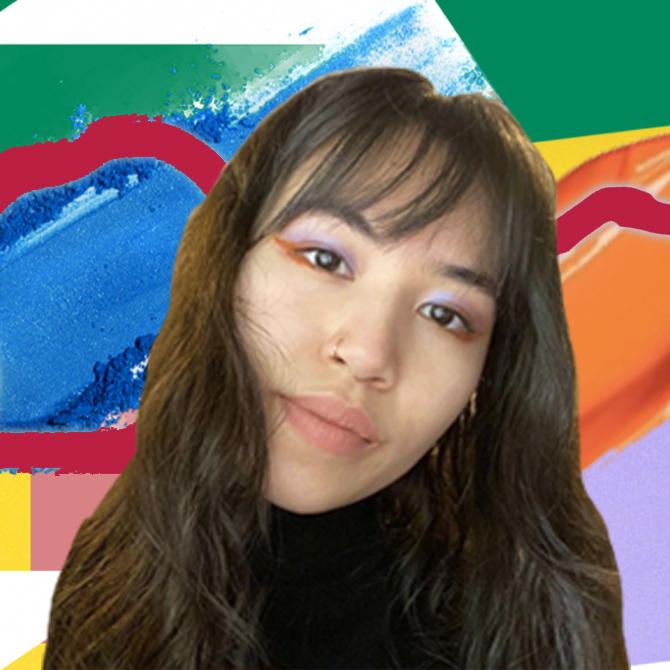 How did I do?
I'll say it—I think I did a decent job. This was a look I was definitely nervous to replicate: when it comes to eyeshadows or coloured wings, I always worry I'll be washed out without thick black liner. Plus, I wasn't sure if I'd be able to replicate it using the makeup I had alone (thankfully, I was). However, hesitations aside, I must admit that it turned out to be one of my favourite recreations of the lot!
Note: I was out of luck when it came to finding an orange liner, but luckily I did have a (slightly more muted shade of ) bright orange lipstick to use instead (yet another way to diversify your products).
TIP: The key to using lipstick as an eyeliner is to use a fine brush and apply it liberally.
Pretty in… purple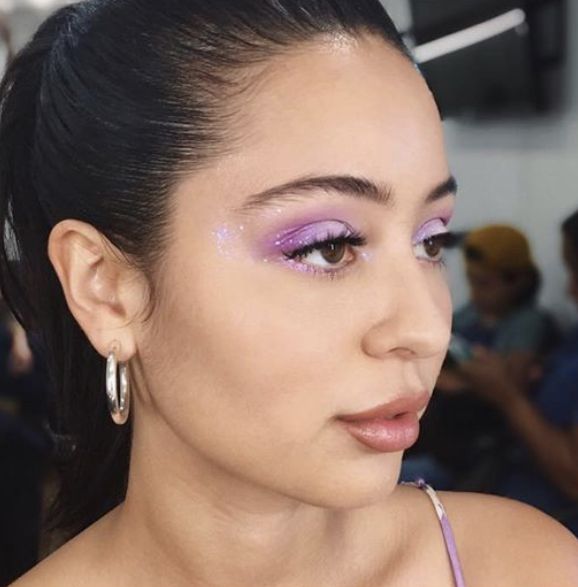 Why I chose this look:
This is such a pretty, feminine look—I'm a little bit obsessed. Alexa Demie really has a thing for taking '90s and noughties trends and making them… actually look good. Overall, it's just a strong contender for any occasion: parties, raves, dinner dates, alone time in your bedroom. The possibilities are endless!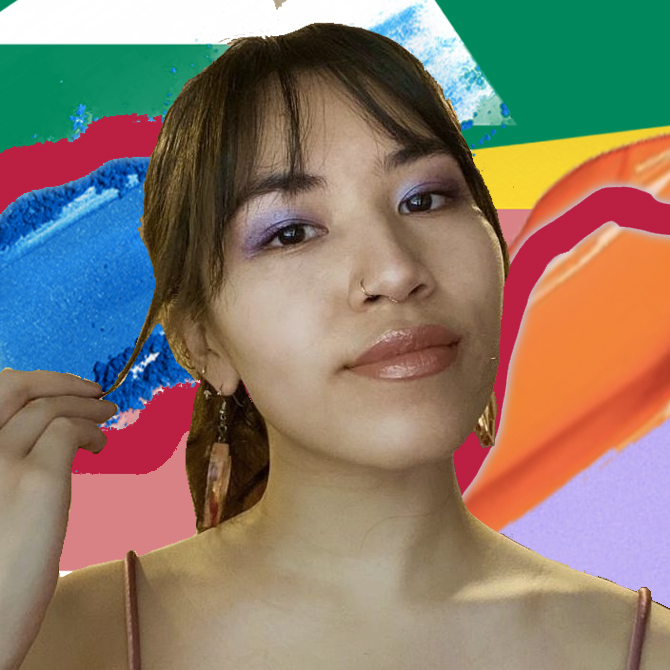 How did I do?
In-person, this was a neo-disco dream! I'm really happy with how this turned out, apart from the fact that the glitter isn't very visible in the photo. Plus, the shade of purple I have on my eyes is definitely a lot frostier than the shade on Alexa, but overall I think it's a pretty accurate recreation.
FUN FACT: Right after I took this photo, I let out the most colossal sneeze of my life and streaked mascara all down my face. The makeup was nice while it lasted.
Overall notes:
Before you say it—I know, all the aforementioned looks would've benefited from a set of falsies. In my defence… I didn't want to.
RECREATING HUNTER SCHAFER'S MOST ACHIEVABLE LOOKS
Minimalistic art decor accents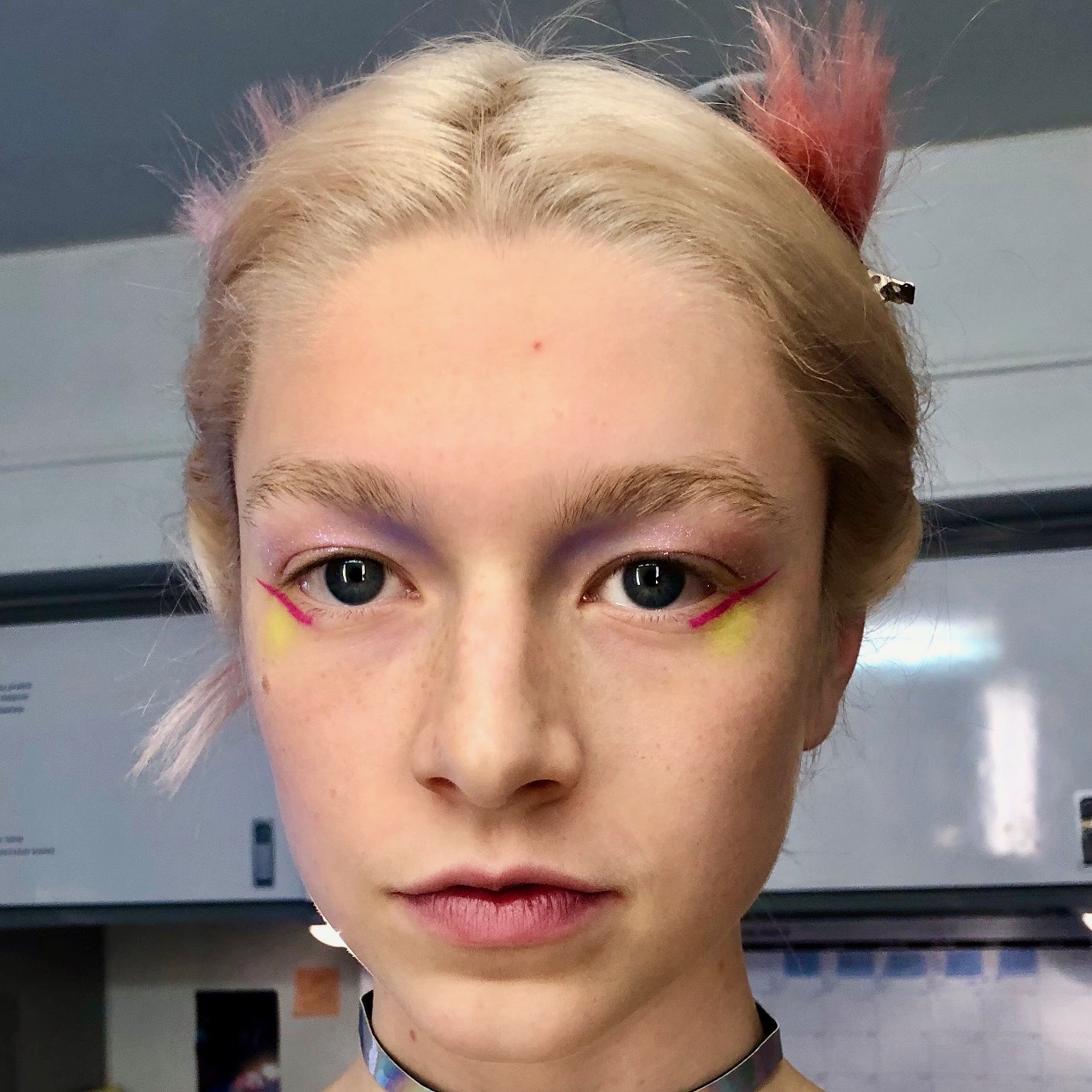 Why I chose this:
It's a really striking contrast—having a bare face with minimal accent details. Plus, it looks like it'll take the least effort, drawing-wise! (Note: These are my famous last words.)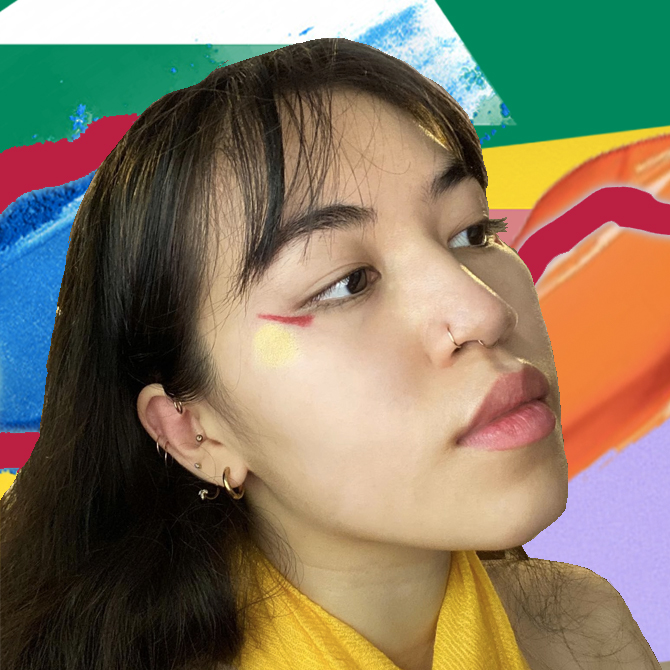 How did I do?
I was so wrong in saying that this would be the easiest look to recreate—in actuality, it was a straight-up nightmare.
Perhaps it was the pencil I was using on my eye (or just the shape of my face), but even after I'd cleaned up the lines with a q-tip, it still somehow turned out wonky. On the bright side, however, at least it photographed well!
In the red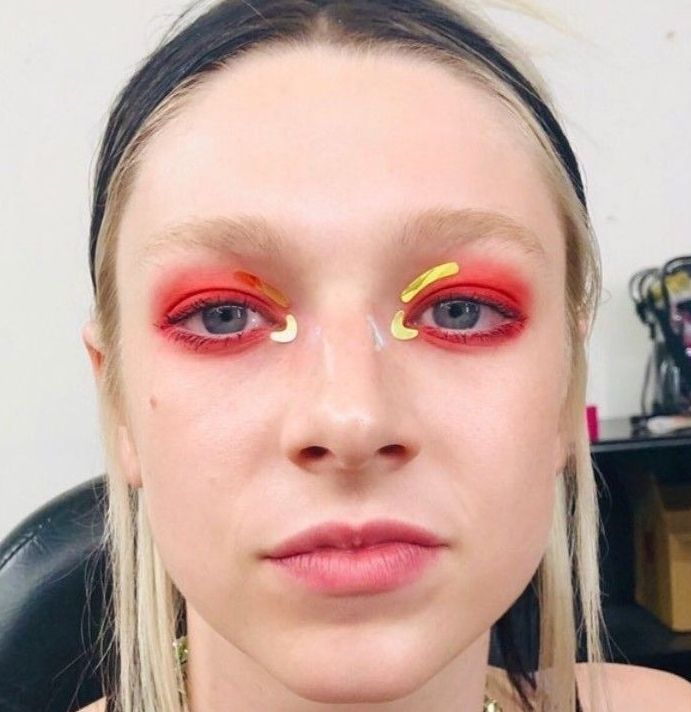 Why I chose this:
As soon as I saw this photo I knew I'd recreate it–I'm a big fan of red eyeshadow, and the addition of the gold accents adds an *extra* nice touch. Unfortunately, bleached brows are off the tables (for now), but the rest of the look can (and will) be done.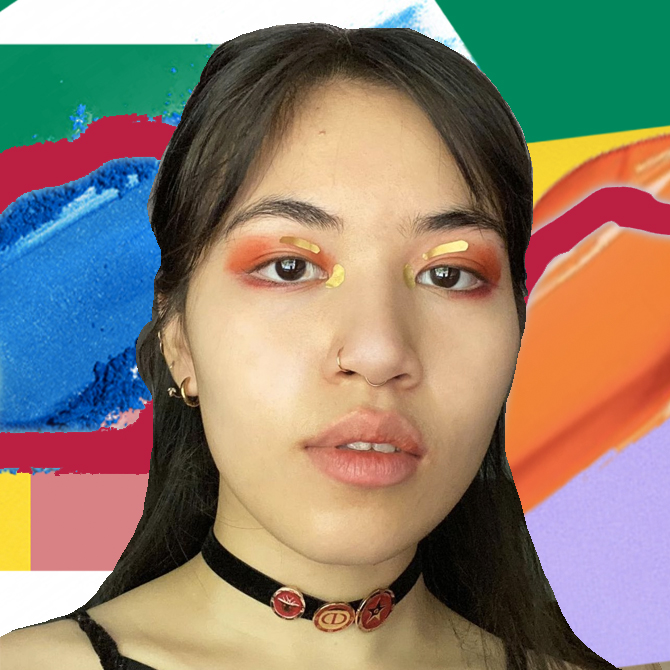 How did I do?
I'd like to introduce myself as the goth girl of your nightmares. In all seriousness, I reckon this is a pretty accurate recreation, but I am deeply struggling to understand how Hunter looks so good, while I look about five seconds away from death.
That said, I would probably do this look again, but I'd definitely tweak it. Firstly, I'd add eyeliner, because I feel like that's what let me down here. Then, I'd use a less orangey-red on the eyes and double down on the drama with a lippy. I'd also probably add some blush to even out the colour on my face.
Note: It must be said that, again, this look was another excuse to use lipstick for literally anything but its intended purpose. Plus, I am proud of how the DIY washi tape accents turned out (I know it's uneven—my fine motor skills are nonexistent).
Overall notes:
Hunter's character definitely has a lot of other impressive looks than the two I've included, but at this point, my sanity is fading fast and the skin around my eyes is wearing thin from constantly removing makeup.
RECREATING ZENDAYA'S (VERY RELATABLE) LOOK
Glitter streaming down your face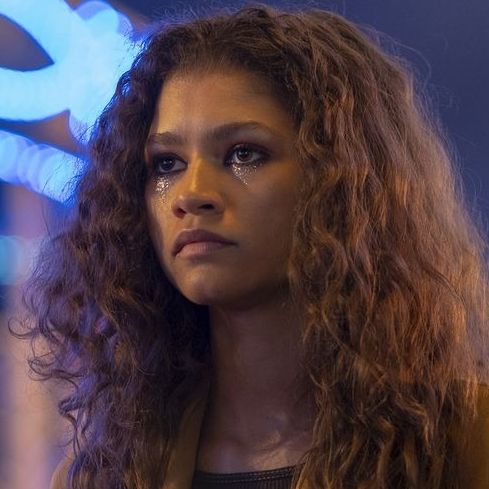 Why I chose this:
At this point, I was so tired of doing elaborate looks and taking selfies that I just wanted to cry. Luckily, this look gave me a *fabulous* way to achieve just that. Just by looking at the reference, achieving Zendaya's look is simple. All I have to do is remove all the makeup on my face and haphazardly slap some glitter on my under eyes. Easy.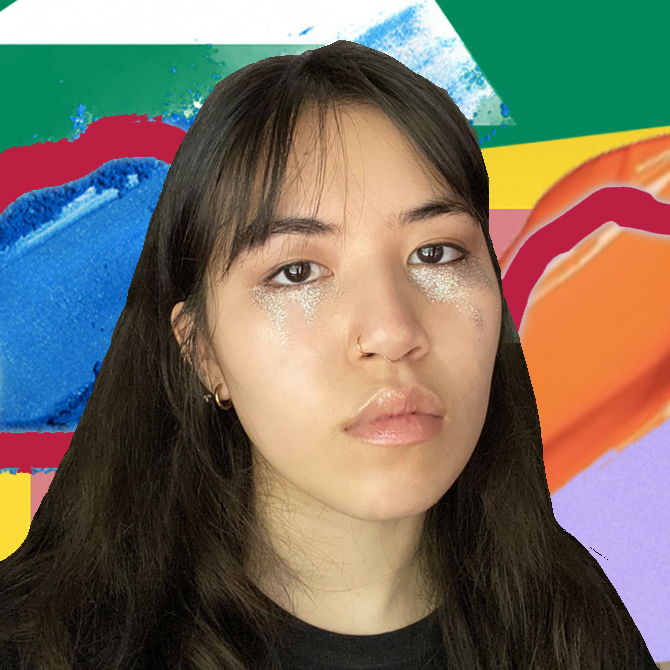 How did I do?
Of all the looks I tried on, this one speaks to me the most. Zendaya's (or, rather, Rue's) vibes match mine: hot mess, tired, barely functioning—that's how I felt after this challenge. All else aside, I do think it's actually a really cute look (minus the grumpy face).
10/10 would do again.
The Verdict
I was genuinely surprised at how comfortable I felt wearing these looks. It goes to show that the "cool factor" isn't the only thing that makes Euphoria makeup so appealing: It's how wearable it is.
The looks are bold and a little bit out there, but at the end of the day they're a great way to experiment with makeup within your comfort zone. Plus, they gave me a great excuse to get some use out of the forgotten less travelled parts of my beauty desk. On the whole, I'll definitely be sporting some of these looks in the future.
For more beauty stories like this, click here!
| | |
| --- | --- |
| SHARE THE STORY | |
| Explore More | |