Kuala Lumpur is a bustling capital city and because of that, the culinary scene here is brilliant. On one hand, we have young and ambitious chefs who are eager to prove their worth and on the other, experienced masters of the industry who are constantly pushing themselves to be better. Lo and behold, new restaurants emerge and fresh menus are curated. Deciding on where to go can be difficult, especially if you're searching for the one true pair a really good dining session. To ease the dilemma, check out the reviews of some of the places we tried recently—from Playte in Republik to Horizon Grill in Banyan Tree.
1. Palillos Yakitori Bar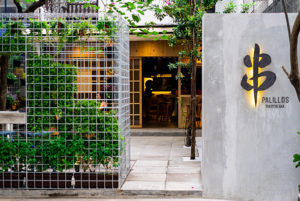 Palillos Yakitori Bar exterior shot
While Palillos isn't a new establishment, its refreshed and bigger spot at Jalan Mesui is. Spearheaded by Roberto Solanes, Spanish owner and chef, this is a place known for fusion yakitori specialising in skewers. Expect a combination of Spanish sensibilities with Japanese gastronomy. First impression matters and right off the bat, Palillos wows with its Jopa Studio-curated design—from the muted grey entrance to the apparent Japanese architectural style through the use of wood. If you have never seen binchōtan charcoal, just walk right pass the bar and you will notice the white charcoal that comes from Japanese Holm oak trees. Why are all meats in Palillos cooked over binchōtan charcoal? That's easy—to retain the natural flavours of the meat.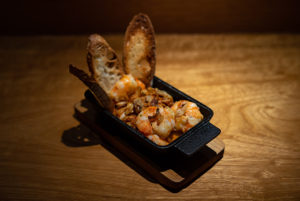 Prawn Ajillo at Palillos Yakitori Bar
We tried a myriad of dishes here but one of my favourites is the Prawn Ajillo. My brief but fruitful time in Spain was spent searching for the best gambas—from Barcelona to Valencia to Ibiza. All kinds of joy were definitely sparked when I found out that Palillos serves the dish. Even better, I get to try their take on the classic Spanish dish. On first sight, I noticed two must-dos: breathe in the tantalising smell of garlic glory and feast the eyes on the plump, fresh prawns on display. Scrap that and make it three because it's time to get the palate satisfied. What I love is how perfectly cooked the shrimps are. Served pink and juicy, the dish came with crusty bread to mop up the liquid goodness. Does it even compare to the concoctions I had in Spain? Without a doubt, yes. If you're looking for something toothsome, the Prawn Ajillo is the one.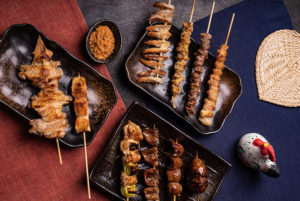 Chicken skewers at Palillos Yakitori Bar
Another must-try dish at Palillos? The chicken skewers! You can't go to a destination known for skewers without actually giving them a go. You get to taste various parts of the chicken, from skin to wing and gizzard to liver. I've been quite adventurous when it comes to food but I have never tried chicken gizzard and liver. Well, until now! Let's just say this—I'd definitely eat them again (if they're prepared the way Palillos does). Unlike most of the innards I've stumbled upon which smelled really bad and looked unappetising, Palillos' appealing skewers were palatable. Grilled masterfully and seasoned adequately, all you get is pure goodness. Did they smell? No, not the slightest. Some other dishes worth trying are the Spanish Galician Octopus, Grilled Iberico Collar, Patatas Bravas, K-Pork, and Ox Tongue.
—Ronn Tan, Editorial Assistant
Address: 23, Jalan Mesui, Off Jalan Nagasari
For more information, visit this website.
2. PJ's Bar and Grill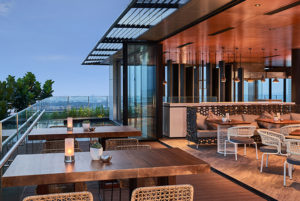 PJ's Bar and Grill rooftop
Situated right on the highest floor of New World Hotel Petaling Jaya Hotel is this spot with amazing view of the city's skyline. If I didn't grab the opportunity to dine here, I would never have known about the stylish and airy space. Diners can decide to have their meals inside or out on the deck where the infinity pool is. PJ's Bar and Grill recently launched a new menu comprising off the grill specialities, modern Asian concoctions and European classics.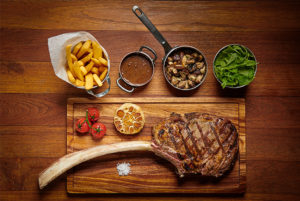 Tomahawk Rib Eye at PJ's Bar and Grill
I can't stop raving about Grilled Angus "Tomahawk" Rib Eye—not before, not during, and definitely not after. Served sizzling off the grill with some fries, grilled mushrooms, and arugula salad, the first thing anyone will notice is the size of the serving. It's massive after all! Cut into the meat and you'll find a sublime preparation; a sight to behold. I've always wondered how chefs char meats without overcooking them because that takes skills. In my opinion, the first bite of any steak should be naked on its own without dressing or condiment. I enjoyed the natural briny taste of the steak so much that the gravy was more than necessary. Seasoned just right, the rib eye was rich, juicy, and most importantly, gustatory. One more thing to note—the portion is huge so you might want to consider sharing (unless you're up for a challenge). The Grilled Angus "Tomahawk" Rib Eye is a must-have when you're here.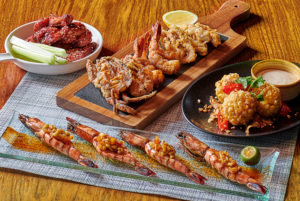 PJ's Bar and Grill small bites
What's next? In addition to the steak above, I indulged in some small bites such as Fresh Corn Tempura, Chicken Wings, and Seafood Fritto Misto. Beginning with the chicken wings, I liked that the batter was of the right consistency. Despite the enjoyable crispiness, they were a tad too spicy for my liking. They were edible for sure and will go well with a glass of cold drink. The seafood platter stood out to me because—well, seafood is love. While the dish came with fresh and luscious servings, I personally felt that they were dry. Not the humour kind, but the dehydrated type. There is a necessity to ensure that fried dishes maintain enough moisture to be flavourful. Really appreciated the dish but wouldn't give it an 11 out of 10. The fresh corn tempura, on the other hand, is a close contender for that score. It was fluffy and delightful without being too overwhelming. Come here for the vibe, the view, and the steak.
—Ronn Tan, Editorial Assistant
Address: Level 30, New World Petaling Jaya Hotel, Paradigm, 1 Jalan SS7/26A, Kelana Jaya
For more information, visit this website.
3. Playte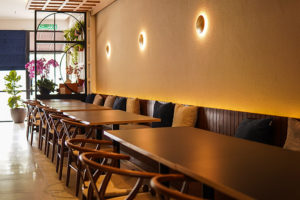 Playte Republik Damansara Heights review
It's been almost three months since Playte take flight at the hip Republik Damansara Heights. And already the contemporary dining restaurant has fast amassed fans for its modern cuisine curated with the freshest local ingredients and prepared with much gusto by its young chefs. At a special preview of its new additions on the menu—which are updated quarterly by the way—Playte whipped up a medley of its current favourites and latest offerings for us.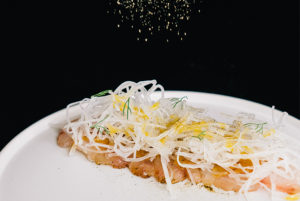 Snapper at Playte
To whet the appetite, we were treated to an appetiser with one of Playte's specialties—raw snapper lightly doused in a mix of figs, calamansi and Thai basil dressing for that tangy-sweet taste, and topped with shredded daikon for that crunch factor. It was a refreshing bite and a nice prelude to their repertoire. Next, steamed zucchini is plated beautifully on top of an emulsion of clam, lime and dill—flavours that proved to be a tad light yet smooth on the palate. We would have preferred this to be a much stronger dish though.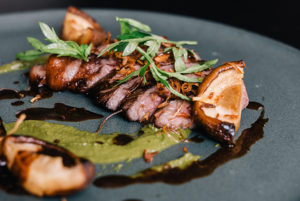 Wagyu beef at Playte
For mains, we had a chance to try the grilled quail that was cooked with Vadouvan spice and burnt aubergine puree. It has a similar taste profile to a Chinese spiced meat stew. Coupled with the Bario rice, the smoky flavours and soft quail meat come together harmoniously. Our favourite of the day had to be the tender strips of wagyu tritip served with baked jicama and Shitake mushroom. The accompanying laksa leaves puree might sound strange in theory but the combination works in favour with the jus to give this dish a thumbs-up from us. To cap off the menu preview, we sampled the soy ice cream drizzled with kombu sauce and black glutinous rice. Happy to report that the fusion of sweet and umami flavours were tantalising to the palate. Playte's new creations will be available from the end of November onwards.
—Gwen Ong, Associate Editor
Address: G.01 Republik, Jalan Medan Setia, Damansara Heights
For more information, visit this website.
4. Horizon Grill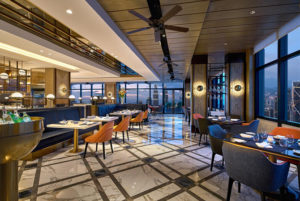 Horizon Grill interior
When I was younger, I remember visiting Banyan Tree in Bangkok. I have fond memories of my experience at the hotel, especially the ability to see the entire city from all the way up. Thailand's capital city has a gorgeous skyline for sure! Well, when I found out that the hotel will be opening in Kuala Lumpur, I was ecstatic. I thought to myself, "surely, with the beautiful skyscrapers we have in our capital city, I'll be able to relive my awesome time in Bangkok". Fast forward a few years and there I was—on the 58th floor of Banyan Tree Kuala Lumpur. More specifically, I was in Horizon Grill, the seafood and grill restaurant. I remember very clearly my primary impression of the space. "Oh wow the marble details are top-notch", I said. And they are. Helmed by Chef De Cuisine Daniel Wong (whom I had the pleasure to meet), Horizon Grill features a contemporary-brasserie-inspired space with details accented in lapis blue marble, antique bronze, and mirrored glass. This time, I had the pleasure to try their Degustation Set Menu (priced at RM488 per person).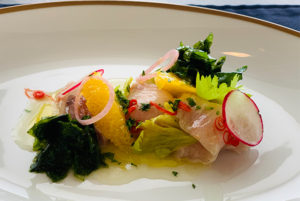 Crudo Hamachi at Horizon Grill
The six-course menu features some of the establishment's best dishes. Among my favourites is the first itself—the Crudo Hamachi. If you read my previous food reviews, you know I like it raw, especially when it's fresh. Served with cilantro, celery leaves, sea lettuce, red chillies, and lime vinaigrette, I was instantly drawn by the colours on the plate. It was akin to staring at a cosmic ecosystem or being immersed in a whole other realm. Was I intruding or was Mr/Ms Hamachi happy to see me? I hoped it's the latter because right after my eyes had a field day, it was my palate's turn. I digged in and started with the yellowtail. Soft, acidic, and divine, it was an indulgent feast. Pair bits of the fish with different components on the plate and what you get is a multi-faceted offering. Dimensions beyond Taylor Swift's and BTS' music videos for Me! and Boy With Luv respectively. Its lightness makes it the perfect opener for any meal. Oh, how it opens up the appetite!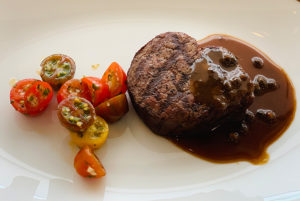 Steak at Horizon Gril
Right after the Crudo Hamachi are the Foie Gras Terrine, Chicken Consommé, and Lamb Ragout Pappardelle. What's next is cruel but necessary; we had to choose between Pan Roasted Nordic Salmon or Goulburn Valley Beef. Seafood or red meat. Fish or cow. This time, I went for the second option that came with tomato salsa from Cameron Highlands, Brazilian peppers, coriander, garlic, extra virgin olive oil, as well as sauce and salt selection. Prepared medium as requested using the restaurant's Santa Maria grill, I wasn't immediately impressed by how it looked. There's a certain dullness that is apparent with the steak that looks rather dry. That's where all the negativity stops, however, as we were given the opportunity to select our own salt and sauces to go with our meat. I went with the Hawaii black salt, the Blue salt, and Salish. Remember what I said about preferring steak uncontaminated by outside interferences? The exception applies here because the filet mignon actually tasted thoroughly better with condiments. While the Australian meat itself was tender and grilled for victory (like Leonardo DiCaprio finally winning an Oscar for The Revenant), it needed a push. I felt like the Gouldburn Valley steak was a good dish and main-worthy but would probably opt for the salmon the next round. The Degustation Set menu ends with Royal—a dessert with rice pudding, hazelnut crisp, devil sponge cake, chocolate caramel, balsamic sauce, and chocolate ice cream.
—Ronn Tan, Editorial Assistant
Address: Level 58, Banyan Tree Kuala Lumpur, Jalan Conlay
For more information, visit this website.
For more Christmas/Festive content, visit our Buro Christmas Village.
| | |
| --- | --- |
| SHARE THE STORY | |
| Explore More | |