Another summer day has come and gone away, but I didn't want to go home. I wouldn't have thought that – having only been in Buro for two months – I would be able to embark on a hotel cum staycation cum review so rapidly. I snapped as soon as the opportunity was presented to me (like Thanos, just not as ashy and macabre). If you have been following us, you'd know that citizenM is now finally in Kuala Lumpur. You know all the details, from the rooms to the facilities to its heritage around the world. Now, let me take you through the intricacies, just like Ant Man. Ah yes, another nod to Avengers?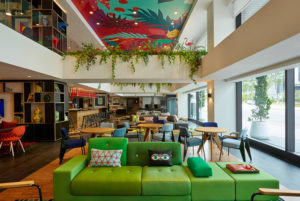 citizenM Living Room
One night at citizenM isn't enough, and that's a fact. The Bukit Bintang hotel is their third venture in the Asian market after the Taipei North Gate hotel opened in 2017 and the Shanghai Hongqiao hotel in December 2018. Walk through the hotel entrance and you will be greeted by smiley hoteliers known as Ambassadors. Fun fact: the Ambassadors go through four to five hour casting sessions instead of the typical interviews.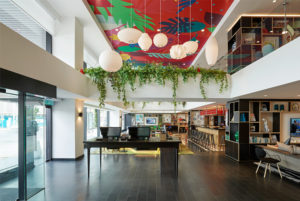 citizenM KL Check In Check Out
As soon as I stepped into citizenM, I was (utterly) impressed—by the spaciousness, the design, the friendly faces of the Ambassadors and of course, the check-in/check-out machines. If you have not had the opportunity to stay at a citizenM hotel anywhere in the world, this is what you need to know: check in and check out only take 60 seconds (I know!). It's quick and simple, in addition to removing all the unnecessary steps found in traditional hotel settings. Just scan your passport, or IC for Malaysians, take a keycard placed beside the monitor, scan that, get your room number and you're good to go! Don't worry if you're unsure it's actually really easy because Ambassadors are there to guide you through the process. After checking in, I hopped straight to my room. To be honest, I walked gleefully, but you get the gist—I was just so excited to see the room.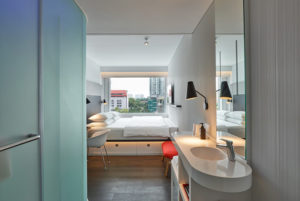 citizenM Room
There are 210 rooms in citizenM Kuala Lumpur and the magic is that there is only one type of room. That's one major difference from traditional hotels that generally have at least three types of rooms. My home for the weekend was located on level lucky seven and I walked onto a corridor that's so minimal yet alluring. A few steps in and I came face to face with the only thing that separated me from my room—the door. I'd like to call it a battle (which I won by scanning my keycard on the fob) but you can call it simply opening the door. That's the thing about citizenM, though: the atmosphere and aura of the hotel allow me to loosen up and be a little more playful than usual.
Ps. Not me in the photo but you can clearly see how comfy the bed (and Andre Amir) is!
What's all this talk about? Tell us about the room! Alright, alright, alright, patience. As soon as I opened the door into my wonderland for the night, I was adequately dazzled. The space might be small but it comes with everything you need. The minimally designed room is set up perfectly, in my opinion. A good sleep is very important, if not the most important, when it comes to staying in a hotel, and the XL king-size bed smashed. Everything on the bed (and inside) was extremely comfortable. I almost didn't want to get any work done. However, I had to optimise my time there and test out the other features. There is a large space below the bed to store your bags and also a safe to store your essentials. That's sorted.
Looks pretty glorious, if you ask me. Oh, Nelissa Nezam too.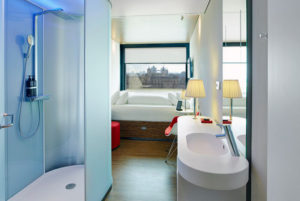 citizenM Bathroom
A feature that caught my eye is the MoodPad. It's just what dreams are made of. Whether it's music, alarm, temperature, blinds, and lights among many others, the MoodPad is the only intelligent buddy you need. I enjoyed playing with this nifty thing. Too much, if you ask me. I particularly loved the Mood options: selecting Party means dimmer lights and colourful changing lights in the bathroom, whereas smooth seductive music plays when you select Romance. The blinds and curtains even close automatically, if they're not down yet. Oh, the room's also soundproof. Just saying. While I'm not particularly difficult to impress at all, I'd have to say that the MoodPad is just beyond (say it like Paris Hilton).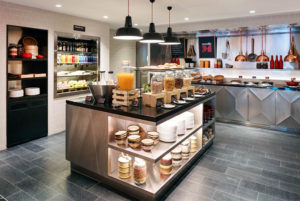 citizenM breakfast
Anyone who knows me well enough knows that good shower is a necessity. The properly-pressurised shower in citizenM KL is just the best. Really. The rain shower helped me relax while rinsing. The full-size AM and PM shampoo and shower gel meant that I didn't have to bring my mini toiletries. Another fun fact for you: the same nose that crafted scents for Comme des Garçons and Helmut Lang created the shampoo and shower gel for citizenM. Personally, I appreciate products that foam and smell amazing—all boxes ticked.
I had the pleasure to talk to Toni Hinterstoisser, Vice President Asia of citizenM and here's what he said:
What sets citizenM KL apart from other citizenM hotels around the world?
CitizenM always look the same—in a way, you want to make the "coming home" feeling for people. All the aspects of citizenM can be found in any citizenM. What sets this apart is that it's the very first one in Kuala Lumpur. The energy of KL is transferred to the hotel and that makes it quite special.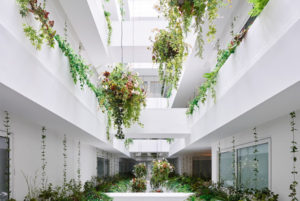 citizenM green corridor
How would you define the term 'affordable luxury'?
This is what sets citizenM apart from the other hotels. The term is important because we feel that there are a lot of luxury hotels in the market and there are a lot of affordable hotels but hardly ever a blend of the two. Luxury is a personal thing. One guest room type with extremely large beds, high end linen, oversize towels, and good pressure shower. Hence, a splendid experience at affordable price.
Why just one type of room?
The more products you have, the more complicated your operation will have to be. We own most of our hotels so you want to have good and efficient hotels. Focus on what you do well and get it right.
Are there plans for citizenM hotels in other parts of Malaysia?
There are no concrete plans yet but in most cities with citizenM, we have more than one (also part of our operations model). We believe in efficiency and collaborations so if you have more than one hotel in the city, we can make the two hotels work together and exchange. I could foresee another one in KL such as airport hotels with KLIA being a major hub especially for Europeans. Other parts of Malaysia could maybe Penang so never say no. There's a need to explore. We're looking at Jakarta, Singapore, Hong Kong, Sydney and Melbourne. We don't believe in expanding for the sake of expanding. We want to grow with intent and we always are in prime locations. When we put a hotel there, we know that it will work.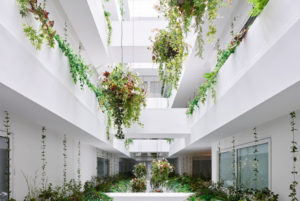 citizenM green corridor
What is citizenM's stance on sustainability?
Officially we have an environmental officer who also happens to be our CEO. We don't just want to be cost-efficient but we want to be environmentally-friendly. Hence, standardisation of room type, and materials. Moreover, there is strong water pressure but reduced water shortage, no plastic as much as possible, and almost no wastage (no in-house restaurant so food by demand). In Europe and the US branches of citizenM, the money hotel saves by not cleaning rooms is donated to charities focused on third world countries to build bicycles so villagers like kids don't have to walk to school.
For more information, visit the citizenM website.
| | |
| --- | --- |
| SHARE THE STORY | |
| Explore More | |