These are the mouth-watering dishes you should definitely order from the Japanese restaurant
The Desa Sri Hartamas area is filled with a myriad of restaurants serving all kinds of cuisines. From Japanese to Korean to Western, you have all you need—granted that you're fortunate enough to get a parking space, of course. Or you know, hire a ride so all you have to focus on is food, food, food. At least that was what I did when I paid Kin Gyu a visit.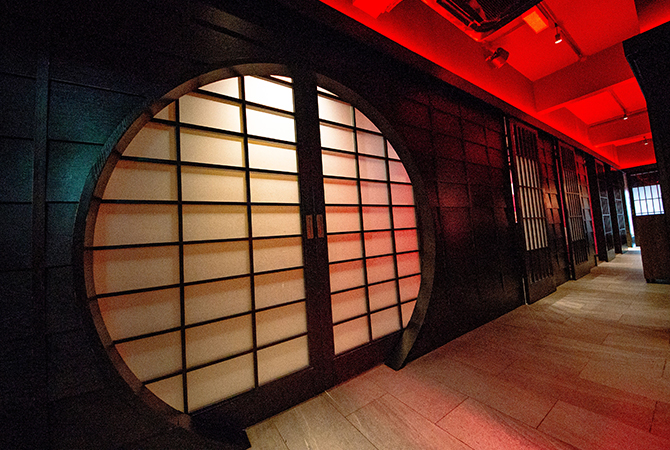 I have to point out that it can be a tad difficult to spot the restaurant. Here's a tip: it's right above a pharmacy. Take the stairs or use the elevator to get to the first floor and there you are. What comes next is an encounter with a large entity; scary and almighty. Alright, that's the wooden door and it's really easy to win this fight—just slide the door to the right. Like you do with Tinder. That's right; the entrance is clear and in you go!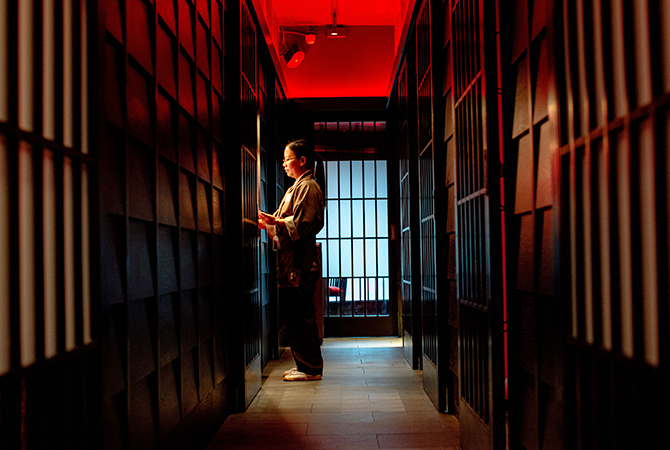 The first thing I noticed was the dim lighting, a stark contrast from Kin Gyu's sister establishment across the street, Shin Nihon. The minimal design adorned with shades of grey and brown is a major juxtaposition to the floral walls of the dining area. It's the best of both worlds here. On one hand, the interior pleases the minimalists and on the other—well, the rest. To set you off on the right mood, the owner plays traditional Japanese music throughout the space.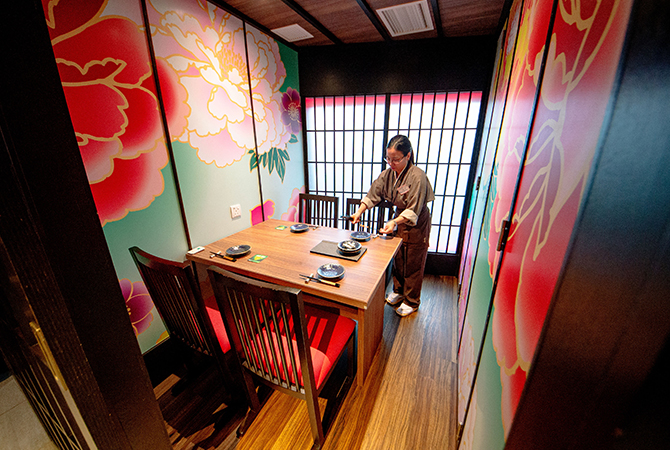 The brilliance of a restaurant is said to be a pure reflection of the person running it. I had the pleasure of meeting Kota Furuya, who took time out from his busy schedule to dine with me. There's so much I can say about the man; from his gentle demeanour to his delightful patience when explaining the dishes. If I ever do give scores, there will definitely be points on him alone. Having been in Malaysia for five years now (he opened Toridoki in 2015), Kota is familiar with the dining scene in Kuala Lumpur. He aims to introduce locals to what he considers Japanese cuisine while hoping to maintain its essence. That's apparent with the dishes you are about to see below.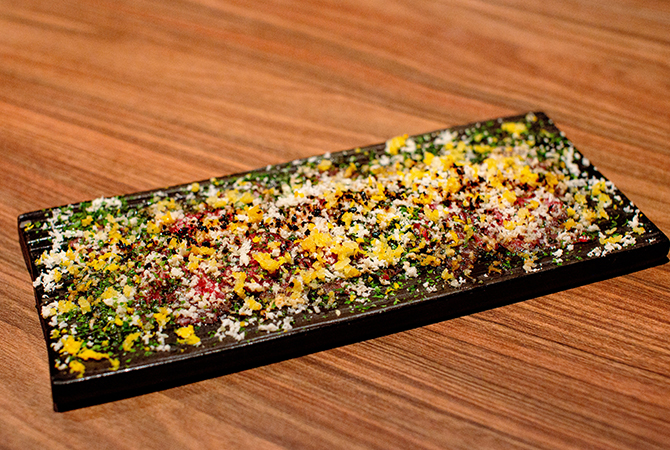 What should you get from Kota's third restaurant in Malaysia? Like I said, it's meat galore (yes, I love my meat). Hence, the entire menu comprises of various concoctions of meat options—with beef being at the centre of it all. In the image above, you'll see the glorious Wagyu Carpaccio (Yuzu Aonori carpaccio); sliced raw lean cut with soy sauce-flavoured olive oil, yuzu citrus, seaweed, and kelp. The dish also comes with mountain wasabi and a bed of onion layer. I remember very clearly when the plate was place on the table. While the colours were mesmerising to say the least, the presentation reminded me of Phoebe from Friends. Messy and all over the place yet grounded and impactful at the same time. I mean... Smelly Cat is still a jam more than a decade later. I interrupt this programme to bring you back to the carpaccio! If there's one way to begin a wagyu beef-centric meal, it's this. Light and acidic, you get jolts to your tastebuds; like delicious wake up calls. The combination of tartness and brine opens up the appetite for more to come. To add to an already complex flavour profile, a kick of heat is added with the presence of wasabi. The only "downside": how I wish the beef did not evaporate so easily—stay in mouth longer, why don't you? Wow, we're off to a great start!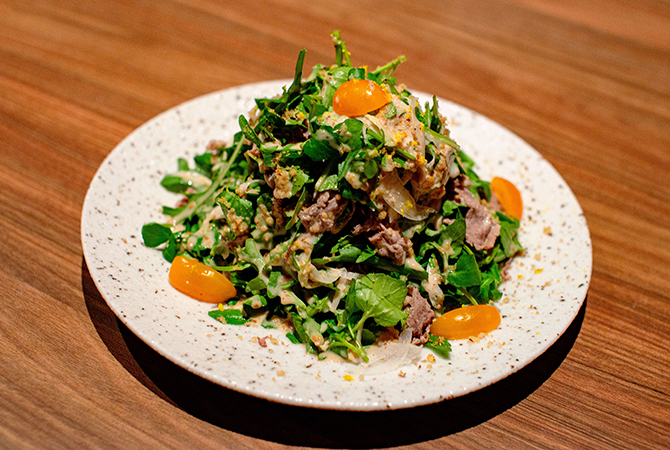 I love my greens and everyone who knows me knows that. In fact, I'd rather have vegetables over meat. That's not to say I'm against the latter; I live for both. The next serving is the Sesame Wagyu, Watercress, and Arugula Salad (Kureson Rukkora Wagyu Shabu Salad). Notice the sliced beef that sits atop the vegetables. This is the true definition of the best of both worlds. Personally, I'm not fond of sesame dressing and would avoid whenever possible. What I really enjoyed is the consistency of the sauce here; thin and not too thick. Honestly, this is pretty standard apart from the inclusion of wagyu beef (which was sublime, as usual). You get a multi-dimensional bite with the mild bitterness of arugula, the pepperiness of watercress, and the slight sweetness of tomatoes. I wonder if this dish would have worked as well if different types of greens were used. For example, what if arugula was replaced with lettuce and watercress replaced with beansprouts? All in all, this is a rather enjoyable selection that's easy to eat. Just remember to save space for the stunners yet to arrive.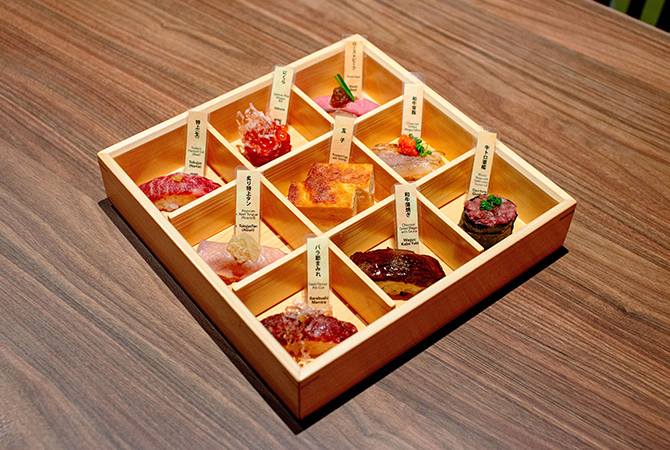 Next, it's the Plate of Eight Kinds of Wagyu Sushi (Hachiten Nigiri Mori). Before I proceed with my opinions, here's all eight types that were presented—Roast Beef cooked slowly in oven (Roust Beef), Charcoal Grilled Wagyu with sweet soy-based sauce (Wagyu Kaba yaki), Minced Wagyu with Green Onions (Gyu toro), Charcoal Grilled Wagyu Tallow with homemade light soy sauce (Wagyu Seabura), Dashi-Flavoured Rib Cut (Barabushi Mamire), Premium Roasted Beef Tongue with lemon, sesame oil, and diced cut leek (TokujyoTan), Salmon Roe Wagyu Roll (Nikura), and the raw Premium Cut of the Day (Tokujyo). You will also notice the special non-beef entity in the middle; that's the Roasted Egg with Shrimp (Tamago). I did not try every piece that was served even though I wanted to but sharing is caring. I began with my first ever experience with beef tongue (or any tongue in general). The addition of ponzu and grated radish provided a burst of sour power. Honestly, it was precisely because of that that it was even bearable. Not because it wasn't palatable, but because I did not know what to expect. Malaysians know quite a lot about cover-ups (if any) and that layer of acidic and tartness helped to mask the natural taste of tongue. I'm not going to lie—it's still gustatory. Would I go have it again? Definitely. In fact, I would have all eight selections. All for myself. What really impressed me was how Kin Gyu was able to create unique types of sushi that you will probably not be able to find anywhere else in Malaysia.
I also had I then went with the Tamago because it seemed like the lightest and the easiest to eat. The Japanese-style omelette was so fluffy and soft. Baked perfectly, you get minced shrimps with every mini bite of the sushi. Despite of its size, it's easily one of my favourites from Kin Gyu. It's yam-like texture also felt like sponge cake. It's also meant to clean your palate. Yes, keep that in mind.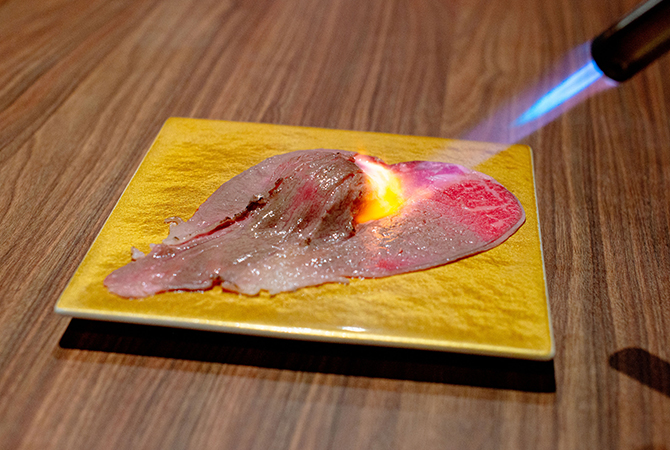 Next on the list is the Premium Loin Ichimai Aburi (Roasted Premium Rib Loin) that's cooked in front of you. You will first notice a thin slice of meat over a bed of sushi rice but the real fascination (and ooh-aahs) come later when they bring out the fire. Literally. With light soy sauce, it's lush, robust, and toothsome. It really depends on how big or how much you can put into your mouth but I managed to fit the whole portion in mine. One take, let's go! You get the changing of colours (from blood red to ready-to-eat red) as well as exquisite top quality beef. Get more of this because one is inadequate.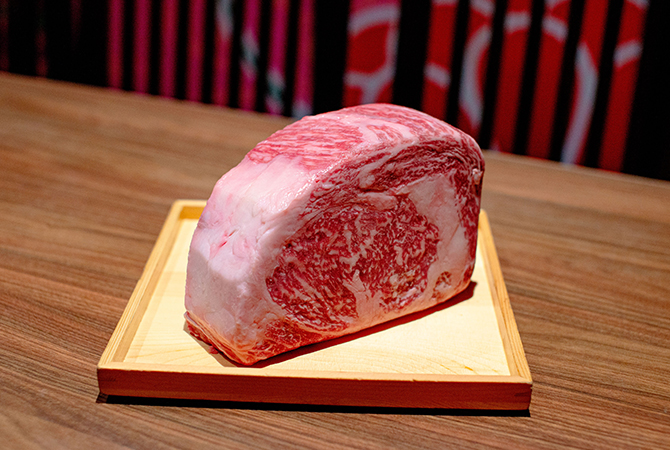 Moving on, this is one I was extremely for when I found out that we'll be ordering it—Premium Ribeye. The Yakimono (Grilled) dishes here begin first with a display of a block of meat that's sliced to your preference. Cut from a muscle that's exercised often, the ribeye has the right balance of fatty and lean meat. It is also my go-to cut wherever I go. There are so many elements to this stage of dining. The ribeye was served rare and we had the opportunity to cook the meat ourselves. The Mount Fuji yogan lava stone came in like a wrecking ball, steaming hot and ready to crash into you. The prerequisite to cooking is choosing three kinds of salt and spice from a tray of a multitude of options. I picked Matcha salt, Truffle salt, and Yuzu pepper. The other available condiments are Pink salt, plum salt, kelp salt, alga salt, yellow pepper, Japanese pepper, red perilla, fried onion, saikyo miso, mustard, melted garlic butter, and wasabi. So many choices but each with their own personalities, hopes, and dreams.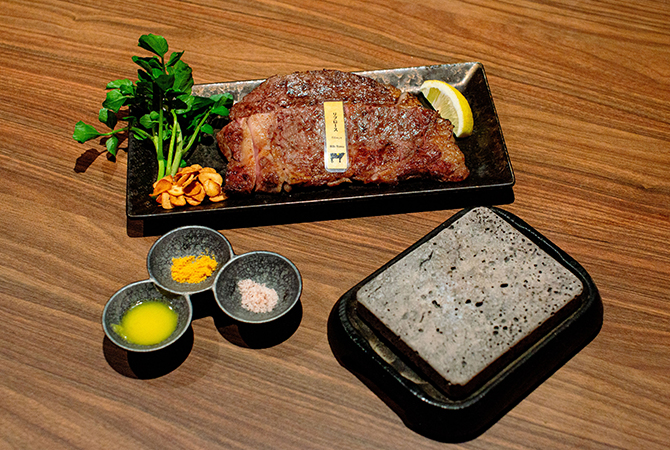 Now, it's time to start putting the meat in your mouth. With the chopsticks, pick up a piece of ribeye (served rare) and place it on the lava stone. Leave it for a few seconds and voila—consumption-ready. Bless your heart because what you're about to experience is unexpected. A divine, naturally-salted explosion of all things that are good in the world is what I meant. Sans any additional salt or spice, the flavour of the steak stood tall and presented itself like a champ. It's full, soft, and oh-so-rich. However, do try the ribeye with the salt and spices that you picked out.  What's the opposite of Dante's Inferno? While I have no idea, that's what you're getting. The way the highly-marbled ribeye melts in your mouth like streams of salty liquid took me by surprise. One I welcomed with open arms (and mouth). Calling this dish ethereal would still be an understatement.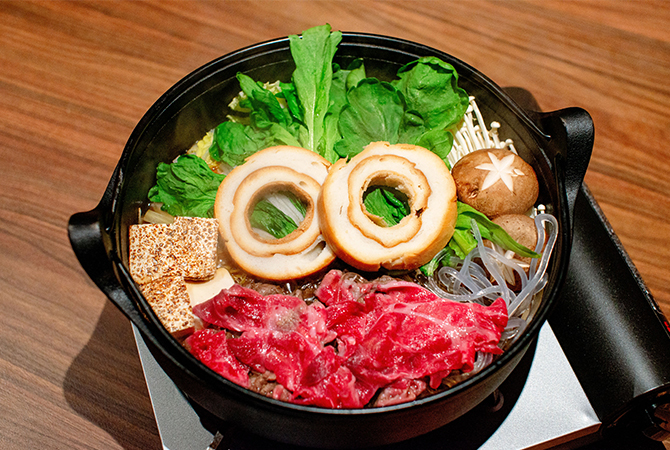 Last but not least, I tried the Nabe (Hot Pot). To be specific, the Suki Yaki that came with sliced wagyu, wheat gluten, garland chrysanthemum, green onion, grilled tofu, kudzu starch noodles, Chinese cabbage, udon noodles seasoned sweet soy sauce, raw egg, and homemade dashi. There are aso shimeiji white mushrooms, shiitake mushrooms, and shungiku (crown daisy). It needs to be known that by this time, I was already really stuffed. I was at spilling point. But I was adamant to give this a try and I did. Unlike what it's called, Kota said that suki yaki is more like grilling instead of hot pot; with yaki meaning grill in Japanese. Along with the big bowl of soupy delight, you get three dipping sauces—raw egg, whole egg, and dashi with radish. The base utilises cow fat to heighten the flavours of the overall dish. In my opinion, this was quite a tame offering compared to everything else I had that night. The sirloin slices were delicious and the ofu (ring cake) was new to me; fluffy pastry that soaked up the essence of the hot pot. Not the best dish but definitely far from macabre.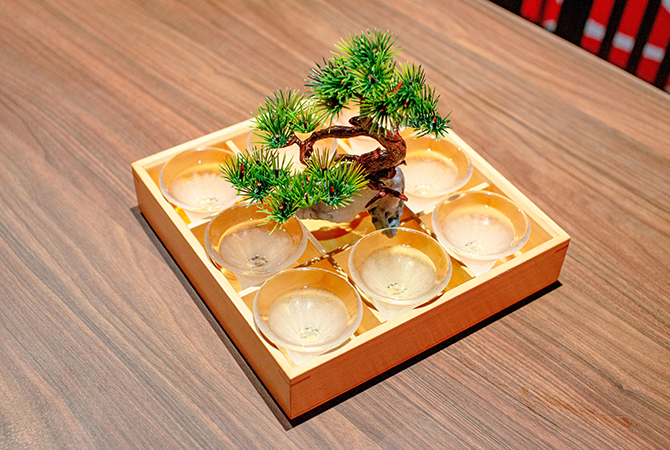 By now, the onslaught of top quality meat has ended. I didn't know if I wanted the attack to continue but what's next was accepted as well—the Nomikurabe Hachishu (Eight glasses of different kinds of sake). Relatively new to sake, I'm still learning to point out the elements of each type. According to Kota, the grade of sake depends highly on the quality of rice. I tried his favourite from the lot, Masumi, which was fruity and dry. From Nagano, I get hints of subtle astringency and also some pleasant sweetness from the apples. It's also surprisingly easy to drink. Apart from the Masumi, I also had Ichinokura from Miyagi. It's smooth, well-rounded, and a sip will remind you of a touch of mineral. Shicida from Saga is the most powerful out of the three. The scent of peach was strong but the sweetness is rather light. The sake is enhanced when served warm.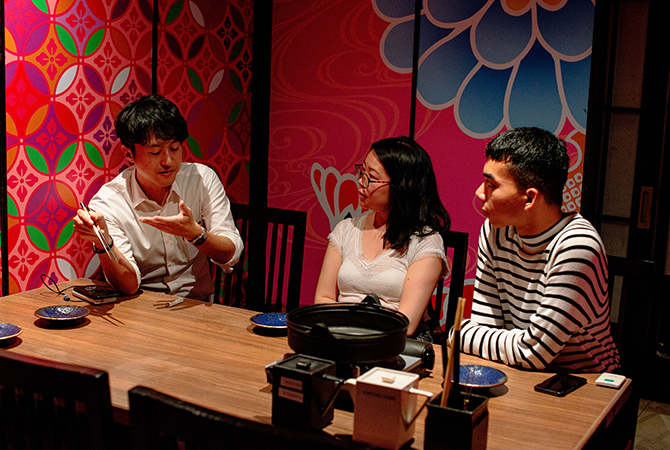 In summation, meat and sake equal perfect meal. Along with good company and a brilliant setting, my time at Kin Gyu was more than I could have wished for. There were more hits than misses; most of the dishes were multi-dimensionally scrumptious while the rest were average at best. Notice that I didn't criticise any of the courses because there was nothing to fault. Kota Furuya has established a restaurant that isn't just excellent but also full of potential. It's not too ambitious but still has everything it needs to satisfy the tastebuds of everyone (as long as you're not vegan). Go ahead and try Kin Gyu: you will see and know first-hand what I mean.
Kin Gyu
Address: 8, First Floor, Jalan 24/70A, Desa Sri Hartamas
Contact: 03 6206 3515 & 012 214 2373
Website | Facebook | Instagram