Returning for its sixth edition this year, the food and wine extravaganza celebrated the best of gastronomy—with a festive twist featuring celebrity chefs such as Wolfgang Puck and David Myers
Alright, ladies (and gentlemen)—let's get information. Or was it "in formation"? Beyoncé went with the latter, of course. Now that you have all gathered in this bonfire of love, let me tell you a story about my recent adventure in Singapore. Scratch that; I need to be very clear; this is a tale about my time spent in Marina Bay Sands (MBS). It involves food, and lots of them. Let's call it a culinary cruise, if you will. My love-hate relationship with food is apparent but if you didn't know yet, now you do. I enjoy food. I really do. What I'm not fond of is the consequence of devouring too much. Some say no ifs or buts—but—my experience during the Epicurean Market trip to MBS showed that it is okay to get down and feasting.
The Epicurean Market returned to Marina Bay Sands this year for the sixth time—from 13 to 15 December 2019. What's special this year was the presence of the festive spirit throughout the three-day event. The 2019 Epicurean Market saw many big names who took time away from their busy schedules to attend, including Wolfgang Puck of Cut and Spago, David Myers of Adrift, and Tetsuya Wakuda of Waku Ghin. My excitement peaked and remained peaking at the mention of Wolfgang Puck alone. I knew this is one for the books! Held at the Sands Expo and Convention Centre, guests (myself included) had the opportunity to try signature bites and tipples from more than 50 booths, participate in masterclasses conducted by world-class chefs, and taste gourmet produce.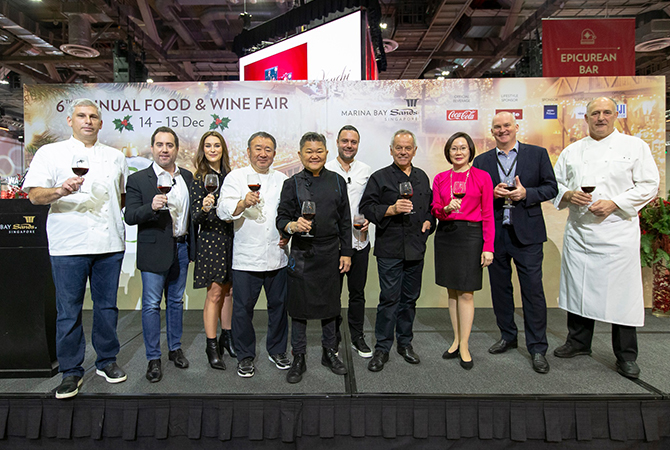 This year, the Epicurean Market featured Black Tap Crafts Burgers and Beer, Koma, and Origin + Bloom for the first time. In addition to that, it is the Epicurean Bar's inaugural appearance with leading bartenders offering their signature drinks from 12 bars across Marina Bay Sands' restaurants. One example is Hong Kong's Mott 32—opening in early 2020. I was disappointed (just a little) that I didn't get to try the food here but we were able to sip on their cocktails. Here's one more thing I was thoroughly excited about: the after party at Marquee, Singapore's biggest nightclub.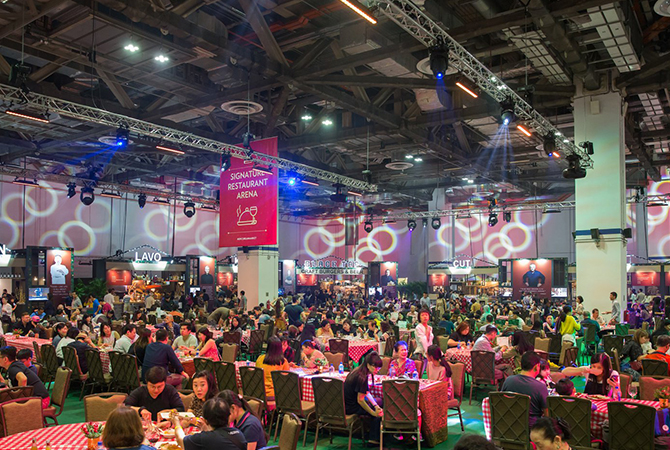 One of my favourite aspects of what I do is the ability to meet new people; especially if we have the same appreciation for all things delicious. During the Epicurean Market trip in Singapore, I had the pleasure of meeting everyone from my fellow peers in the industry (from around the region) to celebrity chefs such as Wolfgang Puck and Justin Quek. The former, an icon I've adored for quite some time. Shaking hands with Christopher and Julie Barish, founders of Black Tap, is also a moment I will never forget. Alright, now back to what you came for—food!
Marina Bay Sands consist of a myriad of top notch dining establishment and this year's event showcased the best from their respective menus as well as special one-off creations. Before the doors opened to the public, we were taken on a food and beverage tour. Chefs stood at their booths while we hopped (at least, I did) from one station to the other. My favourites include the chicken skewers from Adrift, crab cakes from Cut by Wolfgang Puck, roasted chestnut and black truffle velouté from db Bistro, cacio e pepe from Lavo, roasted wagyu beef with ponzu from Koma, grilled barramundi from Rise, laksa snapper in coconut bowl from Spago, and Mott 32's cocktail, Hanami. Mind you, this was really early in the morning and I've never had such a wholesome breakfast. Ever.
In addition to pre-opening bites, there were so many options to look forward to. For example, Koma had lobster caviar roll and crispy chicken tomato ponzu whereas Chef Justin Quek (of JustIn Flavours of Asia) served scallop sea urchin har gow with yuzu and lobster emulsion as well as sambal king prawn capellini pasta. Cut had the majestic 1.5-kilogramme tomahawk chop and Waku Ghin provided basque cheese cakes. Apart from that, the Epicurean Bar saw 13 participating outlets, featuring 26 cocktails in total—from Renku's Sakura Blossom Martini to Avenue Lounge's Green Paradise to Koma's Momoiro with Swanotsuru Jyosen Karakuchi sake. If these delights don't induce food coma, I don't know what will.
A variety of masterclasses were open to everyone and I attended the one conducted by—you guessed it—Wolfgang Puck. Alongside Greg Bess, his Singapore executive chef, they presented a class on how to prepare risotto at home. The masterclass was the perfect platform for us to get a glimpse of the celebrity chef in action. From his humour to his prowess, it was one I thoroughly enjoyed. It's obvious why he's where he is today; similar on and off camera. As if watching Chef Wolfgang cook wasn't adequate, he prepared a bowl of Alaskan King Crab risotto for everyone. Other masterclasses are Ajit Gurung's (Mott 32) bar programme, David Myers' (Adrift) pork katsu sandwich demonstration, and Tetsuya Wakuda's (Waku Ghin) presentation of the art of Ikejime.
Oh, my affair with Marina Bay Sands' culinary options didn't stop outside the Sands Expo and Convention Centre. It kept going and going. One of the most memorable meals I had was at Yardbird (part of the James Beard-nominated restaurant family). It wasn't my first time at the joint but the experience was new. Surreal, even. For someone who writes on food, I'm definitely not the biggest eater. However, it's called an Epicurean Market trip and that means food is the centre of attention. Well, here at Yardbird, we were served a massive spread filled with their best dishes. They included Smoked Pork Ribs, Chicken'N'Watermelon'N'Waffles, Lobster Mac and Cheese, Wagyu Beef Carpaccio, Fried Oreos, and my personal favourite—Crispy Brussels with spiced honey. We ordered extra portions of this! Imagine a halo above my head except with the words "sprouts" in place of a glowing circle. Is this the first sign of food coma?
Another spot we tried was Koma. Prior to the trip, I noticed that this establishment (opened by Tao Group) is on the itinerary. Joy was sparked and complete happiness was discovered. I might be exaggerating but yes, I was excited to finally transport my tastebuds to Koma. Walk through the now-famous 20 metre-long passageway inspired by the gates of the Fushimi Inari Shrine in Kyoto and you will discover a whole other realm; a total opposite from the rest of Marina Bay Sands. The Rockwell Group-designed restaurant also has a 2.5 metre-high Japanese bell with 20 different faces. It overlooks a traditional Japanese foot bridge. I was completely amazed by the interiors of Koma. My fondness for Japanese cuisine knows no boundaries. Hence, you can imagine my impatience; I really wanted to indulge and be Koma-tised. My favourites here are the Ahi Tuna Pizza (with tomato, cilantro, and charred jalapeño), Wagyu Beef Tataki (with wasabi, ponzu, and Tokyo negi), Salmon Pillow (with roasted japapeño and smoked avocado), Surf and Turf Maki (with Wagyu beef, Hokkaido uni, caviar, and truffle), and the Ginger Honey-Glazed Salmon with lotus root and Tokyo negi. Can't wait for the next time I'm back again. Maybe, instead of six portions of the Wagyu Beef Tataki, we'll have 10. Is this gluttony?
If there's one must-try spot in Marina Bay Sands, it's definitely Black Tap. Queues outside the restaurant are a constant and one might wonder why—until they give the award-winning institution a go. By one, I meant me. Myself. I. Yes, I've always noticed the lines but never really understood why. After all, burgers are burgers, right? Black Tap Craft Burgers and Beer opened in Singapore in August 2018 to great fanfare—its first outpost in Asia. With more than 11 branches across the globe including New York, Las Vegas, Dubai, and Geneva, it's apparent that this is one brand to look out for. Apart from the classic American luncheonette design, Singaporean graffiti artist, Has.J, produced a 10-by-6-metre graffiti mural which reads "Black Tap Singapore" on the facade of the flagship Asia location. I don't have to go to New York—which I haven't been yet—to get a feel of the Big Apple.
You will find Black Tap's signature offerings here—from the All-American Burger to the award-winning Greg Norman Burger, with wagyu beef, house buttermilk-dill sauce, blue cheese, and arugula. The latter is my favourite from the restaurant. Pure bliss with every bite; melt-in-your-mouth tenderness and palatable flavour profile. On that wonderful night of ambrosia, I also had Spicy Korean BBQ wings with toasted sesame seeds, scallions, and served with buttermilk-dill dressing, Crispy Brussels Sprouts, and Fried Mozzarella. I now understand why so many rave about Black Tap. Simple presentations yet complex in taste.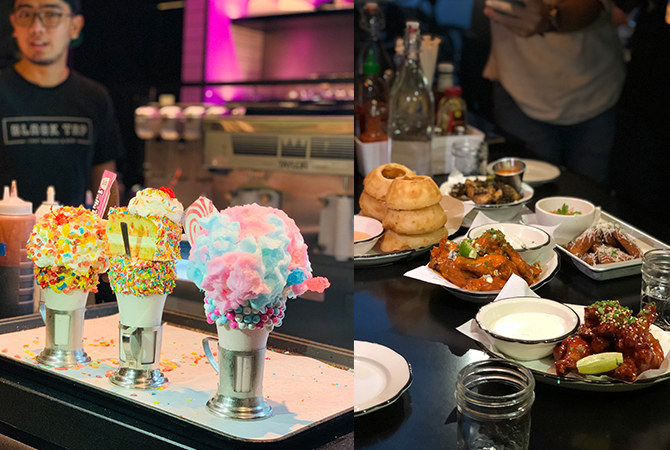 You don't go to Black Tap and not get the infamous CrazyShake. Options (from more than eight over-the-top milkshakes) include the original Cotton Candy strawberry shake with a blue and pink pearl chocolate rim, a pink lollipop, rock candy, whipped cream, and cotton candy, and the Bam Bam Fruity Pebbles shake, with a fruity pebbles rim and rice krispy treat, a strawberry pop tart, and a laffy taffy rope. Sounds like a lot, no? Truth is: these CrazyShake milkshakes are too much to handle. I enjoyed watching them being made at the open counter and they are perfect for Instagram. While they taste amazing, I'm not a dessert or sweet person. I'm sorry. Blasphemy of sorts, I know! I took a few sips and I had to stop. Still—this is an experience that needs to be had whenever you're at Black Tap.
During the trip, I also had the chance to visit the ArtScience Museum again. I haven't been there since 2015. Hence, I was thoroughly looking forward—especially for the Disney: Magic of Animation exhibition. Together with the rest of the group, we also saw 2219: Futures Reimagined and Future World. Disney: Magic of Animation opened on 26 October 2019 and includes more than 90 magical years of Disney animation. The exhibition highlights the artistry and technological innovation that have brought the studio's popular characters to life; from The Lion King to Frozen to Snow White and The Seven Dwarfs. Expect to see over 500 art pieces, including original drawings, paintings, sketches, and concept art curated by the Walt Disney Animation Research Library. Take your time while you browse through the exhibition filled with projections, audio-visual displays, alluring exhibits, and hands-on educational activities. It's difficult to choose which I liked most but I had fun at The Jungle Book station. We were provided with papers to write our hopes and dreams before proceeding to paste it on a flower wall. I wrote the names of everyone on the group. It's a "fam trip" after all.  The Disney: Magic of Animation programme runs until 29 March 2020. You still have time to visit! Into the unknown...
2219: Futures Imagined looks into the state of Singapore 200 years from now. Started on 23 November 2019, it will be available until 5 April 2020. You will get a glimpse of how life may be affected by shifts in the environment of Earth—caused by climate change and the loss of the planet's biodiversity. As for Future World, it is Art Science Museum's permanent exhibition and has four galleries. They are City in a Garden, Sanctuary, Park, and Space. If you're looking for the Interstellar-esque section you see frequently on Instagram, this is the one.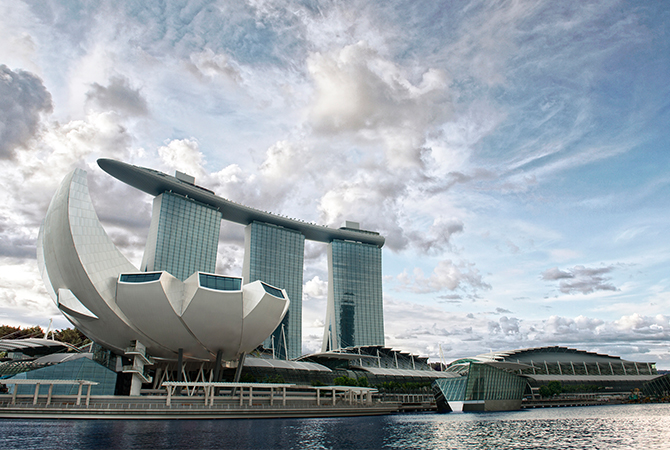 Truth be told (or untold if you're a BTS fan), the four days and three nights I spent in Singapore during the Epicurean Market trip were fruitful yet exhausting. Tiring only because activities were packed. I'm definitely not complaining, though. I had an amazing time, especially feasting in restaurants such as Koma, Black Tap, Rise, Spago, Adrift by David Myers, and Yardbird. These were top quality establishments with heavyweights behind the operations. My experience at Marquee was sublime, from the ferris wheel to its spaciousness. The DJ also played Taylor Swift and that's always a bonus! The projects in the ArtScience Museum were both eye-opening and entertaining. Highlights of my trip in Marina Bay Sands include a relaxing session at the Banyan Tree Spa, the Epicurean Market itself with all the offerings, and of course—my interview with the one and only Chef Wolfgang Puck! Thrilled beyond words, I still am. Look forward to the full story. The 2019 Epicurean Market brought the upper echelons in the world of gastronomy and my heart's already impatiently awaiting the next one.
For more information, visit this website.