Film, TV + Theatre
BURO TV Guide December 2022: 'Glass Onion', 'Emancipation', and more
Glued to the screen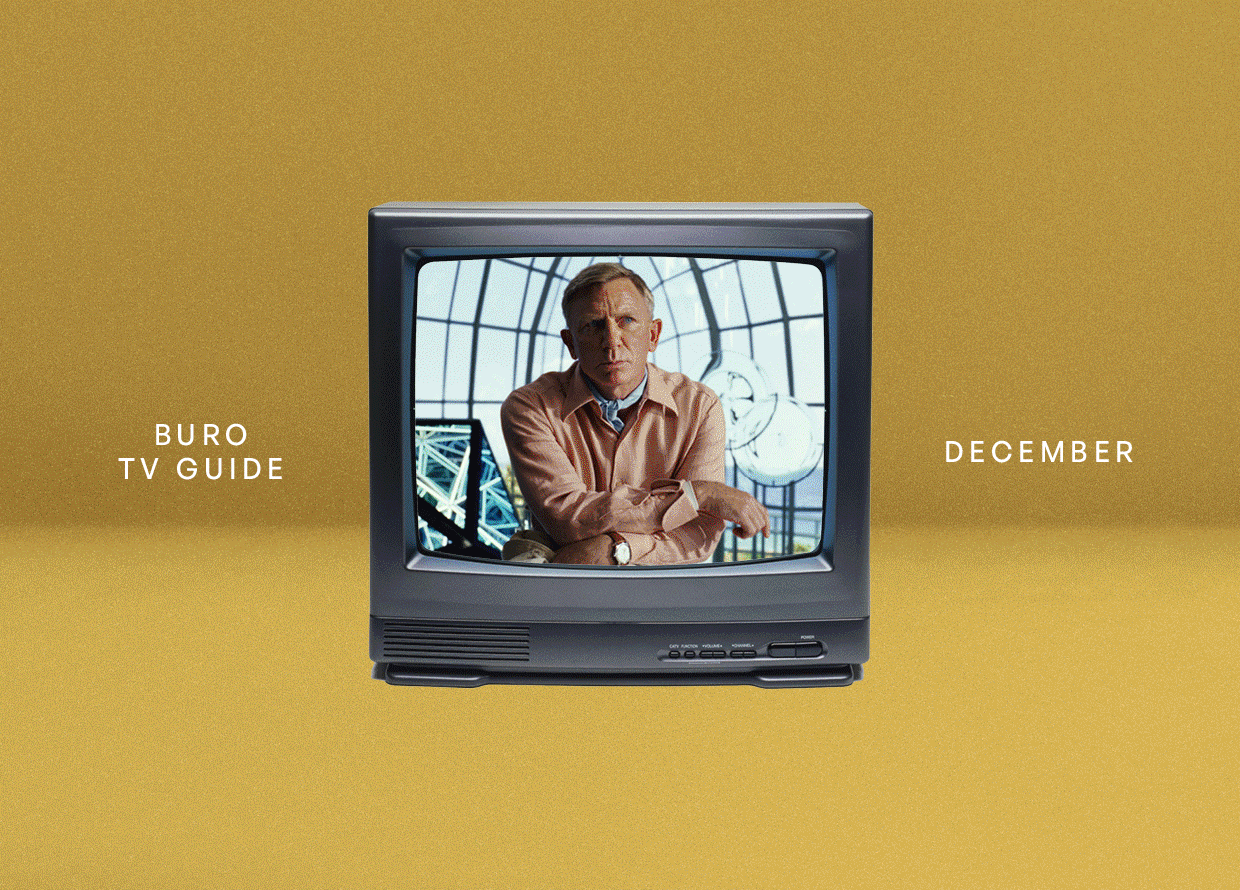 Apart from magical holiday specials to get you pumped this season, the cinematic world brings you even more joyous fun and non-stop action with these new TV shows and films. From a mind-boggling whodunit with an all-star cast to an arena of deathly games, you'll want to add these nine shows to your watchlist:
Slow Horses Season Two 
When and where: Now airing on Apple TV+
Watch if: You dream of being a secret spy
Starring: Gary Oldman, Kristin Scott Thomas, Jack Lowden, Saskia Reeves, Rosalind Eleazar, Dustin Demri-Burns, Christopher Chung, Freddie Fox, Chris Reilly, Samuel West, Aimee-Ffion Edwards, Kadiff Kirwan, Jonathan Pryce
In the second season of this darkly humorous espionage drama, long-buried Cold War secrets have begun to emerge, threatening to bring chaos to the city of London. When a rendezvous with Russian villains takes a fatal turn, a dysfunctional team of British intelligence must overcome their individual failings and raise their spy game in a bid against time to stop a catastrophic event.
Watch here.
Emancipation 
When and where: 9 December 2022 on Apple TV+
Watch if: You enjoy historical fiction 
Starring: Will Smith, Ben Foster, Charmaine Bingwa, Gilbert Owuor, Mustafa Shakir, Steven Ogg, Grant Harvey, Ronnie Gene Bivens, Jayson Warner Smith, Jabbar Lewis, Michael Luwoye, Aaron Moten, Imani Pullum
One of the most highly anticipated films from Apple Original Films, Emancipation tells the emotional and triumphant story of Peter, a man who fights for his freedom from slavery with nothing but his wits and unwavering faith and love for his family to guide him through the unforgiving swamps of Louisana and cold-blooded hunters. The film is inspired by the 1863 photos of "Whipped Peter" that were taken during a Union Army medical examination. One image, known as "The Scourged Black", shows Peter's bare mutilated back as a result of whipping by his captors, which significantly contributed to the public opposition to slavery.
Watch here.
National Treasure: Edge of History 
When and where: 14 December 2022 on Disney+ Hotstar
Watch if: The National Treasure movies were a part of your childhood  
Starring: Lisette Olivera, Catherine Zeta-Jones, Justin Bartha, Zuri Reed, Antonio Cipriano, Jordan Rodrigues, Jake Austin Walker, Lyndon Smith
This is not a false alarm: we have more National Treasure content! If you're a huge fan of the classic National Treasure films starring Nicholas Cage, you'll want to tune in to this new TV series (just in time for the upcoming third instalment to the franchise next year). The Disney+ Hotstar show focuses on a young heroine, Jess, who embarks on an adventure to uncover the truth about her family's mysterious past and save a lost Pan-American treasure. 
Watch here.
Alice in Borderland Season Two
When and where: 22 December 2022 on Netflix 
Watch if: You love the death games genre 
Starring: Kento Yamazaki, Tao Tsuchiya, Nijiro Murakami, Ayaka Miyoshi, Dori Sakurada, Aya Asahina, Yuri Tsunematsu, Yuki Morinaga, Keita Machida
For those missing the deathly arena, the highly anticipated sequel to Alice in Borderland is back to deliver more nail-biting action and gory goodness. Join Arisu, Usagi and the gang as they solve the mystery of the "Borderland" and fight for their lives to return to their original world—this time with even more difficult and dangerous games awaiting them.
Watch here.
Glass Onion: A Knives Out Mystery 
When and where: 23 December 2022 on Netflix 
Watch if: The first Knives Out left a doughnut-shaped hole in your heart 
Starring: Daniel Craig, Kate Hudson, Edward Norton, Janelle Monáe, Dave Bautista, Kathryn Hahn, Leslie Odom Jr., Jessica Henwick, Madelyn Cline
Rian Johnson returns to direct another mind-boggling whodunit that will have you guessing at every turn. This fresh new adventure finds Detective Benoit Blanc at a lavish private estate in sunny Greece—but why and how he's there is just the first of many puzzles to solve. A group of disparate young friends are also present at the invitation of billionaire Miles Bron for their yearly reunion, until someone turns up dead. Now, everyone is a suspect. Will Blanc be able to solve the case before the killer strikes again? 
Watch here.
The Witcher: Blood Origin 
When and where: 25 December 2022 on Netflix
Watch if: You want to know more about The Witcher's lore  
Starring: Michelle Yeoh, Nathaniel Curtis, Lenny Henry, Dylan Moran, Jacob Collins-Levy, Sophia Brown, Joey Batey
If watching the two seasons of The Witcher had you intrigued about its magical world, this new prequel will take us back 1,200 years before Geralt's time, retelling the tale of the time before elves, monsters, and humans converged in what was known as the fated Conjunction of the Spheres. Watch Michelle Yeoh wield an elven sword as Scían on December 25 as this new ensemble cast pulls back the curtains on the Continent's mysterious history.
Watch here.
Roald Dahl's Matilda the Musical
When and where: 25 December 2022 on Netflix 
Watch if: You're looking for a feel-good classic   
Starring: Alisha Weir, Emma Thompson, Stephen Graham, Andrea Riseborough, Lashana Lynch, Sindhu Vee
In this refreshing new take on the Tony and Olivier award-winning musical, Roald Dahl's Matilda the Musical tells the inspirational tale of an extraordinary girl with a vivid imagination who takes a stand against all odds to change her story with miraculous results. Catch this classic with original new music and lyrics by Tim Minchin on Christmas.
Watch here.
Making The Wish: Disney's Newest Cruise Ship
When and where: 25 December 2022 on National Geographic (Astro Channel 551)
Watch if: You love behind-the-scenes documentaries 
It's a Disney dream come true! Witness the marvel of modern engineering as hundreds of construction workers, engineers, architects, designers, animators, storytellers and more come together to build one of the most magnificent vessels to ever sail the seas. 
Gannibal 
When and where: 28 December 2022 on Disney+ Hotstar
Watch if: You're looking for something spooky 
Starring: Yuya Yagira, Show Kasamatsu, Riho Yoshioka
Looking to crawl under the covers this holiday season? This winter, lock the doors and keep your loved ones close as you tune in to Disney+ Hotstar's new Japanese crime thriller. Gannibal follows Daigo Agawa, the newly hired police officer tasked at Kuge Village. As a series of alarming events begin to unfold, Agawa will soon realize there is something deeply sinister about this sleepy village and those who dwell in it. Gannibal is based on the best-selling manga by Masaaki Ninomiya that has sold 1.7 million copies since it dropped on bookshelves in 2018.
Watch here.
For more BURO TV Guides, head here.
| | |
| --- | --- |
| SHARE THE STORY | |
| Explore More | |