Film, TV + Theatre
14 Thrilling new TV shows and films to stream in September 2023
Binge-worthy content
FEATURED IMAGES: SARAH TAI FOR BURO MALAYSIA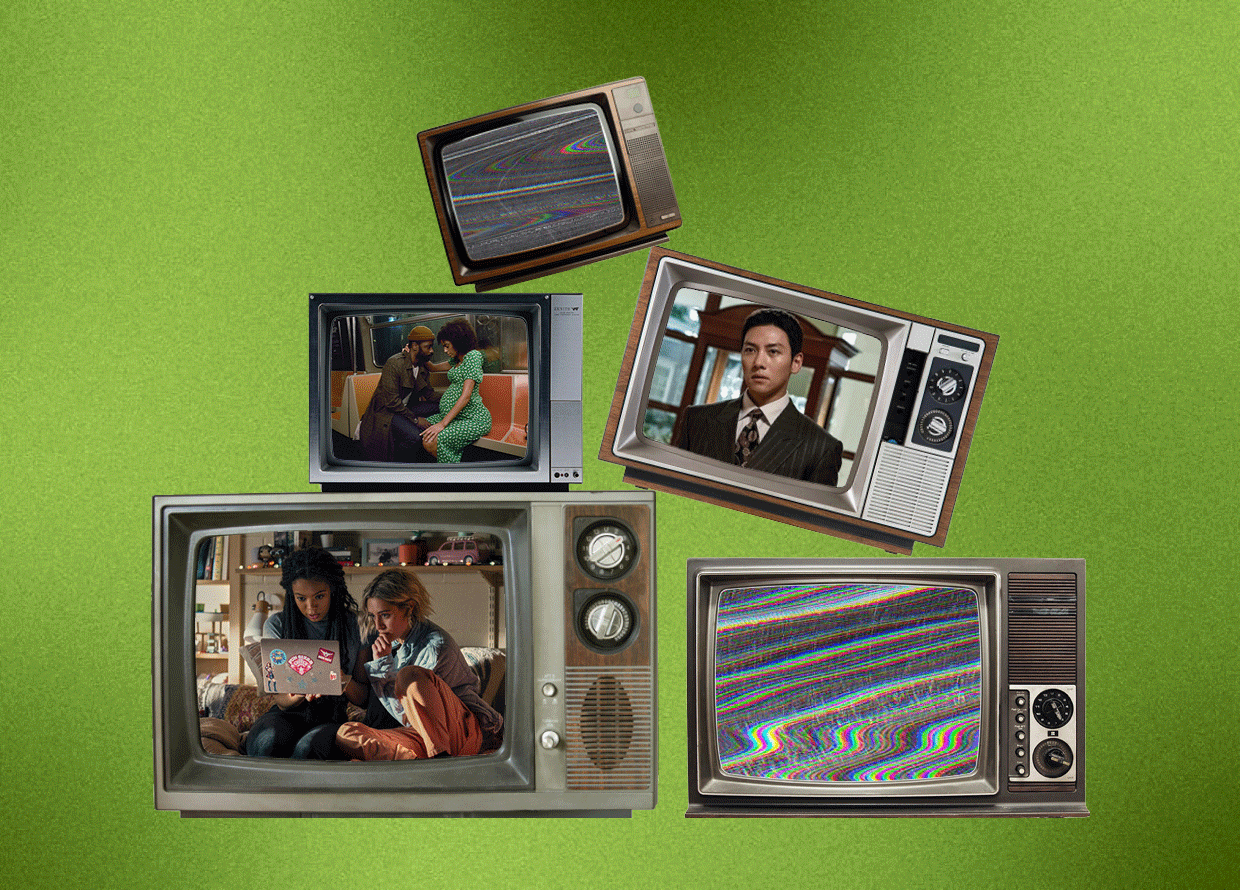 With the fall film festival circuits revving up, expect many new high-quality content and get strapped in as September's small-screen offerings are guaranteed to keep you entertained all month long. From magical journeys through time to gritty crime dramas, these are 14 of the most thrilling TV shows and films to stream this September.
The Wheel of Time Season 2
When and where: 1 September 2023 on Prime Video
Starring: Rosamund Pike, Daniel Henney, Josha Stradowski,  Zoë Robins, Madeleine Madden, Marcus Rutherford, Dónal Finn, Ceara Coveney 
Watch if: You love high fantasy
This month sees the return of the hit fantasy show based on the best-selling novel by Robert Jordan. In season two of The Wheel of Time, the series finds its beloved characters facing a deadly foe growing in the shadows. Expect bigger action-packed battles, power-wielding scenes and a more expansive ensemble that introduces fan-favourite book characters. Set in a high fantasy world where a select few can wield magic, Moiraine takes five young people on an epic journey believing that one of them is the reincarnation of the Dragon, a powerful entity that will either destroy their world or save it.
Watch here.
The Debut: Dream Academy 
When and where: 1 September 2023 on YouTube
Watch if: You had (or still have) dreams of becoming a K-pop idol
Do you want to know what it really takes to become a K-pop idol? Tune in to The Debut: Dream Academy, a joint collaboration between music industry powerhouses Geffen Records and Hybe. With each company's expertise and success in producing successful music acts, the survival reality show aims to form a global girl group unlike any other. Out of 120,000 submissions, only 20 contestants were picked from a variety of nationalities such as Brazil, Argentina, Japan and more. Viewers will also get a chance to vote for their favourite trainee.
Watch here.
A Time Called You 
When and where: 8 September 2023 on Netflix
Starring: Ahn Hyo Seop, Jeon Yeo Bin, Kang Hoon
Watch if: You love time-traveling plots
Based on the popular Taiwanese drama Someday or One Day, A Time Called You is South Korea's adaptation of the touching romantic tale between two high school lovers. In the show, Jun Hee is grappling with the loss of her boyfriend one year ago. When she mysteriously travels back in time to 1998, she finds a boy who has an uncanny resemblance to her late love. Can she reverse his fate before it's too late?
Watch here.
The Changeling 
When and where: 8 September 2023 on Apple TV+
Starring: LaKeith Stanfield, Clark Backo, Adina Porter, Samuel T. Herring, Alexis Louder, Jared Abrahamson, Malcolm Barrett
Watch if: You want to get creeped out
Apollo and Emma's love story looks like a fairy tale—until it starts spiralling into a horror story. When Emma mysteriously disappears, Apollo sets out on a perilous odyssey across a post-apocalyptic version of New York City in search of his wife. According to European folklore, a changeling refers to a seemingly human creature that fairies switch out for when they kidnap a baby or infant—take that information and do with it what you will.
Watch here.
Burning Body 
When and where: 8 September 2023 on Netflix
Starring: Úrsula Corberó, José Manuel Poga,  Quim Gutiérrez, Eva Llorach 
Watch if: You miss Tokyo from La Casa de Papel
When the charred remains of a police officer are discovered, the investigation uncovers a network of toxic relationships, sexual scandals and rampant deception involving the two main suspects: the victim's girlfriend and her lover. Burning Body is inspired by the real-life case that sent shockwaves through Barcelona in 2017 in which a police officer was murdered, lit on fire and discovered in the trunk of a car.
Watch here.
Han River Police 
When and where: 13 September 2023 on Disney+
Starring: Kwon Sang Woo, Kim Hie Won, Lee Sang Yi, Bae Da Bin, Shin Hyeon Seung
Watch if: You're looking for a humorous cop drama
Tasked with taking care of one of Seoul's most iconic destinations, Han River Police follows a hardworking and hot-tempered police officer who is partnered with a nonchalant lay-about. The mismatched duo must learn to work together when they are thrown into the deep end of a criminal conspiracy. Expect tons of laughter, action and criminal intrigue.
Watch here.
The Super Models 
When and where: 20 September 2023 on Apple TV+
Starring: Naomi Campbell, Cindy Crawford, Linda Evangelista, Christy Turlington
Watch if: These supermodels inspire you
This four-part documentary series shines a spotlight on the careers of four remarkable supermodels who dominated the catwalk and the elite modelling world. With unprecedented access to Naomi Campbell, Cindy Crawford, Linda Evangelista and Christy Turlington, travel back to the 1980s and discover how these women from different corners of the world came together in the Big Apple and rose to become icons of their industry. 
Watch here.
The Continental: From The World of John Wick 
When and where: 22 September 2023 on Prime Video
Starring: Colin Woodell, Ayomide Adegun, Mel Gibson, Mishel Prada, Jeremy Bobb, Ben Robson, Nhung Kate, Jessica Allain, Hubert Point-Du Jour
Watch if: You need to know more about the universe of John Wick
Fans of John Wick, you're in for a treat. In this three-part series, explore the origin behind the iconic hotel-for-assassins, which has become a centrepiece in the John Wick universe. Follow a young Winston Scott as he charts a dangerous path through the hellscape of 1970s New York City to emerge as the hotel's ultimate ruler.
Watch here.
The Devil's Plan 
When and where: 26 September 2023 on Netflix 
Starring: Boo Seungkwan, Kwaktube, Orbit, Guillaume Patry
Watch if: You want to test your intelligence
If you enjoy psychological gameshows such as The Genius and The Great Escape, you will like producer Jung Jong Yeon's newest show. Poised to be the ultimate competition of intelligence, 12 players will compete with each other in mind-bending games of wit and strategy to win a cash prize and bragging rights as the brainiest player. Between a lawyer, poker player, K-pop idol and more, who will outsmart the rest and come out victorious?
Watch here.
The Worst of Evil 
When and where: 27 September 2023 on Disney+
Starring: Ji Changwook, Wi Hajun, Lim Semi,
Watch if: You're in the mood for some crime-fighting badassery
In this upcoming crime drama, a police officer goes undercover and infiltrates a dangerous gang responsible for circulating a new recreational drug throughout Seoul's liveliest venues. Using his limited resources and fast thinking, he must bring the gang down from the inside out without getting caught by the city's dangerous drug lord. 
Watch here.
The Wonderful Story of Henry Sugar 
When and where: 27 September 2023 on Netflix
Starring: Benedict Cumberbatch, Ben Kingsley, Ralph Fiennes, Dev Patel
Watch if: You love anything by Wes Anderson 
The famed auteur returns with a set of short films inspired by Roald Dahl classics. Watch his upcoming 37-minute feature that follows a rich man who tries to master the skill of seeing without his eyes in order to cheat at gambling. The Wonderful Story of Henry Sugar is the first of four short films released by Anderson, with a new one being released each day from 27 September onwards. What a week for Anderson fans!
Watch here.
Gen V 
When and where: 29 September 2023 on Prime Video
Starring: Jaz Sinclair, Chance Perdomo, Lizze Broadway, Shelley Conn, Maddie Phillips, London Thor, Derek Luh, Asa Germann, Patrick Schwarzenegger, Sean Patrick Thomas, Marco Pigossi
Watch if: An R-rated gory version of Sky High and X-Men sounds amazing to you
Set in the diabolical world of The Boys, Gen V expands on the universe of Godolkin University, a prestigious institution for superpowered students who train to be the next generation of heroes. Apart from the usual college shenanigans of partying and trying to maintain their grades, the students find themselves in bloody situations when it's clear something sinister is happening at school. Warning: gory battles, explosive genitalia (it's true) and extremely dubious moral compasses incoming!
Watch here. 
Flora and Son 
When and where: 29 September 2023 on Apple TV+ 
Starring: Joseph Gordon-Levitt, Eve Hewson, Jack Reynor, Orén Kinlan
Watch if: You believe music can heal anything
One man's trash is another family's salvation. In this heartwarming film, Flora is a single mother who is desperately trying to bond with her rebellious teenage son, Max. After gifting him with a beat-up guitar, the estranged pair begin to bond over music and find harmony in the silence between them—with a little help from guitar teacher Joseph Gordon-Levitt.
Watch here.
The Point Men 
When and where: 30 September 2023 on Astro tVN Movies CH416
Starring: Hyun Bin, Hwang Jung Min, Kang Ki Young
Watch if: You're in the mood for action 
Catch Hyun Bin as the charismatic National Intelligence Service (NIS) agent who races against time to rescue a group of South Korean missionaries held hostage in Afghanistan. The events of the high-octane action film are based on the real-life South Korean hostage crisis in Afghanistan in 2007.
For more TV shows and film recommendations, head here.
| | |
| --- | --- |
| SHARE THE STORY | |
| Explore More | |