Culture
6 Female K-pop badasses we should all emulate
Girl boss
PHOTO: @chaelincl / Instagram | PHOTO: @_mariahwasa / Instagram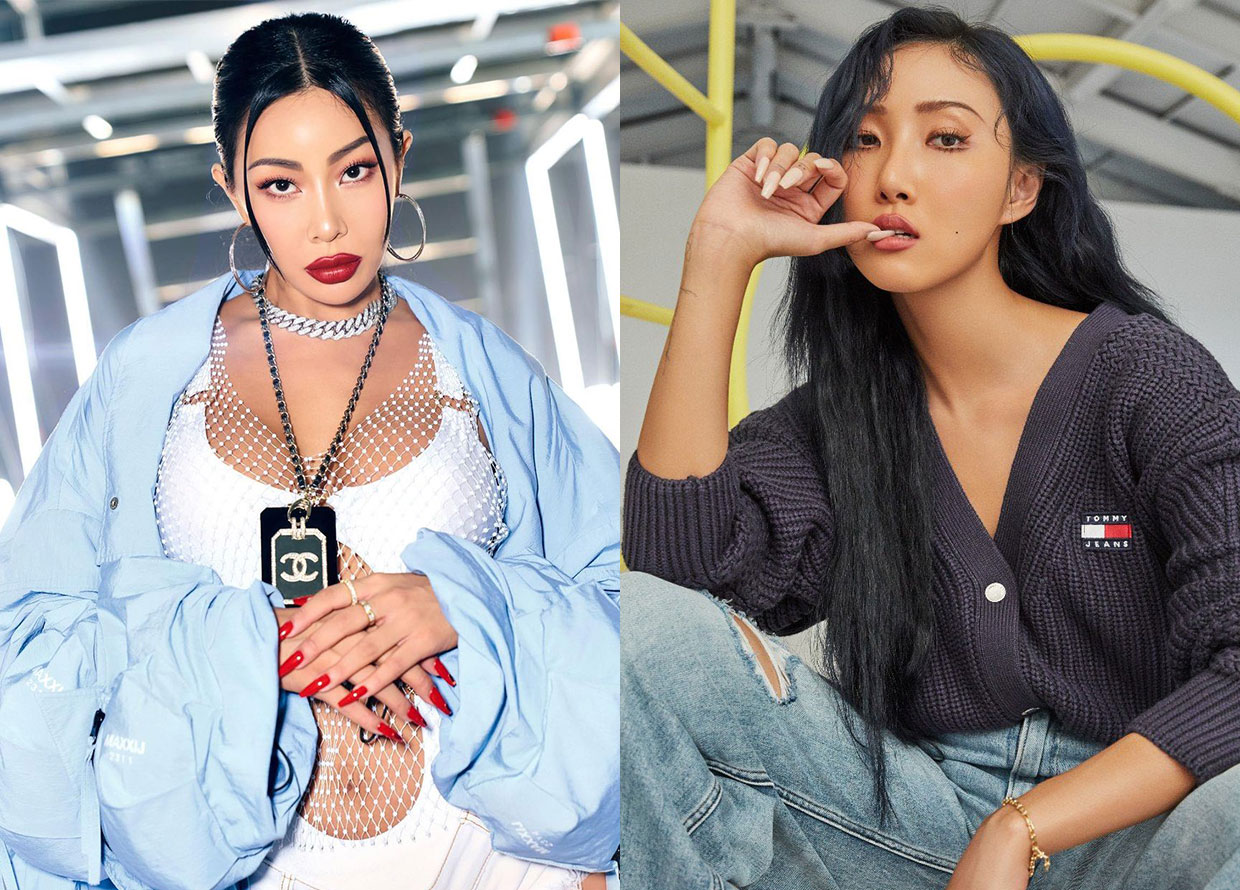 The industry may be known for its rigid systems and norms, but these female baddies of the K-pop world have no qualms saying "f*** that" and making it their own way

The K-pop wave is loved and lauded by millions worldwide, but that doesn't negate the fact that there are still problematic aspects in the industry. It's not all rainbows and sunshine—much like any other industry. From demanding beauty standards to misogynist comments, female K-pop idols are held to much higher standards and expectations than their male counterparts. It can be hard to speak out against these norms, particularly in a culture that favours societal harmony, which is why we appreciate it even more when they do. 
Ahead, we've rounded up six of the ultimate girl bosses in the K-pop industry who are paving the way for a healthier, empowering, and more diverse representation of female K-pop idols that are role-model worthy. 
HyunA
View this post on Instagram
Attention-seeker. Tramp. Vixen. These are just some of the terms thrown at HyunA throughout her 13-year career due to her sexed-up image. Despite the slander and constant slut-shaming, though, HyunA fearlessly embraced her sensuality and natural sexiness. Instead, her comebacks only grew more provocative and constantly pushed the boundaries of censorship laws in the Korean music broadcasting system with releases such as 2015's Roll Deep and 2016's How's This?. In an interview with Arirang TV's Pops in Seoul in 2015, she expressed that ultimately, she simply wanted "women to gain confidence" and own their sexuality.
She has even set a new precedent for idol dating, being one of the only idols in a public relationship with rapper beau, Dawn, simply because she refused to hide the relationship from her fans anymore. The couple faced intense backlash when the news first broke out in 2016 and was even kicked out of their entertainment company, Cube. However, presently, the public has accepted and even praised the couple for their bravery which is a testament to HyunA's boldness and true badassery. Above, check out her performance at a university festival earlier this year on how the veteran commands the stage (plus a performance with Dawn). 
Hwasa
View this post on Instagram
Nicknamed as the Korean Beyoncé, Hwasa from vocal powerhouse quartet, Mamamoo, does not just deliver mega vocal chops but also a whole lot of personality to boot. With her wide hips, thick thighs, honey tan skin and striking features, Hwasa isn't someone you normally see in the K-pop industry—which tends to glorify skinniness and fair skin. While she is known for being a fiery diva on stage, she didn't always have it easy. At a Mamamoo concert, the singer revealed that she was turned down multiple times in auditions for not being pretty or skinny enough despite having the talent. However, as her group began to grow in fame, so did Hwasa in her self-confidence as she wholeheartedly embraced her more curvaceous figure. 
The singer donned skin tight costumes in performances and wrote songs that convey a message of self-love and female empowerment. Her solo song, Maria features the lyrics, "Why do you keep struggling―you are already beautiful." Because of this, Hwasa is now one of the most popular and celebrated artists in South Korea and beyond as an icon of self-confidence for how she has paved the way for female K-pop idols that defy conventional beauty norms. 
CL
View this post on Instagram
This list wouldn't be complete without the Alpha Female K-pop Queen herself. When The Baddest Female made its splash in the K-pop scene in 2013, the hip hop song was an instant hit and quickly became synonymous to CL's confident and bold persona. Known as the multi-talented leader of YG Entertainment's 2NE1, CL (real name Lee Chaerin) has always had a strong image since her debut with her iconic sharp-winged eyeliner and silver tongue. She was also one of the first K-pop stars to foray into the American market with her song Lifted in 2016 and became the first female Korean solo artist to place on the Billboard Hot 100. As an artist, CL is well-respected in the industry for her musical diversity, charismatic stage presence, and fiery attitude. She is often cited as an inspiration and muse to many such as Blackpink's Lisa and Moschino's creative director and designer, Jeremy Scott. 
One could also never forget her closing performance at the PyeongChang Winter Olympics in 2018, which reminded everyone that being bad isn't always bad. In the wise words of CL herself, "not bad meaning bad but bad meaning good, you know?" 
Jessi 
View this post on Instagram
Hailing from New Jersey, Jessi first rose to stardom after appearing in 2015's Unpretty Rapstar, a rap show competition featuring female Korean rappers. Known as the 'Savage Queen' for her explosive personality and unfiltered words, Jessi brought her American spunk over to Korea and had no intentions of censoring herself. Fans love how unapologetic the multi-talented artist is, from publicly acknowledging her plastic and cosmetic surgeries (something celebrities tend to deny due to its taboo nature) to encouraging her fellow idol juniors to not starve themselves but stay healthy through her show, Jessi's Showterview. 
Perhaps it's because Jessi understands the hardships of idol life as someone who debuted way back in 2005 but only found mainstream success a decade later. Therefore, she is known as the protective older sister who isn't afraid to clap back at haters for herself or for others. You simply get what you get when it comes to Jessi and for that, we love the rapper for always keeping it real. 
Moonbyul
View this post on Instagram
Proving exactly why Mamamoo has a legion of adoring fans, we have another Mamamoo member making her way on this list for her no-nonsense attitude. It's common in the K-pop world to see girl group members dressed in tight shorts and revealing tops. In this regard, Moonbyul is a refreshing breath of air. The rapper and leader of the group is known for her tomboy style, often opting for long pants and sleeves in loose silhouettes, and switching out dresses for suits. Her clothing choices even earned her the nickname, Conservative Moon. Despite this, Moonbyul reaffirmed in an interview in 2016 that she is "still pretty without showing off [her] body". Whilst it's good to have body-confident role models, it's also just as empowering to have artists like Moonbyul who remind impressionable fans and fellow idols that women should not be sexualised to be validated. 
Her solo songs are also notably more masculine in nature, incorporating complex dance choreography and hard-hitting baselines that are often seen in boy groups. Through this, Moonbyul showed that female idols have different facets and don't necessarily have to fit in defined categories. 
Soyeon 
View this post on Instagram
The most junior idol on this list—but by no means any less talented—is (G)I-dle's Soyeon who debuted in 2018. As the leader of the group, Soyeon carries herself with an air of maturity and professionalism that it's hard to believe the rapper is only 24 years old. Apart from rapping, Soyeon is also a talented singer, composer, producer and songwriter with 46 song credits to her name. She is extremely involved in the music production of her group and is often touted as a creative visionary behind many of the group's popular songs such as this year's smash hit, Tomboy and their viral debut single, Latata. As someone who went through the rigorous K-pop system herself—she competed in two survival programmes but was eliminated—Soyeon understands the harsh realities of the competitive K-pop arena and wants to give aspiring idols an equal chance to show off their talents. 
For instance, take her appearance as a judge for an idol competition show (we love when things come full circle). In a moment of true badassery, the rapper called out live audiences who voted for the more conventionally beautiful trainees with weak performances and eliminated talented individuals who were not deemed attractive enough. Soyeon reminded the audience of how precious such opportunities were to these trainees and not to take their responsibilities lightly. The moment went viral, of course, and solidified Soyeon as one of K-pop's rising girl crushes for her no-BS attitude. 
For more reads on your favourite K-pop idols, head here.