Film, TV + Theatre
15 Thrilling new films and TV shows to stream in November 2023
Sit back and relax
FEATURED IMAGES: SARAH TAI FOR BURO MALAYSIA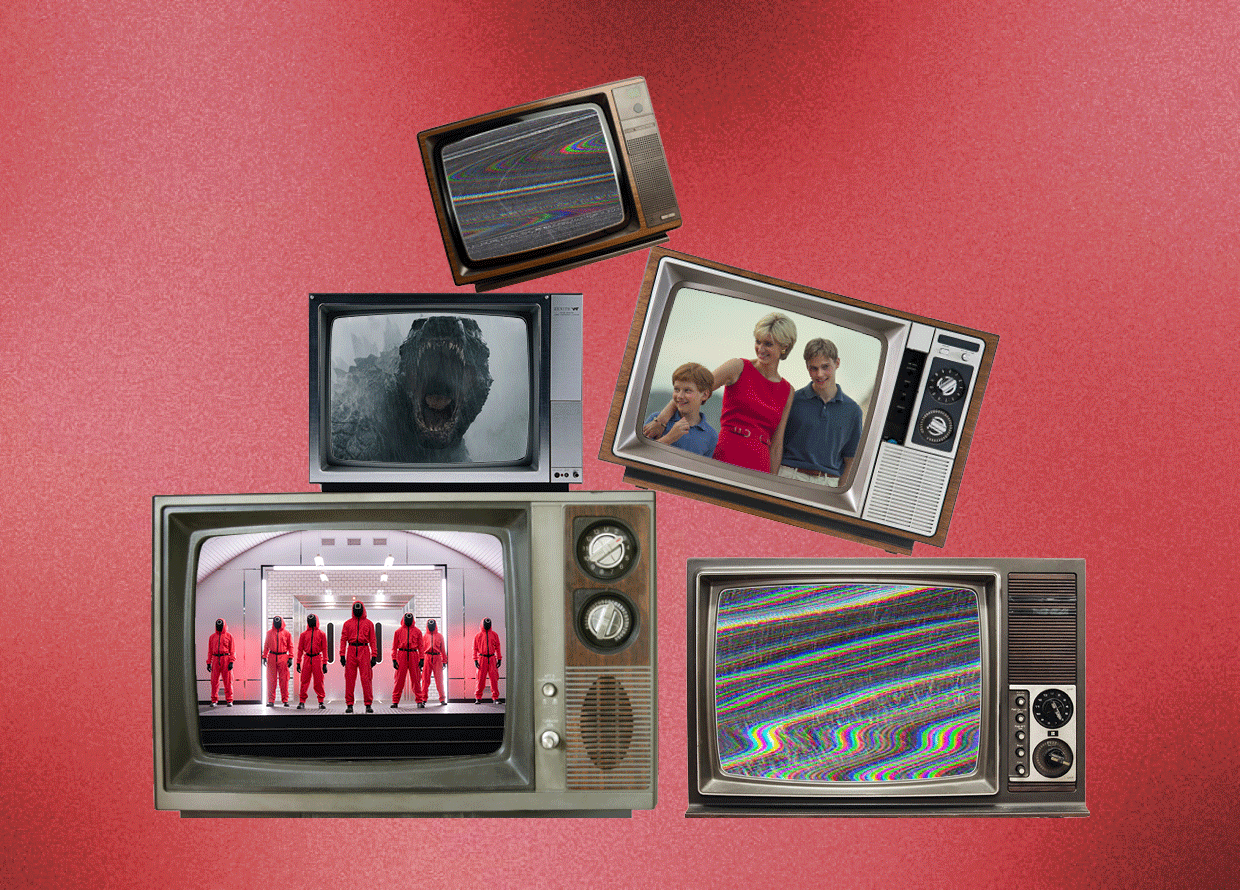 New month, new slew of content! This November, kick back to these small-screen offerings that will keep you glued to your seats. From an anime reboot of Scott Pilgrim featuring the original cast and the final season of The Crown to the highly-anticipated competition Squid Game: The Challenge, here are 15 thrilling new films and TV shows to stream in November 2023.
All the Light We Cannot See 
When and where: 2 November 2023 on Netflix
Watch if: You love historical fiction 
Starring: Aria Mia Loberti, Louis Hofmann, Mark Ruffalo, Hugh Laurie, Nell Sutton, Marion Bailey
Based on the Pulitzer Prize-winning novel by Anthony Doerr, All the Light We Cannot See is an extraordinary story about the power of human connection and hope in the darkest of times. Set in the final days of World War II, a blind French girl and her father flee a German-occupied Paris whilst in possession of a precious diamond. While taking refuge with a reclusive uncle who sends out radio broadcasts as part of the resistance, her path crosses with a German soldier enlisted in Hitler's regime and the two form a secret connection.
Watch here.
Cigarette Girl 
When and where: 2 November 2023 on Netflix 
Watch if: You don't know much about Indonesia's cigarette industry 
Starring: Dian Sastrowardoyo, Ario Bayu, Putri Marino
Did you know that Indonesia is one of the largest producers of tobacco and has one of the highest smoking rates in the world? In this Netflix original series, step back in time to the 1960s booming kretek cigarette industry. Cigarette Girl is a five-part limited series that follows a gifted artisan's journey of love and self-discovery as she defies traditions within Indonesia's clove cigarette industry. 
Watch here.
Fingernails
When and where: 3 November 2023 on Apple TV+
Watch if: You want to see if there's such a thing as 'one true love'
Starring: Jessie Buckley, Riz Ahmed, Jeremy Allen White, Luke Wilson
If you and your partner could take a love test to find out if you're truly compatible, would you do it? In Fingernails, Anna and Ryan do and find out that they are officially each other's true loves thanks to a controversial new technology. The only problem? Anna still isn't sure. Everything becomes even more confusing when she takes a job at a love testing institute and meets Amir. 
Watch here.
Attack on Titan Season 4 Part 4
When and where: 4 November 2023 on Netflix 
Watch if: You're a long-time follower of the anime
Since premiering in 2013, Attack on Titan has become the shonen anime of the decade and a worldwide phenomenon. 10 years later, the series will finally reach its epic conclusion. Picking up immediately after the cliffhanger of the previous part, the remaining Survey Corps must race against time to stop Eren Jaeger from committing mass genocide with his army of Colossal Titans. 
Watch here.
Vigilante
When and where: 8 Nov 2023 on Disney+ 
Watch if: You love a good revenge drama 
Starring: Nam Joohyuk, Yoo Jitae, Lee Junhyuk, Kim Sojin 
When a serial abuser is given a light sentence after killing his mother, a child vows to take matters into his own hands and deliver justice himself. Tired of seeing the legal system fail its victims, Nam Joohyuk stars as the dark anti-hero cum model police officer Kim Jiyong who becomes obsessed with exacting revenge on his mother's attacker and other repeat offenders who have gotten away in the eyes of the law. In the upcoming suspense drama, he must use his police knowledge to avoid getting caught while carrying out his form of retribution. 
Watch here.
The Buccaneers 
When and where: 8 November 2023 on Apple TV+
Watch if: You're looking for another show like Bridgerton 
Starring: Kristine Frøseth, Alisha Boe, Josie Totah, Aubri Ibrag, Imogen Waterhouse, Mia Threapleton
Tighten your corsets and step into the upper-class society of 1870s London, where a group of fun-loving American girls infiltrate the land of the stiff upper lip with their Anglo-American culture. Sent to look for husbands and titles, it's the ultimate clash between old money and new money as the Buccaneers are in a season bigger than any of them could ever anticipate. The eight-episode drama is based on the unfinished novel of the same name by Pulitzer Prize-winning author Edith Wharton. 
Watch here. 
The Killer 
When and where: 10 November 2024 on Netflix 
Watch if: Michael Fassbender as an assassin. That's it. 
Starring: Michael Fassbender, Tilda Swinton, Arliss Howard, Sophie Charlotte 
After receiving rave reviews at the Venice Film Festival, you'll be able to watch Michael Fassbender take aim in the David Fincher action thriller very soon. After narrowly escaping a mission gone bad, a ruthless assassin battles his employers—and himself—on an international hunt for retribution he insists isn't personal.
Watch here.
Congrats, My Ex! 
When and where: 16 November 2023 on Prime Video 
Watch if: You love Bollywood and Thai productions 
Starring: Bella Ranee Campen, Mahir Pandhi, Bright Vachirawit
Get the best of the Bollywood and Thai worlds in the upcoming film Congrats, My Ex which features rising Bangkok stars Bright and Bella! When Risa, a wedding planner, accepts a daunting Indian wedding project to revive her struggling business, things get messy real quick. The groom is her ex who she isn't entirely over, and to complicate things even further, she has to enlist the help of her other ex, to be the wedding photographer. Can Risa get it together to deliver an amazing wedding for her clients? Get ready for a cross-cultural extravaganza in this romantic comedy! 
Watch here.
The Crown Season 6 Part 1
When and where: 16 November 2023 on Netflix
Watch if: You're a self-proclaimed Anglophile 
Starring: Imelda Staunton, Jonathan Pryce, Lesley Manville, Elizabeth Debicki 
This November, The Crown makes its highly anticipated royal return in its final season. In this fictional dramatisation inspired by the British Royal Family, season six will closely follow the final weeks of the beloved Princess Diana before her tragic car accident and how her death signalled a reckoning for the monarchy. Further, witness the beginnings of a new Royal fairytale in William and Kate as the Prince struggles to integrate back into life at Eton. 
Watch here.
Monarch: Legacy of Monsters 
When and where: 17 November 2023 on Apple TV+ 
Watch if: You enjoy anything related to Godzilla
Starring: Kurt Russell, Wyatt Russell, Anna Sawai, Kiersey Clemons, Ren Watabe, Mari Yamamoto, Anders Holm, Joe Tippett, Elisa Lasowski
In this high-octane 10-episode series, explore the world of monsters and titans as Legendary Entertainment's Monsterverse comes to life on the small screen. Following the thunderous battle between Godzilla and the Titans in San Francisco, the series tracks two siblings who investigate their family's connection to a shadowy organisation known as Monarch. Spanning three generations, the dramatic saga will reveal long-buried secrets and fights of epic proportions. 
Watch here.
Scott Pilgrim Takes Off 
When and where: 17 November 2023 on Netflix 
Watch if: You've been dreaming of another Scott Pilgrim project 
If you're a big fan of the live-action Scott Pilgrim film released in 2010, you're in for a treat! The cast will be reprising their roles in an animated series that promises to be a faithful homage to the best-selling graphic novels by Bryan Lee O'Malley. Scott Pilgrim Takes Off follows the adventures of the nerdish musician who must defeat seven of his crush's evil exes in order to date her. 
Watch here.
Squid Game: The Challenge
When and where: 22 November 2023 on Netflix 
Watch if: You've always wanted to try one of the games from the show 
Do you think you have what it takes to win Squid Game? Officially Netflix's most viewed show of all time, South Korea's Squid Game went viral for its deathly games—and now, you get to see them played out in real life! 456 players. $4.56 million. One winner. Watch contestants take on the games inspired by the original series and new frightening challenges to win the biggest prize money in reality competition history.
Watch here.
Earth
When and where: 26 November 2023 on Astro Channel 554 at 9pm 
Watch if: You're fascinated by the planet we call home 
Relive four billion years of Earth's extraordinary history told over five dramatic episodes using state-of-the-art storytelling techniques. The first science series of its kind from BBC Studios, Earth will look at our planet's most epic moments, including massive bombardments from space, extreme climate changes and the collision of whole continents. 
Devil's Peak
When and where: 27 November 2023 on Astro Go and Unifi TV Channel 481 
Watch if: You're in the mood for a gritty crime thriller 
Starring: Hopper Penn, Billy Bob Thornton, Robin Wright, Katelyn Nacon 
From Deon Meyer's bestselling 2004 novel comes an unsettling crime thriller set in South Africa's Cape Town. When a young boy is murdered and his perpetrators go unpunished, a vigilante killer known as Thobela goes on a rampage to take matters into his own hands. A brilliant but disillusioned detective must work to keep the peace in the increasingly dangerous city before it's too late. 
Family Switch 
When and where: 30 November 2023 on Netflix 
Watch if: You want a cosy family show 
Starring: Jennifer Garner, Ed Helms, Emma Myers 
Every once in a while, a body-switching movie must be made to keep the Earth in balance. If you like Freaky Friday and We're the Millers, get ready for the comedic shenanigans in Family Switch! When a chance encounter with an astrological reader causes the Walkers to wake up in each other's bodies on the morning of the most important day of their lives, can they put their differences aside to land a promotion, soccer tryout, record deal and college interview? 
Watch here.
For more film and TV show recommendations, head here.
| | |
| --- | --- |
| SHARE THE STORY | |
| Explore More | |