Film, TV + Theatre
13 Exciting TV shows and films to stream in October 2023
Tune in
FEATURED IMAGES: SARAH TAI FOR BURO MALAYSIA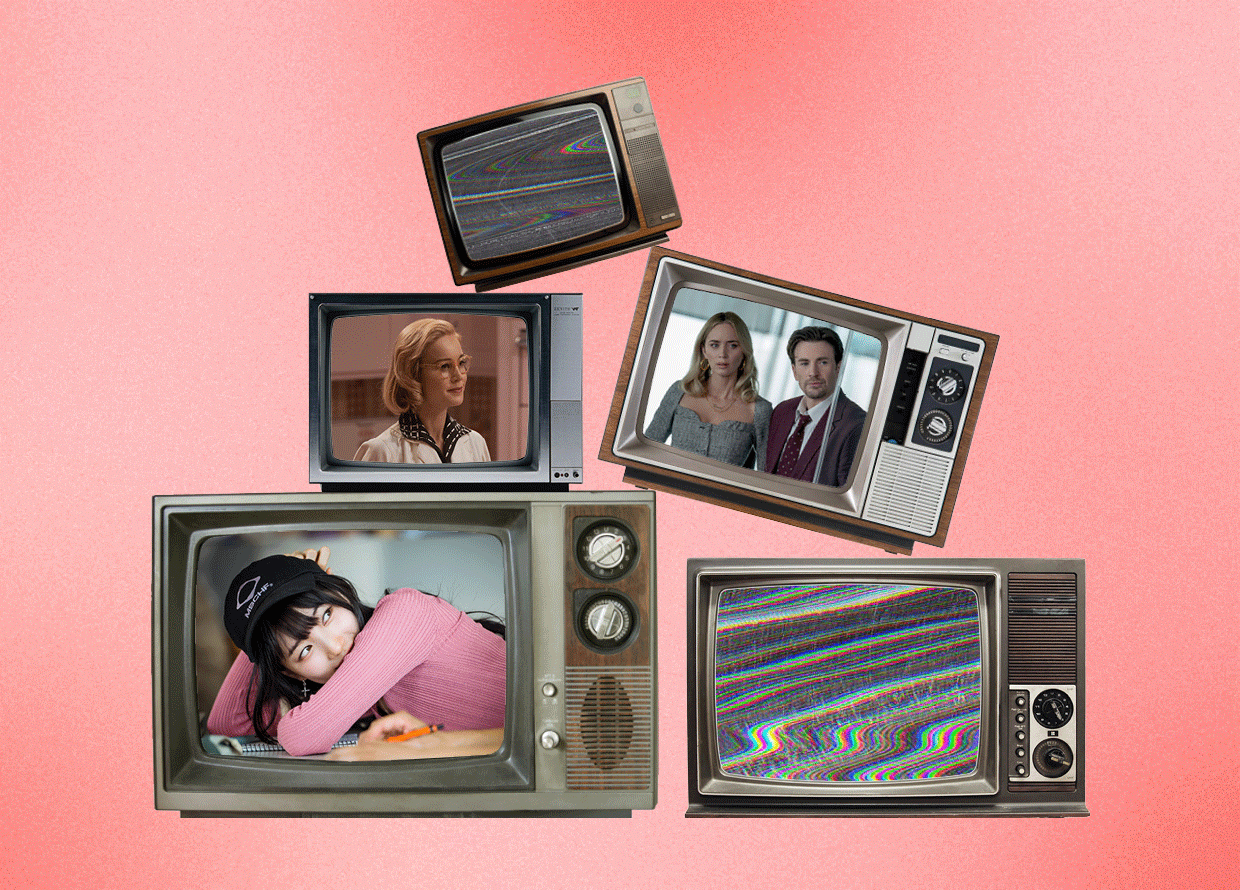 This October, tune in to some bone-chilling features as the small screen turns up the spook factor just in time for Halloween. From an Edgar Allan Poe-inspired horror series to a documentary on one of America's most famous hauntings, there will be plenty to stream and scream to this month. If you're not a fan of horror, don't sweat it! October also has everything else to keep you entertained such as heart-fluttering romances, action-packed shows, and more.
Ahead, here are 13 exciting new films and TV shows to stream in October 2023.
Haunted Mansion 
When and where: 4 October 2023 on Disney+
Watch if: You love the theme park attraction
Starring: LaKeith Stanfield, Tiffany Haddish, Owen Wilson, Danny DeVito, Rosario Dawson, Chase W. Dillon, Daniel Levy, Jamie Lee Curtis and Jared Leto
If you've ever been to Disneyland and remember how spooky yet fun this iconic theme park attraction was, be sure to tune in to Haunted Mansion. The film takes inspiration from the set and reimagines it in an entertaining new way so you can relive the magic and frights once again.
Beckham 
When and where: 4 October 2023 on Netflix
Watch if: You're a huge David Beckham fan
Starring: David Beckham
With all the exciting biopics we've been getting in 2023 so far, it's only time that one of football's most enduring icons is finally getting his Hollywood treatment. In this intimate docuseries featuring never-before-seen-footage, fans will get an intimate look at David Beckham's meteoric rise from humble beginnings to global football stardom.
Watch here. 
Loki Season 2 
When and where: 6 October 2023 on Disney+
Watch if: You're ready for more Loki shenanigans 
Starring: Tom Hiddleston, Sophia Di Martino, Gugu Mbatha-Raw, Wunmi Mosaku, Eugene Cordero, Rafael Casal, Tara Strong, Kate Dickie, Liz Carr, Neil Ellice, Jonathan Majors, Ke Huy Quan and Owen Wilson
The God of Mischief is back! Slipping into a new and earlier time, season two of Loki picks up in the aftermath of the shocking season finale when the demi-god finds himself in a battle for the soul of the Time Variance Authority. With Mobius, Hunter B-15 and a team of new and familiar faces, Loki has to traverse the ever-expanding and dangerous multiverse to save the timeline. 
Watch here.
Fair Play 
When and where: 6 October 2023 on Netflix 
Watch if: You want to see if love can survive a cutthroat environment
Starring: Phoebe Dynevor, Alden Ehrenreich, Eddie Marsan, and Rich Sommer
A newly engaged couple faces the toughest challenge in their relationship when an unexpected promotion in a competitive hedge fund pushes them to the brink. As the saying goes, "All's fair in love and war." This erotic thriller is Chloe Domont's directorial debut and received positive reviews after its premiere at the Sundance Film Festival 2023 in January. 
Watch here.
Deane's Dynasty
When and where: 6 October 2023 on HBO Astro Channel 411 (11pm) and HBO Go
Watch if: You're looking for a reality TV show that isn't about the Kardashians 
Starring: Lydia Sarunrat Deanne, Matthew Deane, Ploy Chermarn, Aerin Yuktadatta, Guy Suprakorb, Haru Suprakorb, Buakau Banchamek 
Move over, Kardashians because there's a new family dynasty taking over the screen! In this eight-episode reality series, Deanne's Dynasty follows the lives of one of Thailand's most prominent celebrity families, Lydia and Matthew Deanne, as well as their famous friends. As they navigate the ups and downs of fame and family, expect lots of drama and entertainment in this HBO Asia Originals show.
Watch here. 
The Fall of the House of Usher 
When and where: 12 October 2023 on Netflix
Watch if: You love Edgar Allan Poe stories
Starring: Carla Gugino, Bruce Greenwood, Ruth Codd, Samantha Sloyan, Kate Siegel, Rahul Kohli, Igby Rigney, and Mark Hamill
As if director Milk Flanagan hasn't scared viewers enough with his horror hits The Haunting of Hill House and Midnight Mass, he is taking on Edgar Allan Poe for his next spook fest. Loosely based on Poe's short story of the same name and allusions to his other works, The Fall of the House of Usher follows two ruthless siblings who have built their family business, Fortunato Pharmaceuticals, into a successful dynasty of wealth, privilege and power. However, things take a bloody turn when the heirs to the Usher empire are stalked, hunted and killed by a mysterious woman from their youth. 
Watch here.
Lessons in Chemistry 
When and where: 13 October 2023 on Apple TV+
Watch if: You love a geeky main character
Starring: Brie Larson, Lewis Pullman, Aja Naomi King, Stephanie Koenig, Kevin Sussman, Patrick Walker and Thomas Mann
Based on the bestselling novel of the same name by Bonnie Garmus, Brie Larson stars as Elizabeth Zott, an extremely intelligent woman whose dream of becoming a scientist is put on hold in a patriarchal society set in the early 1950s. When she finds herself fired from her lab, Zott accepts a job as a host on a TV cooking show and sets out to teach a nation of overlooked housewives a lot more than just recipes. 
Watch here.
GBRB: Reap What You Sow 
When and where: 18 October 2023 on tvN Channel 395 and Viu
Watch if: You want to see four actors manage a farm
Starring: Lee Kwang Soo, Kim Woo Bin, Do Kyung Soo, Kim Ki Bang
It's not often you get to see four Hallyu stars trade in their glamorous city life for the farm. In this new South Korean variety show, watch how actors and IRL best friends Lee Kwang Soo, Kim Woo Bin, Do Kyung Soo, and Kim Ki Bang experience and enjoy rural life on a remote farm while taking part in organic harvesting. Wholesome vibes all around!
Watch here.
Bodies 
When and where: 19 October 2023 on Netflix 
Watch if: A murder case and time travel sound like a good combination to you 
Starring: Stephen Graham, Shira Haas, Kyle Soller, Jacon Fortune-Lloyd, Amaka Okafor, Synnove Karlsen
What happens when four detectives in four different time periods of London find themselves investigating the same murder? Based on the graphic novel by Si Spencer, Bodies takes the police procedural genre and gives it a mind-bending twist. When the same body shows up in London's East End in 1890, 1941, 2023 and 2053, four detectives in charge must somehow work together to uncover a conspiracy spanning over 150 years. 
Watch here.
Doona! 
When and where: 20 October 2023 on Netflix 
Watch if: You miss seeing Bae Suzy as an idol 
Starring: Bae Suzy, Yang Se Jong, Lee Yu Bi, Lee Jin Wook, Park Se Wan, Go Ah Sung
In this highly anticipated romance series, K-pop sensation and actress Bae Suzy returns to her idol roots to play Lee Doona, a famous K-pop idol who retired and now leads a quiet life. From the visionary director Lee Jung Hyo, who was behind Crash Landing On You, comes another heart-pounding love story between a celebrity and a shy college student when the two meet in a shared dorm. Tune in to see the couple's intriguing dynamics blossom into a swoon-worthy romance in Doona.
Watch here.
The Enfield Poltergeist 
When and where: 27 October 2023 on Apple TV+
Watch if: You're not afraid of ghosts
If you've ever wondered what the real story behind The Conjuring 2 is, you've found it. This four-part Apple Original docuseries tells the chilling story of one of the most famous poltergeist hauntings in history. Featuring more than 250 hours of rare audio that paranormal investigator Maurice Grosse has sealed away, the documentary has also meticulously recreated the house where the incidents occurred for startling reenactments and includes exclusive interviews with the victims. 
Watch here.
Pain Hustlers
When and where: 27 October 2023 on Netflix
Watch if: You like morally dubious characters 
Starring: Emily Blunt, Chris Evans, Andy Garcia, Chloe Coleman, Catherine O'Hara, Jay Duplass and Brian d'Arcy James
Emily Blunt stars as blue-collar single mother Liza Drake who is at the end of her rope after losing her job. Worrying about how to raise her daughter and care for her worsening medical condition, Drake takes up a job at a failing pharmaceutical start-up after meeting sales rep Pete Brenner (Chris Evans). Turns out, she's good at it and soon finds herself on an upward trajectory raking in the greens. However, Drake gets involved in a dangerous racketeering scheme that puts her on a morally unethical path. Pain Hustlers is a sharp and revealing look at what some people are capable of in times of desperate need and greed.
Watch here.
Castaway Diva 
When and where: 28 October 2023 on Netflix 
Watch if: You enjoy shows with a musical element
Starring: Park Eun Bin, Kim Joo Hun, Chae Jong Hyeop
After being stranded on a remote island for 15 years (yes, 15!), an aspiring singer is rescued and reenters society. Her goal? Becoming the pop diva she knows she can be. From the huge success of her hit series Extraordinary Attorney Woo, Park Eun Bin returns to the small screen to star as a talented singer who will stop at nothing to achieve her dreams. 
Watch here.
For more TV shows and film reads, head here.
| | |
| --- | --- |
| SHARE THE STORY | |
| Explore More | |