Culture
Read like Pedro Pascal: 9 of the actor's favourite books
Spoiler alert: it's 10/10
FEATURED IMAGES: @pascalispunk / Instagram | Reuters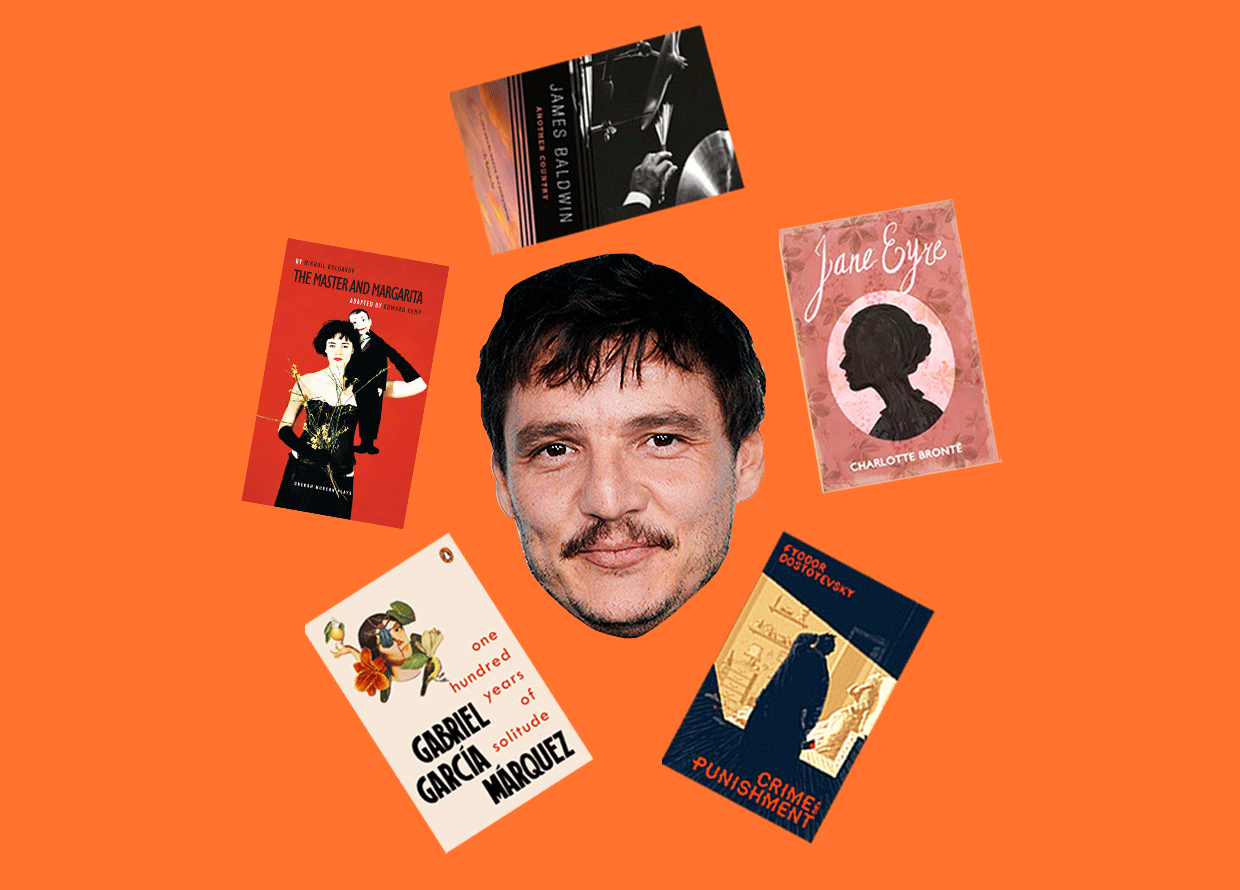 His name is Pedro Pascal but he also goes by another name: Internet Daddy. With his charming personality, infectious smile and top-grade humour, it's hard not to understand why everyone is enraptured by the Chilean actor. The world came to know him through his breakout role as Oberyn Martell in Game of Thrones. He continued to capture audiences as a tough agent in Netflix's Narcos before truly cementing his role as Internet Daddy in the recent HBO hit The Last of Us and The Mandalorian on Disney. While he's ruling TV with his taste in picking projects, he's also stealing our hearts with his impeccable taste in books.
View this post on Instagram
In fact, Pascal named books as one of the top 10 things he couldn't live without in a 2018 interview with GQ. For fans of the actor, his love for reading doesn't come as a surprise. He often posts about his favourite authors on Instagram such as Toni Morrison and James Baldwin (like we said, taste) and even gushed about his favourite books on a live Reddit Ask Me Anything (AMA) with fans nine years ago. He's blessed with good looks, bonafide acting chops and he loves reading Jane Eyre? Be still, my heart…
If you didn't think he was a walking green flag before, Pascal's bookshelf is about to change all of that. From discerning reads about the human condition to melancholic love stories, here are nine books read by Pedro Pascal that will have you joining his ever-growing group of self-appointed online adopted children.
Crime and Punishment by Fyodor Dostoevsky
View this post on Instagram
In the Reddit AMA, Pascal described this book as "one of the greatest reads I've experienced" and while it "sounds highbrow", it was a "page-turner" for him. And honestly, we totally get it. While Dostoevsky is not the easiest author to read, Crime and Punishment is undoubtedly one of the greatest works in the literary canon. The Russian piece follows a student named Raskolnikov who commits a murder without remorse or regret. He sees himself as someone who operates out of conventional moral laws and engages in a cat-and-mouse game with the police. The novel explores themes of damnation and redemption and the line between good and evil. It's a must-read for anyone who enjoys reading about the depth of human morality.
Buy the book here.
Watership Down by Richard Adams
View this post on Instagram
Pascal and rabbits? Yes, please. Before you start cooing though, Watership Down is actually quite a serious book. In fact, the Last of Us actor even called it one of his most "gruelling" reads ever. Published in 1972 by English author Richard Adams, Watership Down portrays a band of rabbits seeking a new home after their habitat is destroyed. Led by two brave brothers, the rebellion of rabbits endure many trials—being chased by former friends, hunted by feral dogs and foxes, avoiding farms, and human threats—to travel to a mysterious new promise land where the grass is (hopefully) greener on the other side.
Buy the book here.
Jane Eyre by Charlotte Brontë
View this post on Instagram
We love a man who is unafraid to say he reads Brontë. Jane Eyre is one of the most famous Victorian novels of all time but it's still refreshing to see Pascal gush about it as a male reader since her books are often doubled down as 'chick lit' alongside writers such as Jane Austen. We're not going to say what it does for our hearts but if you haven't picked up a Brontë book before, Jane Eyre is as good a place as any to start because it stars a strong female protagonist. This classic novel published in 1847 depicts the struggles of the eponymous orphan in her quest to find love and dignity in a tumultuous time. Life seems to perk up when she is made governess at Thornfield Hall and she falls in love with the brooding Mr Rochester—until she finds something in the attic.
Buy the book here.
The Master and Margarita by Mikhail Bulgakov
View this post on Instagram
Another Russian author Pascal enjoys reading is Bulgakov. In an interview with Buzzfeed in 2014, he named The Master and Margarita as one of his favourite books. While that was nine years ago and it probably has changed, this book is worth picking up because it involves talking cats, witches and Satan set in 1920s Moscow. The novel is Bulgakov's last and most celebrated work that was published in 1966 and is full of surrealist humour, political satire and a good amount of chaos which explains why the fun-loving actor has it at the top of his list. 
Buy the book here.
One Hundred Years of Solitude by Gabriel Garcia Marquez
View this post on Instagram
As someone who is proud of his Hispanic roots, it's no surprise that Pascal recommended the classic One Hundred Years of Solitude on the Reddit AMA. As the winner of the Nobel Prize for Literature, Marquez's masterpiece tells the life of seven generations of the Buendia family in a small town ravished by war and natural disasters. It blends supernatural elements into the story about Columbian life, making this book one of the most magical reading experiences that will stay with readers for a long time.
Buy the book here.
Another Country by James Baldwin
View this post on Instagram
Pascal has always been a fierce ally of the LGBT movement so it would only make sense that he thoroughly enjoyed Another Country. When it was first published in 1962, the novel was considered controversial and taboo due to the topics it discussed such as bisexuality, interracial relationships and extramarital affairs. As an African-American author, it also portrays the lived Black experience in late 1950s America which was rife with racism, police brutality, political turmoil, and more. This is done through the lens of eight people who are caught in a web of interpersonal relationships that are as damning as the society which oppresses them.
Buy the book here.
Franny and Zooey by J.D. Salinger 
View this post on Instagram
The man loves his Salinger. On Reddit, he claimed that he would read "anything by J.D. Salinger". And chances are, most of us have likely read or at least heard of his most celebrated book, The Catcher in the Rye. However, the affable actor named one of his more underrated works, Franny and Zooey on Buzzfeed. If you're looking for a book dissecting the psyche of nepotism babies, read one written by one of America's most beloved novelists of the 20th century. Originally published as two separate stories in the mid-1950s, Franny and Zooey follows the lives of two children from the Glass family whose seven siblings are all former child stars, each with their own eccentricities and flawed pasts. A novel comprising two interconnected stories, Franny and Zooey depicts the trials and anxieties of entering adulthood with wit and poignancy. 
Buy the book here.
The Urge: Our History of Addiction by Carl Erik Fisher 
View this post on Instagram
While Pascal states that he loves reading fiction, he does spice up his reading list every now and then which makes his bookshelf all the more interesting. The actor gave this book a personal shoutout on his Instagram on January 2022 to praise his friend for his achievement. The illuminating non-fiction piece journals the humane history of addiction, which remains mysterious and often misunderstood despite touching millions of lives, from the perspective of an addiction psychiatrist. Of course, Pascal always knows how to make things even more wholesome so here's his summary: "Combining science and medicine with literature, arts and philosophy to better understand how to take care of one another." 
Buy the book here.
The Magic Mountain by Thomas Mann
View this post on Instagram
As the actor was seen holding this book during an interview with GQ, this book is definitely worth a mention. Described by Pascal as a book of "706 pages about death", The Magic Mountain is not for the faint-hearted. Written by Thomas Mann, who also won the Nobel Prize in Literature in 1929, it is a monumental novel in German literature published in 1924. The story takes place in an isolated tuberculosis sanatorium in the Swiss Alps. Hans Castorp, described as an "ordinary young man", arrives to visit his sick cousin and ends up staying there for seven years.
Throughout his time there, he encounters many characters who come to represent a microcosm of European society on the verge of the First World War. The Magic Mountain deals with themes of death, sickness, existentialism, war, and enlightenment. While it is not an easy read, it is still a rewarding one. We guarantee several sleepless nights thinking about the metaphysical reality of life.
Buy the book here.
Bonus: Killing Pablo by Mark Bowden
View this post on Instagram
This book deserves a place on this list purely from the fact that it birthed a pop culture moment that went viral on social media. Case in point: Pascal was featured on an Instagram page dedicated to hot guys who read (yes, you read that right) after he was spotted being engrossed in it. We can't blame him because Killing Pablo is the bestselling blockbuster story of how American Special Forces hunted down and assassinated Pablo Escobar, the world's most dangerous and powerful cocaine cartel. Pascal was most likely reading it to prepare for his show Narcos which focuses on the illegal drug trading business. 
Buy the book here.
For more book recommendations, head here.
| | |
| --- | --- |
| SHARE THE STORY | |
| Explore More | |