Culture
Read like BTS' RM: 7 Book recommendations by Kim Namjoon
An eclectic collection
PHOTO: BTS WeVerse / PHOTO: In The Soop / PHOTO: Bandwagon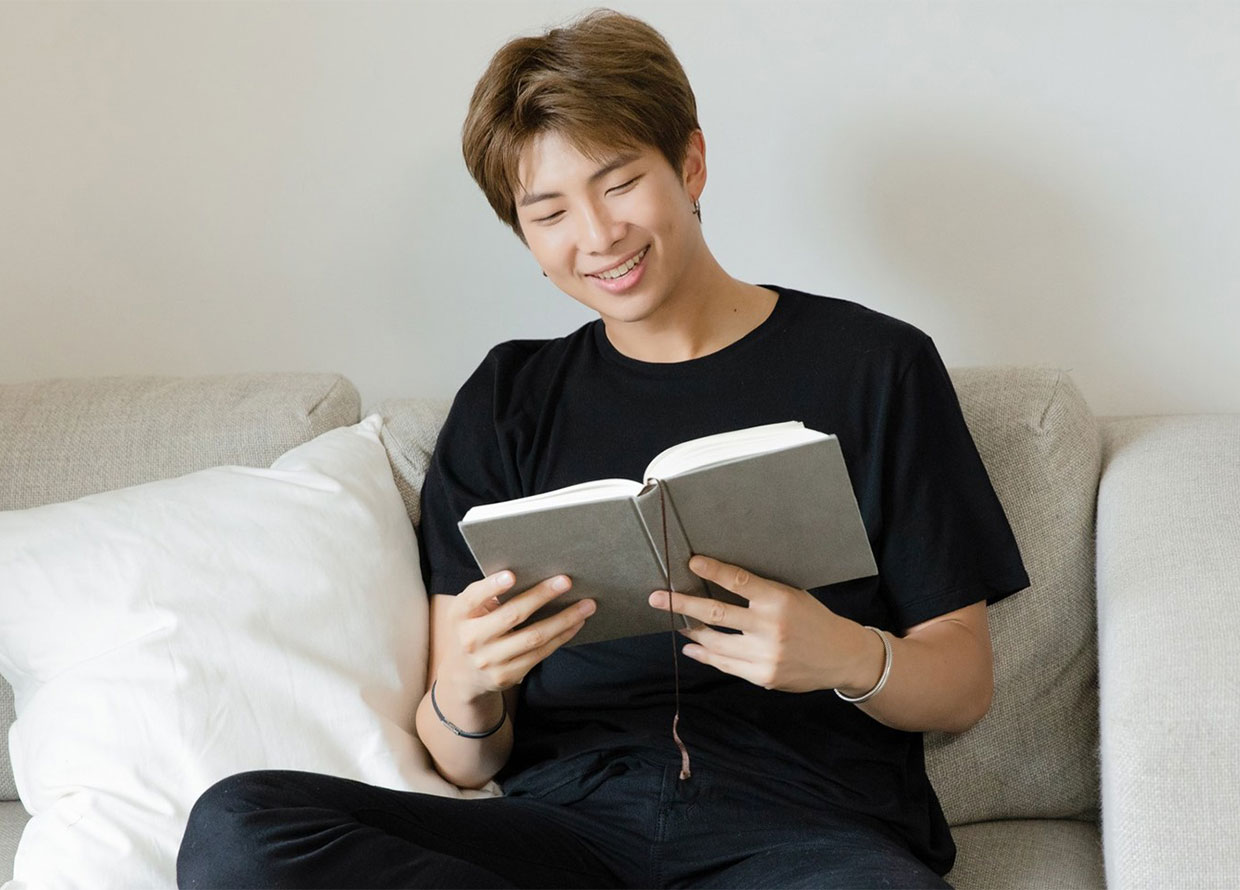 There's a reason BTS' RM (real name Kim Namjoon) is known as the genius leader. If his thoughtful lyrics and speeches are anything to go by, RM has proven to be an intellect with a love for philosophy, art, and deep introspection. This also extends to his diverse reading list as the rapper has been seen reading books that cover a range of topics from art history to mental health, which should definitely be on your TBR list.
It's clear that the multi-talented artist is inspired by the arts and literature he surrounds himself with as many references can be found in his lyrics and BTS music videos (more on this later). In celebration of his 28th birthday on September 12, we have rounded up seven books that RM has been seen with and personally recommended to ARMYs, to broaden your literary horizons. 
I Want To Die But I Want To Eat Tteokbokki By Baek Sehee
View this post on Instagram
ARMYs first spotted RM reading this book during the filming of Bon Voyage Season Three, a reality show where the BTS boys vlog their travel adventures. I Want To Die But I Want To Eat Tteokbokki is a part memoir and part self-help book that documents the conversations between the author and her psychiatrist across 12 weeks. It is a short read but deals with many important and difficult social issues that will have you thinking about how we treat each other and ourselves. Readers are able to follow Sehee's journey to self-acceptance through these dialogues and her own inner thoughts. RM himself is a huge advocate for self-love, seen in his public speech at the UN General Assembly in 2018 and changing his lyrics from "I wish I could love myself" to "Yes, I do love myself" in live performances of BTS' Reflection. 
The South Korean therapy memoir skyrocketed to the bestsellers list and was translated to English earlier this year. Get the book here.
Kafka on the Shore By Haruki Murakami
View this post on Instagram
In an interview with Asta TV in 2015, RM stated that he is a huge Murakami fan and has since read multiple stories from the famous Japanese author from Norwegian Wood to IQ84. However, we're spotlighting Kafka on the Shore because of how RM was inspired by its magic realism in another BTS song, Butterfly. In RM's rap lyrics, he explicitly mentions: "I don't know if this is a dream or reality, my Kafka on the Shore, please don't go to the forest over there." KOTS tells the story of two parallel yet connected lives in alternating chapters: a young runaway escaping a gruesome prophecy named Kafka Tamura, and an ageing wartime warrior called Nakata. Oh, cats talk and fish occasionally fall from the sky too.
Get the book here.
The Midnight Library By Matt Haig 
View this post on Instagram
Imagine seeing the life you could have lived if you had a chance to follow through on your regrets. This is the premise of the fantasy novel, The Midnight Library, that RM was reading in season three of In The Soop. In the story, there is a library situated in the space between life and death that explores the different could-have-been versions of your life. The protagonist, Nora Seed, has to grapple with the impact of seeing her alternate selves, and what this means for her present life. The Midnight Library doesn't delve too much into the magical side of things but instead, focuses on how one can live the life they were given.
Get the book here.
Demian By Hermann Hesse
View this post on Instagram
There are many reasons why this book has a special place in the ARMY fandom. For one, Demian was the inspiration behind their album Wings, one of BTS' most iconic eras which pushed their fame to even greater heights in 2016. The music video of the title track, Blood, Sweat and Tears, explores the central themes of Demian which is the transition from youth to adulthood and the loss of innocence. RM even narrates a direct quote from the book at one point. He was first seen reading Demian in a 2015 vlog, a whole year before Wings, and considering how involved he is in the production of BTS' discography, it's not far-fetched to assume that RM was heavily inspired by the book and worked closely with producers to create the concept of Wings. Although the book was first published in 1919, the Wings era caused a huge spike in sales—it even made headlines on national TV—and triggered a newfound appreciation for the classic novel amongst ARMYs and netizens alike. Demian follows a young boy named Emil Sinclair who, along with his friend Max Demian, discovers what it means to truly exist and grow up in this world.
Get the book here. 
A Bigger Message: Conversations with David Hockney By Martin Gayford 
View this post on Instagram
In case you weren't aware, RM is also a huge art fiend and loves visiting art museums around the world. Naturally, this had led him to read up on some of his favourite artists. One such artist that RM was seen educating himself on in a Bangtan Bomb vlog in 2019 was iconic English artist, David Hockney. A Bigger Message: Conversations with David Hockney features a series of interviews with the painter across 10 years, exploring some of his famous works, personal anecdotes and influences such as Picasso and Van Gogh. Maybe this can also inspire you to read up on an artist you love!
Get the book here.
Almond By Sohn Wonpyung
View this post on Instagram
Like many of us who enjoy a good read outdoors, RM was also seen with his book of choice, Almond, while filming In The Soop in 2020, a show in which BTS goes off the grid to live in the forest. RM would often read in the early hours of the morning, facing the lake or in his bedroom, for some quiet reflection on the novel's message. Almond depicts the trials and tribulations of a teenager named Yunjae who has underdeveloped amygdalae, two almond-shaped-nodes on either side of the head that function to perceive human emotion. The book is interesting because it explores and sheds light on alexithymia (the name of the condition) which is not well-known to the public. In this touching story, it follows Yunjae's journey to learning how to connect with people in other meaningful ways.
Get the book here.
The Stranger By Albert Camus
View this post on Instagram
In a 2016 VLive, RM revealed that during a conversation with a friend who described his life as "grey", he was immediately struck by it and thought of The Stranger's famous opening lines: "Today Mom died. Or maybe yesterday, I don't know." First published in 1942, the novella is a classic in French literature and is often touted as an example of Camus' philosophy and absurdism. The story portrays a young man named Meursault who shoots someone after his mother's death. Sentenced to death, readers are taken on a journey of morality and existentialism through Meursault's stoic and apathetic view of life. RM once again mentioned The Stranger in a 2016 interview and commented about Camus' ideas on the interpretation of art, showing that the rapper's creation of his own art was deeply influenced by Camus' philosophy.
Get the book here. 
For even more ideas of what to read, click here.
| | |
| --- | --- |
| SHARE THE STORY | |
| Explore More | |