Art + Design
The cast of 'Come Home and Eat' on Malaysia's obsession with food, actor secrets and more
Food for thought
IMAGES: Siaw Boon Keat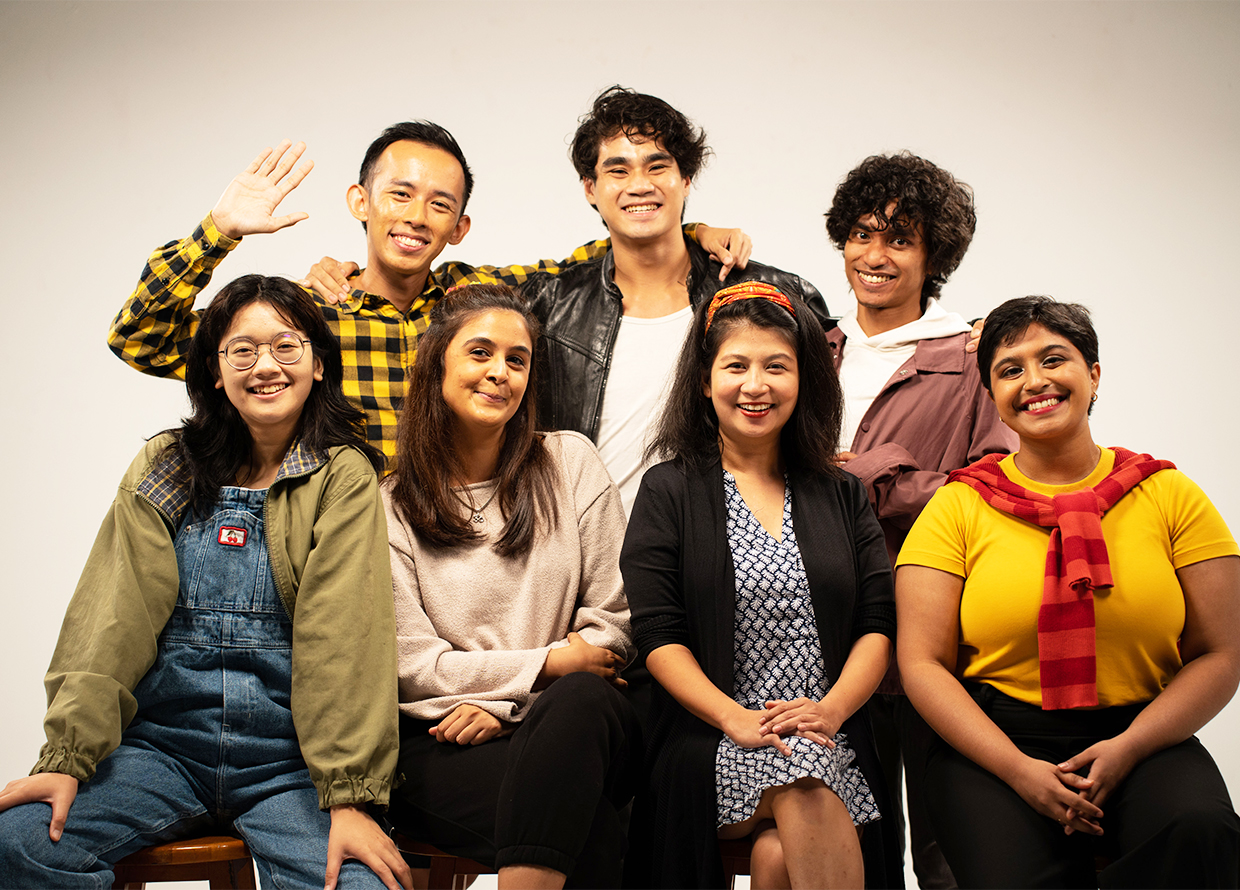 If there's one thing all Malaysians can say that we love about this country, it's the food. From the roadside stalls and inviting cafes to late-night mamaks, so much of Malaysian culture is intertwined with food. In fact, one sure-fire way to gather us together is the promise of food. Perhaps it's because our food is as diverse as we are; a melting pot of different cultures and heritage coming together, or maybe, we're simple creatures who just love good food.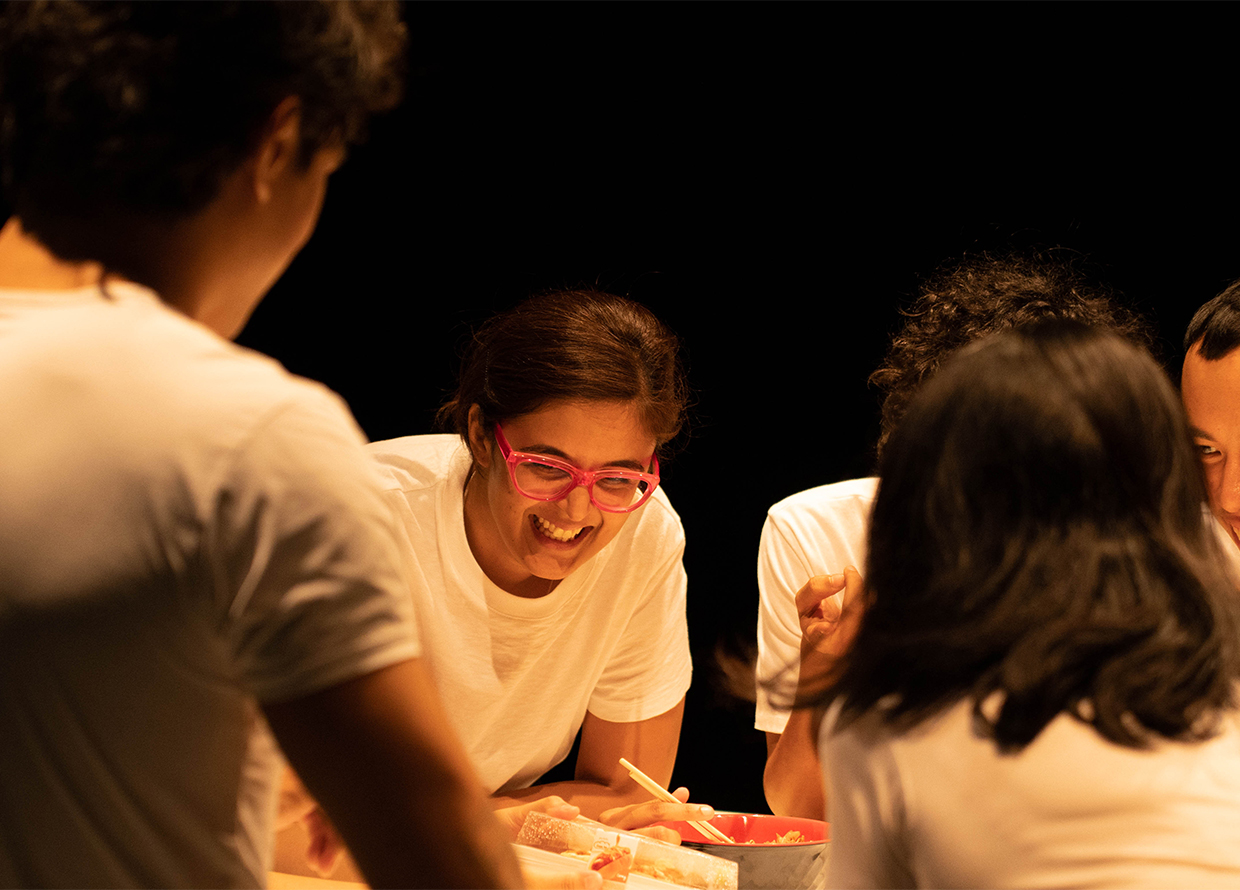 While food can bring some of us comfort and joy, it can also be a source of anxiety for others. From being responsible for your own meals and eating alone to the more triggering aspects of it such as eating disorders, there are times when food just doesn't seem so appetising anymore.
Theatresauce's first production of the year, Come Home and Eat explores this complex and nuanced relationship we have with food through a specifically Malaysian lens. Made up of a diverse cast of races and cultures, various controversial topics boiled to the surface, often to witty and comedic ends. "Most Malaysians would be able to use food as a starting point to discuss important conversations that we need to have," shared Kelvin Wong, the director of Come Home and Eat and artistic director of Theatresauce.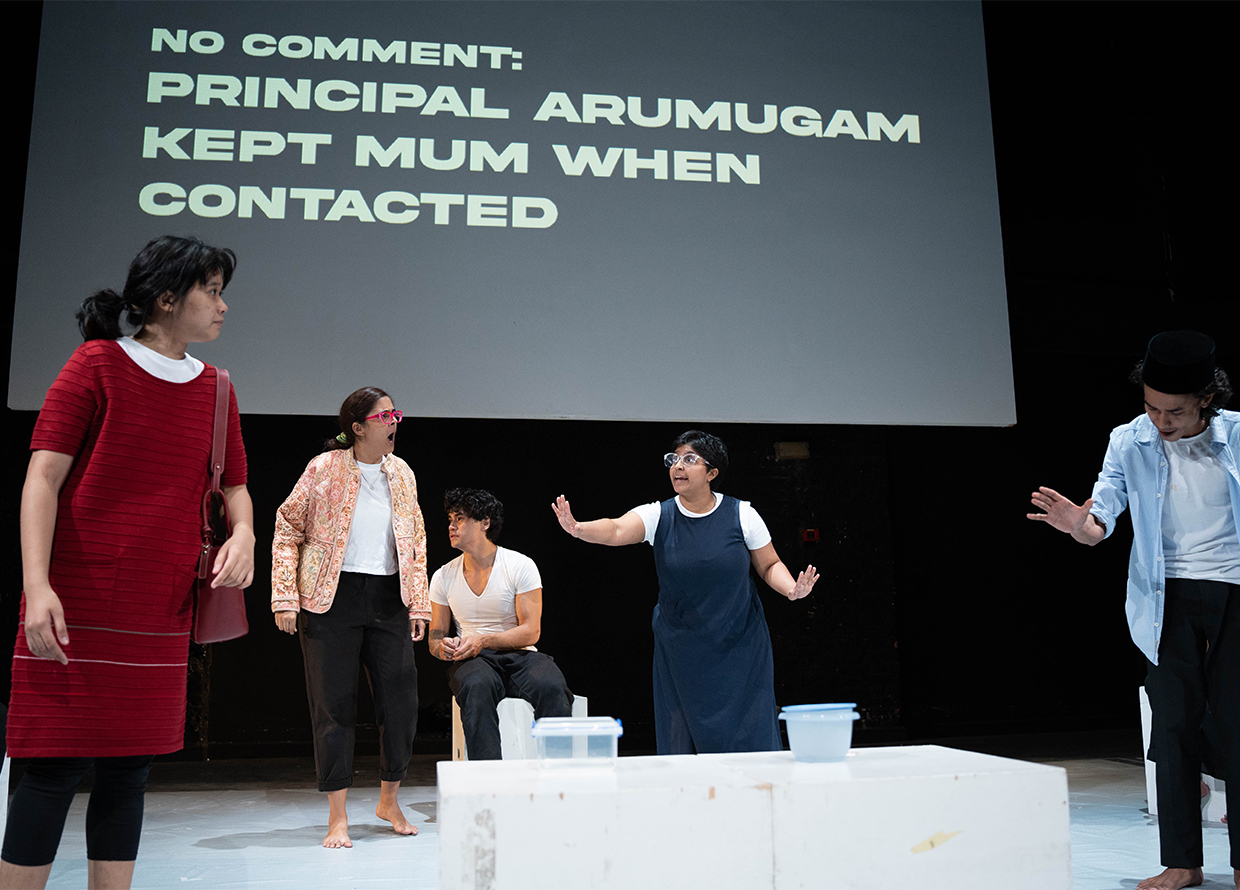 Whether it was debating about pork-free school cafeterias, Eurocentric (read: racist) views of our local cuisine or lamenting about the shrinking portions of food at the mamak, everyone would find something they related to at the three-day show. All this is thanks to the production being a piece of devised theatre which means that the actors collaboratively come up with the script themselves based on personal anecdotes. "We hope everyone is able to see a part of themselves in this production," added Wong.
Before the big show, we spoke to the cast—Farah Rani, Kamini Senthilathiban, Nabil Zakaria, Nephi Shaine, Nicholas Augustin and Ryan Yap (Sharanya Radhakrishnan was not present for the interview—on why this production was tantalisingly irresistible, the process of cooking up their stories, spicy actor secrets, and more. 
What drew you to become involved in Come Home and Eat?
Nephi Shaine: It talks a lot about home, identity, and belonging. As someone who is 21 and living in Malaysia, I feel like I'm currently still figuring it out so the themes really drew me into the play.
Kamini Senthilathiban: I've always enjoyed Theatresauce's productions, I feel that they're doing work that is very contemporary and relevant. I've also wanted to work with Kelvin—I've worked with him before—but this is a devised piece that feels more organic because it's dealing with subject matter that's quite personal.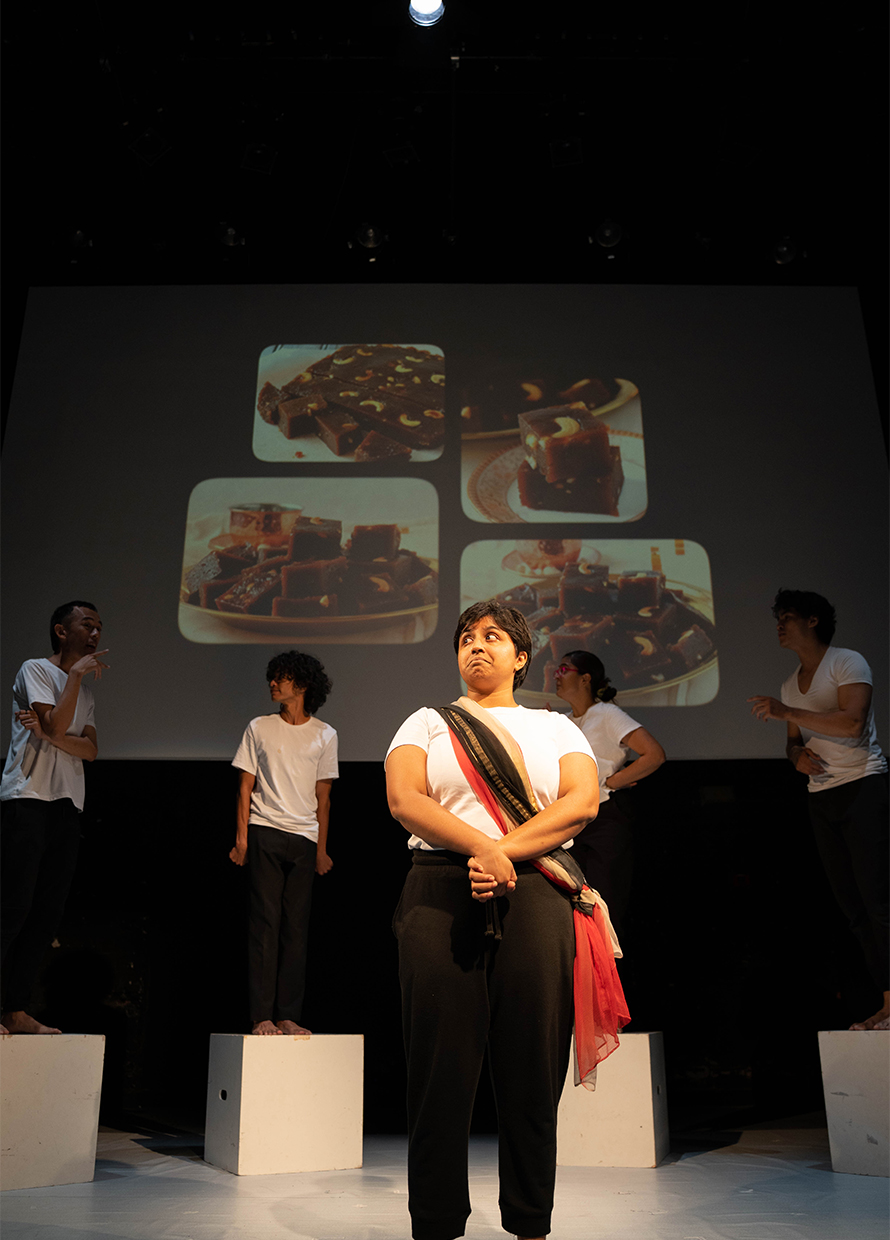 Nick Augustin: I think it was the relationship between food, diversity and Malaysia that really drew me. It explores the connection between our culture and food because Malaysia is so food-orientated and I relate to that since I cook a lot and love food as well! 
Nabil Zakaria: To be honest, it's the director! Come Home and Eat is a sequel to last year's Don't Like It Here? Then Leave and I watched the show and thought it would be such a fun show to be in. There are a lot of cues, you have to run a lot and change a lot and there are so many elements in just one show. I thought that rush would be exciting so I spoke to Kelvin about my interest in joining something similar and here I am.
View this post on Instagram
Ryan Yap: The topic of home and belonging are really close to Malaysians. Plus, the cast is really diverse so we get to see things from many different perspectives. I'm also glad to be able to share my perspective as well. 
Farah Rani: I've known Kelvin for a very long time since we started around the same period—he directed a few pieces I was in during the early days and we even spent time in New York together. Furthermore, it's been a long pandemic so any chance that I get to be onstage again is special. Working with Kelvin once more is also very nice as well as this group of young and talented actors.
What is it about food that Malaysians love so much?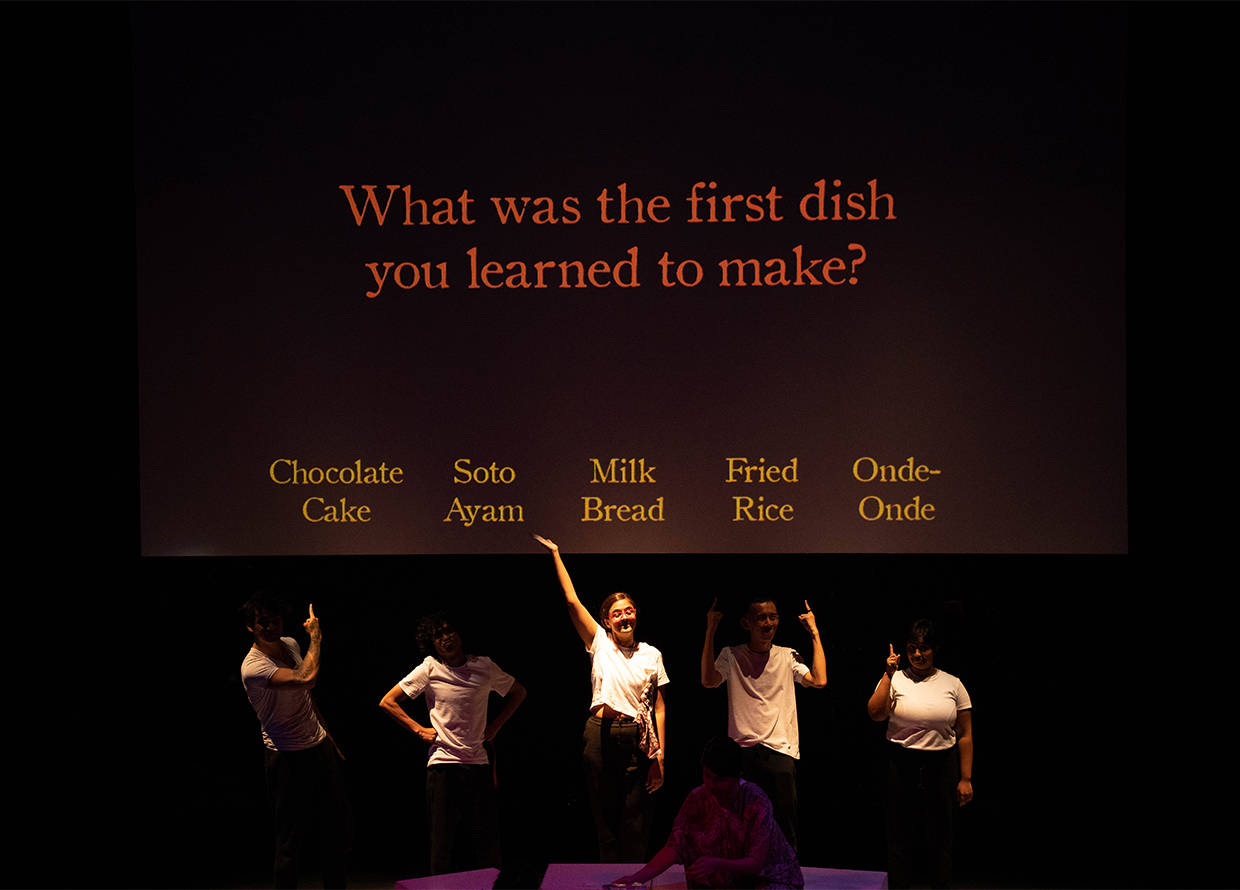 KS: I think Malaysian food is a representation of us; it's made up of different cultures, and different tastes. I feel like you can tell a lot about a person based on the foods that they like and enjoy. Makan time is a time when we get together for a meal and that's huge in Malaysian culture. So, food reminds us of our sense of community as well. Plus, our food just tastes great! 
NZ: I don't know…is it the sugar? (laughs) But we definitely have a very deep connection to food. I think other than the food itself, it's also the act of having food together. Malaysians are super big on that, we gather for meals all the time from early mornings to suppers. Even asking someone about their day is phrased as "Dah makan?" which means "Have you eaten?" So, coming together to enjoy food with each other is something ingrained in Malaysians.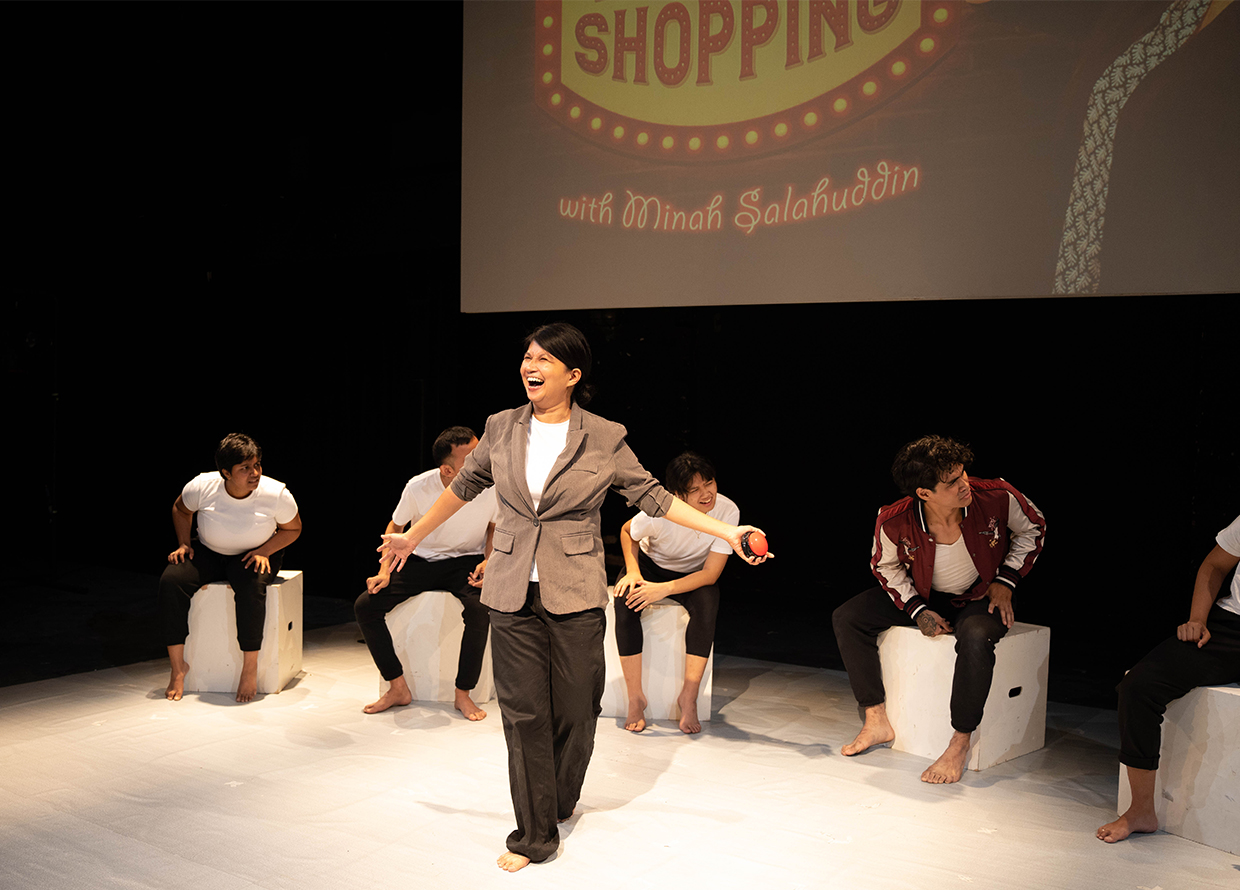 FR: I think it's multi-layered. On the surface level, our food is good. But underneath that, what makes our food good is, I think, because of our diversity. And to take that to another level, I personally feel food is about belonging and identity, which is why we get so possessive and argue over it. 
NA: It's because it's the best in the world! (laughs) Alright, on a more serious note, I think it's because food connects us to people. When you eat different cuisines, it immerses you in the culture it belongs to. Food is an easy way to share cultures with one another. 
Considering that this production is devised theatre, how have you been preparing for your role?
NZ: In a devised show, the director will first present a theme or idea. The actors will then come up with stories and scripts that relate to the theme during rehearsals, and the director will excavate and develop what works best for the show. As a result, there are a lot of personal stories in Come Home and Eat; I have given out some of my own anecdotes too. 
It was definitely a scary process for me, especially with one of my monologues. We did end up adding a bit of fiction to it because I was not ready to do a complete tell-all. So in order to protect me as well, we did fictionalise some parts of the story. But there's a lot of writing and thinking involved in this process about our own experience with food and presenting it to Kelvin to see if he likes it or not to be included in the show.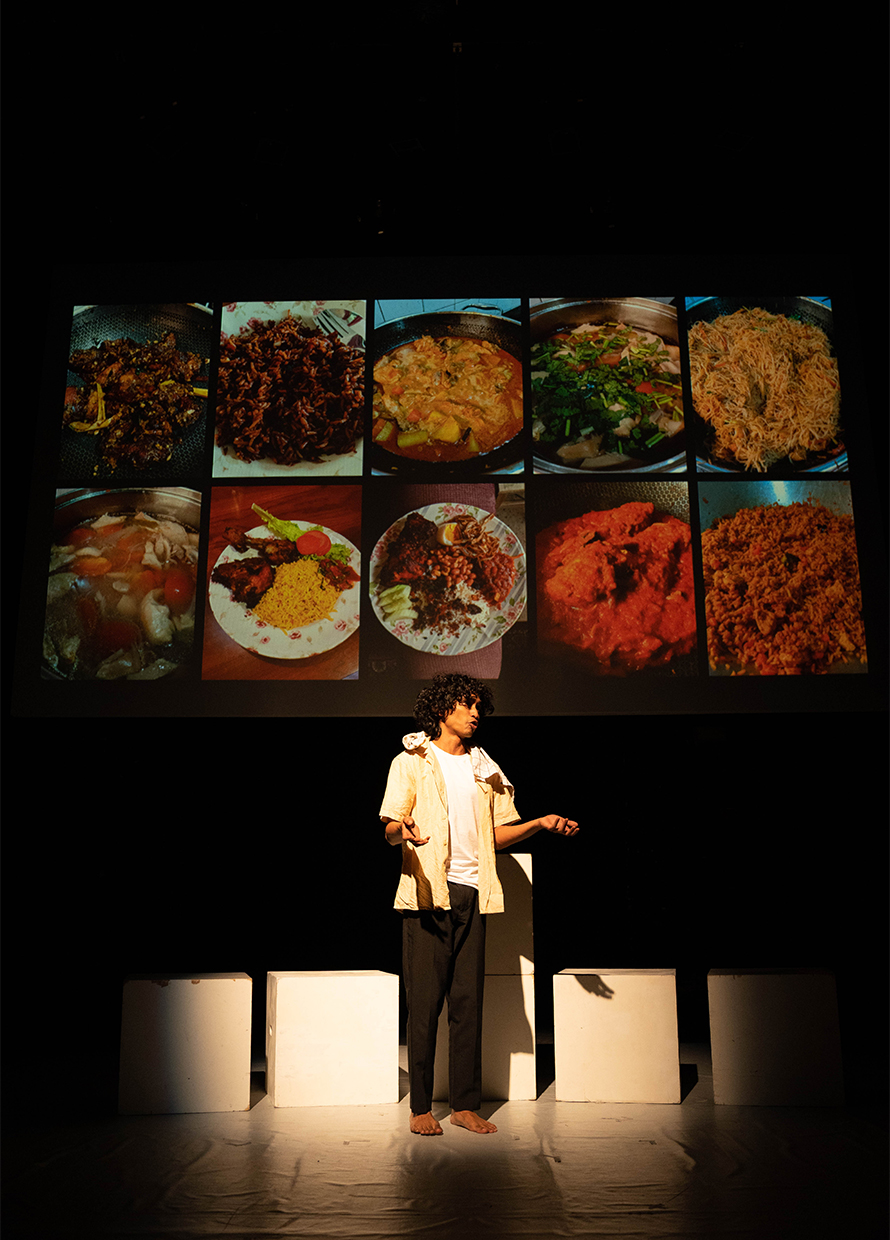 RY: Because there are many different roles in Come Home and Eat, we've done a lot of research into their backgrounds to make sure they're as accurate and relatable as possible.
NA: I've mostly been preparing from the build sessions we have where the other characters get together to collaborate on ideas. Because there are no set characters in the production, it's easier in the sense that there's a clear 'start' and 'stop' in each scene. But man, does it get hard sometimes—especially with the monologues. My cast mates are amazing at it but I'm still quite new to the scene and it did take some time for me to settle into these characters a bit more.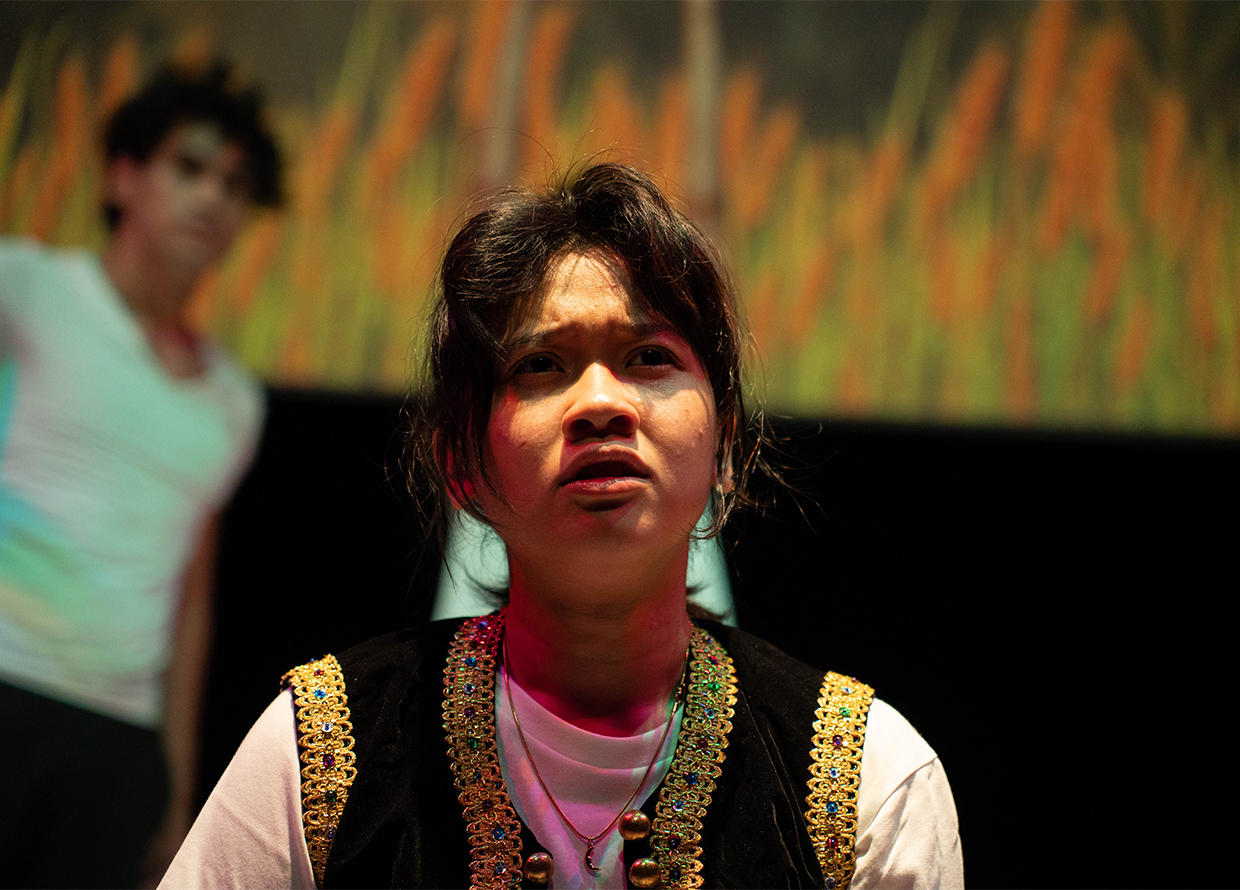 NS: Surprisingly, there is a lot of physical work and I'm not the most physically-inclined actor! (laughs) There's a ton of movement in this show and the director, Kelvin, is constantly pushing me to go out of my comfort zone. 
FR: The whole rehearsal process has been quite interesting since it is a devised piece. We worked collaboratively to bring these stories to life. The preparation has mostly been from rehearsals with the ensemble and finding unique angles within each piece. 
What's one secret you can let us in on as an actor that most people would find surprising? 
NZ: That actors can get self-conscious too! As someone who was extremely self-conscious, it was difficult for me to get on stage because I was always thinking about how other people would perceive me while I was performing. So, it took a lot to have me just be myself and be in the zone on stage. 
You have to be 'naked' in that sense when in rehearsals and on stage. To be honest, that part will always be scary. I think people who are new to the theatre are not going to realise just how 'naked' they're going to have to be!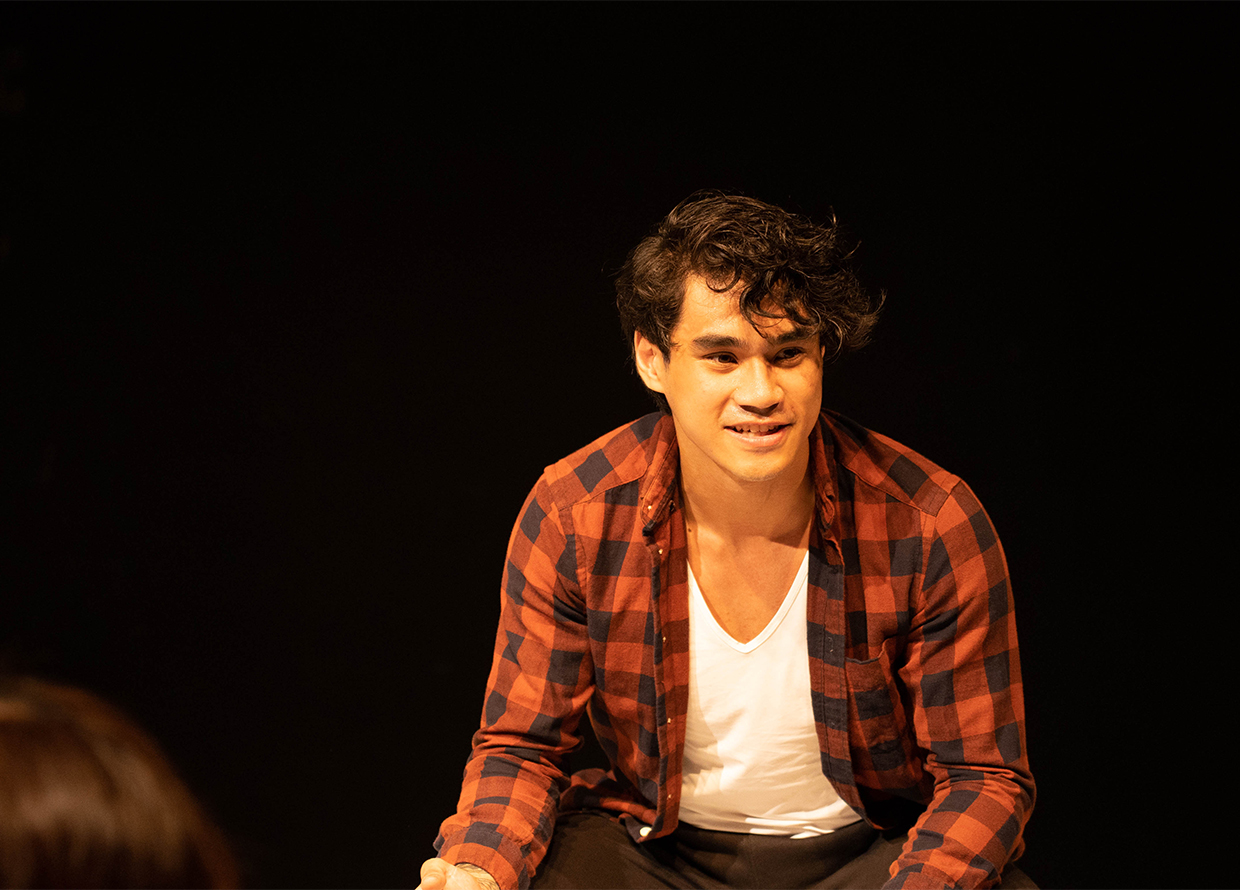 NA: I think it's the amount of homework we have to do. Most of the time, people think acting is just memorising a script and going on stage to perform it. But it's really not like that at all. There's a lot of deep thinking involved—in the shower, late at night, the list goes on. Unfortunately for me, I can't turn my brain off as much as I wish I can. I'm always looking for inspiration for my characters.
For more reads on the arts scene, head here.
| | |
| --- | --- |
| SHARE THE STORY | |
| Explore More | |