If you know me (which you probably don't), you'll know that lipsticks are my go-to makeup staple. On a day-to-day basis, I'm usually makeup-free (a symptom of crippling laziness), but I'll often have a tinted balm or a lippy on-hand just in case I have to look presentable on a whim. Really, lipstick is the only thing that keeps me from looking like I have perpetually just rolled out of bed.
However, the lippy colours that I usually choose are always brown-toned nudes (and deeper brown-toned reds for super special occasions), simply because I do not feel confident sporting anything but a "your lips, but better" moment. You see, though I love bright and vibrant lip colours on literally anyone else, I'm just not into it for myself.
READ: I recreated 6 looks from HBO's 'Euphoria' and this is how it went
However, in this masked-up pandemic, I've found myself wanting to experiment a little more with my look. Besides, it has also been a hot minute since I did something for myself, and I think I could use a little confidence boost. So, in the name of self-improvement and self-esteem, I swallowed my crippling insecurities and armed myself with the Giorgio Armani Lip Maestro in shade 405. Here is my week in selfies.
SHOP: Giorgio Armani Lip Maestro
Day 1: Back to basics

The look of the day: Bare skin, two coats of mascara (Urban Decay's Perversion Mascara), and a generous swipe of the lipstick
I thought I'd start the first day of my little experiment firmly in my comfort zone, opting to keep things consistent with my everyday routine. As a lipstick, the Lip Maestro is a warm and vibrant orange-toned red with a matte-satin finish. However, the finish of the product is nicer than most matte liquid lipsticks I've tried because the formulation itself is super comfortable. In a more muted colour, I would gladly wear it all-day-long on a more regular basis.
In fact, it was so comfortable, that I completely forgot I was wearing it and started chomping down on a bowl of laska as soon as I sat down for lunch. Now, though I fully expected absolute carnage post-lunch, I was pleasantly surprised to find that this lippy had some pretty powerful staying power. It does transfer quite a bit, but its vibrancy is surprisingly long-wearing. In fact, I only had to reapply twice throughout the day to keep it vibrant: Once after lunch, and again at around 3pm.
Overall, I'm not a huge fan of this lipstick shade on me when used on its own—somehow, I feel like it throws off the balance in my face. Though the mascara adds some definition to my eyes, I would have preferred a more solid liner to draw attention away from my lips. Alternatively, if I'd actually remembered to wear blush today, it would probably have achieved the same goal.
Day 2: More of the same

The look of the day: Bare skin, two coats of mascara (Urban Decay's Perversion Mascara), and a generous swipe of the lipstick… again
Okay, I'll level with you—I know it's the same look as yesterday. However, in my defense, I was running late to the dentist and I was already in my car when I remembered that I was doing this side quest.
Before you ask: Yes, I did remove the lippy during my appointment because… duh. However, I promise that I reapplied it as soon as the appointment was over. Unfortunately, the appointment ended at around 1 pm, so the next errand of the day was lunch.
As we've already established, I have no self-control when it comes to lunchtime, so the colour was once again challenged come noon. The contender of the day was one very soupy beef bowl, followed by a big ol' waffle. Surprise, surprise: The lippy remained undefeated, albeit a little worse for wear around the middle. Honestly, I was (and still am) thoroughly impressed by how well it fares even without a lip liner to keep it in check.
So, what did we learn today? Though you'd probably assume that no new lessons were learned given that I changed absolutely nothing from yesterday's look, I actually did find that the lipstick was less jarring on me come day two. I reckon the dark green turtleneck is doing me a favour and drawing attention away from my lips, just like blush or eyeliner would. Interesting…
Day 3: Monochrome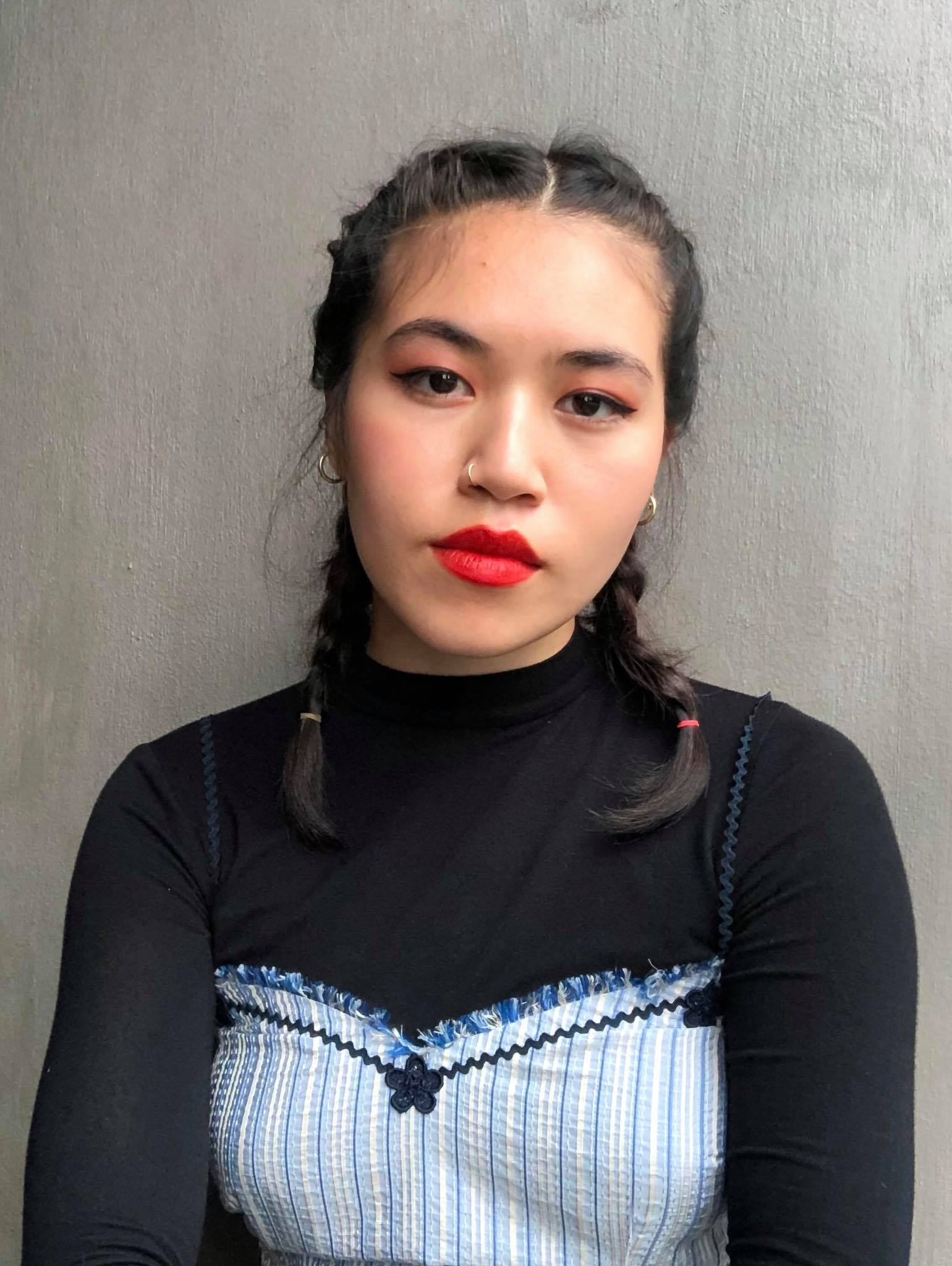 Today, I decided to spice things up a little, purely because I quickly realised that wearing the same look over and over again wouldn't make for a very interesting article. The verdict on using the lipstick all over? It's actually not too bad as eyeshadow and blush! Of course, as expected, it creases a little in the fold of my eyelid, but I think it fared pretty well considering that I hadn't used a primer underneath or set it with any powder. Plus, I'm really into the orange-toned wash that the thin, sheer application gives. It's a win for me!
As for the experience? Today's nugget of wisdom is: Think about what you're going to wear before you commit to a makeup look. Especially if you're in a rush.
I found myself in a wee bit of a conundrum—the makeup I'd done was a little too pretty to pair with what I usually wear for work, so I needed to find something a little more put together than usual. However, I also didn't want to go overboard with the outfit because I was headed to, well, work. So, instead of getting my butt to my 9-5, I struggled massively and wasted 20 minutes looking for something to wear (eek).
Day 4: '80s inspo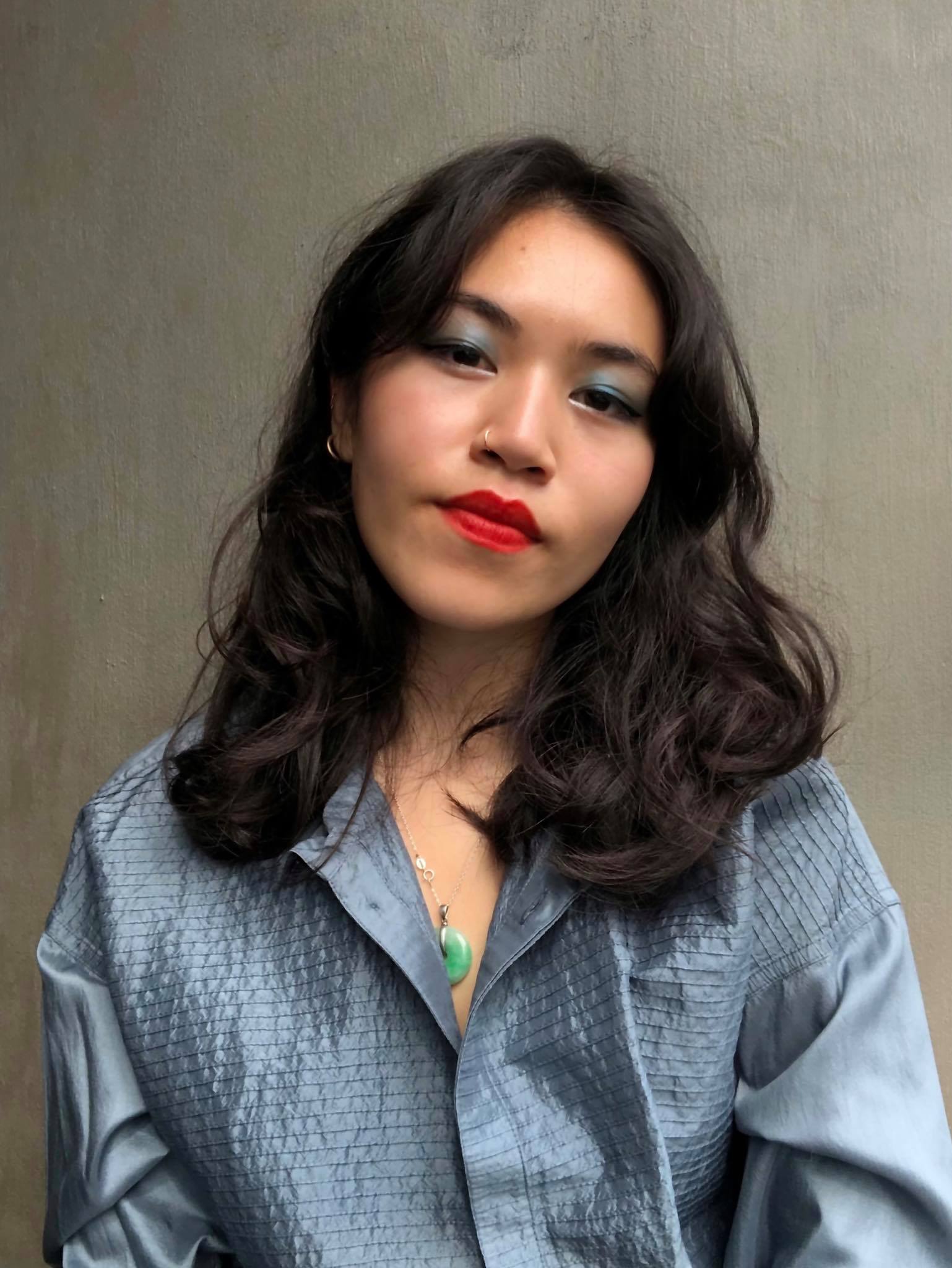 "At this point, me being late for work is just becoming a regular thing. I love doing my makeup as much as the next person, but I absolutely am not functional first thing in the morning. Ergo, everything takes me a lot longer to figure out. Let's do the maths: When you throw in an extra 20 minutes for creative brainstorming but account for my unfortunate deficit in skill, I need to be waking up a lot earlier than I currently am to get a decent lewk out of my morning. Sadly, I refuse to cut down on sleep time, so either the look or my punctuality has to suffer (spoiler: It's my punctuality).
"While we're on the topic of stressful makeup routines, this look came out a little more, erm, intense than I'd anticipated. As such, I tried to balance out the potential clown factor by wearing a nice loose sack as a shirt in a matching blue. As a whole, I actually think the look is pretty cute, but I wish I'd added a tad more blush—it's an "if I'm going to commit to the '80s aesthetic, I am going to commit to the '80s aesthetic" situation, you know?
Having said that, by the end of the day it didn't really matter what I was committing to—I kept forgetting I was wearing eyeshadow in the first place, so I'd pretty much wiped all of my hard work off by bedtime. The lipstick, on the other hand, was apparently particularly resistant to my fingers, though I did notice a little colour bleeding around the edges of my mouth. Thankfully, it was nothing that a touch-up couldn't fix!
So, in conclusion, today's lesson is: Though I'd probably go with a different lipstick shade next time, I did really love the look of the bright lip and the metallic blue lids. I'm definitely keeping this in mind for future endeavours.
Day 5: '40s inspo

The look of the day: Cat-eye liner, mascara, brown and pink eyeshadow (Urban Decay Vice 2 in Toxic and Ambush) and, of course, the red lip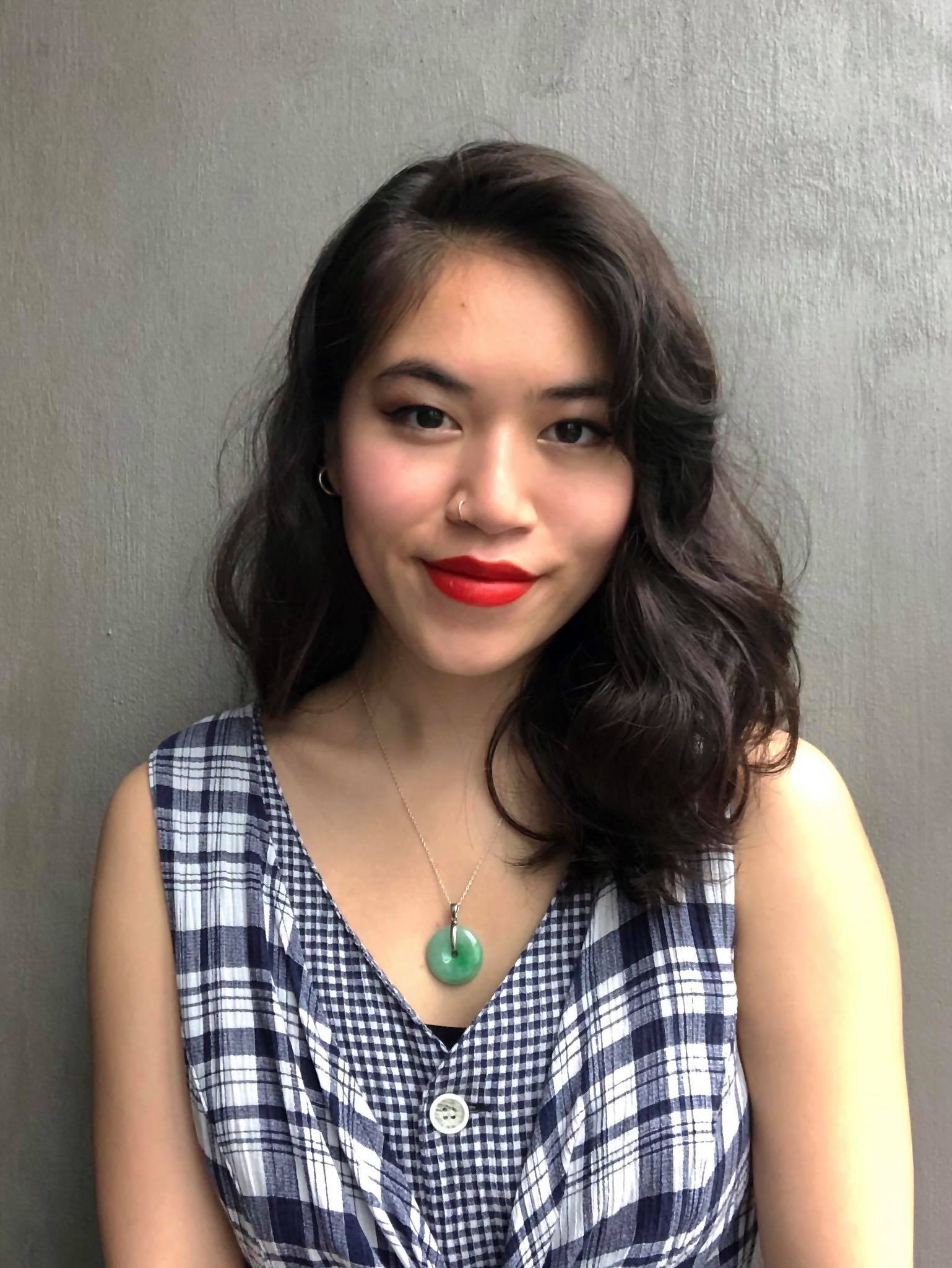 Honestly, at this point, I'm getting reaaaaally tired of having to do my face every morning. On the bright side, I've managed to cut my eyeliner routine down by half the time! Apparently, if you wear makeup every day, you get some practice in and eventually you end up being decent at it. Oh yeah—today's lesson is that I'm a cat-eye master now.
I actually really liked this look. I think that the bright lip looks great with the rosy cheeks and the eye makeup—overall, the look is simple and easy, and the hairdo suits the whole vibe I've got going on. I'm calling this a win.
Day 6: Soft and glowy

The look of the day: Thicker winged eyeliner and using lipstick as a lip, lid, and cheek stain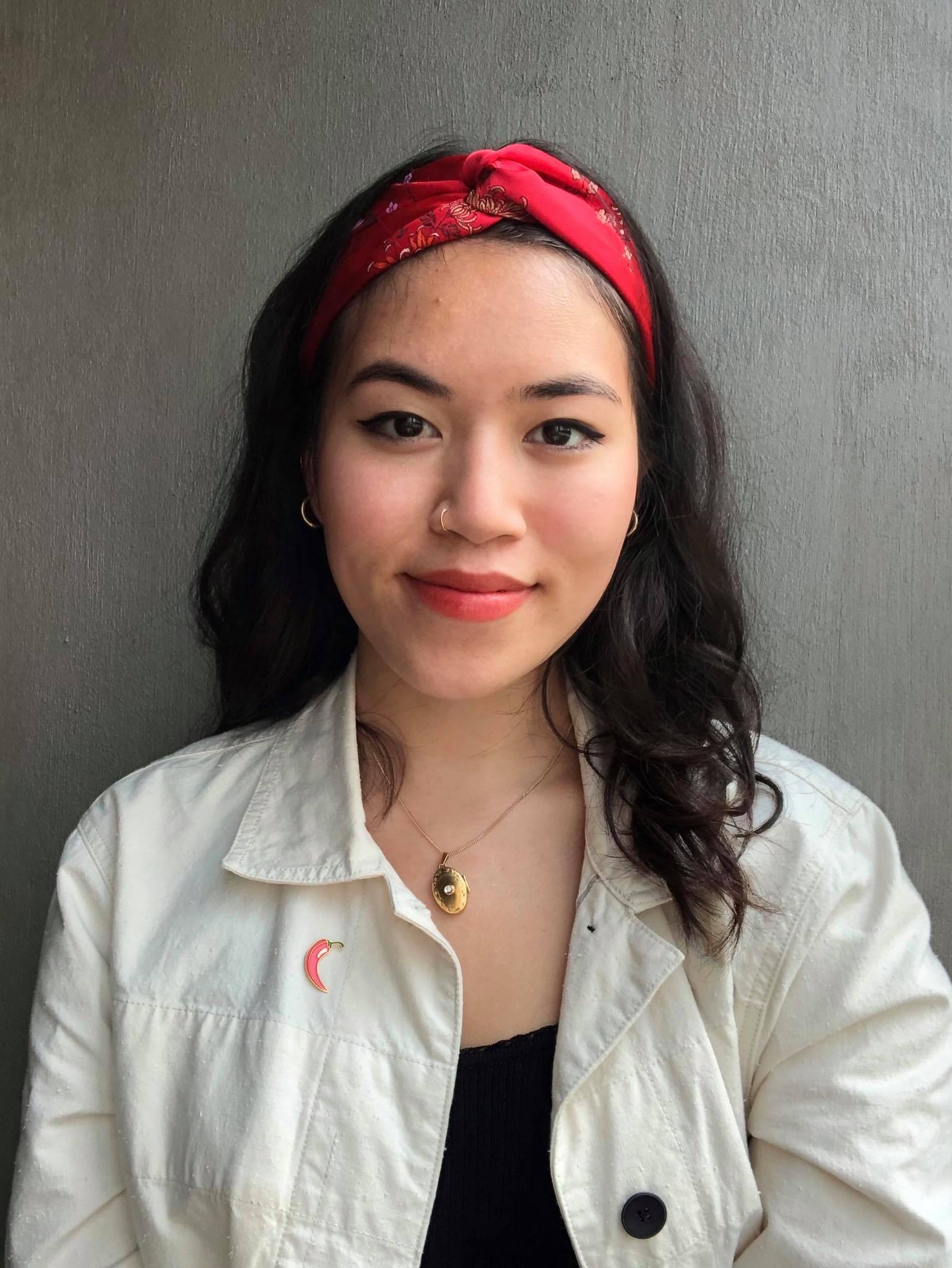 This is probably one of my favourite looks from the week—I really liked using the lipstick as a lip and face stain. It added some really nice, sheer colour to my face, and the soft, coral lip is definitely nowhere near as intimidating as the intense, full-coverage lip I've been sporting lately.
READ: Matte liquid lipsticks are *so* 2014—here are 6 new ways to use your old liquid lippies in 2021
I think this super fresh, glowy look is something I'll definitely be doing in the future, given how easy it was to put together. Doing the mental maths, I reckon it took me just 10 minutes in the morning to draw my cat-eye on, put some SPF over my face, and spread a sheer layer of the lipstick over my cheeks, lips, and lids. Heck, even if you give the liner a miss, this would still be a really lovely everyday look to wake your drawn, half-asleep face from exhaustion.
Today's lesson is: Don't underestimate the power of a good burst of colour.
Day 7: Rouge Intense

The look of the day: Thin winged eyeliner, dark brown shadow, orange blush and the lipstick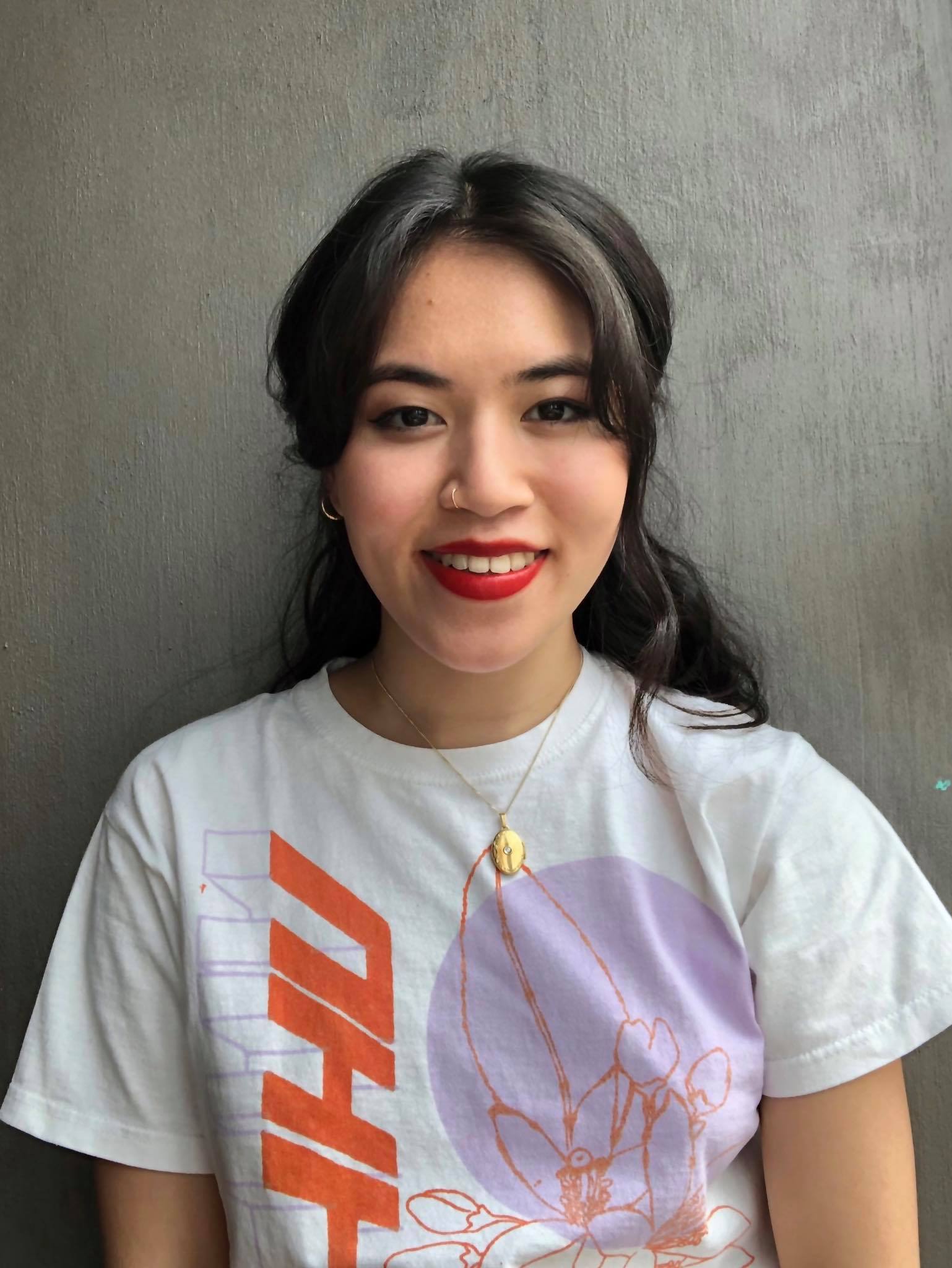 It's Day 7, and I have officially given up. For this appearance, I've recycled a look from earlier this week, only this time I've put significantly less effort into my outfit. Namely, I refused to change out of my pyjamas for the day (Why would I? It's a Sunday).
However, despite my bed-chic dress code, I still felt really pretty and put-together thanks to my full-face. In fact, I've felt quite pretty for the past couple of days, especially after the initial feeling of insecurity faded. It was nice to indulge my vanity for a bit and do something for myself after months in quarantine.
That said, being obliged to put on makeup every day and having to take a selfie of it is tedious and I would very much like to never do this again. The end.
For more beauty stories like this, click here.
| | |
| --- | --- |
| SHARE THE STORY | |
| Explore More | |