Beauty
Singer and TikTok star Vanessa Reynauld's tips on maintaining her curly hair and her camera-ready makeup routine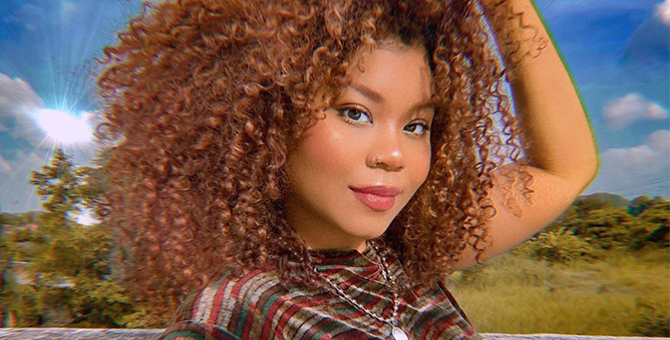 You may have spotted Vanessa Reynauld on your TikTok's Discover feed—whether it's viral videos of her nailing a variety of local accents and languages or her singing prowess. The 20-year-old content creator boasts more than 180,000 followers on the platform coupled with a whopping 2 million likes, and have won a slew of singing awards on the local and global stage alike.
But aside from her vocal dexterity, Reynauld's beauty signature is hard to miss—her voluminous mane holds enough beauty secrets that we're curious to unearth, especially her trick to keeping it in check in this humid climate.
Ahead, we quizzed the content creator on her full-face makeup routine, favourite inclusive beauty brands, haircare tips and more:
Congratulations on signing with Sony Music! How are you feeling and what are you most excited for?
"I feel so elated and happy to join the Sony Family and to be a part of them. I am extremely excited to start producing hit songs, to grow and build myself a successful career as a local and international artist with a major label like Sony."
As a singer and content creator, what do you love the most about what you do?
"I love to see people being entertained watching my videos, and seeing people being able to relate to me and wanting to share my videos with their friends. I'm always so happy to see the comments and feedback by my fans because they encourage me to create new content for them. I love that my fans recognise me in public and come up to say 'hello' and express how much they enjoy my videos or even ask me for selfies—that really motivates me to keep going!"
On the beauty front, what is your camera-ready beauty routine like?
"My camera-ready beauty routine starts off with moisturising my skin. This is a very important step for me even though I have oily to combination skin—it is so much easier to blend in your foundation and it gives you a healthy glow right after. Of course, not forgetting sunblock as it protects your skin from UV light and premature skin ageing.
"After skincare, I'll apply foundation—I usually go for matte foundations because it's full coverage, lasts longer on the skin and it gives my skin an airbrushed effect, which is perfect for when I have to be in front of the camera.
"Then, I'll apply concealer under my eyes to cover my dark circles, and around my forehead, nose bridge and chin just to highlight the highest points of my face. Next I'll use some loose setting powder to bake the concealer I applied under my eyes, followed by compact powder to set the rest of my face so that my base makeup stays flawless throughout the day.
"For my eyebrows, I like using a brow pen to draw my eyebrows because I feel like I have more control over it—and then I'll set them with some brow gel. I typically like to go for a more natural bronze or peach-toned eye makeup. It really depends on what I'm feeling on that day.
"I start of with a brown transition shade then building it up with a shade darker than the transition shade on the crease and then creating more depth on the outer corner with a dark coffee shade. After that, I like to use the same shades on my lower lash line to tie the look together. My signature look usually includes a winged liner, and I prefer brown liner over black—but sometimes it goes unnoticed on camera, so I'll switch between the two depending on the look that I'm going for.
"Lastly , I'll always make sure to curl my lashes first and then add waterproof mascara on my top and bottom lashes. Falsies are not my go-to because it takes me awhile to put them on, but I have to agree that it definitely looks good on camera.
"I think it's important to contour the face especially for the camera. I usually work a contouring shade (a cool-toned one as it complements my skin tone better) around the hollows of my cheeks, temples, jaw, chin and nose.
"Then, I'll add some blush on the apples of my cheeks and finish up the face with highlighter. One of my favourite blinding highlighters that always look amazing on camera is the So Hollywood Highlighter by Anastasia Beverly Hills—I'll apply this on my cheekbones, brow bone, nose bridge and chin.
"Finally—the lips! I do love dark nude lipsticks and gloss over a matte liquid lip because it doesn't dry out my lips. And that completes my camera-ready beauty routine."
Can you share a beauty tip on how to look on-point for the camera?
"Keep your skin in check! Having a flawless base is super important—whether you're going for a matte or a dewy look, the skin has to look good. My advice is to prep your skin before foundation as we don't want the foundation to go on patchy. You'll want a smooth and flawless base."
What are three things we can always find in your beauty bag?
"A few lipsticks, a compact powder and a makeup brush. Lipsticks are a must because I have to touch up my lip colour after eating or when my lipstick wears off throughout the day. Since I have oily to combination skin, carrying a compact powder and a brush allows me to keep my skin in check."
Your hair is beautifully textured and voluminous—how do you maintain it and keep it in check, especially in the humid weather in Malaysia?
"My hair routine is not as complicated as people think—it's actually pretty low maintenance because I only wash my hair once every five days.
"Whenever it's a hair-wash day, I'd prefer to clear out my schedule and stay at home, because it literally takes up the entire day. I usually use natural hair products that are silicone- and sulphate-free to maintain the health of my curls. I was constantly changing my hair colour at one time, and it did so much damage to my curls that my hair started loosening up and it pretty much straightened out. That made me worried and so I took a hair colouring hiatus for a while and started undergoing hair protein treatments to restore my curls—thank God they came back!
"In the shower, I usually detangle my curls by brushing through the conditioner on my hair with a denman brush. If I wanted super defined, curly coils, I'll use a leave-in conditioner on my hair while it's still wet. I like to use my fingers to run the product through and scrunch my curls up to make sure my hair dries super curly and bouncy.
"I always air dry my hair because I don't want to damage my hair further by using heat on it. It usually takes up to a good six hours for my hair to completely dry. After that, I'll apply some oil onto my scalp to keep it moisturised, and then I'll use a hair pick to give my hair extra volume. I am quite used to the weather in Malaysia that I can wear my curls comfortably."
What tips do you have for those with textured hair like yours?
"I have struggled loving and embracing my hair because it is not common to have curly kinky hair in Malaysia. When I was younger, I was always made fun of because of it.
"So my advice to you is to be confident and proud that you're different from the norm. Do not try to change your hair just to fit in. Your natural hair is beautiful—take care of it by finding the right products for your type of hair. Learn how to take care of your hair and wear it with confidence."
What struggles do you face when shopping for makeup in KL, if any?
"I love shopping for drugstore makeup because it is affordable and of decent quality. But sometimes it is hard to shop for products for my complexion as I am on the tan side.
"Sometimes when I do find my foundation shade it's either too cool or too warm and I don't have any other option to choose because that's the darkest shade in the range. I always have to mix foundations to get a perfect shade. I am disappointed that girls darker than me would not be able to try and wear certain foundations because brands don't always carry an extensive range of shades. I really hope that beauty brands will be more inclusive of all skin tones when launching complexion products."
Where do you shop for colour-inclusive makeup here in Malaysia? What are you go-to brands?
"My favourite inclusive makeup brand is Fenty Beauty! Rihanna has made sure that all skin tones and undertones are included in her beauty line. Not only are they inclusive and diverse, Fenty Beauty also has really good quality makeup for its price point."
What do you think of the portrayal of women of colour in Malaysia?
"I feel that all women of any colour should be treated fairly and given the same opportunity whether at work , socially or at the entertainment industry at large."
| | |
| --- | --- |
| SHARE THE STORY | |
| Explore More | |