It's easy to fall into a sedentary lifestyle these days, what with the global pandemic, the essential need to stay home and practise social distancing. It's not impossible to still follow a fitness regime, but let's be honest, some of us are guilty or less motivated to workout at home, be it following an app or a virtual class. (How many times have you ignored your Apple Watch telling you to stand up?) Apple's latest watchOS 7.2 update couldn't have come at a better time. With it, users can now check out their cardio fitness levels and receive notifications about it. How? By maximising the data received from VO2 max.
What is VO2 max?
Consider it the unit of measure of one's cardiorespiratory fitness. It's a measure of the maximum amount of oxygen the body can use during a workout. The higher it is, the better indicator or predictor of one's overall health; and it can be increased through physical activity.
"VO2 max is a measurement of your cardio fitness level, and an important one to discuss because it's a powerful predictor of your overall health that summarises how well your body is using oxygen. The really special thing about VO2 max is that you can actually do something about it. And the key to that is in exercising more, and in increasing your intensity, you'll actually see an improvement."
— Dr. Sumbul Desai, Apple's vice president of Health
Didn't the Apple Watch track the estimate VO2 max levels before?
Yes, but only the average to higher levels, and only when users were tracking rigorous physical activity such as an intense outdoor walk, run or hike. The new update allows far more options and information by using all the sensors such as the optical heart sensor, GPS and accelerometer.
As such, the reading now comes in four ranges: high, above average, below average or low. And you don't have to be actively exercising (and tracking it) for the estimates to kick in—it will take cardio fitness measurements throughout the day even if users are merely taking a walk. If the range of VO2 max levels are 'low', you'll receive a notification on your Apple Watch along with tips on how to improve your cardio fitness level or potentially having a chat with your doctor.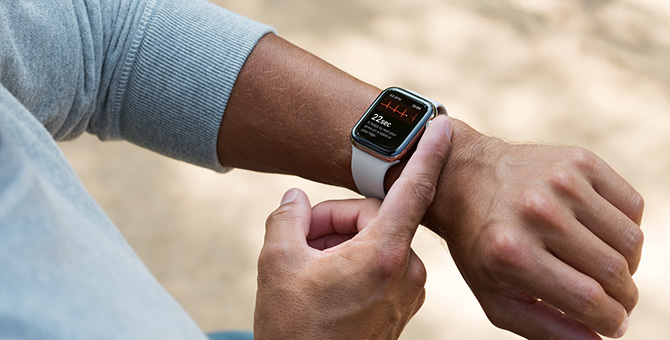 What's so special about this?
All in all, it's another great feature to motivate users to stay active for long-term health benefits, and having access to your VO2 max levels to determine your cardio fitness via your Apple Watch is certainly helpful. Traditionally, a direct measurement would require a rigorous clinical test with specialised equipment, which isn't always accessible or convenient—or both.
How do I get started?
Update your Apple Watch to watchOS 7.2 and your iPhone to iOS 14.3. Activate it via the Health app, where you'll also be able to review your cardio fitness level and how it compares with the people in your age group or gender.
| | |
| --- | --- |
| SHARE THE STORY | |
| Explore More | |