Beauty
The do's and don'ts of your post-workout cleanse (and what to do when you can't find a shower)
Squeaky clean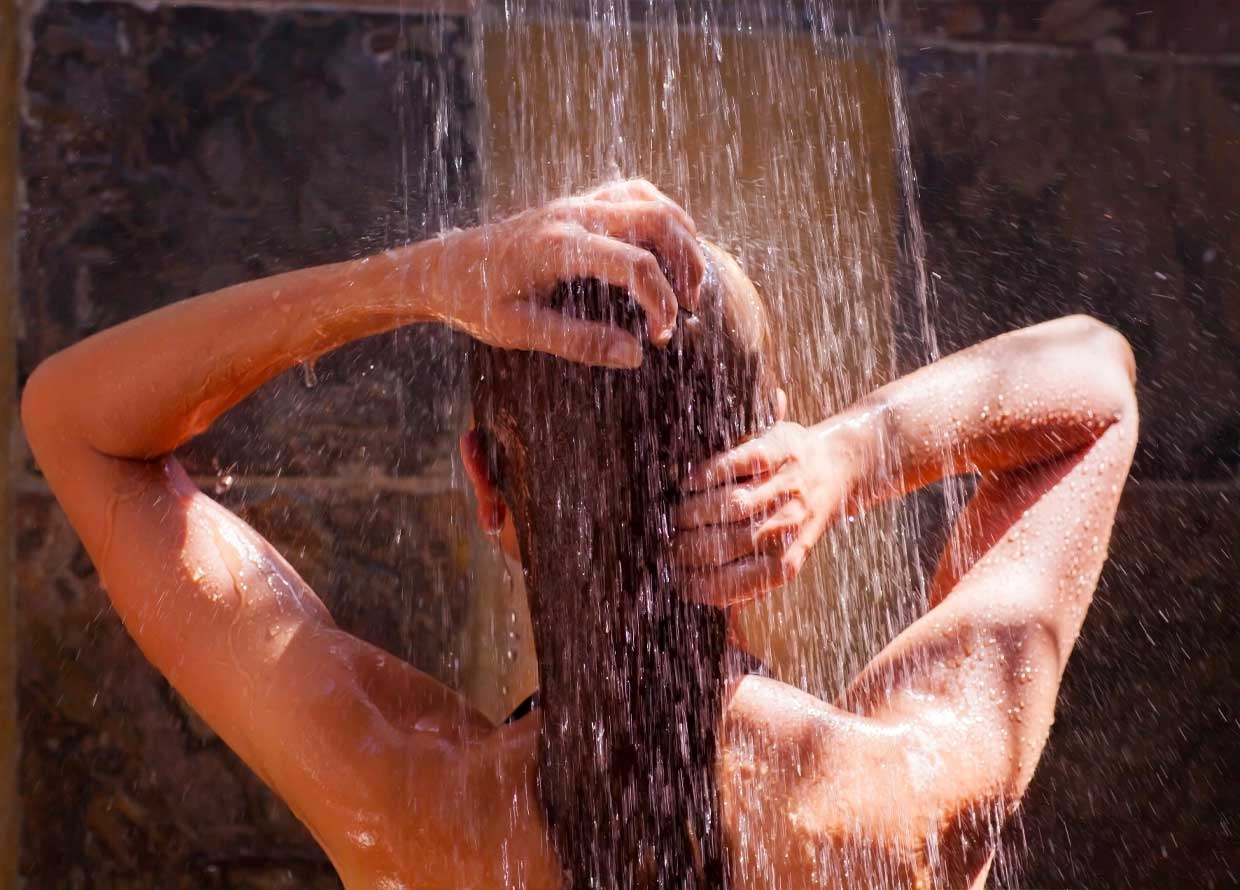 How soon after a workout should you shower? Do you really need to double cleanse? All the questions you may have about your post-workout cleansing routine—answered.
Have you ever sat about in your gym clothes after a workout, looking for the will to be a functioning human being? Do you recognise that feeling of utter dread when you think about hauling your sweaty bottom to the shower? If so, we're sorry to report that you are your own worst enemy.
Putting off your post-workout shower is probably one of the worst things you could do for your skin (both on your face and your body)—all that sweat soaking your clothes and that gym grime on your skin is the perfect recipe for breakouts. The longer you sit in it, the longer all of the bacteria, fungi and assorted nasties have to stew and cause mayhem.
Ergo, the sooner you get washed up, the better. That said, there are a few simple rules to follow for a post-workout shower—ahead, find our three tips for a perfect post-workout cleanse every time (and what to do in lieu of a shower):
Double-cleanse your body
View this post on Instagram
Just as you would double cleanse your face after a long day, you should be double cleansing your body after a workout (you are double cleansing your face, right?). If you're particularly prone to bacne (read: body or back acne) and clogged pores, we highly recommend that you rinse and repeat.
A lot of the time, the post-workout film that lies atop your skin takes a little more coaxing than one pass of body soap can offer. Just like makeup, sweat and dirt can be particularly stubborn to cleansing—especially if it's left to build up. After one soap-up, while you may have washed the majority of the grub off your body, any of the residue left behind can lead to an unfortunate breakout. So, if you'd like to avoid that, don't forget to double cleanse.
TIP: If you are particularly prone to acne, you could also try adding an exfoliating step in your problem areas to really tackle any pore-clogging dead skin or oil (this step is optional, though).
READ: The best body scrubs to buff away everything from clogged pores to cellulite
Double-cleanse your scalp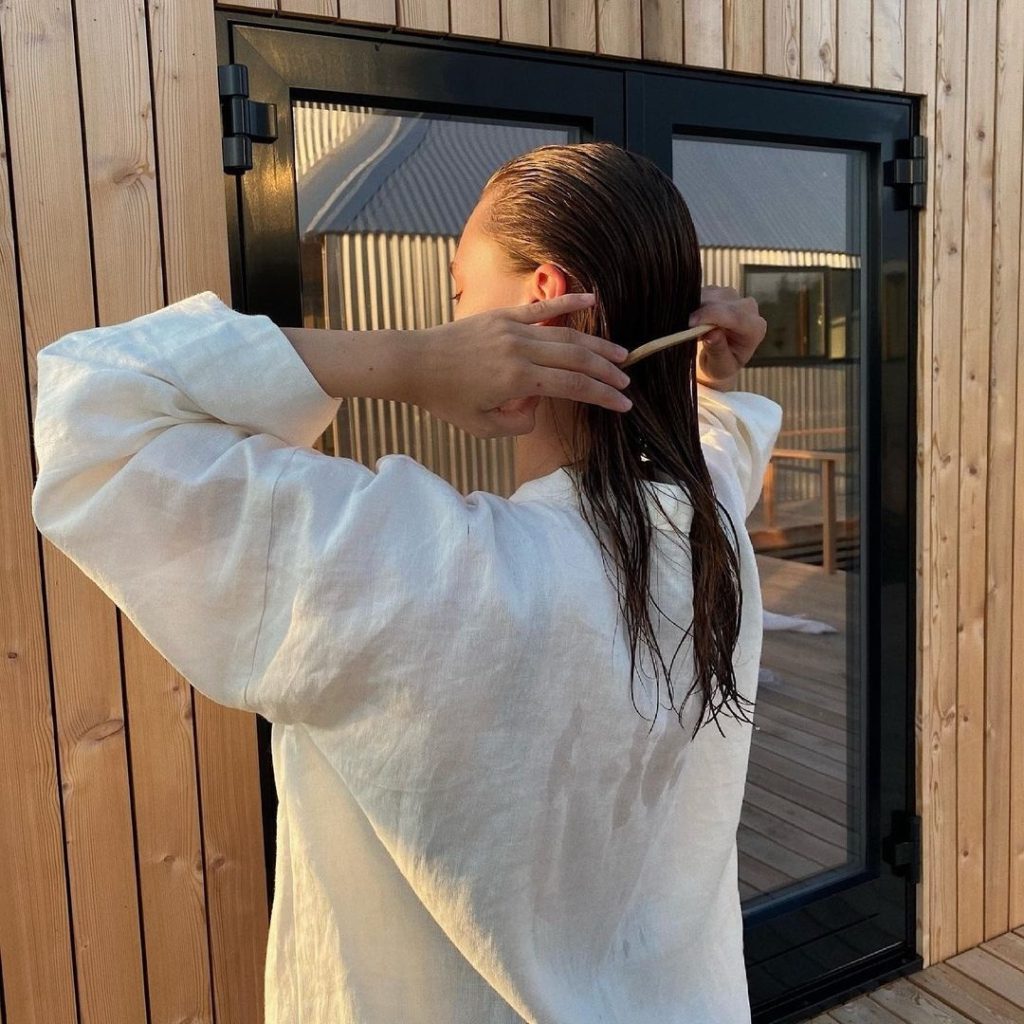 READ: A guide to your scalp: How to keep it healthy for stronger, healthier hair
In case you didn't know: Your scalp is skin. It needs the same amount of TLC that you would afford to the rest of your body and face. When you hit the gym and sweat it out, this sweat gets trapped around your hair follicles, creating—once again—the perfect environment for bacteria and mould to thrive. Plus, if you're the type to scrape your tresses up into a braid or pony while you exercise, it's pretty much guaranteed that you'll be left with a scalp-full of trapped buildup.
As a result, you may need to double cleanse your scalp along with your body after a workout (just wash your hair as normal, twice). In fact, you probably need to double cleanse your scalp on a regular day, anyway. Asian hair tends to be on the oilier side, and with our humid Malaysian climate, we are all predisposed to dandruff and buildup without an adequate wash routine.
READ: CocoDry's founder on starting a business at 26 and how to get a great blowout at home
TIP: After you hop out of the shower, make sure you blow-dry your roots to 1) give your hair some volume 2) take away moisture and prevent fungi and bacteria from growing.
Plus, if you've ever gotten a case of an itchy scalp or body after a workout, you should take that as a sign to heed our advice!
Get your temperature right
View this post on Instagram
After exercise, the temperature of your shower water is absolutely crucial. There are scientific studies that vouch for the benefits of both hot and cold showers, but here's what we recommend after a workout:
At this point, you're probably still running a little warm, so start with a lukewarm-to-warm shower to slowly bring down your temperature. Now, while your water is set to warm, it's the perfect opportunity to get scrubbing—the heat will help you to wash off any excess oils and sebum more effectively.
TIP: Make sure you never shower in hot water. The heat can damage your hair as your hot tools do and dry out your skin just as the sun does. Plus, too-hot water can exacerbate skin conditions like eczema.
However, once your body has had a chance to cool down with the shower (and you're done soaping up), turn the temperature of your shower down as cold as you can stand it. It's never pleasant at first, but it's an important step post-exercise. Firstly, it is thought that by ending your shower with 60-90 seconds of cold water, you'll kickstart your body's recovery process.
READ: Do hot-cold baths actually work to reduce inflammation and promote muscle recovery?
In addition to that, there are also a few other benefits associated with cold showers. For instance, cold showers don't dry your skin or scalp out in the same way that hot showers do. Further, a cold shower is great for hair—rinsing your hair in cold water helps to close and smooth your hair cuticle, leaving you with stronger, shinier tresses.
A top tip? Start your shower routine by shampooing then conditioning, and leave the conditioner to sit while you work on the rest of your body. Then, once you're all clean, rinse off from head-to-toe in the cold to reap all the aforementioned benefits.
What to do if you don't have time for a shower
View this post on Instagram
If you're running late for work after an early-morning workout or you just can't get to a shower for some reason, your in-a-pinch solution is to remove moisture ASAP.
First, dry yourself off and remove sweat as best you can with a clean towel. Then, try to cool yourself down by drinking plenty of water (of the cold variety, preferably). Finally, change into fresh clothes—there's no point in drying yourself off if you're just going to sit around in your sweaty gear.
TIP: Keep some antibacterial wipes or face wipes on hand to help you feel (and smell) a little fresher. You could also use dry shampoo to spruce up your roots and absorb extra oil!
READ: How to smell good and fresh all day long (without perfume)
PSST: Wash your clothes ASAP too! The last thing you want is your gym clothes stinking up the rest of your laundry and accumulating more micro-nasties. If you really can't get to a washer-dryer soon enough, then at least hang up your gym clothes to dry completely before chucking them in the laundry basket.
Find more body and wellness tips here.
| | |
| --- | --- |
| SHARE THE STORY | |
| Explore More | |