POV: It's the FMCO and you're looking for the perfect self-care routine to fill the void. Well, as the unofficial authorities on the #TreatYoSelf movement, we believe that any at-home #selfcare sesh should look a lot like this: Light your favourite scented candles, get on the serious bathers club with a good 20-minute soak, follow up with a decadent body scrub and thorough hydration right after—then, finish your evening off with an early bedtime (or Netflix with a face mask on, if you're not sleepy yet).
While you may have a slew of bath bombs, body cleansers and lotions ready to prime your skin to perfection, you should take extra care to pick a body scrub that is able to slough away dead skin cells to make way for brighter, smoother skin. Better yet, swap your microbead scrubs for a biodegradable alternative that incorporates ingredients such as coffee or brown sugar to help improve blood circulation and temporarily reduce the appearance of cellulite.
Below, we've listed some of our favourite body exfoliators that work a charm when it comes to removing dirt, grime and sebum in the best way possible (PS: Don't forget to check out our guide to getting your skin glowing from the chin down):
Fenty Skin
Buff Ryder Exfoliating Body Scrub, RM142
The new scrub from Fenty Skin is a gamechanger—its novel blend of sugar, salt, and superfine sand guarantee a thorough exfoliation that smooths and polishes the body's complexion. Further, when paired with pomegranate, papaya, and pineapple enzymes, hydrating tropical oils, and the brand's signature anti-oxidant rich Barbados cherry, you can expect a gorgeous glow from within. To top it all off, the scrub is accompanied by a deliciously sweet scent that you're bound to adore.
Drunk Elephant
Sugared Koffie Almond Milk Body Scrub, RM122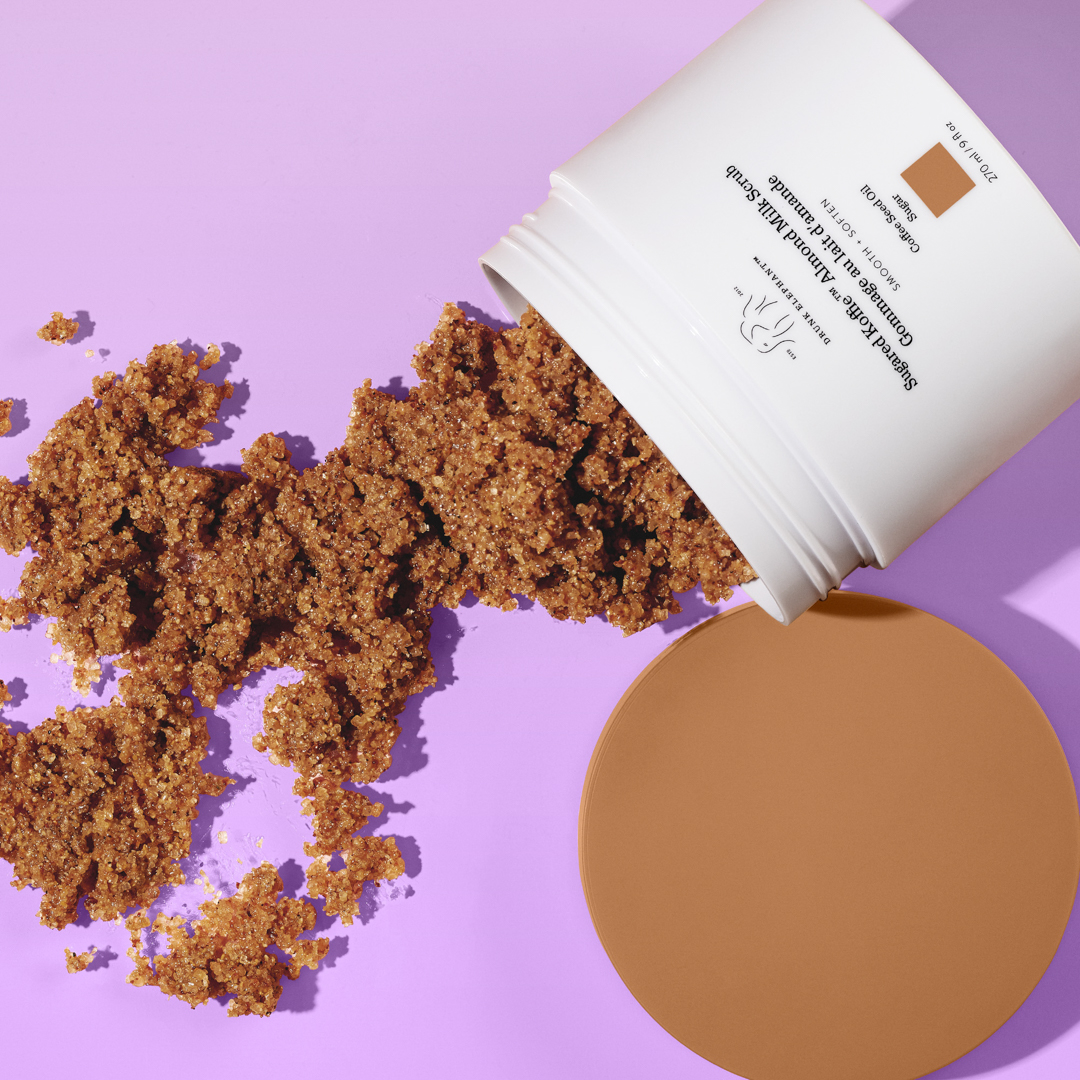 Nourishing almond milk is blended with antioxidant-rich coffee seed, passionfruit, and marula oils in this scrub, while brown sugar takes centre-stage as the exfoliating hero. Another potential plus? This scrub is also perfect for non-coffee lovers who can't stand the smell, but are still hoping to reap those antioxidant benefits! While coffee is a key ingredient, the smell of the scrub is pretty neutral overall, so you don't have to worry about smelling like a caffeine experiment gone wrong all day!
TIP: Just make sure to rinse your showers and tubs thoroughly after—this scrub stains surfaces!
Available in-store and online at Sephora
Indie Lee
Coconut Citrus Scrub, RM170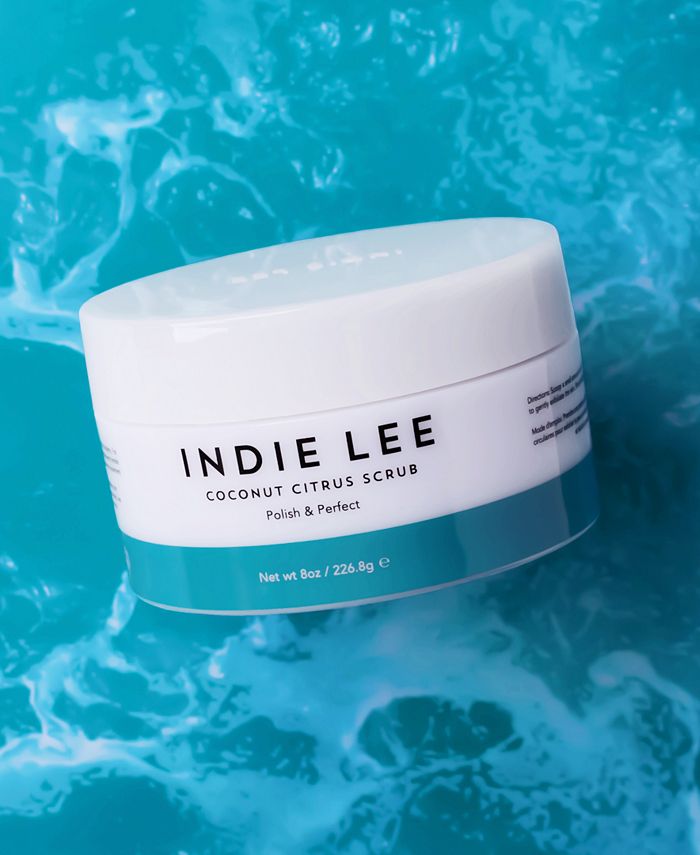 Effective exfoliation that isn't too abrasive? Well, colour us shocked! That's right—this delectable scrub smells like a holiday-in-a-tub, and sloughs away dead skin cells without hurting you! Ocean-friendly sugar grains do the heavy lifting while citrus extracts revitalise dull, tired skin and coconut soothes. Better yet, nourishing oils work to moisturise your skin post-scrub, leaving you silky smooth and soft.
Frank Body
Birthday Cake Scrub, RM95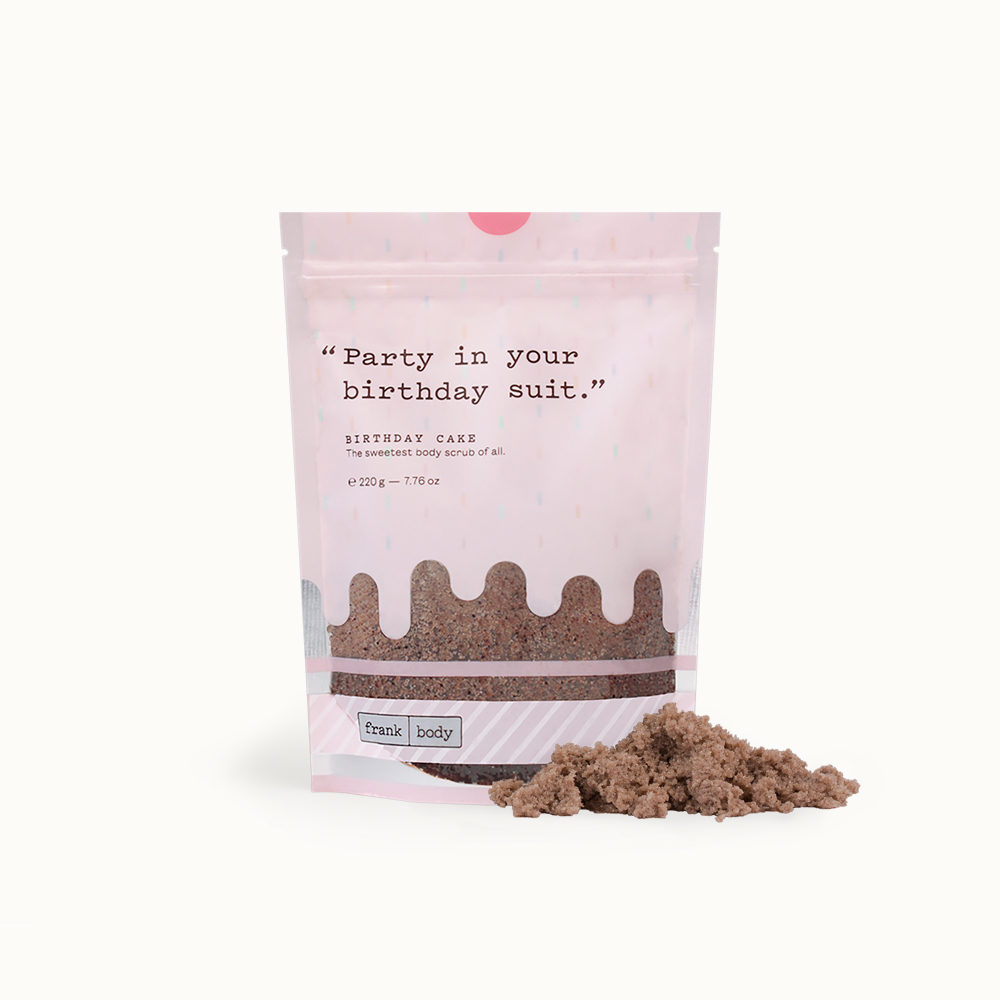 Suffering from super dry skin? Allow the sweet combination of raw sugar, coconut husk, and roasted ground coffee to take your skin to new levels. Sugar and coffee are a classic combo (as you know), but the coconut husk delivers an extra oomph on that exfoliation factor, along with some much-needed suppleness. Plus, antioxidant-rich matcha tea and nourishing avocado oils leave the skin infused with hydration (and a kick of anti-ageing goodness).
NOTE: Sensitive skin beware—this scrub can feel a little abrasive, so don't be too generous with your handfuls!
Handmade Heroes
Butt Kickin' Deep Detoxing Coffee Scrub (Satsuma Orange), RM68.90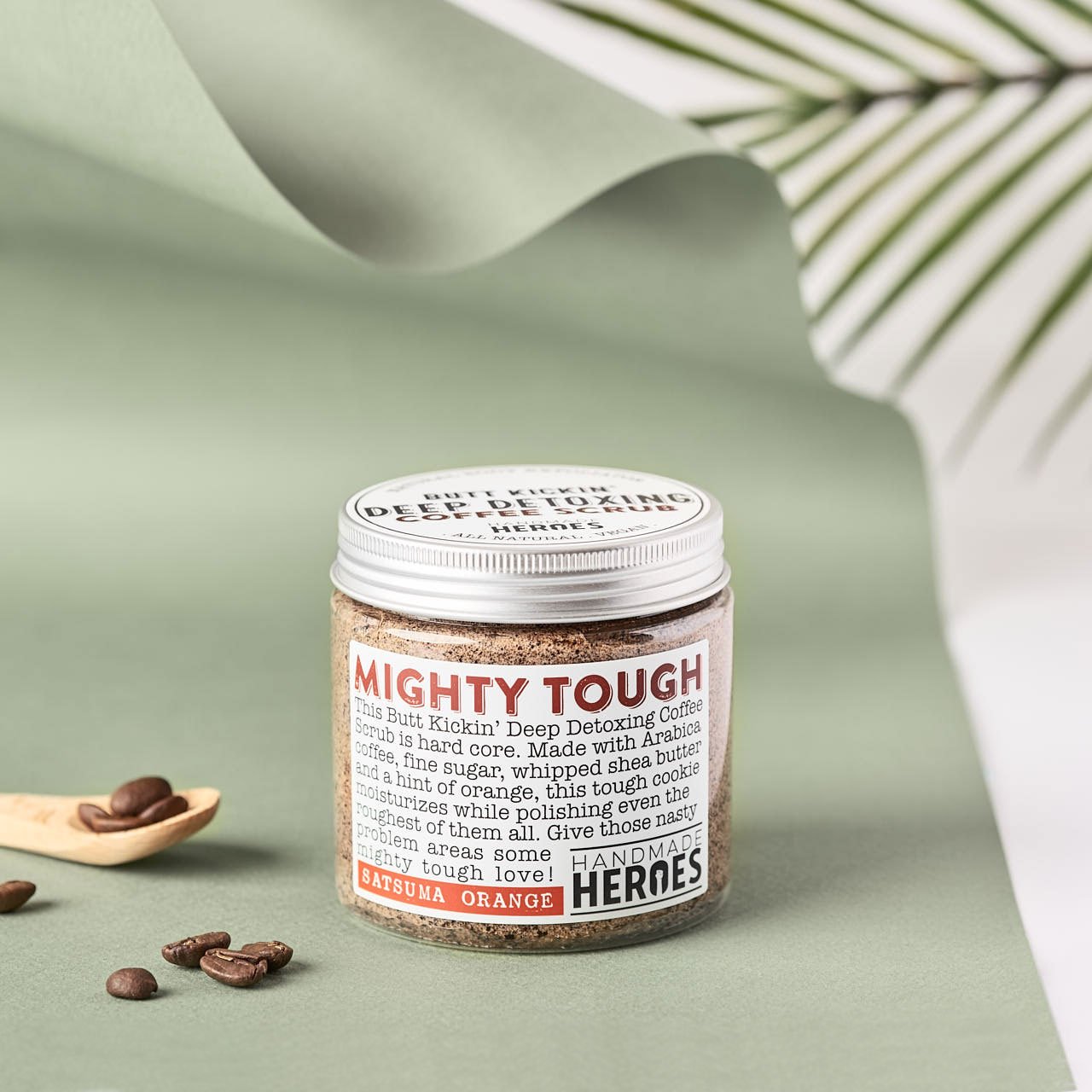 Would you like to smell delicious? Specifically, would you like to smell exactly like a Jaffa Cake? This local favourite can definitely help you out on that front. This caffeinated coffee scrub is absolutely bursting with goodness. It is made with a blend of sugar and organic coffee to help you shed dead skin cells and infused with whipped shea butter to deliver hydration after, leaving your skin wonderfully smooth while targeting acne or cellulite. Further, it treats your senses to a delightful olfactory experience—there's really nothing else you could want in a scrub.
Omorovicza
Gold Sugar Scrub, RM363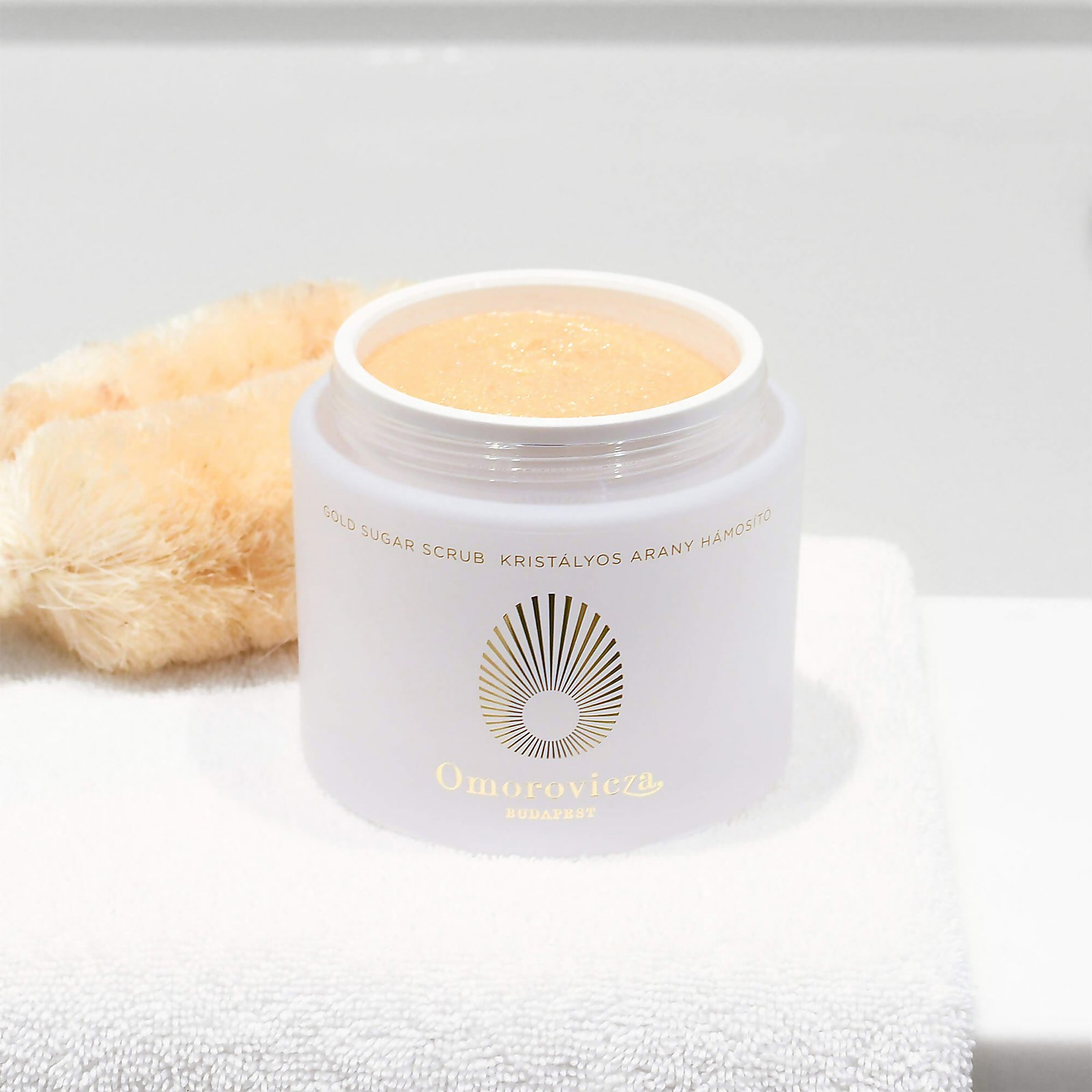 Are you looking for a truly luxury scrub experience? Omorovicza goes the extra mile. The Hungarian spa brand takes the exfoliation step in your self-care routine to new heights, introducing the powers of gold into their sugar scrub formulation. Plus, with the breathtaking floral scent infused into this indulgence, you're guaranteed a good time.
Ren Clean Skincare
Atlantic Kelp and Magnesium Body Scrub, RM169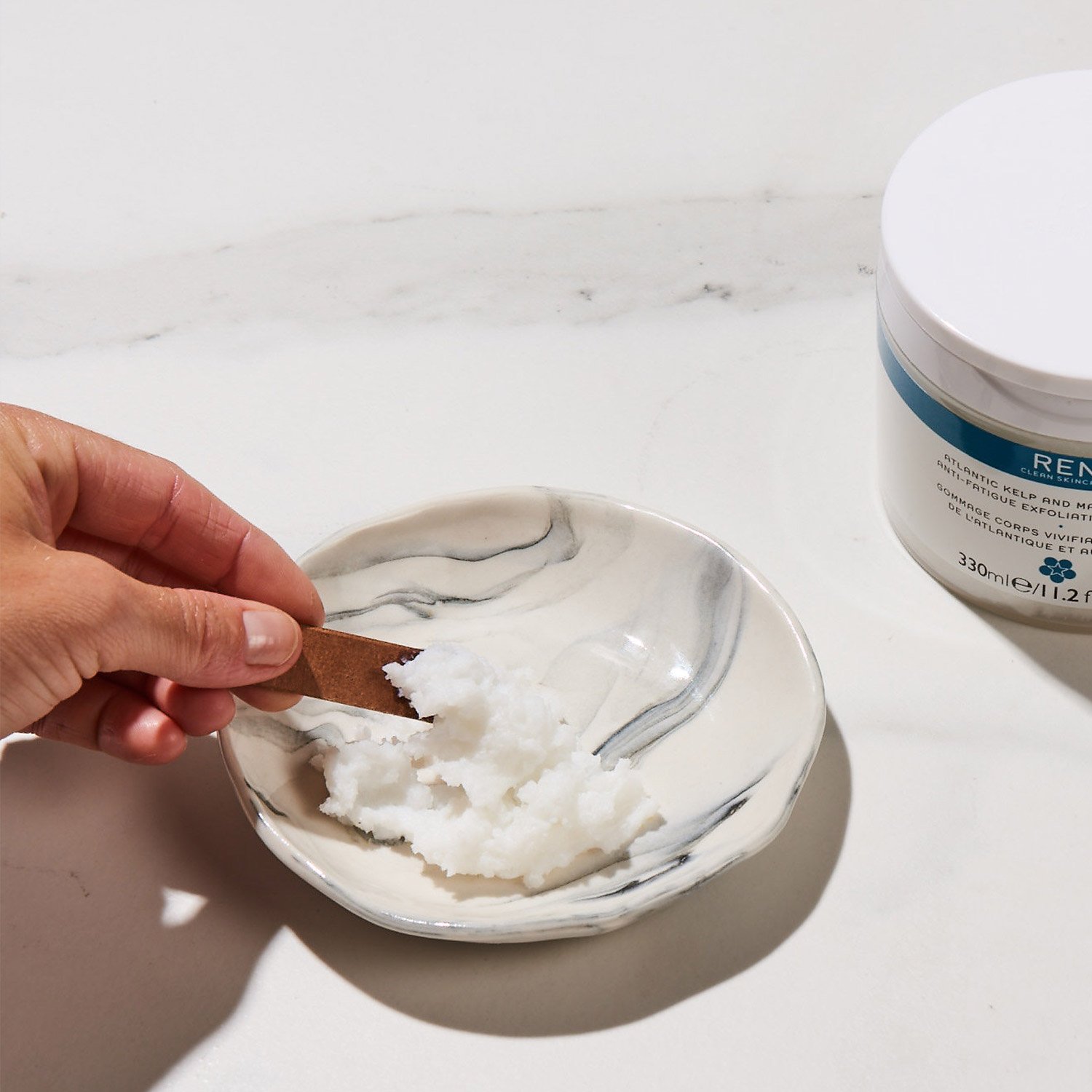 Fresh sea and magnesium salts are at the heart of this stimulating scrub to polish and smooth the complexion while the extracts of Atlantic kelp and microalgae oil infused into the formulation help replenish the skin's essential moisture levels.
TIP: It works best when applied and massaged into clean, dry skin—however, if you'd like to take the experience up by several notches, submerge yourself in a warm bath instead of rinsing the goodness away.
Molton Brown
Re-Charge Black Pepper Bodyscrub Bar, RM105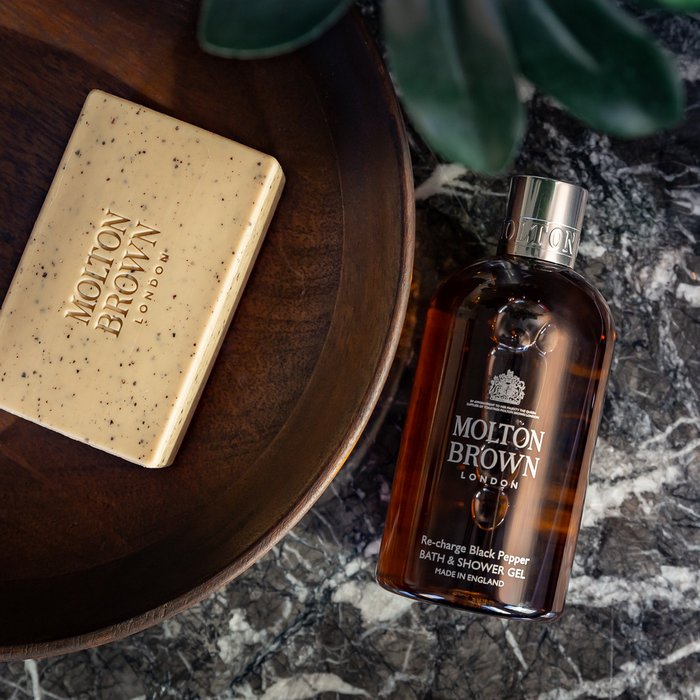 In need of a scrub that works on the go? Look no further than this innovative body scrub and bar soap hybrid. Exfoliating black pepper seed makes for an excellent, yet gentle scrub, while the aroma of bergamot, vetiver, and ginger work to excite the senses, toeing the line of masculinity perfectly. All in all, it's a wonderfully convenient option for those after-gym sessions.
Aesop
Geranium Leaf Body Scrub, RM158
While this particular scrub isn't powered by sugar, salt, or coffee, we had to include it purely for the wow factor. Of course, by this, we are referring to the heavenly scents of geranium, mandarin, and bergamot, along with the innovation of the scrub itself. Two grades of finely-milled pumice and micronised bamboo stem ensure that no rough patches go un-smoothed, taking particular action against pesky ingrown hairs and skin buildup.
Caudalie
Crushed Cabernet Scrub, RM122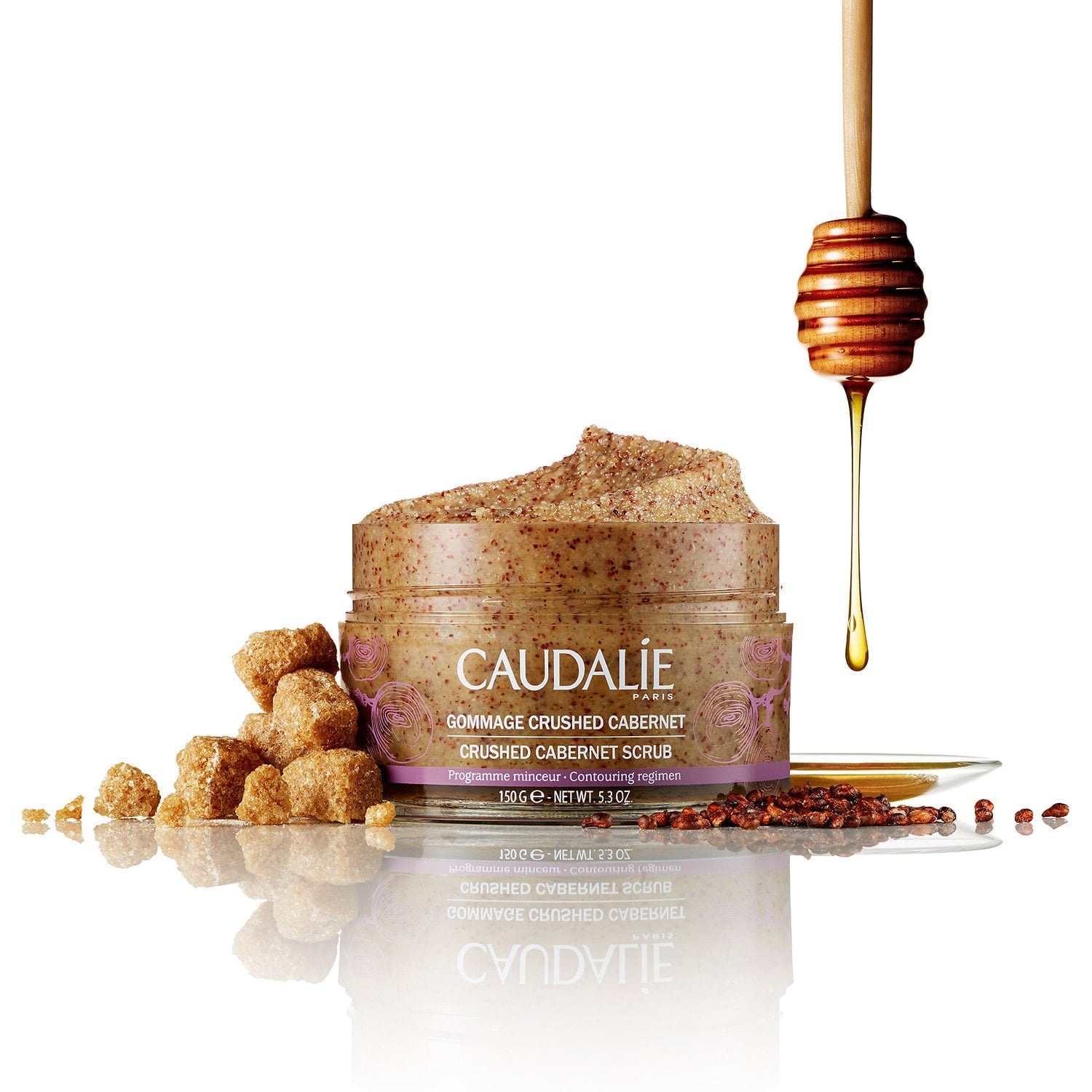 Once again, we've found an all-natural, spa-grade scrub to pique your interest. Crushed grape seeds and brown sugar are behind the particular exfoliation powers of this scrub, but the blend of pure Gironde honey, lemon oils, and grape-seed oil also help with deeper-level skin smoothing.
Find more self-care here.
| | |
| --- | --- |
| SHARE THE STORY | |
| Explore More | |