In the last ten years, there has been a 10 per cent increase in the number of people dealing with mental health, something that has been described as a slow-growing epidemic. As mentioned above, mental health does not discriminate and anyone can be affected by it. However, despite the widespread awareness on mental health, the general public has little to no knowledge on what the words 'mental health' really is. This needs to change, sooner rather than later.
According to the World Health Organization (WHO), the definition of mental health is "a state of well-being in which every individual realises his or her own potential, can cope with the normal stresses of life, can work productively and fruitfully, and is able to make a contribution to her or his community". With this definition in mind, it can be deduced that as long as there is no disease or infirmity, the mind is well and healthy.
Mental health isn't spoken about as openly as it should be here in Malaysia but there is a mind-boggling number of Malaysians who suffer from mental health issues. According to a survey conducted in 2015 by the Ministry of Health, an estimated total of 4.2 million. Did you know there is an online mental health screening tool specifically for Malaysians called the Mental Health Assessment System? No? Exactly. There needs to be a more widespread conversation. Prevention is better than cure and it is of utmost importance that the stigma around mental health is broken. Fortunately, more celebrities (both regional and international) are using their platforms to speak out on their experiences surrounding mental health. In addition to normalising it, this will act as a form of encouragement and hopefully, those suffering will not be ashamed to open up and get help, if needed.
1. Daiyan Trisha
According to the Malaysian singer, her song Kita Manusia was written with her own mental health struggles as the backbone of it. The songstress wanted to highlight mental illnesses such as depression, anxiety, depersonalisation and self-harm. Take note that these are issues that are seldom discussed in the country. Daiyan Trisha opened up about her struggles with work and family as well as pointed out that the struggles are normal and can be experienced by anyone. As humans, everyone is bound to face difficulties and therefore, there is no need to hide those feelings.
READ MORE: Depression affects everyone, even this Malaysian model
2. Stefanie Sun
In 2017, the Singaporean singer and other local artistes who are mental health advocates, appeared on Voice Out, a free concert organised by Singapore's healthcare and social service agencies. The songstress was very open about her own mental health struggles. She attested that she fell into depression during a period in which she worked non-stop. Stefanie struggled with her issue for over a year before she made the decision to get better. The truth is that mental health issues do not discriminate. Hence, regardless of race, creed, religion, and gender, anyone—at any time—can end up suffering from mental health struggles. Stefanie Sun is an apparent example.
READ MORE: Learn more about how to support a friend who is depressed
3. Mariah Carey
When Mariah Carey revealed that she suffers from bipolar disorder, she became a shining example of how celebrities can use their status to boost discourse and policies regarding mental illnesses. Her revelation helped raised awareness on mental health and also, encourages victims to get treated. As an advocate for mental health, Mariah Carey, who was diagnosed 18 years ago with the disorder, decided to open up about her depression and hypomania because she was ready to help shed light on the reality of living with a serious mental illness and the way stigma can make it harder to get the treatment you deserve. Legendary, isn't she?
READ MORE: Here's how Maggy Wang keeps herself sane on stressful days
4. Dwayne Johnson
Even though he is known as The Rock and he tends to portray the tough guy in films, Dwayne Johnson too suffered from depression. The actor might have found success in Hollywood but when he was younger, injuries shattered his dreams of playing professional football that resulted in an expulsion from the Canadian Football League. Dwayne Johnson's revelation about his mental health struggles is important because he also highlights the necessity for people to be open about the issues they are facing. He also encouraged men not to hide the way they feel. When the stigma surrounding mental health is broken and tossed away, victims will find liberty in sharing and that is the goal.
READ MORE: Check out these powerful mental health illustrations
5. Lady Gaga
One of the most prominent advocates for mental health is Lady Gaga, who has no qualms in revealing her truth. She has always been open about her battles with anxiety and depression. In addition, Gaga once said that her issues involved physical chronic pain, fibromyalgia, panic attacks, acute trauma responses, and incapacitating mental spirals that have included suicidal ideation and masochistic behavior. As a result of her struggles, she encourages victims to speak out in order to get support from those around them. Society needs to understand that mental health struggle is a crisis and needs to be brought into light. For Lady Gaga, the goal is for global mental health to no longer smolder in darkness.
READ MORE: Lady Gaga was amazing in A Star Is Born and these tidbits might interest you
6. Prince Harry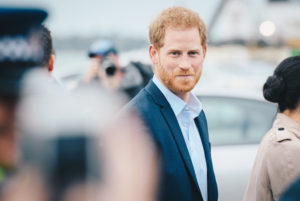 Most people wouldn't have thought of Prince Harry as someone who has suffered from mental health issues, but the royal has indeed. Harry revealed that he needed therapy to deal with the early death of his mother, Princess Diana. For about two decades, the prince shut down his emotions, which affected his personal life and work negatively. Since opening up about his mental health issues, Prince Harry aims to raise awareness so that those who suffer will not have to go through the breakdown he had to experience. When a figure of his status sheds light on mental health, it really helps break the stigma.
READ MORE: The prince is a lot happier now with Meghan Markle and baby Archie by his side
7. Sophie Turner
The whole world knows her as Sansa Stark from Game of Thrones, and recently, one-third of the Jonas Sisters; but did you know that Sophie Turner suffered from mental health issues? She struggled with body image from the age of 16 and was desperately unhappy when she was 19. Unfortunately, she also had suicidal thoughts. Good news: she seeked help and credited Joe Jonas, one-third of the Jonas Brothers, as the person who saved her life from mental health struggles. As one of the biggest stars at the moment and still fresh from the finale of Game of Thrones, her revelation will help so many, especially her younger fans, to speak out as well as seek help and guidance.
READ MORE: Emilia Clarke speaks out on the reality of fame
Depression and mental health should be taken very seriously. In Malaysia and many other countries, taking a mental health day off to care for one's wellbeing isn't normal practice. However, it shouldn't be concluded that mental health issues can be snapped out of. People still judge and criticise those who express the way they feel. Hopefully, with the help of these celebrities and many others around the world, society will begin to take mental health issues more vigorously. It is essential that victims know that taking care of themselves and getting help are not signs of weakness.
If you are feeling depressed or just need someone to talk to, these are some of the local organisations to call:
Malaysian Mental Health Association | 03 7782 5499
Lifeline Association of Malaysia | 03 9285 0039
Befrienders Kuala Lumpur | 03 7956 8144
Befrienders Penang | 04 2815 161
| | |
| --- | --- |
| SHARE THE STORY | |
| Explore More | |