While there's no word yet on when we can leave Malaysia for overseas travel, Prime Minister Tan Sri Muhyiddin Yassin did announce on June 7 that interstate travel would be allowed from now till August 31. The news was received with mixed reactions. Some were overjoyed and either bustled straight to their local holiday retreat (or has planned one). And some remain hesitant to even go further than their local supermarket.
However, their concerns are understandable. As long as there's still no vaccine for the virus, most will think twice about doing anything outdoors or that involves more than a party of three. Still, many in the travel industry (especially hotels and resorts) are gearing up to reopen in the coming months (some have already opened).
Ahead, we go through how having a "cuti-cuti" in Malaysia will look like during RMCO and answer some of your burning travel questions.
What do I pack while traveling during RMCO?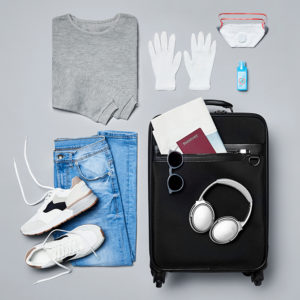 While the planning phase might be the most exciting (or frustrating) part for many, remember: with great fun comes great responsibility.
Before you start thinking about where you want to go, you need to know what you're expected to pack. Similar to how you would gear up for your weekly grocery runs, there are certain items you absolutely shouldn't forget when packing for your holiday. Here's a simple checklist to get you started:
Hand sanitiser — The alcohol level needs to be at least 60 per cent
Face masks — Be sure to have enough for everyone as you can only wear a mask for eight hours before it's time to replace it
Disposable gloves
Disinfectant wipes and Isopropyl wipes which are safe for your phones
Emergency medicine to last the trip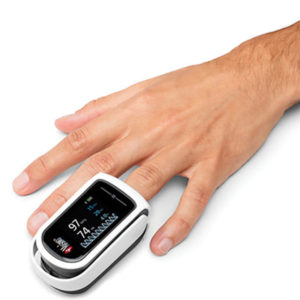 Bonus: Consider bringing along a thermometer or a digital pulse oximeter, which is used to detect oxygen levels in the blood. Even if you're just travelling in and around Malaysia, you might develop some anxious or paranoid thoughts during the trip so having these nifty gadgets could at least help ease your mind when in doubt.
How else should I plan for my trip?
Think of downloading MySejahtera, Malaysia's contact tracing app for all things related to COVID-19 in Malaysia, including the locations of COVID-19 hotspots (so you can avoid them) as well as real-time updates (useful when you're travelling to other states).
It is also worth researching how widespread the virus is in certain states (some have been deemed as 'green zones') as it's best to be aware of the risks and manage expectations. Remember to follow the checklist we made above as some areas may not have those items readily in bulk.
Is it safer to take a road trip?
While there are many ways to travel around Malaysia, driving may be the go-to choice for many as you are more in control of who you come in contact with and the spaces you interact with. Plus, some people are just more comfortable in their own cars.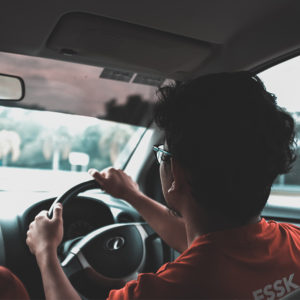 If you are planning to travel by car, it is advised that you minimise the number of times you pull up at rest stops. According to CDC officials, "Making stops along the way for gas, food, or bathroom breaks can put you and your travelling companions in close contact with other people and surfaces."
Therefore, be sure to have some non-perishable foods, water and snacks on hand to last you the majority of the car trip, to and fro. If you do have to visit the rest stop or petrol station, have your masks at the ready (you know the drill).
Using disinfectant wipes when handling gas pumps (or wearing disposable gloves), regularly wiping down steering wheels, door handles and other frequently touched surfaces are all good practices to follow during your interstate travels. Use contactless payment whenever possible but don't forget to disinfect credit cards after each use as well.
How are aircrafts planning to tackle the virus during RMCO?
Alternatively, if you wish to travel by plane, things will look a lot more different. We all know that airports and airplanes are not the cleanest of spaces—as hubs of movement, transit and assembly, they are exceptionally vulnerable to exposure to the virus. But don't fret, airport and airline staff are aware of this too and have stepped up their game in response to the pandemic.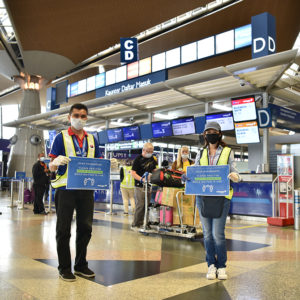 Malaysian Airlines (MAS) shared with us, "We uphold high standards in cleaning and disinfecting our aircraft and work closely with the Ministry of Health to ensure we follow their guidance on health precautions related to COVID-19."
Wearing masks will act as your rite of passage into airplanes because you will be refused from boarding the plane if you are not wearing one.
Not only are you expected to bring your own protective masks, but passengers are also expected to wear them from check-in all the way to disembarkation. Hand sanitisers will be provided but you can also bring extras as long as it does not exceed the 100ml regulations.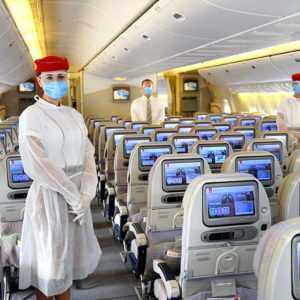 Emirates Airlines added that the airline "has continued to improve its SOP on safety and hygiene and is monitoring the situation closely and accordingly." In addition to wearing masks and gloves, the Emirates crew will also "don personal protective equipment (PPE) which includes a protective disposable gown over their uniforms, and a safety visor."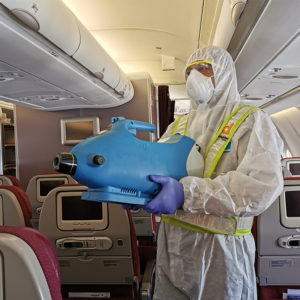 Airlines will be routinely carrying out sanitisation and disinfection procedures in cabin aircrafts before and after a flight. A manufacturer-approved chemical disinfectant specifically made for aircrafts will be used in the misting process.
When on board, expect certain services and amenities to be unavailable as well. Bring along cards, board games or a good read for entertainment as magazines, newspapers and the like will no longer be made available. This applies to blankets and pillows too.
Is it risky to fly in airplanes?
Understandably, many will be concerned about travelling in an enclosed metal tube with a hundred other people in the air. However, the risk of in-flight transmissions is actually very low—so low that the government decided that in-flight social distancing is no longer mandatory.
According to Joe Allen, assistant professor at Harvard T.H. Chan School of Public Health, "Many people think they get sick on an airplane, but the reality is that the air quality on an airplane is actually really good—high amounts of clean outdoor air and all recirculated air passes through a HEPA filter."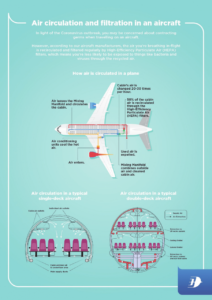 MAS has shared that they have recently upgraded their High-Energy Particle Air (HEPA) filters to a better filtration capacity to increase the efficiency of air circulation in their aircraft. They explained, "In fact, because of the high-efficiency filters and frequent air circulation, the air you're breathing on your flight is likely much cleaner than most office buildings and is on par with the air in most hospitals."
Airlines will also be using disposable cutleries for meals. Emirates Airlines shared with us that they are going a step further by introducing bento-style meal boxes which include sandwiches, snacks and drinks in order to minimise interaction between passengers and crew members.
Other things you should take note of is that certain aircrafts have different policies. While MAS has not stated a change regarding hand-carry luggage, Emirates now no longer allow cabin baggage on board. Instead, carry-ons will be limited to "laptop, handbag, briefcase or baby items" and "all other items have to be checked in."
Is it safe to stay in hotels?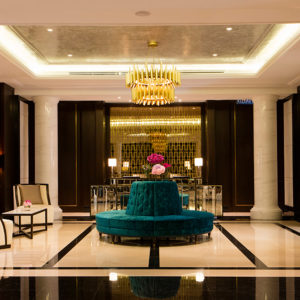 So you've finally made it to your lovely destination—congratulations, airplane rides and long car trips have never been fun pre- or post-corona. Before you breathe a sigh of relief, remember: The caution doesn't stop there.
Hotels and resorts are doing the best they can to follow the recommended guidelines so it's important that you do too. Marriott International, which represents many luxury hotels in Malaysia such as The Ritz-Carlton Kuala Lumpur, The Westin KL and St.Regis KL, has shared with us that they remain "committed to providing all our guests with a safe and comfortable environment, where enhanced cleaning practices are enforced and our demanding standards raised to an even higher level."
When checking in, expect a much more stringent process that includes mandatory temperature checks and sanitisation.
Most check-in counters will be installed with clear plastic barriers and social distancing markers. If possible, however, guests are encouraged to utilise the mobile check-in and check-out service.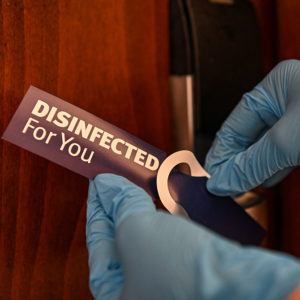 If your concern is about the cleanliness of hotels, rest assured that frequent disinfectants and sanitisation will be implemented. Marriott International reveals that "all rooms, public areas and the back-of-house are thoroughly cleaned and disinfected with Ecolab EPA-approved cleaners and chemicals frequently to the highest standards" and "upon checkout, the guest room will be sanitised and sprayed with a chemical spray."
As a final wrap-up (for now), think about who will be tagging along for your RMCO vacay—are there any elderly people or young children? Weigh the risks accordingly. A holiday sounds great but so long as there's no vaccine, it's best to take every precaution and follow every SOP.
Enjoy your much-needed holiday during this RMCO and stay safe!
For more stories on the New Normal, click here.
| | |
| --- | --- |
| SHARE THE STORY | |
| Explore More | |