The air is filled with loud, quick honks and the roads are dominated more so by motorbikes than cars yet everyone is able to smoothly manoeuvre through the traffic. On the streets, people are bustling to their destinations while some sit leisurely on a stool by the sidewalk with a drink or a bowl of food on an equally tiny table set up by the modest street stall. The cityscape is littered with a mixture of French colonial buildings, rows of humble shops and artsy cafes, and modern skyscrapers. Welcome to Ho Chi Minh City, which is also affectionately known by its old name, Saigon.
Being within the same vicinity as Cambodia and Thailand, it's easy to assume how similar they might be to Vietnam but all it takes is a short trip to dismiss that initial impression and see more differences than similarities. The food itself sets the largest gap. You'll find a variety of greens cooked (or uncooked) in new ways that are matched with a simple yet tantalising combination of sauces. Coffee culture is as strong as the local Vietnamese coffee itself. And in Ho Chi Minh City, it's easy to walk from one historical landmark to the next tourist attraction to a quick lunch break. We list down some of the best sightseeing spots and restaurants in Ho Chi Minh that are within the city square—just be sure to apply sun block, wear comfortable shoes like a pair of Fitflop sandals bring your sunglasses as it can get pretty hot.
What to see
Reunification Palace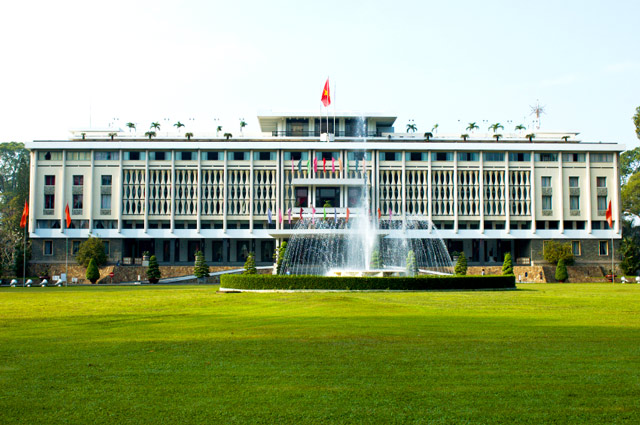 Whether you fancy it as a historical site or a beautiful evidence of 1960s architecture, the Reunification Palace—also known as the Independence Palace—s a must-visit when in Ho Chi Minh City. It is the site deeply associated with the fall of the city in 1975 but it is the period motifs and unbelievable interior often overshadow its background. There are meeting rooms and grand reception rooms, a rooftop night club complete with a helipad as well as a basement prepped with its own telecommunications centre and war room-basically everything that would make you think of a movie set except it was really built for someone's personal use.
War Remnants Museum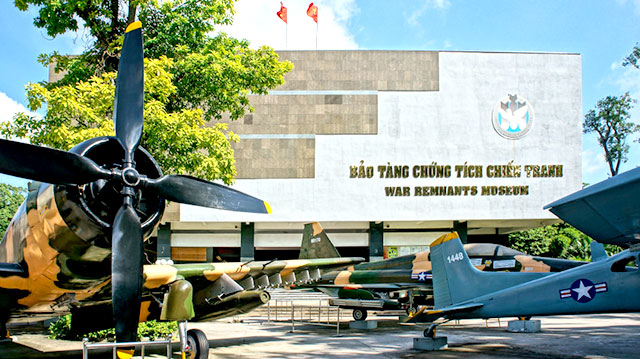 Any travel guide would place this as one of the top things to see while in Ho Chi Minh City—and having visited it, I would have to agree. History is important but more importantly is the story behind the gruesome Vietnam War and the museum thoroughly documents the brutality faced by the soldiers, war photographers, and the civilians themselves. The photographs are striking—taken by photographers who were killed during the conflict—and the artefacts give an eye-opening feel—some were once a military secret.
Notre Dame Cathedral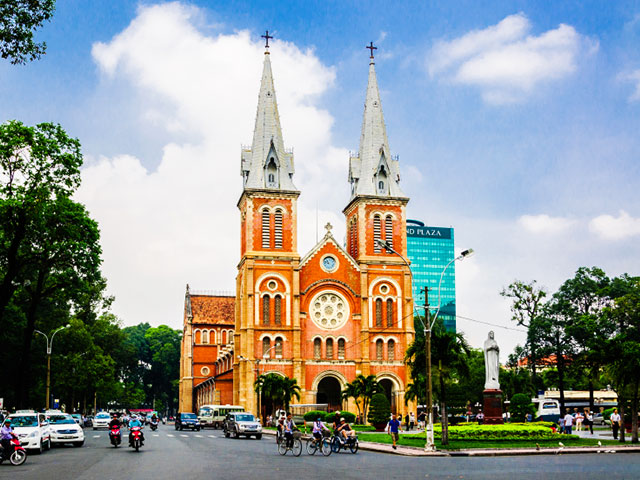 Built in the late 1800s, the Catholic cathedral continues to serve as a religious place of worship but you don't need to attend mass to admire its outer beauty of the brick, neo-Romanesque architecture and its inner beauty of surviving old tablets and stained glass that adorn the walls.
Central Post Office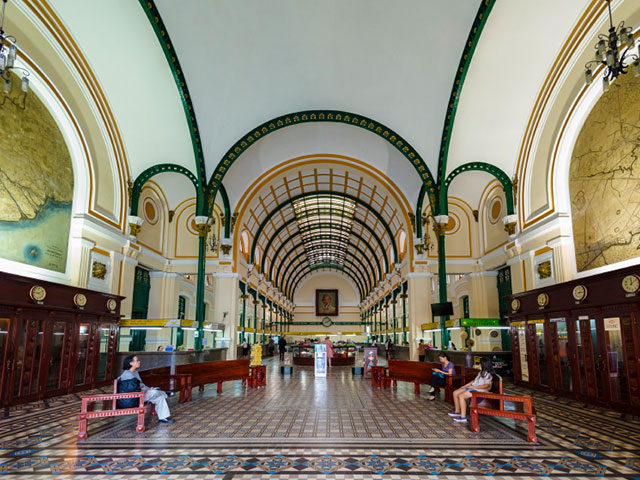 A postcard from the city you're travelling in makes a good souvenir, regardless if the recipient is a loved one or yourself when you're finally back home. But that's not the only reason why you should visit the local post office that is conveniently situated right across the Notre Dame Cathedral. It is the work of Gustave Eiffel—yes, the same guy who designed the Eiffel Tower—and yet another classic example of a period French post office. Inside the building, you'll find a grand concourse with paintings of historic maps of South Vietnam, Saigon and Cholon on the wall and the floors are beautifully tiled with the most intricate design that is worthy of an Instagram picture of your shoes and the hashtag #lookdown.
WHere TO Eat
Ben Thanh Market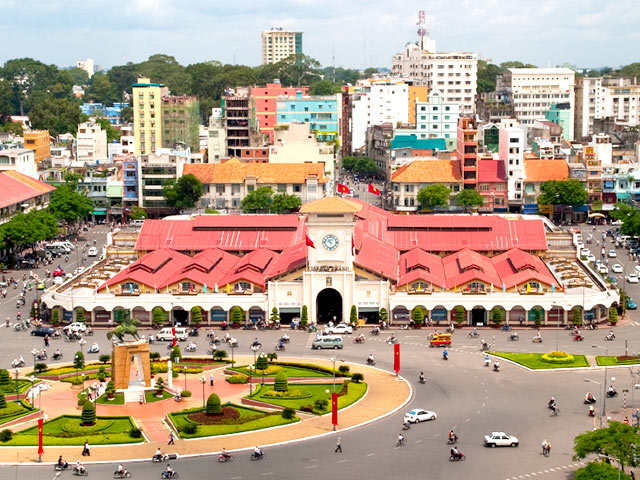 If it's shopping for the local food fare and other products, you can't go wrong with Ben Thanh Market which is the largest marketplace in central Ho Chi Minh. It's a pretty good sightseeing pitstop where you can have lunch at the food court section before snaking through the rows of stalls to look for local coffee, lovely salad bowls, souvenirs and more.
Secret Garden Restaurant & Teahouse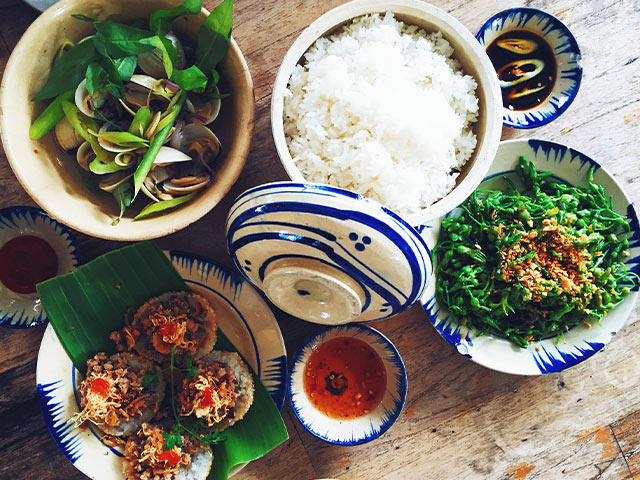 Time for lunch or dinner after a long walk? On my trip with Fitflop (and in my new Fitflop SS16 sandals), we discovered a gorgeous Instagram-worthy restaurant that is also known for serving delicious food. The only problem for our tired bodies: it's a rooftop restaurant. Still, trust me, the four (or was it five?) flights of stairs will be worth it. (Also, it pays to wear comfy shoes and I was glad that mine were as dependable as everyone said it would be.) My personal recommendations are the minced pork on fried rice cakes and the stuffed lotus root.
Propaganda Vietnamese Bistro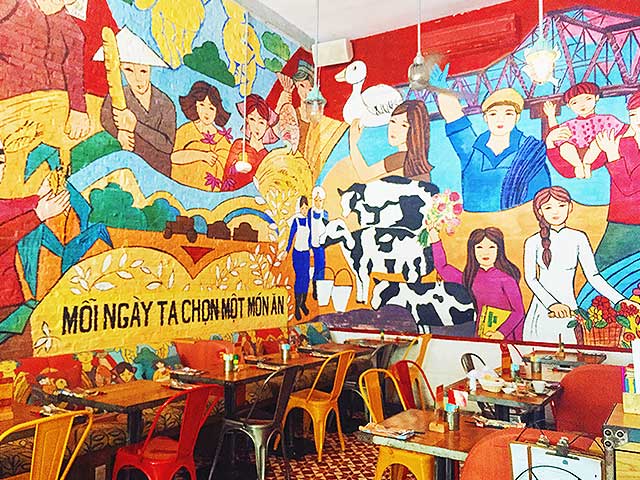 Located in the middle of the Reunification Palace and the Notre Dame Cathedral is this chic bistro that also has a strong floor tile game as well as a breathtaking mural wall. Above all, it has amazing pho. Period. Oh, not to mention good, strong Vietnamese coffee and these delectable Vietnamese spring rolls served with a tangy, nutty sauce.
Related stories:
5 Safest places to visit for solo female travellers
4 Best boutique hotels in Paris
8 Coolest places to visit in 2016 that should be on your travel bucket list
| | |
| --- | --- |
| SHARE THE STORY | |
| Explore More | |