Find out what's special about each city's Christmas markets, from Frankfurt and Cologne to Nuremberg and Munich
Christmas markets are BIG in Europe but if there's one country that's synonymous with this holiday tradition, it's got to be Germany. After all, that's where it originated! Kicking off during Advent, which is the four weeks leading up to the 25th, German Christmas markets go way back and have reportedly been around since the 1300s.
Sure, we've got festive events happening in Kuala Lumpur too and even a Buro Christmas Village for everyone back home, but is it really Christmas if it's not snowing like in the movies? So, when the German National Tourism Board called and asked if I'd be keen on sipping glühwein (aka mulled wine) in zero degrees, I had to say yes. Plus, I really love wine. And the cold. And Christmas. And– you get the idea.
In one week, we explored four cities and strolled along many Christmas markets which the Germans call Christkindlemarkt (Christ child market) or Weihnachtsmarkt (Christmas Eve market), and thanks to this winter excursion, I now know which ones I'll be revisiting in the coming years. But before we dive into them, let's talk logistics.
Getting there
I took a one-hour flight from KL to Singapore (tip: visit Jewel Changi if you have a longer transit) and from there, a direct 13-hour flight with Lufthansa to Frankfurt. While 13 hours may sound like an eternity, it actually flew by (no pun intended) pretty quickly—six hours of sleep and three back-to-back movies later, I had already stepped foot into the land of beer and bratwurst.
Where to stay
Whether you opt for a hotel or airbnb, the city is very well connected and public transportation is a breeze. In both Frankfurt and Munich, I stayed at Maritim Hotel and both locations were just a couple of minutes' walk from the train station. In Nuremberg, we had a good night's sleep at Sheraton, also just a stone's throw away from the city centre.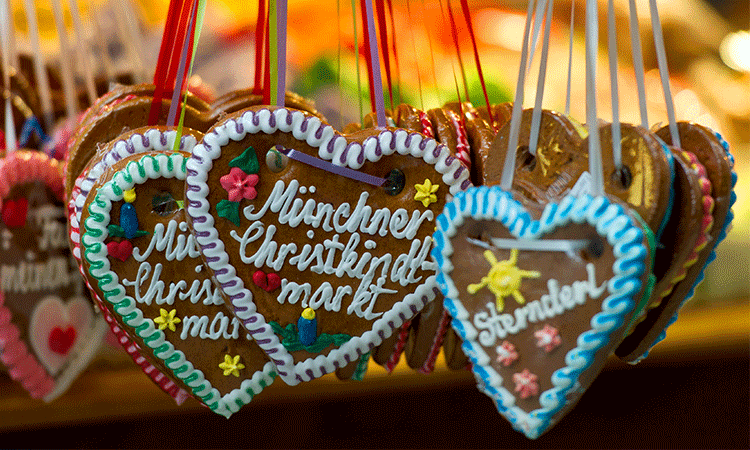 Alright, now on to the fun part. Which German city has the best Christmas market? Is there even one to begin with? To me, it really boils down to personal preference since each city has its own seasonal yuletide specials. Below, I've rounded up the best highlights from each one (along with my top picks!), starting with the first city I visited.
1. FRANKFURT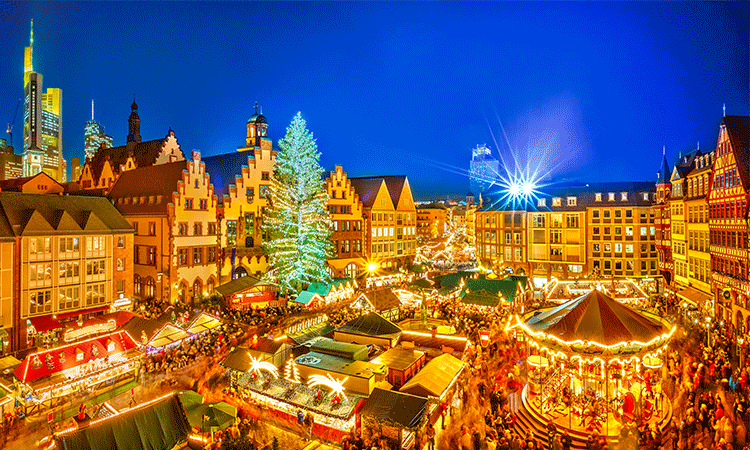 The Frankfurt Christmas Market is dubbed the oldest and most beautiful of its kind
The main Christmas market at this financial hub stretches all the way from Hauptwache down to the river's quayside. By dusk, the newest—and oldest—quarter, Römerberg came to life, with church bells chiming harmoniously across town while skylines sparkled in the background. In the centre of this New Old Town stood a gigantic 30-metre Christmas tree which, along with 200 stalls and a merry-go-round, illuminated the square that's surrounded by timbre-frame buildings.
Location: Römerberg, St Paul's Square, Mainkai (Main Quay), Hauptwache and Friedrich-Stoltze-Square
Opening hours: 10am — 9pm (Mon — Sat); 11am — 9pm (Sun)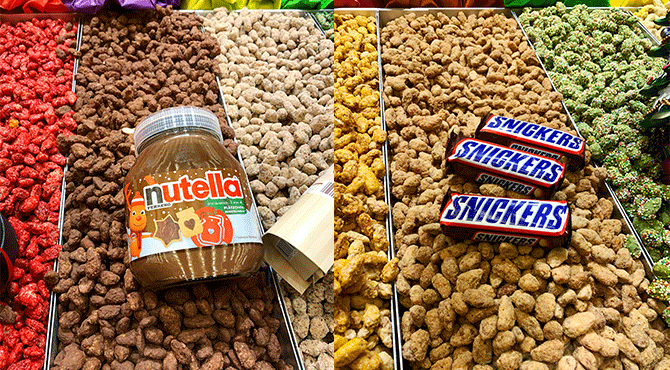 Candy-coated almonds from Monika Eiserloh's stall
Highlights:
Apple wine. Frankfurt's liquid gold is a cider-like beverage containing about 5 to 7% alcohol and it's poured from a stoneware jug into a diamond-patterned glass. Bonus: you can hop on the colourful Ebbelwei Express for a guided apple wine tour.
Pink Christmas Market. Follow the trail of pink and purple lights and you'll arrive at Frankfurt's Gay Christmas Market in Friedrich-Stoltze-Square. Those who like your alcohol extra strong, don't miss ordering a feuezangenbowle (rum plus red wine) from the stall with a 4-metre tall cauldron.
Candy-coated almonds. There are numerous candy stands at every market but this one by Monika Eiserloh is the OG of them all, boasting an extensive range of flavours from pumpkin cinnamon and Nutella to rum and Red Bull.
Marzipan cookies. Firm on the outside, chewy on the inside, this traditional almond-studded pastry is specially baked during Christmas. Known as Bethmännchen, it makes for the perfect walk-while-stuffing-your-face snack.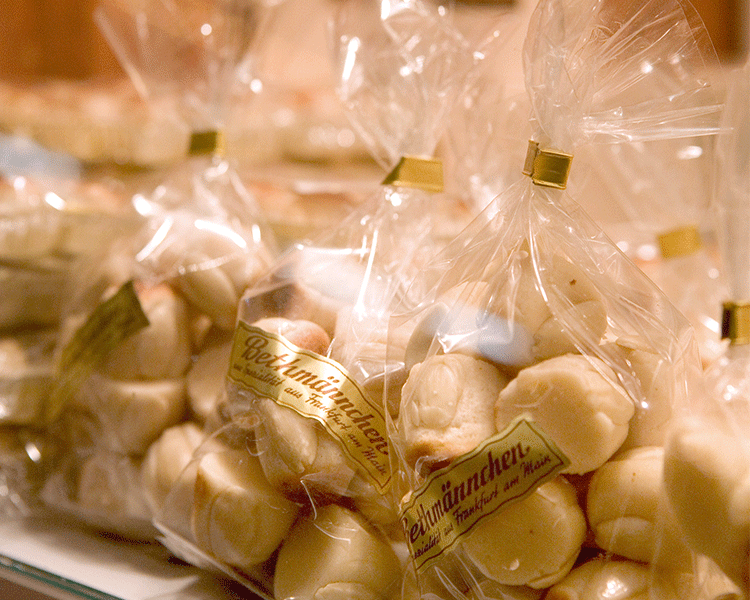 Bethmännchen: Frankfurt's bite-sized Christmas pastry
Other things to do in Frankfurt:
Visit the Goethe House, where Germany's greatest writer Johann Wolfgang von Goethe was born and next door, the Goethe Museum showcasing his masterpieces.
Stroll along Germany's largest Stock Exchange—just look for two bronze figures of a bull and bear, which symbolise the ups and downs of the global stock markets.
Remember the apple wine guided tour on the Ebbelwei Express? You can combine that with a city tour as the vintage tram stops at 29 major landmarks in one hour.
2. COLOGNE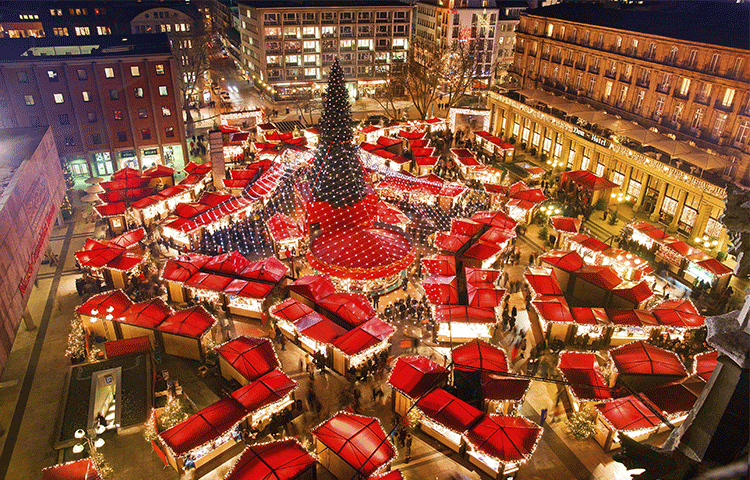 The mesmerising lights at the Cathedral Christmas Market
As the 4th largest city in Germany, Cologne did not disappoint with its number of markets strewn around town. Of course, the main market not to be missed is the one with the iconic Gothic cathedral as a backdrop. By far, this was my favourite of the lot for a few reasons: 1) It had THE prettiest mesh of lights that sparkled and stunned from every angle—cc: anyone who appreciates aesthetics for the 'gram; 2) it was also the most Chrismassy IMO thanks to the stage at the centre hosting musical performances which the crowd cheerfully sang along to (from Feliz Navidad to Justin Bieber's Mistletoe); and 3) there were a tonne of fun things to see and do nearby each market.
Location: Roncalliplatz next to Cologne Cathedral
Opening hours: 11am — 9pm (Sun — Wed); 11am — 10pm (Thurs — Fri); 10am — 10pm (Sat)
Highlights:
Harbour Christmas Market. Situated right outside the Chocolate Museum and overlooking the Rhine river, this market has a maritime theme which was apparent in its fresh, piping hot seafood selections (must try: salmon and crème fraiche) down to its artisanal handicrafts.
Chocolate Museum. Cocoa lovers, make a pit-stop here to sample the best of Lindt chocolates, then custom make your own choc bar before taking some souvenirs (read: limited edition flavours and Christmas tins) home.
Ice rink at Heinzels Winter Fairytale. At 7 Euros per adult, you'll get to skate across a 110-metre rink that surrounds the statue of King Friedrich Wilhelm III. Not your cup of tea? Shake those skates off and just walk over to the nearby hut for a mug of mulled wine.
Kölsch beer. Don't leave Cologne till you've tried their famous local brew that's available in over 3,000 restaurants and taverns. The top-fermented beer is typically served in a narrow 200ml cylindrical glass and waiters are known to bring you more beer without being asked. Tip: place your coaster on top of your empty glass once you're done so they know you're not up for another round.
Other things to do in Cologne:
Step inside the twin towers of the Cologne Cathedral and be awed by this treasure trove of history and architecture. PS: it's recognised as a UNESCO World Heritage site!
Take a whiff of the world's oldest perfume (Eau de Cologne) at Farina Haus and maybe try creating your own EDC. Love the scent of the OG recipe comprising notes of lemon, orange, bergamot and other citrus? They still sell them today, from tiny roll-ons to a full-sized spritz bottle.
Ascend to the top of the Köln Triangle observation deck to take in a picturesque and expansive aerial view of the city.
3. NUREMBERG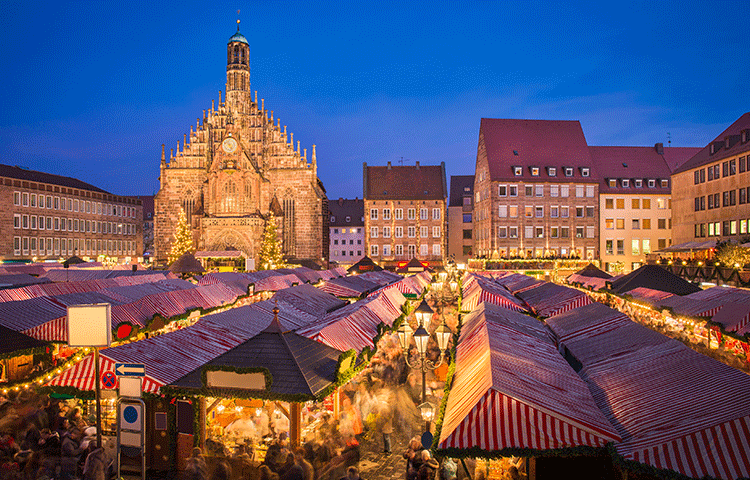 The Christmas Market in Nuremberg is known as the "little town made of wood and cloth"
As I stepped onto Nuremberg's cobblestone street, I could already see why this charming little town is world-famous and has won the hearts of many (including mine). Drawing 2 million visitors each year to its main square, rows of 180 wooden stalls with canvas roofs in red and white stripes are erected and from higher ground, the view is absolutely sublime, especially when framed by contrasting structures of gothic Catholic shrines. Besides the aroma of Christmas confectionary, sightings of the stagecoach horses (which warrants visitors whipping out their cameras) and shimmering lights from the candy cane-themed booths as well as the sounds of street performances make way for a festive mood like no other.
Location: Hauptplatz square
Opening hours: 10am — 9pm
Highlights:
Blueberry mulled wine. Made of pure blueberry as well as other spices like aniseed, cinnamon and cloves, this is Nuremberg's regional specialty and a true local favourite. FYI, each year a new mug design is produced and they're highly sought-after by collectors!
Gingerbread. Striking the right balance between sweet and spicy, Nuremberg's signature gingerbread (Lebkuchen) has existed for over 600 years and at the market, we saw it in every shape and flavour imaginable, from classic chocolate to strawberry or in the form of various Christmas motifs. Must-try: the OG Elisen gingerbread!
3 Sausages in a bun. Nuremberg's sausages may be small

—

at no larger than 9cm

—

but they truly pack a punch in terms of flavour. Served as "3 in Weggla" (three in a bun), you'll find this delicious snack being sold at many stands but the best-tasting ones (hands down) are at booth #15 as they're grilled over real wood fire.
Nuremberg Christmas Pass. One way to explore the market's culinary offerings is by getting this special pass (for 11 Euros) containing six vouchers that let you sample the best meals and mulled wine while enjoying great savings.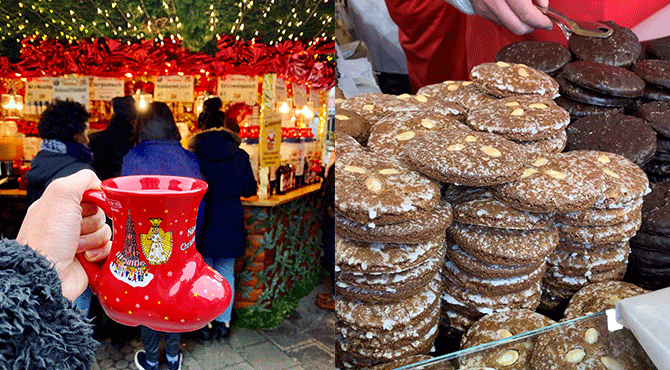 A warm mug of mulled wine + gingerbread = the best winter pick-me-up!
Other things to do in Nuremberg:
See the biggest punchbowl in the world where hot red wine and rum are brewed inside a ginormous glowing cauldron.

Take a 'journey' around the world at the Sister Cities Market in Rathausplatz where international booths sell handcrafted goods from across the globe. Think French jams, Scottish kilts and wooden angels from Czech Republic. Speaking of angels, one quintessential Christmas décor from Nuremberg is the gold foil angel.
Check out the many gothic churches around the main square such as St. Sebaldus and St. Lorenz.
4. MUNICH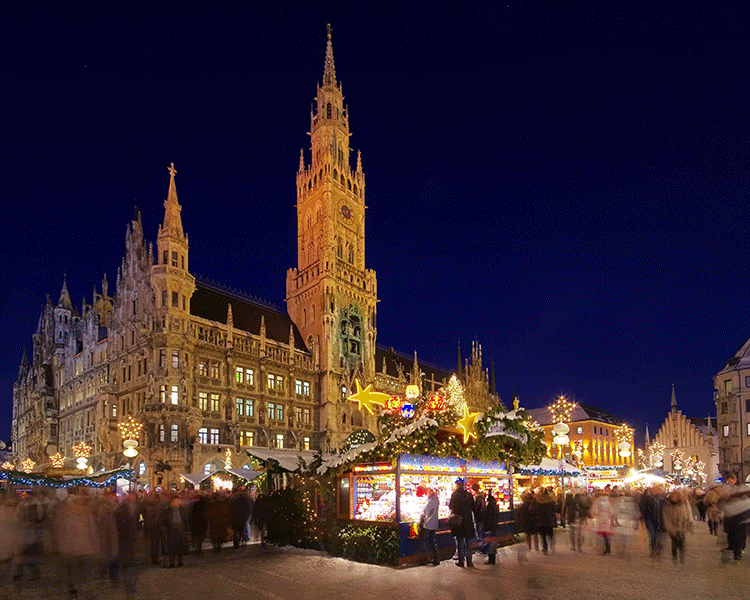 The enchanting atmosphere at the Christmas Market in Marienplatz
Our final stop was in Munich and the atmosphere in Marienplatz—where its main market is held—was magical thanks to a glowing sea of fairy lights that radiated from the stalls while 3,000 lights from its Christmas tree glittered against a romantic neo-gothic town hall background. Everywhere I looked, there seemed to be a nod to the Nativity scene, from large displays outside the famous underground Ratskeller restaurant (which by the way, has the best pork platter and enormous portions) to the booths selling traditional and ancient crafts ranging from manger lanterns to figurines of the Three Wise Men.
Location: around Marienplatz
Opening hours: 10am — 9pm (Mon-Sat); 10am — 8pm (Sun)
Highlights:
Tollwood Winter Festival. A trip to this "market of ideas" is mandatory (psst, it closes late at 11.30pm). Outside, you'll find dozens of stands selling food (lots of crepes and even ice cream) and hot drinks; if you're feeling chilly, head inside one of the many themed tents that range from international food halls and live music to theatre performances (most of which are free) and shopping bazaars selling organic and fair trade goods.
Medieval Christmas Market. We were transported back to the Middle Ages at the Wittlesbacherplatz square and really, everyone was in character

—

merchants wore historic costumes, dancers performed in Renaissance outfits and blacksmiths demonstrated medieval crafts (which you can buy). Meanwhile, visitors took shelter under wooden huts as they sipped on mulled wine served in chalices. Food options include suckling pig sandwiches, grilled sausages on beechwood fire, smoked fish and more.
Hofbräuhaus beers and XL-sized pretzels. If you like your beer dark and your pretzel the size of your face, come to this brewery owned by the Bavarian state government

—

it has all that plus an energetic vibe thanks to the pounding oompah band that comes on every half an hour.
Other things to do in Munich:
Visit the Nymbenburg palace

—

it's the summer residence of former Bavarian kings and the setting is simply breathtaking. A serene lake coupled with some geese, ducks and swans make for a peaceful paradise and IG-worthy snap.
Ever heard of river surfing in winter? In this season, the current of the Eisbach River gushing into the canals of the English Garden is so strong that locals actually surf the ice-cold waves while a crowd standing on the banks looks on.
Car enthusiasts, put the BMW Welt and Museum on your bucket list. This giant showroom is your playground to see, touch and sit in any model of your liking. There's even a designated area for the handover of new cars to buyers.
Bonus: Luxury shopping at Ingolstadt Village
Only a 45-minute train ride away from Munich and Nuremberg, this is a shopper's paradise that houses over 110 designer labels in boutique-like spaces with offers up to 60% off. Lucky us, we got there right smack in the middle of Black Friday weekend (read: additional store-wide discounts) and left with a heavier check-in luggage but #noregrets.
Location: Otto-Hahn-Str. 1, 85055 Ingolstadt, Bavaria, Germany
Opening hours: 10am — 8pm
PS: watch a summary of my trip on IGTV here.
Next year, most of Germany's Christmas markets will resume from 25 November to 23 December 2020. For more info, visit the official tourism websites of Frankfurt, Cologne, Nuremberg and Munich.