If you've been looking for a break but can't break away from work for too long, why not take a short weekend retreat within Malaysia (or there are a few public holidays coming up)? Even better, celebrate the upcoming holiday season away from KL! What's more, these gorgeous resorts won't require you to exchange comfort for nature.
1. Tiarasa Escapes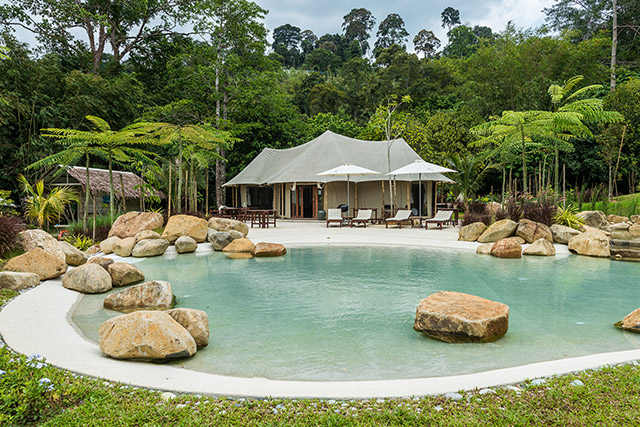 Aptly describing themselves as a place for glamping at its finest, Tiarasa Escapes, and its 20 luxurious safari-style tents and five dreamy treehouses, is absolutely surreal. Surrounded by the beauty that is the Janda Baik rainforest, there's much to do at the resort: jungle trekking, soaking in the natural stream, picnics by the river, movies under the moonlight and so on. Kids are more than welcomed too as there are programs specially catered to them.
Fun fact: Tiarasa Escapes is a project by Tiara Jacquelina.
Address: Jalan Enderong, Sum Sum Ulu, Kampung Janda Baik, Pahang
Telephone: 012 887 7777
Email: [email protected]
Rates start from: RM990 per night
Website | Facebook | Instagram
2. Glamz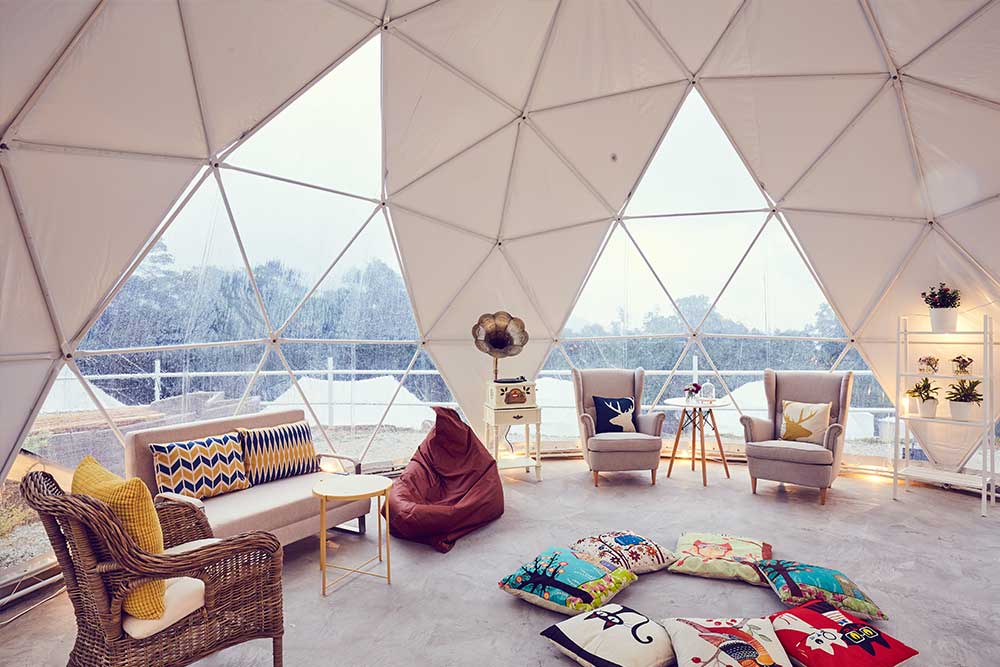 If you were thinking of hosting a garden/outdoor event (say, a wedding?), Glamz might just fit the bill. Featuring dome-shaped tents (one of them even comes with a private jacuzzi) fitted with everyday comforts, the glamping site reminds us of Sydney's bubble tent as it promises an unforgettable experience in the great outdoors beneath a canvas of twinkling stars at night.
Address: 1, Jalan Meranti, 69000 Genting Highlands, Pahang
Telephone: 012 66 45269
Email: [email protected]
Rates start from: RM250 per night
Website | Facebook | Instagram
3. Glass House at 325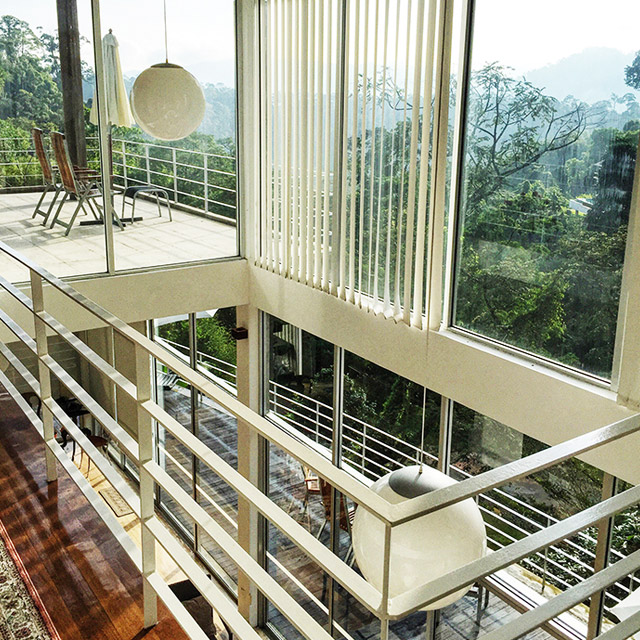 There's always room for more glass boxes in Malaysia. Located 2,000 feet above sea level on a slope, Glass House at 325 is a hidden gem nestled amongst the tall trees for the ultimate privacy. With an open-plan design, touches of reflective "honey-beige' marble, polished birch and Merbau wood flooring, the place is picture perfect. There are on-site caretakers as well to attend to your every need. Air-conditioning included.
Address: Jalan Tanarimba, Sumsum Kampung, Janda Baik
Rates start from: RM1,250 per night
Website | Facebook | Instagram
4. The Shorea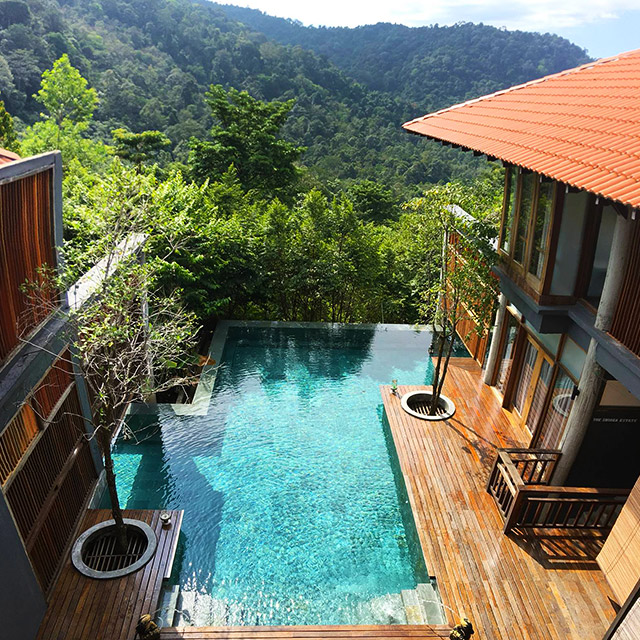 Built in the heart of the Berembun Forest Reserve and on natural terrains, The Shorea is an architectural beauty as it's mostly constructed from recycled shorea—it's a genus of rainforest trees—timber. There are paths leading to a jungle stream and even a waterfall but if you're not feeling adventurous, the resort has gorgeous pools set against an equally gorgeous backdrop of the forest.
Address: Kampung Kolam Air, Mukim Pantai, Jalan Jelebu, Negeri Sembilan
Telephone: 017 300 5600 (WhatsApp)
Email: [email protected]
Rates start from: RM500 per night
Website | Facebook | Instagram
5. The Dusun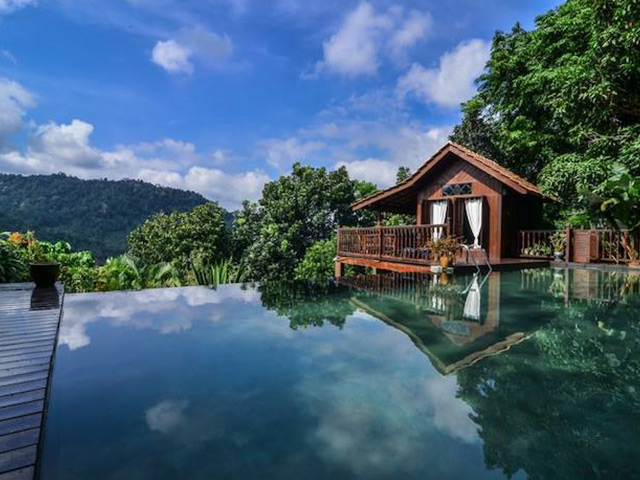 Situated in the same forest reserve is a small eco-resort on a durian orchard. Sitting 800 feet above sea level with the cool breeze from the Titiwangsa Main Range, you will probably feel pure bliss from the fresh air, scenic views of the hills, and the peace and quiet (except for the cheerful songs from the birds, which are usually welcomed by guests). Enjoy both privacy and quality time as The Dusun has five fully equipped bungalows and eco-friendly activities which includes jungle-trekking to the waterfalls, bird-watching and a trip to the orchid farm. Oh, you can also get a massage.
Address: 3437, Kampung Kolam Air, Pantai, Negeri Sembilan
Email: [email protected]
Rates start from: RM400 per night
Website | Facebook | Instagram
6. Japamala Resort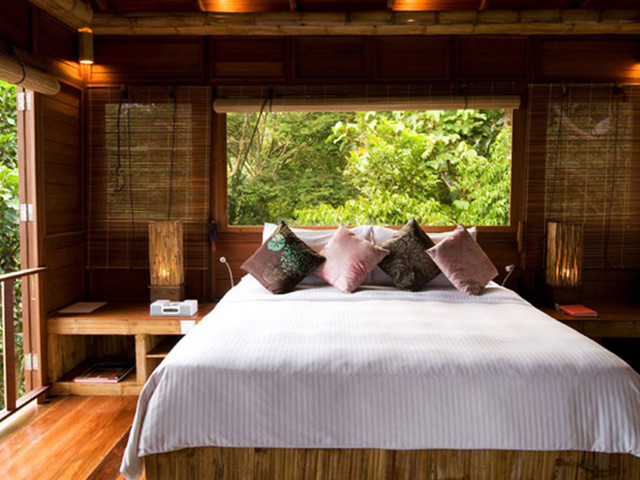 At Japamala, the rooms are called 'Sarang', which means nest. It makes sense considering how their series of wooden houses, hillside sarangs and beachside villas were designed and built around the resort's natural landscape. Many of them come with private plunge pools and wooden sun decks, and are fully air-conditioned and while both the Hillside Sarang and Jungle Luxe Sarang are a treat, it's the Treetop Chalets that will give you a truly different experience.
Address: Tioman island, Pahang
Telephone: 03 2630 8324
Email: [email protected]
Rates start from: RM900 per night
Website | Facebook | Instagram
7. Belum Rainforest Resort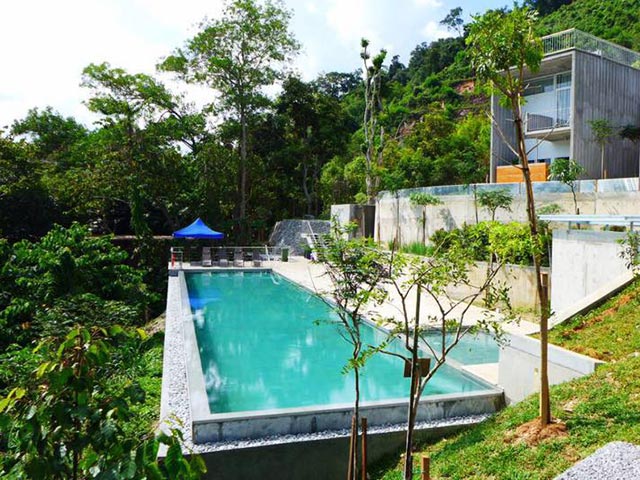 Set in the midst of a tropical paradise on Pulau Banding, the Belum Rainforest Resort is a perfect getaway destination for relaxation, gorgeous surroundings and nature adventures. Besides probable sightings of Malayan tigers, tapirs and Asian elephants, you can also spot the Rafflesia there all year round. Fun fact: The five-star resort is practically at the doorstep of the 130-million-year-old Belum-Temengor Rainforest, which is one of the oldest rainforests in the world.
Address: Pulau Banding, Gerik, Perak
Telephone: 05 791 6800
Rates start from: RM380 per night
Website | Facebook | Instagram
8. The Datai Langkawi
It's not just about the beaches at Malaysia's favourite island getaway. Nestled in the thick rainforest of an isolated area sits the luxurious Datai Langkawi that offers stunning views of both the forest and the Andaman Sea. The details within the resort are impeccable but venture outside your villa or rooms and you'll find lush greenery and rich wildlife.
Take a peek at The Datai Langkawi's brand new look.
Address: Jalan Teluk Datai, 07000 Langkawi
Telephone: 04 950 0500
Email: [email protected]
Rates start from: RM2,720 per night
Website | Facebook | Instagram
More stories like this:
7 Places to go for a romantic getaway in Malaysia
6 Hidden gems in Malaysia worth going on a road trip for
Have you heard of The Estates at Pangkor Laut Resort? It's gorgeous
| | |
| --- | --- |
| SHARE THE STORY | |
| Explore More | |