Life can get quite stressful, no? Regardless of what we do, there is a tendency for things to get a little too tensed. Whether it's work, family, friends, or whatever that gets you overworked, we all need to find ways to dump banish stress. One tried and tested method is to go on vacation or a staycation—whichever helps you relax and unwind best. This month, Team Buro Malaysia lets us in on their favourite cities to reclaim the balance in their lives. #StressNoMore
TERRY SAW, editor-in-chief
One of the things I truly enjoyed and miss the most about living in Randwick, Sydney, was how close I always was to nature—on one end, I had access to the sprawling grounds of Centennial Park and on the other, the vast ocean along the Coogee-Bondi Coastal Walk was only a stone's throw away. Weekend rituals included waking up to the sound of crashing waves and starting the day with a hike from Coogee to Bondi for some fish and chips on the beach for lunch. If you're in town between October and November, mark your calendar for the annual Sculpture by the Sea event, featuring some of the most interesting, quirky and cool art pieces against a stunning Bondi backdrop. For something a little more relaxing, I recommend the family- and pet-friendly Centennial Park (Spring season is when it's prettiest) for its many, many scenic spots to have a picnic with friends or if you just need some me-time, throw a blanket down under the shady trees to enjoy a good book, or watch the day go by with the views of the Sydney skyline reflected in the waters—if there are worse ways to spend the day, this is definitely not it.
RACHEL AU, editor
The thing with holidays is that I'm always conflicted—do I pick a place I really want to explore or a place where I can unwind? The problem is that wherever I travel to, I have a nagging need to check out the best places to eat, tourist attractions, museums and the list goes on. I also love exploring a city on foot. Case in point: On the first day of my honeymoon (we landed in Auckland), I walked a total of 18 kilometres (23,850 steps) in one day—my poor, sweet husband. Which is why, the best destination for me to relax or unwind would be home: Kuala Lumpur. Long weekends and public holidays, when most people are flying out of the country, are the best time to stay in the city. I can stay home and experiment in the kitchen, go on a binge-fest on Netflix, or Marie Kondo my house (therapeutic to me, stress for others). I can head out to new (and old) lifestyle hubs for art and coffee (The Linc KL is the next go-to after Zhongshan Building; alternatively have you been to GMBB, a mall featuring art and crafts by local artisans?), go on hikes or visit local parks (KL Forest Eco Park is one of the lesser-known Instagrammable spots in KL) or just cafe-hop with friends! With so much to do (and not do), home is truly where the heart belongs—and where it can rest.  Psst… If you're looking for more ideas to do in KL, read my previous KL guide for 'local' tourists.
GWEN ONG, associate editor
My ideal holiday involves exploring a city to see its architecture and getting to know its people and food. That usually means lots of walking, eating and taking photos—which ultimately translates to no time for rest and relax. I always need a holiday from a holiday after every.single.trip. So when I do need some time away just to unwind, I enjoy taking a road trip to Ipoh or Georgetown, or both if I have the time. The laid-back nature of these two cities with its old world charm just set the mood for a languid afternoon watching the world go by. Ironically, I could walk the narrow streets for hours checking out the prewar buildings and colourful murals without feeling the need to hurry. I guess I rest easy knowing that I can always return to these cities anytime for a break. And of course, happiness can always be found in that much sought-after bowl of tau foo fah or cendol.
JOAN KONG, fashion editor
My idea of a holiday is to explore the hustle and bustle of city life, enjoying the best cuisines and immersing myself in all the hotspots of my destination—the busier, the better! So as you can tell, unwinding has never been part of my vacation to-do list. But the one place where I enjoy living the #slowlife is New Jersey, USA—specifically, my aunt's house in a town called Lakewood. I've paid her a visit a couple of times now (mostly making a pitstop whenever I'm in New York City for fashion week), and I love how chill the town is. My usual itinerary? Have breakfast at IHOP or at a local diner, go shopping at the Jersey Shore Premium Outlets or Walmart at noon, back home for a nice nap, have dinner at a seafood restaurant, and taking a stroll at the boardwalk after. Trust me (who's a non-seafood lover) when I say that the place has some of the best seafoods around.
STEPHANIE BOEY, fashion writer
The most tranquil place I've ever been to was a tiny island called Pulau Kapas, off the coast of Kuala Terengganu. I've seen my fair share of beach holidays, but this untouched island holds a special place in my heart. I've been to the island twice so far and I've discovered it's fairly underrated and though I may not have appreciated it initially, the phone line connection can get a bit wonky. My first time there, a whole string of Snapchat uploads went missing (gone forever!), my only memories are less than 10 photos I snapped on my actual camera app. The good side to that is you can choose to see the bright side of the disconnect and log out completely.
LOH WEI YEEN, beauty editor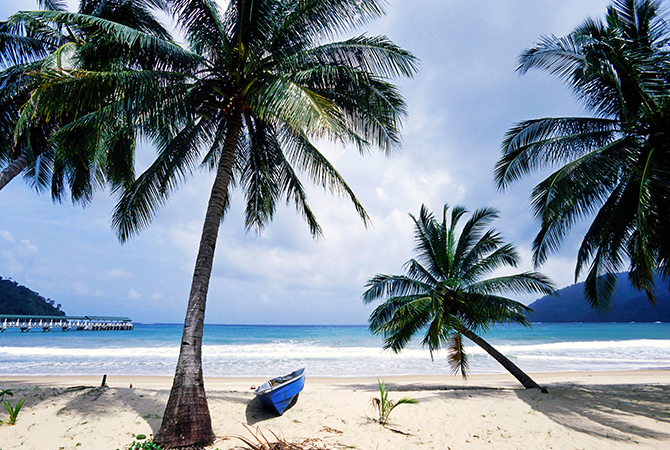 Beach vacations have long been an optional choice on my "where-to-go-to-unwind" list. Wise words from my mother regarding the terrible effects of sun exposure have been imprinted into the recesses of my brain from when I was young—far be it from me to disregard her advice and attempt to tackle the nefarious results of 1) a sunburn, 2) age spots, 3) pigmentation; you get the gist.
That is—until I recently acquired my diving license at Juara, Tioman Island. A five-hour long bus journey and subsequent two-hour ferry ride from the mainland later, here's why I have added beach vacays (specifically, this town) to the aforementioned list: I may have gained an uneven forehead tan (no thanks to diving masks) but not wearing a stitch of makeup on that little village over four days have made me miss how liberating it feels to not worry about walking around sans eyebrows.
I also got a taste of digital detox seeing how I couldn't access 4G speeds on my devices—meaning a brief respite from work (ahem!) and social media throughout the trip. That, coupled with the fact that there is a whole new level of peace underwater whilst exploring the beauty that is marine life – from lion fish to nudibranchs – made my experience completely stress-free. From being disinclined to stepping foot on a beach (in broad daylight) to longing for a revisit in the next six months, let's just say that I'm a convert (and proud of it).
JOANNA PINTO, special projects editor
Ever since I picked up snowboarding in Niseko, Japan in 2017, I've been making it a point to return to the winter wonderland every year (it's been three successful years) for two reasons—to train on the powdery mountains and to unwind in mother nature's most indulgent spa: the onsen! Nothing beats Japan's hot spring experience especially when temperatures outside fall to sub-zero as it's the only time of the year where you can enjoy both snowflakes falling on your shoulders while reaping the benefits of taking a dip in the 40°Celcius onsen (in your very liberating birthday suit sans judgement too). Plus, after a long day on the slopes (we're talking up to five or six hours here), trust me, it's pure bliss for your aching muscles! Chilled beer to enhance the hot-and-cold sensations, optional (but recommended). Safe to say, I've found my ultimate retreat in the form of this annual holiday mantra: sleep, snowboard, onsen, repeat.
RONN TAN, editorial assistant
It took me some time to really decide on my favourite destination. I've been to quite a number of cities and with that, a larger pool to choose from. Definitely a good problem to have though! I began with Monte Carlo, Monaco then proceeded to Valetta, Malta. After that, I thought about how much I enjoyed chilling in Estonia, Tallinn and Ho Chi Minh, Vietnam. Oh no, Reykjavik in Iceland was pretty relaxing too! Dilemma for days. After awhile, I came to a realisation. Stockholm, Sweden has always been my favourite city to visit; has been for the past few years. So yes, Stockholm is my go-to spot if I'm seeking maximum relaxation and just unwind. While I've been to the Swedish capital three times so far, the city never fails to put a smile on my face; locals are always nice and smiley; food (such as meatballs and seafood) are amazing; there is just so many activities you can do to find your zen again. I love walking about in Gamla Stan (Old Town) with cobbled streets and colourful historic buildings as well as the Strandvagen where I can sit by the lake and people-watch. It's even better when you watch the sun set with loved ones by your side. While public transport here is top notch (including sublime art in the subway), I really enjoy taking strolls all over Stockholm, including walking uphill to Monteliusvagen. This is where you get the best view of the beautiful city. Honestly cannot wait for my return to Stockholm!
CALLEIGH YAP, senior web designer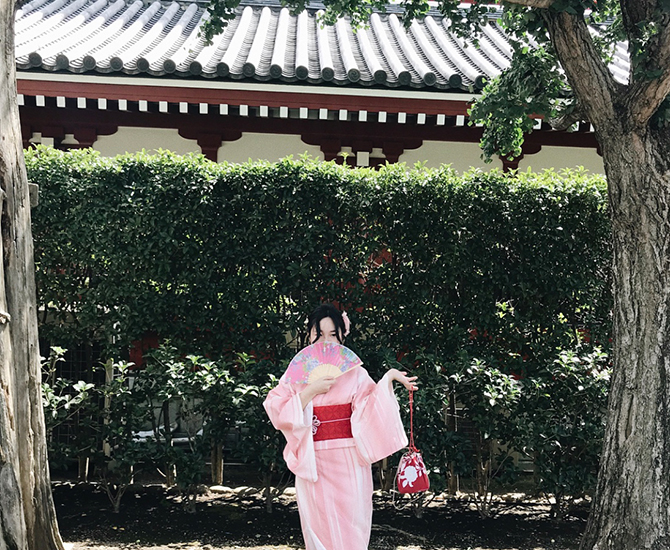 I had the most memorable trip in Tokyo, Japan. It feels like a second home to me despite the language barrier! The warm welcome by the locals, visiting the beautiful public parks, spending hours dog-watching (oh, all the Shiba Inus!) at Fuglen cafe in Shibuya and the art galleries—never fail to make me smile like a kid all over again. Tokyo may seem like a busy city to most people, but it's definitely my favourite city to relax and get inspirations from.
| | |
| --- | --- |
| SHARE THE STORY | |
| Explore More | |