Technology
Why Apple chose these new Apple Watch Faces for the upcoming watchOS 9
Fashion and function
WWDC 2022 revealed a series of upgrades and updates for almost every Apple device and platform, including new hardware such as the second-generation Apple silicon, M2. For Apple Watch fans, watchOS 9 similarly promises an even better experience.
True, the smartwatch has become an indispensable lifestyle companion, taking care of your busy schedules, overseeing your health, coaching you through your health and fitness needs, and more. But the fun element comes from being able to personalise it however you want, whenever you want, with whatever you want.
"The watch face is what other people see on your wrist, first and foremost. It's a personal part of the user and an expression of that person. So, even though it's a product from Apple, we designed it to feel like it's actually a product from you," says Kevin Chen, human interface designer at Apple.
To date, there are over 50 Apple Watch faces available, with a seemingly infinite number of combinations you can do with the complications, colour scheme and photos. It will get even better with the four upcoming Apple Watch faces that will launch with watchOS 9.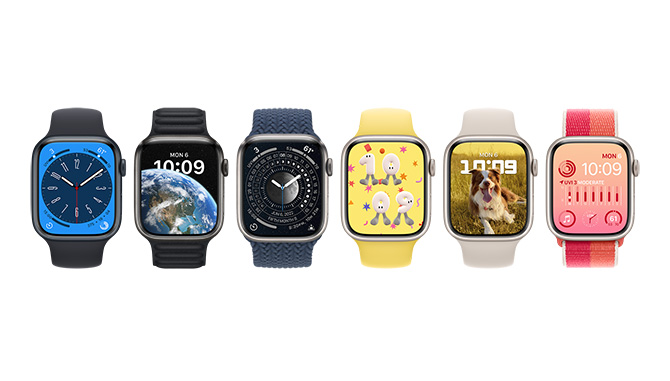 "Our design team cares very deeply about the aesthetics of the watch face as well as the utility elements and how those blend together. Because the watch face is such a key aspect of the Apple Watch—it's what you see most often—they've thoughtfully considered every single detail," Deidre Caldbeck, director of product marketing at Apple, tells us.
"We pride ourselves on making a diverse set of faces that speak to different people and different audiences," Chen adds. Here's a quick rundown of the four new Apple Watch faces for watchOS 9.
METROPOLITAN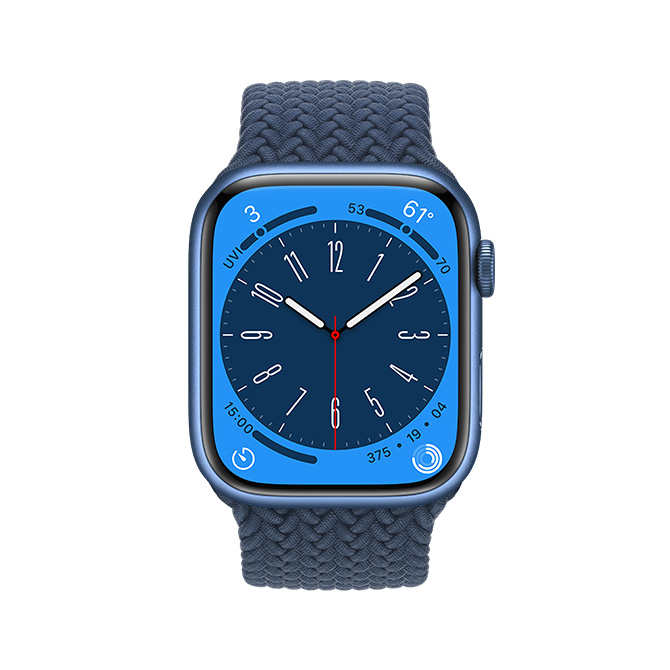 The inspiration: Typography
How it works: Rotate the digital crown to interact with the typography. Watch as the hour markers magically appear and disappear between the active state and the Always On display.
Fun fact: Apple has an in-house font design team. They created 'San Francisco', a font used for Metropolitan as a base.
The making-of: "We wanted to create a super versatile watch face that celebrates the history of typography and watchmaking. Working with the in-house font design team, we created custom tools to manipulate the font through a series of special tricks to dynamically move it between different styles as well as rotate it on a 3D axis. We thought it'd be fun for the user to manipulate the digital crown to play with the type," Chen shares.
ASTRONOMY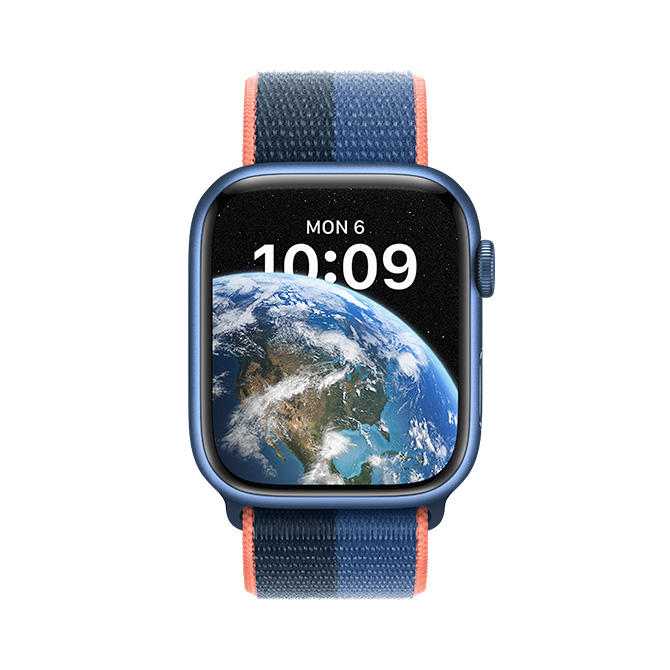 The inspiration: The beginning of timekeeping
How it works: The oceans, land masses, clouds and their shadowing look more photographic and realistic, but beyond being just visually pleasing, the Astronomy watch face correlates with—and simulates—real-time cloud data.
Fun fact: Astronomy was one of the first watch faces to launch with the first Apple Watch. As the Apple Watch has become more powerful over time, Chen tells us that it was an opportunity to remaster the Astronomy phase, giving the Earth and moon more fidelity and detail.
The making-of: The team designed new crops of the Earth, the moon and the solar system to give new perspectives and angles never-before-seen on the Apple Watch.
LUNAR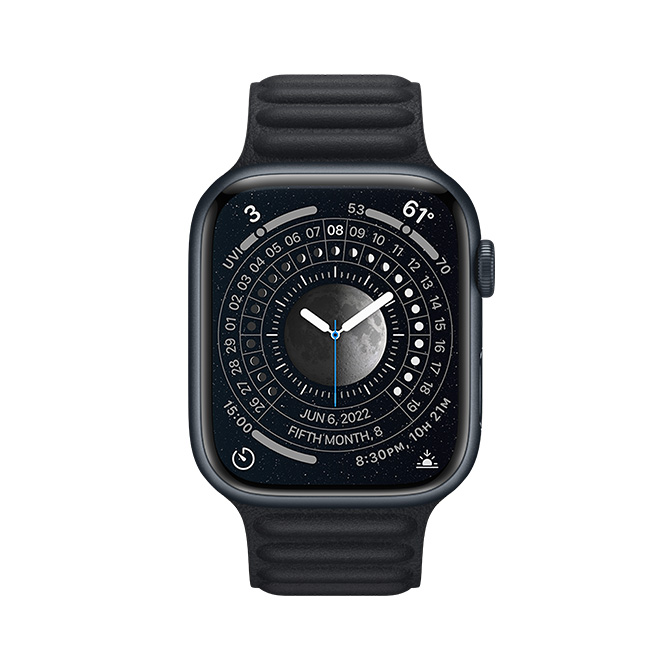 The inspiration: The lunar calendar
How it works: Designed to be a lunar-first experience, the watch face places the current moon phase front and centre, followed by its relationship with the Gregorian calendar shown at the bottom. Users can view and rotate the digital crown to go forward and backwards in time, tracking moon phases to see both the past and future lunar dates while seeing its equivalent in the Gregorian calendar.
Fun fact: Locally, the Lunar watch face will be helpful for tracking Islamic and Chinese holidays. No last-minute Raya prep!
The making-of: "Growing up, my parents would bookmark important holidays like New Moon Lunar New Year and the Moon Festival, and I realised that they were never on the same dates every year. It was until later that I learned we were tracking a lunar calendar versus a Gregorian one. So, the design team saw an opportunity to express how we experience and chart time across different cultures," Chen shares.
PLAYTIME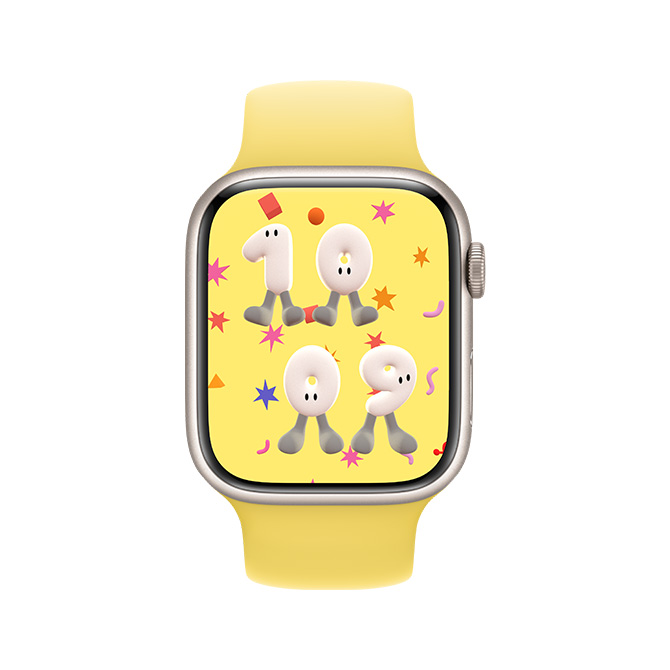 The inspiration: Having an art gallery on your wrist with artist collaborations
How it works: "Joi likes to speak to these characters as a family. So, the smaller numbers like zero, one and two are the kids. Six, seven and eight are the adults," Chen reveals. They'll act and blink accordingly depending on the mix of numbers displayed on the screen and whether it's on Always On mode or active state. For example, under Always On and with the wrist lowered, the characters would go to sleep under the moonlight.
Fun fact: Playtime is only the second artist collaboration for the Apple Watch. The first was with Geoff McFetridge.
The making-of: The design team stumbled upon Joi Fulton's work and was immediately blown away by her art style—character-based designs matched with bright colours. But it wasn't an easy task as it took months of back-and-forth with different sketches and the big question of "how do we make it come alive on the Apple Watch". While it was initially just one of the ideas, it was one that Chen's team really wanted to realise for digital time. The solution came from 3D-printing prototype models and playing with them in the studio under different lighting conditions.
SETTING UP DIFFERENT WATCH FACES ACCORDING TO THE FOCUS MODE
One of the other exciting updates to come with watchOS 9 is the freedom to program your choice of Apple Watch faces with individual focus modes. Currently, your phone's focus mode would automatically sync with the Apple Watch, but that's primarily determining the kind of notifications you allow or disallow. But with Apple Watch, there are specific watch faces you want for different occasions or time of the day.
Caldbeck explains, "It was a perfectly natural extension, and it will be super simple to set up. When you go to create a Focus, you will have the ability to choose a watch face. And so you can imagine—if you are in your Exercise or Fitness Focus, you may want the Activity Rings watch face. Or maybe you're in your Mindfulness Focus mode and may want the Mindfulness watch face. Or you may want to customise it completely. It's one of my favourite features!"
And if you're worried about battery life, rest assured that all watch faces are optimised for that 18-hour battery life that Apple Watch promises. Of course, you can always push it further by disabling the Always On display.
Which new Apple Watch face are you most excited about? To learn more about watchOS 9, check out the preview page on the Apple website.
| | |
| --- | --- |
| SHARE THE STORY | |
| Explore More | |