Technology
Review: iPhone 14, iPhone 14 Plus, iPhone 14 Pro—which model should you buy?
Big, bigger, and beyond
Featured images: Keith Chong for BURO Malaysia / All other images: Writer's own (unless otherwise stated)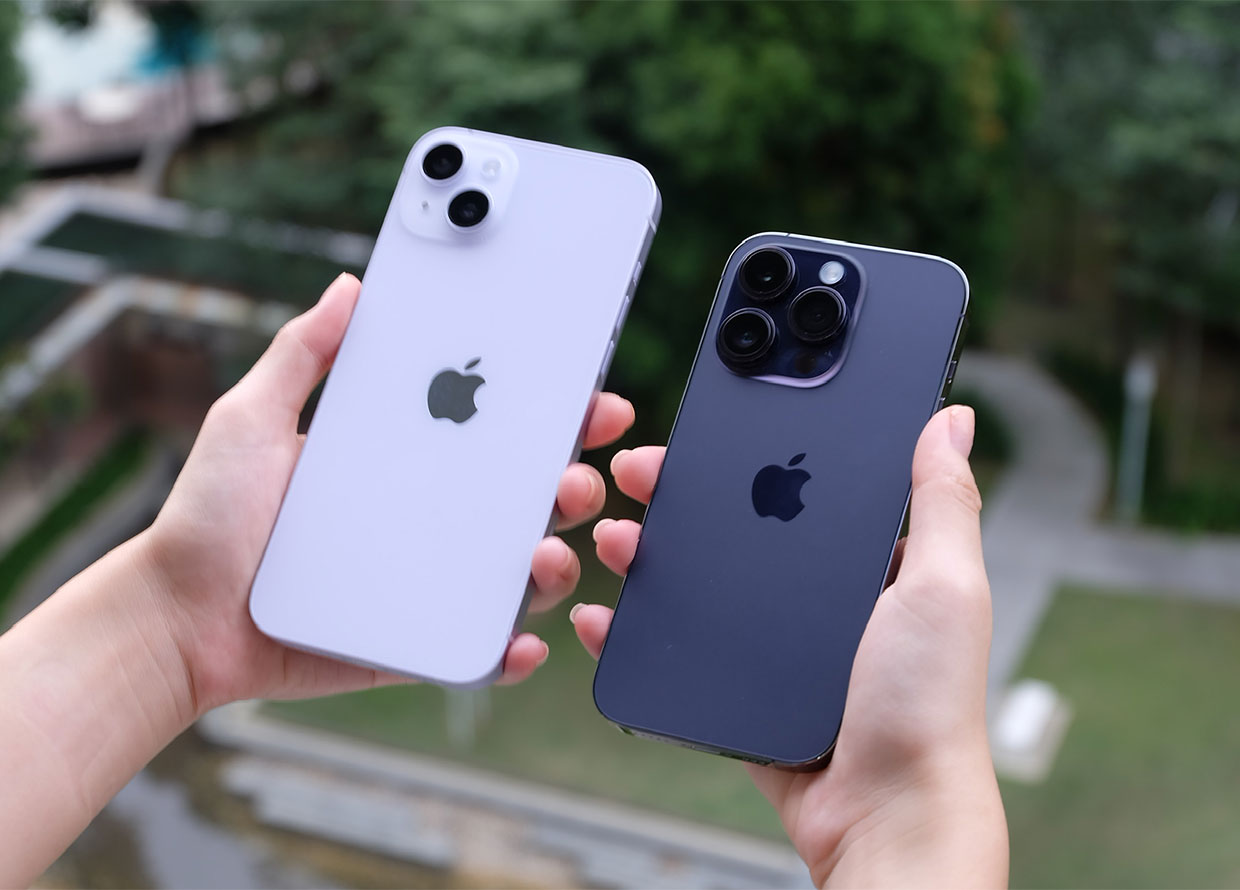 Right on cue, Apple announced the iPhone 14 lineup at the Apple Far Out event in Cupertino last September, featuring four new models: the iPhone 14, iPhone 14 Plus, iPhone 14 Pro and range-topping iPhone 14 Pro Max. 
You read right—the iPhone 14 Plus is replacing the mini model introduced in the iPhone 12 and iPhone 13 series. You could call it a Plus for fans of bigger phones. The (re)introduction of the bigger base model, which we first saw in the older iPhone 6 series, makes things more interesting if you are deciding whether or not to upgrade your phone. 
For those who are toying with the idea, the next best question is: which model should you buy? Having used three of the four iPhone 14 models—with the exception of the top-of-the-line iPhone 14 Pro Max—for more than a month, allow me to address these questions. Watch my IG Reels below for a quick take or read on for my in-depth review.
View this post on Instagram
View this post on Instagram
(Fun fact: the third-person POVs in the iPhone 14 review were recorded using the iPhone 14 Pro and vice versa!)
DESIGN 
iPhone 14/14 Plus: Aluminium frame, dual camera setup, notch, five colours

iPhone 14 Pro/14 Pro Max: Stainless steel frame, triple camera setup, pill-shaped cutout, four colours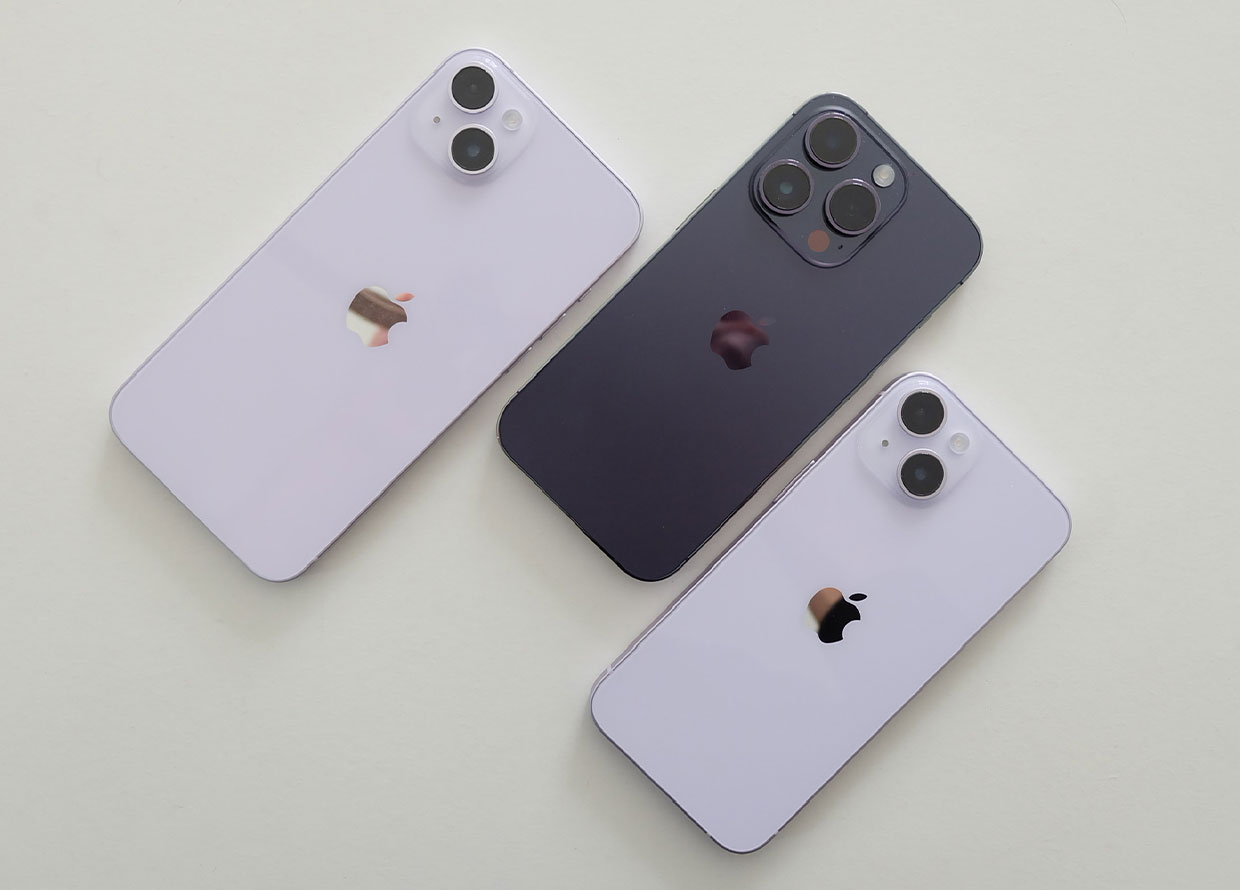 Starting with first impressions, the introductory Apple iPhone 14 models look identical in design to the iPhone 13 models. The iPhone 14 Plus is essentially a larger version of the iPhone 14, but they both feature the same aluminium frame, flat edges, dual camera setup, and a notch on the display. They arrive in five colours: Midnight, Starlight, Blue, Purple, and (Product) Red. 
Similarly, the iPhone 14 Pro isn't strikingly different from the iPhone 13 Pro. It also trades aluminium for a more premium stainless steel frame, which makes the phone significantly heavier than the standard models. However, you'll notice the differences upon closer inspection. Firstly, the triple camera lenses are larger than before. Then there's the pill-shaped cutout on the screen—or what Apple calls Dynamic Island—but we'll talk more about this below. Further, the Pro models come in four fresh colourways: Space Black, Gold, Deep Purple (the hero colour), and Silver. 
DISPLAY
iPhone 14: 6.1-inch, Super Retina XDR OLED, 2532 x 1170, 460 ppi, 1200 nits

iPhone 14 Plus: 6.7-inch, Super Retina XDR OLED, 2778 x 1284, 458 ppi, 1200 nits

iPhone 14 Pro: 6.1-inch, Super Retina XDR OLED, 2556 x 1179, 460 ppi, 1-120Hz refresh rate, Always On Display, 2000 nits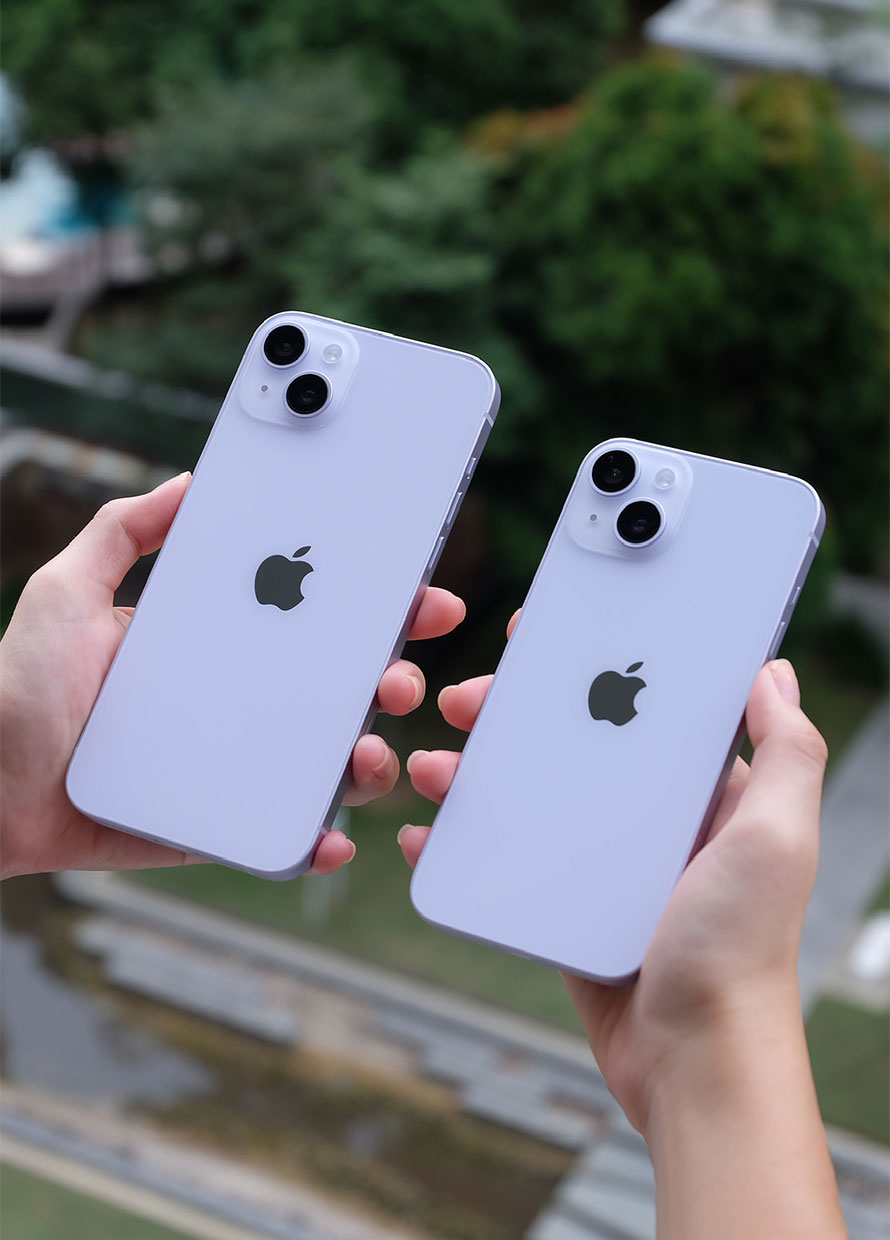 In terms of display size, the iPhone 14 has the same 6.1-inch display as the iPhone 14 Pro. Meanwhile, both the 14 Phone Plus and the iPhone 14 Pro Max feature a 6.7-inch display. One key difference is that the standard models come with 1200 nits of peak brightness compared to the 2000 nits in the Pro models. This means that you'll get better visibility under bright sunlight with the Pro iPhones, especially when shooting HDR content. 
Additionally, the Pro models come with adaptive refresh rate of up to 120Hz, also called ProMotion. Not only will this improve user experience during graphics-heavy tasks such as gaming or streaming videos, but it also helps battery life as it can switch to a lower refresh rate during less active moments, like when you're reading this body of text.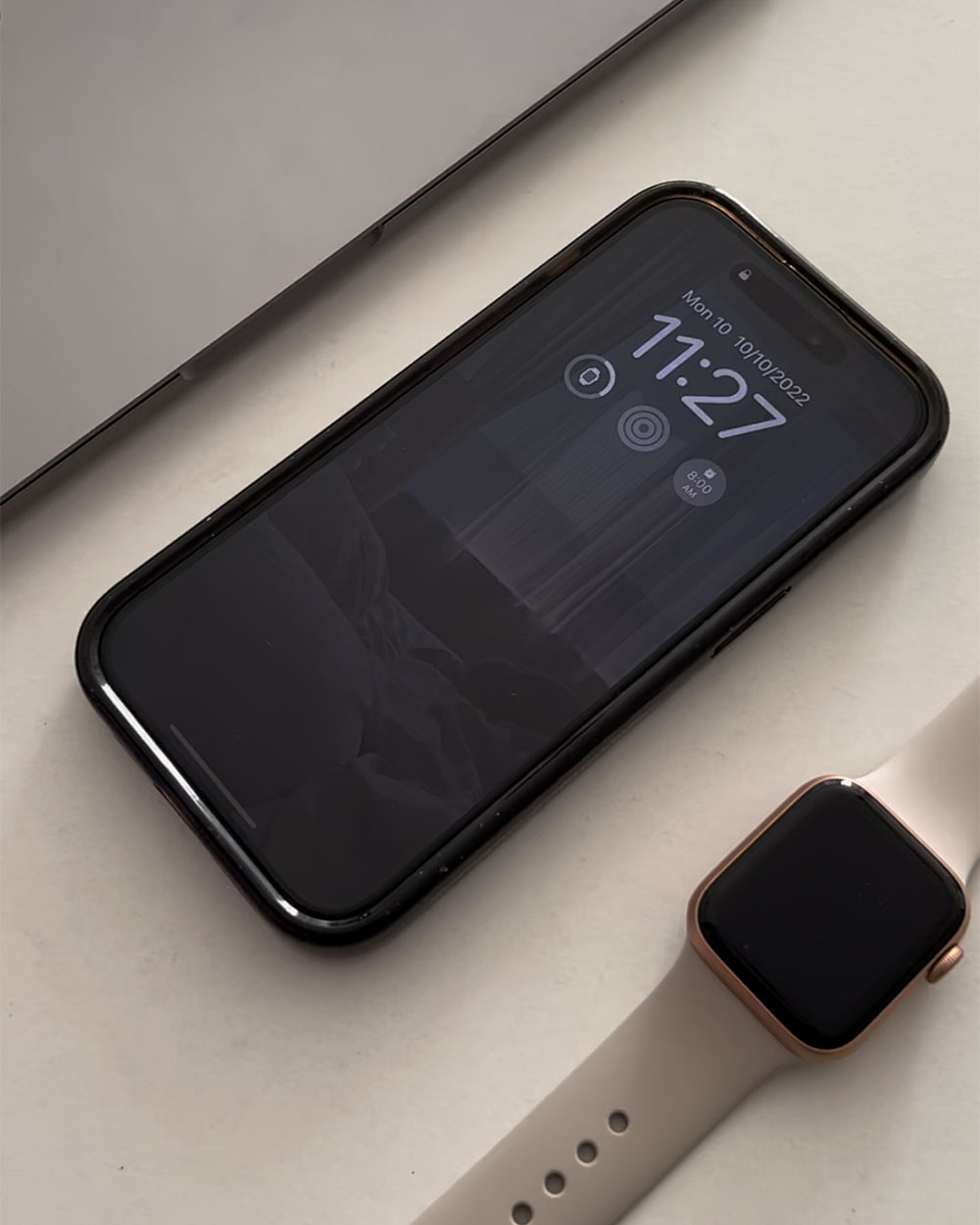 My favourite feature is the all-new Dynamic Island in the iPhone 14 Pro. This pill-shaped cutout changes its size when you receive a call or interact with different apps and functions, such as playing music, starting a countdown timer or screen recording, receiving an AirDrop, and so on. It even changes the colour of the sound waves to match the song or album cover you're playing on Spotify. (I love little details like that.) You can easily tap on the pill to switch to the app, or simply press and hold to bring up a widget for quick controls—great for multitasking! 
Further, the Pro models come with Always On Display, allowing you to check important information like the time without touching the screen. Personally though, I'd prefer to turn this feature off as it can be distracting (or maybe I just couldn't get used to it). 
CAMERAS
iPhone 14/14 Plus: 12MP

Main and 12MP Ultra Wide lens

, Digital zoom up to 5x
iPhone 14 Pro:

48MP Main, 12MP Ultra Wide and 12MP Telephoto lens

, 3x optical zoom, Digital zoom up to 15x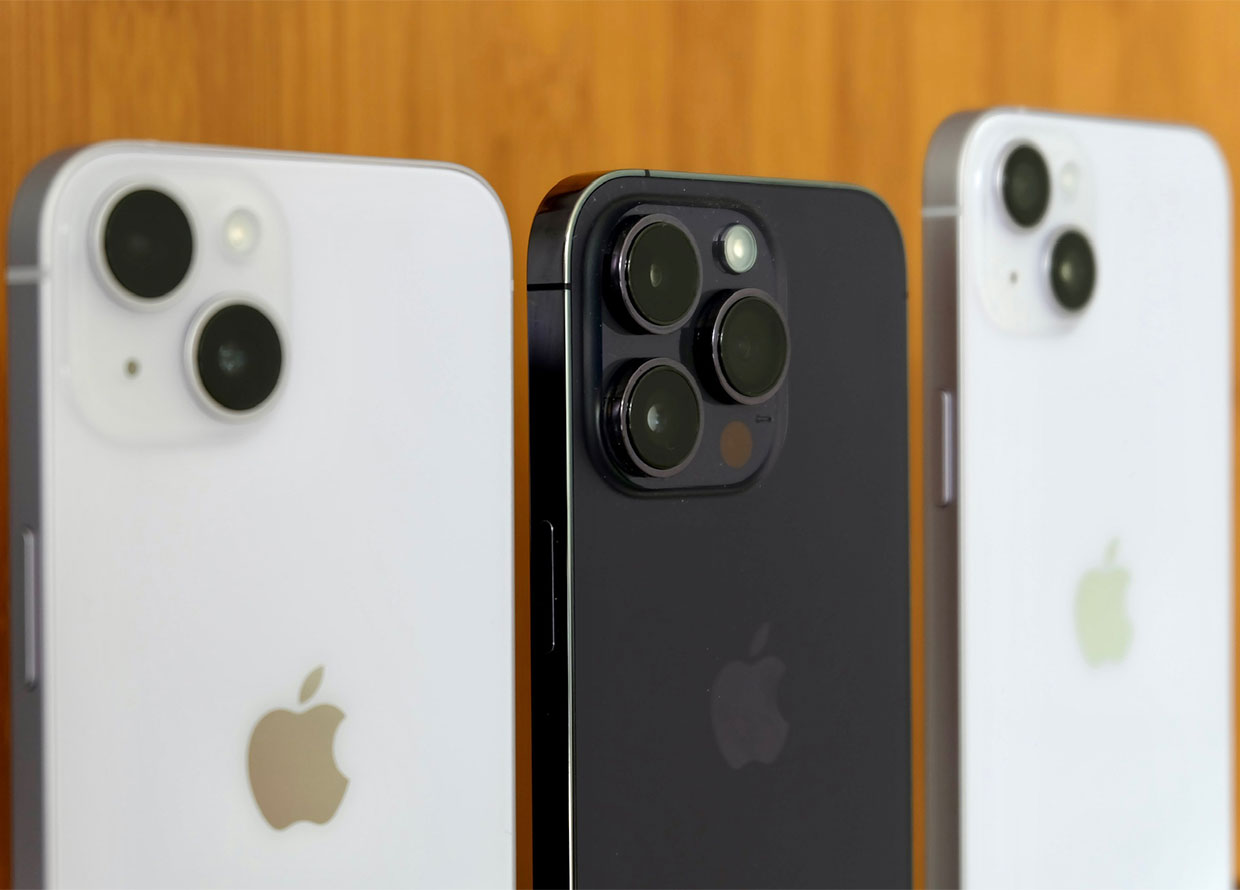 Compared to their predecessors, the iPhone 14 and iPhone 14 Plus are equipped with the same 12MP Main Camera and Ultra Wide Camera, with a slightly wider aperture of f/1.5 instead of f/1.6 for the main camera. Paired with the new Photonic Engine technology available across the iPhone 14 lineup, this translates to better low light performance and brighter photos overall. 
On the other hand, the iPhone 14 Pro models get a big upgrade in the form of a 48MP Main Wide Camera, up from the 12MP in the iPhone 13 Pro models. Thanks to the bigger sensor and telephoto lens, there's an additional 2X Optical Zoom option for clearer zoomed-in shots compared to the digital zoom in the predecessors and the standard models. Altogether, there are now four zoom modes in total: 0.5x, 1x, 2x, and 3x. If you enjoy taking close-up aesthetic shots, then this may be a strong pull factor for you to consider. 
The Pro models also come with ProRaw support, which allows you to capture RAW images for versatile post-capture editing, as well as ProRES for professional quality video and real-time editing performance. Speaking of videography, all iPhone 14 models also feature the new Action Mode for ultra-stable video recording. Watch my IG Reel video reviews above for proof or check out the photo samples below for a comparison between the iPhone 14 and iPhone 14 Pro. 
Main Camera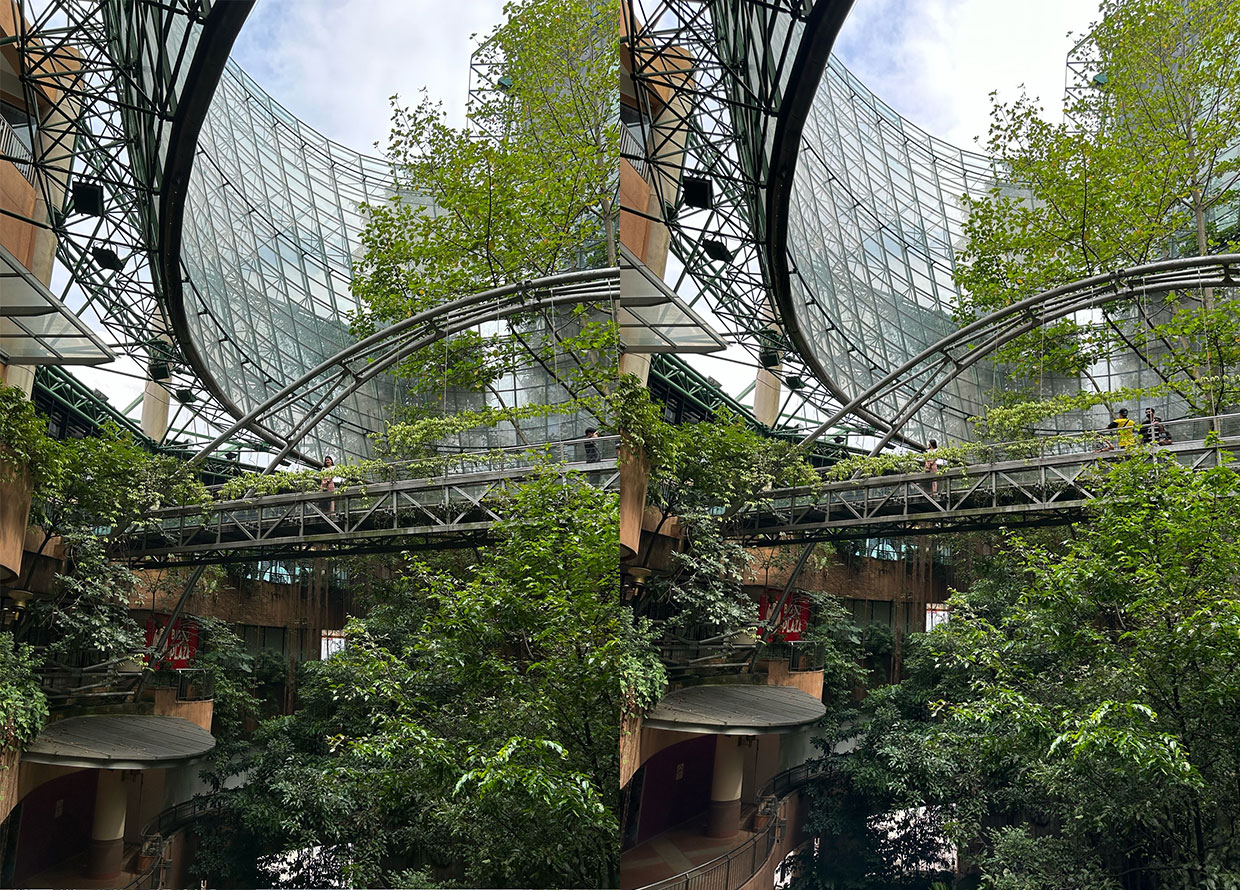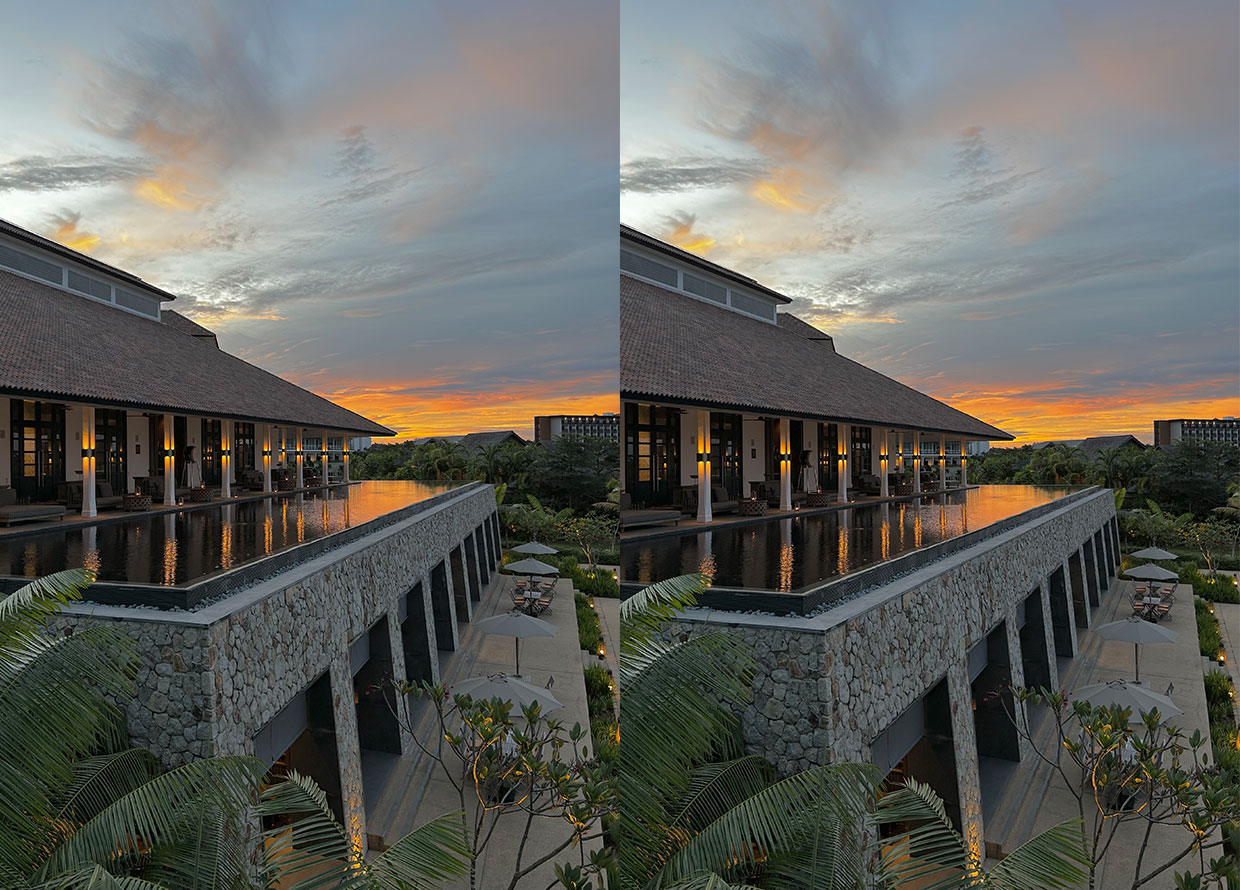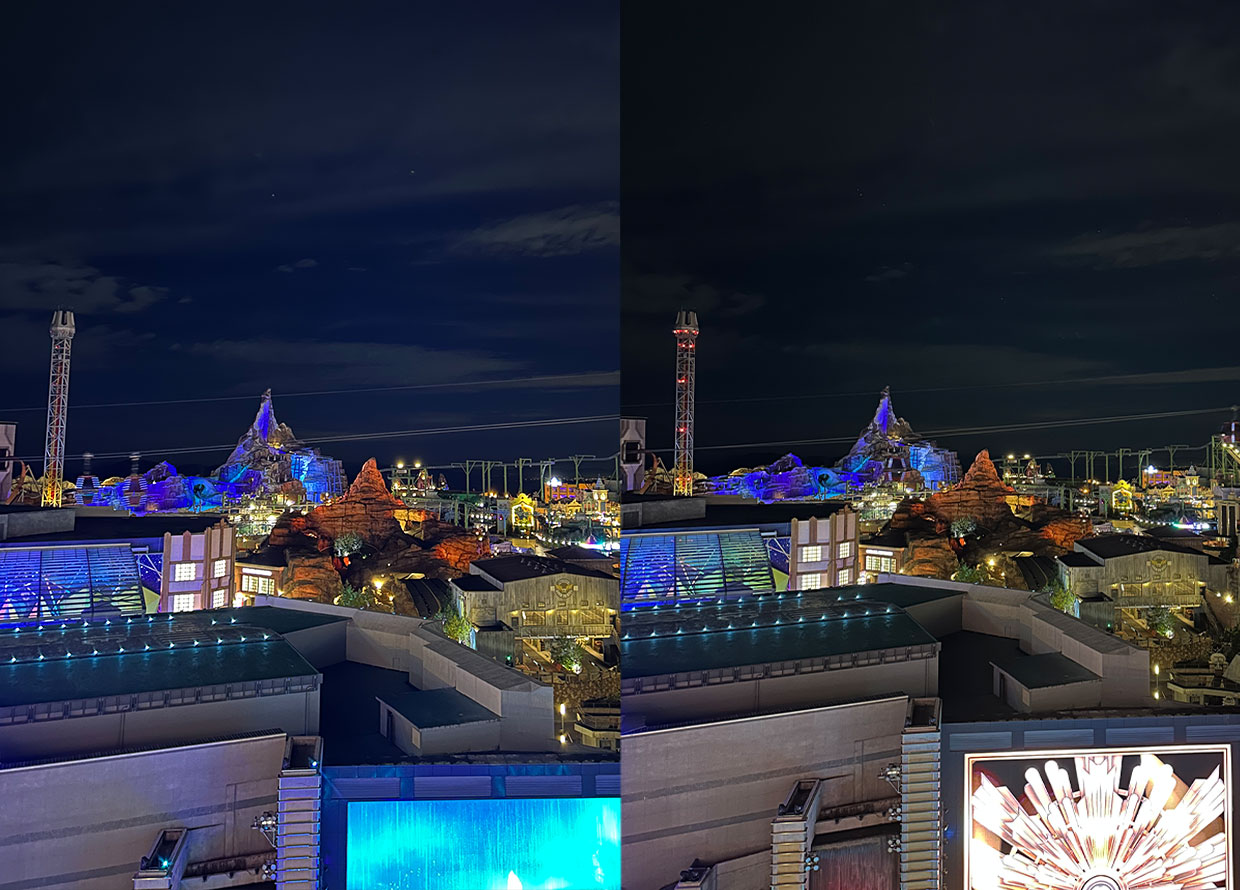 Surprisingly, you can barely tell the difference between the standard and Pro models in the first two samples above, except for clearer details in the dark corners and overall sharpness in the latter. When it comes to Night Mode, however, the iPhone 14 Pro takes more realistic photos whilst the iPhone 14 relies more on software to brighten up the photo.
Portrait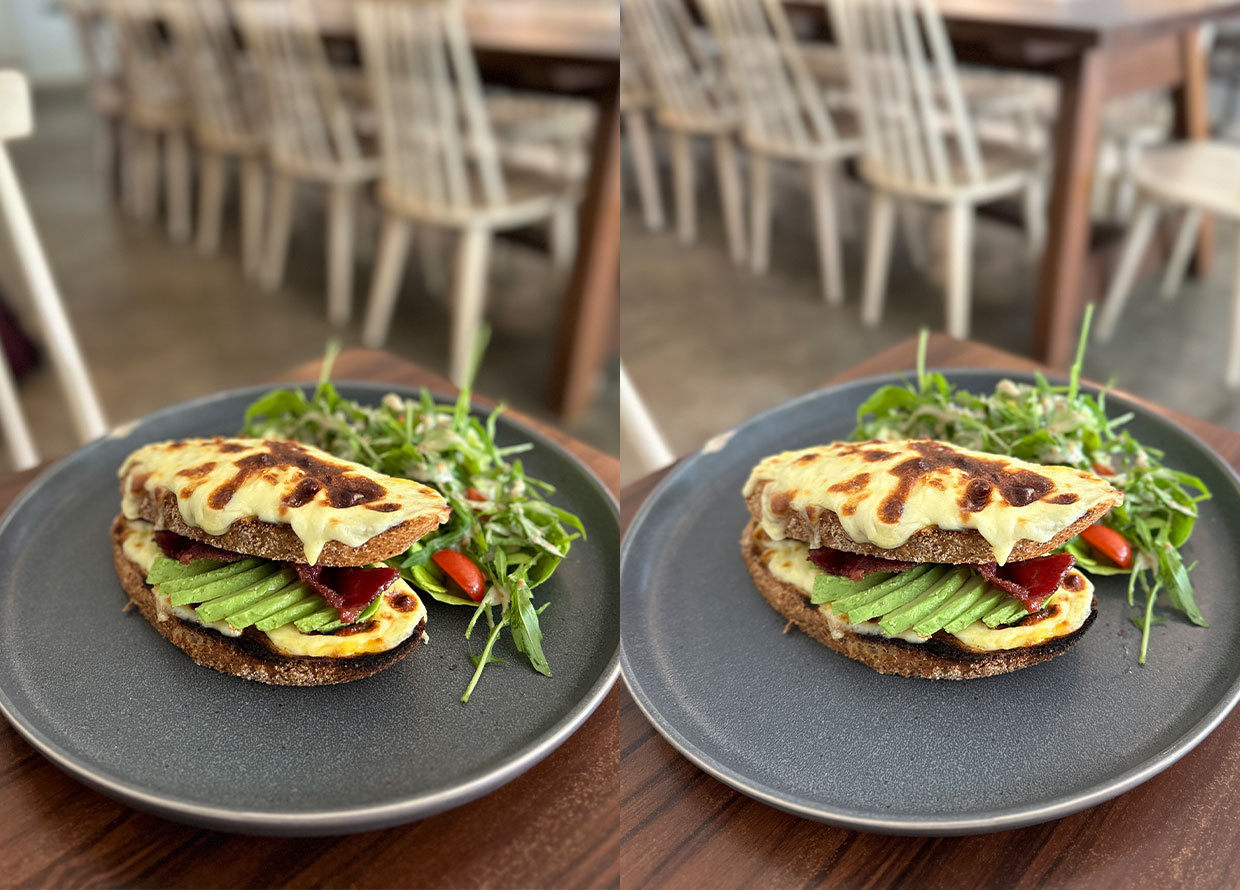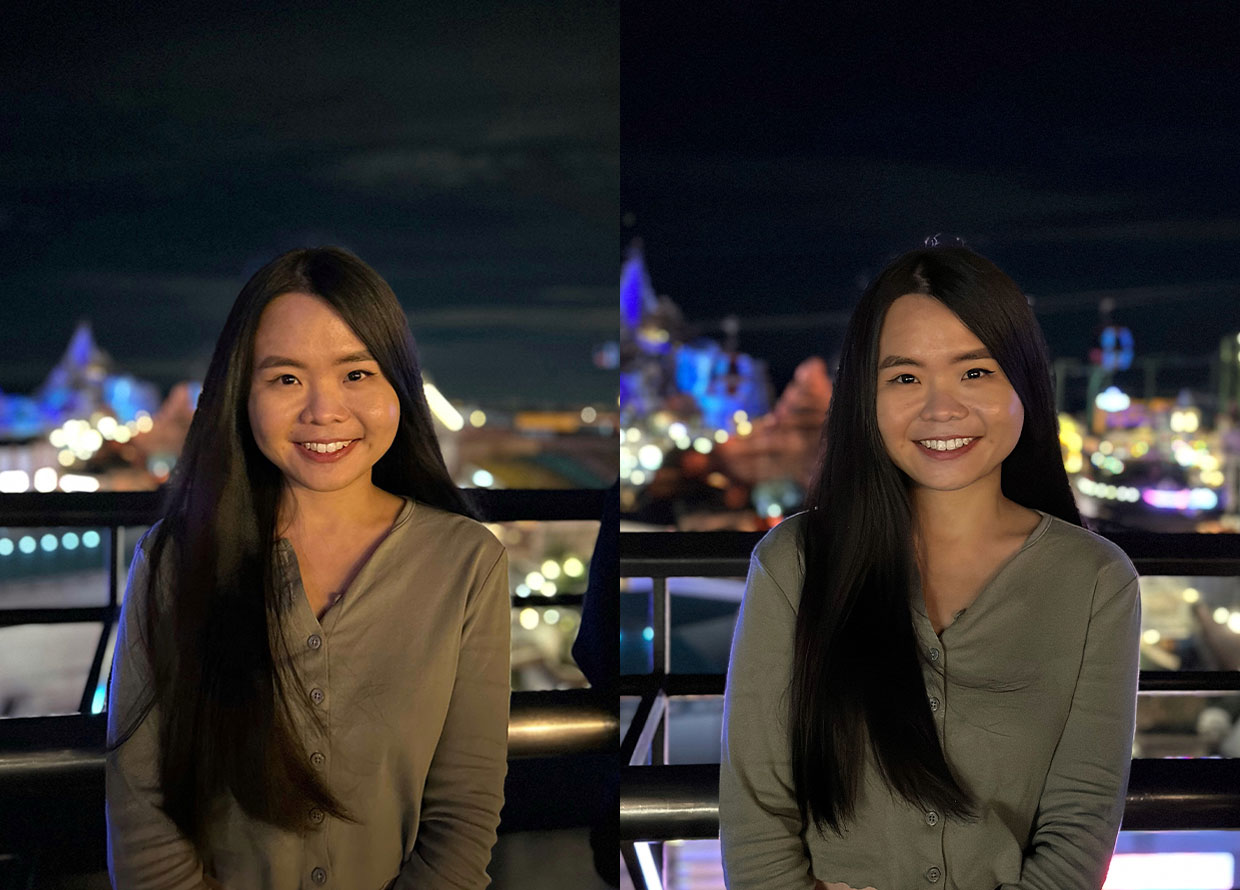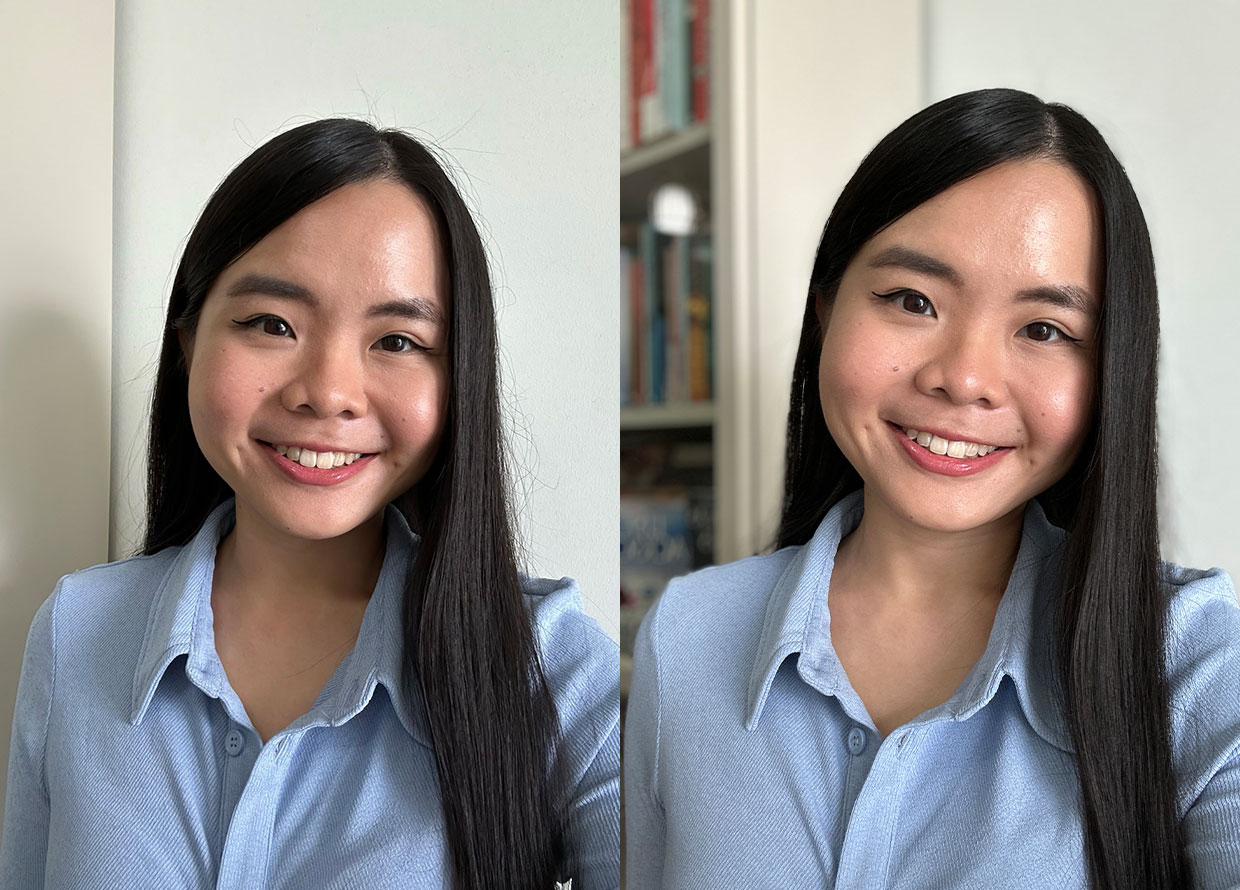 Colours appear warmer and more saturated on the iPhone 14, and truer to life on the iPhone 14 Pro. The latter also has better foreground/background accuracy (notice how the salad stays in the background on the right whereas a portion of it appears in the foreground on the left, although this can be manually tweaked in post-editing) and additional Night Mode Portrait feature for impressive low-light portraits.
Zoom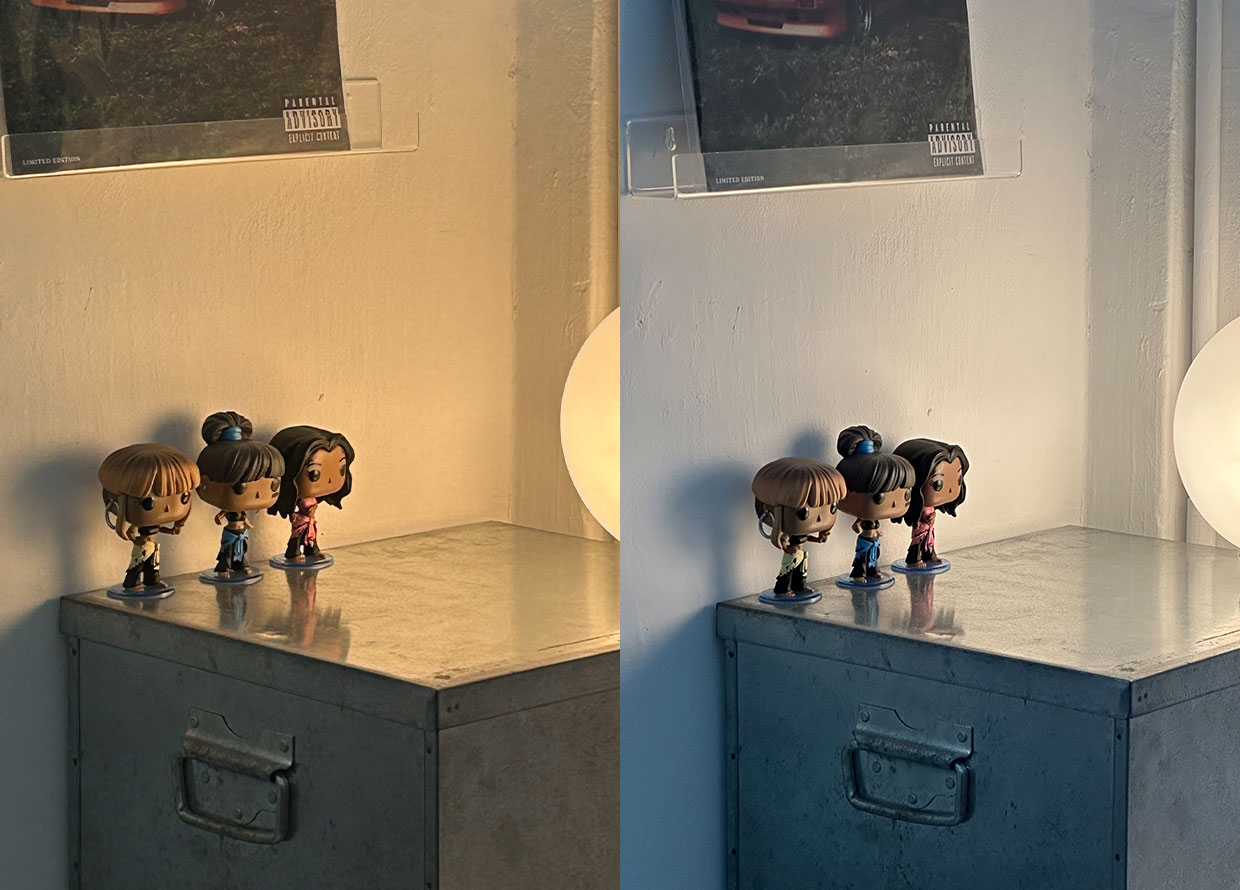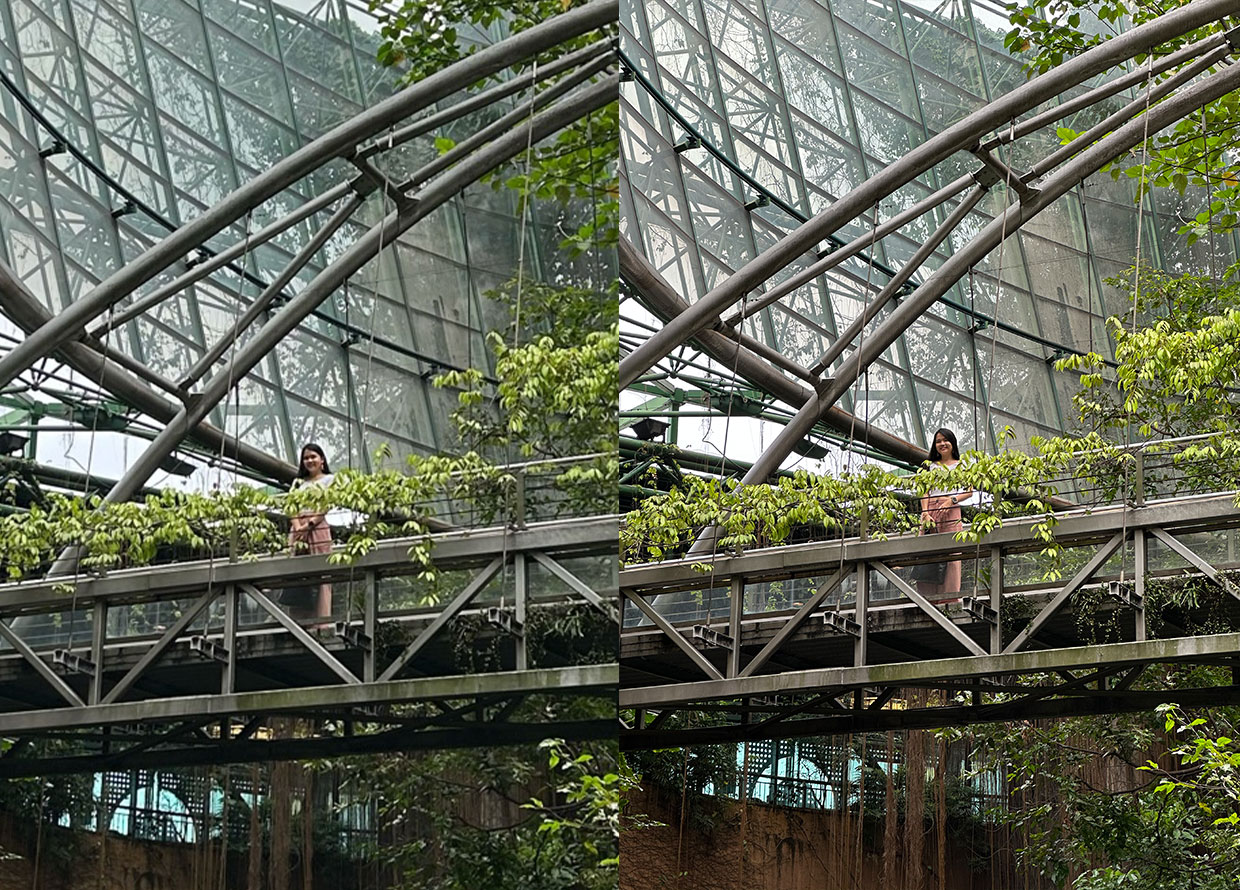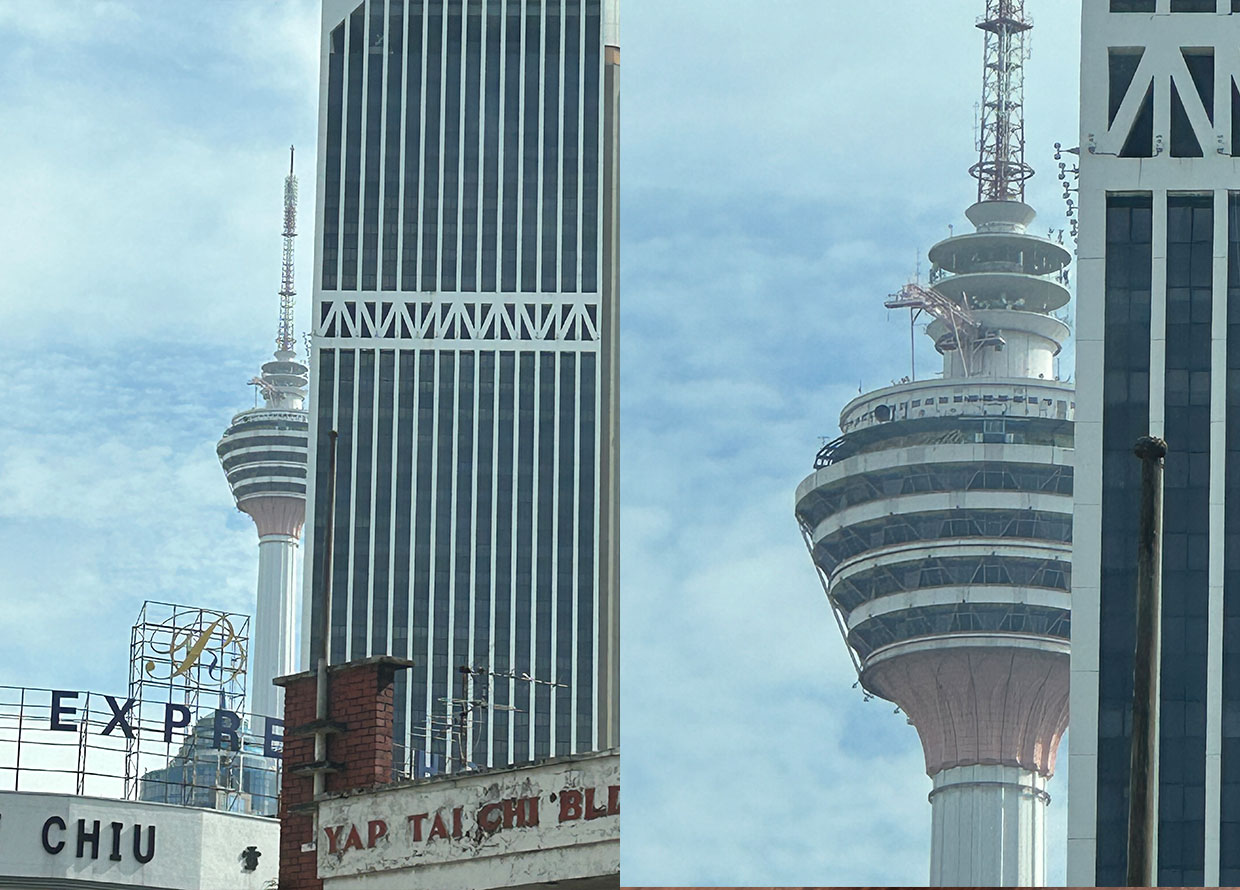 Here's where the differences are more pronounced. For some reason, the white balance is much warmer on the iPhone 14 Plus than the iPhone 14 Pro in the first set of samples (I checked to make sure there was no filter applied), but the reverse is true in the second set. In both cases, the results from the iPhone 14 Pro are truer to life. Aside from that, the Pro model captures sharper details in Zoom Mode and offers a greater range (up to 15x digital zoom) compared to the standard model.
Macro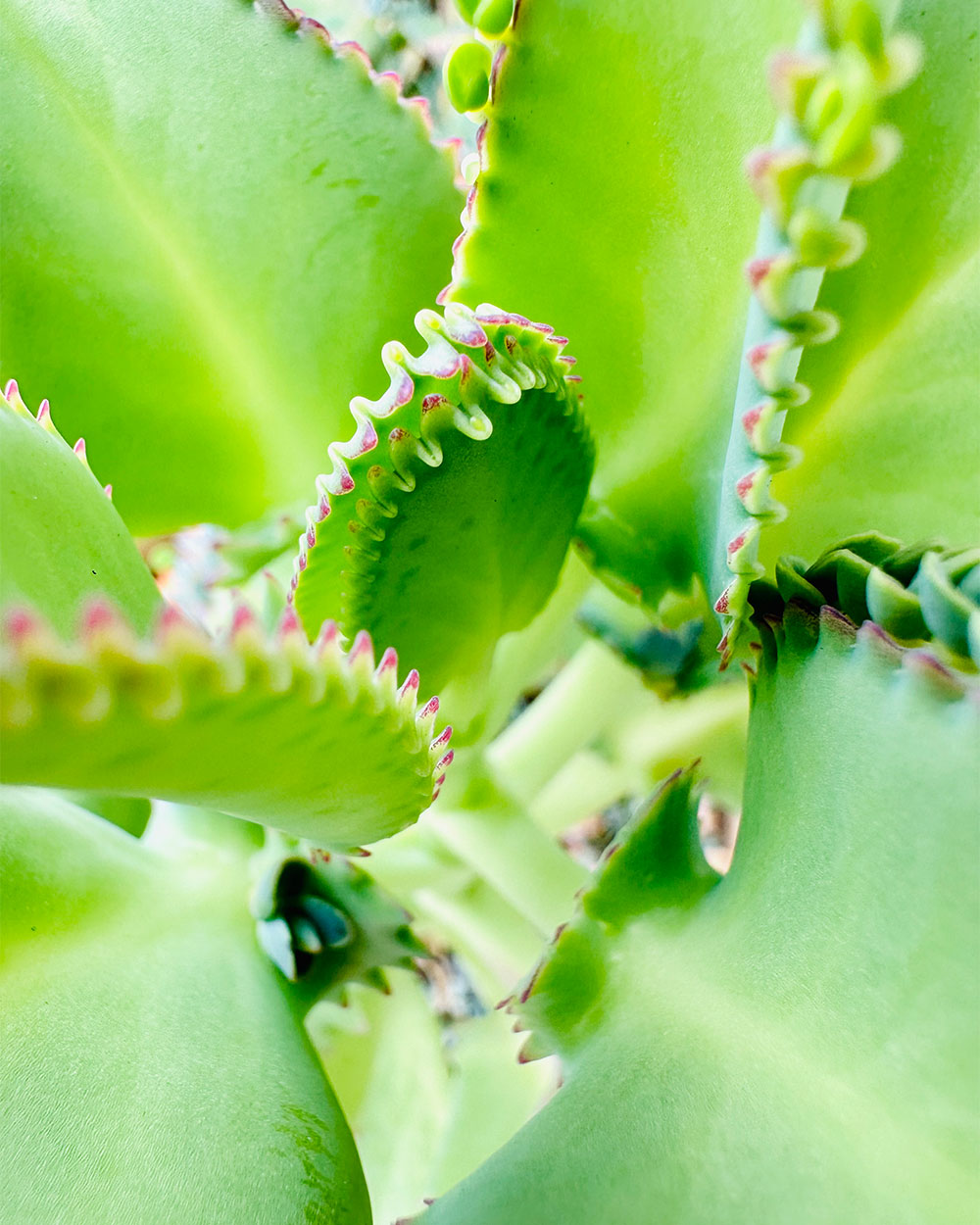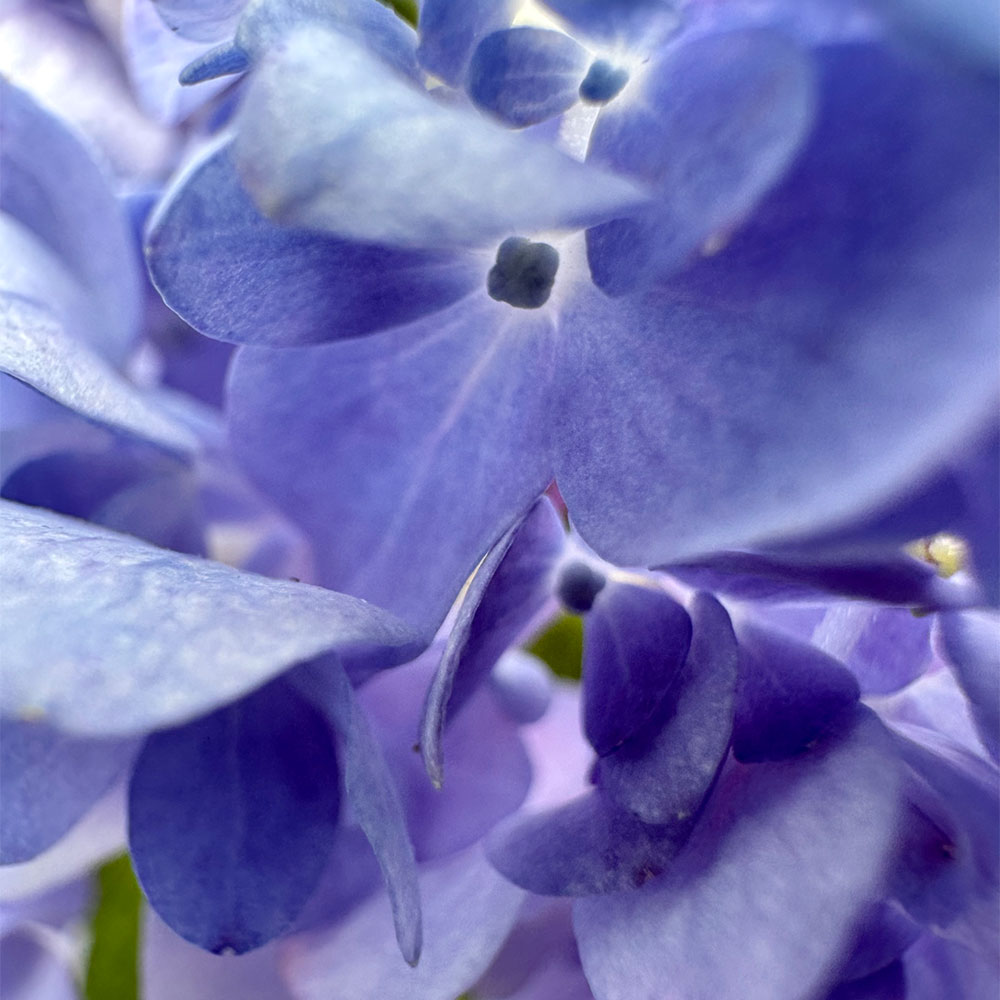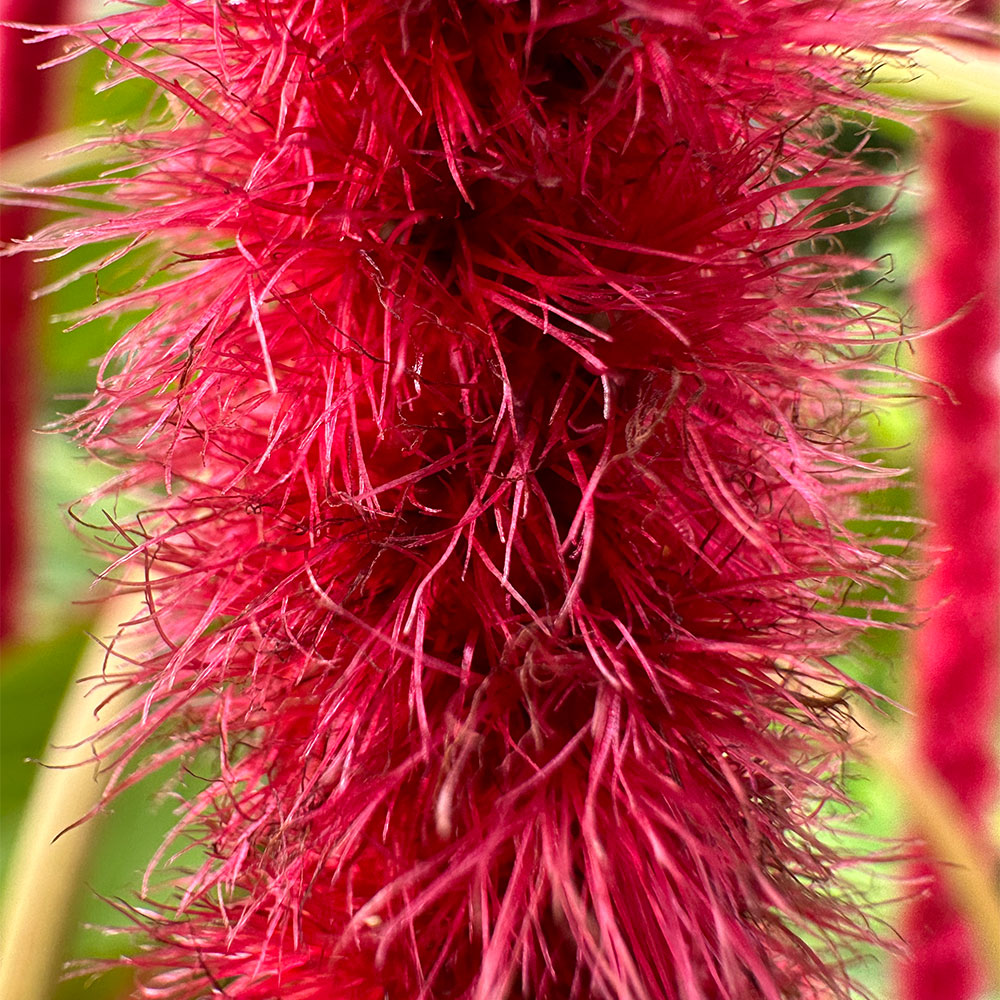 ProRAW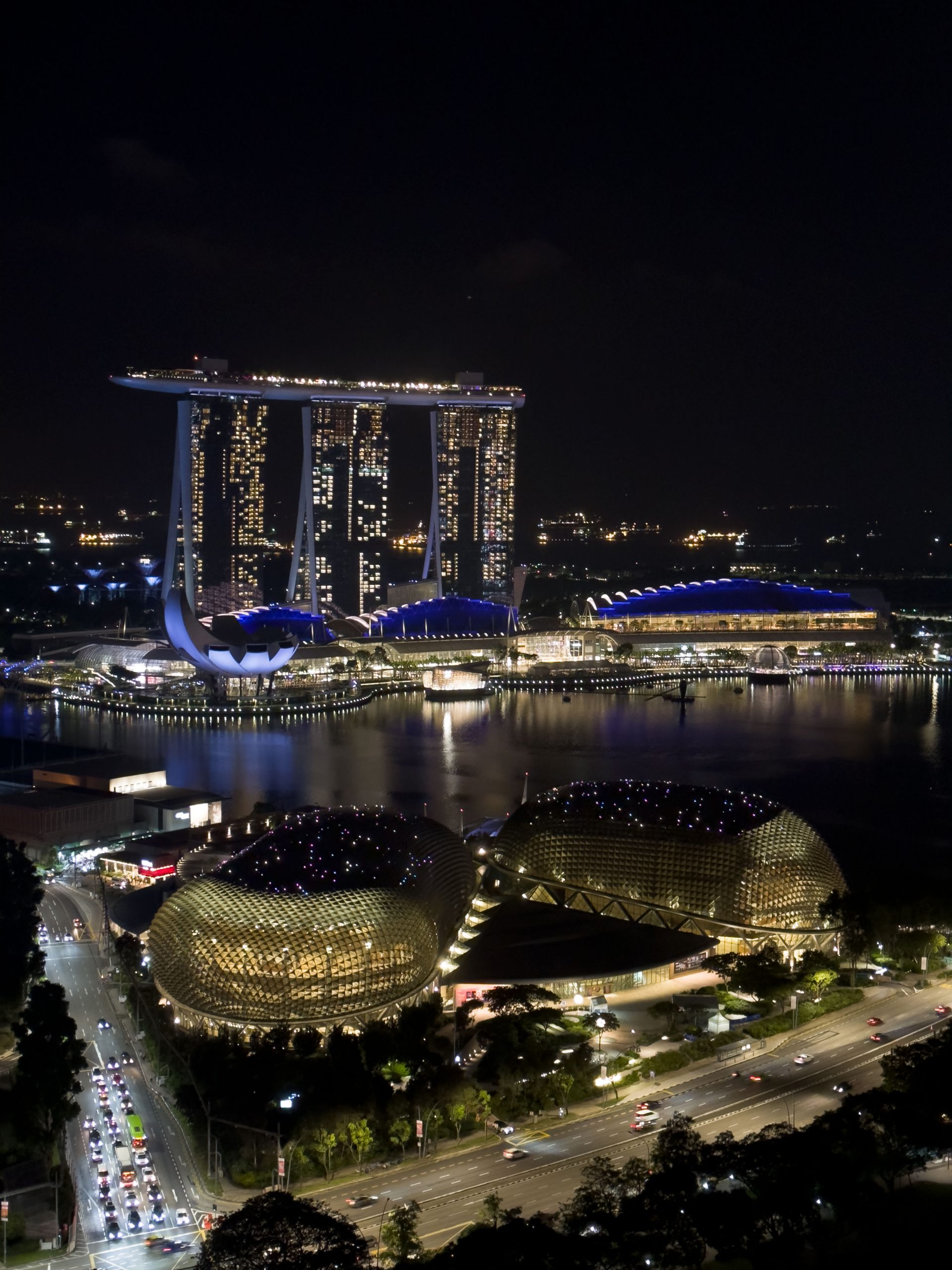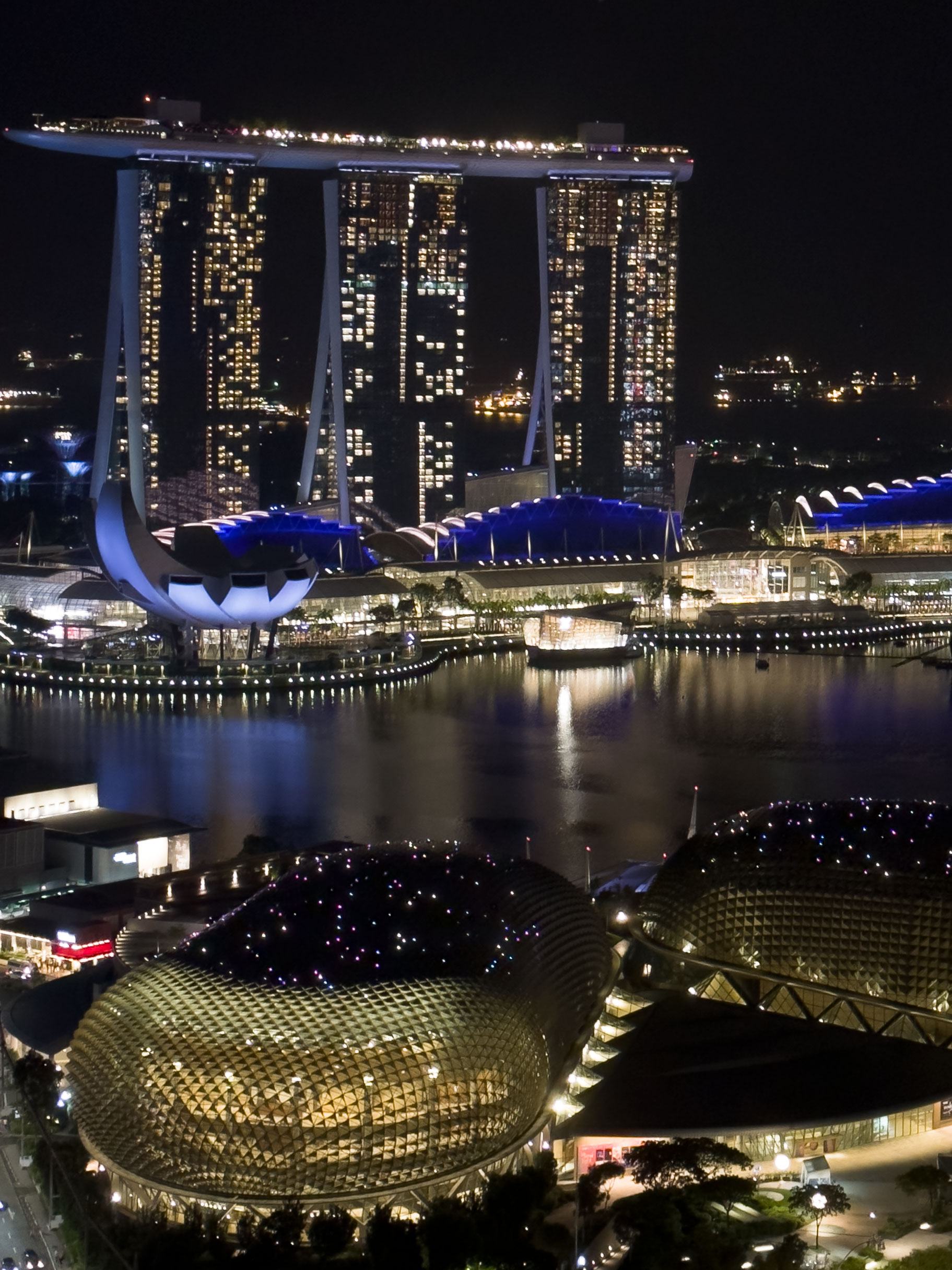 Overall, the iPhone 14 Pro captures more detail in low-light conditions, zoomed-in shots, and Portrait Mode. It also offers a wider range of photography styles with Macro and ProRAW capabilities. Nevertheless, the results you get from the standard iPhone 14 models are still more than satisfactory for the average user or social media maven.
PERFORMANCE
iPhone 14: A15 chip, 128GB/256GB/512GB storage, up to 20 hours of video playback

iPhone 14 Plus: A15 chip, 128GB/256GB/512GB storage, up to 26 hours of video playback

iPhone 14 Pro: A16 chip, 256GB/512GB/1TB storage, up to 23 hours of video playback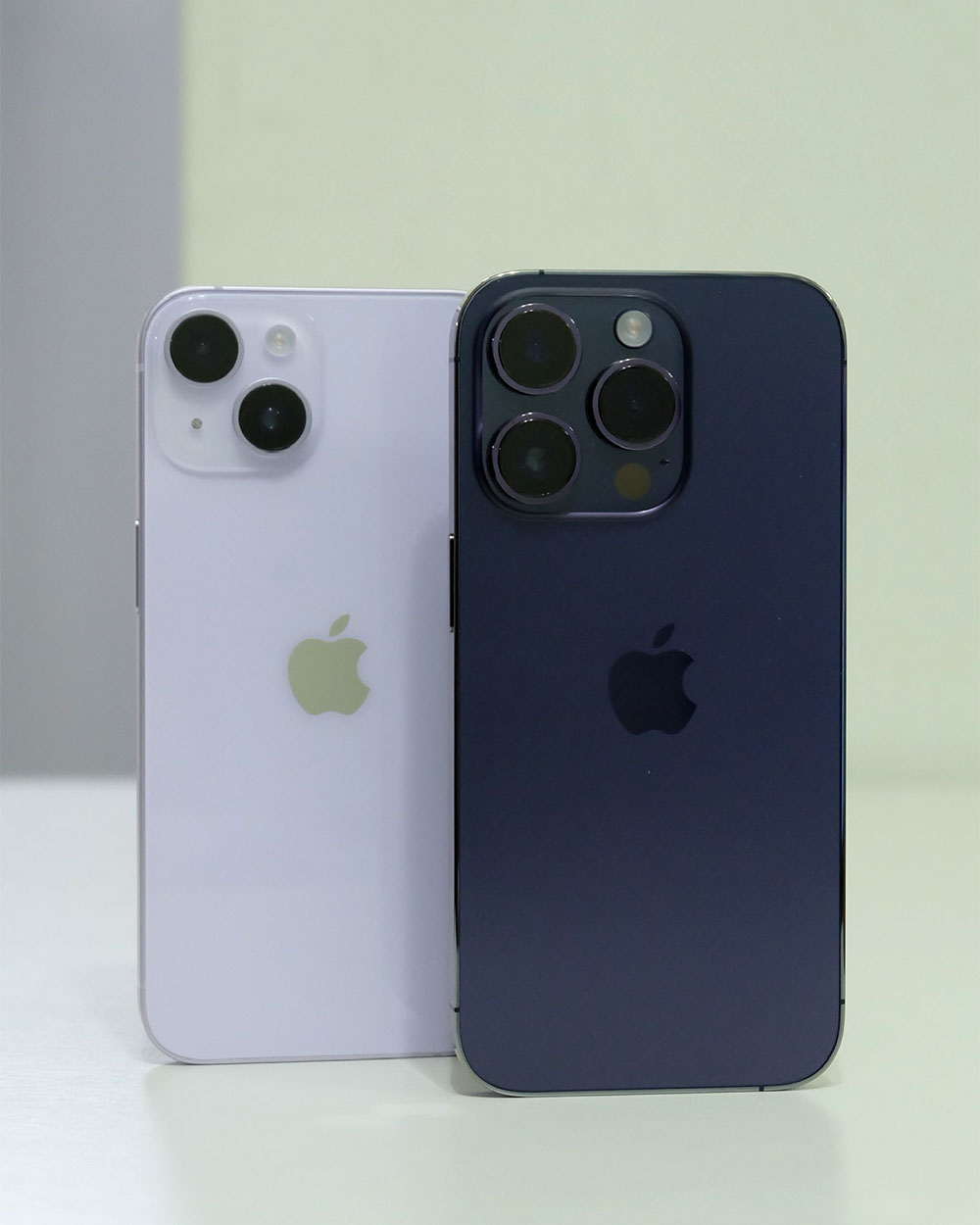 As for performance, the iPhone 14 models boasts better battery life than their predecessors thanks to improved processors. The standard iPhone 14 models actually run on the same chipset (A15 chip) as the iPhone 13 Pro, which offers a boost in graphics performance and battery life. Apple says the iPhone 14 can last up to 20 hours of video playback, whereas the iPhone 14 Plus allows up to 26 hours of video playback. In my experience, they both lasted over a day of moderate usage, including some mobile gaming and video streaming—with slightly more juice left in the larger model. 
Meanwhile, the iPhone 14 Pro models get a new A16 Bionic chip—the first time Apple has used different chips in iPhone models of the same series. Apple claims the iPhone 14 Pro should last up to 23 hours of video playback, while the iPhone 14 Pro Max tops out at 29 hours. I used the iPhone 14 Pro as my daily driver and the battery usually lasts me throughout the day, or almost, on especially busy days with heavy content creation. 
Storage options for the standard models remain unchanged from before, whilst the iPhone 14 Pro models start at 128GB and max out at 1TB. All four models also come equipped with IP68 water and dust resistance.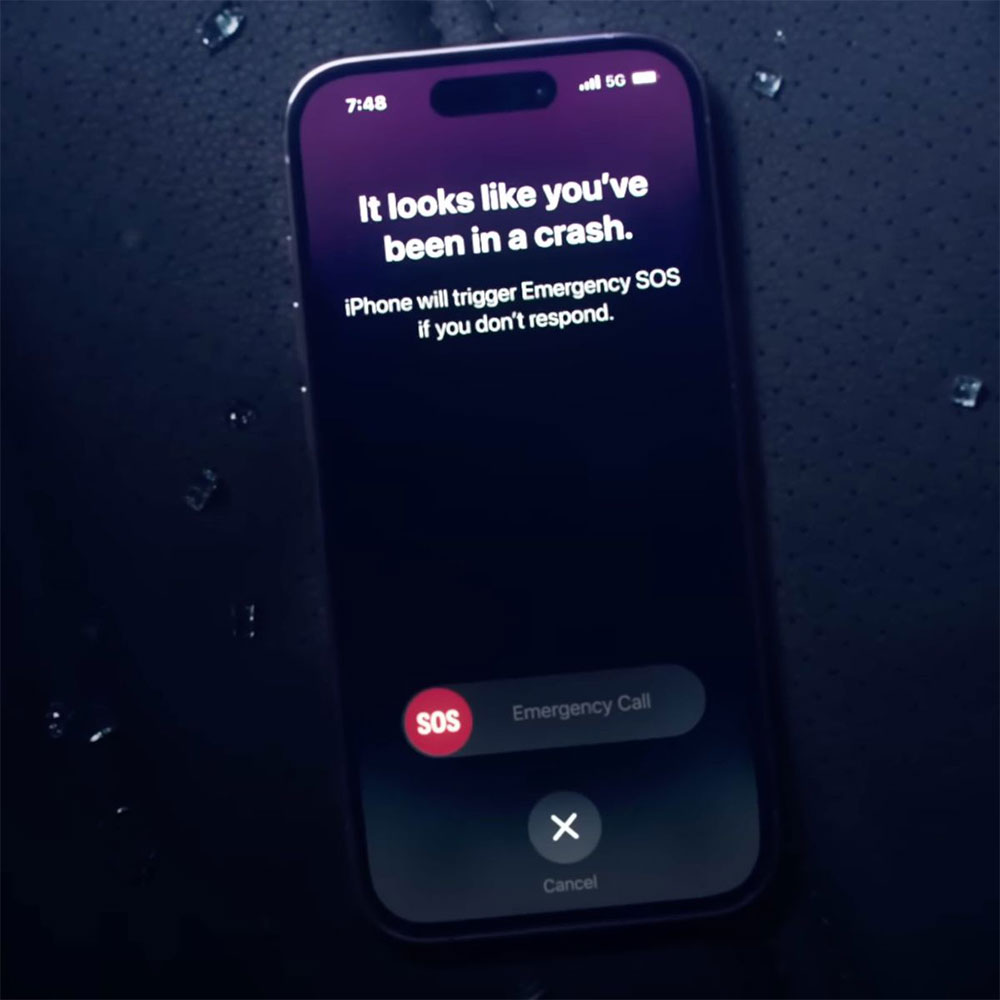 One last thing, the iPhone 14 series now come with a Crash Detection safety feature. It is designed to be triggered in a car crash to automatically call the user's emergency contacts in case they're incapacitated. Fortunately, I've not faced a life-threatening event to test this—but it's good to have that peace of mind.
VERDICT
Overall, the new iPhone 14 Pro models are the devices to look at for impressive display, interactivity, cameras, and performance. Nevertheless, the standard iPhone 14 models still pack great features at a more affordable price point. This brings us to the aforementioned two questions:
Should you upgrade to the iPhone 14 series?
The answer to this depends on what phone you're currently using. If you own an iPhone 13 series model, then you probably won't get enough bang for your buck to consider an upgrade. I'd argue that it's worth waiting another year even if you have the iPhone 12 series; unless you're thinking of going from the standard iPhone 12/12 mini to one of the new Pro models. 
However, for those who are using the iPhone 11 or under (and other non-Apple counterparts), the iPhone 14 series would be a worthwhile upgrade with boosts in performance, display, camera(s), and overall user experience.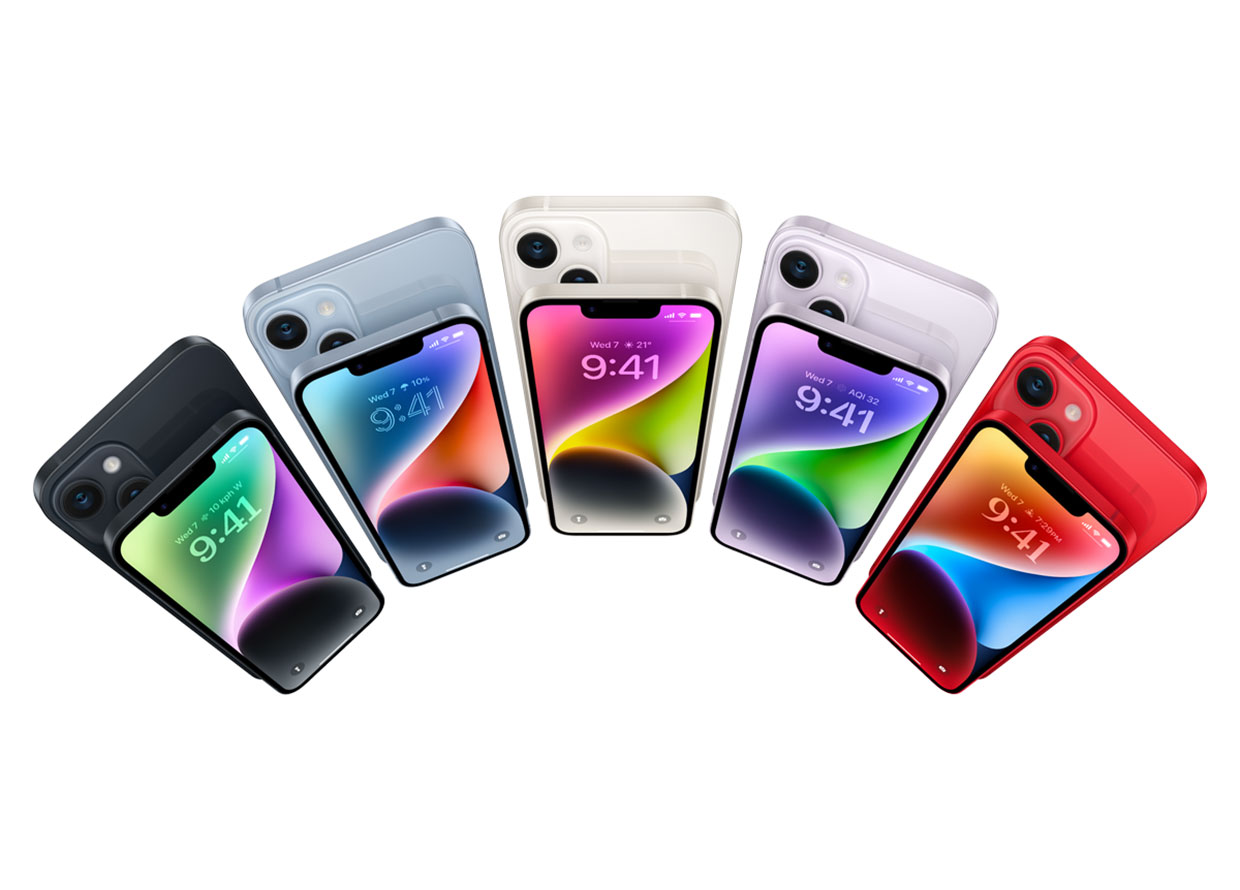 Which iPhone should you buy?
It all boils down to these three questions:
Do you prefer a bigger screen? 
– Yes: iPhone 14 Plus / iPhone 14 Pro Max
– No / Indifferent: iPhone 14 / iPhone 14 Pro
Do you need the zoom lens? 
– Yes, I take a wide range of content: iPhone 14 Pro / iPhone 14 Pro Max
– No, I can live without it: iPhone 14 / iPhone 14 Plus
Are you a light to moderate user or a performance user?
– I use my phone for daily tasks and entertainment (light to moderate user): iPhone 14 / iPhone 14 Plus
– I do *everything* on my phone (performance user): iPhone 14 Pro / iPhone 14 Pro Max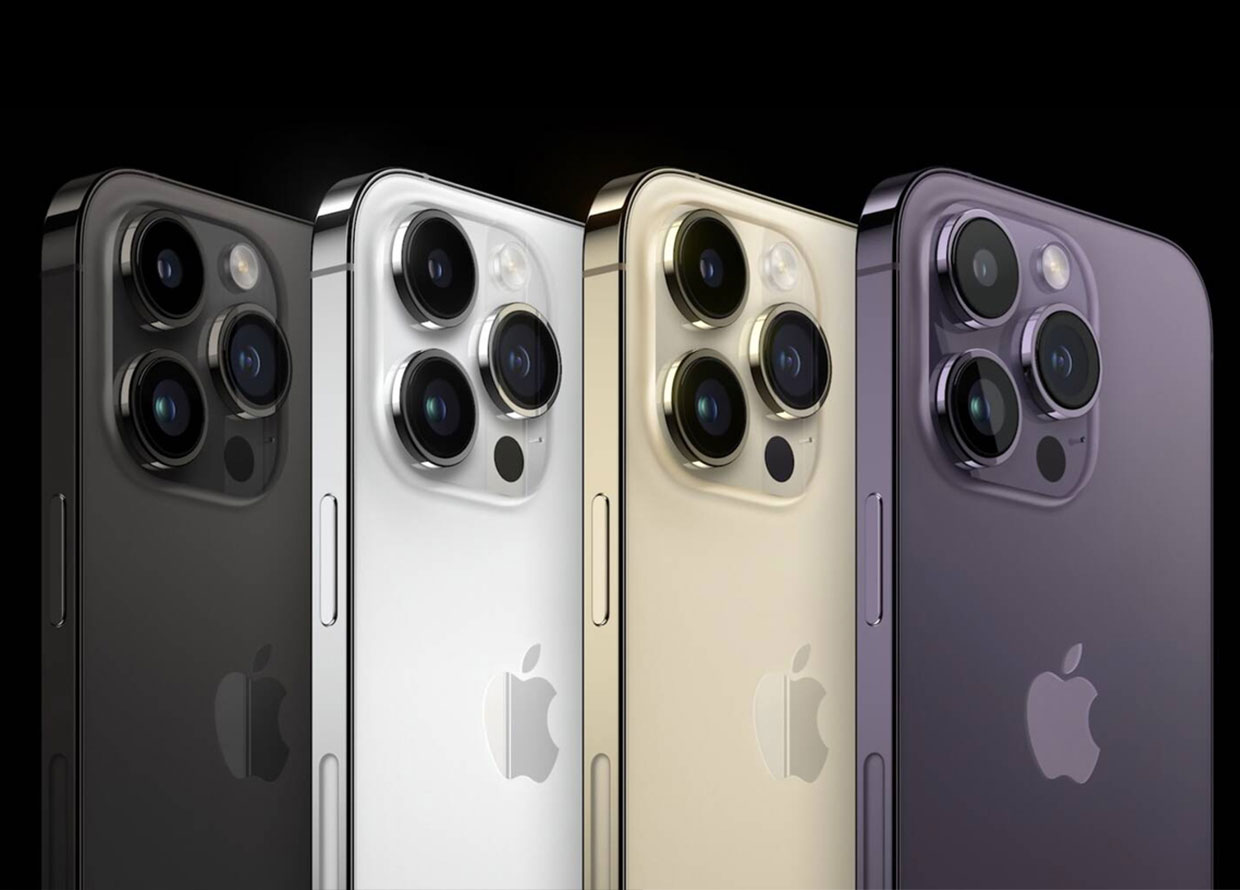 Of course, there's also the budget factor. With that, the prices for the iPhone 14 series are as follows:
iPhone 14: From RM4,199

iPhone 14 Plus: From RM4,699

iPhone 14 Pro: RM5,299

iPhone 14 Pro Max: RM5,799
The iPhone 14 series is available at apple.com and all authorised resellers. For more information, visit this website. 
Read more gadget reviews here. 
| | |
| --- | --- |
| SHARE THE STORY | |
| Explore More | |