Thanks to technology, there's a plethora of ways to exercise even with the current MCO restrictions. Whether it's subscribing to an online gym membership, following along to fitness videos, or trying a new TikTok fitness trend (although you might want to read what fitness trainers have to say about that first), the options are aplenty.
Without the physical presence of our gym buddies or fitness community, however, some of us may struggle to find the motivation to work out. Besides, it's so much easier to binge-watch the latest K-dramas on Netflix or play a couple of rounds of PUBG instead.
If this hits home for you, here's a suggestion: have you tried fitness video games? They'll keep you entertained and engaged, while getting you to move and yes, break a sweat—without dreading it. Check out these fitness games that are available for your smartphone, PC, Nintendo Switch, PlayStation, Xbox, or Wii to 'play' your way to a fitter you.
Active Arcade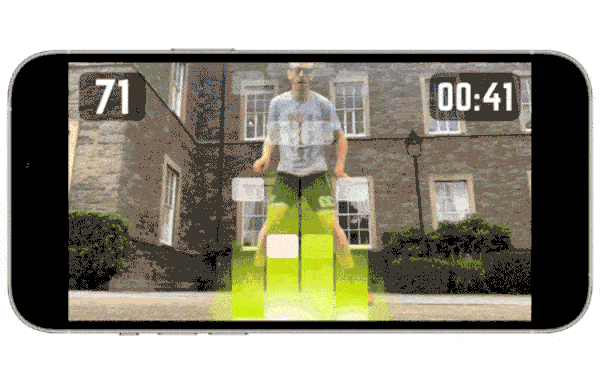 Platforms: Android or iOS devices (available on Google Play or the App Store)
Active Arcade is the latest trending fitness video game for mobile users. It combines AI-powered advanced full-body motion tracking with gamification and augmented reality (AR) to turn your body into a video game controller.
All you have to do is set up your phone and ensure your body is visible within the frame on your screen, which allows the game to track your movement and provide activities and obstacles for you to complete. Take your pick from Whack a Mole, Box Attack, Reaction Flow, and more fun games that will definitely help you clock in some steps and calorie burn on your smartwatch.
Ring Fit Adventure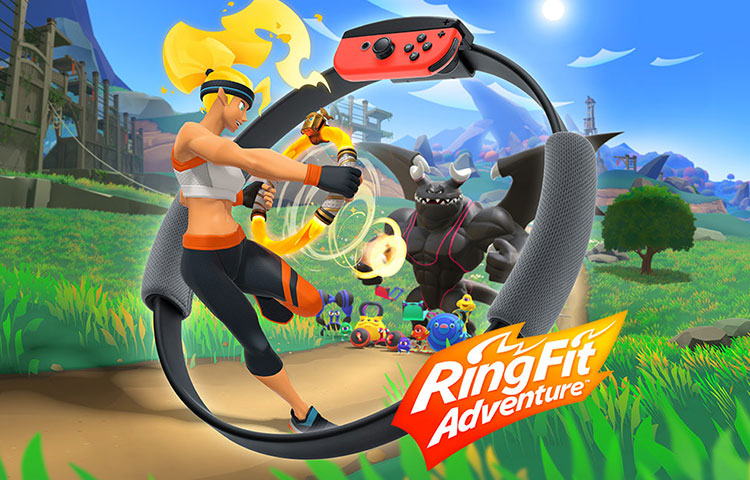 Platform: Nintendo Switch
One of the most popular fitness games you'll find on Nintendo Switch is Ring Fit Adventure. The adventure game comes with Ring-Con™ and Leg Strap accessories to detect your hand and leg movements as you jog, sprint, twist, and turn your way through various modes in the game.
Adventure mode features more than 100 levels in over 20 worlds where you'll find yourself on a quest to defeat a bodybuilding dragon and his minions through exercise. You'll be directed to perform squats, overhead presses, abdominal twists, and more to traverse different landscapes on your quest. There's also Quick Play mode for you to squeeze in a fun minigame on busy days, or Custom Workouts for you to customise workout routines to target specific muscle groups.
READ: Editor Rachel Au can attest that the RingFit Adventure game works
Just Dance 2021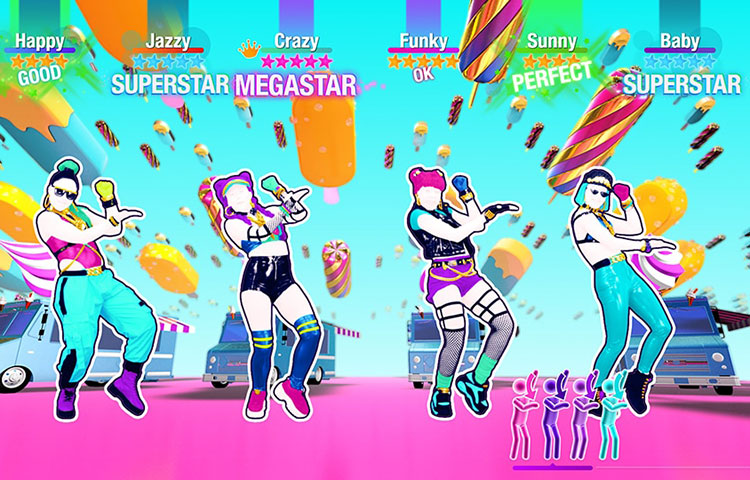 Platforms: Nintendo Switch, PS4, PS5, Xbox One, Xbox Series X and Series S
If dancing is your jam, try Just Dance 2021—the twelfth and latest instalment of the hit dance rhythm game by Ubisoft. It now comes with 40 hot new tracks including chart-topping hits like 'Rain On Me' by Lady Gaga and Ariana Grande, 'Say So' by Doja Cat, and 'Ice Cream' by Blackpink x Selena Gomez.
Show off the skills you've acquired from practising for all those TikTok videos by dancing off with your friends and family in Co-Op Mode or simply let loose solo, if you prefer. With Sweat Mode, you can track the amount of calories you burn and set up a playlist for you to dance towards your goals. For a wider song selection, there's the option to subscribe to the Just Dance Unlimited service, which has an inventory of over 600 songs.
Beat Saber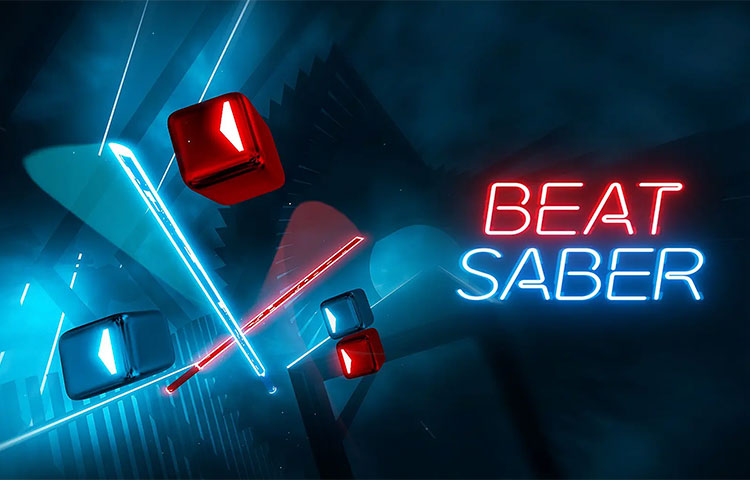 Platforms: HTC Vive, Oculus Rift & Quest, Valve Index, Windows Mixed Reality, PS4
Beat Saber is a virtual reality rhythm game that's not unlike Guitar Hero, where players use 'light sabers' to cut blocks in specific directions to the beat of the music. It launched in 2018 with only ten songs, but has since regularly updated its catalogue to now include hundreds of downloadable songs with different difficulty levels for each one. You can play in single-player mode or battle it out with a friend in party mode.
Granted, the game provides more of an arm workout than any other part of the body, but you're sure to start sweating after several rounds, if not after your first rodeo itself. Besides, some songs will require you to duck, dodge, and sway to hit your targets while avoiding other obstacles—which may come off looking like a dance routine. It's also known to be highly addictive, so you'll likely end up burning some calories and toning your arms once you start.
Zumba Fitness: World Party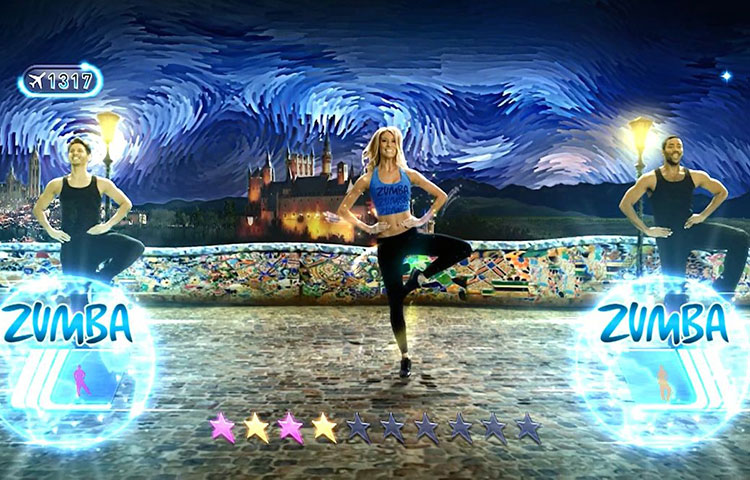 Platforms: Nintendo Wii/Wii U, Xbox 360, Xbox One
Zumba fans, meet your match in this dance fitness game (aka Zumba Fitness 4) that comes with 45 pre-set classes and customisable workouts. Learn different dance styles such as salsa, hip-hop, Bollywood, calypso, reggaeton, and Irish step to unlock various rewards as you progress. Players can unlock songs from seven different global destinations in world tour mode or access multiplayer mode for group dance workouts.
There are low-, medium- and high-intensity routines to cater to different fitness/dance levels. The game also has a "Progress Tracker Plus" feature that tracks all of a player's statistics, including technique score, calories burned, and goals met, so you can set personal goals to gain bonus rewards.
Knockout League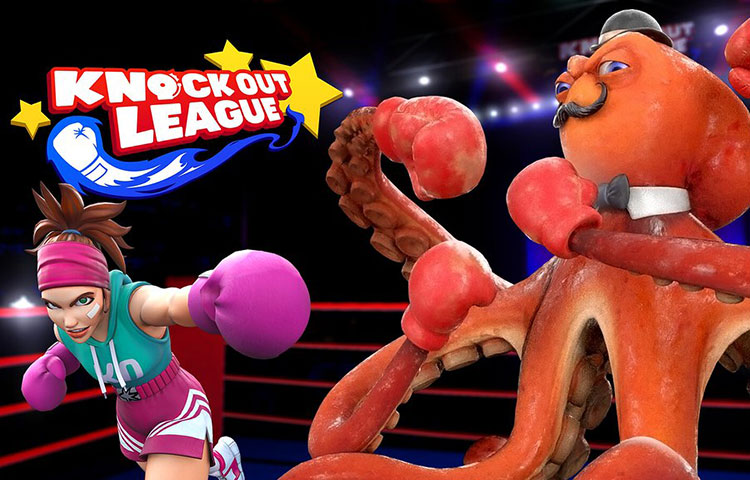 Platforms: PS4, Oculus Quest, Microsoft Windows
For those particularly into boxing, try Knockout League. It's an arcade-style VR boxing game that uses motion controllers and a supported VR headset to track your head and hands, so you'll have to duck and dodge your opponent's punches, while landing some of your own.
What makes the game interesting is that your challengers won't be any ordinary boxer. Expect to enter the ring against a brawny pirate (Scurvy Jones), an iron-fisted warrior (Iron Maiden), or an octopus and all eight of his tentacles (Sir Octopunch), among the list of bizarre characters. There are also minigames for a quick warm-up, as well as a calorie tracker in Fitness Mode to show your progress after every workout.
Fitness Boxing 2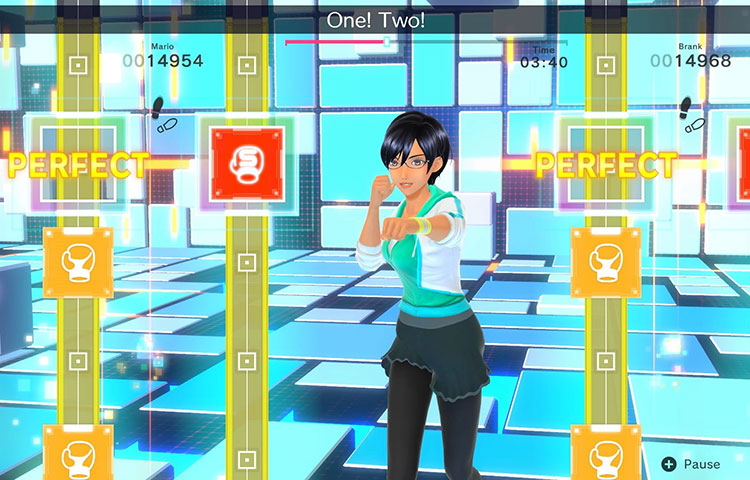 Platform: Nintendo Switch
Another boxing game that will have you throwing punches, hooks and uppercuts is Fitness Boxing 2. You won't need any extra peripherals for this other than the Joy-Con™ controllers on a Nintendo Switch, which will track your hand movements as you move.
A virtual trainer will guide you through routines that increase in difficulty over time, using your weight and height data to estimate fitness age and calorie burn, then set the length and intensity of the routines accordingly. You can also adjust these levels to customise your workouts. There are 20 tracks from celebrated artists included in the game, so you'll get to box and bop to the beat.
Zumba Burn It Up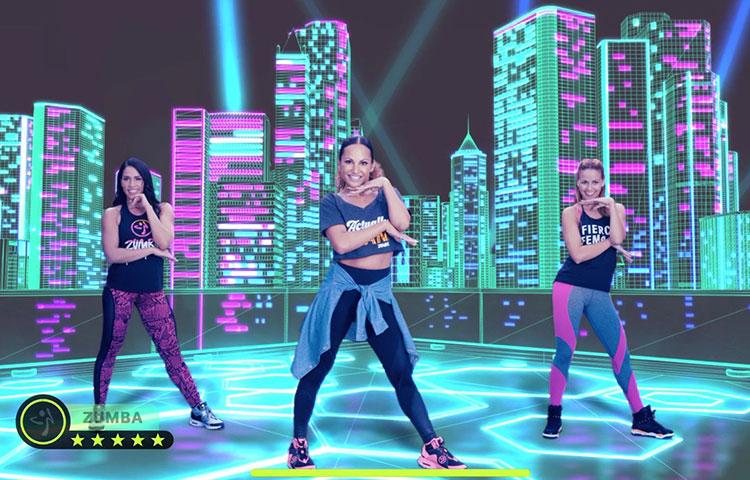 Platform: Nintendo Switch
This is Nintendo Switch's answer to Zumba Fitness: World Party for the Zumba enthusiasts on the platform. Like the aforementioned version, this is a dance-along fitness game that makes for a good cardio workout with high-energy head-to-toe body movements. It uses the Joy-Con™ controllers to track your movements, earning you rewards as you nail each move.
Choose from 30 classes to suit your fitness level, with real-life superstar instructors keeping you motivated as you dance to the top hits of this decade. You can also select different locations or turn the game into a dance party with up to four players joining in the fun.
Superhot VR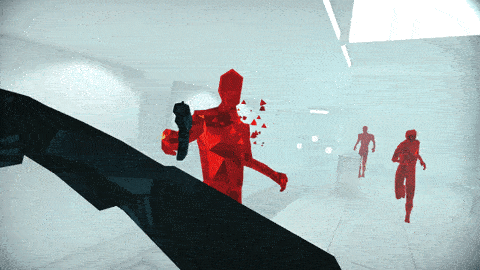 Platforms: Oculus Quest and Quest 2, PS4, PS5, Xbox One
Love first-person shooter games? Try immersing yourself in this award-winning virtual reality version and you may never go back to keyboards and controllers again. Punch, slice, and shoot your enemies as they pour into the room from every direction—forcing you to move around (in real life) and show off your best fighting skills amidst adrenaline-pumping mayhem.
Feel the rush of Superhot's signature slow-motion combats and come up with strategies to outsmart your enemies, bearing in mind that time moves only when you move. The game is currently only available for single players though, so you may have to fight your friends/family for a chance at it.
Wii Sports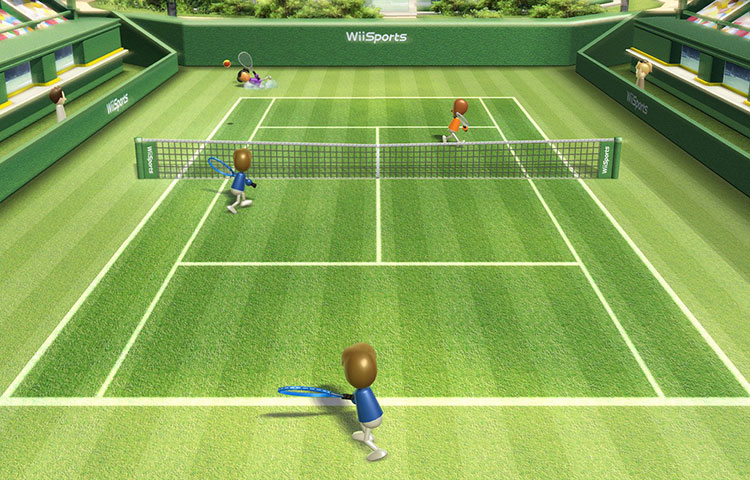 Platform: Nintendo Wii
This is an oldie but a goodie video game that may be obsolete by now, but is still worth reviving if you have an old Nintendo Wii lying around somewhere. Wii Sports offers five sports: baseball, bowling, tennis, golf, and boxing. If your goal is to really sweat it out, boxing is your best bet; but the rest will at the very least get you moving instead of lazing on your couch.
There are also various training and fitness modes available to help you monitor your progress. Plus, it supports multiplayer so you can have a go with your partner/family/housemates without stepping onto the court. Maybe you'll even end up reconsidering giving your old Wii away or simply reminisce the good ol' memories!
For more on health and fitness, head over here.
| | |
| --- | --- |
| SHARE THE STORY | |
| Explore More | |