The Volkswagen Passat 2.0 Elegance is finally here in Malaysia four months after its debut. Find out more about the model below
It's safe to say that Volkswagen's Passat is a model you will find in abundance on the roads of Kuala Lumpur. After all, it is one of the most successful releases in the German automaker's portfolio. Did you know that the Passat first arrived in Malaysia in 2006 before being assembled locally in 2011? Well, 2020 marks the arrival of an all-new version—in the form of the Passat 2.0 Elegance. Here's everything you need to know.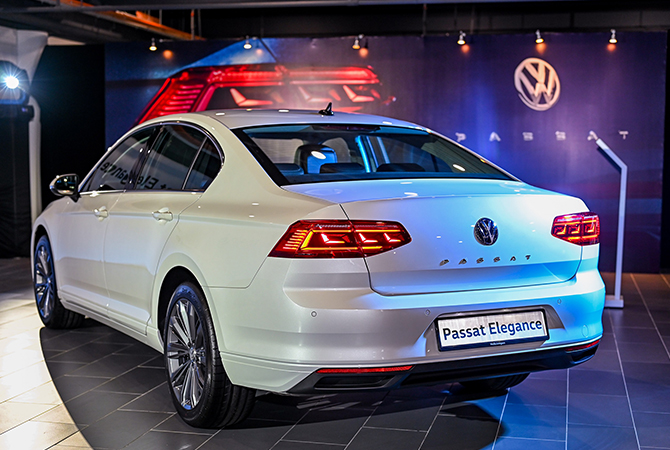 The new Passat is powered by a TSI turbocharged engine and comes with a seven-speed wet clutch direct shift gearbox (DSG). Based on real-life driving data as defined by the Worldwide Harmonised Light Vehicle Test Procedure (WLTP), the new Passat offers a fuel consumption of approximately 6.5 litres per 100 kilometres. It seems like the new Passat isn't slacking at all in terms of efficiency and performance.
What about its exterior? When compared to its predecessor, the new Passat Elegance's appearance is sharper and more dynamic. For example, the front and rear profile are given thorough enhancements. You will also notice the "Passat" lettering stretched across its rear as well as the 18-inch "Liverpool" alloy wheels. The lighting signature is also redefined—with an all-LED headlight system, front and rear sequential turn signals, and a three-wing tail light design.
As for the inside, the new Passat Elegance comes with newly-designed door trims, 30-colour ambient lighting, and a leather multi-function steering wheel with new ergonomic multifunction button. Furthermore, the leather seats are accompanied by a 12-way driver electric seat with three-zone Climatronic air-conditioning system for all passengers. Oh, here's another addition: the Passat Elegance has a power-operated roll up rear sunshades! Thanks to a a high-resolution display colour thin-film transistor (TFT), expect clarity from the 11.7-inch Digital Cockpit. Many of us sought convenience; well, it is now easier to access the 9.2-inch infotainment system; with voice control, gesture control, and a customisable three-view split screen.
The Volkswagen Passat Elegance is equipped with a myriad of interesting safety features. One would be Side Assist with Rear Cross Traffic Alert—with 180-degree detection range of up to 50 metres. Another is the Blind Spot Monitoring System. This helps ensure that your car is secure in its lane with a detection range of up to 70 metres. In order to make sure that your well-being is prioritised, Volkswagen Passat 2.0 also has the following features, including: Electronic Stability Control (ESC), Anti-lock Braking System (ABS), Brake Assist (BA), Intelligent Crash Response System (ICRS), and Proactive Passenger Protection System.
The Volkswagen Passat Elegance is priced at RM187,990 and comes in the following colours: Aquamarine Blue, Manganese Grey, Reflex Silver, Tamarind Brown, Deep Black, and Oryx White.
For more information, visit this website.