From Bangsar to Bentong and back—all in one day with five different Volkswagen cars and a whole lot of creative juices running
Have you ever wanted to try being on the Amazing Race or anything similar? I have but I've always figured I'd end up last. No reason why and I'm not putting myself down either—I just think I excel at other things, like being creative and like enjoying a great time behind the wheel. Volkswagen Malaysia gave me exactly that late last year with their #VWInspired drive. 
Featuring five amazing Volkswagen models, the plan was to drive to Bentong and back with stops for driver change and art challenges. Divided into pairs, speed wasn't going to score us points but that acceleration (the almost silent yet vigorous horsepower) with most of the cars certainly won said cars points from me, that's for sure. Here's a quick breakdown of the challenges we had to do and the places we visited to do them (you'll want to check out some of these yourselves!).
1. Flag off from Naj @ Belle, Bangsar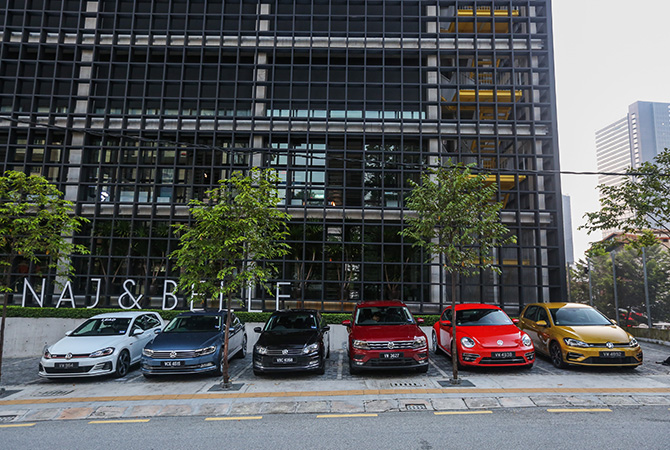 If you have yet to visit this gem of a cafe that's located at a quieter part of Bangsar, you're missing out. Brunch options are aplenty and portions are generous; and yes, it's tasty too. Here is where you can the closest thing to the Watermelon Cake made famous by Sydney's Black Star Pastry. 
2. Design a pair of shoes at Taman Rekreasi Kedondong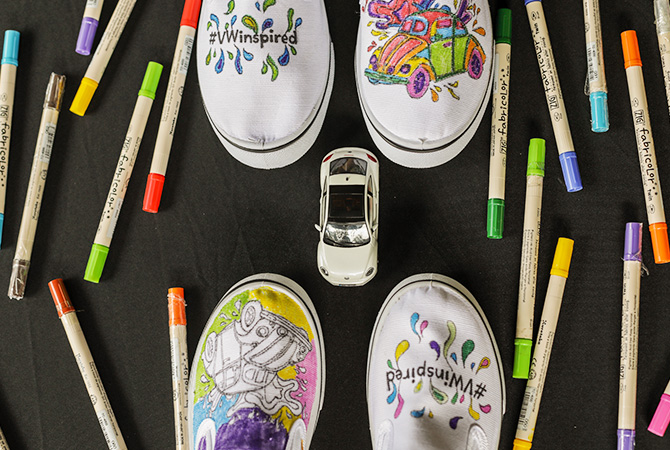 What's wonderful about Malaysia is that there are actually plenty of recreational areas and waterfalls of various sizes to check out. Sadly, not many take the opportunity either. This particular one is pretty near Genting Highlands, if you're interested to do a little picnic, trek or waterfall-admiring. On another note, I went crazy with the colours for the shoe art challenge.
3. Lunch at A Little Farm on The Hill, Bentong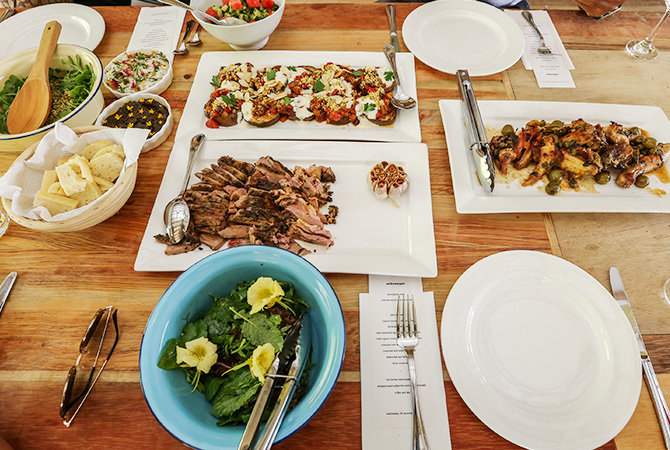 Without a doubt, my favourite part of every day is made better with the delicious spread at A Little Farm on The Hill. It's definitely worth the drive there. 
4. An open-air carpark in Desa Park City
Here's where it got both tricky and exciting as we drove into what looked like a mini obstacle course set up in a very empty carpark space. Our driving skills and the Volkswagen vehicles were put to the test but thankfully my team didn't have to do the one where all four tyres had to be removed and then replaced. Instead...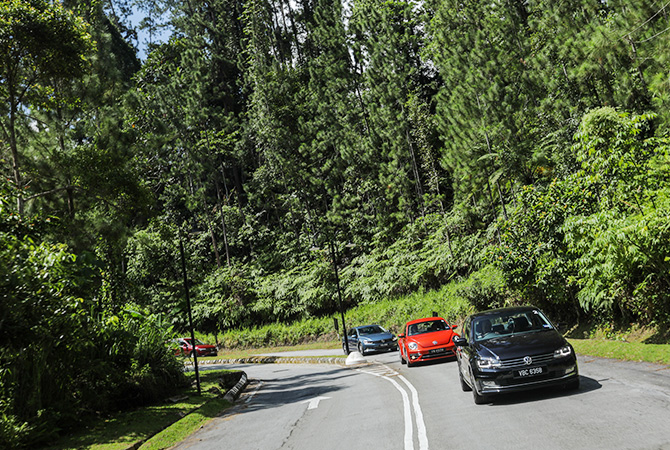 4a. Jam on the brakes
In a state of emergency to avoid a collision, it's in our human nature to step on the brakes as hard as we can. However, a Volkswagen representative told us that not many know how to do this to its full extent. One, you have to just jam your foot on the brake all the way and while doing so, turn the wheel to the side. The car's ABS (Anti-lock Brake System) is responsible for this but it won't work if you don't put the full pressure on the brakes.
4b. Maneuver Braking with the Golf
When it comes to parking, there are times when we miscalculate the distance between the edge of our car and the wall/pavement/obstacle. Of course, installing sensors and rear/front cameras help but even then, we sometimes push it a little. For extra, extra security, the Golf's Maneuver Braking function comes into play. We tested it by attempting to parallel park in a box surrounded by bright orange cones. It's been years since I graduated driving school that had this similar set-up and with my tendency (some call it OCD) to park as perfectly as I can without even risking a scratch (I'm no daredevil), it was difficult to aim to hit the cones on purpose. But yes, the minute the car is this close to hitting the cone, it would go into emergency braking instantly, jerking the car slightly along with it. Not fun, but a good additional safety feature to have. 
5. Back to Naj & Belle
For tea break (we already decided to order the watermelon cake on the way back) and a pop quiz session. No congratulations are needed but my teammate and I won! #justsaying So how did the cars fare during the drive? Read on!
Beetle Sport 
A classic icon, there's no doubt the Beetle is cute and opting for the Sport variant only makes it better. With a 4-cylinder petrol engine, it can deliver a maximum torque of 175 Nm. However, the handling definitely feels a little heavier compared to the other four models I tried that day. That being said, the design, inside and out, is vintage-inspired and gorgeous. The leather-wrapped steering wheel feels great to grip and it's complemented by the leather seats. I'd say it makes for an easy everyday car.
The Beetle Sport is priced at RM152,390 (RRP). For more info, visit the website.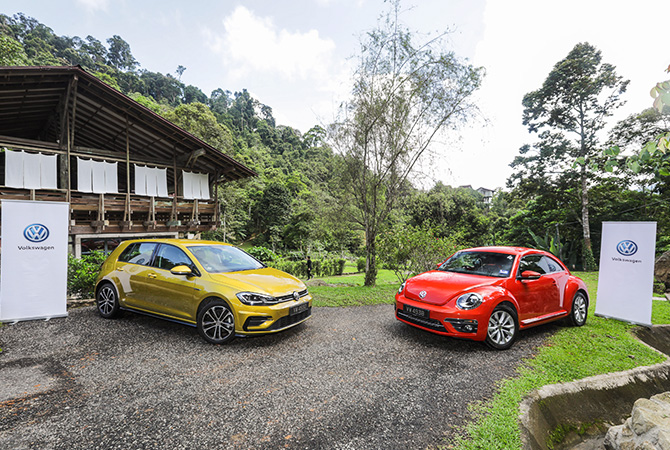 Golf R-Line
The Golf is actually quite a popular choice and stepping into its driver seat, I can understand why. For one, it's a good size and two, it's a perfect balance of sporty meets comfort. Also equipped with a 4-cylinder petrol engine and a DSG 7-speed direct shift gearbox, the hatchback is, however, more powerful, registering a maximum torque of 250 Nm. Not to mention, among the five, the Golf R-Line is the most fuel-efficient though it also has the smallest fuel tank capacity (approximately 50 litres). Another good reason to love it is its host of safety and driving assistance features, including the earlier-mentioned Maneuver Braking. 
The Golf R-Line is priced at RM173,390 (RRP). For more info, visit the website.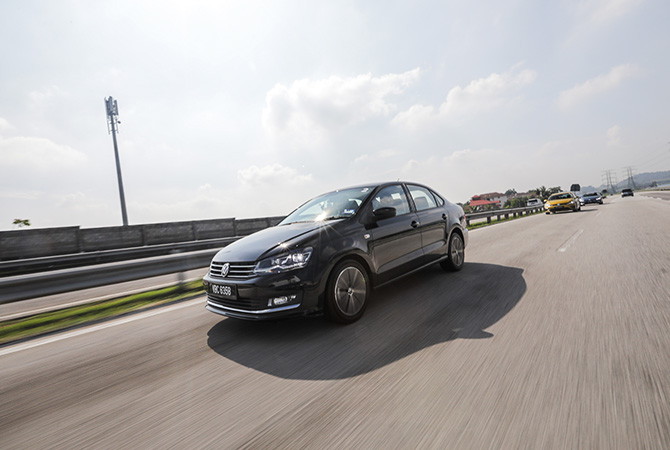 Vento Highline 
The Vento may look like the humble sedan but don't let it fool you. Equipped with a 1.2-litre turbocharged (TSI) four-cylinder engine that delivers a maximum torque of 175 Nm, it's secretly a beast. But a beast that is complemented by a design that places safety first. The steering wheel's responsiveness is quick and almost second-nature, and I love the accompanying electronic instrument cluster display behind it. Easy to see and easy to understand. Above all, the Vento is also highly fuel-efficient, enabling a range of 800km to 900km between refuels. 
The Vento Highline is priced at RM91,490 (RRP). For more info, visit the website.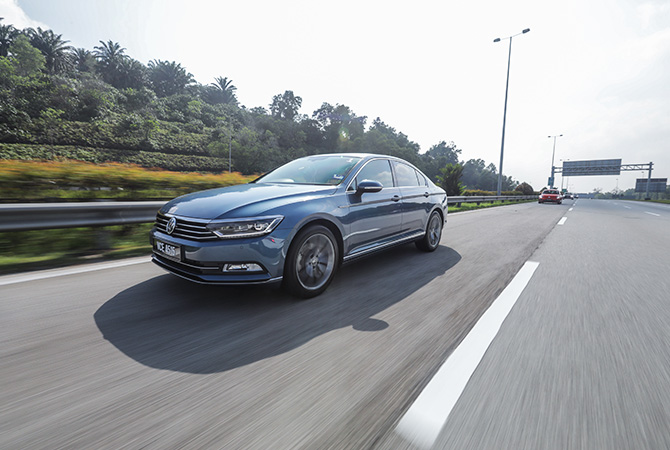 Passat Comfortline
The other sedan in Volkswagen's porfolio is the Passat and one of its highlights for me is probably its modern and intelligent characteristics. AppConnect makes it easy to sync with your smartphone while at the back, there's an Easy Open boot (where you just swing your foot underneath the rear bumper and the boot will open). Fun fact: Its 3-zone "Pure air Climatronic" ensures the car only circulates clean air and healthy air conditional within. Specs-wise, it holds a 1.8-litre turbocharged (TSI) four-cylinder engine with a maximum torque of 250 Nm. Oh, it's powerful alright. 
The Passat Comfortline is priced at RM176,690 (RRP). For more info, visit the website.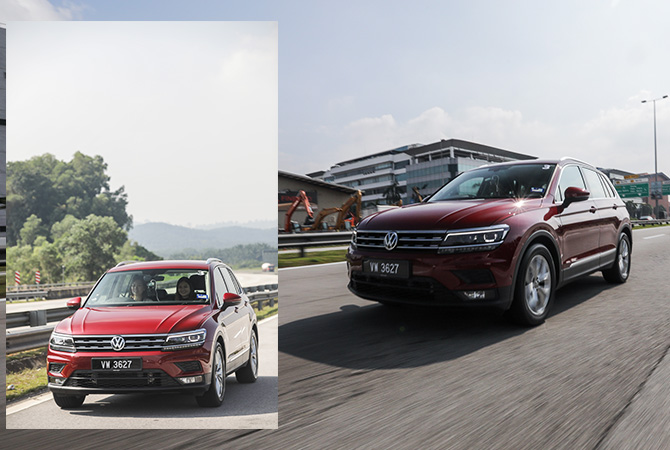 Tiguan Highline
Last, but not least, the big SUV that surprisingly doesn't feel overwhelmingly big once you're in the driver's seat. Personally, I drive a compact SUV and I love it. I've driven huge SUVs and as someone who doesn't have kids, those kind and its supremely vast space and storage are not enough to justify the stress I go through driving them in busy KL and tight carpark spaces. The Tiguan Highline isn't this. My ultimate favourite out of the five, the size is just right with its extra space; it's comfortable whether you're the driver or the passenger; the height is a welcomed trait; acceleration is such a thrill. Intensely responsive with corners and fitted with brakes and accelerators that do your foot's bidding at the lightest touch, it's a joy. I also appreciate how near-silent the engine is even as I picked up its speed (for the record, maximum torque of 250 Nm). All in all, a winner in my eyes.
The Tiguan Highline is priced at RM165,990 (RRP). For more info, visit the website.
For more info on Volkswagen Malaysia and all that they have to offer, visit their website.