Food + Drink
The Michelin Guide Kuala Lumpur & Penang 2024: Dewakan earns two Michelin stars
A star-studded affair
All images courtesy of Michelin Guide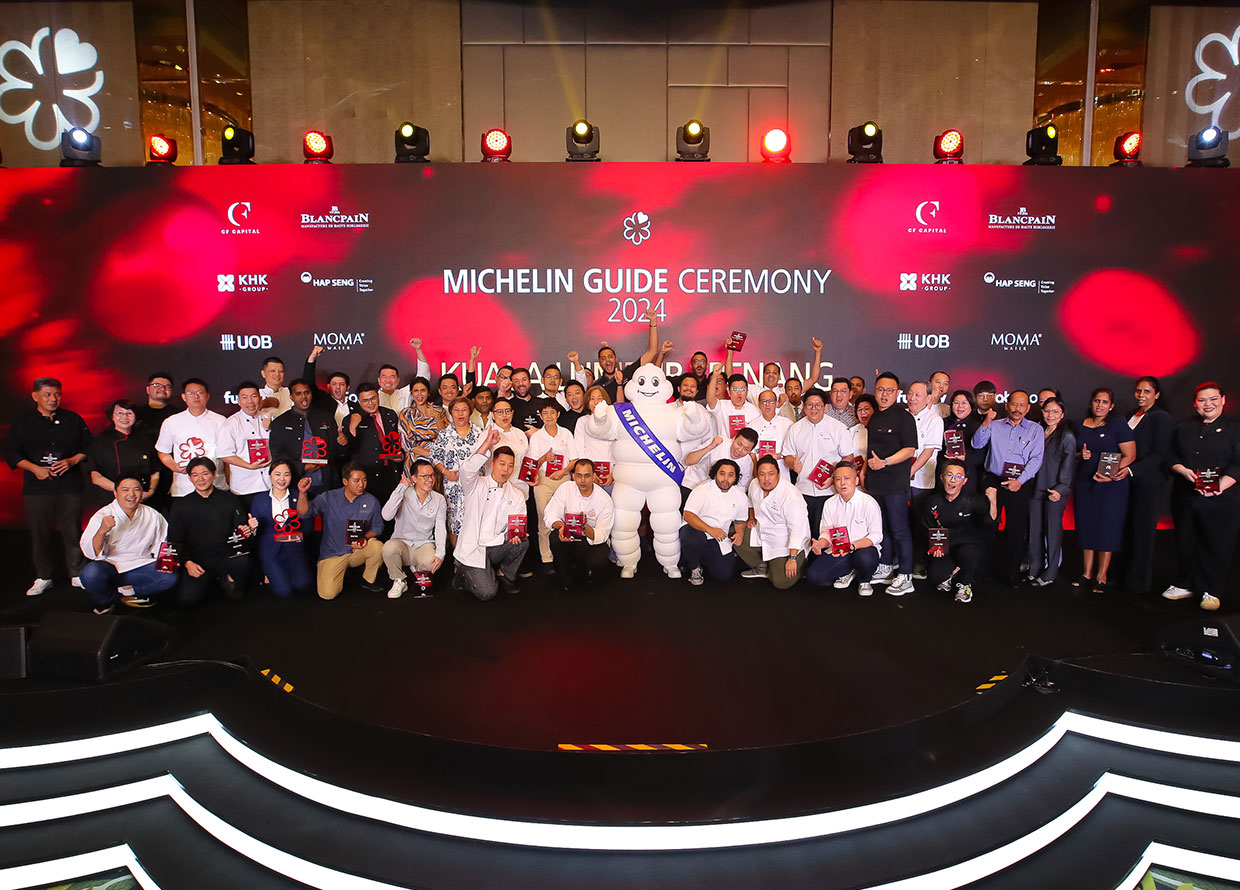 Following the announcement of the Bib Gourmand list last week, Michelin has finally unveiled the full selection of The Michelin Guide Kuala Lumpur and Penang 2024 today. Announced at a ceremony held at Four Seasons Hotel Kuala Lumpur, this year's selection features a total of 127 eateries across the Starred, Bib Gourmand, and Selected categories. These establishments comprise over 30 different types of cuisine including street food—serving as a testament to the rich tapestry of culinary diversity found in the two cities. 
"From traditional heritage dishes to contemporary interpretations, the culinary landscape continues to evolve, providing a true reflection of the diverse culinary artistry in Kuala Lumpur and Penang," said Gwendal Poullennec, International Director of the Michelin Guide. "It is also delightful to learn that many young talents are joining the culinary industry, devoting their time and energy to serve great food that is dedicated to showcasing the beauty and uniqueness of Malaysian ingredients and cuisine."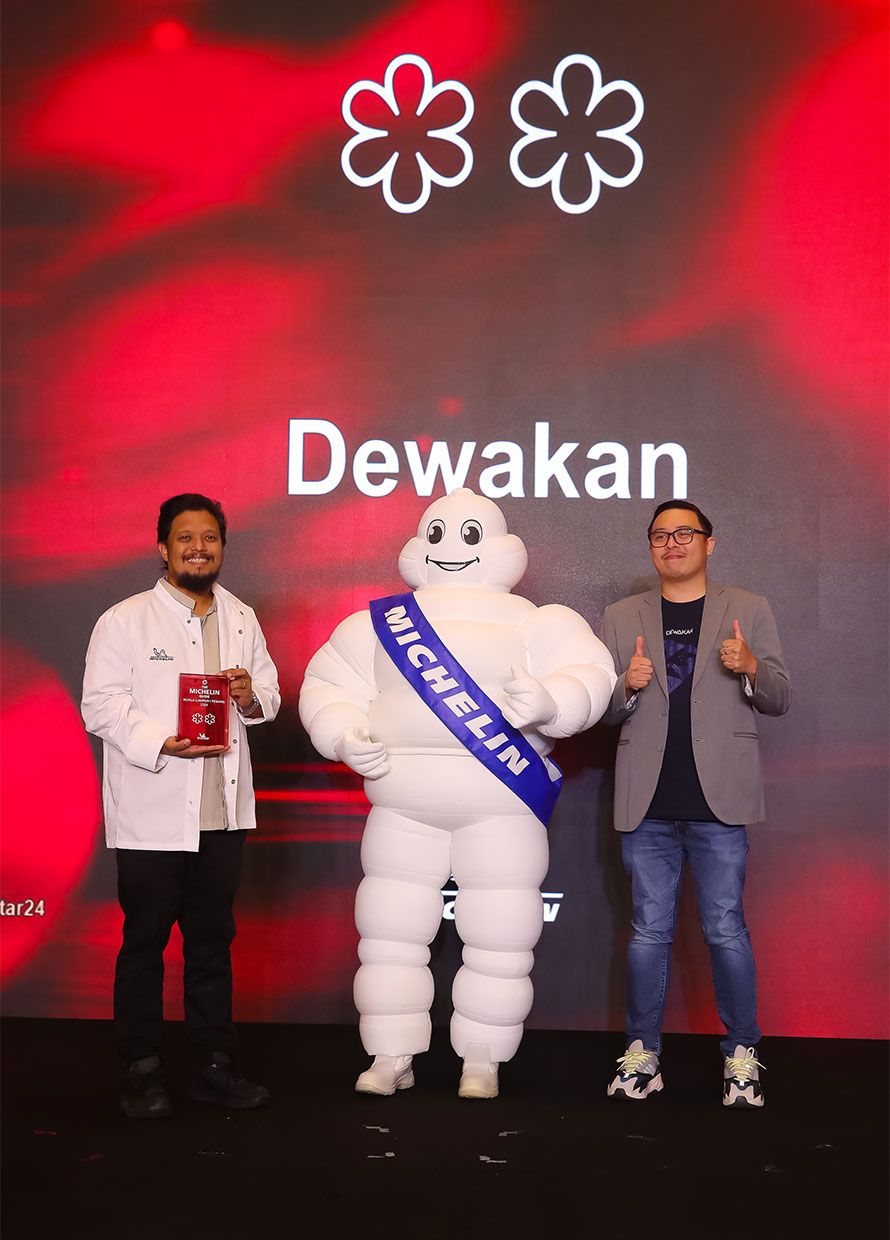 Dewakan bagged the highest honour of the selection, becoming the first two Michelin star restaurant in Malaysia after picking up one star in the inaugural edition of the Guide last year. While receiving the award, chef-patron Darren Teoh credited his team, stating, "I've grown up with so many of you [and I'm] really, really proud to do this. For our team back home, you guys kick ass."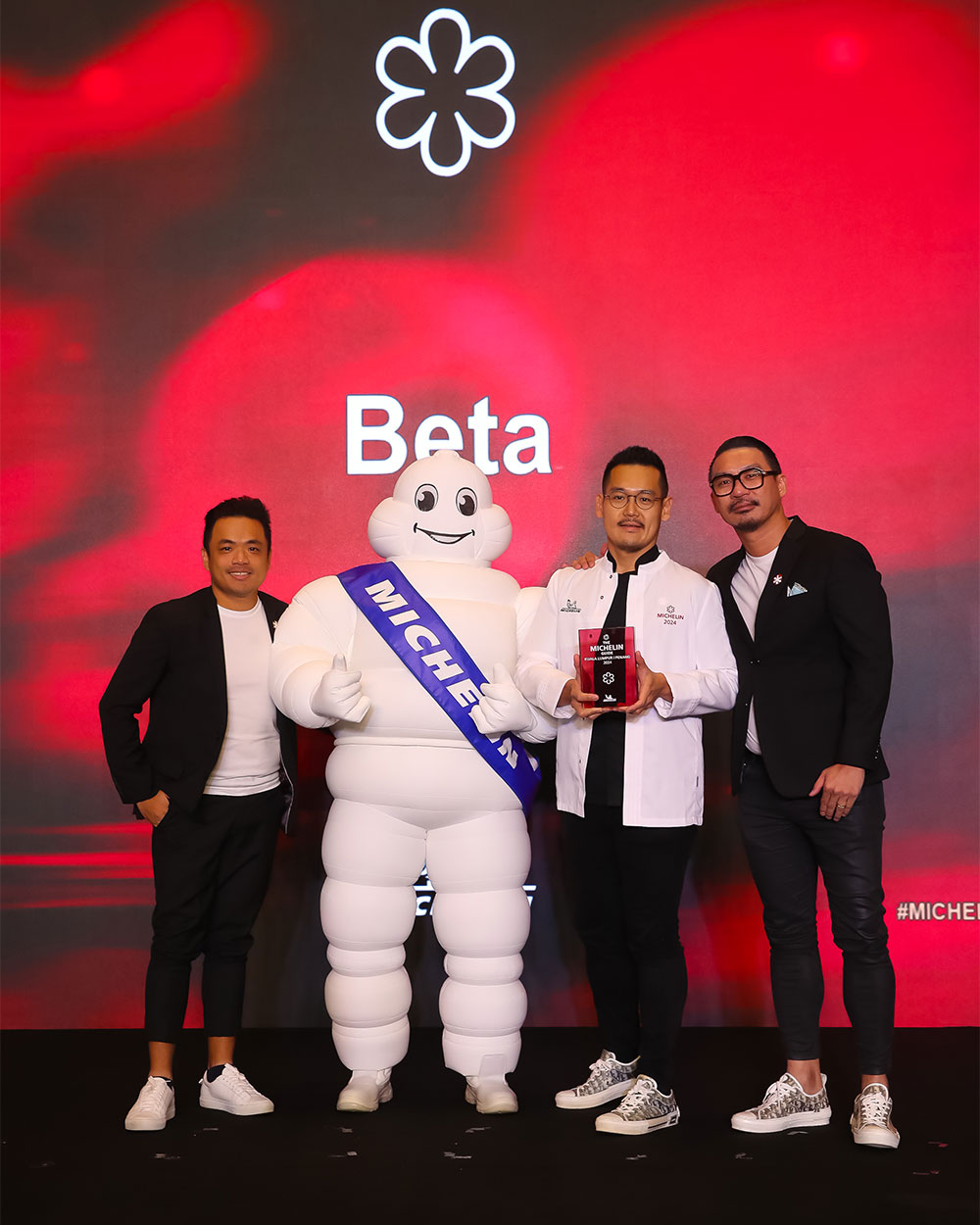 Meanwhile, Beta—a Michelin Selected restaurant in the 2023 edition—has now been promoted to a one Michelin star restaurant. "I would like to share this award with my team, because without my team, I think one person can't do the job," Executive Chef Raymond Tham said in his acceptance speech. "We will work harder. Thank you."
The modern Malaysian restaurant joins three other establishments that retained their stars from last year, namely Penang's Au Jardin and Auntie Gaik Lean's Old School Eatery, and Kuala Lumpur's DC by Darren Chin.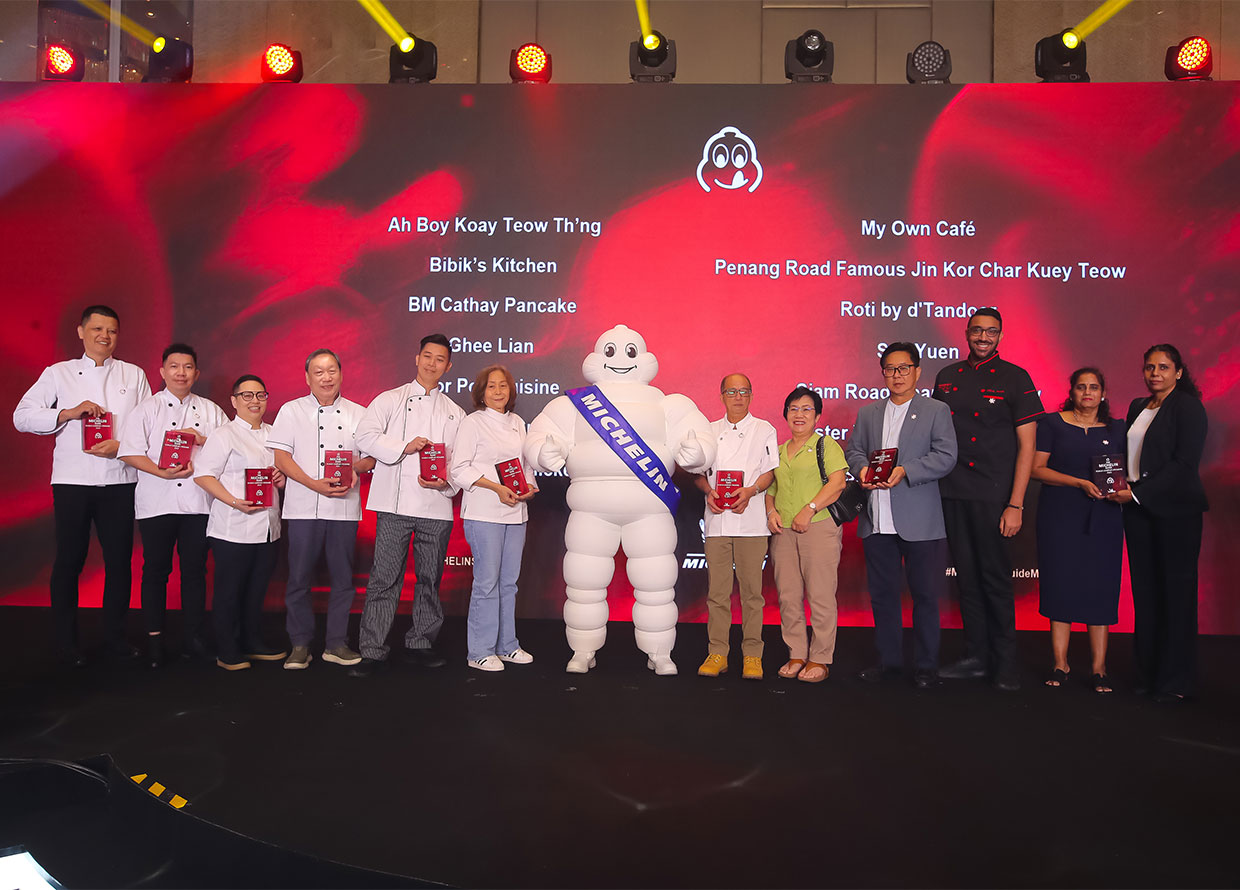 In addition, Kuala Lumpur now has a total of 20 Bib Gourmand eateries spanning 10 different cuisines. Penang has 25 Bib Gourmand establishments, with nearly 50 per cent of the selected eateries falling under the category of street food. This brings the total number of Bib Gourmand establishments in Malaysia to 45, up from 32 last year.
Of the selection, 14 restaurants are newly awarded the recognition; five of which are from Kuala Lumpur, while the remaining nine are from Penang. Notably, two of last year's Michelin Selected restaurants—Sri Nirwana Maju in Kuala Lumpur and Bibik's Kitchen in Penang—have been moved to Bib Gourmand.
For context, the Bib Gourmand distinction is represented by the "Bibendum" or "Michelin Man", which recognises both restaurants and street food eateries that Michelin inspectors consider to be the best value for money within the selection. These establishments fall within the $ and $$ price range, symbolising categories "on a budget" and "a moderate spend", respectively.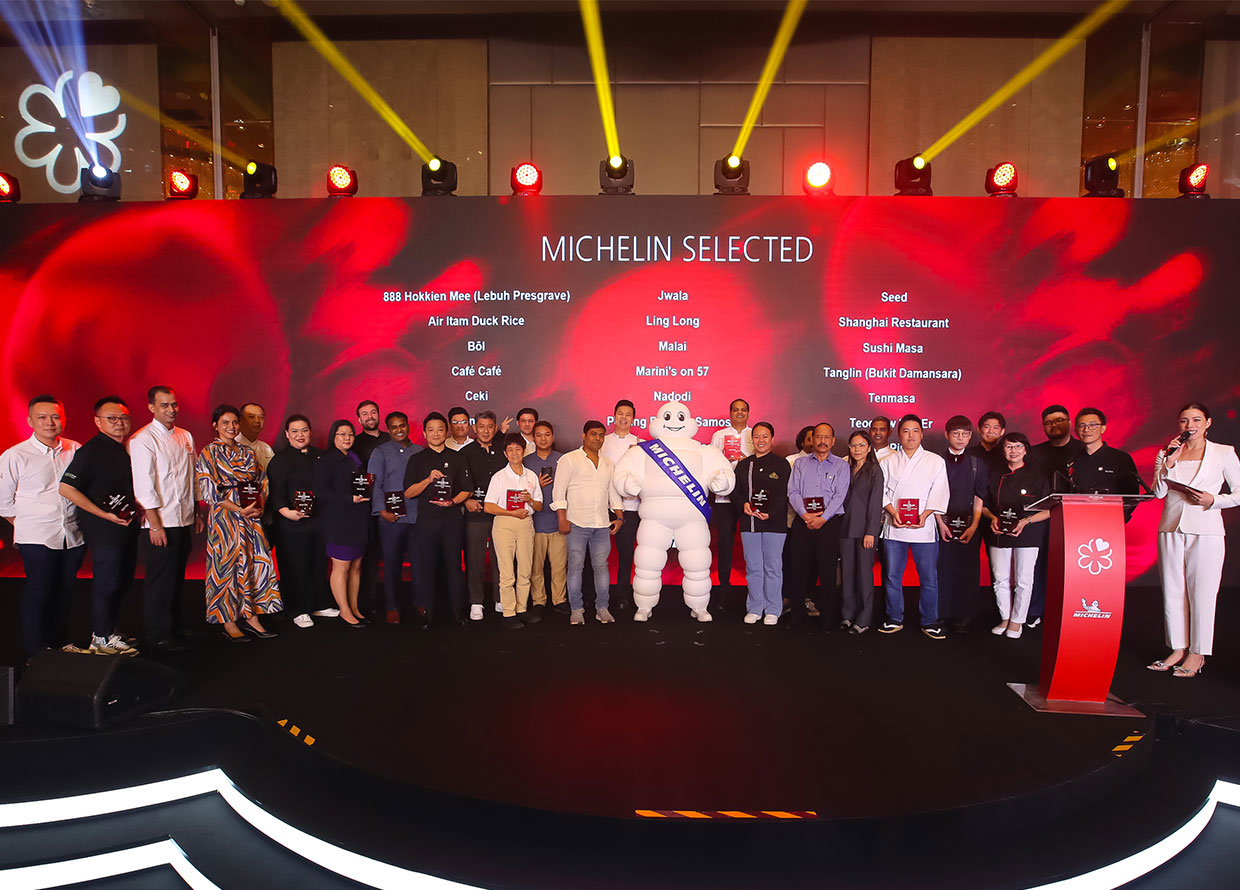 Furthermore, 25 new restaurants joined the Michelin Selection this year, bringing the total number of Michelin Selected establishments in Malaysia to 77. From this number, 16 are located in Kuala Lumpur, while nine are in Penang. This category is dedicated to establishments that have met criteria set by the Michelin inspectors, but have not qualified for the Bib Gourmand or a Michelin star yet. However, these Selected Restaurants can potentially be upgraded to a Bib Gourmand or Michelin star in the future. 
Aside from recommending quality eateries, The Michelin Guide also aims to highlight talented individuals who play an important role in enhancing the gastronomic dining experience. Thus, four Michelin Guide Special Awards were handed out: Mohd Wan Zulkifeli of Gai by Darren Chin bagged the Service Award; Yap Cze Ying of Hide KL earned the Sommelier Award; Johnson Wong of Gen Penang took home the Young Chef Award; and Jwala was bestowed the Opening of the Year Award. 
Without further ado, discover the full list of Michelin Star, Bib Gourmand and Michelin Selected restaurants in the Michelin Guide Kuala Lumpur & Penang 2024 below. 
* denotes new entries
Two star
Classification: Excellent cooking, worth a detour
One star
Classification: High quality cooking, worth a stop
Au Jardin

Auntie Gaik Lean's Old School Eatery
Beta*
DC by Darren Chin
Bib Gourmand
Classification: Quality cooking at reasonable prices
Kuala Lumpur
Ah Hei Bak Kut Teh

Aliyaa
Anak Baba
Congkak (Bukit Bintang)
Dancing Fish
De. Wan 1958
Hai Kah Lang
Heun Kee Claypot Chicken Rice (Pudu)
Hing Kee Bakuteh (Jalan Kepong)
Hor Poh Cuisine*
Jalan Ipoh Claypot Chicken Rice*
Lai Fong Lala Noodles
Nam Heong Chicken Rice
Nasi Ayam Hainan Chee Meng (Jalan Kelang Lama)
Restoran Pik Wah
Roti by d'Tandoor*
Sao Nam
Sek Yuen*
Sri Nirwana Maju*
Wong Mei Kee
Penang
Ah Boy Koay Teow Th'ng*

Bibik's Kitchen*
BM Cathay Pancake*
Bridge Street Prawn Noodle
Communal Table by Gēn
Duck Blood Curry Mee
Ghee Lian*
Green House Prawn Mee & Loh Mee
Hot Bowl White Curry Mee*
Ivy's Nyonya Cuisine
My Own Café*
Ming Qing Charcoal Duck Egg Char Koay Teow
Moh Teng Pheow Nyonya Koay
Neighbourwood
Penang Road Famous Laksa
Penang Road Famous Jin Kor Char Kuey Teow*
Rasa Rasa
Sardaarji
Siam Road Char Koay Teow*
Sister Yao's Char Koay Kak*
Taman Bukit Curry Mee
Teksen
Thara
Tho Yuen
Wan Dao Tou Assam Laksa
Michelin Selection 
(**all new entries)
Kuala Lumpur
Bōl

Café Café
Entier
Frangipaani
Jwala
Ling Long
Malai
Marini's on 57
Nadodi (relocation)
Seed
Shanghai Restaurant
Sushi Masa
Tanglin (Bukit Damansara)
Tenmasa
Teochew Lao Er
Wagyu Kappo Yoshida
Penang
88 Hokkien Mee (Lebuh Presgrave)

Air Itam Duck Rice
Ceki
Fook Cheow Cafe
Jit Seng Hong Kong Roasted Duck Rice
Penang Famous Samosa
Richard Rivalee
Sambal
The Pinn (relocation)
For more information about the Michelin Guide, visit the official website. Follow Michelin Guide on Facebook and Instagram for more updates. 
For more dining stories, click here.
| | |
| --- | --- |
| SHARE THE STORY | |
| Explore More | |